Choose paint badly and the finished result will always be lacking. Get it right and the result is a scooter like this Super Monza powered GP. With the potential to deliver over thrice the power of a factory fresh Innocenti engine, it's unsurprising that Trevor describes it as a 'total solution kit'.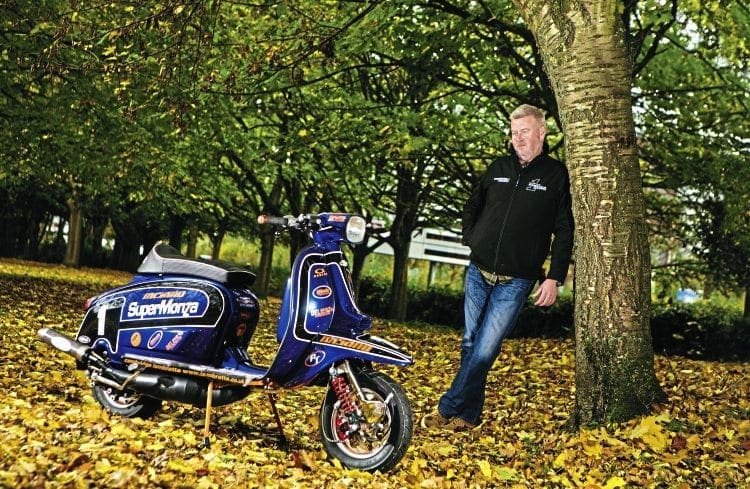 David Hayes' story is far from unusual. Having cut his teeth on scooters in the 80s he moved onto motorcycles, become a more than proficient motocross rider. Around four years ago, the siren call of a Lambretta drew him back to scootering and ultimately led to the purchase of an Italian GP200. "The previous owner had fitted it with a TS1 230 kit," recalled David. "It pulled well but I was quite disappointed, the performance was very similar to that of my scooter 20 years ago."
Tweaked as only Cam Lam can
Having looked at various options, David turned to Cambridge Lambretta where Trevor Peat was keen to recommend theSuper Monza kit, but David wanted more. The end result, in Trevor's own words, is "one of the nicest street racers we've ever had the pleasure on working on".But what makes this machine so special?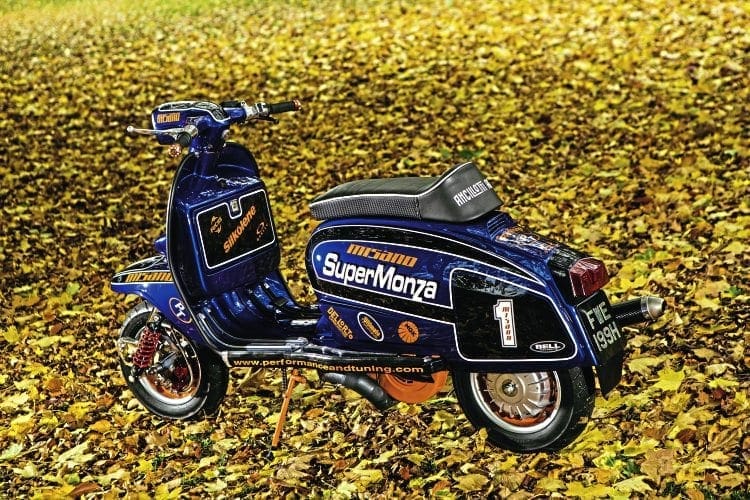 David's engine was built in house at Cam Lam, with a bias towards items taken from Tino Sacchi's stable. Impressive as these are when fitted 'straight from the box', Cam Lam has worked closely with tuning supremo Charlie Edmunds developing them even further tocreate the exclusive Ultimate range. The first clue to this engine's pedigree can be found on the side panel. The 'number 1' isn't a boast, this is the first Misano casing converted to take a Super Monza kit. As a reminder to anyone confused by the proliferation of new production Lambretta engine components, the Misano casings were developed to accommodate a non-standard 58mm stroke crank. This, together with additional strength in the casing itself, was designed to cope with the power of modern performance kits.
The Super Monza top end has a capacity of 225cc and like the Misano casing is a completely bespoke design, producing 30bhp between 5000 and 8000rpm. With the potential to deliver over thrice the power of a factory fresh Innocenti engine, it's unsurprising that Trevor describes it as a 'total solution kit'. Everything from the choice of the carburettor to the exhaust influences final performance.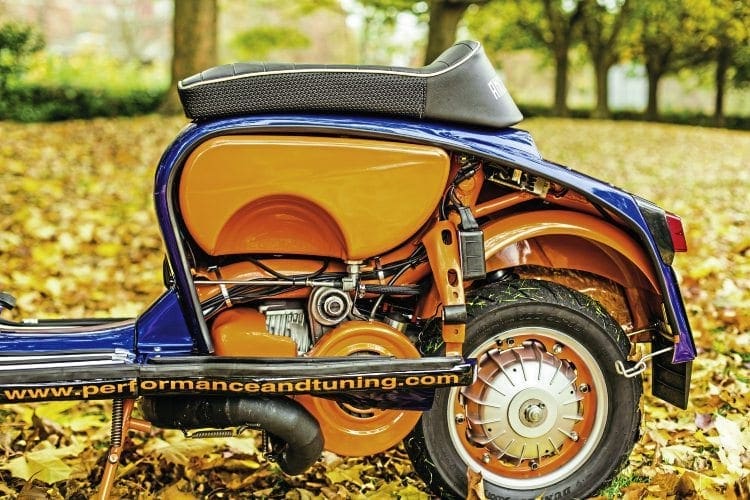 A known weak point for tuned Lambrettas is the standard gearbox, which on this build was replaced with what Trevor believes is "probably the strongest ever produced" – the Ultimate close ratio special gearbox. When paired to 15/48 sprockets a six-plate clutch and high load bearings the drive train is one of the strongest currently available.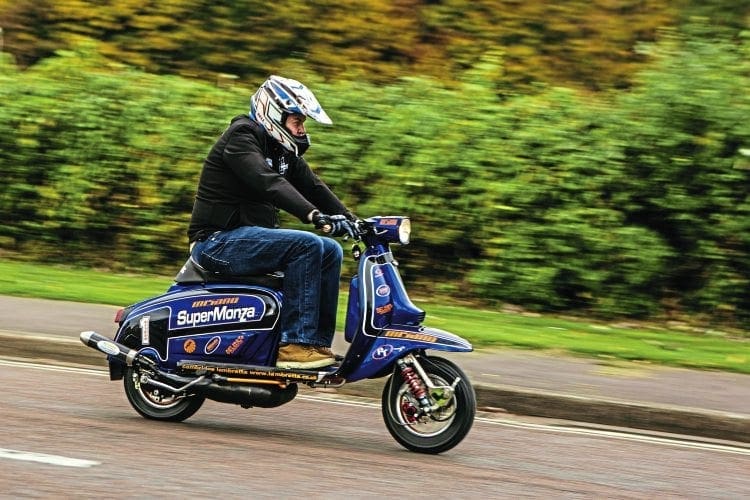 The ignition sequence is managed via an Ultimate version mapped varitronic which works with a controllable powerjet for safer more efficient fuel delivery. Adding to the high-tech elements of the engine build is a det (or 'knock') sensor. First fitted to the legendary Saab Turbo engines, this device monitors the frequency of engine noise, detecting if it's running lean. The sensor gives the rider an instant warning of any mixture problems, providing an opportunity to cure the problem before it can damage an expensive engine. It's a common application in modern production vehicles but this is one of a handful of road going Lambrettas fitted with the technology.
Look smart
With such a state of the art engine David knew that a smart paint job was required. Motorsport has long been a rich source of schemes for custom builders and David set his heart on a representation of the Ciceley Racing Mercedes driven by Adam Morgan in the British Touring Car Championship. Having worked closely with Cam Lam on several projects Paul Hindle of Darlington based Eye Candy Custom Paint was the obvious choice to apply the finish. The mixture of bold graphics and striking colours found on racing cars doesn't always transfer successfully to the lines of a classic scooter but in this case Paul has made an exceptional job.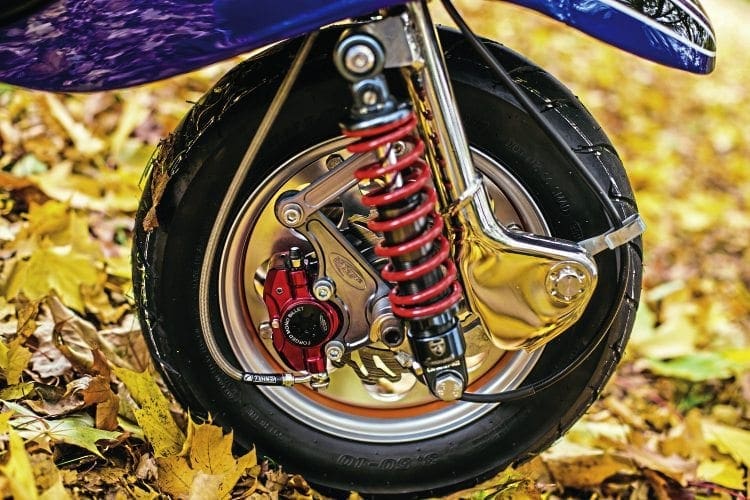 "David had a very clear idea of what he wanted" explained Paul. "Fortunately he gave me the freedom to develop the scheme which was particularly nerve racking as we didn't meet until it was ready for collection!" The scheme chosen by David was predominantly in a pearl effect paint called Blue Grape. "When I opened the tin I wasn't convinced," said Paul "It was light purple. I even contacted the supplier, who told me to go ahead and use it." Paul's painstaking approach to preparation has previously been documented in Scootering, so applying what appeared to be the wrong colour was a leap of faith that would have been both expensive and time consuming if things had gone wrong. Fortunately the true colour revealed itself during the drying process. The areas of black outlined in white roll around the GP's curves in forms that complement, but don't slavishly follow the panel lines. Another feature of the Ciceley Racing scheme is the constrained use of Ford ST orange, which David has used to stunning effect. With its panels in place, the various logos provide relief to the otherwise dark hues yet remove them and the internals explode in a vivid display of colour. Who needs chrome when contrasts like this can be achieved with paint?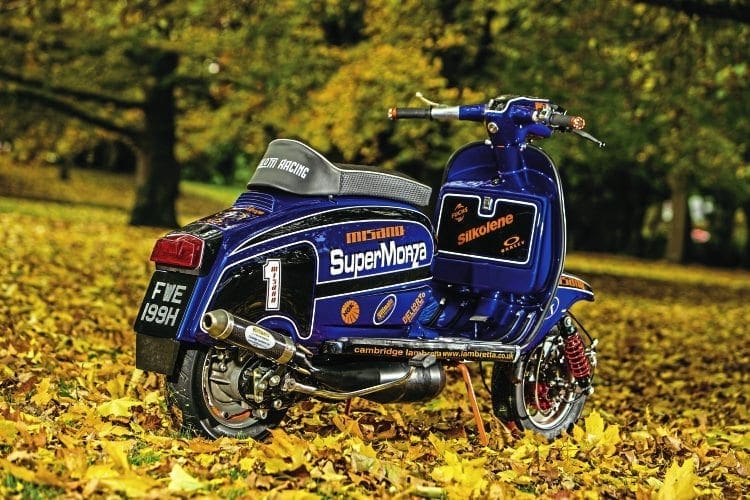 A final, and subtle touch is the Super Monza logo which has been adapted to reflect the font used on the original race car. In all it's a superbly well thought out and applied scheme.
Proof of the pudding
The natural home of a street racer is of course out on the road and despite the cost involved David hasn't built this scooter to travel in the rear of a van. "So far it's been more reliable than me," joked David. "Shortly after completing the build I injured my shoulder and couldn't ride for two very frustrating months. Now I'm back in the saddle I can say that acceleration is brisk and it changes from third to fourth gear at 65, there's plenty of mid-range torque and the engine seems to enjoy being ridden hard. I'm used to motocross bikes and I've always wanted that sort of power in my scooter. Trevor and Charlie have finally achieved that for me."
MAN & MACHINE
Name: David Hayes
Town: Basingstoke
Club: None at the moment.
Job: Dryliner.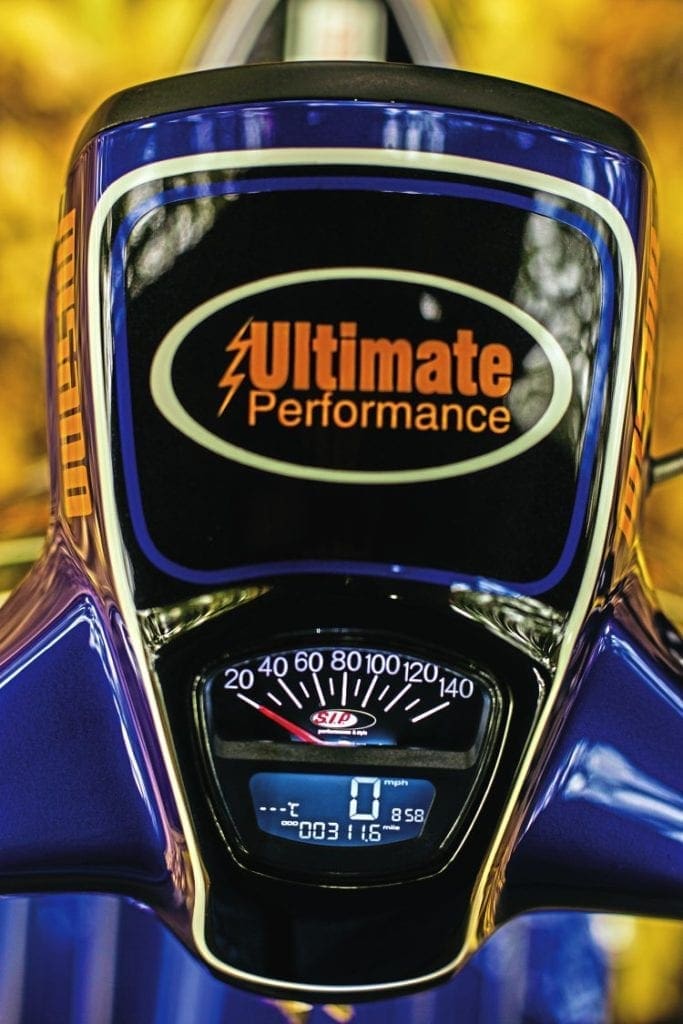 First interest in scooters: When in lived in Lancaster as akid my mate's brother let me have a go on his Lambretta. I was 12 and loved it.
Firstscooter: A SIL Lambretta GP 150 – 'X' reg. It came from the little Lambretta shop on the A30 in Camberley.
Firstrally: Maybe Weston in around 1982.
Furthest ridden: Basingstoke to Morecombe.
Favourite model: Lambretta GP200.
Favourite style: Street Racer.
Favourite dealer: Cambridge Lambretta.
What do you like or dislike about rallies: Like the friendliness of other scooterists. Dislike having to ride home!
Any stories: In the mid 80's I was riding back from Clackton with my mate Mark as pillion. In central London I lost all power, the maximum I could reach was 15mph. We headed towards Waterloo station with Mark jumping off the back to stop traffic at junctions so I could keep momentum, once past he'd run after me and jump on the back. God knows how many miles we covered like that but we got to the station, put the scooter in the mail compartment and travelled back in style. Not sure I'd do that nowadays!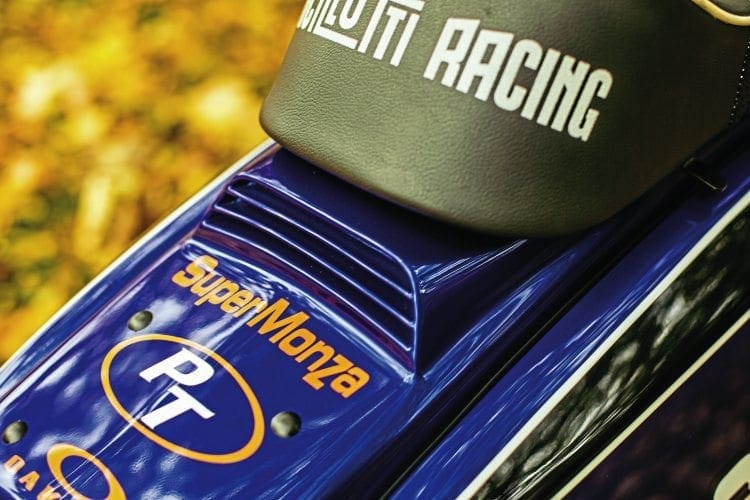 Innocenti Lambretta GP 200
Engine: Ultimate works Supermonza 225 kit. Full balanced & lighted big Misano super crank with tungsten weights & solid pin. Matched Misano supercase. Ultimate close ratio gearbox, 15/48 sprockets. Ultimate upside down chain tensioner. Ultimate high load spec bearings. Ultimate 6 plate clutch.
Exhaust: Ultimate PT Supermonza exhaust (handmade).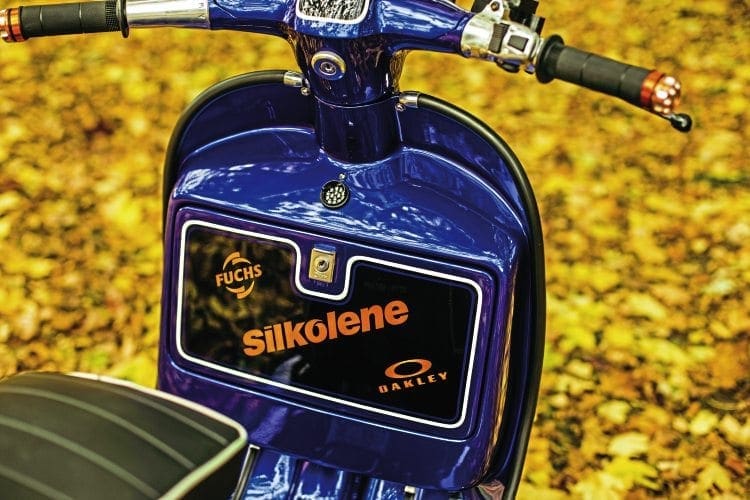 Carband ignition: 30 VHSH power jet carb, breath sweet air filter system, Ultimate Varitronic ignition, Ultimate mapper box.
Other specialised parts: Ultimate fully adjustable rearshock, twin disc Anti-dive Hydraulic front brake.
Performance: Makes 30bhp with big torque mid-range for high speed cruising.
ADAM MORGAN AND CICELEY RACING

Lancashire based Ciceley Racing is a family run team that made its British Touring Car Championship (BTCC) debut in 2013. Adam Morgan had competed in the championship in 2012, having won the Ginetta GT Supercup the previous year. From a standing start the team went from strength-to-strength, with their Toyota Avensis scoring consistent top six results and a first podium place at Oulton Park. In 2014, having attracted a lot of attention, the team were rebranded as WIX Racing. That same year Ciceley switched to the Mercedes A-Class, bringing the German marque back to the BTCC for the first time since the 1980s.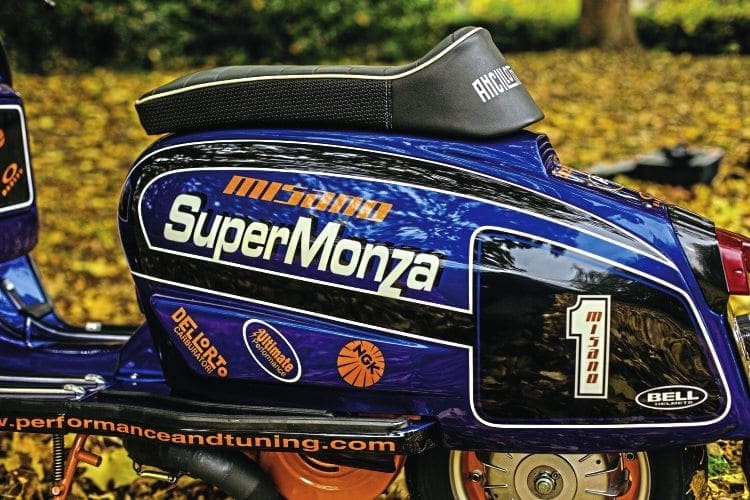 David's Lambretta is influenced by the scheme worn by Ciceley's Dynojet Racing Toyota Avensis and Mercedes as driven by rising motorsport star Adam Morgan.
Words: Stan
Photographs: Gary Chapman

Enjoy more Scootering reading in the monthly magazine. Click here to subscribe.