Take the undisputed high quality art work of Paul Karslake and the meticulously thorough workmanship of Atoms Scooters. Combine the two on a thoroughbred 1970 Italian Grand Prix scooter, with a custom theme based loosely around legendary guitarist Jimi Hendrix and volia: a recipe for a modern day masterpiece.
Paul Karslake's superb murals on Midnight Toker are centred around the leg-shield reproduction of Hendrix smoking a fat one. However there are three music themes interwoven in the makeup of Adrian Sherhod's custom GP. In keeping with the production years of Bertone's finest design for Innocenti (1968-1971), Adrian's music related imagery adorning this machine is taken from a similar time period.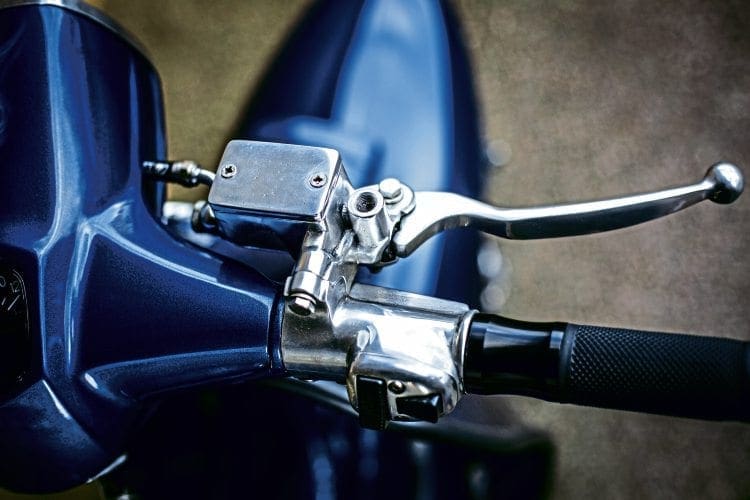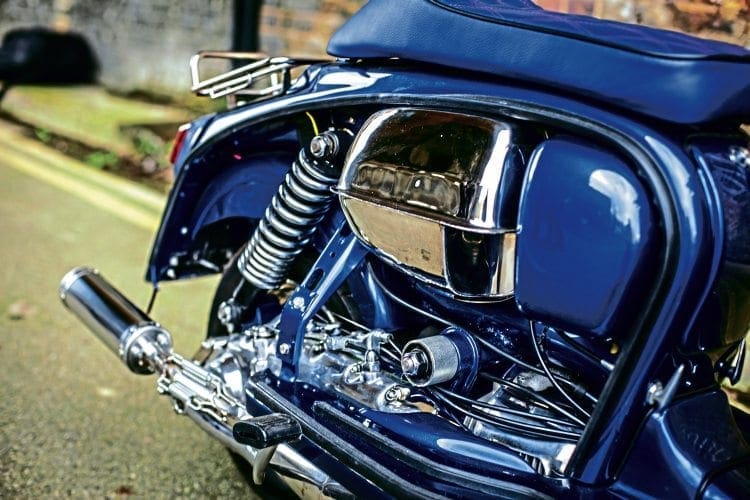 Are You Experienced?
Via a mutual friend Adrian managed to contact Paul Karslake. "I thought if you don't ask you won't get, I chanced my luck and asked if he'd be interested in doing the artwork for my scooter. He liked the idea and agreed to do the job, I even got invited down to his studio which was an eye opening experience in its own right. While I was there he reiterated how much he loved the idea of my initial concepts. I'm more than pleased with the end result, I particularly like the way (dependant on the angle you're looking from and the lighting conditions) how visible, or not, the smoke spiralling off Jimi's spliff, drifting over the leg-shields, headset and side panels is."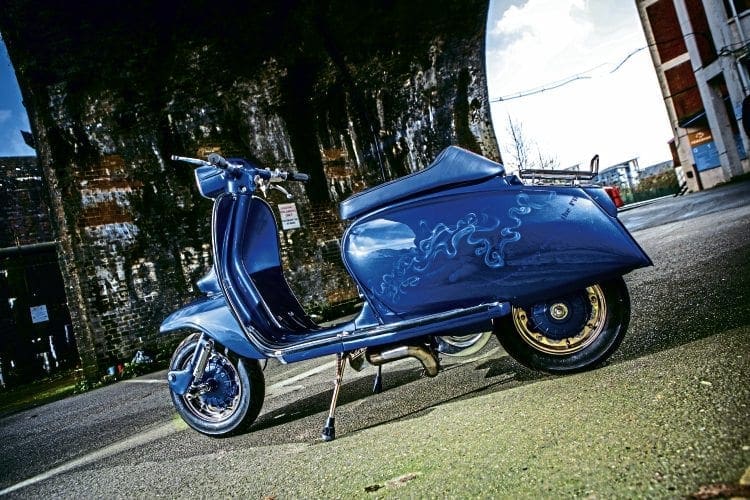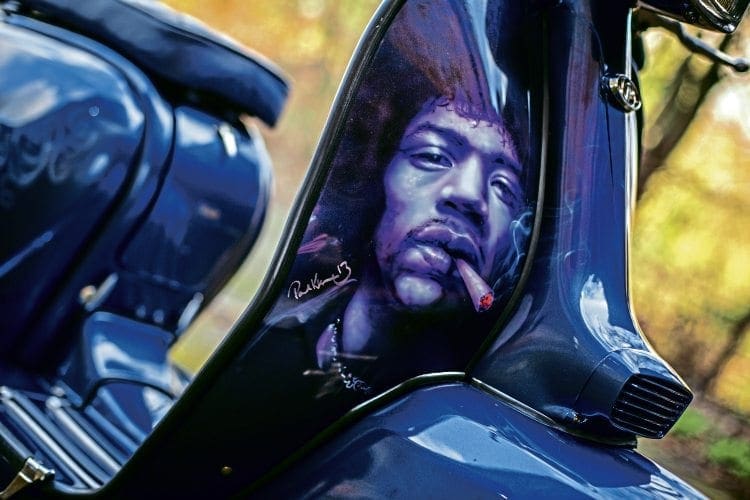 The Joker
Adrian bestowed the moniker Midnight Toker on his pride and joy, lifting the name from a line in the title track of Steve Miller Band's 1973 album The Joker. Here are a few snippets for trivia fans: while the single topped the charts stateside in the early 70s, it was 16 years on before it hit the top spot in the UK singles chart in 1990. This was thanks to the song being used in a television advertisement at the time, for Levi jeans. It's a slide guitar sound that mimics the wolf whistle following the 'Iovey dovey' lyrics, in one of several memorable parts of the song. Another being the use of a non-word 'pompatus' in the lyrics, it's believed Steve Miller misheard the word puppetutes, meaning an erotic paper doll depiction of the female form, in The Medallions mid-50s track, The Letter. Paul Karslake reproduced the entire line that bears the scooter's name on both side panels. Curving downwards under the depiction of drifting smoke, the words, like the smoke, are only clearly visible some of the time. An effect which underlines Paul Karslake's skill, ability and artistry… as well as his extensive expertise of how to utilise various paints to create a truly stunning impact.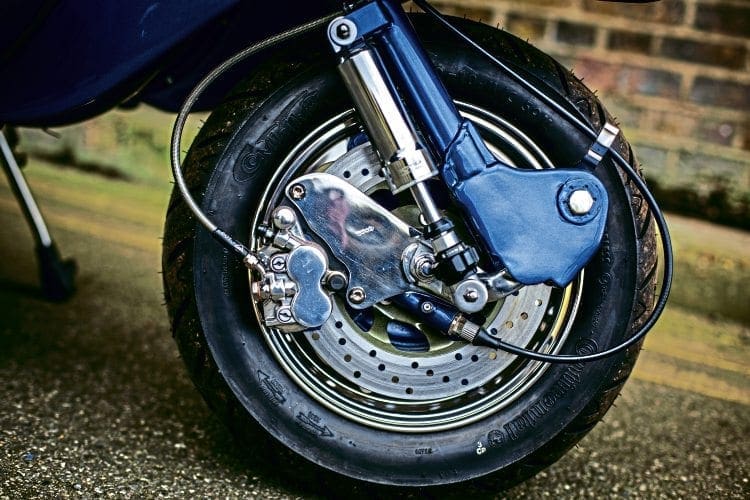 Wish You Were Here
Matching the blue livery of the paint work is the slope back, Ancillotti seat. Sourced out by Atoms to John the saddle man, its crowning-glory being the diamond shaped purple logo at the rear. Spelling out the words Shine On You Crazy Diamond, it's the third music reference displayed on Midnight Toker. A Pink Floyd composition, which was a tribute to founder member Syd Barrett. Initial intention was the idea would fill one side of a vinyl long player. As the idea progressed it became an epic, eventually, in its finished format, filling two sides of the Pink Floyd concept album Wish You Were Here. So the story goes, Barrett turned up at the studio one day during the recording session. His appearance had changed so drastically it took a while before his former band mates recognised him. Shine On You Crazy Diamond also saw the light of day as a heavily edited, (from 26 minutes in its entirety, to under four minutes) as 1975 single, although it was on the B-side.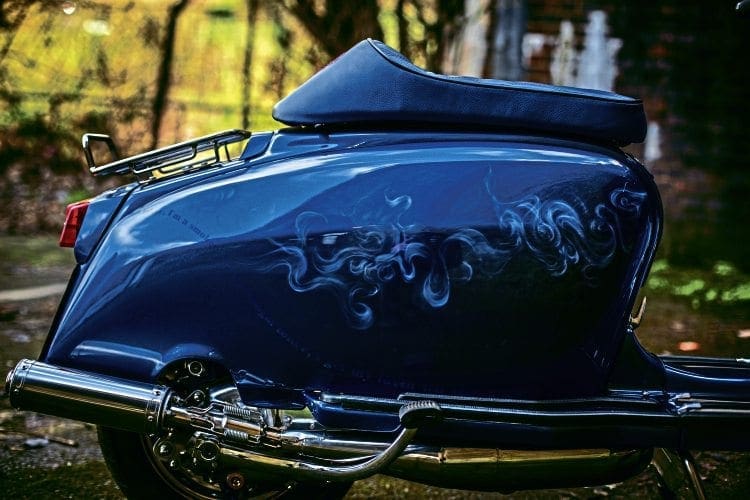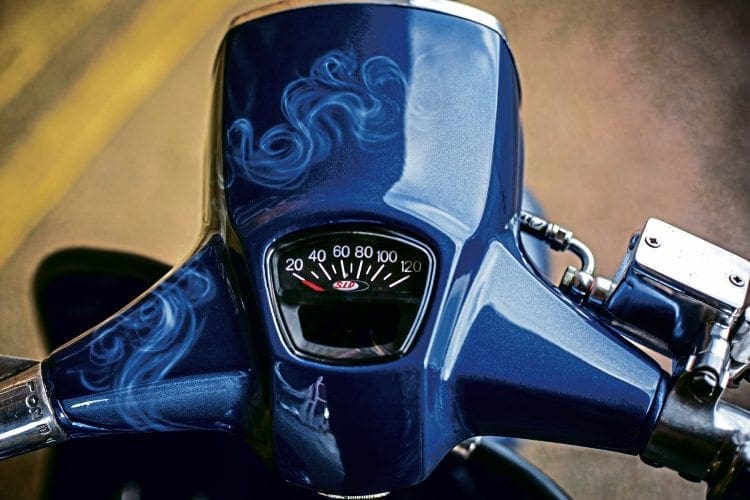 Born To Be Wild
Midnight Toker took around three years to create. That said, Adrian learnt a few useful, albeit expensive lessons during that period. "Basically I was ripped off," he says. "I spent a lot of money on the project, yet was messed about and given the run around. That was a hard lesson to learn, expensive too, but that experience then led me to the lads at Atoms. They stripped it, rebuilt it and sorted out everything else that needed doing, and turned it all around in under a year too." Dr Dave carried out necessary major surgery on the motor. This included replacing all the bearings, transplanting an AF racing crankshaft for the original. At the top end a Mugello 185 kit top end assembly, which, along with the crankcase mouth, had the ports matched giving a mild tune was installed in place of the previous barrel and piston.
Midnight Toker is one of those custom creations where a cursory quick glance of appreciation is simply nowhere near adequate. It's a scooter that deserves a proper look to take in the many intricacies contained within Paul Karslake's eye-catching artwork.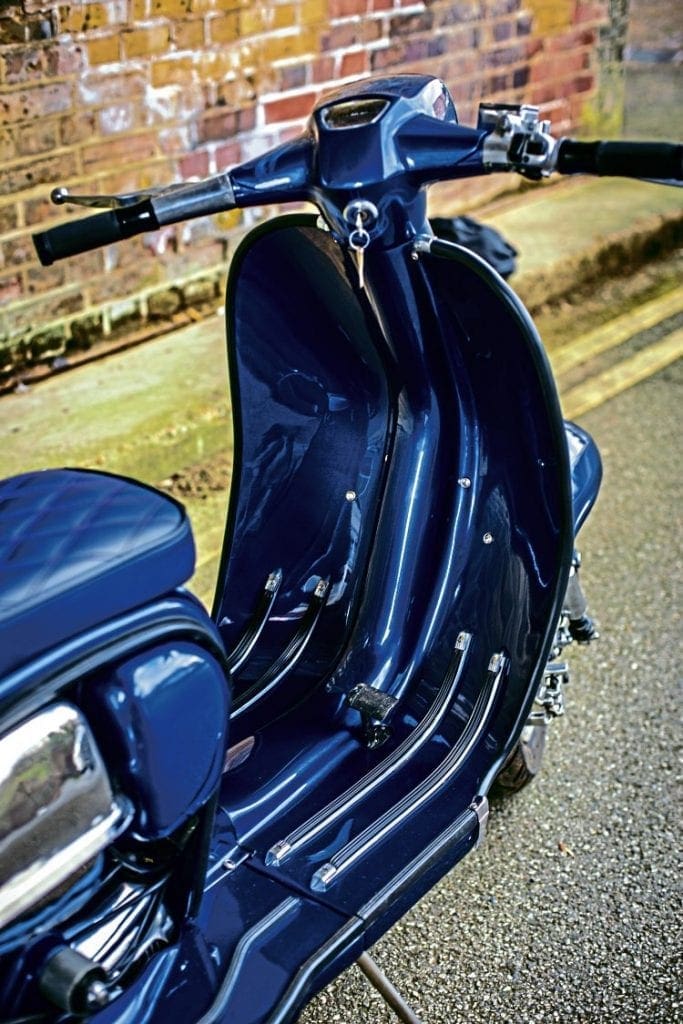 OWNERS DETAILS
Name: Adrian Sherhod.
Scooter club & town: Maidstone, not a member of any club.
How did you first become interested in scooters:
I was a Mod at the age of 10; at least I thought I was, ha! Around 1978/79 I was taken with all things Mod. There was an older lad down my road called Craig, who was a proper Mod. He had a scooter and I used to pester him to give me backies up and down the road!
What was your first scooter: Me and two mates bought a Garelli Capri off a local guy for £15, which worked out at £5 each: a week's school dinner money. We used to ride it round the hop fields and woods.
What is your favourite scooter model: GP Lambretta.
What is your favourite style of custom scooter: Anything original in thought with a quality build.
First rally or event: Mid-80s, Margate, by tram!
Favourite and worst rally/event: Favourite was Isle of Wight 2010, where my best mate Russ came over from Australia. We hadn't seen each other since we were kids. I gave him my single by The Who, My Generation when he left, so sharing an Isle of Wight rally with him was special.
What do you like about rallies/events: Like-minded people enjoying and sharing the same passion as a collective. I would like to see more youngsters and fresh faces getting into the scene and progressing it into the next generation.
If you had to recommend one scooter part or item of riding kit what would it be: A good, high quality full face helmet.
What's the most useless part you've ever bought for one of your scooters: Same old story but it's true — anything off eBay!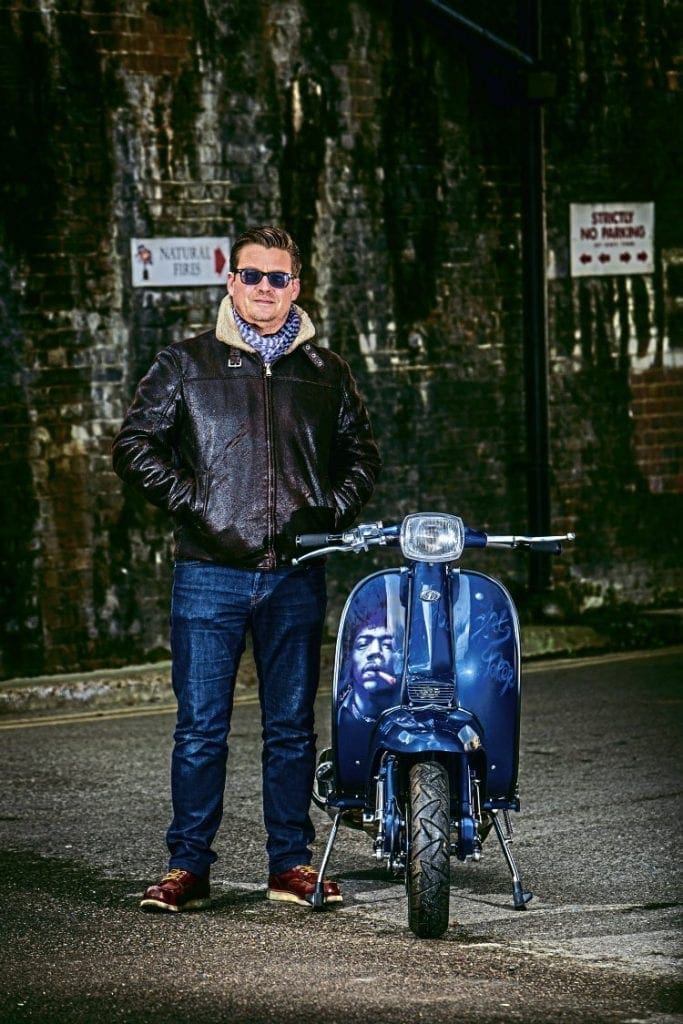 SCOOTER DETAILS
Name of scooter: Midnight Toker — it's a 1970 GP, which was the same year Hendrix headlined the Isle of Wight festival alongside The Who, both of whom I really !Ike as artists. I tried to incorporate that with a personalised edge which speaks for itself really. The name is taken out of a verse from The Joker, by the Steve Miller Band, the lyrics run down both sidepanels "I'm a joker, I'm a smoker, I'm a midnight toker, I get my lovin' on the run".
Scooter model: Italian GP 1970.
Date purchased and how much did it cost: 2009 — £1900.
Inspiration for project: I had a few ideas, but once I discussed it with Paul (Karslake), he loved the idea and agreed to paint it, so it was pretty much an organic process from there. Any frame modifications: During the first three years, I got messed around and ripped off. But then I got it to the lads at Atoms, who stripped and rebuilt it to a fantastic standard, which I'm really pleased with.
Engine: Kit — Mugello, crank — AF Race, carb – Dellorto VHSH, exhaust — Franspeed Super tourer, Porting Work — Dr Dave at Atoms.
Are there any other unique details we have missed: The seat, superb job by John the saddle-man, via Atoms.
Paintwork & murals: Paul Karslake, got hold of his contact details and thought 'don't ask, don't get'. Luckily, he said yes!
Powder coating: Casings powder coated to match paintwork by Atoms.
Chrome: No chrome, but there is polishing, chaincase, calliper and master cylinder, all polished by Atoms.
Overall cost: £10,000, but a big chunk of that was down to being ripped off to begin with. What was the hardest part of the project: Waiting, and missing the ride for so long.
Do you have any advice or tech tips for anyone starling a project: Just try and be fresh and original with your idea.
In hindsight, is there anything you would have done differently: Yeah, not to have been messed around at the beginning, an expensive mistake but a lesson learnt.
Your favourite dealer: Atoms.
Thanks: Paul Karslake for the murals and agreeing to paint my scooter, Atoms lads, top people, top quality workmanship. My girlfriend Michelle for support and being there, John the saddle-man, fantastic work on the seat.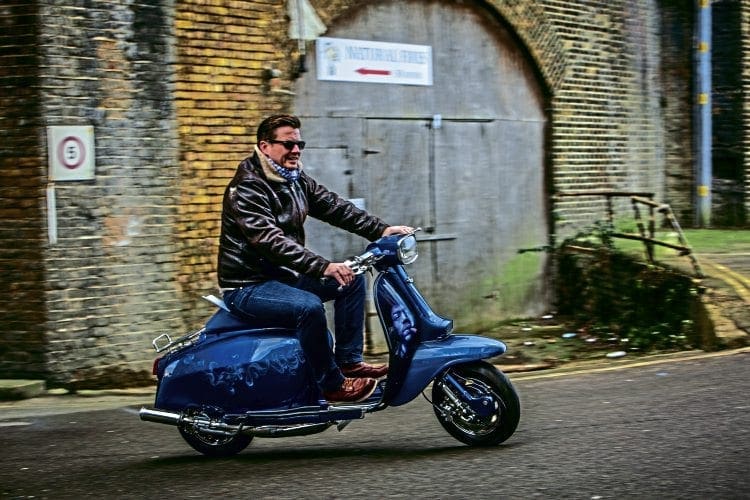 JIMI HENDRIX – GUITAR LEGEND
Although the innovative guitarist was only at the very top of his career for a brief four years, that time span between 1966 and his untimely death in 1970 saw Jimi Hendrix rise to legendary status on a worldwide scale. Over 45 years on, his musical legacy remains rightly revered.
Born Johnny Allen Hendrix in 1942 in Seattle, Washington USA, he began to play guitar from the age of 15. After a brief spell in the US army where he joined 101st Airborne Division as a paratrooper in 1961, he was granted an honourable discharge in 1962. Relocating to Clarksville, Tennessee, he began working on the Chitlin' Circuit as a live session musician, playing with name acts such as Wilson Pickett, Isley Brothers, Don Covay and Little Richard. The latter, according to some accounts dispensed with his services because he was more flamboyant than Little Richard himself, and was drawing attention away from the 'star'. He joined Curtis Knight and The Squires, who he remained with for eight months, before forming his first band Jimmy James and The Blue Flames. It was during his time in that incarnation he began to develop his pioneering, unique style and sound.
Linda Keith, the then-girlfriend of 'Stones guitarist Keith Richards, spotted Jimi playing in New York. Initially she tried to get Andrew Loog Oldham interested in this young, raw talent, Oldham wasn't convinced, so she than hooked Jimi up with Chas Chandler, ex The Animals. Relocating to England, in a short time Chandler recruited Noel Redding and Mitch Mitchell, who, obviously, with Jimi, became The Jimi Hendrix Experience. The Who management at the time, Lambert and Stamp signed The Experience to their Track label, debut single Hey Joe was released in October 1966. Jimi's maverick guitar playing was part natural talent and part down to the sound created by him stringing a Fender Stratocaster upside down, as he was left handed. The slant of the bridge stung backwards combined with extensive use of a wah-wah effects pedal were, er, instrumental in developing the Hendrix guitar sound. Purple Haze was the second single from the Experience followed by debut album Are You Experienced. From which point Jimi Hendrix career went stratospheric.
A taster of the many high points include performing his version of The Beatles' Sgt. Pepper's live three days after its release, performing live at Monterey Pop festival in 1967, setting his guitar alight at the climax of his set, plus his rendition of Star Spangled Banner at Woodstock Festival 1969. The Jimi Hendrix Experience split in 1969 after releasing three seminal albums, Are You Experienced, Axis: Bold As Love and Electric Ladyland, the latter sharing a name with Hendrix's own recording studio. Next came the Band Of Gypsys live album released in 1970, which was the last Hendrix album released while he was alive. Posthumously a dozen albums have been released between 1971 and 2013.
During his lifetime and after his death, Jimi Hendrix received a plethora of music related awards, the most prestigious being Grammy awards, Rock and Roll Hall of Fame induction and a Star on Hollywood's Walk of Fame. His consumption of alcohol and cocktails of controlled substances, while in effect going hand in hand with his psychedelic rock music, would ultimately be the cause of his demise. September 17, 1970, he went back to Monika Dannemann's London flat, they consumed a bottle of wine during the evening. After visiting an acquaintance for a few hours he returned to her flat in the early hours of September 18.
Later that morning she discovered him breathing but unresponsive, an ambulance was called. Jimi Hendrix was pronounced dead from asphyxiation (choked on his own vomit).
PAUL KARSLAKE FRSA – AIRBRUSH MAESTRO
Son of Mike Karslake, the late president of Lambretta Club Great Britain and founder of Lambretta Preservation Society, among many other connections with Innocenti's finest, Paul Karslake, is a world renowned artist. His sister Jo Wood was married to 'Stories guitarist Ronnie Wood, Paul also has two other siblings, Elizabeth and Vinnie.
Paul has a phenomenal CV, that includes working under the tutorage of Sir Peter Scott, meeting Salvador Dali, being involved firstly with Disney in America and later with Euro-Disney, in 1990 he became a Fellow of The Royal Society of Arts. Throughout his career as a fine artist he has had many commissions from corporate and private clients, he has exhibited his work many times in various locations worldwide.
In 2001 he opened his own studio/gallery in Leigh On Sea, The Paul Karslake Fine Art Gallery, while four years later he opened The Karslake Centre for Art as part of The Cornelius Vermuyden School and Arts College, Essex. This allows Paul to share his experiences, skills as well as actively support youngsters wishing to do work experience in the art world. Passing on his experiences and giving mentoring type encouragement is something Paul is very passionate about.
On the scooter scene Paul is remembered and renowned for his ground breaking artwork that adorned some of the most ground-breaking custom scooters of the 1980s. Predominantly, but not definitively, the best remembered were owned by Jeremy Howlett, Dazzle, Spirit Walker, Nike and Wake all come to mind.
Then there was Mick Guantlett's at the time un-named Lammy, which was christened 'Steve'. Also one custom scooter that, if memory serves had two incarnations, was Shock, which had a mildly disturbing yet captivating image of someone with a gun in their mouth, blowing the back of their head off, adorning a side panel! Scooters he worked on between 1982 and 1987 picked up in excess of 2000 awards and trophies.
As well as being a working artist Paul plays bass and sings in his own band, he also has a love of a whole variety of motor vehicles. To celebrate and mark the Queen's Diamond Jubilee in 2012 he bought a Bentley Mulsanne S, then covered the bodywork with his art celebrating moments from the heyday of the British Empire. Very likely a hereditary trait from his late father, Paul has amassed a collection of vintage Lambrettas, which, when time and workload permits he picks one to take out for a ride.
One of the most recent additions to his collection being Mike's beloved Series 2 with Watsonian sidecar outfit. Recently, Paul provided the artwork on Instruments For Professionals, a feature scooter in Scootering a few months ago, and Midnight Toker, the Jimi Hendrix and 70s music themed Lambretta.
Words: Serge
Photography: Gary Chapman
This article was taken from the May 2016 edition of Scootering, back issues available here: www.classicmagazines.co.uk/issue/SCO/year/2016

Enjoy more Scootering reading in the monthly magazine. Click here to subscribe.