Stan's Casa 185 kit's now covered 5000 miles and visited nine countries. This month he presents Scootering's longest road test to date.
Let's be clear, for anyone seeking a high power, knee-scraping, sports conversion Casa's 185 kit isn't the answer, but no one's making that claim. With an output of just over 10bhp it's close to a factory 200 and I think that's what it should be compared to. In a sentence? It's the small block barrel Innocenti should have produced but never did.
Cinquemila and counting
Although it's recently been reworked, Casa's 185 kit has been around for some time… which makes it easy to miss. While everyone else has their heads turned in the opposite direction, and has got the latest XYZ-super-ultimate-championship winning gazillion bhp engines under the spotlight, these humble little classics can go somewhat unnoticed. The kit under test was bought around three years ago to fulfil my requirement for something reliable, economical and rideable. It's completely filled that brief but it's not the most exciting of rides. The good news is that peak output's reached quickly, meaning that pulling away, even fully loaded, is easy. The bad news is that there's no power curve to speak of, and beyond 6000rpm power fades away rapidly. This test used the kit straight out of the box, but with the addition of a larger carb than the 23mm one I'm using and some light port work, it easily has the potential to release at least another 2-3hp more. I've mostly used the Casa for long haul trips, notably the 70th anniversary rally in Monza, the past two EuroLambrettas, and even Vespa World Days in Belfast, to which I rode from Spain along France's Atlantic coast and through Eire. From these trips I've picked a few days' riding to illustrate how the Casa kit performed.
Holding its own
Organised as a 'filler' between Monza and Adria, this provided an opportunity to compare the Casa against a variety of other engines. During some spirited ride outs around Como and Iseo, the Casa more than held its own. Obviously it was left standing by an RB250 but for the most part there was little difference between it, a Mugello and an RT until we hit a long straight when they pulled away. Most of this riding was in high temperatures and the Casa never missed a beat nor showed any tendency to nip up.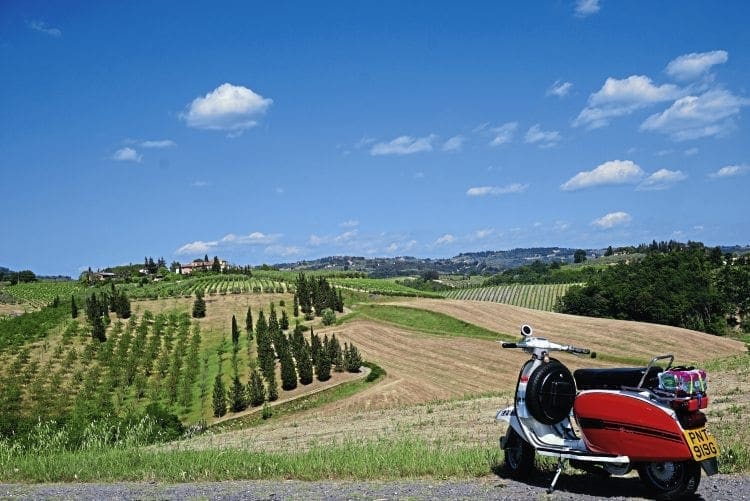 Natural Environment
One of the few campsites worthy of its name is the Chianti Panorama, the views down the valley are stunning. I pitched here on a 'weekend off' between stops at Piaggio and Pinasco. What I hadn't expected was such wonderful riding. The countryside undulates rather than climbs and the back roads are full of sweeping curves. Here the Casa was in its element, the countryside was too beautiful to rush through and the flat power curve meant that at low speeds the throttle always responded quickly. An added benefit was the BGM clubman which sounded well but didn't cause offence in the sleepy towns we passed through.
Guernica to Mios
What began as a pleasant ride across the Pyrenees quickly turned into one of the worst day's riding I've ever endured. Heading out of Guernica, I climbed through forests and sleepy Spanish villages. With altitude came drizzle that quickened to the point where waterproofs were needed. Soon the drizzle turned into a deluge, turning mountain roads into streams. Hugging the coast was pointless as I could barely see the side of the road never mind the sea. When I stumbled across the entrance to a motorway I took it as a sign to abandon 'Plan A'. If it was going to be dangerous, wet and miserable I may as well be covering some miles in the process. For over 150 miles in driving rain the Casa held its cruising speed of 55mph without complaint and even had enough in reserve for a few planned overtakes. After this experience I'm also confident BGM's ignition is waterproof!
Hi, altitude
Running between Italy and Austria, the Brenner peaks at around 1400m and I tackled this using the dual carriageway. This has, more or less, an uninterrupted and fairly steep gradient. More than anywhere else this exposed the kit's flat power curve. Although I've GPS'd the 185 at 68mph, that was a one off. Usually it's happiest in the region of 50/65mph and on the flat it'll hold that all day long.
Unfortunately once it hits a long incline there's no power for the engine to draw on. It's a question of gearing down, building revs and gearing up before repeating the process time and time again. Admittedly no two-stroke enjoys the Alps, thin air at altitude plays havoc by richening the mixture, but subsequent experience proved this wasn't the case at Brenner.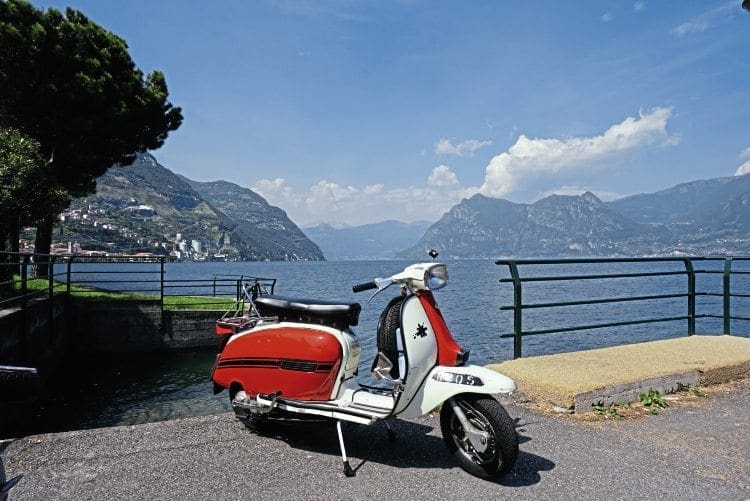 This year's EuroLambretta was held at an altitude of 1100m and if my smartphone's to be believed, a ride out to The Black Lagoon added another 500m. The bulk of this climb was over a very short distance, meaning steep gradients and sharp curves. How any scooter performed depended on who a rider got stuck behind so comparisons are meaningless. That said, because it reaches peak power quickly, the Casa pulled like a train for the entire length. Admittedly this was mainly in second with the odd foray into third, but it flew past many machines that were on the point of giving up entirely. All the power produced by the kit sits in a very usable band but once it's done… it's done.
For a few dollars more?
At under £400, Casa's 185 is one of the more competitively priced small block kits on today's market. Although 200cc performance from a small-block isn't to be sniffed at, there are now more alternatives than when I decided to have one fitted. For slightly more it's possible to buy more horsepower and a performance curve that isn't quite so flat as the Casa. That said, I've never owned a scooter that's given 5000 trouble free miles. Although I'm good at assembling, I'm no mechanic and the engine was entrusted to Chiselspeed. Much of its reliability is no doubt due to the quality of that build.
If the desired outcome is a street racer then there are better alternatives to Casa's 185. This is a kit for someone who wants extra power in a bolt on package. With an output of just over 10bhp it's never going to set any speed records but it can be fitted easily and without the hidden costs associated with upgrading crank, brakes and suspension. There's no doubt that the kit's lived up to Casa's 'bulletproof' claim and a big part of me wants to leave well alone. If this was my daily ride it would be the perfect kit but for long distance work I feel that I'm going to need more power. It may seem a little bit ungrateful as the Casa's delivered on every promise but like Olive Twist I'm left wanting more.
'R205'
Produced in early 1969, 'R205' was one of the first DL 150s to emerge from Innocenti's Milan factory. Finished in the white and red 'export' scheme, it was shipped to South Africa and allocated the registration R205. The prefix denoted the registering office and 'R' was saved for military vehicles, making this a rare machine. In 2015, after decades in storage, R205 was auctioned along with other Lambrettas by South African Railways. Most went to Retrospective Scooters and when I saw R205 listed on their site I knew my search for an original paint GP was over. During the strip down it became obvious that it'd barely been touched since leaving the factory and there were several interesting discoveries. The loom, air scoop rubber and rear brake cable were all grey. Presumably Innocenti saw an overseas government contract as a good opportunity to use up old parts? The paint responded well to T-Cut and wax, the rubbers were still flexible and all have been reused. The plastic toolbox had oxidized but after some gentle coaxing with wire wool it too has been re-fitted. I'd estimate that 90% of the fittings are original to its factory build, the exception is the rear frame which was badly damaged and had to be replaced.
SPECIFICATION
Type: 1969 Innocenti DL150.
Scooter build: Stan.
Engine build: Chiselspeed.
Kit: Casa 185.
Carb: Polini 23mm.
Exhaust: BGM Clubman.
Gearing: 17/46 Li125 gearbox.
Ignition: BGM Bigbox.
Crank: Chiselspeed built 58mm stroke and Italian rod.
Clutch: Four-plate surflex with Chiselspeed strong clutch springs.
Output: 10.44bhp.
Top/cruising speed (GPS): 68/55.
Fuel consumption: 41mpg.
Suspension: Standard.
Brakes: Drum front and rear, Newfren shoes.
BREATHE EASY
The most unusual part of this set up is probably the 23mm Polini carb. This was chosen as it offers similar performance to the more common DeII'Orto but with modern engineering standards. It can be used with the factory air box or, if a larger tank's fitted, an in line filter. The only downside I've found is that it's sensitive to over fuelling. It's a hard habit to break but the throttle needs to be left alone when starting. The only other snag was a dirty air filter which made starting difficult until the problem was traced.
Words & photographs: Stan

Enjoy more Scootering reading in the monthly magazine. Click here to subscribe.