Fantasy art has been a firm favourite with many ever since artists first discovered the airbrush. With his Vespa starting to show signs of its age, owner Rob took the opportunity to put his ideas into full effect…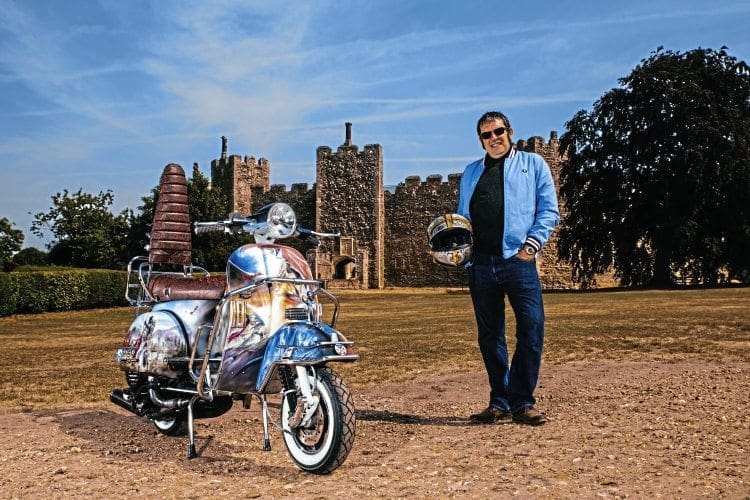 Airbrushing is effective and can cover large areas such as panels and legshields, enabling the artist to tell a story. The owner of this 'monster', Rob Graham, decided to go for an all over custom job when his 2015 PX200 was starting to show signs of wear and tear. It had succumbed to the dreaded rust in the foot wells and had a legshield battle-scar from an encounter with another vehicle. So in December 2017 he took it off the road and over the next few months had it stripped down and refurbished to what you see here. All of this work (under Rob's brief) was undertaken by Anglia Scooters and its proprietor Martyn Drake (Drakey).
First on the agenda was the bodywork; after repairing the dent everything was blasted, rust treated and prepped for the base colour and art. For this the talents of Simon Greenaway at SigmaArts were employed. Rob wanted an all-over scheme featuring knights, dragons and castles. Even his crash helmet came up for attention; not sure if vision is slightly impaired by the narrow slit but who cares, it looks good! I'm informed the name L'ultimo Drago actually means 'Last Dragon', nothing too deep – Rob just thought it sounded good and went well with the paintwork and general idea. While the shell was away, Drakey turned his attention to the engine.
Although the Vespa P-range is famous for its reliability and mile munching Rob wanted something a bit more 'adventurous' to go with the other facets of the rebuild. These days many tuning parts can be bought 'off the shelf', but to match everything together takes know-how and skill. Drakey used the best components on offer – a Malossi 210 kit, 60mm Pinasco crank, modified SIP 24mm carb, SIP performance expansion, uprated Cosa clutch and standard gearbox with 36 tooth fourth gear. He then matched everything and gave the ports an Anglia Scooters 'Sport' tune! After running in it has been dyno'd by Lowestoft Lambretta Works and shows a very impressive 21hp, which on the road equates to 75mph and a 60mph cruising speed without losing reliability.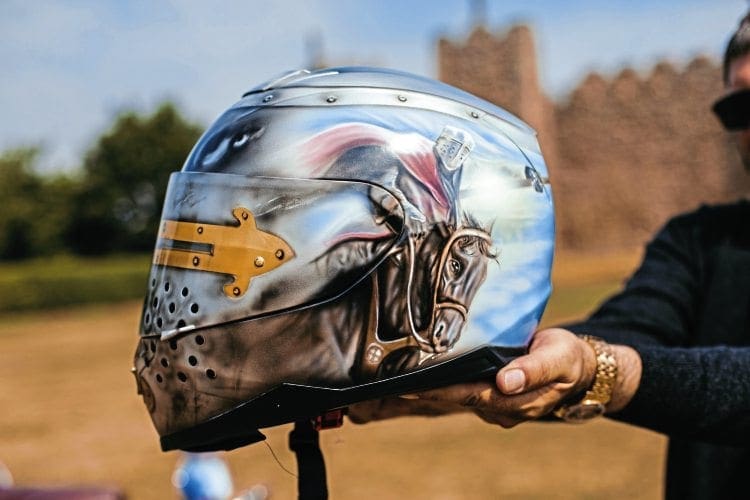 After a relatively short (in custom terms) five months, the scooter was back together. Other nice touches are the matching snake skin effect seat, spare wheel cover and high rise backrest; and subtle use of chrome. It also has a 'Mod' feel with whitewall tyres, white running gear and both crash bars and rack. The finished machine reminds me of the early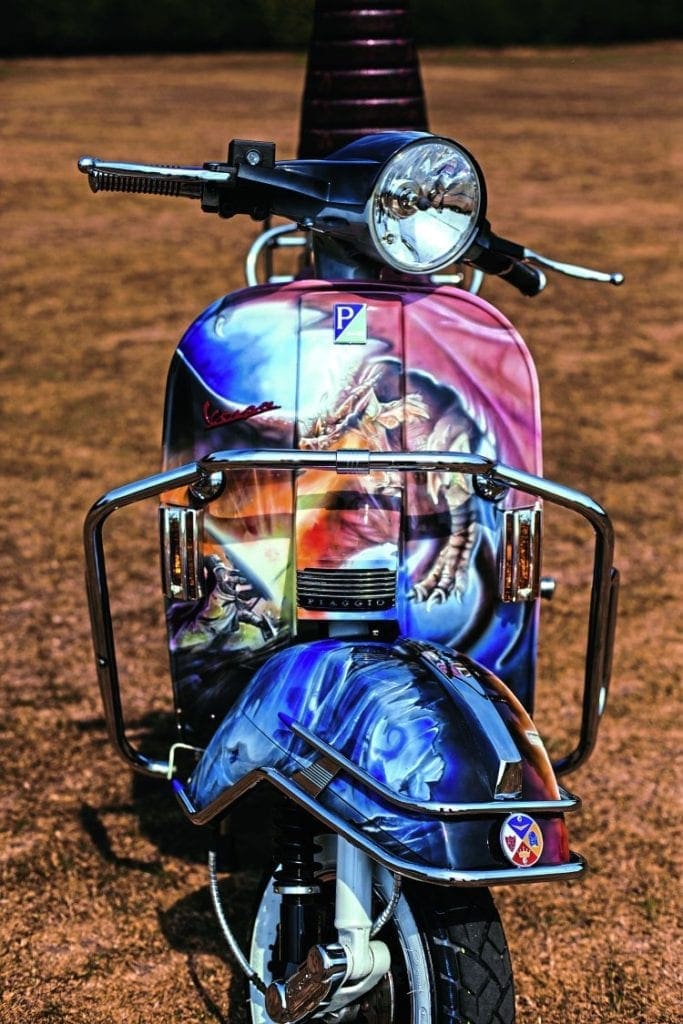 80s rally customs such as Enchanted Dream and Crusader of Time – interesting but still practical. It's his style and the use of modern engine components brings it right up to date. God wills it!
OWNER DETAILS
Name: Rob Graham
Job: Account manager for a refrigeration company.
Scooter club & town: TMS – it's not too shabby, Lowestoft, Suffolk.
How and when did you first become interested in scooters: I was about 11 years old and got hooked when I used to see all the Mods come round our house to chat up my older Modette sister.
What was your first scooter: PX200 with a 221 Malossi engine.
What is your favourite scooter model: P-range.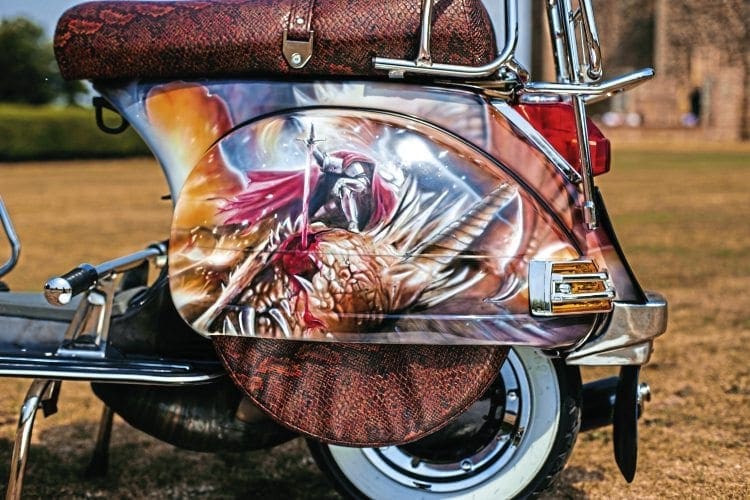 First rally or event: Great Yarmouth Rally 1982.
Any stories: Getting chased by a lot of angry skinhead girls with my mates and running for our lives.
Favourite and worst rally/ event: Favourite – Mods & Rockers event at Hunstanton 2017. Worst – four attempts to ride-out to a local village called Walberswick and failing miserably every time.
Funniest experience with a scooter: On the way back from the Hunstanton Mods & Rockers ride when we stopped at a McD's and my mate Keith going to the toilet and having to use one of his favourite silk handkerchiefs because the was no loo roll and he had to flush it down the pan. We were literally crying.
What's the furthest you've ever ridden on a scooter: Mersea Island.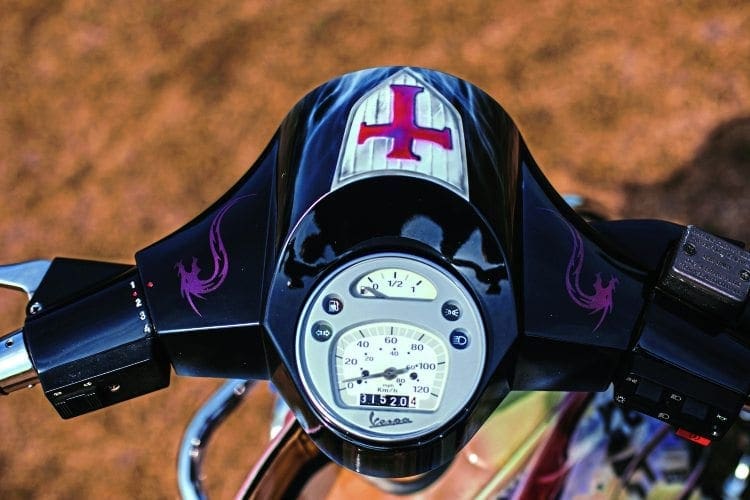 What do you like about rallies/events: Just seeing all of the different scooters and what paint jobs they've had etc.
What do you dislike about rallies/events: The thieving that goes on.
What's your favourite Scootering magazine feature: Readers' Rides.
Your favourite custom/featured scooter of all time: 'Drop Dead Gorgeous' Rally 200 1998.
What's the most useless part you've ever bought for one of your scooters: Stainless steel floor runners – just wouldn't fit.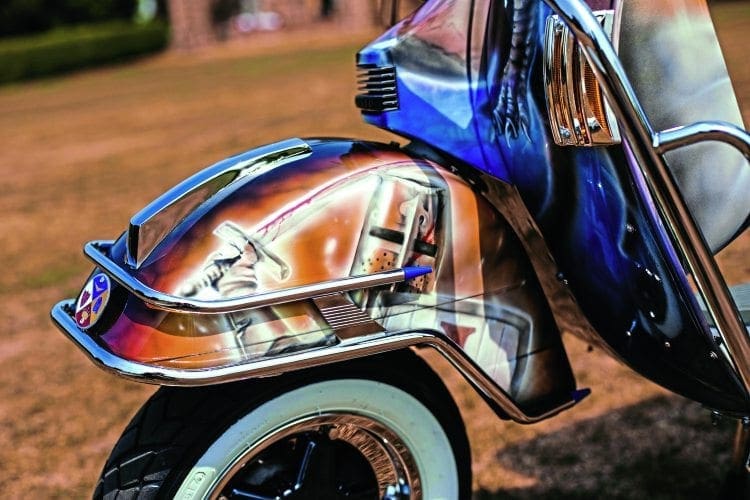 SCOOTER DETAILS
Name of scooter & reason: L'ultimo Drago which means The Last Dragon in Italian. Just wanted something that sounded different and it went with the paint job on my scooter.
Scooter model: PX200.
Date purchased & cost: July 2015 – cost £2500.
Inspiration for project: Had rust showing and a dent on my legshield that needed attention. Really wanted to have a total paint job and the rest is now history.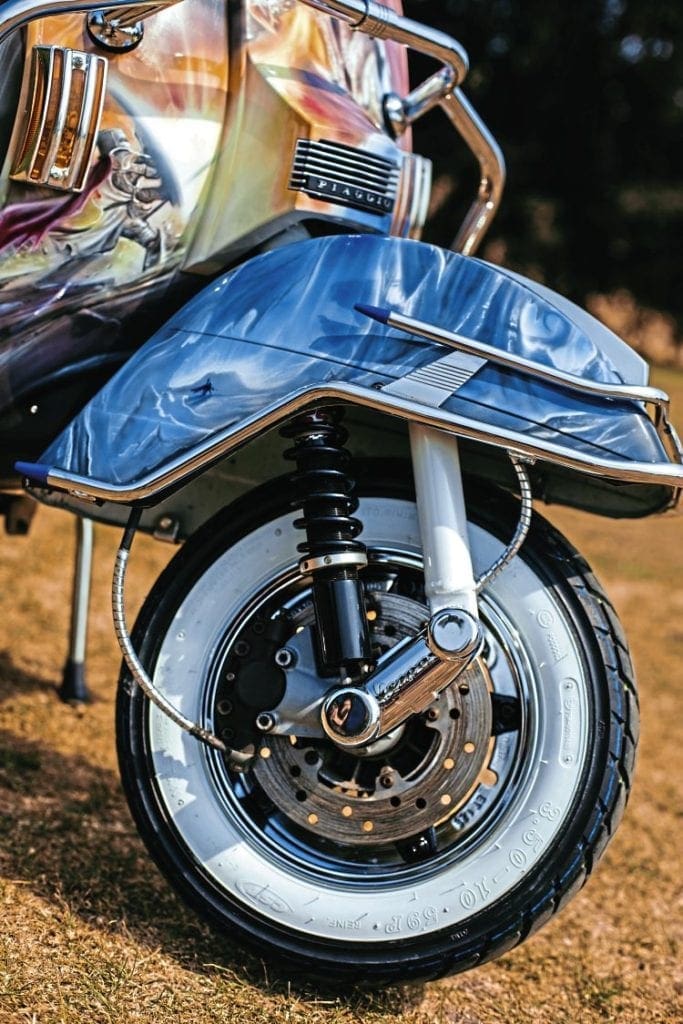 Time to build & by who: Took off the road around mid-December 2017 and was rebuilt April 2018 by Martyn Drake (Drakey) of Anglia Scooters.
Engine spec: Malossi 210 Sport 'Ported'. Crank: 60mm Pinasco. Carb: Modified Si 24. Exhaust: SIP Performance Expansion. Clutch: Uprated Cosa. Gearbox: Piaggio 36 Tooth 4th.
Porting work by: Anglia Scooters (Martyn Drake). Dyno done by: Lowestoft Lambretta Works (Sash) 21hp.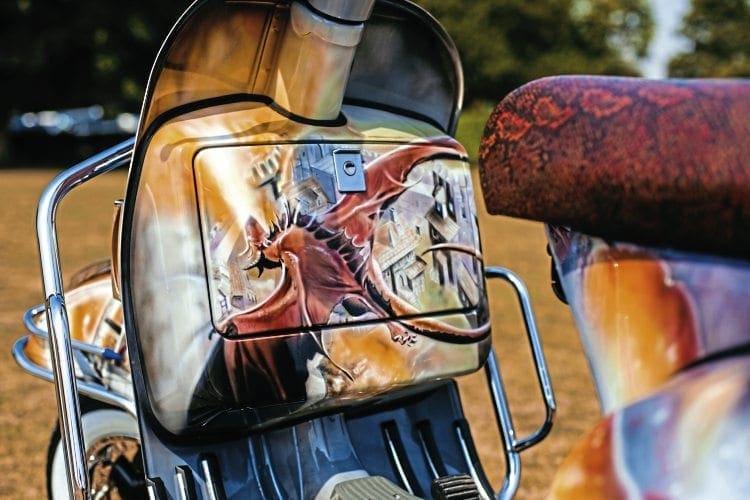 Top speed & cruising speed: 75mph, 60mph.
Is the scooter reliable: YES very.
Paintwork & murals done by: Simon Greenaway, Sigmaarts.
What was the hardest part of the project: Being off the road for five months.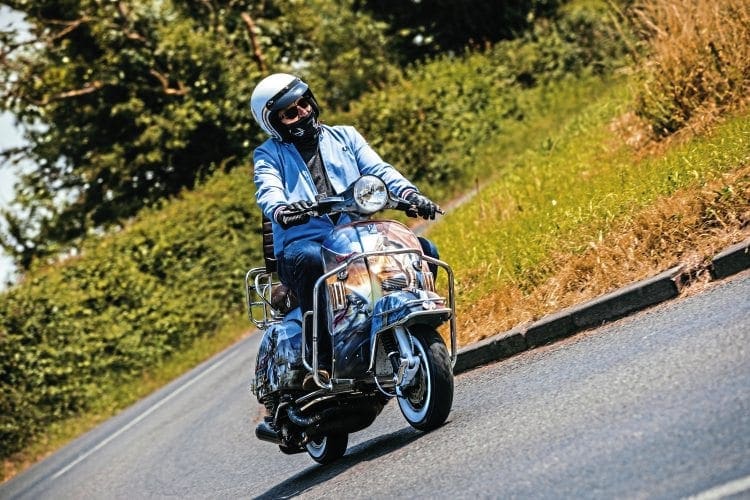 Do you have any advice or tech tips for anyone starting a project: Try to stick to a fixed budget as the shopping list begins to grow and grow as it all takes shape.
Is there anyone you wish to thank: Simon Greenaway at SigmaArts, and Martyn Drake at Anglia Scooters.
Words: Dave O
Photographs: Gary Chapman

Enjoy more Scootering reading in the monthly magazine. Click here to subscribe.