Author, producer and collator Vittorio Tessera, is regarded as one of, if not, the world's leading authority on Innocenti scooters. Vittorio's latest book, Lambretta Lui, covers all aspects of the 'Marmite' scoot.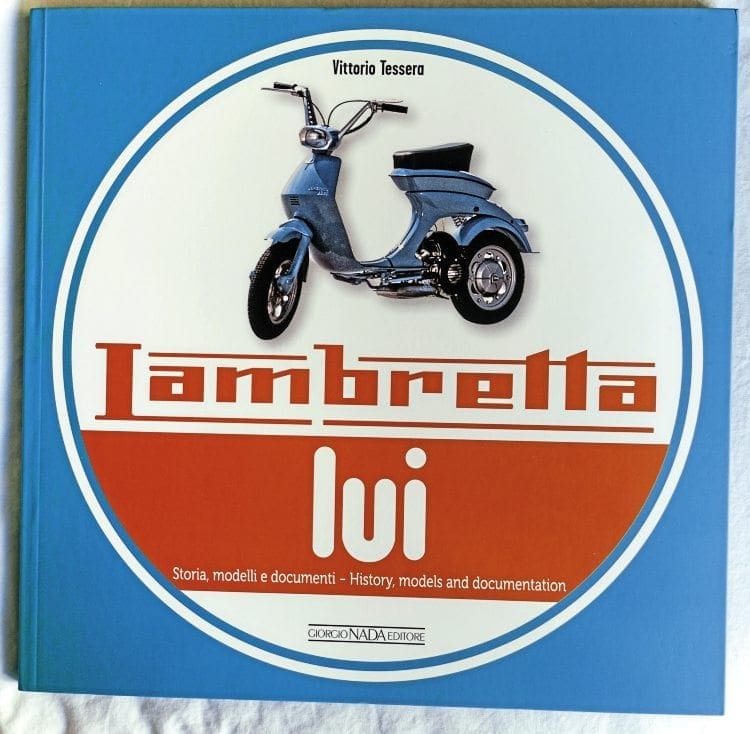 Like its predecessors, which include definitive histories and restoration guides, this coffee table style book is packed to overflowing with information. It comes with both Italian and English language text, though on a few pages quality control may have taken a half day off, as the Italian is printed/superimposed over the English on the facing page. Also in a couple of instances, the choice of colour for the English text could have been better as it does merge and blend into the background. Minor, rectifiable, gripes apart, it is a well put together, well-structured book. Every manufacturer of a multitude of varying models has launched the odd few lemons. Lambretta Innocenti certainly did produce a few! Arguably the best example of which would be, for many, the entire J range, from the J (Junior) 50 to the Super Starstream 125. According to some Lammy experts, it was Lambretta's attempt to produce a cheap scooter utilising elements used on Vespa scooters. It turned out that most of the 'bad' design elements were incorporated/borrowed/utilised, with few if any of the good ones featured. Granted, there are some J range devotees worldwide, but not many of them! Whereas, the J range's younger sister model(s), the Lui or as they are better known in the UK, Luna Line models have many more devotees. Yes, the Luna line Lambrettas are something of a Marmite machine, however, Bertone's involvement in the design and development has almost definitely had an impact on the wider appreciation of the various Lui models.
Vittorio's book, Lambretta Lui, tracks the development of all the various models that were manufactured within what is known as the Luna Line. Tracing the arrival of the Lui 50 from its earliest concept incarnation, which was shown at 1961 Milan Motorcycle show, through its various stages of prototype development, including engineering and design maestro Bertone's input and influence. Many, many images of the various prototypes are included within the pages, both illustrating and accompanying the text. Lui production models 50C, 50CL, 50S, as well as the Vega 75S and Cometa 755L Lubematic, are covered at length. Comparisons along with all manner of written and visual examples of differences and idiosyncrasies of the Lui models.
Other sections include competition Lui machines which in comparison to the wealth of information within the book, I found a little on the lean side. But that's probably just me! Lui machines manufactured under licence outside Italy are covered thoroughly, as is technical information, differences and model variants. Advertising for Lui models around the world is featured, with many rare examples of brochures and sales leaflets. There are even two pages (exactly half the amount covering competition and racing Luis) on curiosities, oddities and the like, including Easter egg gifts, medals, notebooks, keyrings and unofficial postage stamps, all related to Lui models.
Design and engineering drawings, 'exploded' parts guides alongside technical information sheets are also in abundance within this excellent, informative book. Not only will Lambretta Lui look impressively good on the proverbial coffee table, it's a book that will appeal to most Lambretta, and for that matter scooter, enthusiasts everywhere.
Review: Sarge
Publisher: Giorgio Nada Editore Srl — Italy
ISBN: 978 887911 704 3

Enjoy more Scootering reading in the monthly magazine. Click here to subscribe.
Article continues below...
Advert