Lambretta Luna line scooters were one of the earliest vehicles to be designed by legendary Italian engineer Nuccio Bertone. I don't think he had off-road enduro racing in mind at the time…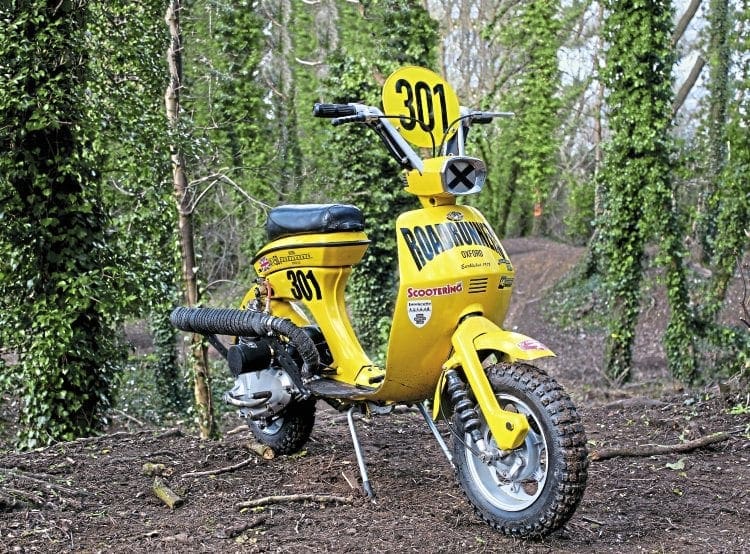 Coinciding with the late 60s race between World superpowers to put a man on the moon, advertising for the various models in the Innocenti range utilised the space race within their campaigns. The then-futuristic appearance of all Luna line models lent itself to what was back then, a very topical subject.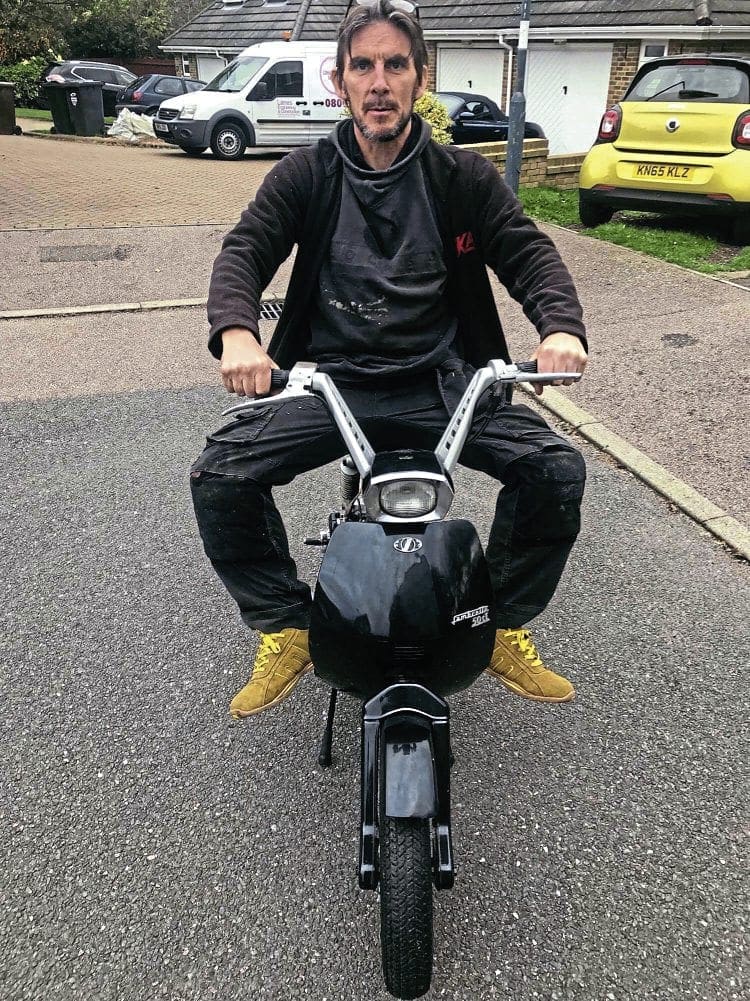 Lambretta Concessionaires in the UK, looking back, made many astute decisions regarding Innocenti models they imported and marketed. Sadly, one of the very few exceptions concerns the Luna line. Despite the then-incoming 50cc moped laws, the powers that be chose to only officially import the two 75cc Luna line Lambrettas, the Vega and the Cometa. It was an eye-off-the-ball moment that contributed to opening the door for cheap Japanese-made bikes to flood the UK. Basically it was the first nail in the coffin for Italian Lambrettas in the UK, compounded by BMC acquiring Innocenti and stopping all scooter manufacture in Milan a few years later. The smallest capacity scooters in the Luna line range were the Lui 50c and the Lui 50c1, one model being a more basic, budget example, with tubular handlebars and a one setting headlight beam. Sharing many similarities with the preceding J-range Lambrettas, especially in the engines, Luna line Lambrettas remain very much Marmite machines even among Lambretta enthusiasts.
While they are still mainly referred to under the collective marque name of Luna line, certainly in the UK, some Italian experts have taken to using the name Lui to describe all Luna line models. Although the 75cc Vega and (lubematic) Cometa proved to be not that popular as new scooters, competition riders taking part in certain scooter sports events found Luna line scooters adaptable, capable and competitive in the late 60s and early 70s.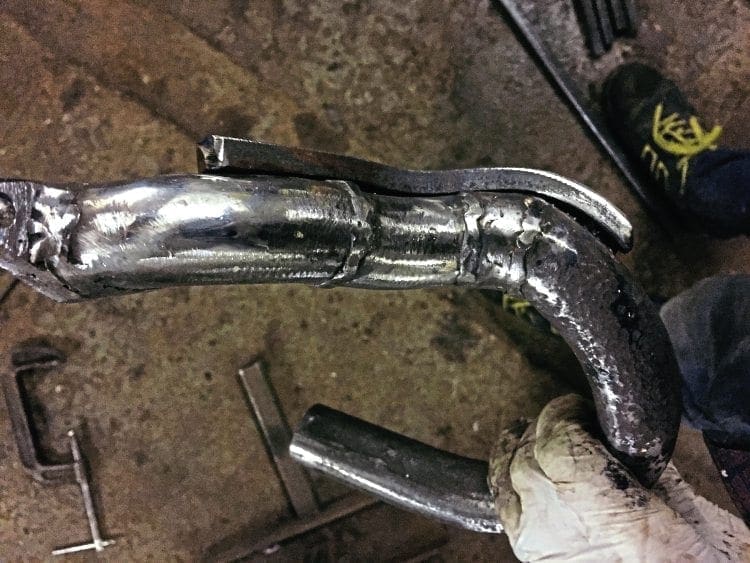 A Fine Little Girl, She Waits For Me
A trio of mates have for some time now been working on various scooter projects simultaneously, individually and collectively. One of their first individual and collective projects inadvertently gave rise to their collective self-proclaimed name of Fat Boy 3: all three were creating rat rods based on Series 1 and 2 Lammys, affectionately known, in some quarters, as Fat Boy Lambrettas, as opposed to the slim style later Series 3 scooters.
Mark Byron, Rob Farqueson and Paul Lowden, respectively known as Nobby, Smurf and Latemeister, ride with Oxford Roadrunners Scooter Club. This year marks the club's 40th anniversary. After hearing about a series of off-road enduro races for 2018, the Nifty Fifty charity challenge, the three amigos took the decision to enter and celebrate Oxford Roadrunners' landmark anniversary in the process. First on the agenda was to source and obtain a suitable scooter. They were limited to 50cc, which narrowed it down somewhat to either a Vespa 50 Special or PK 50 or alternatively J 50 or Lui 50 c or cl. With all three of them preferring Lambrettas, their choice was limited. A fellow member of Oxford Roadrunners and serial vintage scooter hoarder Nick Southern happened to be in a position to help out brokering a transaction for a Lui 50. A price was agreed, the deal was done, and during December 2017 work commenced on prepping the Lui for the first race, in March 2018. It was reminiscent of the now fabled Scottish Six-Day Trials when a team of Lambrettas entered a motorcycle off-road event, and, unlike many of bike riders, the entire Lambretta team finished the event, Fat Boy 3 are aiming to clock up a similarly unlikely achievement.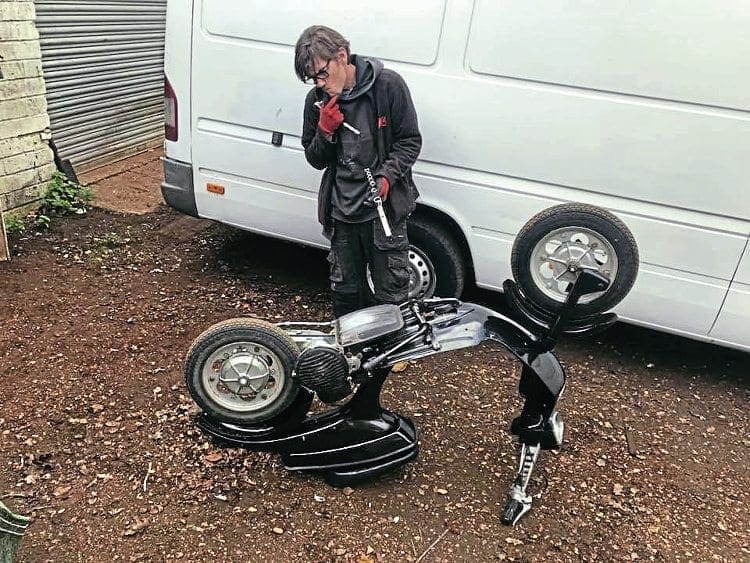 Three Nights And Days I Sailed The Sea
Despite the three of them living in different towns, it was equal-ish three-way collaboration in getting the Lui up to specifications, with each of them applying separate skills in the transformation from what was a non-runner to an off-road scooter. Smurf was tasked with the initial strip down, with the frame, forks bodywork and fittings dispatched off to Latemeister for prepping and repainting. In the interim, Nobby set about stripping the engine, with the intent to rebuild it to suit competing in the Enduro off-road race series. Which sounds all relatively straightforward, despite adhering to a very tight deadline for completion. Given that any two-wheeled machine being ridden off road takes a serious battering in many areas, a series of upgrading, strengthening modifications were obvious necessary requirements. Nobby being a fabricator took on beefing up the forks and suspension. This was achieved by strengthening the forks themselves by tweaking them to give additional travel as well as accommodating stronger buffers. Next was shoehorning stronger, Series 3 fork inners into them. A Series 2 rear shock was modified to fit, giving an additional 20mm ground clearance. Of course, any improvement to ground clearance and suspension, especially to a 50-year-old moped, designed originally to go shopping on, is an absolute must. With a pair of brand new 300 x 10 knobbly tyres fitted, along with improved suspension travel, the centrestand required extending to suit.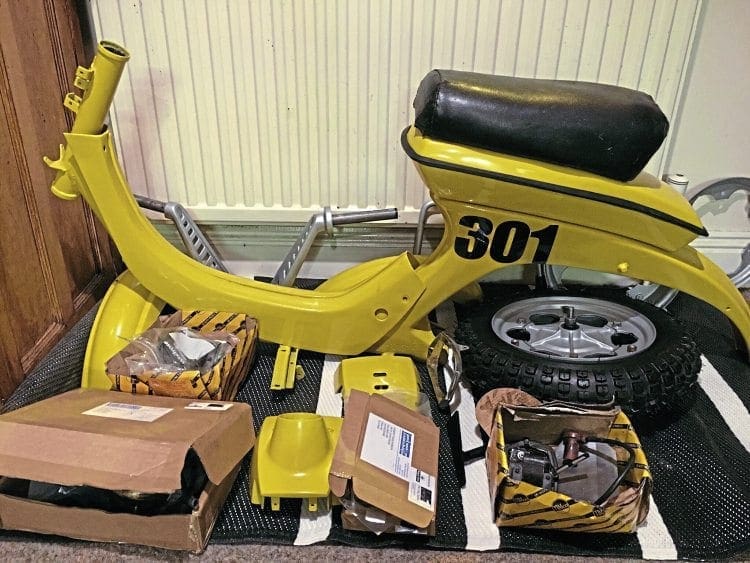 Me Never Think I Make It Home
Despite Lui 50 engines having an output of 1.48bhp, initially, Fat Boy 3 toyed with running it standard. Following a brief research session or five, that idea was binned. Nobby, who was given the responsibility of the engine build takes up the story. "I discovered that a stronger Yamaha FS1E piston more or less went straight in. We considered doing a bit of porting work ourselves, but given the short time we had to get it ready, we opted to send the barrel off to Broady (MB Developments) for him to tune. We also had him lighten the standard flywheel too.
"The plan was to use an SH 18 Dellorto carb off a Li125. Jumping ahead a bit chronologically, when I first started rebuilding the engine, I followed what seemed to be the original timing marks. SH 18 just wouldn't run, even bump starting it was ineffective. I tried a smaller SA15 (which comes with Casa 75 kits) and although it basically only has a main jet, I managed to get it to run, rough, very rough. It turned out what I thought were timing marks were actually something else, Still don't know what they were for — not timing that's for sure.
"After meticulously setting up the timing via top dead centre and a timing disc, it ran much cleaner. The price of a genuine, or for that matter copy of a Vega-style exhaust was way beyond our budget. More research produced information that an exhaust from an FS1E would give similar results. A new FS1E system was obtained, and after a bit of cut n' shut it was ready to go and be wrapped (by Smurf). Given the routing of the pipe in its entirety, we didn't want to get burned while competing.
"The Rimini Scooter Centre had close ratio three-speed Lui Christmas tree clusters they were listing. The problem was despite putting in an order back in January, as yet nothing has arrived. Plan B was to stick with the standard gearbox and hopefully find a suitable 12 tooth front sprocket, which would, well should, give us more or less the gear ratios we were planning on using. Except there doesn't seem to be any 12-tooth front sprocket suitable for Lui Lambrettas. It seems no-one in the UK has any experience or knowledge regarding a 12-tooth sprocket. Plan C then, using a 13-tooth standard Vega front sprocket, with a half link chain. Which means the gear ratios will be a bit taller than we were hoping for. Another area where we have, at least for the first race meeting, got to run with what we've been dealt is the standard Lui 2 plate clutch. Which has stronger, Broady, clutch springs. With a bit more time there's a possibility that with a bit of tweaking a Vega clutch sprocket may fit, which would allow a better, stronger clutch to be fitted. Saying that I'm not certain that the clutch slider will be compatible. While the engine was apart the standard con rod and big end bearing have been replaced with stronger J items. I modified the kickstart lever to a dog-leg shape to make it less likely to catch on any wayward protrusions when we're racing."
Let's Give It To 'Em
What started off as a fun, communal project between three mates, to celebrate their scooter club's 40th anniversary has mutated into a bit of an unstoppable monster. Fatboy 3 Lule , part Lambretta Lui, part FS1E, was stripped, prepped, painted, modified and rebuilt in an impressive three months. Despite being not quite as would be ideal for the first meeting of the season, having only had a few short practice sessions to iron out any niggles, Fat Boy 3 and their off-road Lu1e are ready to give it a shot at the first Enduro meeting of the season in March.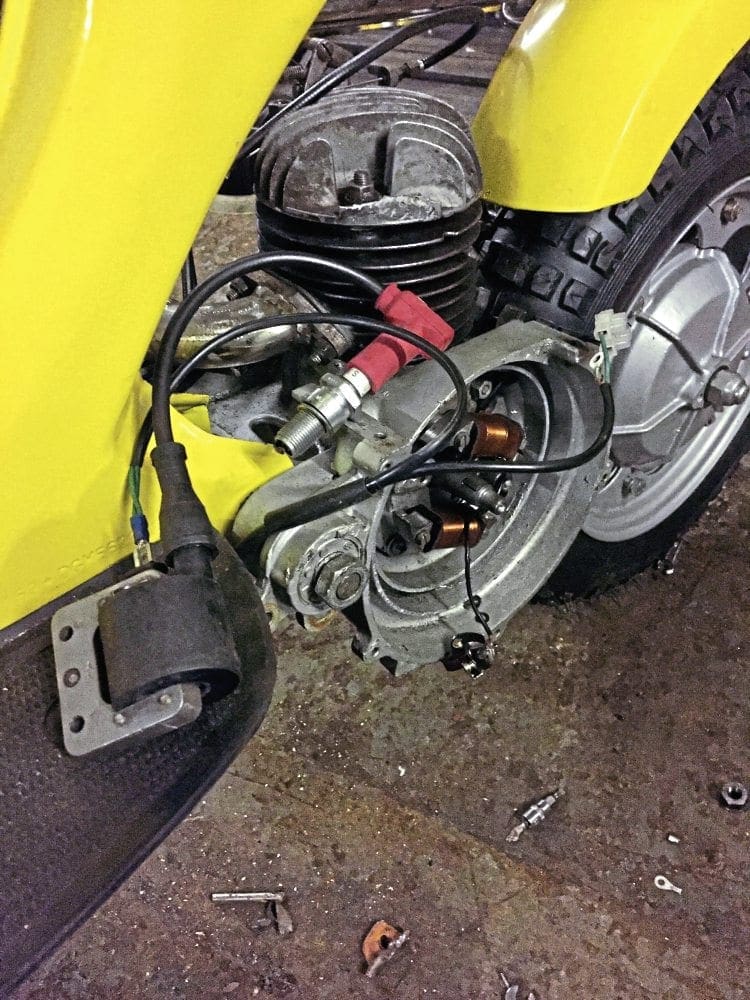 Nobby said: No pressure then, we've got quite a few club members coming along to the first race. We're going to be sharing the track with proper 50cc scramble and motocross bikes; there are a few teams entering on twist n' go autos, but I think we're the only team on a classic geared old scooter. As long as we finish the five-hour event we'll be happy not to embarrass ourselves. It'll be a learning curve which hopefully will lead to other changes we can make to improve Lule for other races later this season. We're taking a bag full of spare clutch plates and a gallon or so of gearbox oil, along with a three-way helping of sheer bloody-minded determination."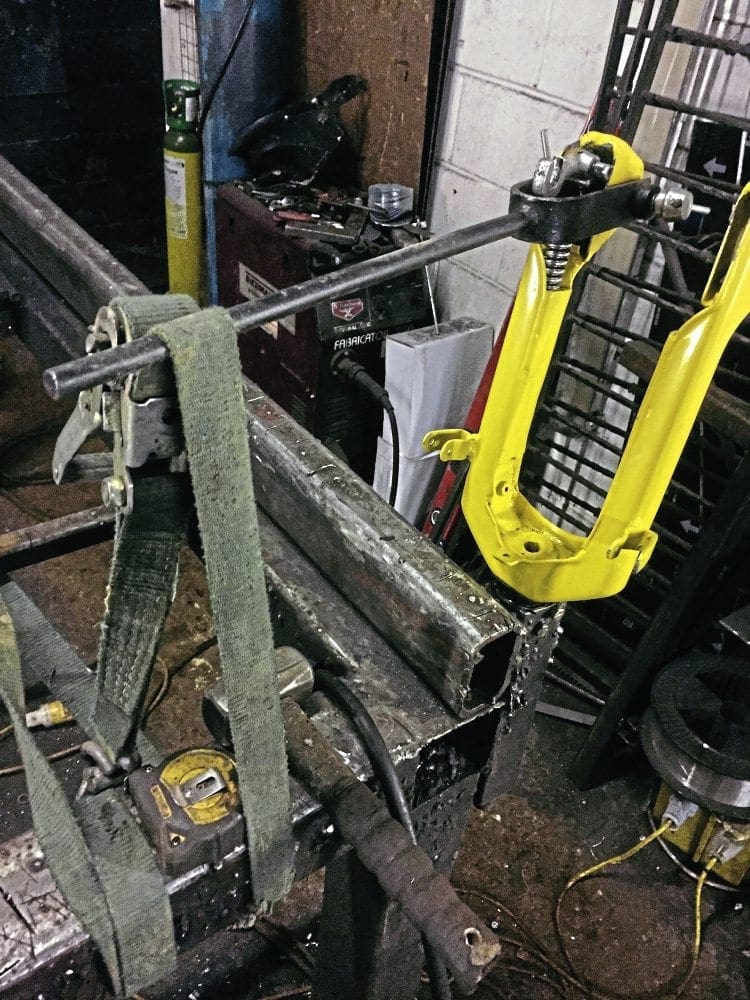 SCOOTER DETAILS
Name of scooter & reason: Lu1e — it's a Lui/FS1e.
Scooter model: Lui 50cl.
Date purchased & cost: December 2017 for £800.
Inspiration for project: People who take knives to gun fights.
Time to build & by who: Three months. Rob Farqueson — stripper and builder. Paul Lowden — paintwork and vinyl designs. Mark Byron — engine build and fabrication.
Engine spec: Barrel: Lui 50 Broadhurst tuned, fs/1e piston.Case: Innocenti Lui 50. Flywheel: Lui 50 lightened. Exhaust: Yamaha Fs1e, cut and shut to fit. Clutch: Two-plate with MB S3 springs. Gearbox: Lui 50. Carb: Dellorto SH 18. Porting: Mark Broadhurst.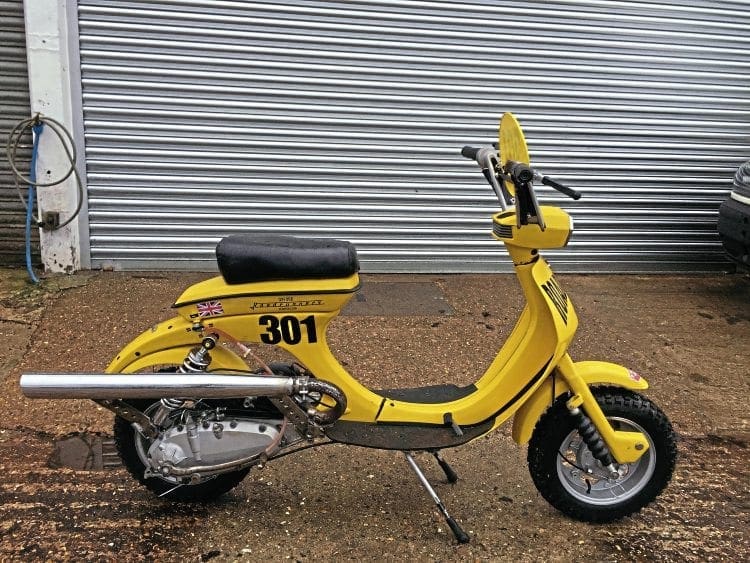 Describe engine performance, power delivery and scooter handling: Sketchy.
Are there any other unique details we have missed: Forks strengthened and altered to allow more travel, S2 rear shock fabricated to fit, handlebar bracing, kick-start doglegged, stand extended. Exhaust cut and shut by Mark Byron (Nobby). Knobbly/off-road tyres. Paintwork and murals by: Paul Lowden.
What was the hardest part of the project: Stripping, spraying and building by three different people living in three different towns on a tight time scale!
Next month: Part 2 — first enduro of 2018.
Words: Sarge
Photographs: Sarge & Fatboy 3

Enjoy more Scootering reading in the monthly magazine. Click here to subscribe.