With the new season upon him, Stan realised that his riding clobber was in need of an update, so we asked him to report on some popular riding equipment options. Throughout the season he'll be putting some equipment supplied by Oxford Products through its paces and reporting on his findings. Given Stan's propensity for high-mileage, all-season riding… we will soon know if the kit is up to the job!
MONDIAL 3 Jacket
Already tested in Spain was the Mondial 3 season jacket which promises to be "three jackets in one". There's the mesh ventilated main jacket, a waterproof layer which can be worn inside or out and finally removable, thermal 'puffa' jacket which can also be worn on its own when off the bike. From Southern Spain to rainy Devon, Stan's already pushing the jacket to its limits. As he's decided to wear it for a planned Italian mega trip the test seems to be going well!
RRP £199
SR8 JEANS
Bull-it's SR8 Jeans promise to keep a rider warm in winter, cool in summer and safe in the event of a spill. In the spring-like weather of Spain the jeans proved to be comfortable but we'll be interested to see how a pair of black jeans fares in warmer climes.
RRP £239.99
HJC FJ-ST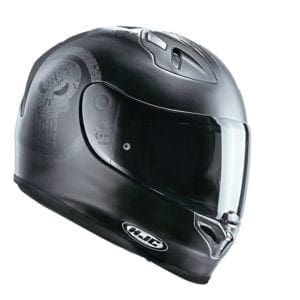 One area no-one should be compromise on is safety, particularly where a helmet's concerned. HJC's FJ-ST is one of only 56 helmets (most of which are no longer available) to be awarded a five-star rating in the UK Government's independent SHARP safety testing programme. With sun visor, air ventilation and moisture wicking liners it should more than cope with Stan's UK and European trips. It's available in a number of schemes including several inspired by Marvel comics, Stan's sports a distinctive 'Punisher' livery.
RRP £229.99
LIDLOCK
The Oxford lidlock is supplied as a three-part kit comprising a carabiner fitted with a combination lock that snaps onto a rack of grab rail, a T-bar for use with quick release helmet buckles and a coiled length of security were that's ideal to secure either luggage or a jacket when threaded through its sleeve. Compact enough to keep inside a  pocket it's the ideal solution to avoid carrying riding gear around on a hot summer's day and at £12.99 it won't break the bank.

Enjoy more Scootering reading in the monthly magazine. Click here to subscribe.