The difference between being good and being great is attention to detail. Paul Carter's TV175 shows what attention to detail and meticulous planning can achieve…
Leeds-based Paul Carter earns his living as a safety engineer on offshore drilling platforms, an occupation where a 'that'll do' attitude isn't in the vocabulary. Apply that same level of care to a Lambretta and the result is stunning.
Not content with owning a stunning SX200, Paul had always craved a TV also. Illustrating how scooter building gets into your blood, he told us: "I wanted a Series 2 and while building the SX200 I'd already started to gather TV pieces together for the project." For those outside the cult of accessorized scooters, the prices that original accessories can change hands for may come as something of a surprise! Paul's approach is more pragmatic. "I've tried to use original parts wherever possible but some items are simply unobtainable so I've mixed and matched. I think it stands up pretty well under close scrutiny."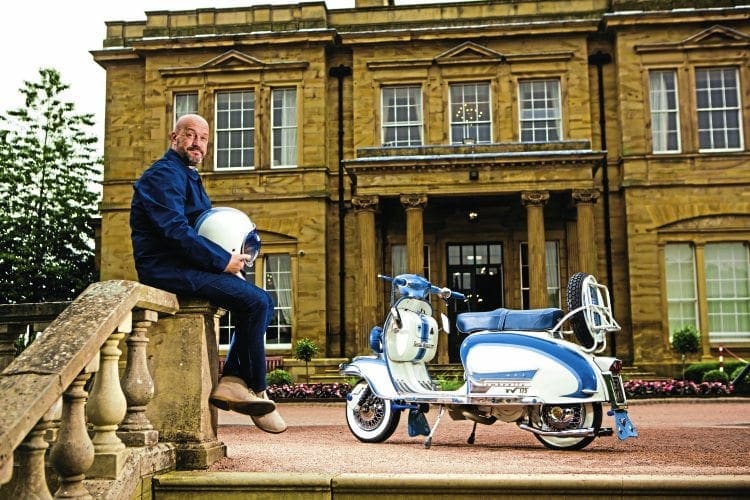 The list of accessories is fairly impressive: Falbo panel embellishers and frog eye horncast trim, Vigano front fork covers and numberplate surround, Catalux rear light unit, vintage Schwinn cycle mud-flaps and Fiam air horns, other parts are a mixture of generic period accessories and aftermarket items. The wheels are a good example of Paul's collecting policy with original spinners setting off Gran Sport trims.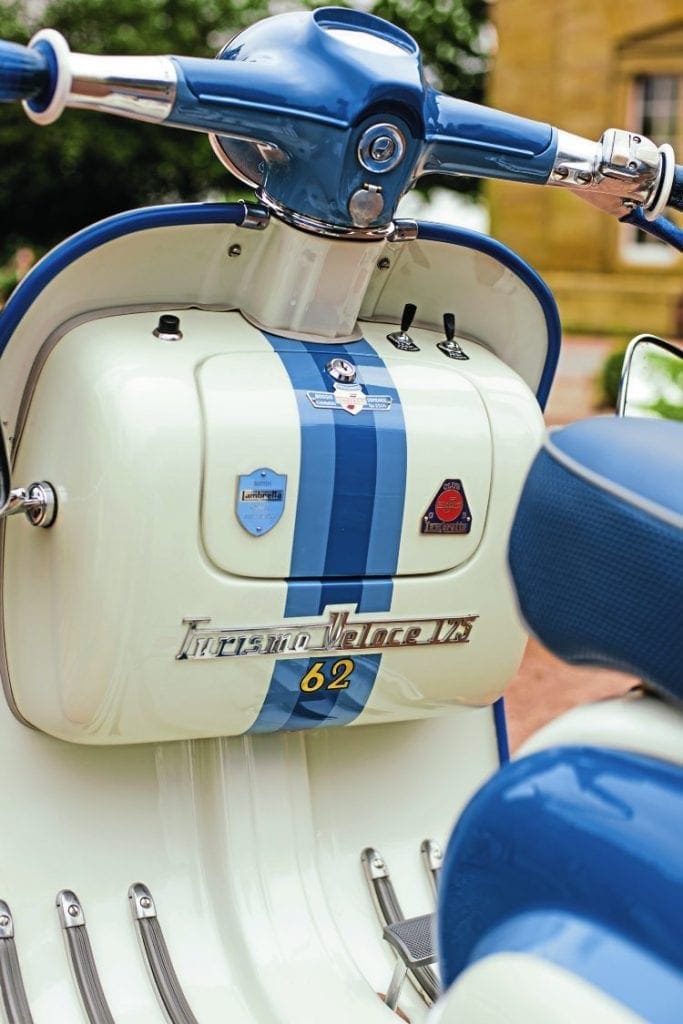 A lot of effort went into sourcing parts. Aside from the obvious sources of Italy and the UK, items were acquired from Israel, The United States, Holland and Singapore. "What I hadn't anticipated was how hard it would be to find a frame. After a long search and lots of dead ends I found one locally advertised on a local classified advertisement site – the type where people list used cycles and prams. Honestly I didn't have high hopes but it was absolutely sound and with paperwork- the registration is the original 1962, five figure reg-number issued to it in Coventry. The frame came with some panel work, very little of which was salvageable and my intention was to pick up what I needed piece by piece but I soon discovered that it was going to be cheaper to buy a donor bike. Having bought a Series 2 Li I then quickly discovered just how much is actually unique to the TV!"
Although the scooter exudes quality, it's the amount of detail which is staggering. Having acquired a pair of NOS metallic handlebar grips Paul commissioned Vintage Scoot to produce matching inserts for the rear light. The gems along the running boards are there to hide unsightly fastenings, air-horn pipes are wrapped in the same material as control cables and even the tyre valve caps are colour coordinated. This isn't a cheque book project however, Paul has thought through every minute detail, producing novel solutions. Take a look at the silencers and you'll notice a blue plastic insert — that's a cable tie!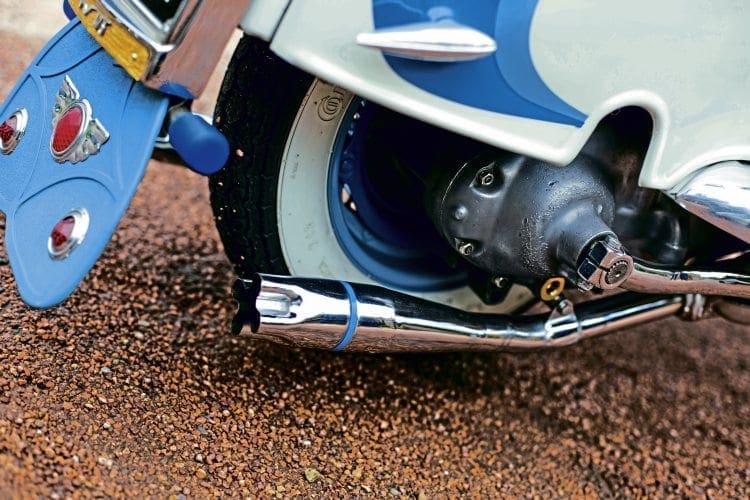 Paint was applied by Terry Inman at Panel Paint Shop, "The colours are slightly twisted versions of original Innocenti factory paint. Taking the decision to use three shades complicated things greatly but I'm very pleased with the effect."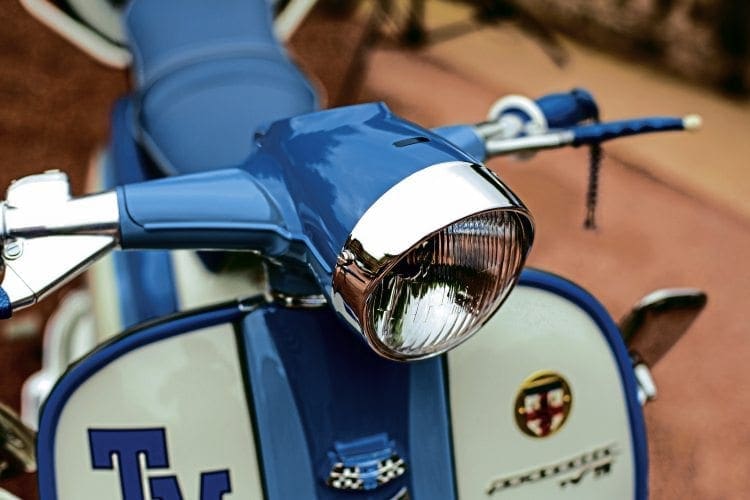 Assembly was entrusted to Torch Engineering in Castleford, who have a growing reputation for quality work on both two and four wheel projects. "The build itself was fairly straightforward," says owner Phil Varley. "Once started, we turned it around in a month but it had been three years in the planning. Technically the exhaust was most challenging as Paul was very specific in wanting a twin pipe that functioned. Fortunately we've done this before, in fact we've previously produced a working four pipe exhaust. Without doubt the most nerve-racking part of the build was handling the accessories, some of which were virtually irreplaceable!"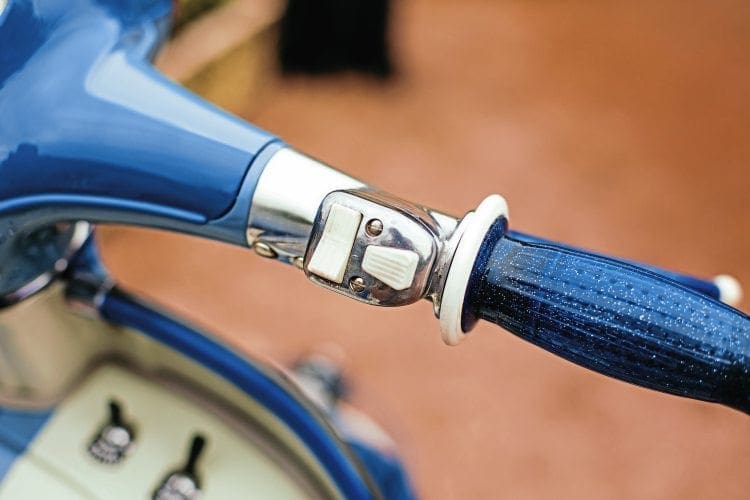 The functioning, original Pathfinder lamps give a distinctive look to Paul's scooter, "Looking around for inspiration it seemed that most of the TVs I could see followed a similar formula — front rack and spotlights. I was very keen to avoid that look." More common on sporting machines they give a very individual finish to this well-thought-out scooter.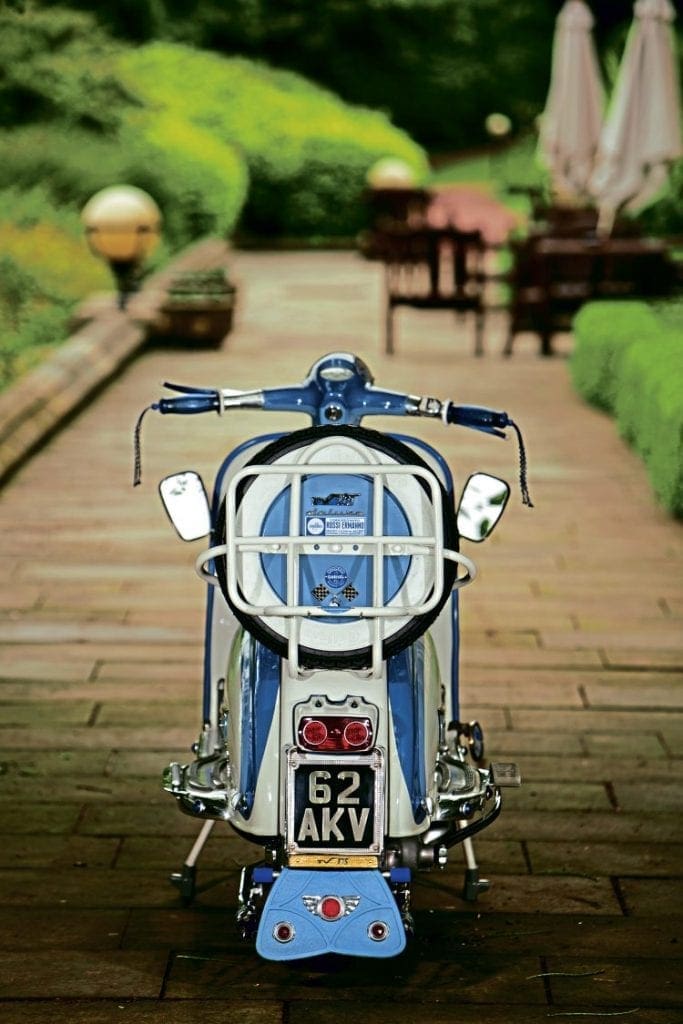 Mod scooters can be perceived as being overly fussy, but Paul shows that a little restraint and an eye for detail can produce something that's both beautiful and rideable. Keep an eye out for it at rallies, just allow plenty of time to take it all in.
SCOOTER DETAILS
Owner: Paul Carter
Club: King's SC, Horbury.
First interest in scooters: 1979 Mod revival.
First scooter: 150 Super.
First rally: Scarborough 1984.
Favourite rally: It's only been going a couple of years but I really enjoy the Clitheroe Mod Weekend.
Favourite style of scooter: Anything with a good theme and I appreciate quality airbrush work.
Favourite dealer: I've used many over the years.
Recommend one item of riding equipment: Good waterproofs. I use Galvin Green Gore-Tex, also double up for golf!
What do you like about the rally scene: I make the most of any I go to as I'm limited with time off work.
Best memory or story: None printable, although the carb fell off my SX a while ago. I did wonder what was going on!
Favourite Scootering feature: I forget its name but the TV featuring Motor Racing Legends was lovely and the Words and Sounds feature on the All or Nothing Musical was spot on, I've seen it once and I'm going to see it again soon.
Name: No name, just a project I always wanted to do.
Model: Lambretta TV175 Series 2.
Date purchased and how much did it cost: 2012, and you never know who's reading!
Inspiration for project: I always wanted a Series 2 TV175.
Time to build and by who: Three years planning and a month to build by Phil and Dave at Torch Engineering.
Any specialised parts: Modified 42mm clubman twin tail exhaust.
Engine: Mugello 186 ported by Phil Varley, GP200 crank, Jetex 22mm carb, standard clutch and a GP200 gearbox.
Top speed and cruising speed: Still running in but I'd estimate 65mph and 50mph.
Paint: Terry Inman at Panel Paintshop.
Plating: Trevor at Midas Touch.
Any advice for someone starting a project: Make sure you have everything you need, make sure you have a plan, take your time, be patient and it will all come good in the end.
Anything else to add: Never say never, maybe polish the engine case,
Anyone you wish to thank: Obviously a massive thank you to Phil Varley and Dave Pearson at Torch Engineering, Terry Ingham at Panel Paintshop, Gary Constantine at Vintage Scoot for all the small bespoke parts, lain Wilkinson for the Pegasus Seat, Izaac lzaac for some scarce to find parts, Keith Newman at K2 Customs and Jem Booth for breathing lite back into some hard to find components.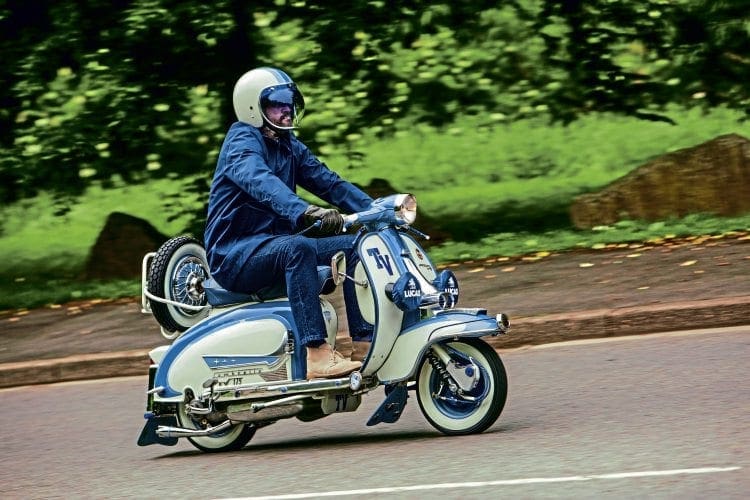 Words: Stan
Photographs: Gary Chapman
Thanks to: Staff and guests at Oulton Hall Hotel for being so accommodating during the shoot.
This article was taken from the August 2016 edition of Scootering, back issues available here: www.classicmagazines.co.uk/issue/SCO/year/2016

Enjoy more Scootering reading in the monthly magazine. Click here to subscribe.