With parts 1 & 2 behind us, the mammoth task of testing and comparing exhausts continues for Darrell Taylor, now looking at what have become known as the 'Super Clubmans'. Each has a stunning name and/or reputation behind it, but how do they measure up when put to the test?
TESTING REGIME RECAP
With so many kits on the market, in such a variety of cubic capacities (typically 175cc-230cc) and with a host of cranks which implement the ability to move port specifications about, and many ported/tuned engines out there, we had to decide what to choose as a donor machine for testing on. In an ideal world we would test every pipe on every kit, at all different crank/carb/porting levels… but in reality that is simply not possible. Luckily, local scooterist Rob Shaw had his latest build to offer, that was just run in and available for the job in hand, so he fetched it along and mucked in with the testing. It's a cast GT186 kit that's built onto a 60mm stroke crank making it 193cc, it's received a small porting tweak and cylinder head rework that brings its performance up to a healthy figure more akin to that of a 225cc motor. It runs through a 28mm Dellorto PH BH carburettor. This engine will be great, as its power range and application is very common: a 'high-teens' bhp cylinder, using a clubman pipe, DeIly carb and built for touring at a pace higher than a standard engine, but without going OTT on race parts. That description covers a lot of engines out there! So this is perfect.
THE CONTENDERS
Testing now continues on to the higher priced offerings on the market, often referred to as 'super clubmans', the first of which is from Gori. We finished off last month testing with the 48mm Racing version, this month we move on to their latest GP50 offering which we ran up alongside the Mito Stratos reverse, Ron Moss and BGM options. As in previous instalments, each pipe tested has its dyno graph result shown in red, compared to a standard SX200 shown in blue, and a JL3 expansion pipe in green, as our upper benchmark, providing us with some useful indicators which most scooter riders can relate to.
GORI GP50
At the start we asked if the tests would reveal a clubman that would get close to expansion performance, or perhaps even match one? Well that time has arrived! The Gori produced a graph very similar to the JL3, but is there a cost to that power? Well only a little, it's reduced a little of the mid-range power as seen on the best clubmans, but not so much as to spoil it.
The power is still increasing upwards so no nasty dips that would require re-jetting or ignition changes to help iron it out (remember all tests are static ignition timing). On the plus side it's over 3.5hp up at higher rpm where it needs power to push the scooter through the air, as wind resistance increases, so a good chance of better top speeds. In terms of pricing, an internet search showed an average price of £349, so this is the most expensive pipe on test, even higher than typical prices charged for an expansion chamber exhaust.
Like an expansion, and the Gori racing tested last month, this pipe has a small silencer attachment and so is supplied with 'something a little extra'. It brings the noise level down well on this new pipe, not sure how that will be long term as the wool starts to 'carbon up' as is the case for all systems.
Fit is very good. It is sold in a high temp clear lacquer finish that coloured up after a few runs, especially on the header pipe. Size at the box connection had a huge 55mm internal diameter with an outlet internal diameter size of 19.6mm. This tail pipe size works well on the 193cc test motor exhaust gas volume, but may be a little small for the bigger 225-250 motors when used with its optional TS1 type fitment, which can be chosen when purchased as a complete header assembly, with no optional stubs as seen on the BGM product.

The results were the highest to date of 24.43bhp at 7800rpm, with over-rev to 9200rpm, though a gear change point of 8000rpm would apply as power falls off rapidly after that, torque was also the highest showing a very impressive 17.21b-ft at 6300rpm.
BGM V3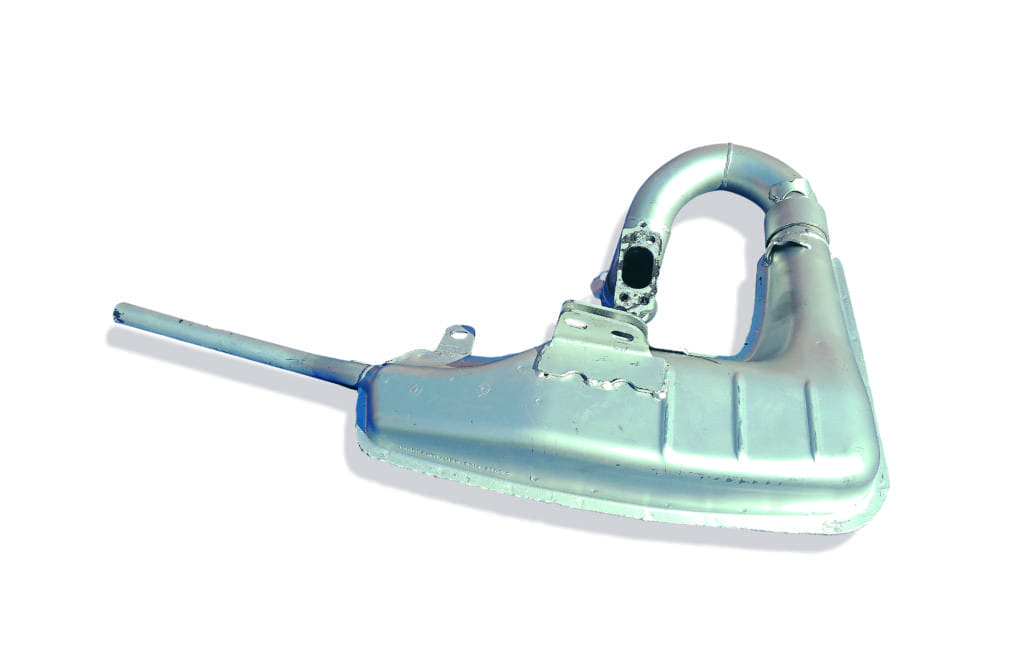 THIS IS IT! Well, so they tell us. This version 3 was loaned to us from a reader as new and unused, although version 4 is already out and we hope to test this as soon as it arrives. Online pricing at around £219 makes it a mid-priced option overall. This V3 has a header pipe internal diameter at the box connection of 44.7mm and outlet size of a smaller 18.8mm internal diameter, which I've found fine on smaller bore motors with lower specific power, but had them 'gas up' on bigger engines. The pipe has the benefit of being supplied with both manifolds for standard piston port type fitment and also TS1 style fitment.

It fitted up well on our test engine with an adjustable chaincase bracket which will allow adjustment for different cylinder configurations. The sound level was okay, which I believe has been improved further for the V4 so it will be interesting to see if that Db reduction hurts performance at all. This version performed well with a nice diagonal rise from low rpm to peak power, which peaked fairly early at 6900rpm showing 20.8bhp, yet still revved on to over 9000rpm.
RON MOSS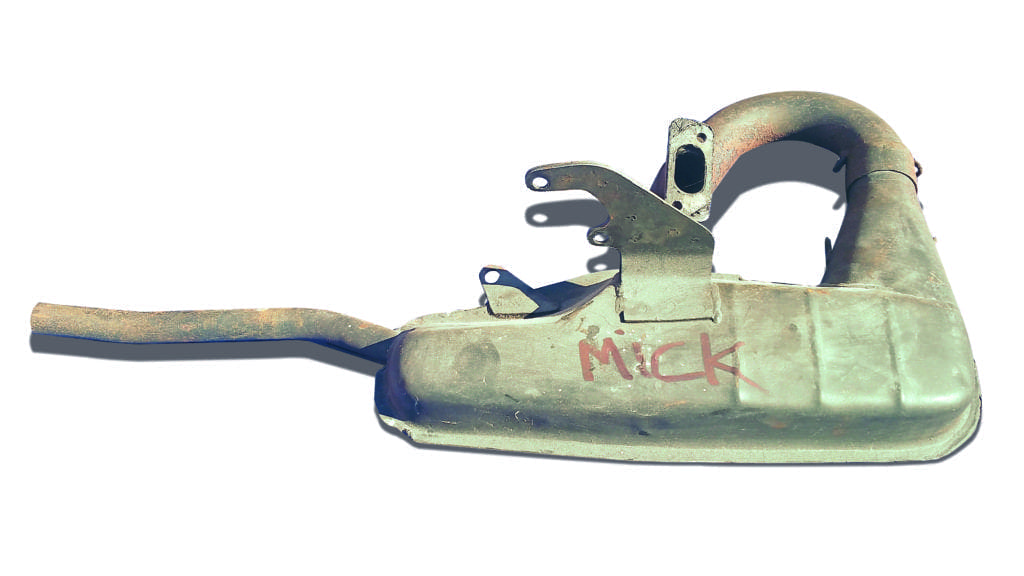 This is a British-made 'cottage industry' pipe from scooter racer Ron Moss. It has been made in small batches since 2011, but Ron's developed prototypes since 1971 for racing on the Isle of Man on his Supertune Lambretta. Back then racing regulations were tighter and clubmans were capped with limitations as to what could be altered. Later versions would be constructed using a 2in header pipe from the scrap yard, usually removed from a Ford Zodiac. The bracket was cut and tilted for improved ground clearance, before a skid plate was added that entertained the crowds with a sparkler display as it grounded out through the bends!

This pipe was supplied to us by Mick from York, and fit very well. The header pipe had an internal diameter of 47.6mm, with a 22.5mm internal diameter outlet, so will be good on bigger cc motors. Boy did this rev on! Well past 10,000rpm, producing 19.93bhp at 8700rpm and a torque figure of 12.8lb-ft at 6100rpm, so a good high-rpm performer. This pipe would probably suit lower port durations too or could be lengthened to achieve better results at lower rpm. To that end, Ron has a new version which he is developing at the moment, with lower rpm peak power and higher torque.
MITO STRATOS REVERSE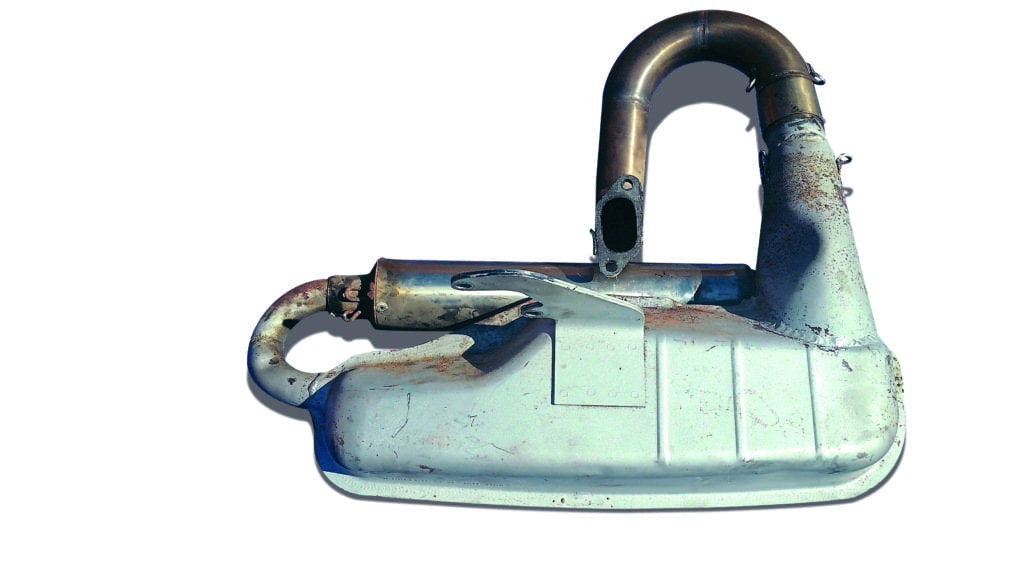 An online search found these priced on average at around £285 for the latest version, which we will test next. Our test example was provided by a reader so although not new it had not done a lot of miles yet. These move away from internal silencing and utilise a normal silencer, hidden behind the box via a reverse bend. This pipe had a header pipe to box connection internal diameter of 42mm with a 20mm internal diameter outlet. Power wise it was producing 19.79bhp at a very low 6700rpm, with a torque figure of 15.9lb-ft at 6400rpm. Worth knowing also, is that it was one of the quietest pipes tested due to the long silencer used and had the best 4000-6000rpm results.


CHART TOPPERS
This chart displays the results showing the power output of each pipe at each 1000rpm step, from 4000-9000rpm. The 3000rpm results are left off the chart as the roll on nature from our pre-3000rpm dyno run starting point has not settled fully till around 3500rpm.
| | | | | | | | |
| --- | --- | --- | --- | --- | --- | --- | --- |
| RPM | 4K | 5K | 6K | 7K | 8K | 9K | Max HP |
| GPR GP 50 | 8 | 10 | 18.5 | 22.2 | 23.5 | 13.2 | 24.43 |
| BGM | 9 | 13.2 | 16.8 | 20.7 | 16.7 | 9 | 20.80 |
| RON MOSS | 8.1 | 10.5 | 14.5 | 15.6 | 19 | 19.1 | 19.93 |
| STRATOS/MITO | 9.5 | 12 | 17 | 17.6 | 13.2 | 3 | 19.79 |
POINTS MEAN PRIZES
Of the four exhausts on test this month, I've chosen to award four points for the highest performer at each rpm range (and max hp) down to three, two and one for the lowest. So highest points is the winner. The first column shows results over the entire rpm range 4000-9000. I then added another result to see the best results at 4000, 5000 and 6000 as an indicator of low rpm performance, and then another at 7000, 8000 and 9000 as an indicator of high rpm performance.
RANGE

RPM

ENTIRE

4K TO 9K

LOW-RPM

4K TO 6K

HIGH-RPM

7K TO 9K

1 GORI GP50
17 POINTS
6 POINTS
11 POINTS
2 BGM
16 POINTS
9 POINTS
7 POINTS
3 STRATOS/MITO
14 POINTS
10 POINTS
4 POINTS
4 RON MOSS MK 1
13 POINTS
5 POINTS
8 POINTS
PROGRESS
A completely standard exhaust has just been located and will later be tested as a 'reverse step' to compare the current best clubman to a standard pipe, to see the progress made over the years. The header pipe photos show the size difference with a £1 coin placed on them as a visual size gauge.
COMING UP
Next we hope to take a look at some late arrivals, the latest BGM V4, a new Mito reverse, a new Ron Moss clubman and Gori small bore, none of which have arrived yet so fingers crossed! Once completed, we will look to provide a final table of results and overview of the entire test series.
Words & Images: Darrell Taylor

Enjoy more Scootering reading in the monthly magazine. Click here to subscribe.