If you want to track down teenager Ben Finlay, you won't find him at home on social media or playing video games. Chances are, you'll find him working on a scooter or two…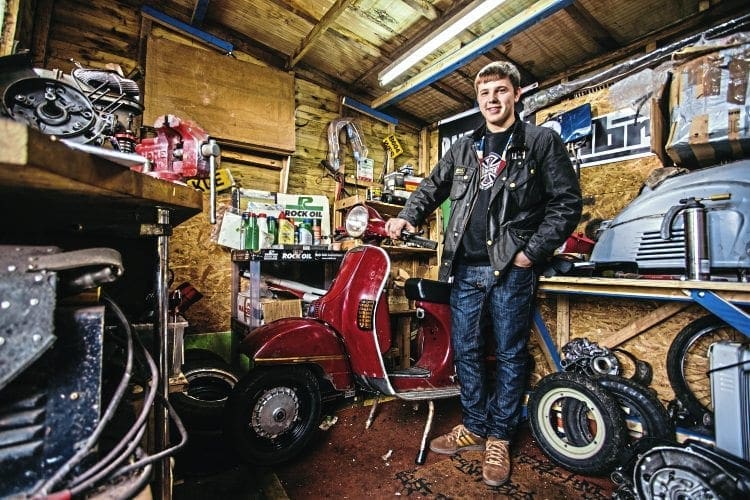 Ben's scootering and musical influences were inspired by his parents. At an early age, Ben was listening to northern soul and after being spotted dancing at the Shildon Civic Hall in 2012 at a March of the Mods charity event Ben later featured in Stone Foundation's video, Bring Back the Happiness. Supported by his dad (Steve) Ben acquired his first scooter, a Vespa 50 Special, at the age of 12. Steve decided to get the scooter for Ben to support Ben's love of scooters, the scootering scene and his passion for mechanics and engineering. Steve said: "The 50 Special was a runner when we got it and it had a 'Heinz variety' engine made up of several models. It made an ideal learning project for Ben!"
Work stations
Ben's mechanical knowledge comes from self-teaching, plus observation and guidance from mechanically-minded fellow scooter club members and friends. Ben operates from two locations. The garage at his late grandfather's bungalow, where most of the body and build work is done and Ben's shed at the bottom of his mum's garden where most of the engineering work is done.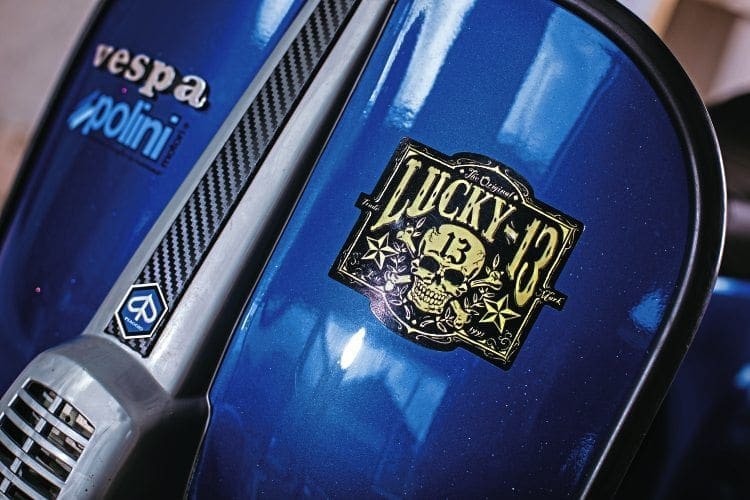 Cutting his teeth
With the help of Scott Christie, Ben stripped the 50 Special down and gave it a full rebuild. The bodywork went off to Phil Stewart at Wizard Paint shop for an 80s blue metal flake paint job, while in the meantime Ben and Scott worked on the engine. As part of the engine rebuild process the lump was sent away for further work, but when it was returned and fitted it wouldn't start. Ben, Scott and Steve tried to get the engine running but no-one could find the problem. With all suggestions exhausted the engine was taken to Paul at Mo-Tech who finally identified what was wrong — the engine had been fitted with the wrong size piston!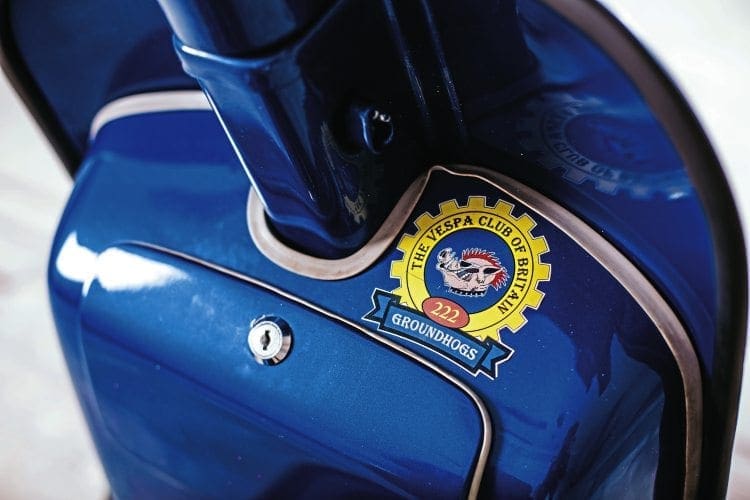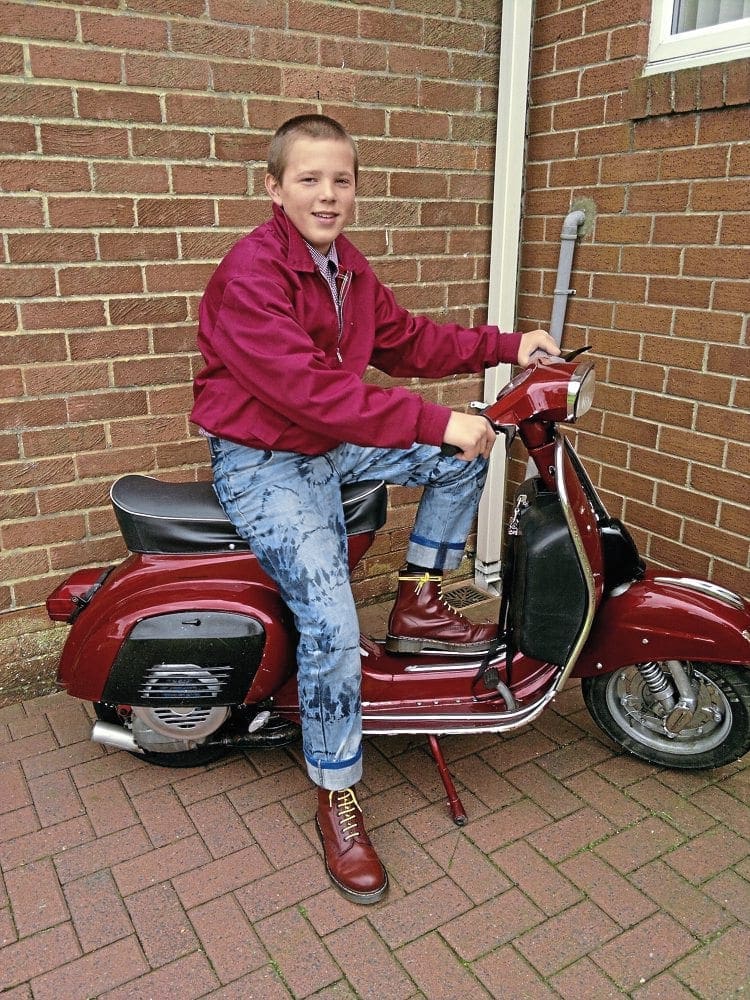 Trial and error
Ben turned 16 in November 2016 and with the engine problem fixed he took to the road. All had been going well until one day when Ben was on his way back from school the scooter broke down. One of the circlips, which holds the piston gudgeon pin, broke. Metal fragments mashed the rotary pad, scored the piston and caused it to crack. However, Ben saw the disaster as an opportunity and instead of re-engineering the rotary pad or fitting a new engine casing Ben decided to fit a Malossi Mk.II direct reed valve. Ben said: "It saved me a lot of work and cash, and gave me better performance!"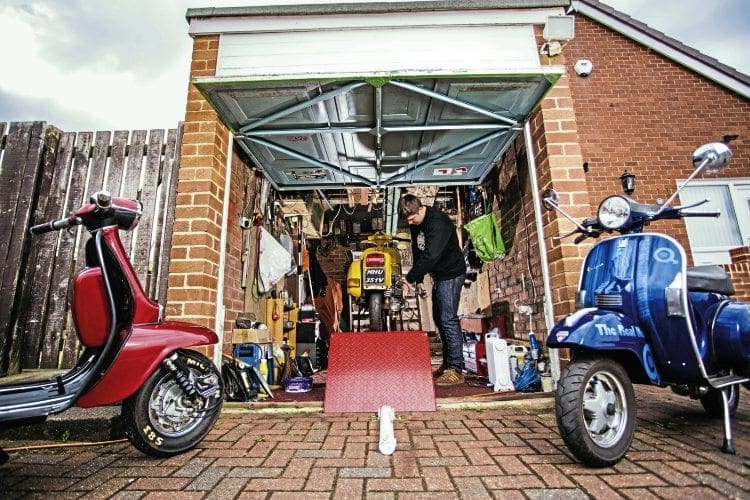 Welcome to the open road!
Ben and Steve targeted the YSA's pre-season Knaresborough to Wetherby April ride out as the first ride out for Ben and the 50 Special. Ben and Steve met with members from the A19s, Stockton Wasps, Cooper Crew, Consett Steel Men, Durham Groundhogs, Stray Cats and others clubs near Middlesbrough and then headed for Knaresborough. The ride was going well until they reached Harrogate where the 50 Special encountered a clutch side woodruff key problem. Ben said: "My first scooter run was Durham to Harrogate, and the scooter's also a bit slower now because I carry a hundredweight of tools around with me!"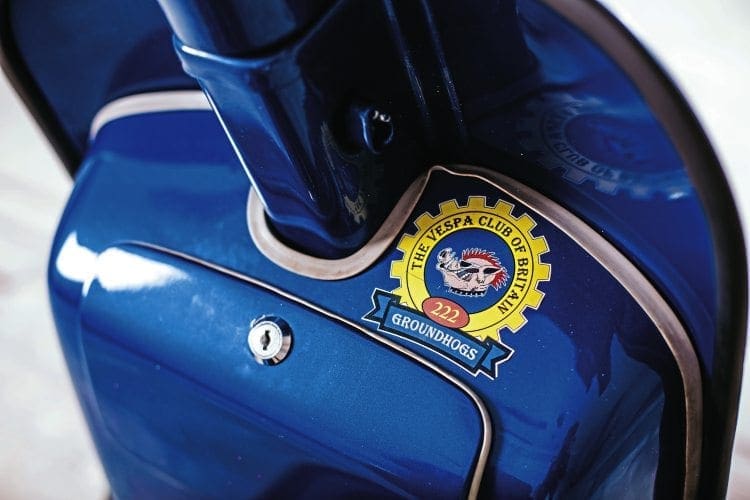 I asked Ben how the scooter was currently performing. Ben explained that there had been other teething problems but he'd resolved these with an upgraded 12 spring Pinasco clutch. He said: "It's run in now, it runs brilliantly and it keeps up with the pack!"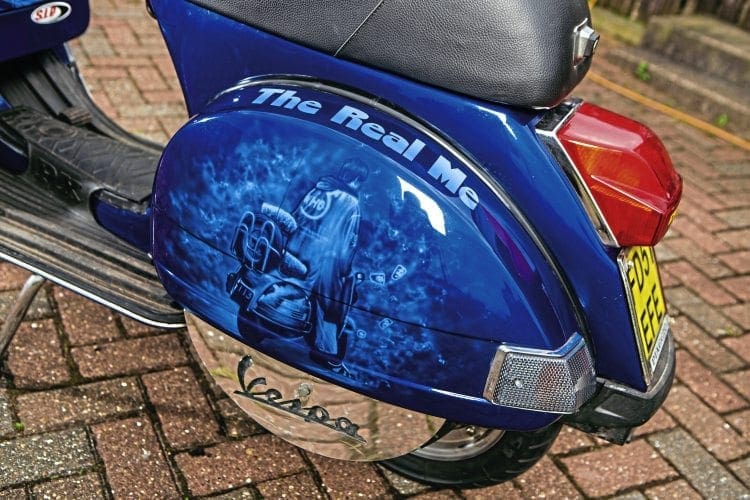 Lambretta learning
In 2014 on their way to the Cleethorpes Scooter Rally, Steve's TS1 GP225 broke down near Grimsby. Steve said: "There had already been five breakdowns. We'd stopped with the rest of the lads and then we became breakdown number six! I went to start my scooter and the internal kick starter shaft sheared. We made it to the rally site and got the problem fixed, and that's where Ben started to learn the internal workings of a Lambretta. When we got home I decided I wanted the TS1 painting in its current Finspeed colour scheme and this also gave Ben the opportunity to do a full Lambretta rebuild." With the support of Scott Christie, Ben got to work on the project, but during the rebuild they encountered difficulties with the electrics.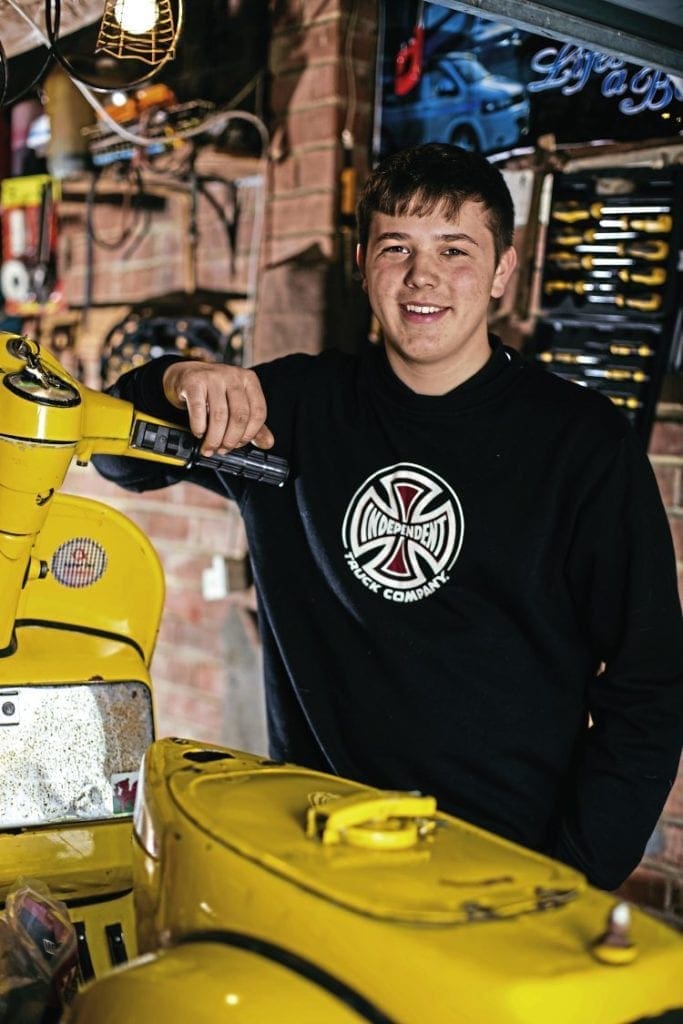 They consulted Malcom Shieber and with his guidance Ben fixed the electrical problems. Ben said: "My dad's breakdown actually worked out well for me as it gave me the chance to learn more about Lambrettas. Also, I knew it had to be right, the Finspeed's my dad's pride and joy!"
What goes around comes around
At present Ben is working on two projects of his own. The first is a non-running yellow Vespa Mk.I P125X, which Ben hopes to have ready for when he turns 17. The other project is Ben's pride and joy, a P200E Mk.l. Steve said: "My first scooter was a Jet 200, which I bought back in 1981. The scooter had all sorts of mechanical problems and I ended up selling it to Ian 'Mad-Jack' Creaghan. Ian ran the scooter for a while and then sold it to buy a brand new Vespa P200E Mk.I. Over the last 20 years I'd seen Ian half a dozen times and we recently got back in touch through social media. During a conversation I had with Ian I asked him on the off chance if he still had the Vespa, and to my amazement Ian still had the scooter.
"Knowing this was Ben's favourite model I bought the scooter off Ian and now over 30 years later the scooter's in Ben's shed!" I asked Ben what his plans for the P200E were. Ben explained: "My favourite scooter style is 1980s, my plan is to tune the engine and fit a Pinasco 235 kit (which'll probably be the one which was previously heading for my dad's Vespa). I'm going to fit a drinks tray behind the leg shields and the tool box will have speakers. I've got a Stimulator fork cover and a tower back rest. I'm also going to fit an 80s style seat and a Gordon Driver screen."
Charitable nature
Last year Ben was approached by Kev McGuire who was organising the March of the Mods charity event, which took place in Hartlepool earlier this year. Kev explained to Ben that at the event he would be raffling an early LML and asked Ben if he could give it a full rebuild. Ben agreed, and in order to meet Kev's request Ben fitted the LML rebuild around his school and study commitments, and put his other scooter projects to one side. The result was that the scooter was made ready in time for Kev's deadline and was successfully raffled off as the star prize.
What's going on in that shed?
Ben is currently working on a PK50 engine rebuild with a DR 80 top-end for Dave and Jan Robson of Stray Cats SC. Also in Ben's shed there's a hand-painted grey Vespa 150 Sprint. Ben explained that the Sprint is a project for the future: "My eventual plan is to make it into the Vespa version of the Finspeed. It's the perfect model, it's the same year as the Lambretta, and like the Lambretta it has a square headlight."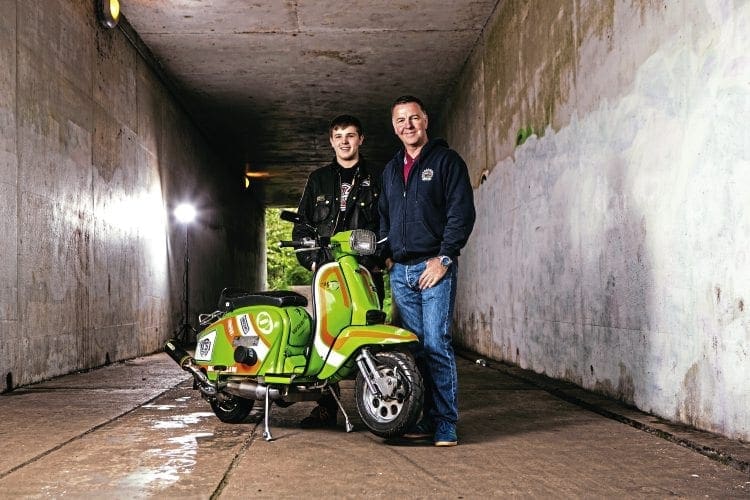 The future
Ben has recently been successful in securing a place on a two-year motorcycle mechanics course at the New College Durham, and his long-term career objective is to secure an apprenticeship. Also, along with Barrie Soulsby, Ben re-formed the previously disbanded City of Durham SC, of which his dad was a founding member back in 1980. All in all, the future looks bright for this young lad.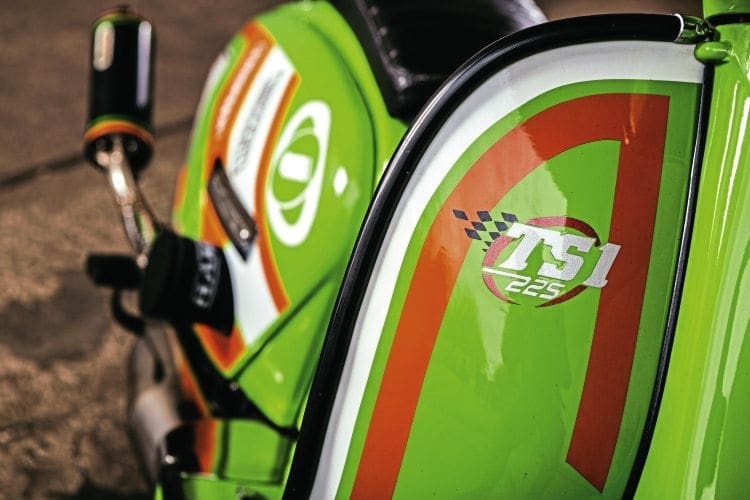 MAN & MACHINE
Name: Ben Finlay
Job: Still at school, hoping for an apprenticeship.
Scooter club & town: Durham Groundhogs SC/City of Durham SC.
How and when did you first become interested in scooters: On hearing stories about my mam and dad's past in the 80s.
What was your first scooter: My dad bought me a PX125E (166 Malossi) when I was eight just to polish and sit on in the house. I helped changed the front mudguard (first job).
What is your favourite scooter model: Mk.I Vespa P200E.
What is your favourite style of custom scooter: 80s style especially Armandos.
First rally or event: Kelso (aged nine).
Favourite and worst rally/event: Favourite – Cleethorpes, worst – Redcar (2014).
Funniest experience with a scooter: Watching Steve Cato (Northumbria Scooters) fall out of his van twice and a caravan once and still claim Crocs are suitable footwear for rallies.
What's the furthest you've ever ridden on a scooter: Holland but I do Isle of Wight every year as a pillion. 900+ miles in a long weekend.
What do you like about rallies/events: Great craic with people, some who I've just met.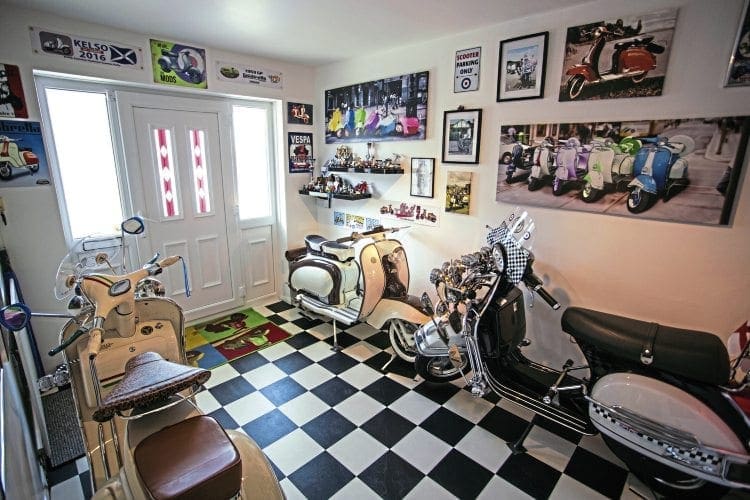 What do you dislike about rallies/events: Now being 16 and having to pay to get in.
What's your favourite Scootering magazine feature: Features on the 80s and 80s scooters.
Your favourite custom/featured scooter of all time: Uprising.
If you had to recommend one scooter part or item of riding kit what would it be: Just fitted a Malossi direct reed block Mk.II to a 136PK after a major engine failure. What a difference!
What's the most useless part you've ever bought for one of your scooters: Cosa clutch.
Name of scooter & reason: Lyla
Scooter model: 1979 Vespa 50 Special.
Date purchased & cost: April 2012 – £1000.
Inspiration for project: Restoration for when I turned 16.
Time to build and by whom: Approximately three years by me and Scott Christie.
Engine spec: Mk.II Malossi 136 kit.
Crank: Mazzucchelli long cone race.
Carb: 24mm direct reed valve.
Exhaust: Norrie Kerr Hammerzombie.
Clutch: Pinasco 12 spring.
Gearbox: PK125s.
Describe engine performance, power delivery and scooter handling: Handles great, awesome powerband and great motor.
Top speed & cruising speed: Sits comfortably at 50-55mph.
Is the scooter reliable: After some teething problems it's now running well.
Paintwork & murals done by: Phil Steward at Wizard Paintshop, Bedlington.
Overall cost: Far too much! Well over £2000.
Is there anyone you wish to thank: Scott Christie, Northumbria Scooters, Scott Thompson, Bank of Dad.
Words: Stu Smith
Photographs: Gary Chapman

Enjoy more Scootering reading in the monthly magazine. Click here to subscribe.