Motorcycle engine powered scooters are nothing new. Shoehorning a KTM motor into a Lambretta frame however, is both new and different.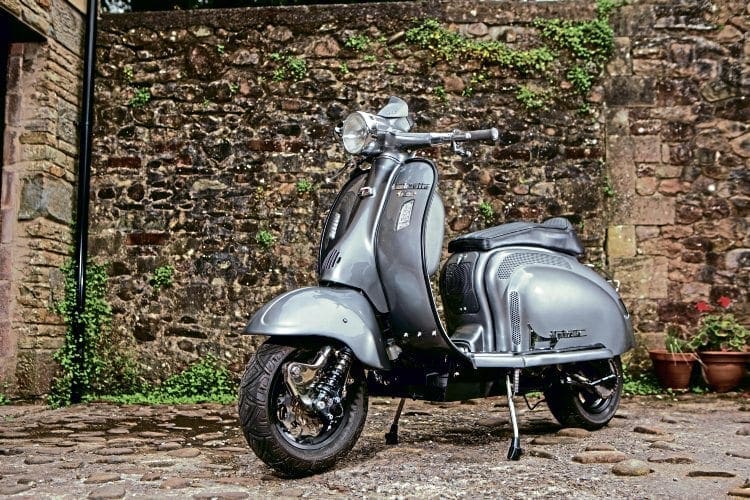 Owner and rider of KTMBretta, Chris Macnamarra, also known as Chris Mac, got his first scooter in 1986, a three-speed Vespa 90 small frame. Since then he has never been without one. His first proper encounter with the scooter scene was Porthcawl National Rally in '85 where, as a 13-year-old lad, he travelled with mates from Cardiff to the rally by bus. It was the birth of a 36 year long love affair that shows no sign of abating. Over the ensuing years he's ridden alt over the UK, and Europe, by scooter. Some highlights of his many exploits have been recounted in his thorough and informative spec sheet replies. Experiences attained from years of riding scooters, have shaped Chris Mac's perspective on what works best for him.
This has resulted in the creation of KTMBretta, the scooter he has always wanted. "I've been riding scooters for over 39 years, and 20+ of those have been on a whole variety of tuned scooters. I like riding them, though over time even the best of them have proved to be impractical for motorway riding. There was a time when sitting at 60mph for hours was fine, as cars weren't much quicker then. Whereas on the motorways of today it seems every car driver sits there between 75 and 90mph. On a standard scooter it really is like dicing with death trying to get into the outside lane to overtake!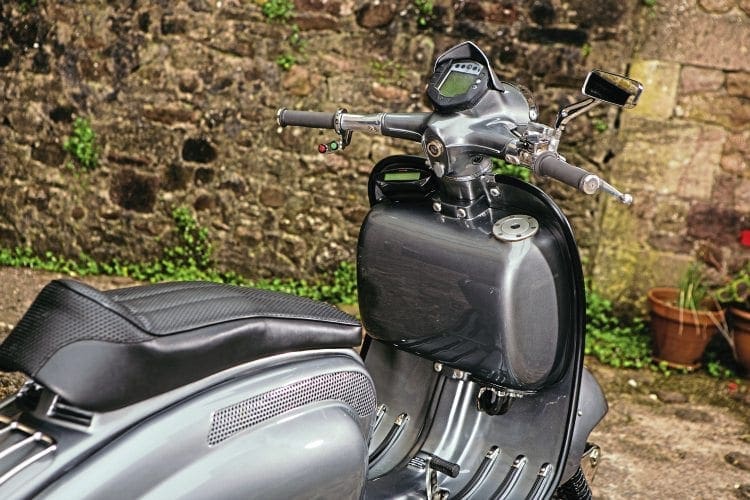 "I wanted something I could use that was practical, fun to ride and reliable. A scooter that can and will sit comfortably at 80mph, while giving a 45mpg return in fuel consumption, a scooter that when sat at 80mph I can change down a gear and accelerate away. Which is pretty much the scooter I've wanted all my life. So I indulged myself and had it built"
With a whole plethora of motorcycle engines to choose from, what was it that made Chris Mac opt for a KTM motor, especially when some particular 'bike engines have been tried and tested in scooters? "For instance the RD 350 LC has been one of the more common and popular engines, but I can't really see why. When they work as they should, at best you only get 30bhp, and their record on reliability isn't all that! And it's quite an old two-stroke design. KTM 390 Enduro gives a top speed of between 115 and 118mph, 46bhp as standard. With a few tweaks that figure could rise to 50bhp, that's the main reason I went for a KTM engine, it's four-stroke, powerful and it'll give me the reliability and practicality I want."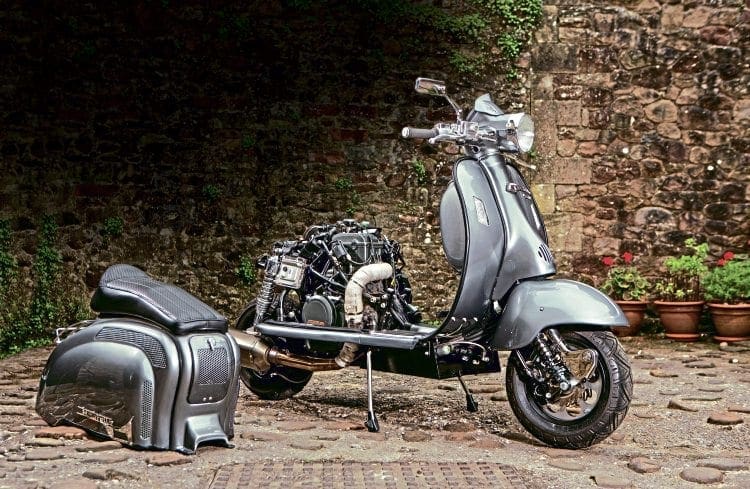 It's taken under 12 months from start to finish to create KTMBretta, with both the Spanish LI S2 frame and bodywork, and a brand new KTM 390 acquired by Chris in September 2015. "I went for a series 2 as the shape and looks are better for concealing a bike engine under the bodywork," he said. "The one I bought was basically a pile of junk. I spent over a grand on it – all that was useable was the frame, loop, headset and one of the side panels, the rest I scrapped. Both the KTM and the S2 went off to Gary Hancox in Leamington Spa, who not only carried out all the engineering work, he turned it all round in six months! There's a lot of trick fixtures and fittings as well as a number of one-off parts all of which ensure the KTM motor is accommodated in the Lammy frame." For a comprehensive list of the variety of engineering know-how bestowed on this beast of a scooter, a quick perusal of the relevant part of the spec sheet will provide most of that information. Gary also arranged for the powder coating of the frame and other bits and bobs, such as the wheels and bespoke swinging arm. For the paintwork, Chris enlisted the services of Julian Gill in Cardiff. Initially the intention was for the livery to match the dark metallic green corporate colour of Chris's business, The Brogue Trader. Then he saw a car in the silver grey, and changed his mind there and then. I think he made the right choice, as it looks both retro and contemporary at the same time.
During the build itself as well as after it had been put together and was up and running, there were a few issues that arose that required additional attention or rethinking and reworking. As well as one or two areas that maybe, with a bit of hindsight, would've ended up differently to how they are now. "One thing I definitely would've done differently was using the KTM speedo! That was probably the biggest faux pas. Both myself and Gary failed to research it thoroughly enough. We both thought the speedo took its feed from the front drive sprocket on the engine; it turned out it was fed from the ABS link. Once the SBS link was removed, no speedo!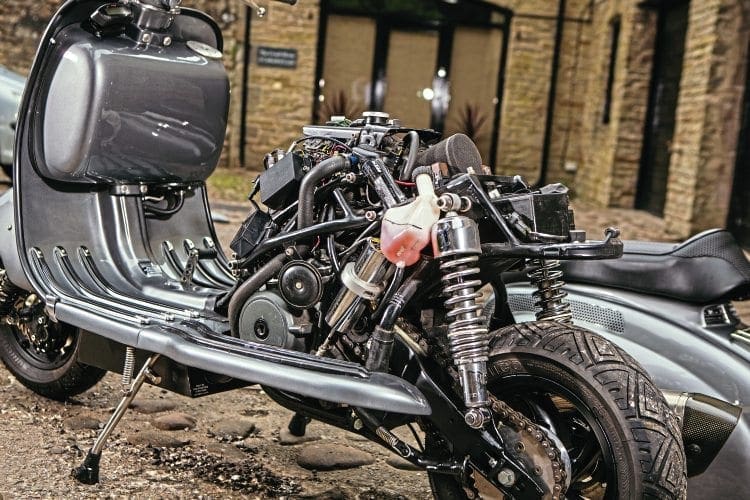 "Had to settle for a bicycle speedo in top of the tank, I'll live with it for now but long term I'll be looking to rectify that, probably using a SIP speedo. Radiator filler cap was a bit of a pain too. It sits about 30mm above the frame loop, which meant a standard seat wouldn't sit how it should. Lloyd Watts (Rusty Innovations) made a one-off seat, with a hoop in the middle to allow for the rad cap.
"Had a few issues with cooling to start with, solved that one with a bigger radiator and adding a cooling fan. On the way back from Exmouth I absolutely smashed the back wheel; at the time I didn't have a cush drive on the rear wheel, and the addition of a cush drive seems to have put that problem right. If Gary was to be asked the same questions he'd be more likely to mention aligning the frame, though he'd agree on fitting the cush drive!"
Counterbalancing teething troubles and minor, as well as not so minor, issues are the things that have gone better than anticipated. "There's so many subtle touches that have been worked into the scooter's appearance, like the flaring out of the front mudguard to allow space for the front shocks, the exhaust system, the simplicity of the seat, frame loop and side panels lifting off in one pieces."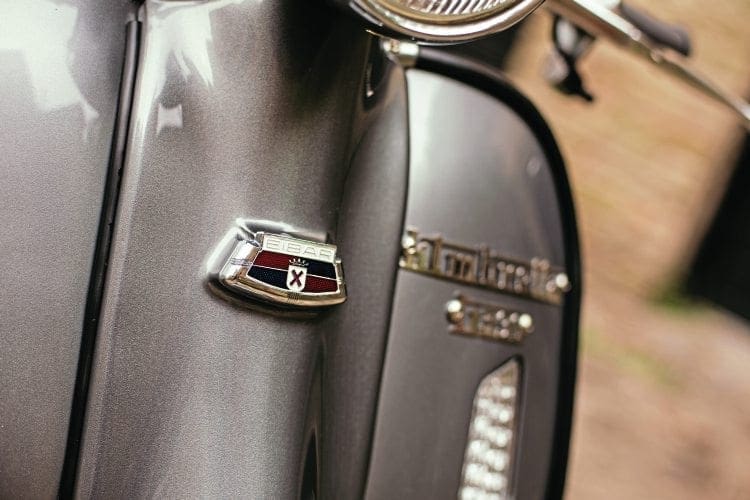 Chris Mac's creation, the scooter he's always wanted, now tried and tested, could herald a whole new approach to motorcycle-engine scooters. As a one-off, it really is a wolf in Lamb(retta)'s clothing.
Words: Sarge
Photography: Gary Chapman
OWNER DETAILS
Owner's name: Chris Macnamara (Chris Mac)
Job: Managing director of www.TheBrogueTrader.com
Scooter club and town: Cardiff.
How and when did you first become interested in scooters: 1985 – just a young Mod at the youth club, it was fashionable & cool as a lad to be involved in our local scene but a year later I got my first scooter.
First scooter: Vespa 90 3-speed.
Favourite scooter model: Vespa Rally 200 – pure class.
Favourite style of custom scooter: Street racer or understated, not in slightest bit interested in engraving or murals.
First rally or event: First rally Porthcawl 1986.
Any stories: Paul Atkins Vespa chop in 1989 with fuel pouring out over his leg from the tank between the seat and headset on the way to Margate, he wrapped a sleeping bag around it to temper the flow… you guessed it… it all caught fire somewhere on the M25, I was behind him two up trying to catch him up to let him know about the 2ft flames behind him!
Favourite and worst rally/event: More recently Paddy Smith's rally, pretty chilled out with lovely people but back in the day it has got to be Margate. The worst rally for me has got to be Skegness 1990, in that shitty stock car track, it was snowing and freezing cold, police road blocks stopping all the scooters going into town and only a pokey club house to entertain yourself… not a good rally memory.
Funniest experience with a scooter: Got stuck in a side car bolted to a Rally 200. The rider had it on full lock going around in circles spinning, he was going pretty slowly and it all looked pretty safe, so I jumped in and then the rider whacked the throttle open and jumped off, I was bloody stuck in the sidecar with it spinning for about 10 minutes at 20mph and I couldn't get out… I puked everywhere and felt so sick…
Furthest ridden on a scooter: Cardiff to Croatia and back via southern Italy and France, 17 days away, 3500 miles, loved every minute of it.
What do you like about rallies/events: I love meeting old friends who I haven't seen for a while. You can just chat for hours and catch up on each other's lives.
What do you dislike about rallies/events: I've always hated camping, I can't stand carrying all the luggage and bits and pieces you need. I'm not a fan of autos and mirrors either, that whole comedy Mod thing isn't for me.
Favourite Scootering feature: Into the Sunset, real stories written by real people.
Favourite custom/featured scooter of all time: I think it must be the Lambretta 'Spirit Walker' I know I'm contradicting myself by stating I don't like murals and engraving, but this scooter came out when I was at school and I remember seeing it in Scootering and thinking 'Wow!'
Most useless part you've bought for one of your scooters: I bought a Lambretta kickstart from eBay in 1997 for my GP TSI, after weeks of waiting it arrived. I popped it on and kicked the scooter over for the first time and all the splines just ground away, utter shite.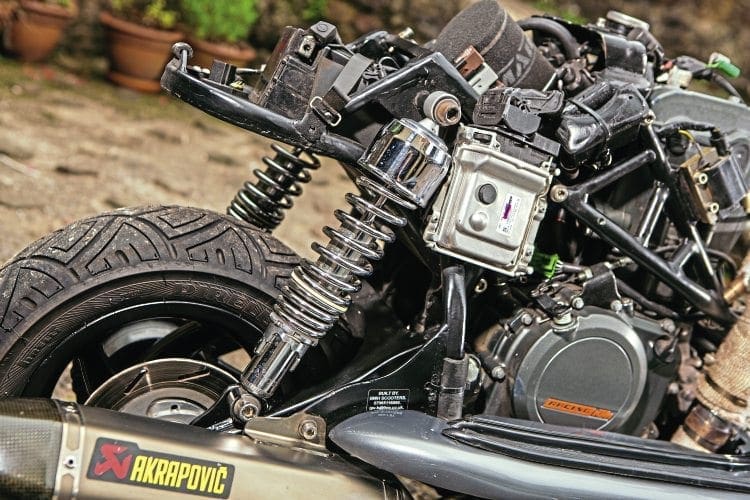 SCOOTER DETAILS
Name of scooter: KTMBretta — because its half Lambretta and half KTM
Scooter model: Spanish model 1962.
Date purchased and cost: September 2015 and £1100 as pile of junk. The KTM 390 was brought brand new at the same time for £4500.
Inspiration for project: The reason I built it is because if I've got to sit at 60 with a flat out speed of 70mph for more than 10 minutes I'll lose the will to live, although I like scooters they are so impractical for busy motorways.
Time to build and by who: Six months by Gary Hancox in Leamington Spa.
Modifications: Rear frame fabricated from scratch, even re-manufacturing the KTM trellis sections and then rejoining them to the front end of the Lambretta frame, rear swinging arm and cush drive made from scratch, rear brake calliper hanger all made from scratch, rear frame loop and panel section now can be removed in one section with only four Allen bolts to release it, radiator mounted under floor, legshield toolbox turned into petrol tank with all KTM fuel senders and fuel pump etc. incorporated, LED indicators in front legshields and rear panels, original KTM clocks with the KTM screen into the headset, KTM rear led light incorporated into the Lambretta frame and finally the front grill on the horncover and the rear grille on the frame both filled in flush to look slightly more modern.
Any specialised parts: Most of it. But I think the KTMBretta stainless badges are pretty good made up by Chas of Chas Speed Scooters.
Engine: Standard KTM 390 but with power commander and Akro pipe, no cat, no airbox just a foam filter.
Top speed: 107mph all day at 80/90rnph.
Is it reliable: Since shattering a first rear wheel and now fitting a cush drive — so far so good.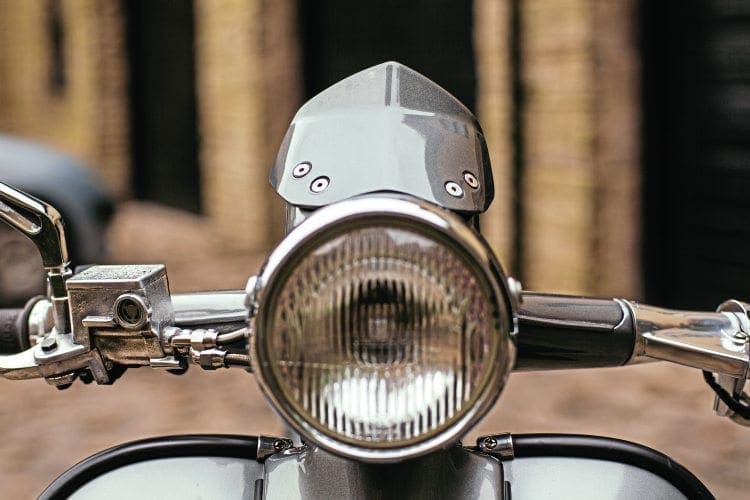 Paintwork: By my dear friend Julian Gill, Cardiff.
Powder coating: Gary Hancox organised the powder coating of the frame and other bits and pieces, wheels swingarm etc.
Overall cost: £16,500. Ouch! That's £5k more than I first thought when I started the project. Any advice: Don't scrimp on anything, buy the best you can and get the best advice you can from professionals, try and use a local dealer. Bobby and Shaun from Wildcat scooters in Newport were awesome and I tried to purchase as much as possible off them.
Anything still to add: Just some luggage.
Your favourite dealer: Currently Wildcat Scooters but back in the day Taffspeed, I am a bit biased mind as I did work there for a few years in the early Nineties, but that was when the great Turbo Terry (RIP) was still around.
Thanks: Gary Hancox for the build — a truly great guy and I couldn't recommend him enough, great communicator, reasonably priced and delivers on all his promises. Julian Gill from Cardiff for the paint. Chas from Chas Speed scooters for the badges. Loyd Watts and Chalky from Rusty Innovations for the handmade seat. My darling wife Joanne for letting me spend our holiday fund on what is in fact a flashy moped!
THE BROGUE TRADER
Providing fine footwear for the gentleman is the mantra of The Brogue Trader, Chris Macnamarra's exclusive mini chain of outlets. The flagship for his mini empire is based in his native Cardiff, with three more in Chester, Bath and Leeds plus a fifth set to open in Edinburgh. The Brogue Trader is far from a fashion outlet; it offers a choice from top quality British brands, with prices starting from just £80 a pair.
Although relatively young in terms of how long The Brogue Trader has been operating, last year it won both the Cardiff 2015 retailer award, and also the prestigious New Independent Retailer of the Year award in the Footwear Industry awards. Loake, Crockett and Jones, Joseph Cheaney and Sons, Christian James, Herring and Oliver, Sebago, Sweeney and Trickers are the iconic footwear brand names on offer. There are also accessories to complement the shoes, such as belts, bags, wallets and of course, socks — all of a similar quality of workmanship as the footwear. The Brogue Trader provides a comprehensive online service too.
In addition to brogues The Brogue Trader stocks a range of quality British-made shoe styles, that includes loafers, boots, country shoes and dress shoes.
Visit www.thebroguetrader.com

Enjoy more Scootering reading in the monthly magazine. Click here to subscribe.