Although not as significant as it once was, reaching that 21st birthday milestone still carries a legacy from bygone days. If ever a scooterist could choose the perfect present for their 21st… this would be it.

Hitting the age of 21 in the past marked coming of age, going from childhood into adulthood, part of which included being given your own key to the door. The age of reaching adulthood was lowered to 18 in 1969, despite which 21st birthdays continue to be marked in a special way. Both Gavin and Serena Chamberlain chose to mark each other's respective 21st birthdays by giving their other half a Vespa scooter as a gift. The pair have owned their birthday presents more or less ever since, recently treating them to much needed restorative makeovers. They're classy-looking classic Vespas, both made towards the end of their respective model production runs, lovingly restored and retaining their engines in standard condition.
Gavin on Rusty Rita
I'm the third owner of my Rally, though technically I could be regarded as the second. The original owner bought her new in Aylesbury, as transport to and from his work at a printers for 10 years. After it failed an MoT he sold it back to Aylesbury Two Wheel Centre. We lived close to the shop at the time; Serena nipped in and bought it for £150. She didn't really get on with it, finding it too big and cumbersome for her, even struggling to get it off the stand at times. It was approaching my 21st birthday so I was given the Rally as a present.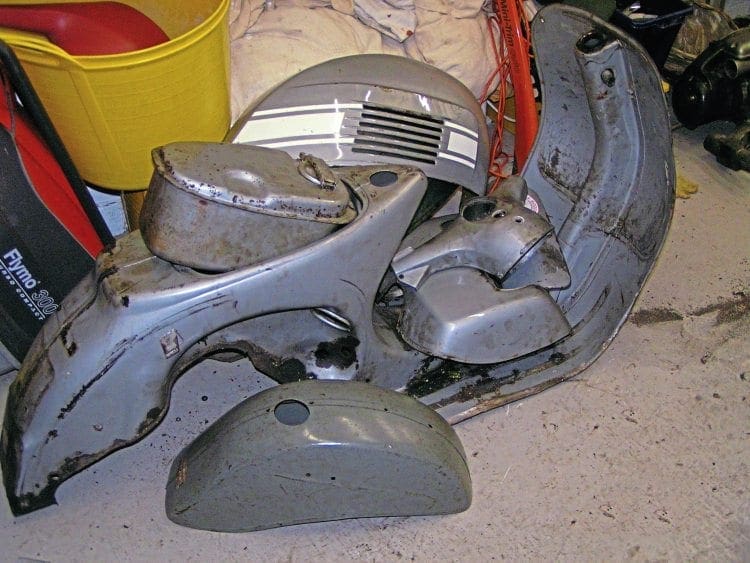 I used her for scooter rallies and work for 15 years. The only problems I encountered back then were the headlight blowing and I had a crank seal blow. She went in the shed for 10 years, though I did get her out every summer and give her a run up and down the road, during each summer she'd be parked outside and at some point or other all of our kids sat on it. In 2009 I eventually got her back on the road. What spurred me on to actually get the job started was an Aylesbury Scooter Club reunion. She was christened Rusty Rita by fellow members of Red Kites. The reason for that was, she's a typical Rally — it was a case of mind your feet on the floor boards!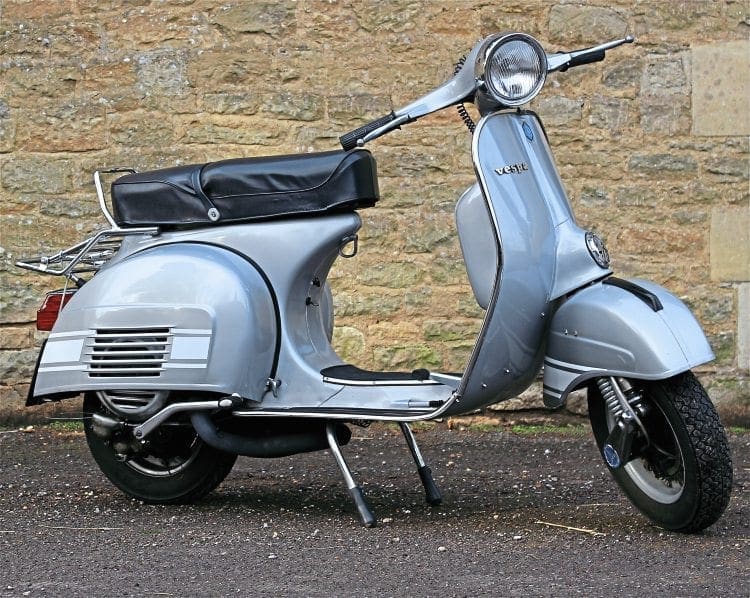 Something eventually had to be done, there's something about my Rally and birthdays as the decision to do that coincided with my 40th. Suggestions were made to cut her down and matt black her, which I resisted. Instead I went to Roadrash in Leighton Buzzard, who repaired, rebuilt and welded the floor section and frame before repainting her silver. Roadrash came up with three close matches and I settled on straight metallic silver, which was as close to the original colour as was possible. Both the restoration work and paint job were turned round in six weeks! She has been rebuilt to be ridden.
I was surprised and pleased when she won best Vespa at a local rally in 2016, especially so as there were two other earlier, pristine Vespa Rally models there too. I can't ever see me getting rid of my silver Rally, too many, far too many sentimental reasons to keep her. I've been asked a few times if she's a Jubilee special edition Rally, but I don't know is the honest answer, she was first registered in 1978 and silver was the original colour.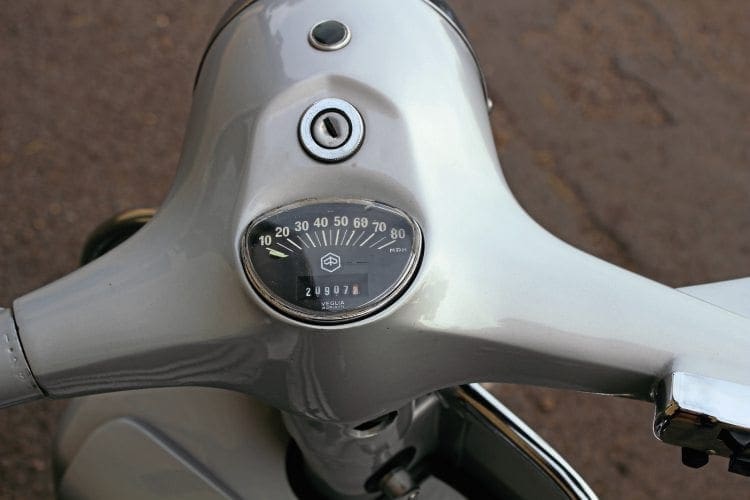 Whether she is or isn't, I've not been able to find out either way. Engine is of the later type with a Ducati flywheel and electronics, a strange anomaly is the PX kick start she's had from new, with a PX quadrant, obviously. At some point I'm going to rebuild the engine and I'm toying with the idea of replacing them with Rally parts, though no decision as yet.
MAN & MACHINE
Owner: Gavin Chamberlain
Job: Plant and buildings manager
Scooter club & town: Red Kites SC Thame
First interest in scooters: My sister bought me a Jam single for my 13th birthday and it all grew from there.
First scooter: Vespa PK50 in December '83.
Favourite scooter model: Vespa Rally 200 or Mk1 P range, Vespa P range.
Favourite style of custom: Full framed/classic scooters are my favourite.
First rally: Great Yarmouth National in '84.
How did you get there: On my slow PK50.
Any stories: I got my first ticket from PC Plod on the way to Great Yarmouth, for going too slow on a dual carriageway… I was flat out on a standard PK50.
Favourite rally/event: Weston-super-Mare, classic seaside town or Great Yarmouth.
Funniest experience with a scooter: Riding to Camber Sands a few years ago. Just over 100 miles took 12 hours!
Furtherest ridden on a scooter: Have done a couple of Scottish rallies by scooter and a tour of Normandy – 1000 miles in 10 days by PX200.
What do you like about rallies/events: Always love the ride to and from a rally no matter what the weather – just makes for an adventure.
What do you dislike about rallies: I hate it when they charge for the parts fair/custom show.
Favourite Scootering feature: At the moment I am like the new 'practical scootering' articles.
Your favourite custom/featured scooter of all time: Has to be Revenge or Vepasian.
Most useless part ever bought: Patent headlight for the wife's V100, had to take a hammer and file to make it fit…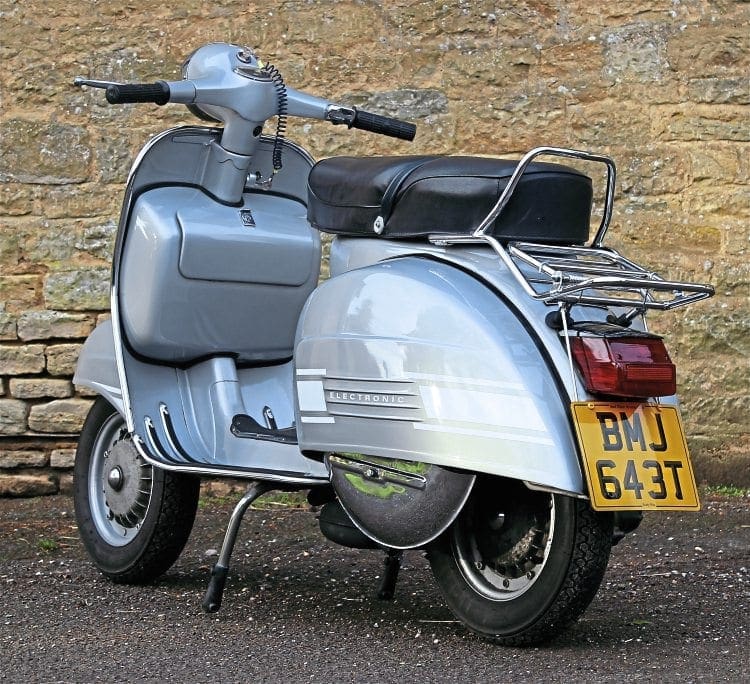 Name of scooter: Rusty Rita – she was covered in rust for years.
Scooter model: Vespa Rally 200 with late Ducati electronic engine, and no it's not a replacement engine – it had the PX kick-start from new.
Date purchased: Got it for my 21st birthday from my wife, she paid £150 for it but decided she didn't like riding it so gave it to me…
Inspiration for project: NEED – she was rusting away as all those Italian classics do when made from rubbish steel.
Time to build: About three months.
Spec: Standard except Road Race 2 exhaust.
Top/cruising speed: 70mph/60mph.
Is the scooter reliable: Yes very so far.
Paintwork & murals: Paintwork by Roadrash in Leighton Buzzard. They also sand-blasted her and welded in a new floor.
Is there any chrome: Spare wheel cover from Weston-super-Mare rally for £5… bargain.
Overall cost: £1000 for the total rebuild.
Hardest part of the project: Putting the new floor runners on.
Advice for anyone starting a project: Photograph everything on disassembly, buy the best quality parts you can and have lots of patience.
Your favourite dealer: Allstyles for speed of delivery and SIP for the amount of spares.
Serena on Bella
It was 1990 I was given Bella, my V100, she was bought for me by Gavin for my 21st birthday. He gave me an envelope and inside was the logbook. Gavin paid £15 to very good friend of ours, Vicki, from Aylesbury; she was chief bridesmaid at our wedding. I called her Bella, because I'm a Twilight fan, she's Italian and she's beautiful to me. I remember being so pleased when I first was given her because I wanted a small fame and I had no scooter at that time. She was a combination of green, brown and yellow paint, with the original colour having been white. Not long after I got her I fell pregnant — we were living in Aylesbury at that time. Three years on we moved to Bicester and I fell pregnant again. My brother kept an eye on her and eventually I gave her to him.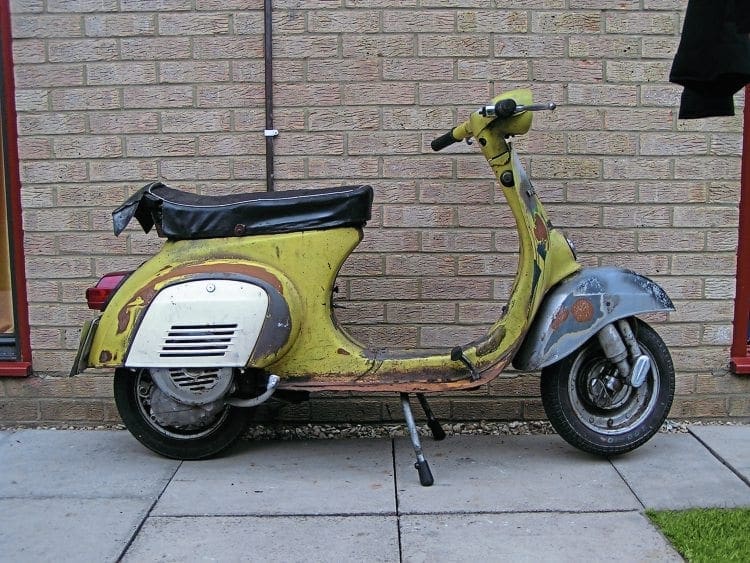 She must have been a fertility scooter as shortly after his wife fell pregnant. With triplets! She came back to me, although it was a 15-year layoff from the scene mortgage, bringing up kids and pre social media we'd lost touch and were a bit out of the loop. I was enjoying riding on the back of Gavin's rally, but wanting to get my scooter back on the road so I would have my own to ride. For my 40th birthday present, Gavin helped me get her back on the road, although I'd owned her for some time I had never properly ridden her on the road.
The engine was untouched and in good condition but the frame wasn't. I found a website where you could 'virtually' try out different coloured paint on your scooter; I wasn't sure what colour I wanted, though definitely not pink! I settled on powder baby blue. She went off to Hodge at Supersprint, who first replaced the floor, then got on with paintwork, I had told him to take as long as he wanted, as at the time I was recovering from an operation, in no fit state to ride. I can be impatient at times, towards the end of the four months it took; I got a bit hormonal with poor Hodge, resulting in her being finished off in a week! She was rebuilt in our dining room, which didn't go down too well with my mum. My first ride was to a Red Kites meeting, I arrived there with the biggest grin ever. Her first planned outing was to Buckingham Palace ride-out. That was a story in itself, which was an Into The Sunset featured in Scootering.
I've got a 200 for riding distances, Bella is for more local ride out days of around 60 miles. She's still a standard V100 engine, although I've now got a spare small frame engine for her which I may have kitted. I will always keep a standard engine for though, for reliability. Bella's definitely a keeper, she's a scooter I'll never part with.
WOMAN & MACHINE
Owners Name: Serena Chamberlain
Job: Customer service
Scooter club & town: Red Kites Scooter Club
Other club member: LCGB & VCB. An avid member of FS Elite (Facebook support page for Female Scooterists).
First interest in scooters: My brother was a Mod and rode a P125X. I was about 12 and became fascinated by his group of stylish friends.
First scooter: Vespa 50 Special (dark blue with a hint of pale blue Hammerite on the mudguard).
Favourite scooter model: I adore riding my GP200 — the size and height is perfect for me. First rally or event: Isle of Wight 1985 — in a Vauxhall Viva! I was 16 and only allowed to go because my brother was taking his car.
Favourite and worst rally/event: I've never had a bad rally — they are all good for different reasons — whatever the weather.
Funniest experience with a scooter: I went to Margate in the 80s and was two up with my brother on the back. The piston shattered and I remember a little boy in the back of his parents' car happily waving at us (until it seized) and then the look of sheer horror on his little face, as we weaved all over the road, trying to get back to the inside lane and safety.
Furthest ridden on a scooter: In the 80s, I went to Morecambe (around 220 miles) and Girvan (about 380 miles).
What do you like about rallies: The excitement of countdown and setting off.
What do you dislike about rallies: We need more parts at parts fairs! Something to get you home.
Favourite Scootering feature: I love the travelling stories and learning about the scene abroad.
Favourite custom: Dazzle — without a doubt. To see it recently at Peanut Duck was a pleasure.
What's the most useless part you've ever bought for one of your scooters: A chequered mudflap for my Lammy.
Name of scooter: Bella — because I'm such a Twilight fan and because she's an Italian Vespa.
Scooter model: Vespa V100.
Date purchased & cost: Gavin got it for me in 1990 for my 21st Birthday. I'm reliably informed she cost £15 (tightwad — kidding!!).
Inspiration for project: I had just turned 40 and Gavin's Birthday pressie to me was to help me get her on the road.
Time to build: Hodge from Supersprint came to the rescue with his no nonsense attitude and honest upbeat personality. It took four months.
Specialised parts: Spare wheel cover was made by Suella Butler — she's a marvel with fabrics.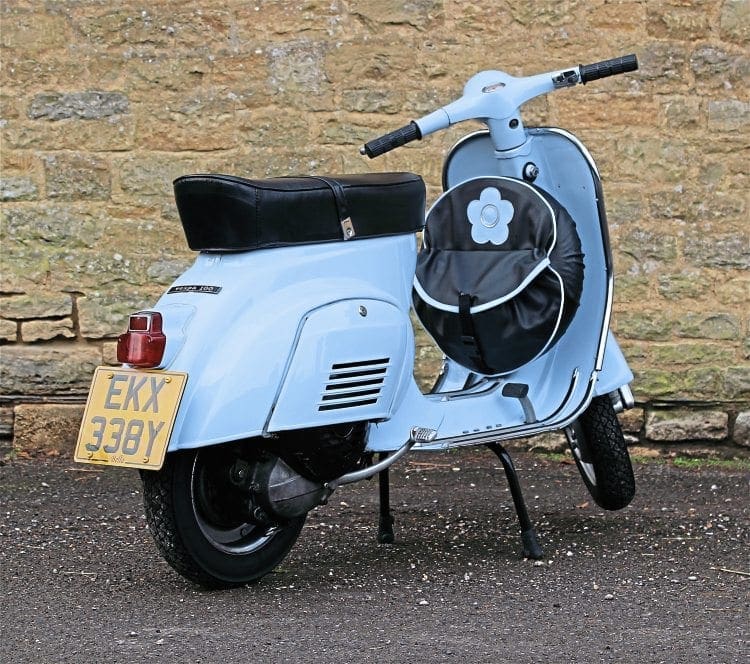 Spec: Totally standard.
Top/cruising speed: 55mph/50mph .
Paintwork & murals: Hodge from Supersprint -perfect finish.
Overall cost: £1000 — money well spent.
Advice for anyone starting a project: Dry build and have patience. Stop when you're tired.
Is there anyone you wish to thank: Gavin, my brother Steve, our children, my parents and the Red Kites — we are family.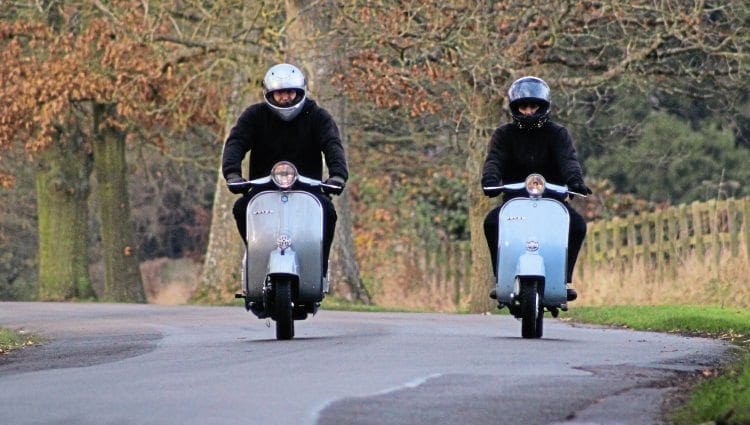 VESPA RALLY 200 – BRIEF OVERVIEW
Regarded by many as both the finest and fastest Piaggio production scooter, the Rally 200 was the last of the classic large frame models before the New Line P range.
Following on from the Rally 180, the 200 model introduced electronic ignition on Vespas. Initially this was manufactured by Femsatronic, though during the final year of production this set-up was replaced by a Ducati Electronic system. This was the first incarnation of the Electronic system used on P200E models.
Go-faster stripes, correctly names Sidewinder Stripes, made their appearance on the Rally 200 side panels, another Vespa first. One well known issue with the Vespa Rally 200 models is the tendency for the monocoque frame to rust heavily.
In the early to mid-70s many vehicle manufacturers were aiming to lower the costs incurred to make their products. Lower grade steel combined with a thinner gauge was one of the many ways tried in the drive to save money. A reduction in the number of under-floor support struts was also a feature of the Rally, justified in sales brochures as weight saving. A total of 41, 275 Rally 200 models were manufactured from 1972 until the P range was launched. While it's a sought-after scooter in all incarnations, it's the late Rally 200 model with the Ducati electronics that is coveted most by connoisseurs.
VESPA V100 – BRIEF OVERVIEW
Japanese market apart, V100 Vespa small frame scooters were produced by Piaggio from 1978-1982. The V100 was the final upgrade to the long-lived V90 first introduced in 1963. Right through its life, through all its minor upgrades, this model always occupied the basic end of scooters made at Piaggio. Its longevity is testament to the vision of Vespa designer Corradino D'Ascanio. He designed the very first 48cc Vespa in 1946, and had considerable input in many Vespa models produced over the following 17 years.
Basic it may have been but it proved a desirable scooter with short distance commuters and the already growing youth market… helped no doubt by its pocket-friendly selling price. In 1966 the side panel door increasing in size, after which superficial tweaks to details such as the bodging, twist grips and flywheel cowling colour took place until 1978.
Engine capacity was increased by 10cc and new badges were added along with a larger rear light unit. The V90/100 Vespa model has managed to remain true to its budget model roots in terms of today's market. A simple, effective little scooter that does what's asked of it without fuss. It really doesn't command the sort of respect lavished on other, more flamboyant looking and desirable classic scooters. But maybe that perspective should be reappraised?
Words & photographs: Sarge

Enjoy more Scootering reading in the monthly magazine. Click here to subscribe.