Jeff Lovatt, founder member of North Berkshire Swans, who transformed into Milton Keynes Scooter Club in the mid-70s, has an undying passion for Lambretta scooters. It began 48 years back and shows no sign of abating…
Back in the 60s a handful of well-established scooter clubs held maintenance workshop evenings but it's unlikely they were ever as regular or long-lived as those hosted by Jeff Lovatt.
It all began in his dad's garage back in 1968, and while the location has changed several times, Monday night (and sometimes Tuesday too) remains maintenance night for Jeff, and his fellow club members. He's ridden to a variety of rallies and scooter events as well as building, preparing and repairing club machines for scooter sport events. Jeff has also tried his hand at some, predominantly off-road, scooter sport events.
He has only ever been a member of one scooter club — which was initially known as North Bucks Swans but became Milton Keynes Scooter Club during the 70s. Both Mercenary and Tin Soldiers scooter clubs come under the MKSC umbrella. Influential and inspirational to generations of scooterists in and around his home turf, Jeff is a shining example of an unsung hero in scooter terms.
We caught up with him on a Monday evening, to plunder his extensive archive of photographs and memorabilia as well as taking a trip down memory lane, sharing his many scooter-related anecdotes.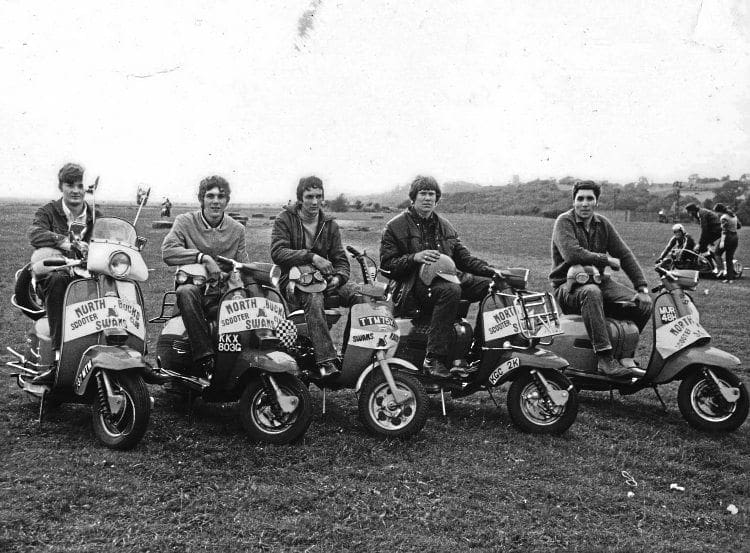 When and why did you first become interested in scooters?
The 'when' would have been 1968, the 'why' was because everyone had either a scooter or a motorcycle then. Much simpler times. Like many similar youngsters, I was riding before I was legally allowed to. My first scooter was a SX200, which was parked up, supposedly until I was old enough to ride it legally. My old man wouldn't let me ride it all.
I worked on a milk round, obviously an early start and an early finish. I'd finish work then take the SX out for a spin quite often. I remember one morning I was out on the SX and my mum and dad happened to be coming the opposite way down the road in their car, so I waved at them.
My mum told me my dad turned to her and said, "I think he's done that before." Another couple of whys were (once I was legal), it was transport to go to and from work, and having a scooter was a good way to get a girlfriend in the late 60s.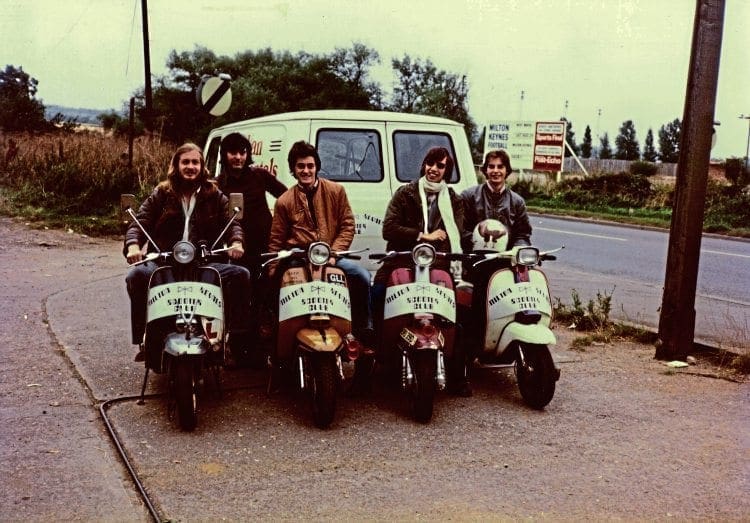 Has it always been Lambrettas for you, or have you owned and ridden other makes too?
It's almost always been Lambrettas for me. I did have a Vespa for about three weeks. I didn't like it much; it felt unbalanced. Riding it, the balance felt wrong and I found the clutch too snatchy. That was my only time with a non Lambretta scooter.
I did have a Vespa/Piaggio three-wheeled pick-up as my business transport for some years though. It was more or less a mobile advert for my business — it wasn't much use for anything else. It was really slow, rarely managing more than 30mph.
How many scooters have you owned over the years, and what were they?
As I've said, my first scooter was a SX200, next was a SX200 lookalike — the frame and engine numbers didn't match. I've had an Italian GP, a Series 2 combination, a Vega 75L. I had a Roy Speed with a five-speed gearbox — I remember second and third gear were very close together, it was often a job getting it into fifth gear.
At one point I had a go at building a Lambretta trike, basically I cut the rear end of a scooter in half, added some sheet steel to make it the right width, it had two engines, one was a lead-filled dummy engine, the other was running properly. It was built in the club workshop, but it never got any further. Three years ago I built another SX200 lookalike. I still own and ride most of them now.
Out of the scooters you have owned, which one is your favourite, and why?
The very first scooter I owned is my favourite out of all of them. Cliched it might be, but it was my first scooter, it opened the door for me to what has been a lifetime of riding Lambrettas.
Tell us about the Monday (and Tuesday) maintenance nights and the various workshops over the years.
They started off in my dad's garage in Bletchley in 1968. We bought a few specialist tools such as hub pullers and flywheel pullers, and got a small stock of spares such as cables and the like. We (North Bucks Swans at that time) would work on our scooters and share experiences as well as helping each other out. Club membership grew, so much that it was too big for my dad's garage.
In 1971 we moved into a temporary larger place, which was two barns off the A5 — one was a workshop the other for stores. The influx in membership may have been partly to do with a half page write up in a February 1971 scooter magazine.
December 1971 marked the next move for the workshop. Club members of that time built a bespoke clubhouse/workshop on a farm in Newton Longville. It would and should have been the ideal location and building, except a lot of local youngsters took it upon themselves to vandalise the building every chance they had.
It got violent too. We were shot at by air rifles when we were inside the clubhouse! Reluctantly the club went back to the previous two barns in the summer of 1972. Membership numbers fell to a point in late 1974/early 1975 when we only had four members. It was around then North Bucks Swans SC ceased and Milton Keynes Scooter Club began. We'd gone over to Edgehill near Banbury to watch a scooter trials meeting and we got talking to an official from Federation of British Scooter Clubs who made a few helpful suggestions on how to fund our club.
They worked very well — it allowed us to have legshield banners made and gave an advertising budget that allowed us to increase membership. The club workshop stayed at the barns for around 17 years. Then from 1992 to 2005 we were at a place round the back of a Car Accessories shop in Stony Stratford, affectionately known as The Cottage.
From 2005 we spent the next 10 years with the club workshop by my shop in New Bradswell, then last year Harry (Gibson) provided a few small units on the side of his business as club workshops.
Maintenance nights were on a Monday and Tuesday night for well over 30 years. For the last 10 years or so it has reduced to only Monday nights.
I've always liked tinkering around with engines, over the years and different locations, the club workshop has bought, acquired and even made a multitude of tools including one-off specialised items.
What scooter events were you attending and taking part in over the years?
We went as a club to the Lambretta Club rallies in Southend, we attend hill climbs, sprint meetings, trials meetings, anything really that involved scooters during the 70s. We held a few club events and inter-club events, with Luton Lambretta club, navigational road trials, treasure hunts, that sort of thing. And we held a few club runs in the 70s and 80s too.
As a club, in the better weather months we'd ride over to other scooter clubs on their meeting nights. Probably the furthest we went to another club's meeting night was Oxford, when Oxford Roadrunners met on a Wednesday night. We had an annual club championship with an awards night social get together around Christmas.
I rode over to Isle of Man Scooter Week, and back in the 70s, purely as a spectator, it was the week after the motorcycle TT week. That was an experience, watching the scooters racing Druidale, through the watershed, that's a lasting memory of the Isle of Man for me.
When the national scooter rallies started we rode to some; I have done ever since. Isle of Wight August bank holiday weekend has been a favourite of mine for some years now. The ride out round the island is just incomparable.
The Three Counties Showground rally in the early 80s in Malvern, near Worcester, is one that has stuck in my memory. Lambretta Club members' rallies at Mike Karslake's place, Kesterfield, are some of the others I can remember clearly.
I rode to rallies in Morecambe, Weston-super-Mare among others. Nine or ten years ago I flew out to Las Vegas for High Rollers. I didn't go there by scooter but I had a brilliant time out there. Let's say American scooterists really know how to throw a party.
Any stories you can recall involving going to or being at various events?
The first time we rode over to Edgehill in '75, we had eight stops and minor breakdowns before we had even got out of Bletchley! One year heading to a Lambretta Club rally at Kesterfield we stopped on the way down at Stonehenge off the A303. It wasn't like it is now – then you could get quite close to the stones. It was starting to get dark and we had a huge 10 man tent with us. We put it up in the dark, only to find we'd got it inside out and there were no guy ropes. By that time it was too late and we were too tired to care, just as well it didn't rain as the inside of the tent wasn't waterproofed!
When the Saints won a rugby championship or trophy of some sort, I along with the club went on an inter-county ride out to Northampton. There were a few hundred scooters, from North Herts, Aylesbury, Bucks and Beds. We didn't know the streets had been shut for a celebratory parade for the Saints, so we all rode through the streets to the centre of Northampton and thousands of people were waving at us — they must have thought we were part of the parade.
What scooter sport events have you competed in?
I'd go to all sorts of scooter sport events as a spectator. I'm fairly certain my first experience of taking part would have been at a Lambretta Club Southend rally. I, we, had gone to watch the rough ride event. I had a go on one of the off-road Lambrettas round the course after the rough ride had finished. I remember it involved riding around the outside of what I can only describe as a cesspool! I had a go at some of the scooter gymkhana events that same weekend.
Sledge racing was quite fun — it basically involved a wooden tray tied to the back of a Lambretta, though the person on the 'sledge' (tray) had their work cut out trying to hang on. After going to the scooter trials meeting at Edgehill in '75 one of the club members got an off-road Lambretta. I ended up being involved in building and helping to maintain two off-road Lambrettas owned by the club. We built them from various bits and pieces, along with a couple of spare frames lying about in the workshop.
Tell us a bit more about the MKSC off-road Lambrettas.
The two club off-road Lambrettas often had up to five club members entered trials event, me included. We took part in meetings at Edgehill, Broadway near Evesham, and Wheatley near Oxford. I enjoyed taking part in the trials, though up against smaller, nippier Vespas. On Lambrettas it was usually for the fun and not much to speak of in the way of glory.
One of the reasons behind building the club Lambrettas was because as spectators at the Edgehill trials you'd often get persuaded or press-ganged into marshalling, usually by Norrie Kerr. If we were taking part we weren't asked to marshal. The club off-road scooters always needed some TLC after a trials meeting. They took quite a battering every time they were used. Invariably a new set of clutch plates as well as remounting the exhaust needed taking care of.
Sadly the off-road club Lambrettas went a few years ago. One was stolen. The other was sold to someone who wanted it purely for the frame number. Harry picked up a purpose-built trials/off-road Triumph Tina T100 a little while ago, which is work in progress as it's not yet running quite right. It's got an automatic engine, so will probably need someone who is an expert with automatics to sort it out. There's a tatty looking Vespa with knobbly tyres fitted, which makes two off-road scooters owned by the club again.
You're less than two years off reaching your golden jubilee on scooters, what would be your favourite era of scootering?
I'd say the early days would have to be my favourite. I was young, it was all relatively fresh and new. All my mates had scooters, we went round in a gang. Great times.
The current scene is very good. At the weekend we had a charity ride out for the homeless. That had 51 scooters just from Milton Keynes on a Saturday afternoon, which is impressive by any standards. I enjoy inter-county ride outs and I enjoy riding my scooters as much now as I ever have. Maybe a bit more so now I'm retired, though really I only like riding when its warm, and if I only get wet on the way home.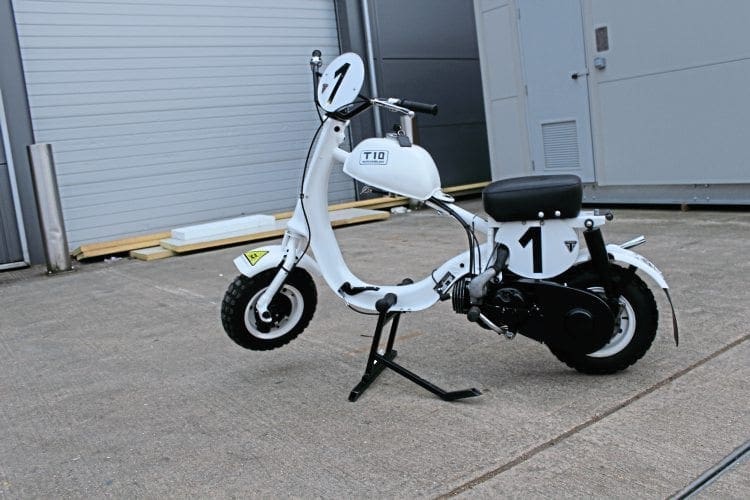 Finally, is there anything you've not as yet achieved, attempted or experienced on a scooter, that you have planned to do in the near future?
I've never tried road racing on a scooter, though I'm probably too old to start. I've never ridden a scooter outside of the UK either. Probably the furthest I've ridden on a scooter would be the Isle of Man, but I would like to ride in mainland Europe. There's a Euro rally in Italy in 2017 and I've got an eye on that, with a bit more than a possible intention to ride to it.
Sarge
This article was taken from the June 2016 edition of Scootering, back issues available here: www.classicmagazines.co.uk/issue/SCO/year/2016

Enjoy more Scootering reading in the monthly magazine. Click here to subscribe.