This is one of the most personal scooters that I've had the privilege to write about, one that represents much more than an interest or an idea. Paul Hunter's Spanish Li125 custom is entirely based on his family, and is dedicated to the memory of the members of it that he has lost. A true labour of love.
Paul had picked up this fine example of a Spanish Li125 around a month before the tragic loss of his mother last year. He'd already spent a few weeks trying to think of a theme for it when events tragically gave him the basic idea for the scooter you see before you. Taking his inspiration from his family name, Hunter, and its motto, he decided that a mobile tribute would be a fitting use for the Series 2 scooter. Cursum Perficio is the family motto, and is typically clever heraldic play on words. Various translations include 'I finish what I start' or 'I finish my journey'. A synonym for the second one could be 'I run my course', which is originally a reference to hunting, which brings us right back to Paul's surname – Hunter. Clever stuff, eh?
The scooter itself is full of similar visual puns on his family name, and also plays on something that his mother told him when he got his first scooter – "It'll do to get you from A to B" – which inspires the bee on the handlebars, and also in the 'CP' monogram on the rear lamp, which incorporates a stylised one. It's the paint that gets the immediate attention though. The simple buttermilk basecoat has an excellent example restrained but meaningful pinstriping which was applied by Pete Hammersley (also known as Pete Von Brush if anyone wants to check out his other work!). As striking as it is simple, the burgundy and grey linework highlights the gorgeous curves of the S2, but also includes further plays on the family epithet.
The obvious one is the toolbox, with its two hounds 'at alert', but I'll be you've missed the flashes towards the front of the panels. Take a second look and you'll see an almost impressionist pair of dogs in full pursuit of an imaginary quarry. Similarly, the twin lines up the legshields represent the two in chase, never crossing, never getting in each other's way, an idea echoed in the twin line stitching of the one-off seat by Gary Lewis.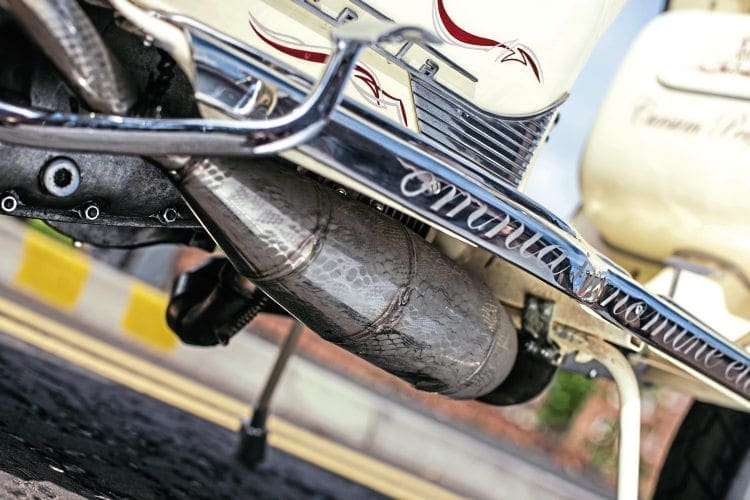 Further Latin inscriptions are found on the floorboard strips, the translation of which – 'It's all in the name' – is what Paul considers the real title of the scooter – and on the headlamp surround, 'Where one goes', a phrase that could be interpreted as another play on 'Hunter' or, more sadly, a reference to his family members with its natural, unsaid, extension 'others will follow'.
A few one-off pieces adorn the scooter, but given its intended use as a day-to-day ride, these have been kept to a minimum. The fuel and choke taps are another pair of hunting dogs, and mounted into clutch and panel levers are three garnets, a stone often associated with mourning, which originated from his father's ring.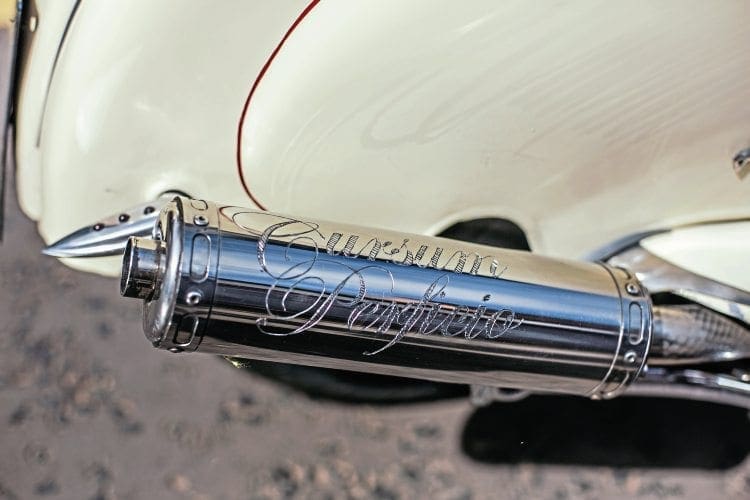 Underneath the bodywork lives the original motor, although with several tweaks to improve performance and reliability. Once the engine had been flushed of the accumulation of mud wich was bizarrely found to be filling it, it was given an aluminium powder clean before a 185 top end was fitted, along with an uprated crank and carb, GP200 gearbox and 28mm Dellorto carb. If you take a careful look at the Sterling exhaust, you'll notice a pattern etched into it. This was achieved by Paul stretching a net over the pipe, and then blasting it with more aluminium oxide, giving the pleasing and unusual finish, he also engrave the end can to finish the job properly!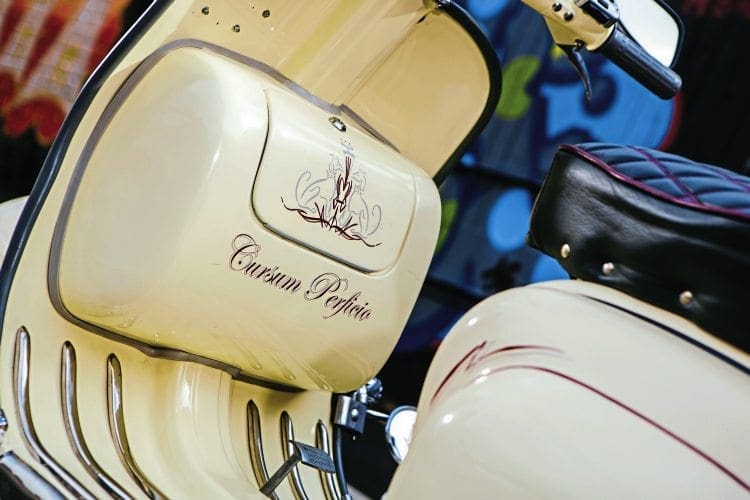 The more observant of you will have noticed the lack of shininess on the machine, with chrome being kept to an absolute bare minimum. There's no reason for this other than Paul intends the scooter to be a regular road going machine, and that he doesn't want to be cleaning it when he could be riding it, an approach that I must say makes a lot of sense to me.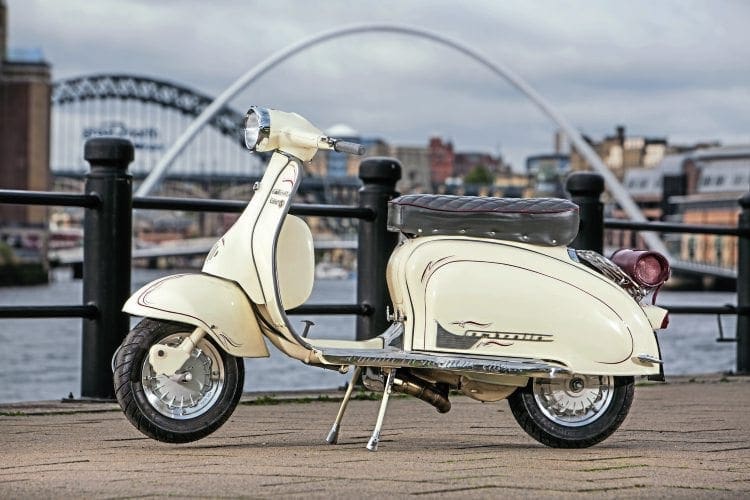 To finish off, Paul asked me to say a quick thank you to all those who involved themselves in this project, you know who you are and, more importantly, he remembers…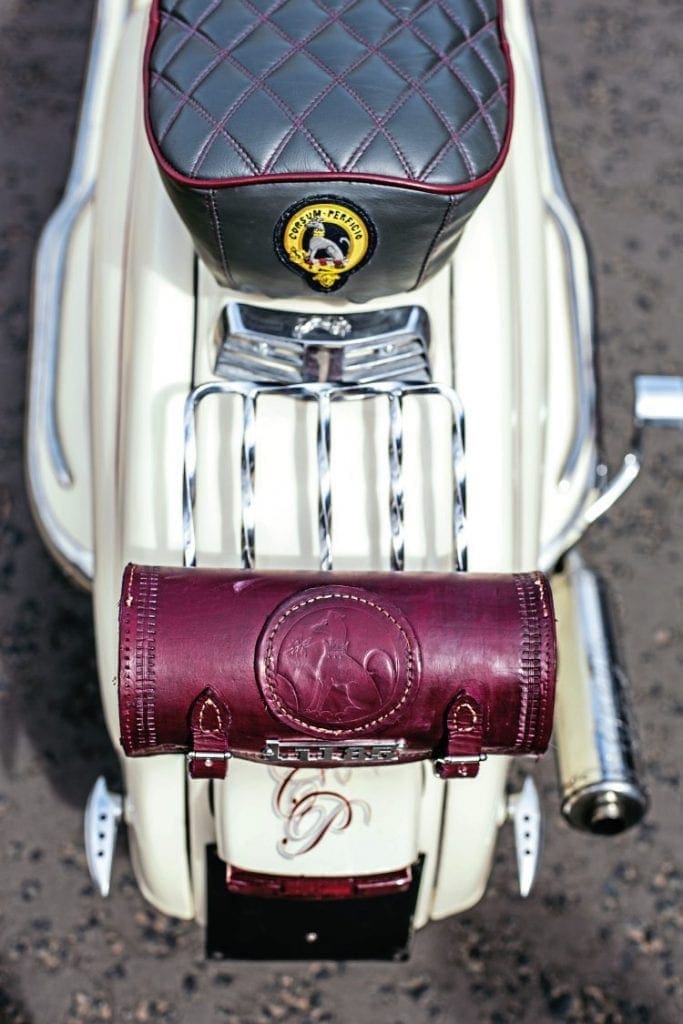 OWNER DETAILS
Name: Paul Hunter
Scooter club & town: Lost Boys. Newcastle. Square & Compasses SC
First scooter: Lambretta SX150 for £25.
Favourite scooter model: There isn't a geared scooter I don't like.
Favourite style of custom scooter: Any that can be ridden and admired. Rather than a chequebook scooter that only sees the light of day at big shows.
First rally or event: Ambleside 1979.
How did you get there: On my SX, loaded up like Ged Clampett's car.
Any stories: After Ambleside I came home on the back of a mate. Being unable to ride after crashing into a drystone wall three up, pissed in a field.
Favourite rally: Favourite rally has to be The Border Bash run by Berwick Bulldogs. Funniest experience with a scooter: Seeing mate Jack Dey emerge from his tent at The Dutch Lions Rally, covered in stinking mud and slime, and nettled to death, having drunkenly fallen into a canal after leaving us in the bar.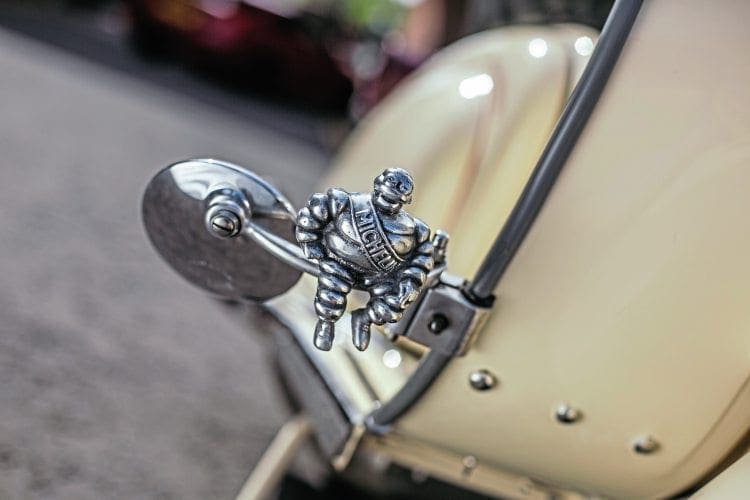 Furthest you've ever ridden on a scooter: Almost to Belgium, from Ijmuiden. After getting lost on the way to Heerjansdam.
What do you like about rallies: Meeting mates, the craic, the buzz, and the smell.
What do you dislike about rallies: Being kept awake during the night by gobshites.
Favourite custom/featured scooter of all time: I'd have to go for Gath Lewis's Dyrospeed Devastator, Geordie Pride. Seeing it in the 80s, knowing where it lay unloved for 30 years, and now seeing it back on the road.
If you had to recommend one scooter part or item of riding kit what would it be: Good protective kit. Wearing jeans and a polo when you meet the Tarmac hurts. I learned that the hard way.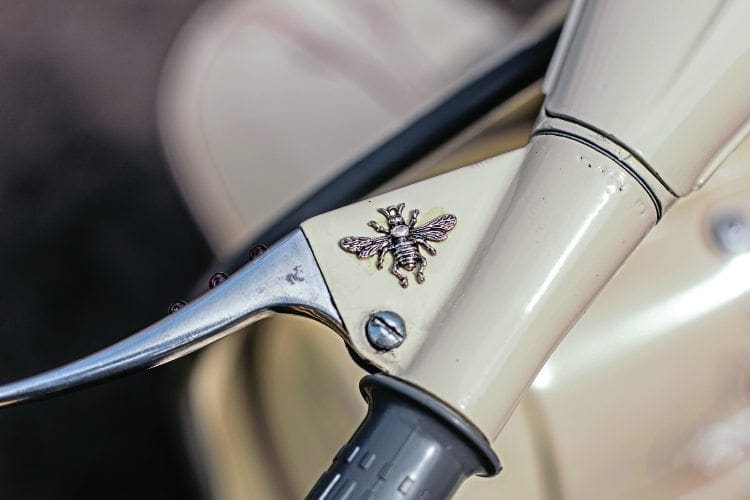 Name of scooter: Cursum Perficio. I like to personalise my scooters. I had a few ideas prior to rebuild. Then I lost my mam in September, so I decided to dedicate it in some way to my family and those I love. Cursum Perficio is my family motto. It can be translated in a few ways. I finish my journey, my course (hunt) I finish what I start.
Scooter model: Elbar Lambretta Li 125.
Time to build & by who: Eight months. Peter Bowery Blyth.
Engine kit: Alloy 185.
Crank: MEC-EUR.
Carb: Dellorto 28mm.
Exhaust: Sterling.
Clutch: Uprated springs.
Gearbox: Standard.
Paintwork & murals: Pinstriping by hand, by Peter Von Brush (AK Graphics).
Engraving: Exhaust body etched, and end engraved by hand, with hammer and chisel, by myself.
Overall cost: £2200.
Anyone you want to thank: Cohn Vernon, Durham Groundhogs. Peter Von Brush of AK Graphics North Shields. Pete Bowery. Cath and Gary Lewis, and those dear to me that Cursum Perficio is dedicated to…
'I AM NOT A BADGE OF HONOUR'
He's not just a scooterist, he's a poet too! After seeing a post on Facebook by a mate who was a serving soldier, which read 'it's more than just a poppy', Paul penned a poem in just five minutes while his wife watched evening soaps on TV. But after he posted it online, he has watched in awe as thousands of people have shared his heartfelt poem. The penned words have struck a chord with thousands of people who have now shared his poem across the internet, sending it viral.
Paul told us: "It has struck a chord with so many people because of the escalation of deaths in conflict. Through the 70's it was mainly in Northern Ireland that lads were getting killed. But recently there has been a massive upscale."
Paul's poem speaks of what the poppy really means: "a permanent reminder" and a "way of saying thank you".
Though Paul has no military background himself, he passionately believes we should always remember our fallen heroes and commemorate the dead as conflicts continue to rage across the world.
He said: "I feel very passionate that we can never forget."
PAUL'S POEM
I am not a badge of honour,
I am riot a racist smear,
I am not a fashion statement,
To be worn but once a year,
I am not glorification
Of conflict or of war.
I am not a paper ornament
A token,
I am more.
I am a loving memory,
Of a father or a son,
A permanent reminder
Of each and every one.
I'm paper or enamel
I'm old or shining new,
I'm a way of saying thank you.
To every one of you.
I am a simple poppy
A Reminder to you all,
That courage faith and honour,
Will stand where heroes fall.
Words: Nik
Photography: Gary Chapman

Enjoy more Scootering reading in the monthly magazine. Click here to subscribe.