Bergamo 2 is a scooter that could easily be overlooked, so subtle are its charms, but what a mistake that would be.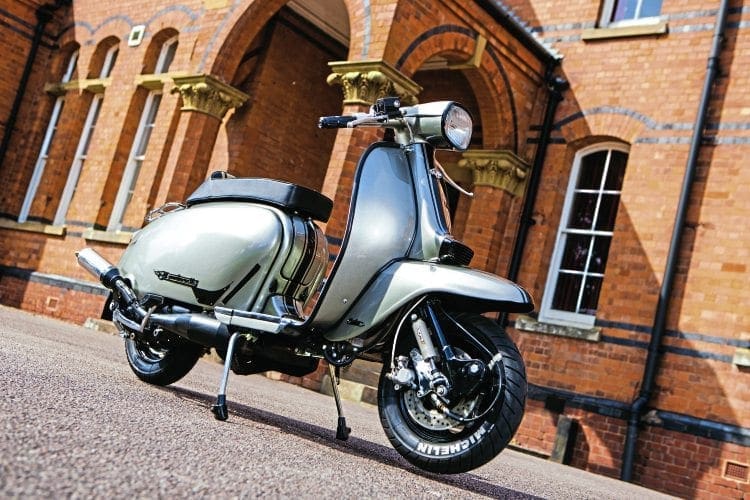 Gone in 60 seconds
Bergamo 2 came into the possession of AFSC member Dave Gibbs after an experience that could have put many off scootering forever. "Earlier this year I had two scooters stolen from my garage," he explained. "An SX and GP, both of which were of great sentimental value. The SX I'd found while posted to Gibraltar. I used it out there and brought it home at the end of my posting. The GP was found for me by a good friend who's since passed away. It was the last favour he did for me. I know it's a cliché but they took more than the scooters, they took memories."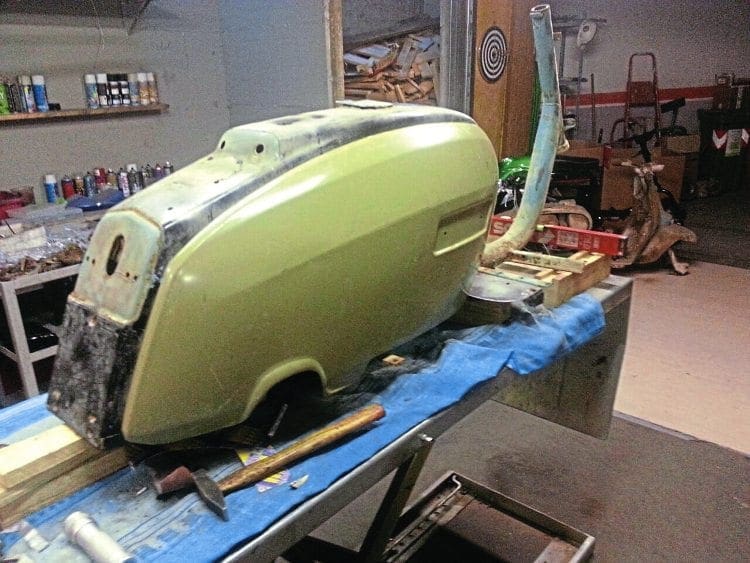 Without elaborating about Dave's security arrangements, this was a well-planned burglary and at the risk of getting off track, there's no doubt that parts of these machines are in circulation somewhere. We're all rightfully outraged at scooter theft but we're also quite happy to pick up a bargain part on the Internet. The two are linked and it's only when we all start to ask questions about where bargain or rare/used spares come from that thefts will decline. Rant over.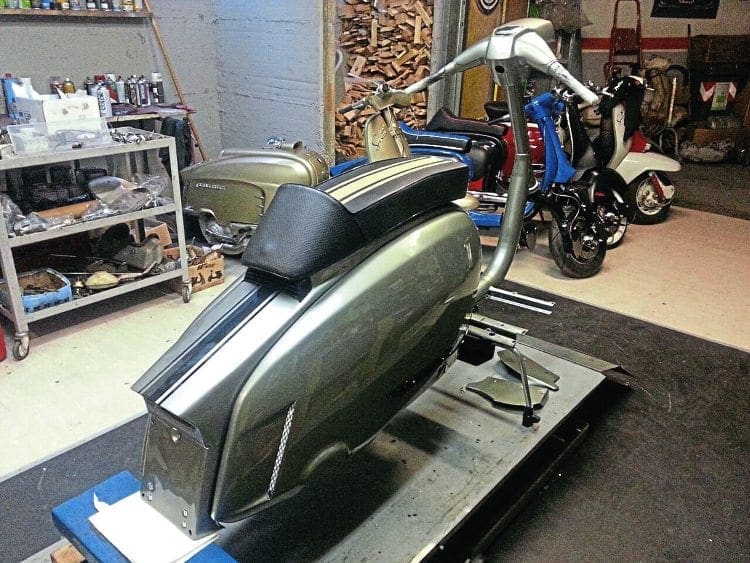 Fortunately, Dave's insurance company paid out without any drama, leaving him with a pot of cash and a decision to make about of whether to replace the stolen machines and if so, with what. Having owned scooters since the late 70s the answer was obvious and the hunt was on. Ironically the chosen machine would be based on a vehicle from one of Hollywood's greatest car theft films. Back in November Scootering visited Alberto and Claudio of Custom Lambretta in Milan but it was Dave's scooter that first brought the team to our attention. Unlike many workshops that offer a broad range of services, Custom Lambretta was formed, as its name suggests, with the specific intention of creating custom Lambrettas, taking design cues from American Hot Rods which they combine with Italian style. It's a recipe that's proving successful with the team picking up trophies at the Verona Custom Show for their work.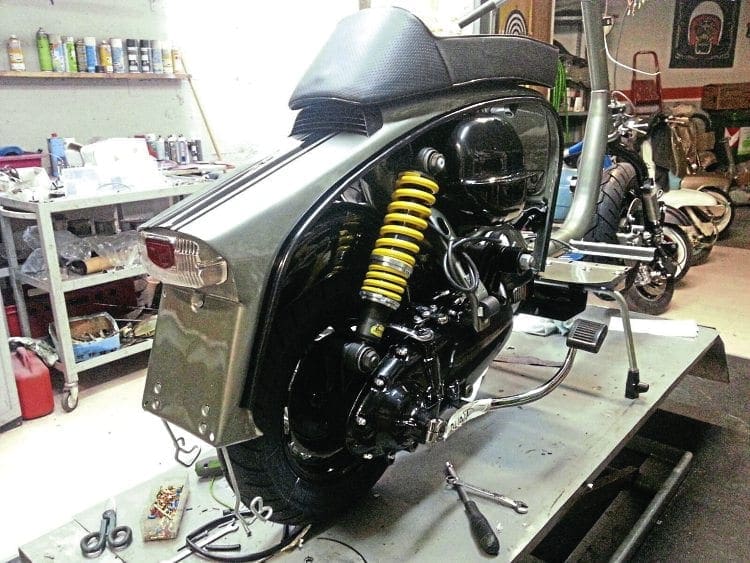 Each project is named after the region in which the Lambretta involved was first registered. Dave Gibbs' machine is based on a DL125 which had been originally registered in Bergamo and as it's the second scooter from that region to pass through the workshop it became 'Bergamo 2'. A nice feature of their website is a captioned photographic history of each project which details where it was found and in what condition, an overview of the rebuild and of course the finished product.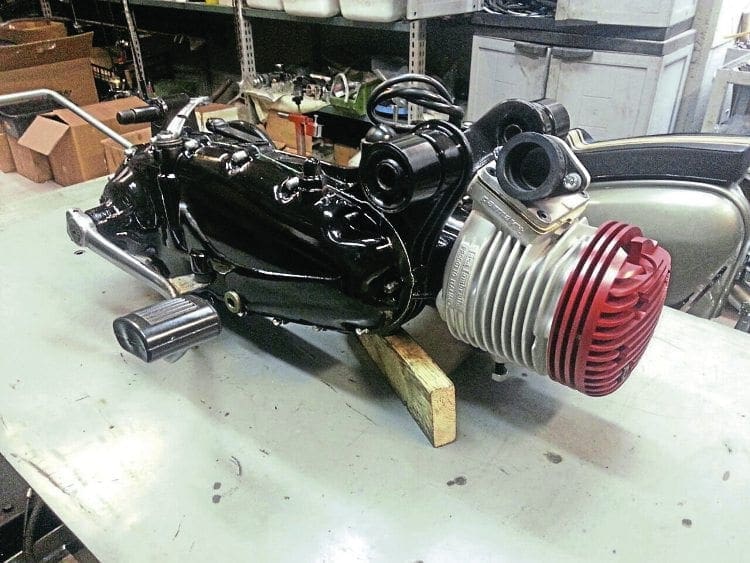 When Dave started looking for his replacement scooter, Bergamo 2 was already under way. "Custom Lambretta are very flexible and I know that Gary's Series 2 was built entirely to his specification. I was lucky enough to see Bergamo 2 already under way on their website. I loved the design and was fortunate enough to be in a position to commit financially." he says. Alberto is more pragmatic about the build: "The base machine was very bad, very rusty and we had to pull it from under a pile of scrap iron. There was also a LI Series 3 which we decided to sell and keep the DL for custom work. In England, you called it a GP and this is a very special model, the last of the Italian Lambrettas, and deserved to become an exemplary custom." After some debate, it was decided to base the scheme on that of the 1967 Mustang 'Eleanor', star of the Gone in 60 Seconds films. Finished in the same 'Grey Pepper' shade as the car, there's a fortunate fusion of design between the original DL black speed stripes and those of the Mustang. In Bergamo 2's case, these run all the way down the frame's centreline.
Of course there's more to a custom than a neat paint job and in this case, Custom Lambretta have worked hard on the details. A dropped headset is the most obvious but there are other neat touches such as the one-off seat, additional air vents in the panel and its rear light is blended into the frame loop. Final touches are Custom Lambretta's own laser cut badges, the panel flashes being a modern twist on the original Series 1/2 examples. These are rapidly becoming Custom Lambretta's hallmark.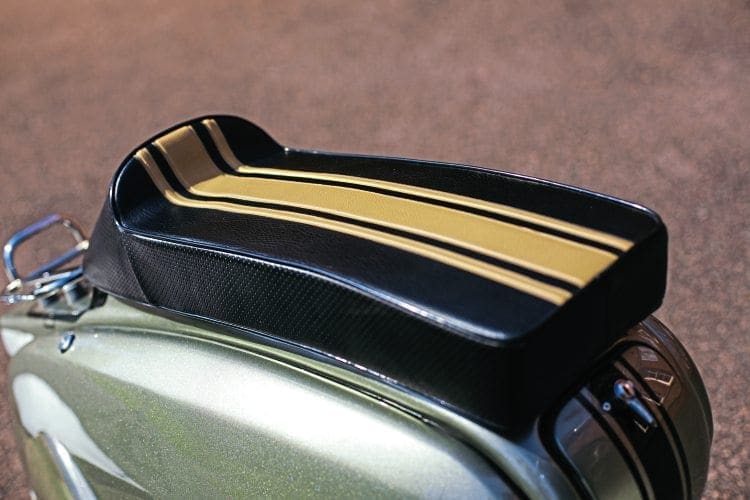 Fast and Furious
If a Custom Lambretta scooter can be identified by styling touches there's also a pattern emerging in Claudio's mechanical treatment of project bikes. With very neatly executed front and rear Nissin hydraulic brake conversions becoming something of a house speciality. Although still being run in, Dave is pleased with the performance of the Casa SS200 top end which breathes through a 30mm Dellorto and exits via a JL3 exhaust. The suspension is taken care of by BGM shocks at the front and Stratos at the rear, a Casa ignition completes the package.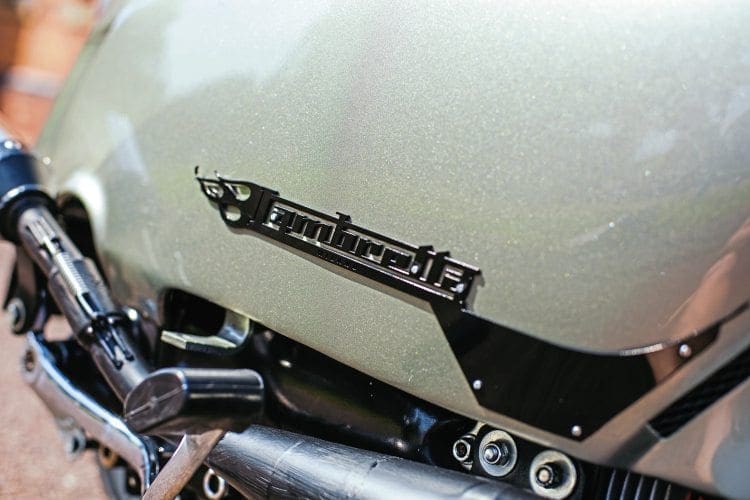 Easy Rider
Buying almost anything over the internet is a risky business but buying a custom scooter, was certainly a brave decision. "I'd looked at the company for some time and seen the testimonials from other customers. Yes, it was a leap of faith but I can't fault their service.
Gone in 60 Seconds' Eleanor becomes the car thief's nemesis, the one that simply can't be stolen to order. Given the origins of this project here's hoping that Bergamo 2 takes after the Mustang that inspired its build.
MAN & MACHINE
Name: Dave Gibbs aka Ravey Davey
Club: Armed Forces SC and Leicester Phoenix SC.
Job: College lecturer.
First Interest in scooters: Became a Mod in about '78 while I was living near Market Harborough.
First Scooter: Lambretta Starstream — it was my pride and joy at the time!
Furthest ridden: Northern Ireland to the IOW, then to Mersea and back to NI.
Favourite style: These days I'm into street racers but Mod scoots will always have their attraction.
Most useless part bought: Chrome wheels — always going rusty!
Recommend one item: A decent jacket – it's worth splashing (!) out for a decent one.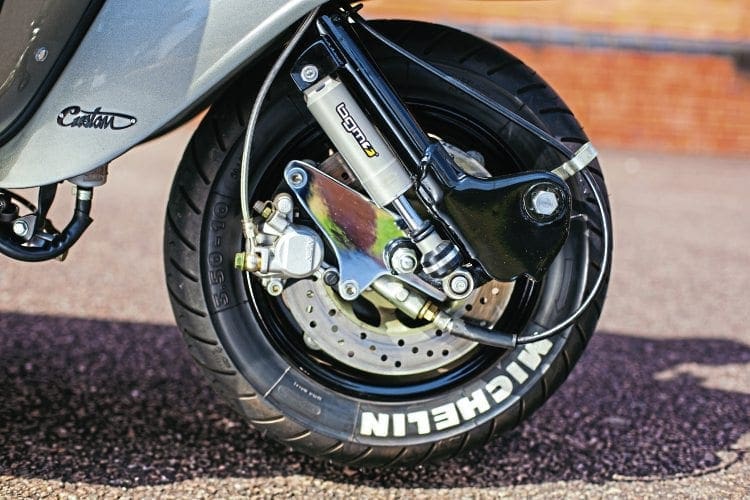 What do you like about rallies & events: Love meeting up with mates, the laughs, the drink and the music.
What could be done to improve the scene: I like the scene as it is and don't want it to change. I think publicity will attract more interest — look at how many TV adverts feature scooters these days…
Best memory: Travelling on the overnight ferry from Hamburg to Harwich for the Mersea Island Rally in '96. Me (the only Brit) with 31 drunken Germans, it was hilarious (there and back).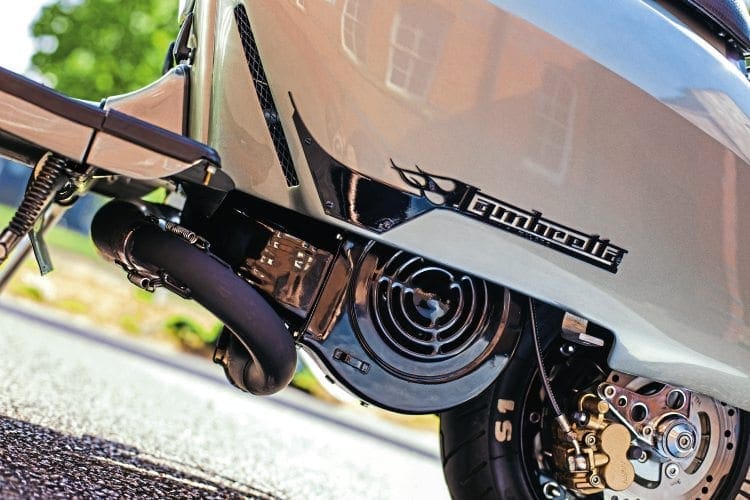 Name of scooter: Bergamo 2 (named after the area of Italy the scoot was first registered in).
Model: Lambretta DL200.
Condition when bought: Bought as a complete wreck and rebuilt.
Inspiration for project: Eleanor, the Ford Mustang in the film Gone in 60 Seconds.
Time to build & who by: Built by Custom Lambretta, Milan taking over 500 hours.
Engine: Casa SS200.
Paint: Pepper grey and black, the same as the car.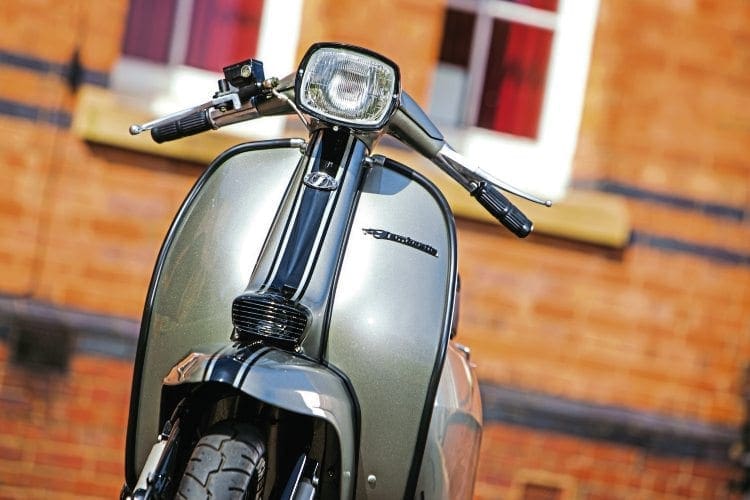 Specialist parts/accessories: Drop bars, Dellorto carb, Casa ignition, Stratos adjustable shocker, BGM front shocks, JL3 exhaust, front and rear Nissin hydraulic brakes, custom seat, rear light unit welded, vented side panels and long-range fuel tank.
Cost: £6600.
Biggest challenge: Taking a leap of faith — buying a scooter from Italy that I'd never seen and not knowing the blokes I was buying from.
Thanks to: All at Custom Lambretta, everyone who gave me their support when my scooters were stolen and my long suffering wife and daughter.
Words: Stan
Photographs: Gary Chapman

Enjoy more Scootering reading in the monthly magazine. Click here to subscribe.