Love them or loathe them, four-stroke autos are here to stay. Based on the classic lines of the Lambretta, and conceived by two of the country's best known scooter businessmen, the Scomadi scooter is under the spotlight this month…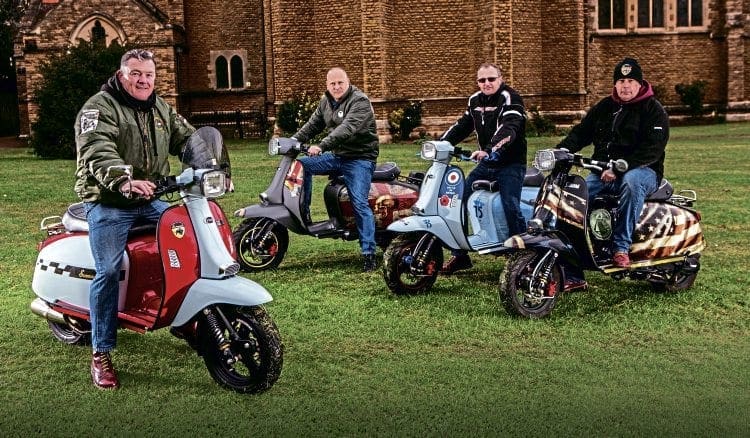 There has always been a reluctance by some to accept new types of scooter – none more so than automatics. Since social media provided a safe platform for keyboard warriors to vent their spleen, questioning both the legitimacy and acceptability of automatic scooters has been a red hot topic. Some die hard scooterist Luddites have raged against their inclusion in Scootering magazine, citing sister publication Twist & Go as the logical medium for them. Bodger's first column an issue or so ago provided an overview of the ever-present opposition to change on the scooter scene.
The fact is, some automatic engine scooters have found acceptance and favour within the scooter fraternity, while others have not. It's a case of history repeating, as in the late 50s and early 60s there was a profusion of various makes, models and marques offering their version of a motor scooter. Vespa and Lambretta became the most popular back then and it's a choice which has remained present ever since. The rise of the Darkside Scooter Club and events – a tongue in cheek Star Wars reference to how automatics are perceived by some – has added a dash of humour to the debate.
Later this year an EU directive comes into being basically banning the sale of new two-stroke machines. Irrespective of how the UK votes during the EU referendum, the wheels are irreversibly in motion for new two-strokes.
The first batch of the first production run of the Scomadi 125 – a four-stroke automatic – arrived in the UK last autumn. With an appearance based on a GP Lambretta, one that's been overdoing the weight training in a fitness gymnasium, Scomadi scooters possess a degree of appeal for the traditionalist in the aesthetics department. Let's be honest here: how a machine looks really is as important as performance and it's fair to say Scomadi does look right. The price is right too – with the 125 retailing for a pocket-friendly £2500 or thereabouts, and the forthcoming 200cc version pitched at around £4000.
Given the spiralling prices asked for a classic Lambretta, especially a fully restored genuine Innocenti TV, SX or GP 200 model regularly hitting five figures, Scomadi is an affordable option that comes with a retro appearance as well as decent performance.
The progress of Scomadi scooters has been followed by Scootering magazine from the outset and as production of new Scomadi scooters of various capacities increases, and the scooters continue to develop, I've a feeling that the Scomadi is going to soon become the workhorse scooter of choice for many. The invasion has begun!
What the owners say
Over the next few pages four (previously 'classic geared-scooters to the bone') scooterists give their first impressions of their Scomadi 125s. All but one work at the same one-stop Northampton-based outlet, which consists of Night Owl Scooters and UK Wrap. The latter half of the equation offers a budget way of personalising, if not customising, scooters and the process certainly individualises Scomadi plastic body panels – something these Scomadi owners have chosen to do to their respective scooters.
BATTLE OF BRITAIN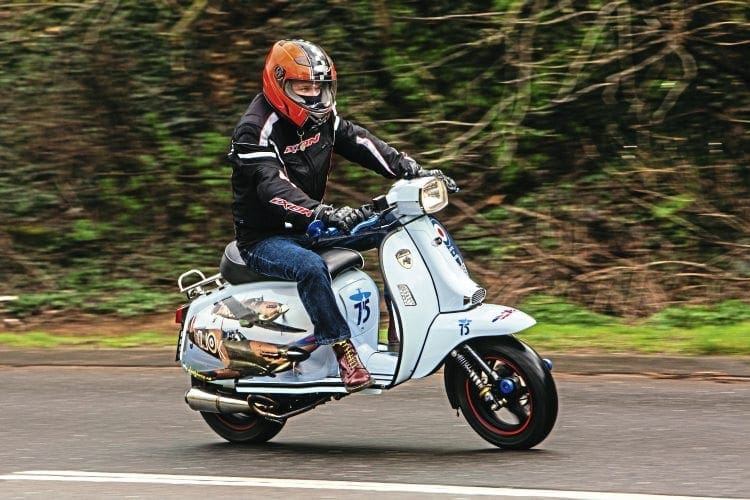 Ade Inwood, owner of UK Wrap, was the first of three mates and work colleagues to buy a Scomadi TL125. His was one of the first production models to arrive in Britain last October. He said: "This time last year I wouldn't even have looked at an auto, never mind considered buying one. I'd had a go on a mate's GTS, it rode okay and handled okay, but to me it just didn't look right; I didn't like the look of it. Then along came the Scomadi, which looks like a GP on steroids. I liked the look of it and the price, so thought why not get one and see what the fuss is about.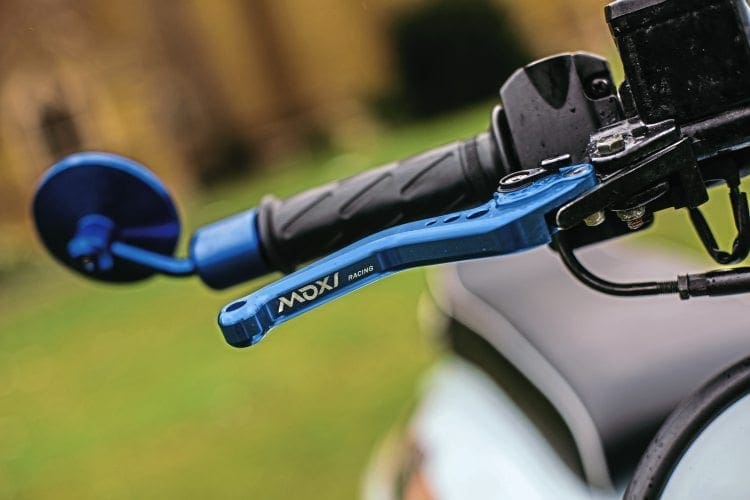 "I didn't want to like it — being a scooter boy since the early 80s I was very much of the classically geared scooters outlook. My Scomadi has completely changed my view though. It's comfortable, nippy and reasonably quick. Since I've had it I've sold all my other scooters except for my LI125 and I've not ridden that since I've had the Scomadi. I went to Skegness rally at the weekend — I rode all the way there, here and there to various events and then back to Northampton and the whole fuel cost for the weekend was under £6!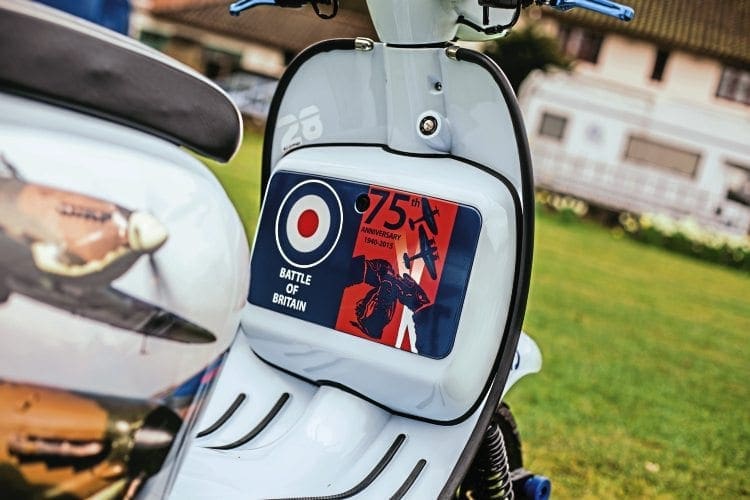 "When I first got my Scomadi I let all my mates have a go on it, now they've all got one. I think I'm quite lucky with my Scomadi being one of the first into the country. I went for a tribute to the Battle of Britain on my Scomadi — vinyl wrapping works well on all surfaces, ideal for the plastic Scomadi panel and bodywork."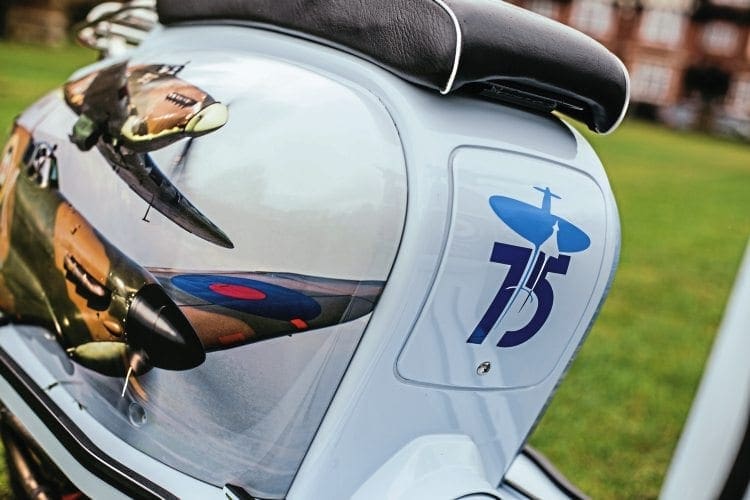 SCOOTER DETAILS
Owners Name: Ade Inwood
Job: Owner UK Wrap.
Scooter club & town: Northampton, Unlikeables.
How and when did you first become interested in scooters: Early 80s watching older lads mess around with them.
First scooter: Vespa 50 Special.
Favourite scooter model: Lambretta GP/Scomadi.
Favourite style of custom scooter: Street racer/clean scooters.
First rally or event: Can't remember where, but I was 15 years old so 1983.
How did you get there: Illegally on a scooter.
Favourite and worst rally/event: Always liked IOW, not it's too expensive and commercialized.
Furthest ever ridden on a scooter: Northampton to Girvan, took over 24 hours.
What do you like about rallies/events: Social scene, seeing so many old friends.
Recommended scooter part or item of riding kit: Full face helmet, too many pillocks running round trying to look good in open face ones.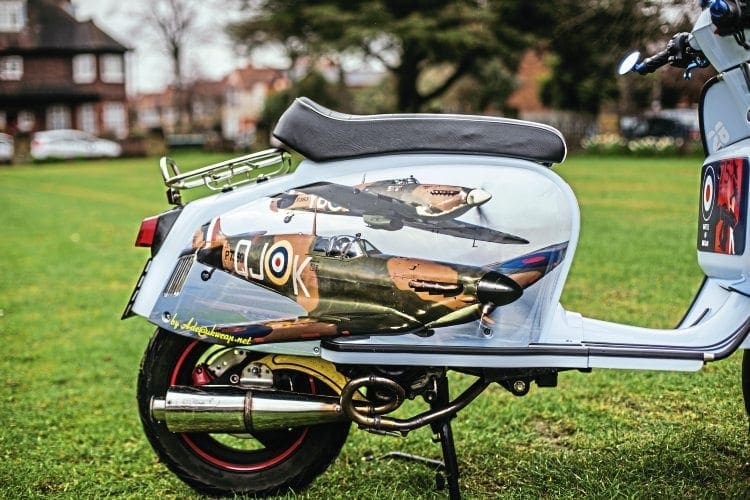 Name of scooter: Battle of Britain tribute.
Scooter model: Scomadi TL 125.
Date purchased and how much did it cost: £2500, October 2015.
Inspiration for project: Done as a tribute to the Battle of Britain.
Top speed: 70+ mph. Yes it IS what mine does.
Is the scooter reliable: Very, no problems.
Paintwork & murals/who did them/any stories: Wrapped by me at UK Wrap.
Is there any chrome: Chrome don't get you home.
Overall cost: £3000+.
Is there anything still to add to the scoot: Few bits to the engine for some oomph.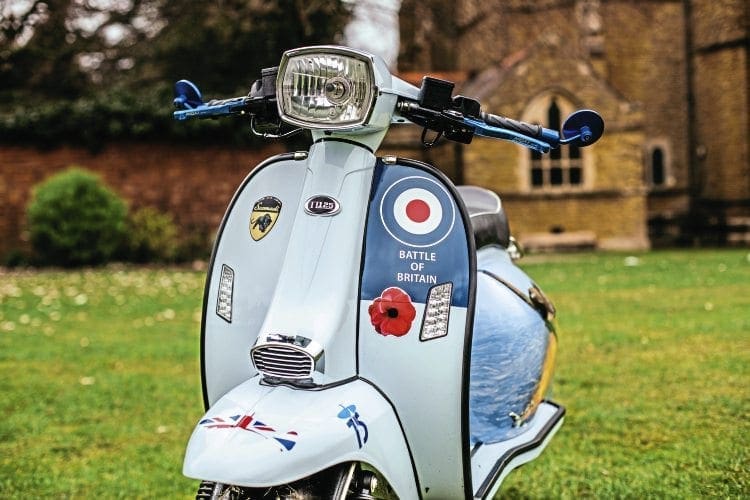 PUNK'S NOT DEAD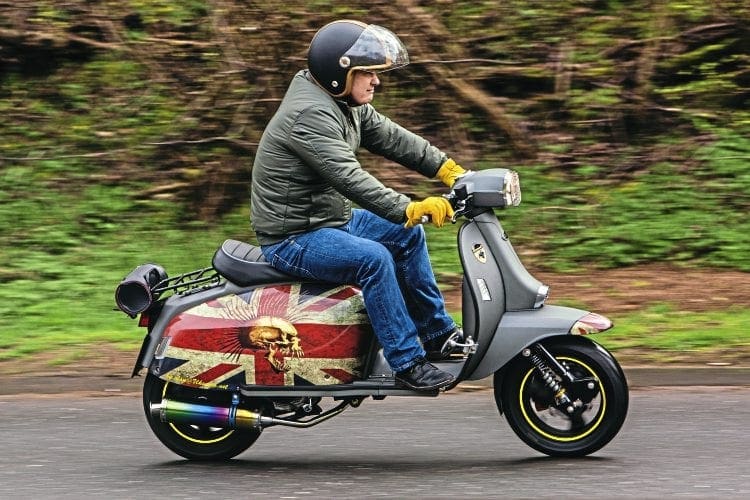 Alan Facer works for Ade at UK Wrap. He's had a passion for scooters that dates back to before 1980, initially sparked by his older brother's Lambretta in the 70s. With old punk bands also being a passion of his, Alan went for a theme inspired by that genre of music to customise his Scomadi. Alan took delivery in March this year and out of the three of them he's had his for the shortest amount of time.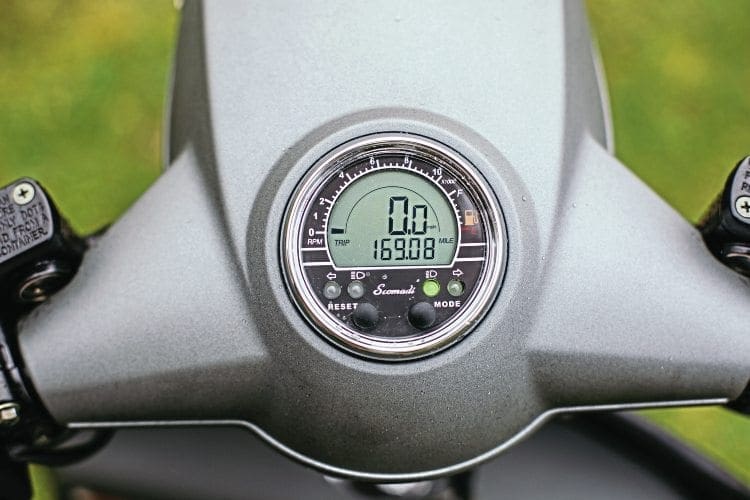 After a month and a half of owning a 125 Scomadi, this is what he had to say: "I sold my PX200 disc Vespa to fund getting my Scomadi. Ade was the first of us to buy a Scomadi, after having a go on his I set about getting myself one. Since I've had it I've found it good to ride, super reliable which is important and decent on fuel. Lots of my mates have had a go on mine, everyone who's been for a spin is looking at getting one. I've got nothing bad to say about Scomadi, for the money it's got to be by far the best new scooter on the market by a long way. The more miles I've done the better everything seems to be, the handling, the acceleration, everything.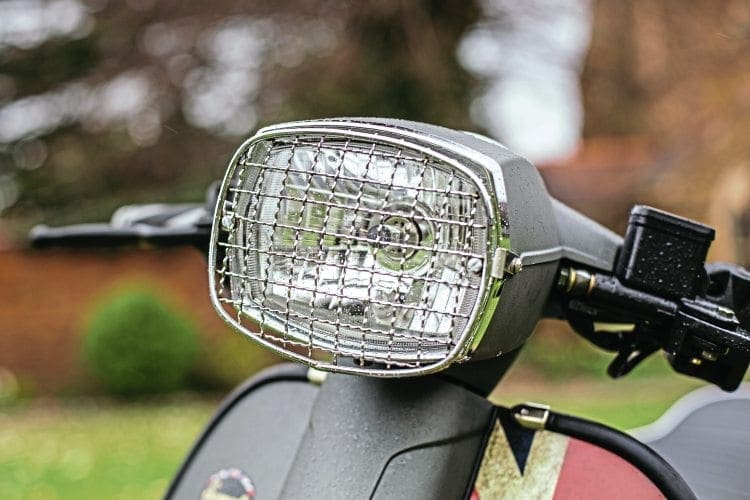 "Mine has a standard engine, the only non-standard part is the exhaust, which is one of two (so far) made specifically for the TL125 by Aaron at Night Owl Scooters, Northampton. Although I'm basically the general dogsbody at work, it's probably the best job I've had, hanging out with my mates, scooters coming and going, as well as fitting wraps, I look forward to going to work every day."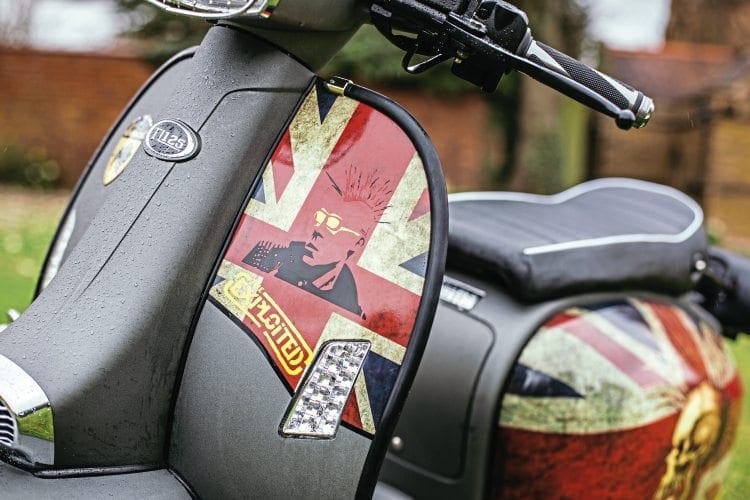 SCOOTER DETAILS
Owners Name: Alan Facer
Job: Wrapper at UK Wrap and general dogsbody.
Scooter club & town: Rose of The Shires, Northampton.
How and when did you first become interested in scooters: My older brother Terry had a Lambretta in the 70s always loved that. But I suppose Quad' first inspired me.
What was your first scooter: Vespa 100 Special, slow as f**k, why?
What is your favourite scooter model: These days Scomadi, but the Vespa Rally 200's a bit special.
What is your favourite style of custom scooter: Lambretta skelly, not exactly practical though.
First rally: Brighton Mod Rally 1980 or 1981.
How did you get there: In a mate's van.
Favourite and worst rally/event: I always liked IOW, but it's gone to pot these days, Mersea always fun, but I prefer club rallies these days.
What do you dislike about rallies/events: Idiots who can't handle their drink.
Your favourite custom/featured scooter of all time: Sieg Heil! Lambretta.
Most useless part you've ever bought for one of your scooters: Handlebar tassels. Yes really!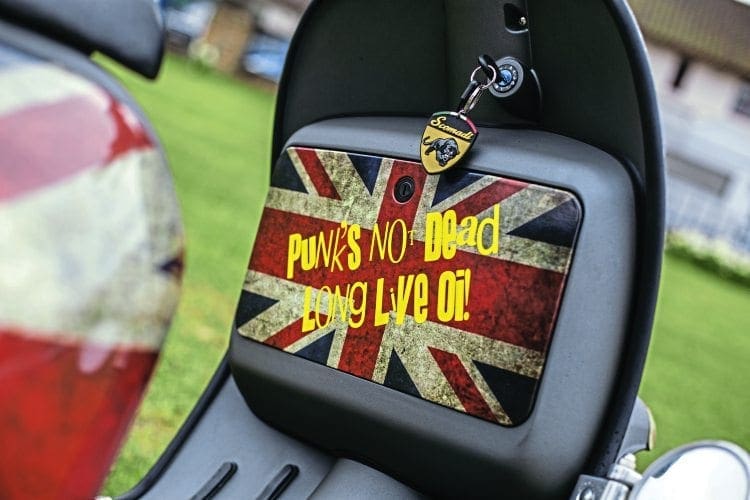 Name of scooter: Punk's Not Dead.
Scooter model: Scomadi TL125.
Date purchased and how much did it cost: March 2016, £2450.
Inspiration for project: Always loved the old punk bands, especially Exploited.
Top & cruising speed: 55ish, 68mph top speed.
Is the scooter reliable: Ultra reliable.
Paintwork & murals: Did them myself at UK Wrap.
Overall cost: £2600.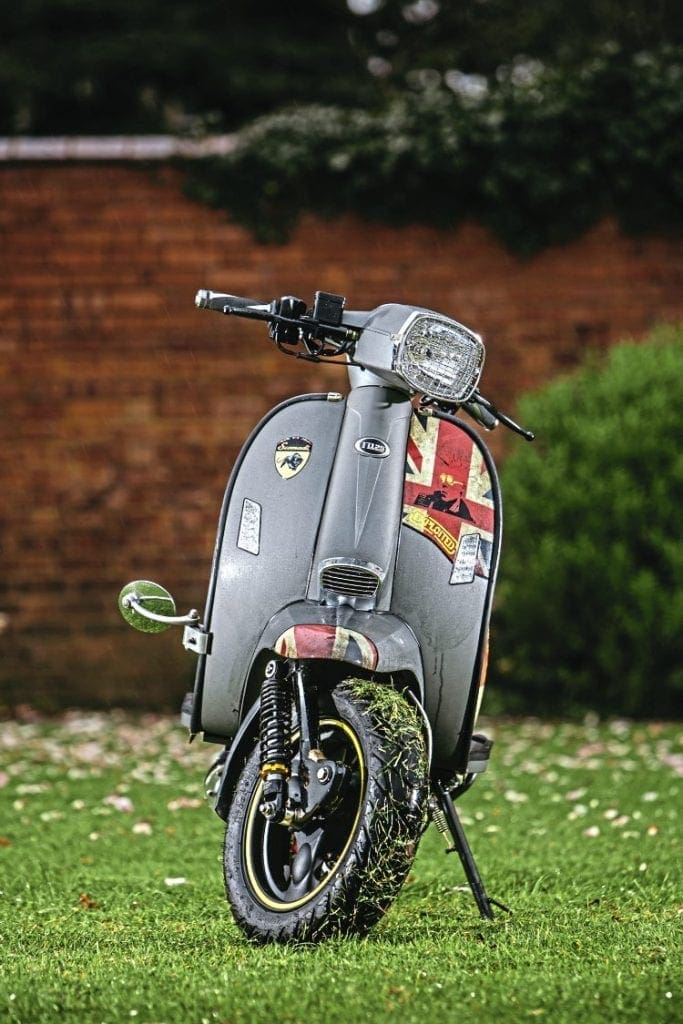 ILLUMINATI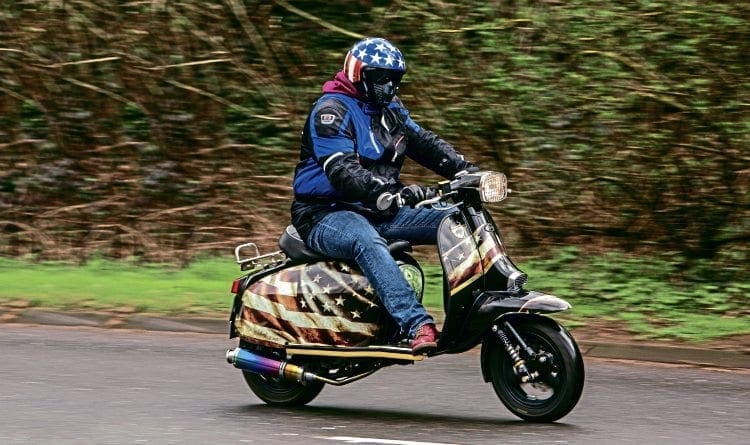 Aaron Watts owns the scooter workshop side of the setup, Night Owl Scooters Northampton. He has a shed full of various Lambretta and Vespa scooters including his trusty Vespa chop. Aaron's involvement with scooters goes back to the latter end of the 70s. He's had his Scomadi since February: "I'd say the good points about the Scomadi are they look a bit like a Lammy, both reliability and fuel use are great, and on a long ride it's comfortable. I've got a CDI variator kit and a different exhaust apart from which it's as it comes from Scomadi.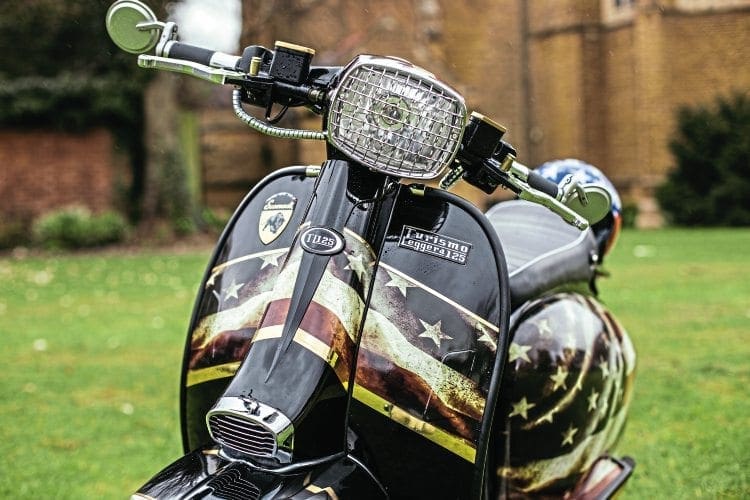 "Everyone who comes through the shop likes the look of Scomadis, everyone who has had a go on one seems to have either got one or is getting one. Pretty much all of the people who've taken a Scomadi for a ride comment on how comfortable they are. The price of the TL125 is good too. The more I've ridden mine the better it seems to be — whether that's actually the way it is or just me getting more familiar with Scomadi I'm not sure.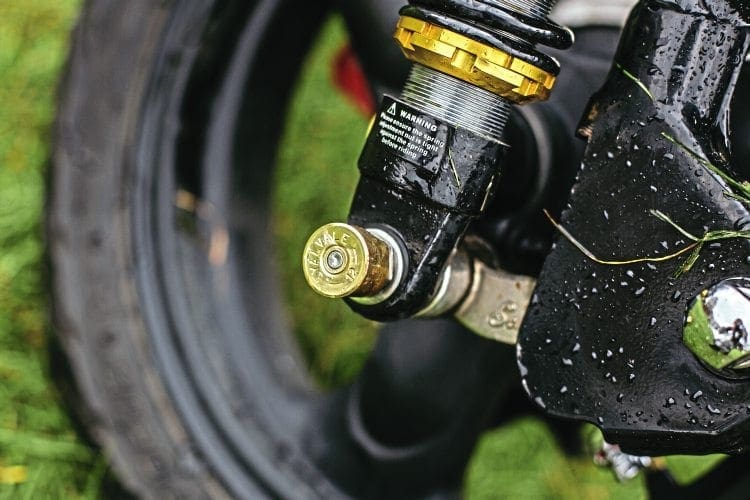 "As for bad points, there's really none, I suppose I could say it could do with a bit more on the top speed, but then it is a 125, the only other bad point is the lack of availability of kits, although that will change soon. I went for a full wrap, including the floor.
"My dad was an American GI, the theme is conspiracy theories, basically drawn from stuff he told me about, as for a name for my Scomadi, I settled on Illuminati."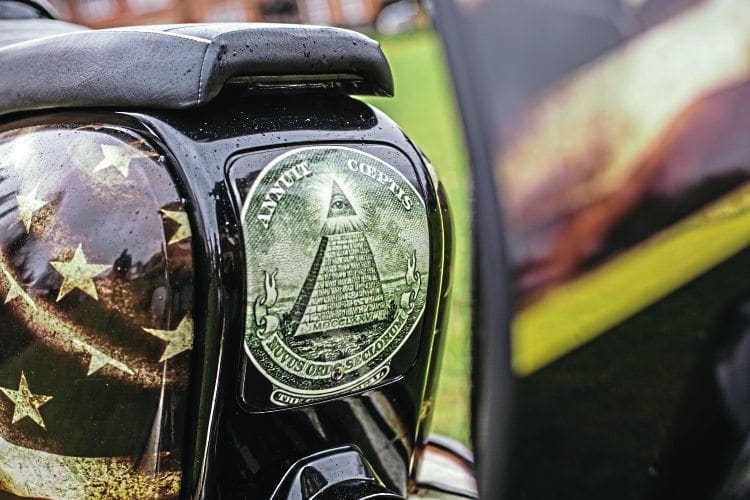 SCOOTER DETAILS
Owner's name: Aaron Watts
Job: Scooter workshop owner.
How and when did you first become interested in scooters: 1978 riding round the fields on an old LD, then being a soulboy scooterist.
First scooter: P Range Vespa.
Favourite scooter model: Vespa MK1 T5.
Favourite style of custom scooter: Chop.
First rally or event: IOW.
How did you get there: Rode from Portsmouth.
Favourite and worst rally/event: Mersea best IOW worst now.
What is the funniest experience with a scooter: Not giving a damn and riding 100s of miles to rallies in the early days.
What's the furthest you've ever ridden on a scooter: Only about 200 miles.
What do you like about rallies/events: People, music, scooters.
What do you dislike about rallies/events: Cliquey groups, pissheads.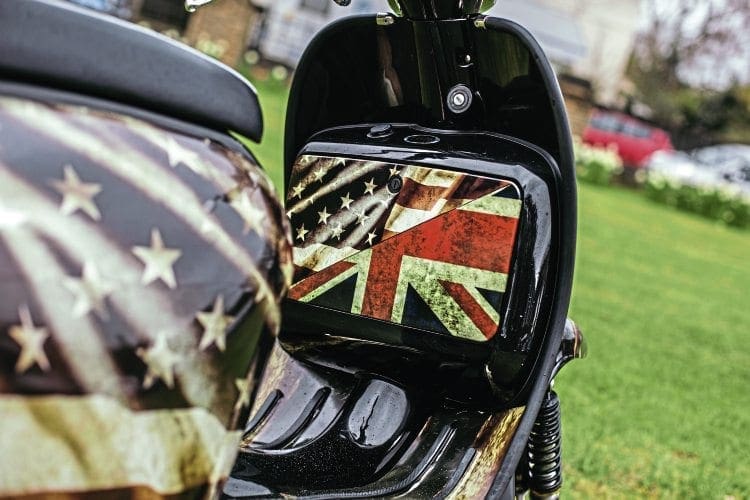 Name of scooter: Illuminati
Scooter model: Standard Scomadi TL125.
Date purchased and how much did it cost: Jan 2016, £2500.
Inspiration for project: Conspiracy theories.
Top speed & cruising speed: 64mph.
Is the scooter reliable: 100%.
Paintwork and murals: UK Wrap Northampton, top people.
Thanks: Peter Reid Scooter Moda, Frank Sanderson — genius, Adrian Inwood — UK Wrap. Kirsty at Scomadi — diamond, and my missus of course.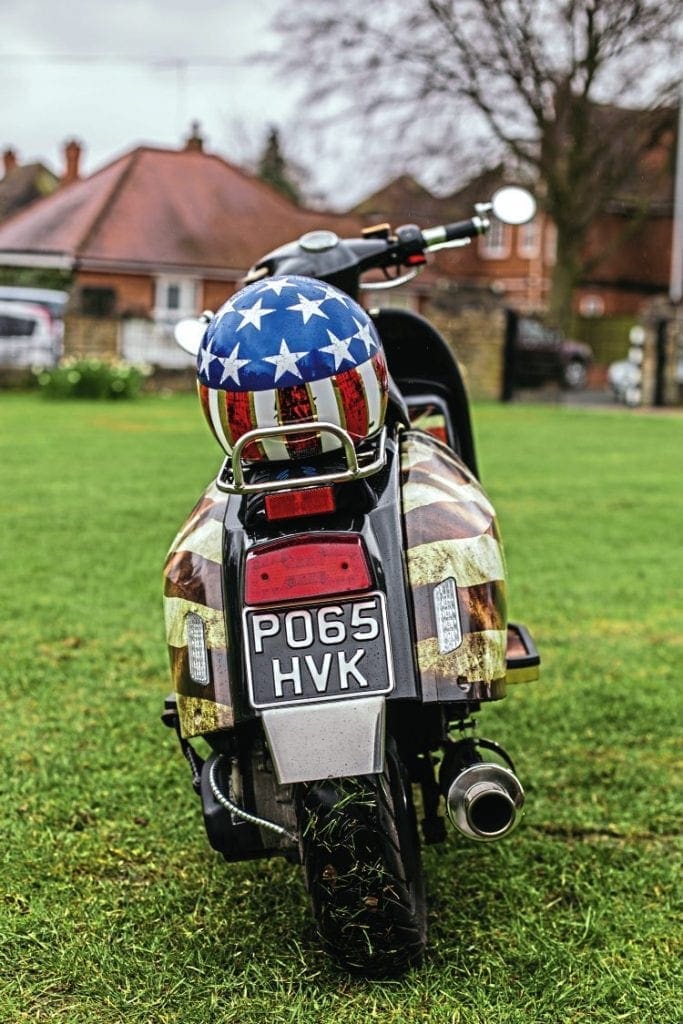 RED & WHITE – SCOMADI TL125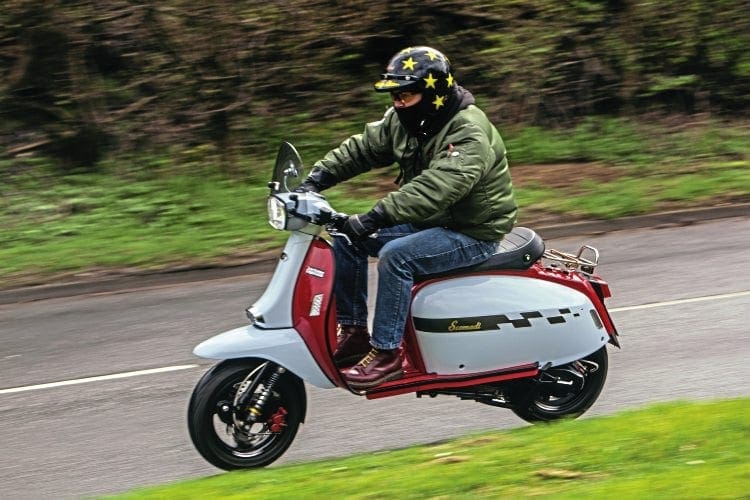 Paul Maher bought his TL125 Scomadi in October last year. He had a number of extras fitted immediately (see spec sheet). Unlike his three (Scomadi) amigos he took his to Scooterbox in Rushden for the graphics and artwork. Paul has had a number of classic, geared scooters, both Lambretta and Vespa over the years since 1980.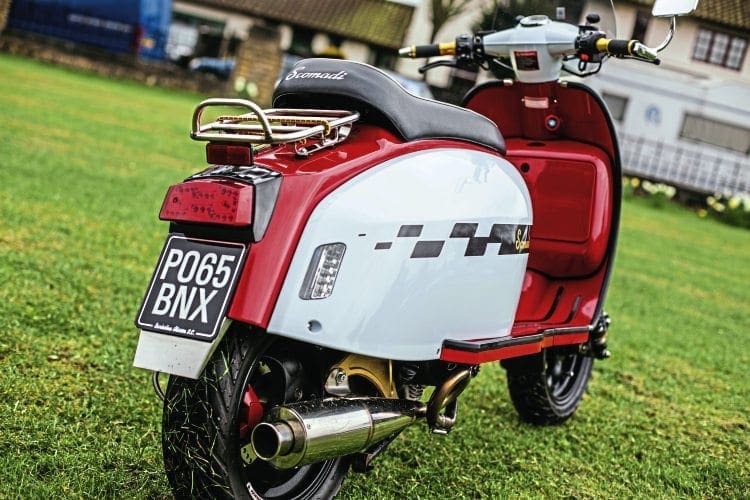 His very first experience was literally hands on, aged 16. He bought an ISO scooter in bits before not only building it but also restoring it. His preference out of the two has always been Lambretta, although for a while he owned and rode a Vespa PX. He only has room for one scooter at any time, so, for the past six months his Scomadi has been his only scooter.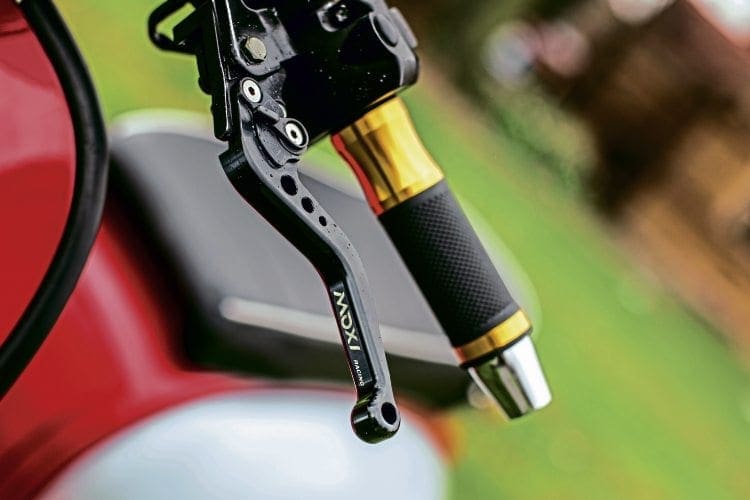 What are the good points? "Just about everything, the handling, the reliability, the way it looks, it really is all round value for money! The performance is impressive when you consider it's a 125 two-valve four-stroke. I can't sing its praises highly enough. When riding with club mates who are on 186cc kitted Lammys, the Scomadi more than held its own. Off the mark it would pull away from and leave the kitted Lammys. Then they'd catch up and maybe edge in front. Once a bend came up though, with its better brakes, better handling and four-stroke engine, my Scomadi powers past them again.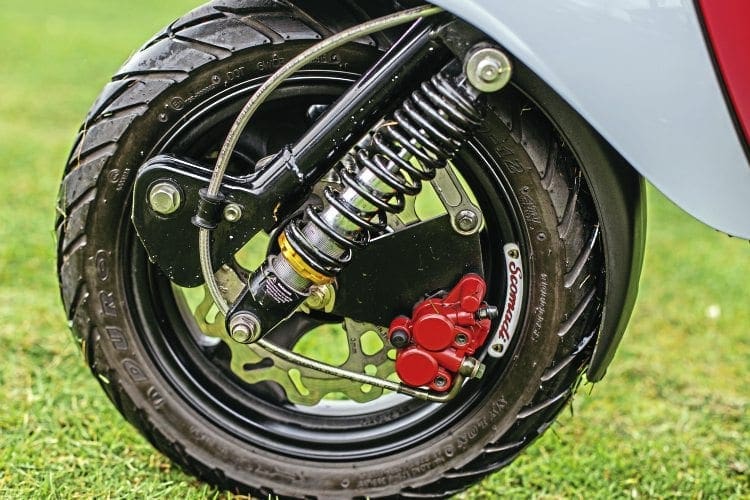 "It really is a fun scooter to ride. I'm so impressed with my TL125 Scomadi that I'm thinking of upgrading. Once the 200 Scomadi is generally available on sale in the UK, I'm planning on getting one. I've not had any real criticism from anyone about the Scomadi, everyone seems to like them, even my club mates who have not been able to get the better of an automatic on their kitted Lammys."
SCOOTER DETAILS
Owners Name: Paul Maher
Job: Firefighter.
Scooter club & town: Borderline Allstars SC.
When did you first become interested in scooters: 1979.
What was your first scooter: LI S2 first legal scooter, I built and restored an ISO scooter when I was 16.
What is your favourite scooter model: GP200 — TS1.
First rally or event: Isle of Wight.
If you had to recommend one scooter part or item of riding kit what would it be: Green Flag.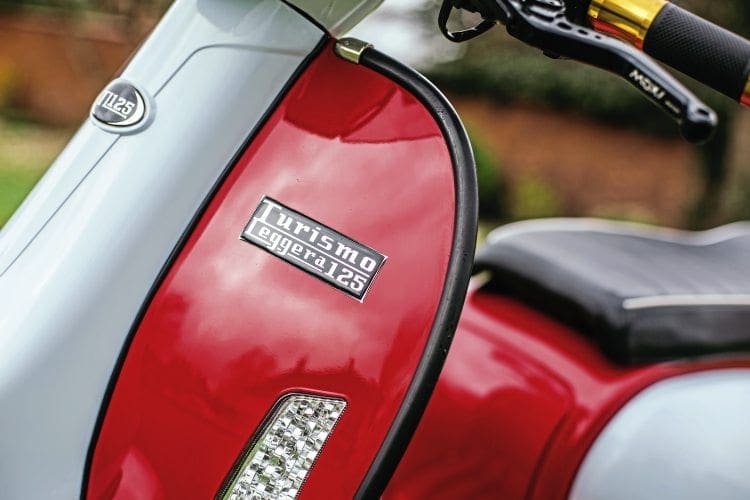 Scooter model: Scomadi TL125.
Date purchased and how much did it cost: October 2015 around £2900 with extras.
Are there are any specialised parts: PM88 pipe, PM Variator, Race coil and CDI, Race Air filter, up jetted.
Top speed & cruising speed: 71mph & 60mph .
Is the scooter reliable: Yes.
Artwork by: Scooterbox.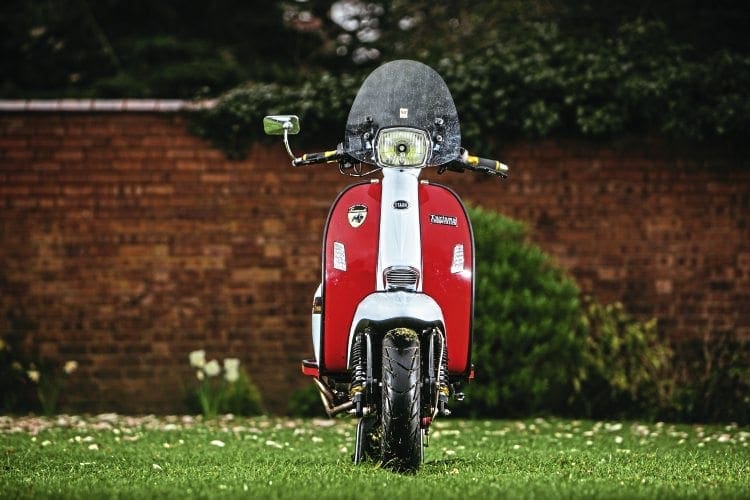 FRANK SANDERSON ON SCOMADI
Scomadi was initially the brainchild of Scooter Innovations' Frank Sanderson and very early on in the development stages he was joined by Scomadi collaborator Paul Melici of PM Tuning. This partnership between two of the UK's most prominent scooter innovators, has, over time, seen Scomadi go from a concept, through various prototypes, with more than a few twists and turns on the way, finally into a new production scooter.
Different engine capacities, a planned hook up with Piaggio to supply (300cc) engines that in the end didn't happen, various small runs using different material for body parts are just some of the many stages to the point Scomadi has reached now. At the time of writing the first full production batch of 200cc Scomadi scooters are due to arrive in the UK later this month. All already sold in advance. Frank had just arrived back in the UK following a visit to China when we managed to grab a few words with him regarding the imminent Scomadi invasion.
Are you happy with the way Scomadi is progressing?
So far yes, having been in production for under a year there's already been over 800 sold in the UK, with back orders waiting to be filled. Internationally, somewhere in the region of 5000 Scomadis have been sold. The 200 is due to arrive this month and all of the first consignment and more have been pre-ordered.
Have you encountered any problems since the Scomadi has gone into production?
The only real problem has been getting the supply to meet the demand. Paul (Melici) and I have just been to the factory in China to address that. There's 145 125s on their way. As for the pledged, crowd-funded 200 Scomadi, the first 100 are on their way with another 100 to follow soon after, if production levels are met there will be 100 every month after that. The current waiting list for back orders in the UK should be fulfilled over the next few months. Regarding the 125 Scomadi, it's worth reiterating that it takes a short while for everything to bed in and free off, the more they're ridden the better they handle and perform.
What's the situation regarding aftermarket performance parts for Scomadi?
Now that we've resolved the issues in getting the factory to keep up with demand for standard models, we can start to give more attention to performance parts, both producing them and also further down the line continuing with developing them. There will be a full range of bikes and performance parts. Currently there's a website under construction that will link all countries where Scomadi are available and which will offer access to Scomadi customers and potential customers everything Scomadi anywhere in the world. The website is a work in progress but the intention is that it will go five in the next four to five months.
Is there anything else at that planning stage for Scomadi to look out for?
There's a two-stroke we're developing. There are also plans in motion to introduce a racing class for a (Scomadi) one make racing championship series. We'll be offering discounted 200cc models in advance of its introduction. That's something we are hoping to see happen in the next racing season, although at this moment in time it's still very much at the planning stage.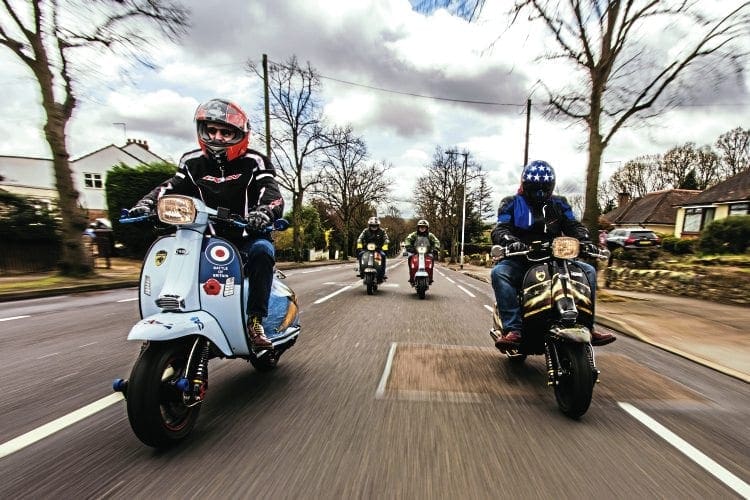 Words: Sarge
Images: Gary Chapman
This article was taken from the June 2016 edition of Scootering, back issues available here: www.classicmagazines.co.uk/issue/SCO/year/2016

Enjoy more Scootering reading in the monthly magazine. Click here to subscribe.