Some scooters live in their owners' hearts forever; for Tim Lovell it's his 1980s rally steed 'Pretty Green'.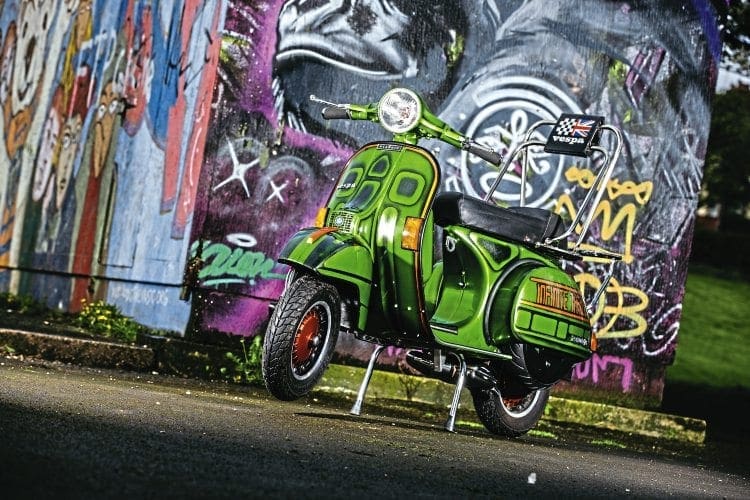 Let's be clear from the outset – this isn't a 'one owner from new' story. The machine pictured here is Tim's tribute to the scooter he rode many happy miles on but lost touch with in the early 90s.
As a teenager Tim found himself caught up in the late 70s Mod revival; by 14 he'd acquired a ropey GP 150, and at 16 he was road legal on a Vespa 50. What the PK lacked in power it made up for in fun and he's been a Vespa man ever since.
I've got a pocket full of…
"I heard about a scooter parked up in a local garage," began Tim. "Armed with £120, which was all the money I had in the world, I plucked up enough courage to see if the owner was interested in selling and to my delight he agreed." The scooter in question was 'Pretty Green,' a P150X in an archetypal 1980s scheme. "It had been painted by Stuart Marsh from Wakefield," explained Tim. "He had a strong local following, worked on a lot of the Jade racers and was responsible for scooters such as 'Jerusalem' and 'Northern Star'. Although well known locally I don't think Stuart ever got the recognition he deserved."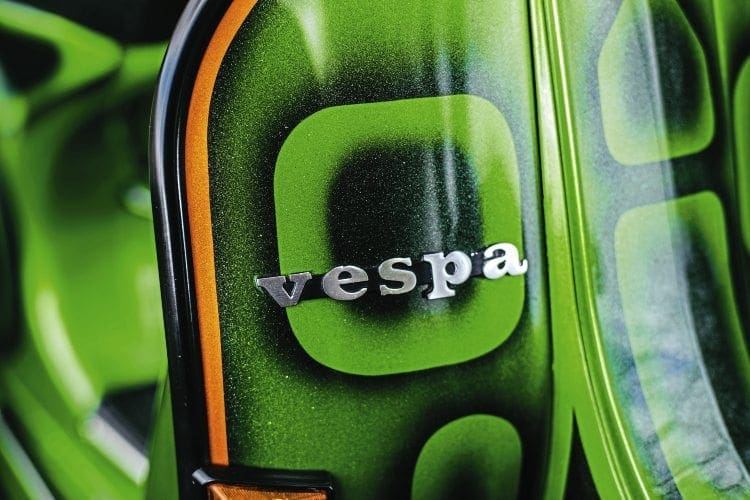 For 17-year-old Tim, it was a fairly impressive entry into the world of 'grown up' scooters, even if it was one that didn't always meet with approval. "I entered it in the 1984 Sherwood Custom show and it won runner up in the Vespa category. "I'd literally wheeled it out of the lad's shed and washed it. There were a few raised voices at that result," laughed Tim.
Any thoughts that Tim was simply a wannabe custom owner were dispelled over the next few years when Tim and Pretty Green became a regular sight at rallies across the country. "I rode the length and breadth of the country on that scooter but the high mileage took its toll on Pretty Green's paint and eventually I had it resprayed." Like many others Tim became disillusioned with the direction British scootering took in the 1990s. "I did all the Nationals in '89, one in '90 and two in '91. In 1992 I dropped out completely. Other things in my life took over and I sold Pretty Green. The next owner eventually cut it down and it just seemed to disappear. The DVLA haven't heard of it since 1991."
Origin of the species 'Pretty Green'.
That Petrol Emotion
As most readers know, once scooters get under someone's skin it's hard to shake them off and Tim is no exception. "I was going through the loft one day and came across the side panels and toolbox from another of my scooters. I knew instantly I had to get back on the road." Having made the decision to use Pretty Green as the inspiration for his build, the search for a suitable machine began. Having realised that Mk1 PXs were no longer 'ten a penny' he turned to Pete Merchant. "Someone told me that Pete had a crash damaged Mk1 for sale," explained Tim. "It was one of the last P2s and was fairly badly damaged. Fortunately the owner and offending car driver had kept the insurance companies out of it, otherwise it'd have been written off. Pete sold it to me, with most of the parts I needed to put it right, for a grand. I still think it was a bargain."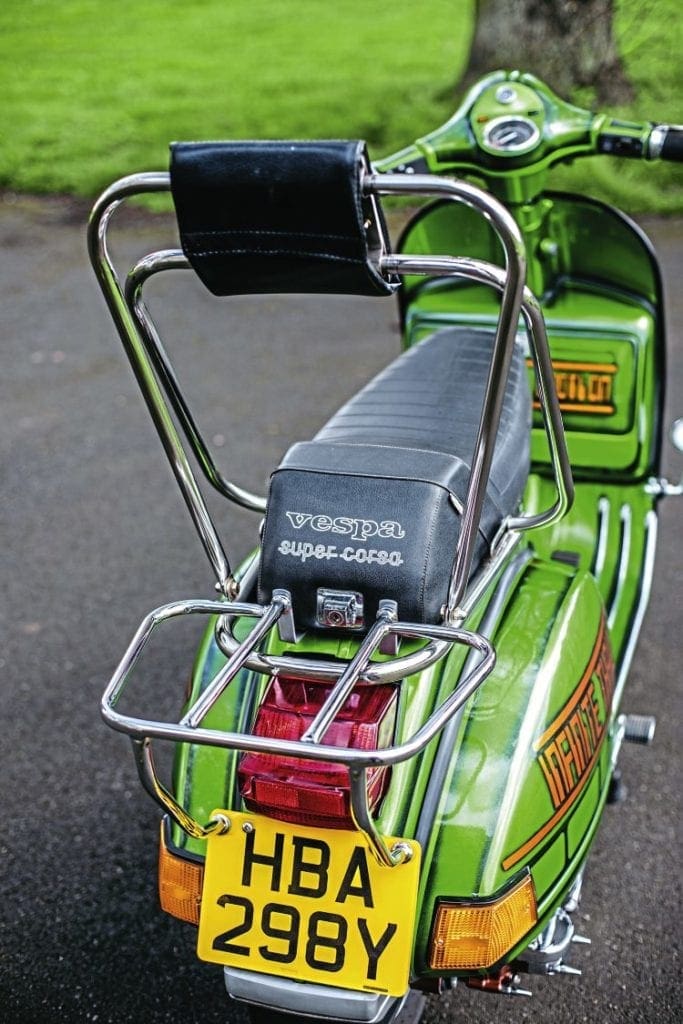 Although the build was to be inspired by Tim's old rally friend, he decided early on that this wasn't to be a faithful replica and the first thing to change was the name. "My musical tastes have changed since the 1990s," he explained. "One of my favourite tracks is Infinite Thrill by That Petrol Emotion which was a logical choice as the title sums up the appeal of scooters".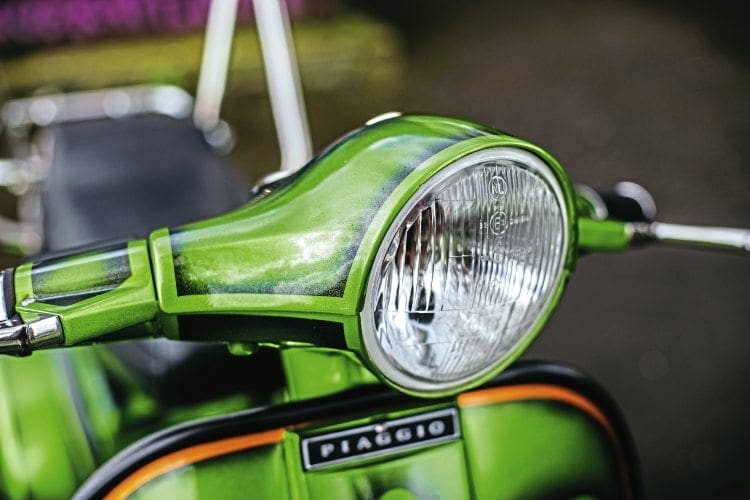 Garage Days
In the past Tim's commissioned the great John Spurgeon to paint his scooters but for Infinite Thrill he decided to keep the work in house. "A friend of mine, Andy Smith, is a good painter and having looked at the old photos said he thought it was within my capabilities. We cleaned out the garage and I bought a load of paint from a shop in Sheffield." From start to finish the project took Tim six months and his best advice is: "Take your time. If it's not going well, walk away and come back to it another day." When asked what he found hardest Tim laughed before saying very firmly: "Keeping flies off the wet paint!"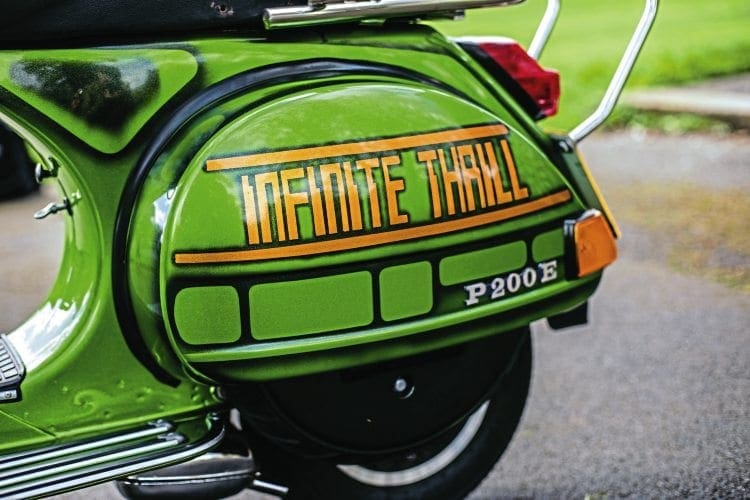 Incredibly the total cost of this stunning machine is around £1500. A figure achieved by Tim being willing to get his hands dirty and shopping around for bargains. "Some of the prices being asked for 1980s parts are ridiculous," he said. "Take the seat. I saw a few Super Corsas but they were all way above what I was prepared to pay. A friend said he had a rough one and I did a swap for a few bits he was after plus £30 quid. It was covered in rust marks and was split along the side. I spent a few hours cleaning it down and repaired the split by fixing gaffer tape on the inside then supergluing it. Once set, I coloured it in with one of my son's felt tips! It sounds rough but I challenge anyone to spot it first time".
Handling has been brought into the 21st century with SIP shock's front and rear while a 'Road 2' exhaust helps the otherwise stock P2 engine breathe a little more easily. When asked where the 1980s tribute ends, Tim pauses and then says: "Pike nuts." Laughing out loud he went on to explain: "I saw half a dozen on eBay and caved in. I was worried about the theme becoming an 80s cliche but I think they're just enough of a nod to fashions of that time." One obvious deviation from the original is the orange details "I put it together and it was just too green," said Tim. "For some reason the orange really brings out the details."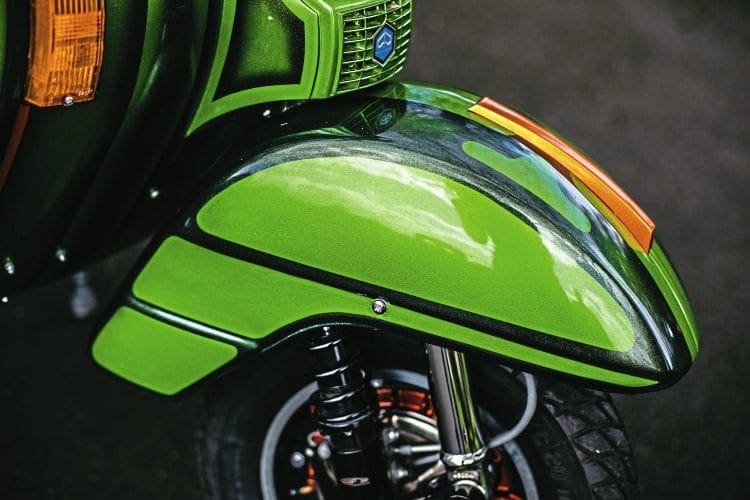 It's impossible to recapture those 1980s days but by taking 'Pretty Green' as his inspiration and turning it into 'Infinite Thrill', Tim's paying homage to his past while looking to the future. Having said that, if anyone's got JUB 560V rotting away in their shed Tim would love to hear about it. After all, no-one ever forgets their first love.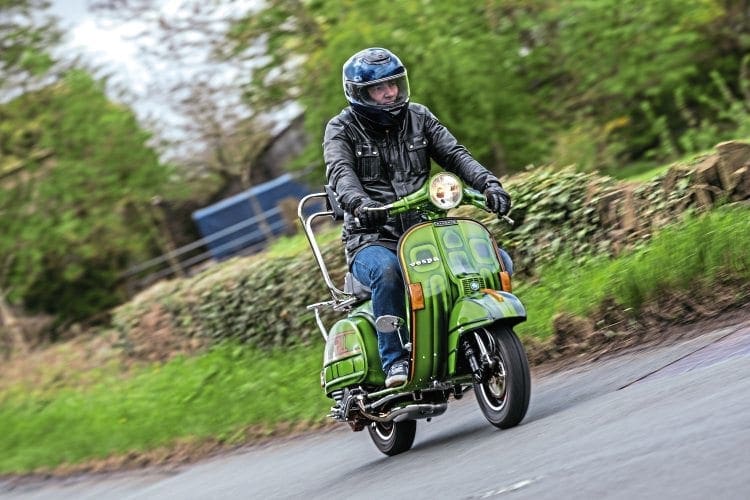 MAN & MACHINE
Owner: Tim Lovell
Club: Dirty Mills SC, VCB.
Favourite scooter model: Mk1 T5.
Favourite style of scooter: My tastes are eclectic, if I like it – I like it.
First rally: Scarborough 1983.
Favourite rally: Yarmouth. Every time I went I enjoyed the ride and like the atmosphere.
Worst Rally: Skegness 1990 at the speedway. Just bad all round.
Furthest Ridden: Aix-Les-Bains in 1988 for Eurovespa. A round trip of around 2000 miles.
Recommend one part: A comfy seat.
Scooter name: Infinite Thrill
Engine spec: Standard P200E with Sip Road 2 exhaust.
Paint: By owner.
Chrome: Quality Chrome.
Anything else to add: A bit more chrome but that's it.
Thanks to: Liz, my wife, for her patience and understanding and the kids Ellie and Oliver. Andy Smith for his advice on spraying.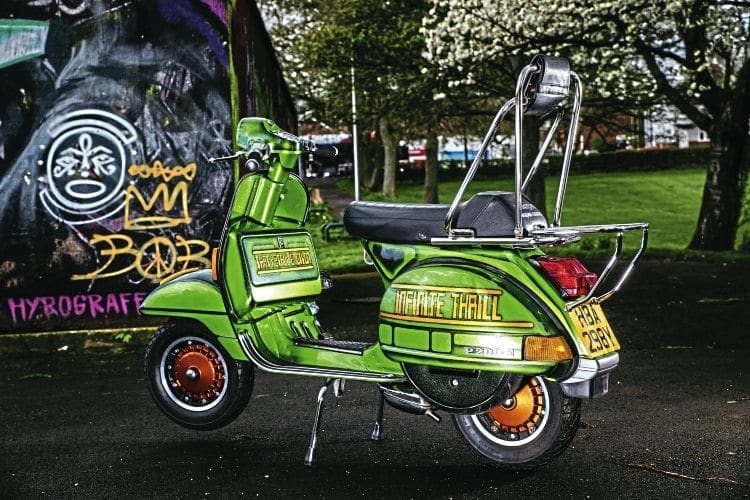 Words: Stan
Photographs: Gary Chapman

Enjoy more Scootering reading in the monthly magazine. Click here to subscribe.