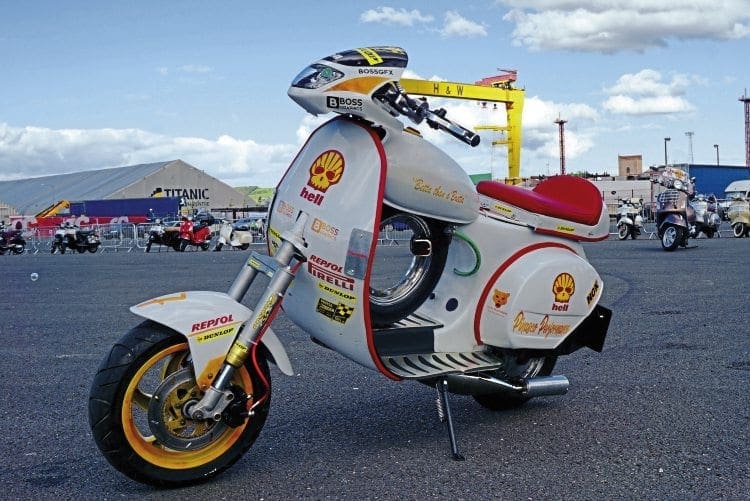 At Belfast, 'Hell' attracted many admiring glances. In fact one group of Austrians were so taken with it that they're probably hacking lumps off their PXs right now!
The owner and creator of this distinctive Vespa cut down, Richard 'Bo' Gelling laughs: "I wanted it ready for Vespa World Days but the last few weeks have been a nightmare!" Like so many scooters we've featured in 'Reader's Rides', Hell is Bo's own work and he's quick to point out its imperfections, but even on close examination it looked good to me.
Starting with a battered EFL frame, Bo set about cutting, welding and generally fettling it until he was happy with the silhouette. The tank, which came from a Honda Benly, tips forward, giving access to the spare wheel, while the Triumph seat tips backwards revealing a storage compartment. Anyone who's smoothed off a set of EFL leg-shields knows that it's not an easy task and dealing with the resultant maze of wiring is just one example of the self-inflicted pain on this build.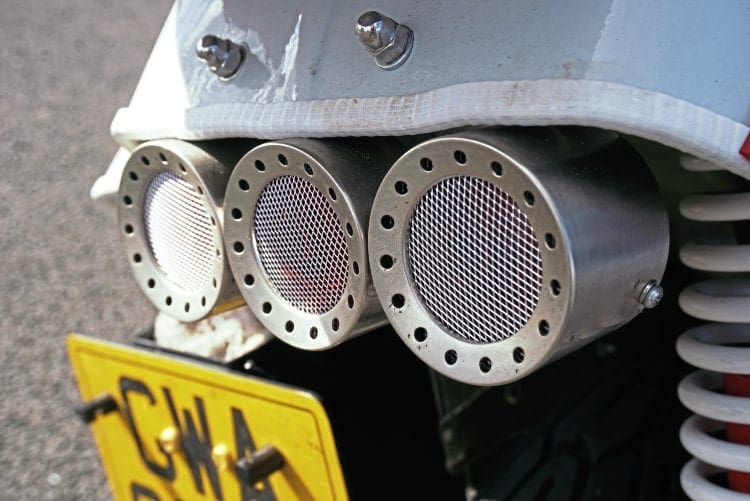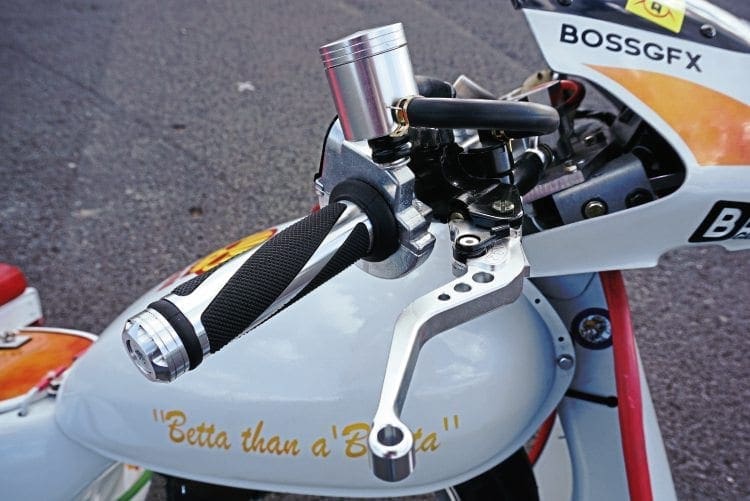 "The forks came from a Gilera Runner but there was insufficient space for them to turn," explained Bo. "I considered all sorts of solutions, including sculpting the leg-shields but finally achieved enough clearance by welding a PX standard bottom bearing cup partway up the stem. This retains the steering stops, allows enough movement and its geometry gives a very pleasant ride indeed." The paint is self-applied although Kirsty, Bo's partner, helped with the finer details. "Ignore the bore and stroke information," sighs Bo. "It should have a Pinasco 177 lump but a bearing failed last week. I had to replace it with a P2 unit, the pleasure of sorting it out is waiting for me when I get home!"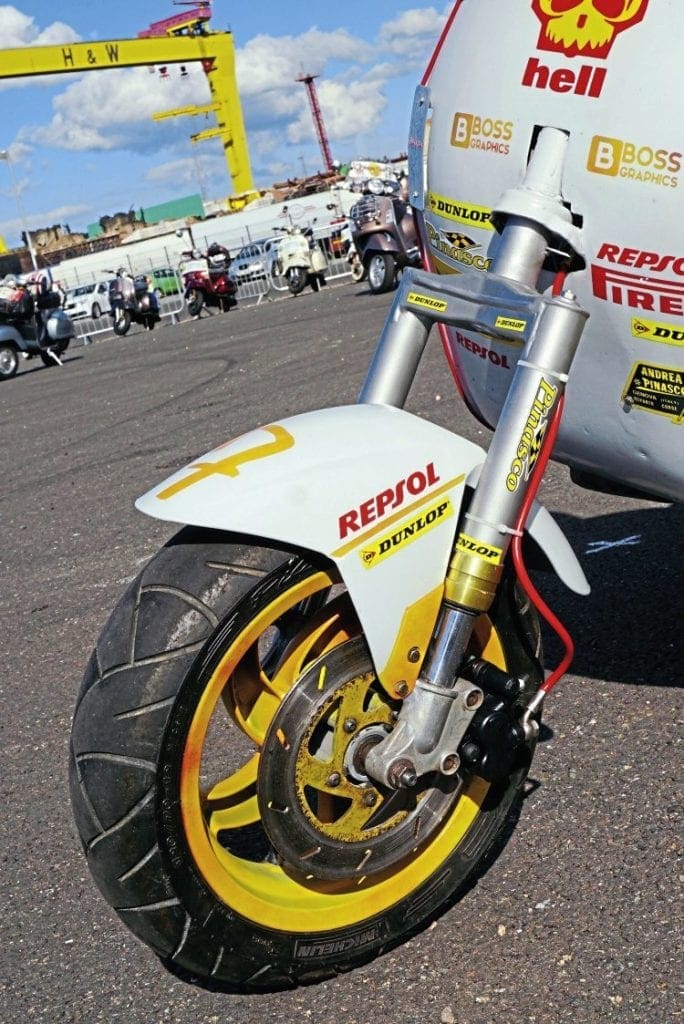 It's not uncommon for cut down builders to use motorcycle parts and the Streetfighter fairing gives Hell a lean, aggressive look. However, as Bo explained, anyone wanting to replicate the speedo and light housings needs to turn in a different direction. "They're kitchen spotlights," he laughs. "The light units have Land Rover Defender lenses and LEDs inside them."
Hell's first outing was always planned to be VWDs but in typical scooterist fashion Bo cut things fine: "It was MOT'd about four hours before we caught the ferry!" Judging by Hell's reception it was well worth the effort and sales of hacksaw blades are set to rise in Austria!
MAN & MACHINE
Name: Richard 'Bo' Gellings
Home town: Rochdale.
Club: Rochdale Mystery Tours.
Scooter name: 'Hell'
Type: Vespa PX.
Engine: Pinasco 177 or standard PX200, depending on which one's working!
Paint and build: By owner.
Specialised parts: Chassis mods, forks, handlebars, tank, seat and lights all by owner.
Thanks to: Kirsty for letting Hell into our living room!
Get three issues for only £5 of Scootering Magazine!
Redeem this fantastic offer here.

Enjoy more Scootering reading in the monthly magazine. Click here to subscribe.