Scootering brings you an exclusive look at Scooter Center's GTS Demonstrator, one of Vespa World Days' most talked about machines.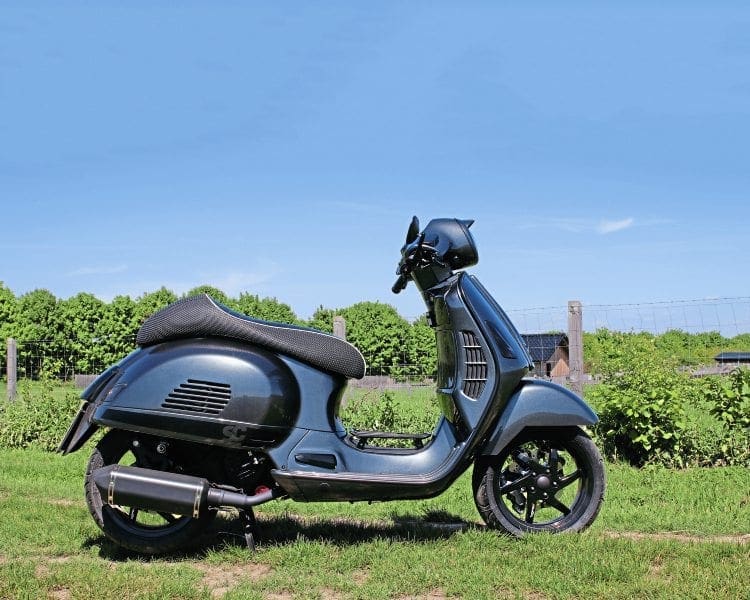 Some will never accept the fact but a look around the parking area at any scooter rally will confirm that Vespa's GTS range is embedded in scootering culture. Although I love two-strokes, the scooter I use on a daily basis is my GTS 300. Like every GTS that's rolled off Piaggio's production line it has excellent performance, is exceptionally reliable and for all round convenience is second to none. Unfortunately, just like almost every other GTS, it's dull. Even the most ardent GTS fan has to admit that looking at row upon row of standard GTSs at a scooter rally isn't the most interesting pastime.
Although auto customisation has moved from stickers to paint, the number of outstanding GTSs can still be counted on the fingers of one hand. Scooter Center is determined to change this by combining in-house engineering with a collection of high quality off the shelf custom parts. The result is their GTS Demonstrator which drew in the crowds at Vespa World Days.
Who better to explain the concept than Scooter Center's very own Oliver Kluger: "This year we decided to mark our 25th anniversary by giving our GTS a makeover, combining the most modern technology with cutting edge design. The result is a much tougher look, though many of the features are quite subtle."
Body beautiful

Subtle may not be the most obvious description for the body modifications. The frame has obviously been cut under the seat base, creating a very raked profile. This is accentuated by a 4cm reduction in fork length although 13in wheels go some way to addressing the change in steering geometry.
As Oliver explained the suspension for the shortened forks required some creative thinking: "We've used BGM components, but the front shock mixes the main strut from a PK with PX springing. It works really well and is available from stock for those wanting to create the same look." Shortening the forks also meant redesigning the mudguard. Scooter Center's chosen solution pays more than a passing tribute to that of the Mk1 T5 "I really like the mudguard," said Oliver "We'll gauge response to it and if that's positive we may consider adding it to the catalogue."
Drop head gorgeous

The part of the design with the greatest impact is probably the headset: "Modifying the handlebars in a way that kept a 'factory look' was technically quite difficult but I'm pleased with the result," said Oliver "We're currently in discussions with our suppliers to produce the drop bars as an off the shelf item and hope to add them to our catalogue shortly." Although readers will need to keep an eye on SC's website for the drop set, the Demonstrator showcases a number of parts that are available to order now.
Smoked lens have long been a favourite of customisers and Scooter Center offers a full range of LED lights in black, clear and red, my personal favourite being the black headlight reflector. Other headset additions are adjustable BGM levers, turned aluminium grips, some very neat handlebar end mirrors and hydraulic master cylinder covers without mirror holes.
Other more subtle additions include a beautifully crafted luggage hook, reprofiled leg shield trim and a footplate luggage carrier. Combining comfort and practicality is the seat, which is handmade in Italy, exclusively for Scooter Center. Featuring Altafex fabric panels, its cushion has also been designed to provide the optimum level of comfort for those making long journeys.
Engine bay watch

While most of Scooter Center's GTS range caters for cosmetic improvements, performance hasn't been forgotten. After a long period of development BGM has launched its PRO variator kit, which claims to improve acceleration while delivering constant power development and a high top end speed.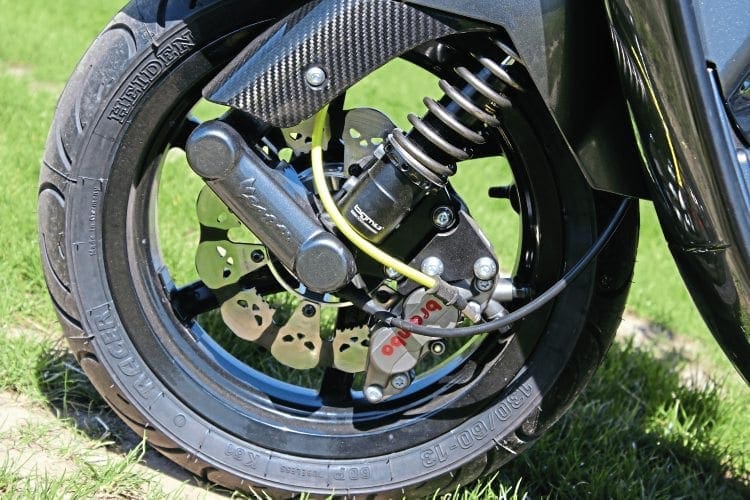 Although the GTS's standard brakes aren't too shoddy, the addition of a Brembo system shortens braking distance by an impressive 20%. Also unique to Scooter Center is a ceramic coated special edition of Scorpion's 'Red Power' exhaust. A range of powder coated covers are available from stock and for the GTS owner with everything CNC machined dipsticks are available.
Trend setter

Scooter Center's Demonstrator is the first serious attempt by a major dealer to bring together a range of bespoke accessories and no doubt it won't be the last. Judging by the crowds it drew at Celle, it's not just Scooter Center that believes it's time to progress the GTS's story.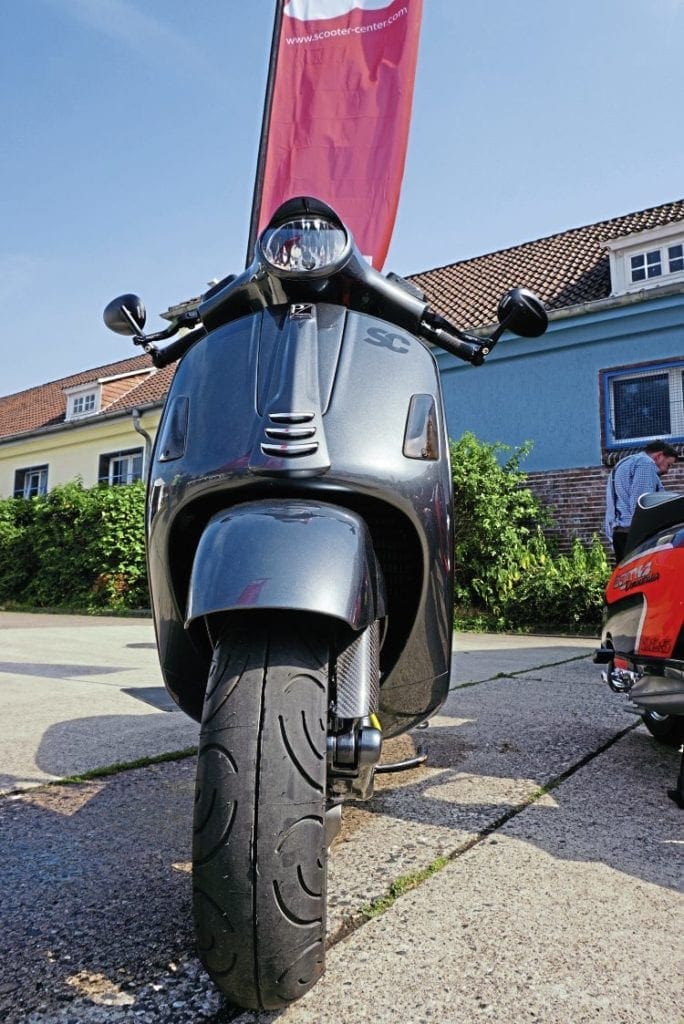 All we need now is a matt black rat look chopper. Then we'll all know the GTS has truly been accepted!
Words & Photography: Stan

Enjoy more Scootering reading in the monthly magazine. Click here to subscribe.