Bored of the Beach? Sick of sightseeing? There's now an alternative — escorted tours of southern Spain by Scomadi. Stan reports from Gran Tourismo Spain Scooter Tours.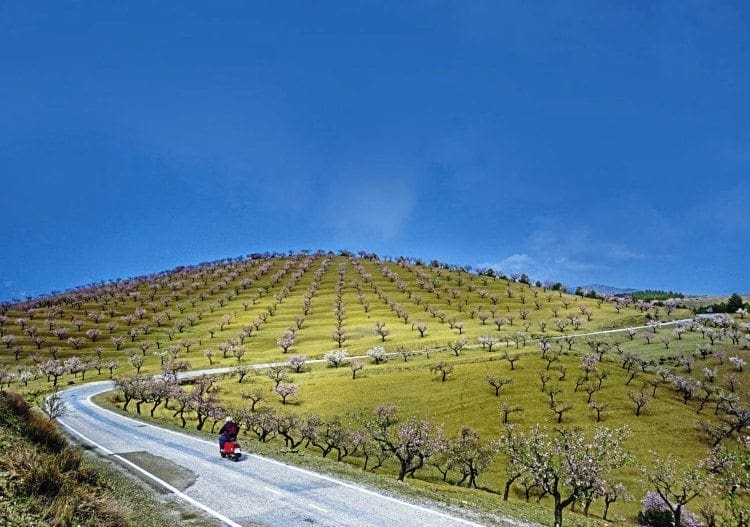 Most of us dream of escaping the rat race but there's always the small matter of earning a living. For Ian and Sue Duncanson, a lifetime's involvement with scooters and a love of southern Spain provided the obvious answer in scooter tours. Although organised motorcycle touring is big business there are limited options for scooterists, which is something Gran Tourismo Spain plans to address.
Based in the village of Urcal in Andalusia, Gran Tourismo has a fleet of Scomadi 125s and offers escorted tours of the area. As Ian explained this is ideal riding country: "There's a large biker community around here and they've shown us some fantastic roads." The combination of lesser known routes, well-maintained tarmac and quiet roads is an enticing prospect for any motorcyclist. Include almost guaranteed sunshine, add in a Scomadi and it's a holiday that feels tailor-made for scooterists to enjoy.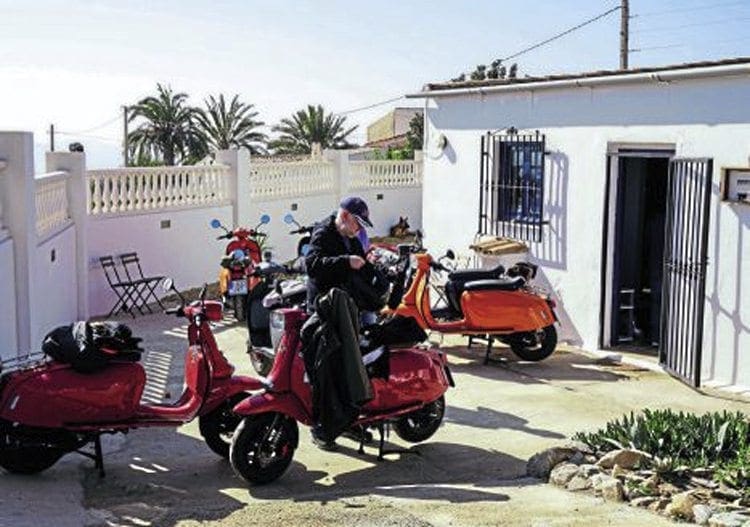 "Riding here is a real pleasure," Ian said. "Our guests don't need to arrange hire, monitor a GPS or map read. We'll take them on all the best routes and all they have to do is enjoy the scenery."
Taking care of accommodation is Sue. "I fell in love with this place when I first saw it,"she said. "The views across the valley from the pool seem to stretch forever." There's no doubt that their base in the Sierra Cabera is perfectly located with both mountain and coast roads only a short ride away.
Although there's not much nightlife in this corner of rural Spain, Ian and Sue do all they can to make their guests feel at home. "We've completely refurbished the rooms for this season," explained Sue. "All our food is home cooked and there's a welcoming bar in the village."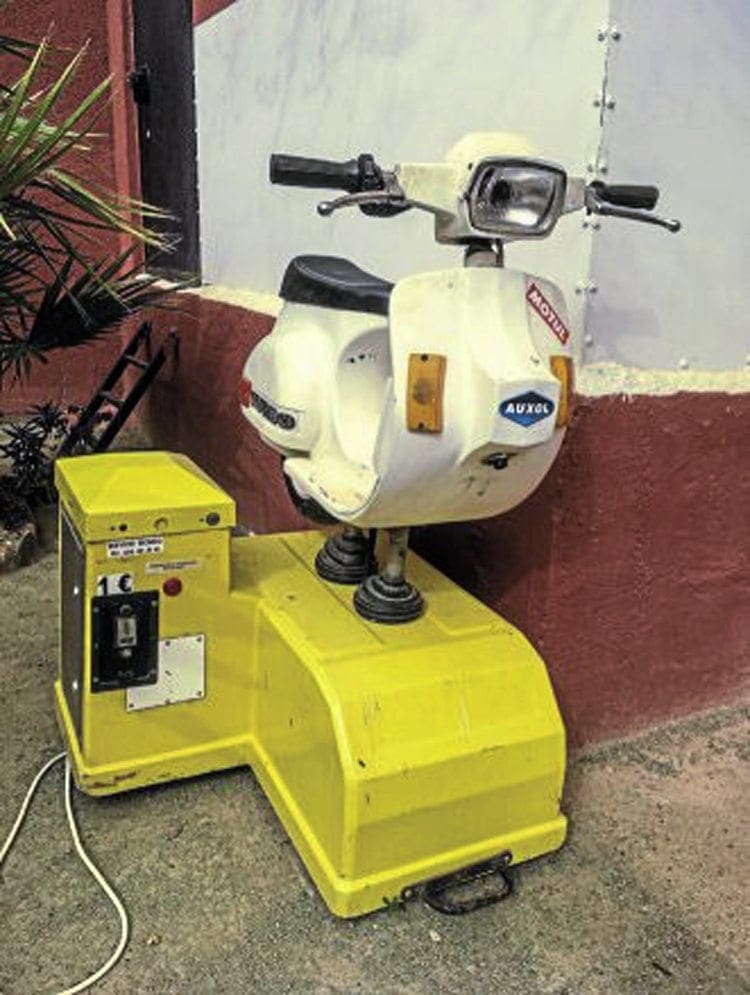 When it came to selecting the scooters for guests to ride, Ian fell back on his own experience. "I've had scooters for years and most recently a Scomadi which gave me a lot of pleasure and very little trouble — so they were the obvious choice. Asking the salesman for seven of them is something I'll never forget and I doubt he will either!"
Gran Tourismo's offer includes airport transfers, half board accommodation, scooter hire and insurance. They can also supply gloves and helmets if required. All guests need to pay for are flights, travel insurance, fuel, lunch and drinks. Run by enthusiasts, Gran Tourismo Spain offers a different holiday experience at a very competitive price. It's a great way to escape the rat race, if only for a week.
Interested?
Gran Tourismo is served by airports at Almeria, Alicante and Murcia, all of which offer direct flights from the UK and transfers to and from any of these airports are included. Groups of five can currently be accommodated but it's hoped this will soon increase to six. Each of the routes is very different, offering a wide variety of riding experiences. Although the tour isn't suitable for complete novices it's within the capabilities of an average rider.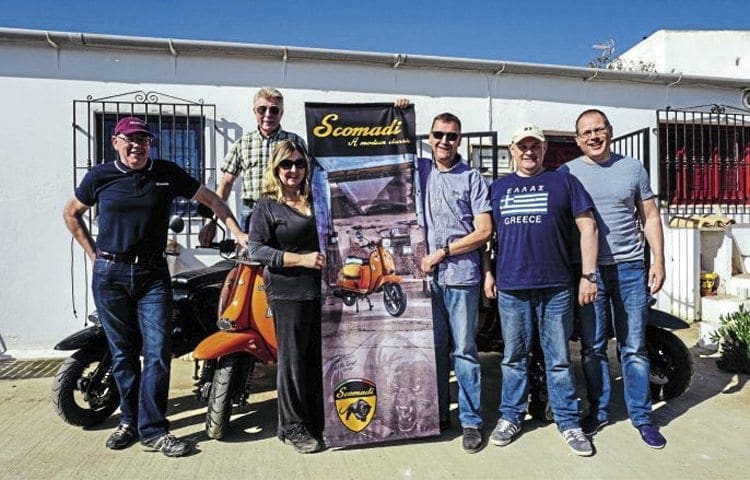 If in doubt contact Ian or Sue and they'll do all they can to tailor the holiday to your needs. In order to ride one of Gran Tourismo Spain's Scomadis, you must be aged 26 or over and either possess a full UK motorcycle licence or have held a full car licence for at least three years.
For further information contact Ian or Sue via www.grantourismospain.com.
Testing, testing two three four…
Ian is a long standing member of Camberley-based 60s Scooter Club and back in February, I joined club members Stuart, Peter, Paul, Neil and Alan to sample Ian's routes and Sue's hospitality. Although some days were overcast, temperatures were warm, the beer was cold and we weren't at all disappointed.
MOJACAR
Pack your swimming gear as Ian's first outing is usually to the pretty resort of Mojacar. There are few distractions to begin with, simply an opportunity to get acquainted with Spanish roads and the Scomadi. Just as I'd had my fill of riding past strawberry fields we joined the coast road at San Juan de Los Terreros. As Neil later said: "It was a miniature version of the Pacific Coast Highway." The road hugs the coast with stunning views over the sea, petrified remains of ancient forests cover the hillsides and the road slices through the rugged landscape. With gentle climbs and descents, this was a beautiful piece of coastline with plenty of sweeping curves to negotiate.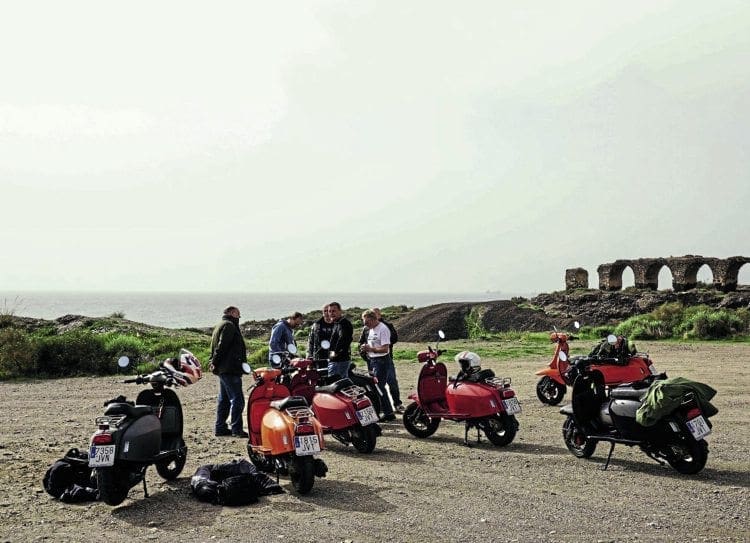 After lunch at a beachside restaurant, we headed inland through a landscape filled with orange trees and olive groves. As the altitude increased our route became progressively more technical, with curves that were tight enough to challenge but fluid enough to maintain momentum. These twists were an absolute pleasure to ride, in fact, I'd nominate this stretch as one of my favourite short roads in Europe.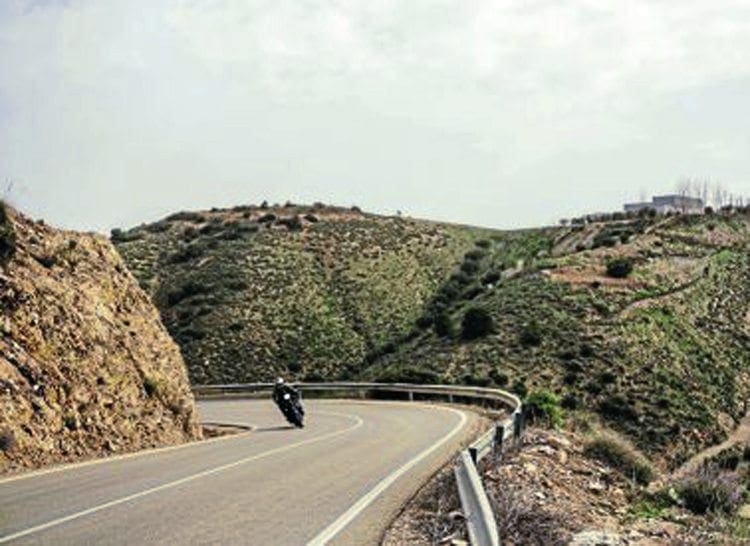 THE BADLANDS
Gran Tourismo's Sierra Cabera base is situated in one of a handful of areas in the world to be classed as 'badlands', a scarce geological feature. Characterised by multicoloured layers of rock, the scenery changes according to the season and even time of day. The road cuts through the badlands with gentle sweeps and inclines. On either side of the road craggy peaks alternate with wide, deep canyons. This may not be the most challenging of rides but for once this is beneficial as the scenery is breathtaking. Entertainment of a different kind can be found in the small town of Taberno. From the bar's balcony it's possible to enjoy a display of the locals' complete disregard for parking regulations so just make sure no one's parked in the centre of the crossroads when you ride into town!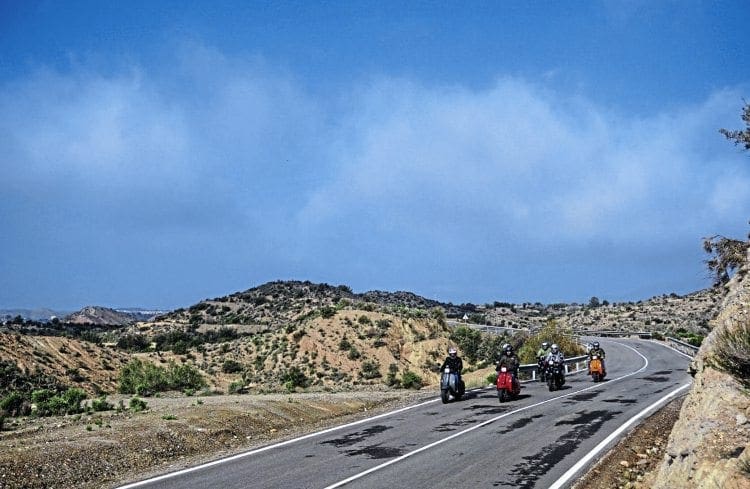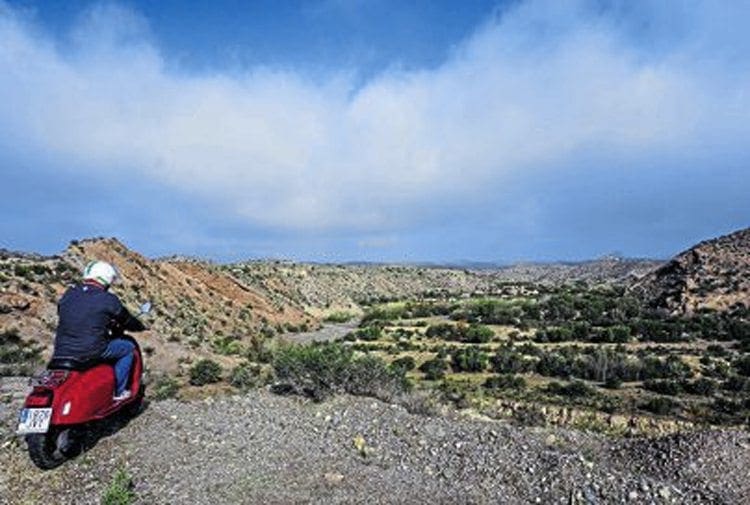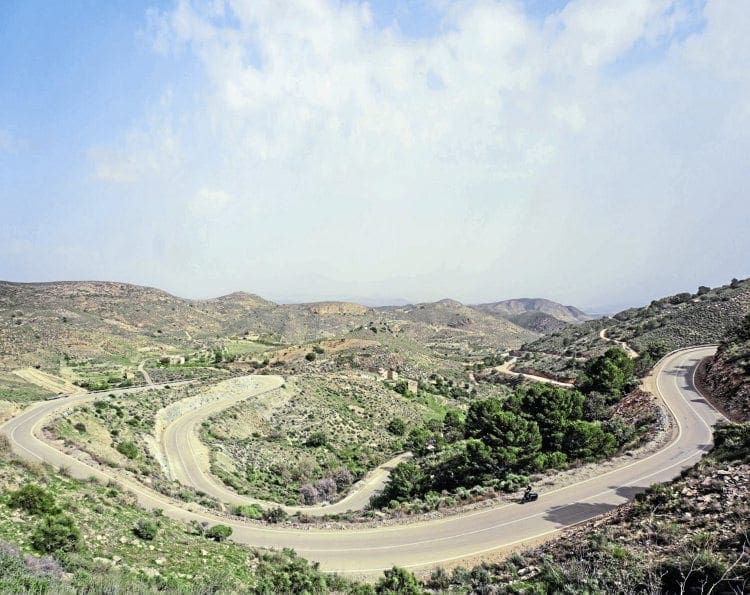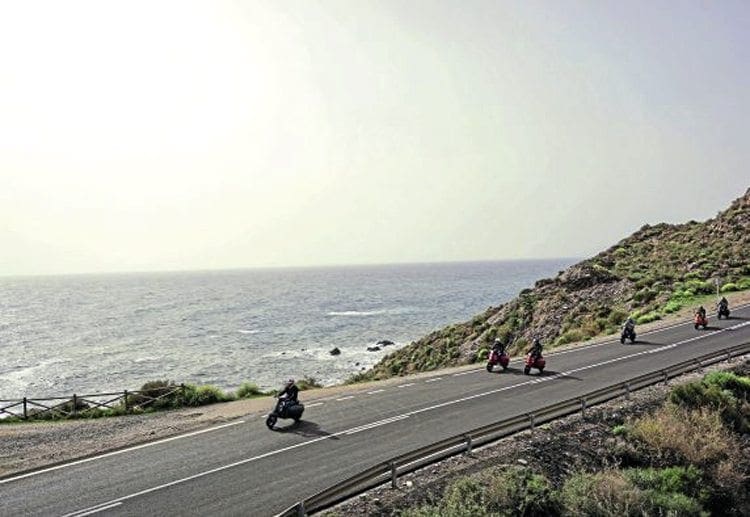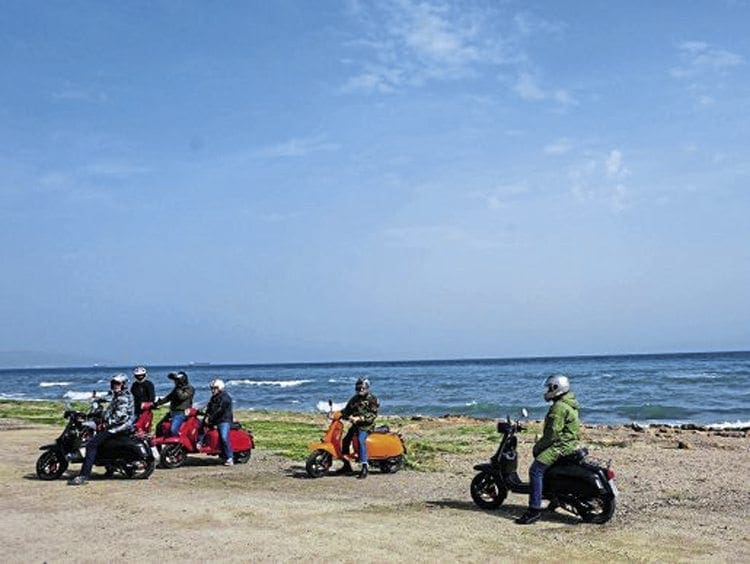 SIERRA MARIA-VALEZ NATURAL PARK
Designated a national park in 1987, Sierra Maria-Velez is an area of contrasts. From craggy peaks to pine forests and woodlands, its roads are the main attraction for motorcycles from across Andalusia. Ian guided our tour through the park to the town of Velez-Blanco. Dominated by a castle the town nestles at an altitude of 1070m and the approach felt more like brining an aircraft in to land than riding a Scomadi! We took lunch in the town square which seemed to be inhabited solely by the young and beautiful, so we fitted in perfectly…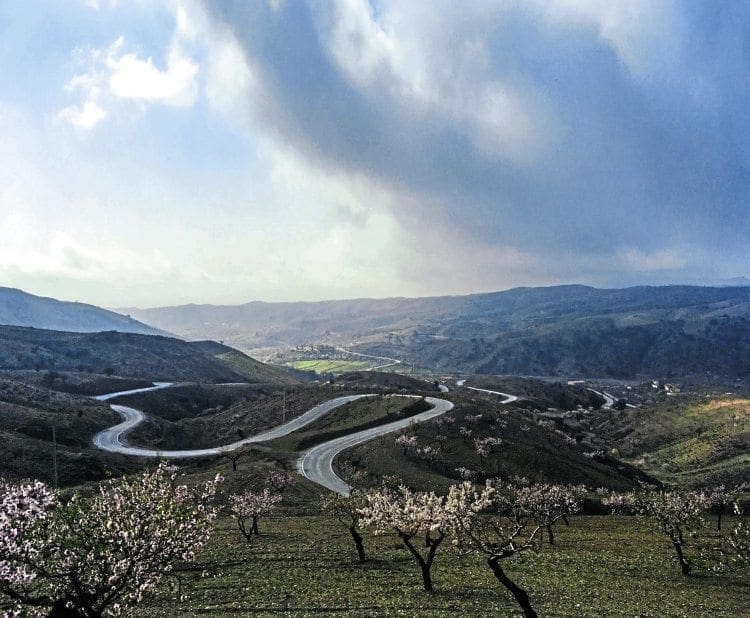 From Velex-Blanco Ian guided the group down to earth along a stretch of road that must be one of the most perfect motorcycling routes in Spain, a never ending series of S and Z bends with the occasional 180° switchback thrown in for good measure. What separated this road from the rest is the degree of advance notice given to oncoming traffic, as often a two or three kilometre stretch of road can be monitored ahead. With freedom to take the optimum line, it was an exhilarating descent and most of us managed to scrub our tyres across their entire tread pattern.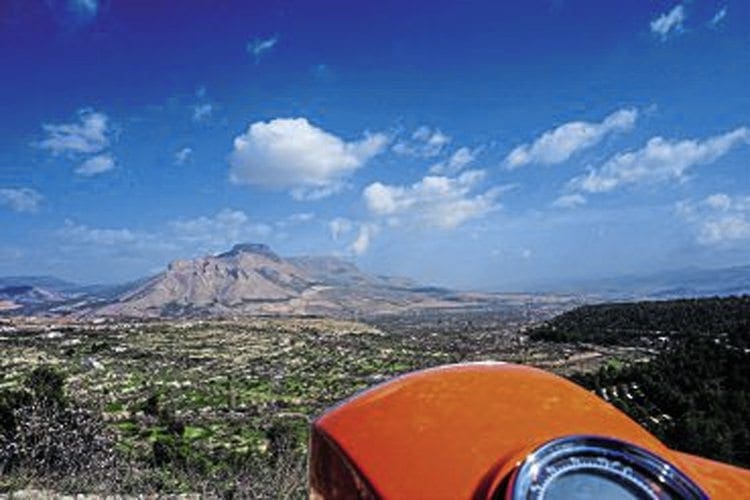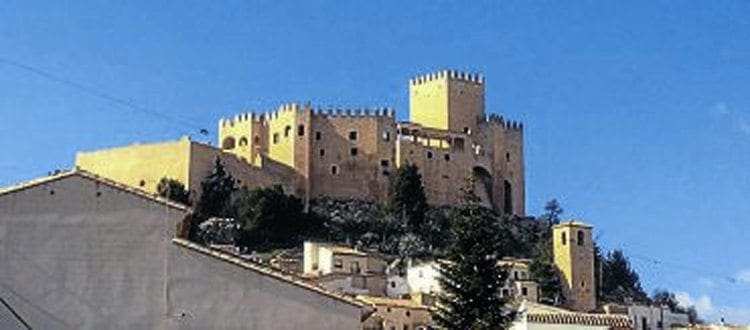 'JAR HEAD' MOUNTAIN
With beer in the local bar at €2 a pint and the nearby town of Huercal-Overa offering a pretty square with bars and street cafes, it would be rude not to have a few at some point. Ian's arranged a late start for this half day ride, meaning that guests can enjoy a night out in the knowledge that hangovers and blood alcohol levels can subside before setting off. This route started by repeating part of the exciting descent from Sierra Maria Valdez, but this time uphill, before branching off towards the peak of Cabeza Jara, which loosely translates as 'Jar Head'. The climb takes in almond groves and small rural villages all topped by seemingly unending skies. The ascent is gentle but once at its peak, the views stretch for miles. At around three hours this is Ian's shortest run and also the only one without a café or stopping point, as the area is protected, so be sure to have some water in your bag.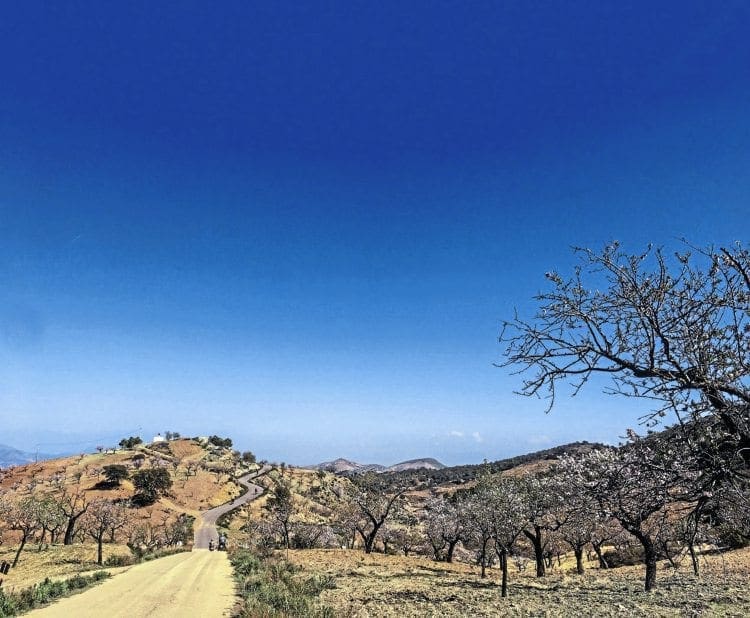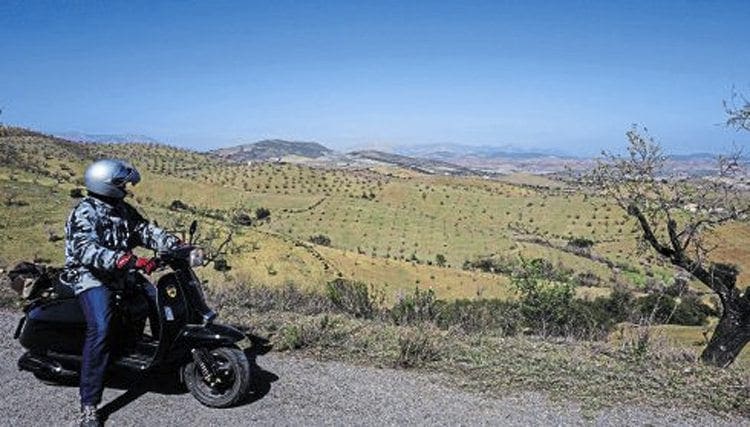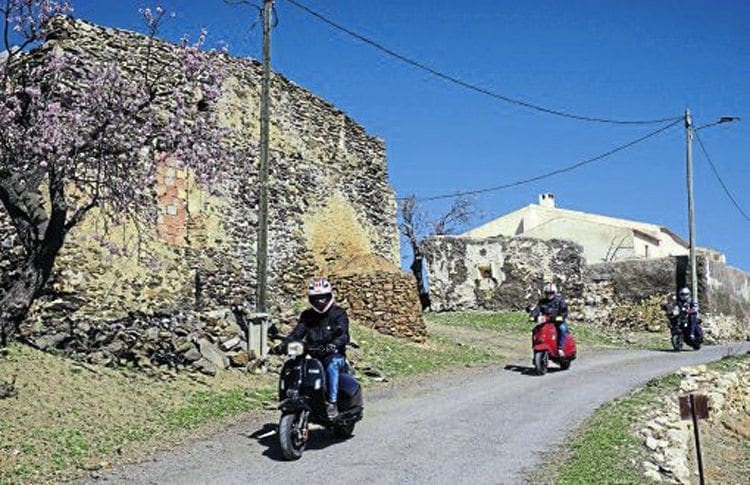 ROUTE 13
The trip to Aguilas is the longest of the week and no one, not even Ian, is going to claim that it starts out well. Many Spanish motorways have a service road running alongside them and Ian uses these as a mile killing alternative to the motorway. After running alongside some heavy traffic the tour started what should be a fantastic hill climb. Unfortunately, if proof was needed that badly maintained roads and Scomadi suspension aren't a marriage made in heaven, then this stretch of road provided such evidence in abundance. Just as I couldn't take any more we pulled over for coffee and I expressed my doubts to Ian. I should have had more faith.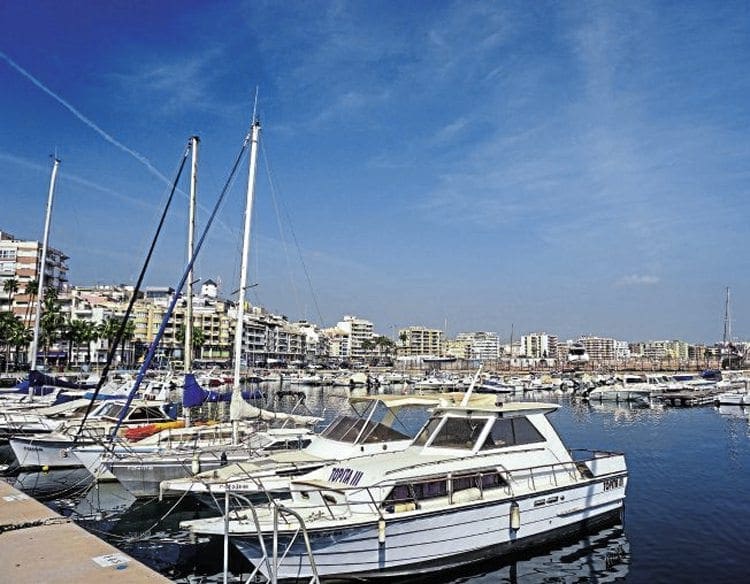 Shortly after pulling away from the cafe we joined the RM-D-13, a completely resurfaced road barely wide enough for a car and scooter to pass in comfort.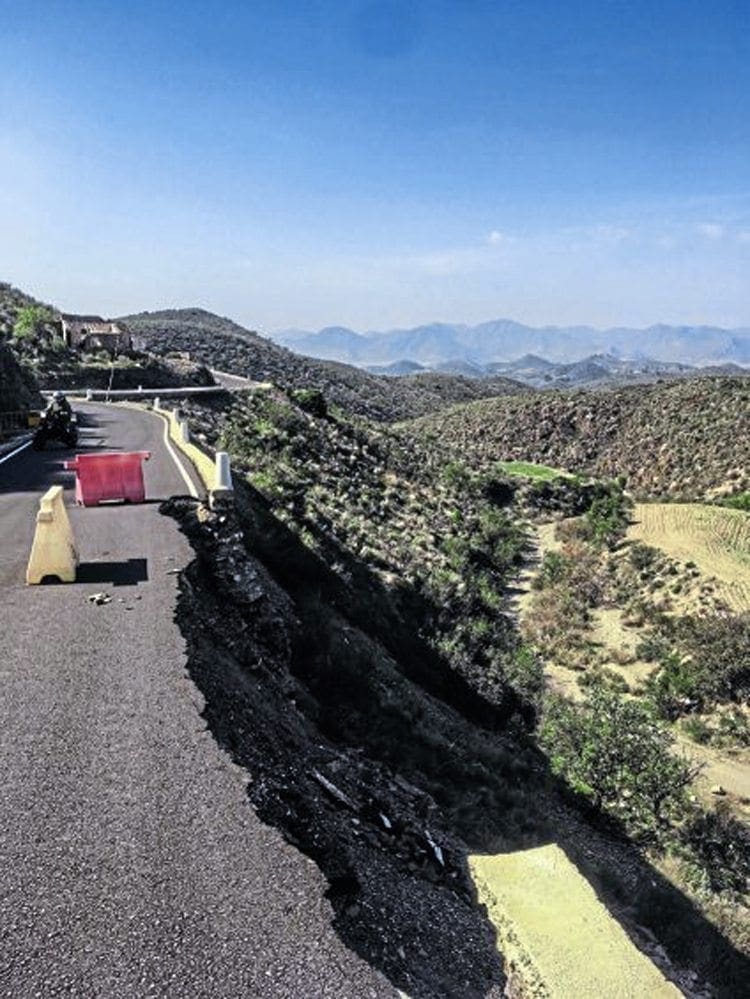 It felt as if all the rides so far had prepared us for this experience. The road clings to the hillside with a deep drainage ditch on one side and for the most part a sheer drop to the other. There are no barriers, only concrete bollards to mark the road's edge. It's a highly technical series of bends, switchbacks, climbs and descents that demand concentration. Show it the appropriate respect and this route rewards with an unforgettable ride.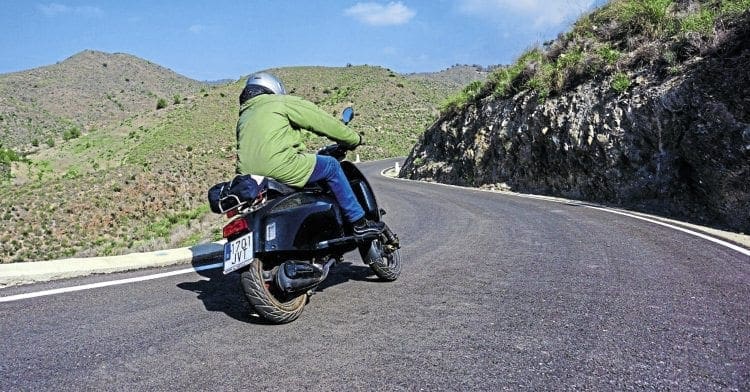 Refreshments are taken in the port of Aguilas. When we visited a fiesta was being prepared, with a temporary bar on the harbour. The Scomadis always attract attention and this barman was so keen to have our colourful machines outside his bar we were rewarded with a free beer each. Forgiving his description of the 'classic Vespas' was easy; coming to terms with the fact he looked like Russell Brand in drag was a little harder…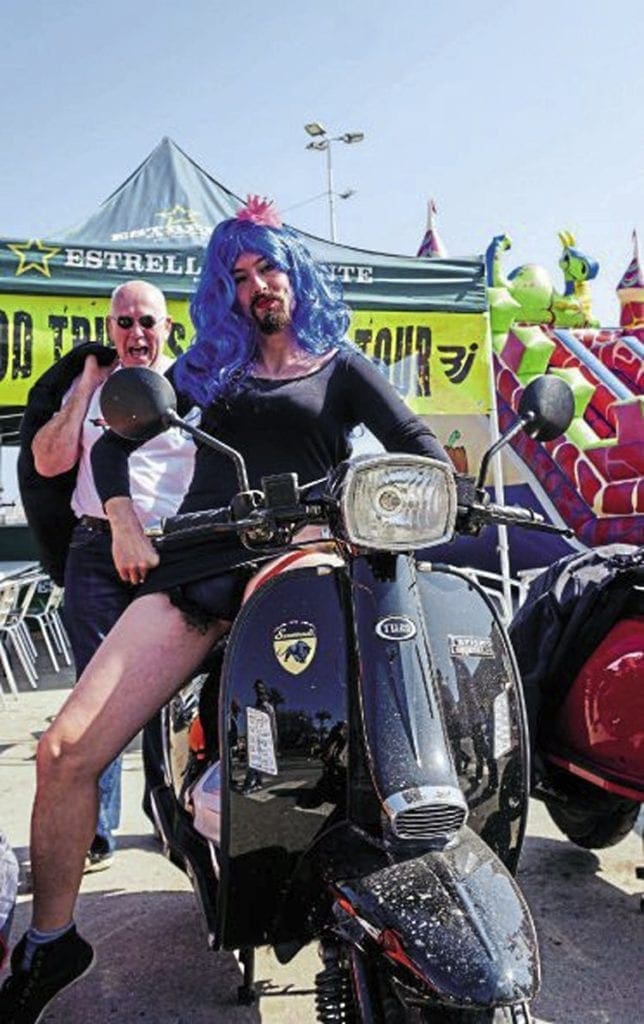 Having spent the week negotiating twists and turns this tour brought the holiday to a close with a long, arrow-straight downhill road. The top speed of a Scomadi 125? What can I say? What goes on tour stays on tour!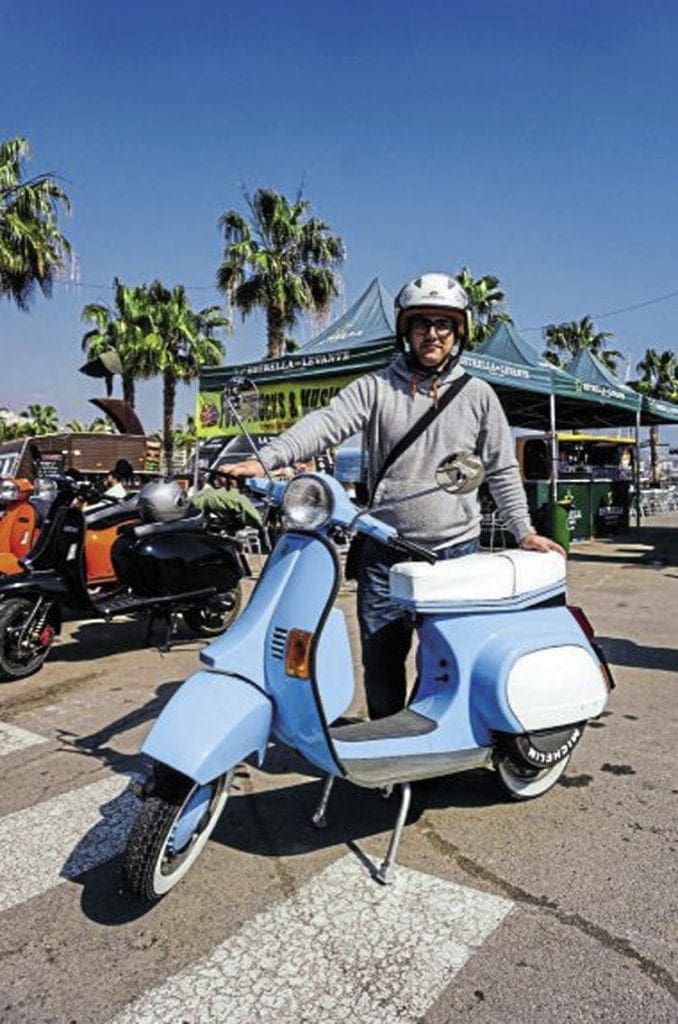 LIVING WITH THE SCOMADI
The Scomadi 125 is a wise choice for this type of venture. Not only is it accessible to a wide range of riders under Spanish law, it also opens the experience up to those whose experience is limited to 'twist & go' scooters. The holiday is also a great opportunity for anyone curious about Scomadi to experience one at first hand. I found the 125 to be more sprightly than the LML auto I rode last year and it never struggled with any gradients. None of the routes chosen by Ian reaches an altitude where fuel mixture becomes an issue; we had all the fun of Alpine roads with none of their ability to sap power.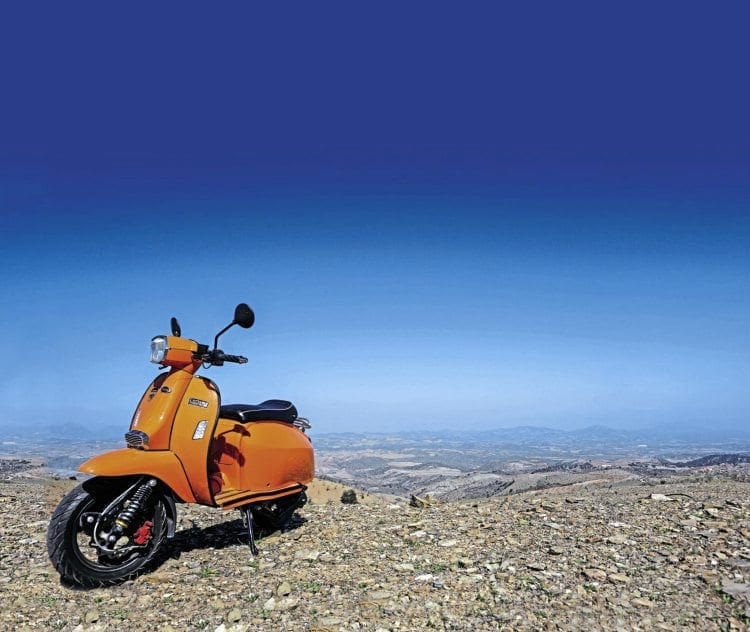 It was on some of the faster stretches that the Scomadi surprised me, taking a series of several 'z' bends in a row without any effort. This really is a scooter that handles well. At times it would have been nice to drop down a gear, but for a 125 the engine was pleasantly nimble. Braking was firm and I never felt any disc fade, even when throwing it into corners I was always confident that I could bleed off speed without issue. Despite being adjusted to their softest settings the front shock absorbers were still very hard, but that's a Scomadi trait I'm personally warming to. Speaking of hard most of us were dubious about the comfort of a Scomadi seat but having spent several days in the saddle it was surprisingly accommodating. It may not be as comfortable as that of a GTS but it's certainly far better than the Ancillotti it so closely resembles.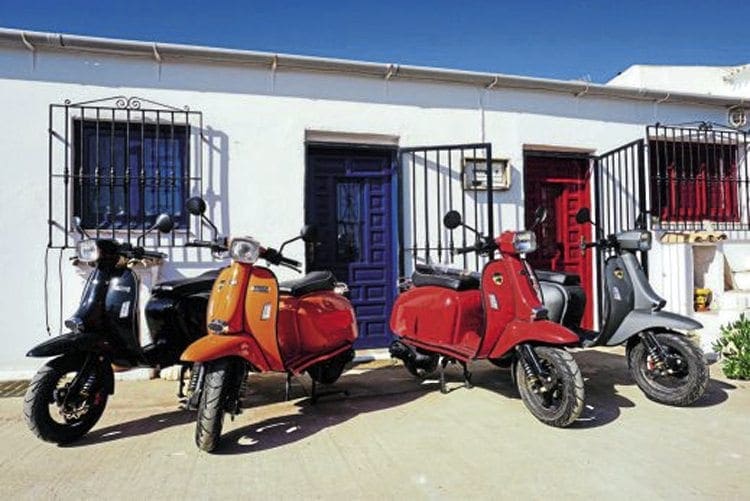 Overall I enjoyed my time with Scomadi's 125 and between us, we managed to loosen up their engines ready for the first paying guests. You're welcome. Honestly, it was no trouble at all.
Words & photographs: Stan

Enjoy more Scootering reading in the monthly magazine. Click here to subscribe.