'Unique' is a much overused word yet it doesn't come close to describing the glory that is Maskes Vespa Klassiekers.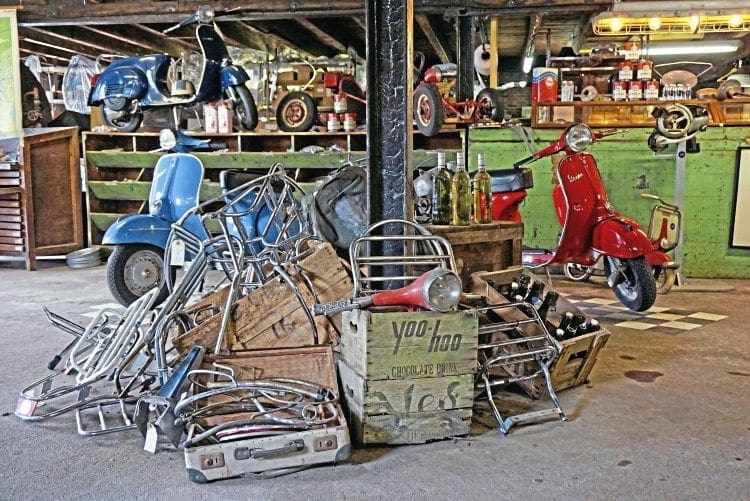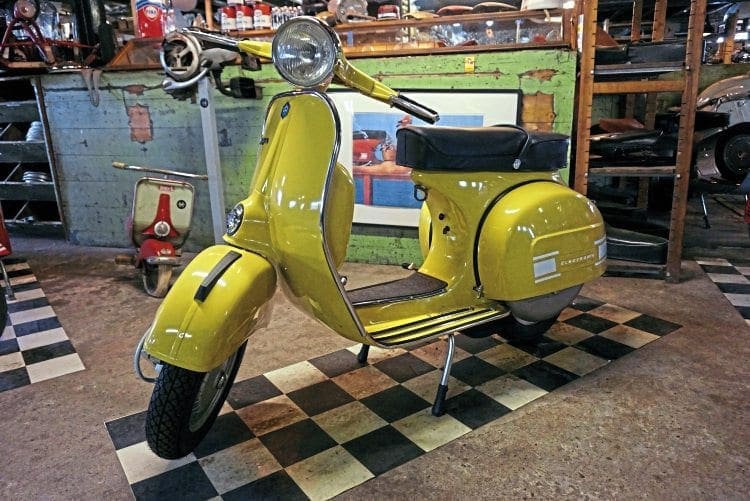 Situated on a side street in the centre of Rijen, approximately an hour east of Rotterdam, Maskes Vespa Klassiekers (MVK) is the brainchild of Peter Maas, better known as Maske, and his partner Hilde. "It started with a PK 50 when I was 15," said Maske. "I loved that little scooter but unfortunately wrote it off in a accident. The insurance company replaced it but never took the wreck away, one scooter had become two and they've been multiplying ever since!" Faced with an ever expanding collection and parents who wanted their garage, outbuildings and even living room back, Maske turned his hobby into a business around 11 years ago. Today MVK is one of Europe's premier sources of hard to find original and remade Vespa parts, particularly for the early models which are Maske's passion.
Loft conversion
From the outset it's clear that Maske and Hilde have their own way of doing things. Rijen has an abundance of modern retail units but they chose to base MVK in an old tannery. The showroom is reached by passing through a recreated 1950s dealer's shop, climbing a rickety staircase and passing through the office. "I like to think that the building chose us," Hilde laughed "The bare brick, exposed beams and different levels create a warm feeling."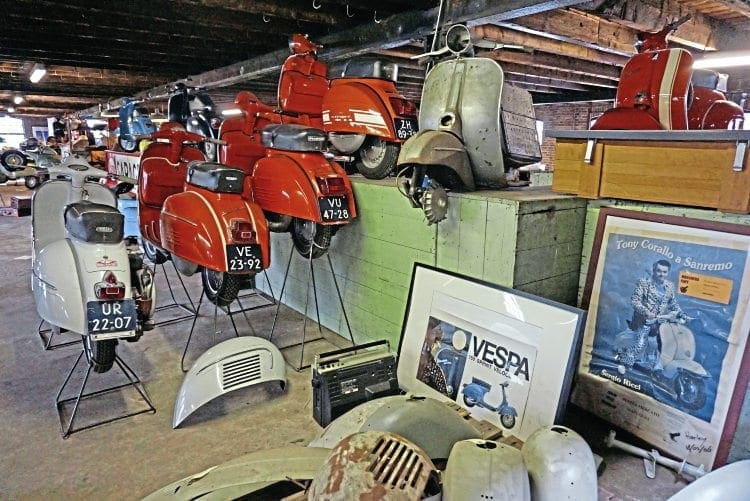 Walking around the roomy loft space it's hard to decide if this is a showroom, museum, art gallery or junk yard. Scarce parts are scattered around the floor, laid out on benches or hang from the hooks originally used for tanning leather. It's as far from the modern vision of a corporate dealership as it is possible to get. "A customer may call in and ask if we've got a particular rare part," said Maske. "I almost always know if it's in stock but I'll suggest that they go look at one end of the shop or maybe that pile over there. It's always great to hear them shout that they've found it. That's fun for everyone."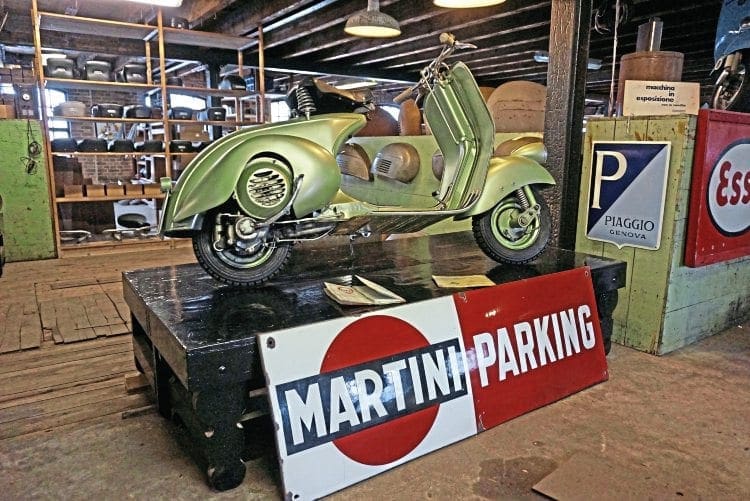 Treasure trove
Every scooterist knows that the prime hunting ground for old scooters is Italy. Everyone except Maske and Hilde. While some showrooms boast one or two classics, MVK boasts a showroom full of them and most are of Dutch origin. The list of scooters for sale reads like a Vespisti's dream shopping list. At the time of my visit there were two examples of the 90SS, one in original paint! There was also a Primavera ET3, several VBBs and VBAs, together with four, yes four, 1949 models. Maske explained that earlier this year there were five GS160s on offer, all in original paint. When I was caught drooling over a pair of superb Rally 200s I pointed out how difficult it is to find a good condition Rally in the UK. Both Maske and Hilde looked surprised. "The 70s were a good time for the Dutch economy, the Rally was a luxury purchase and I suppose they were better cared for," said Hilde. "Original paint examples are getting harder to find but it's unusual for us not to have at least one in stock."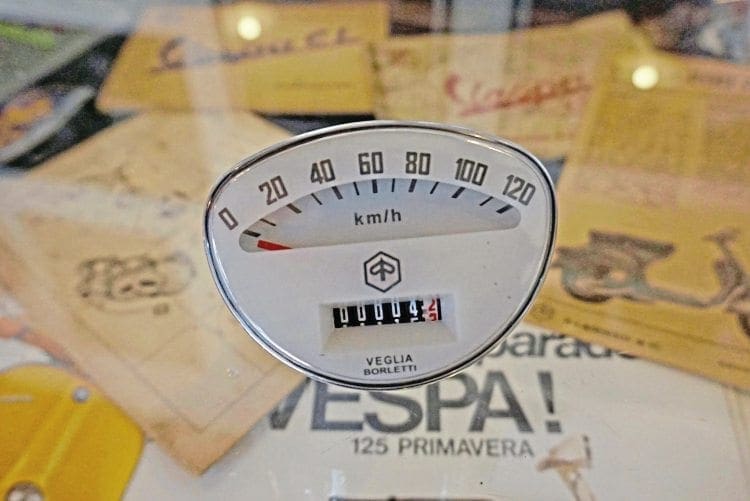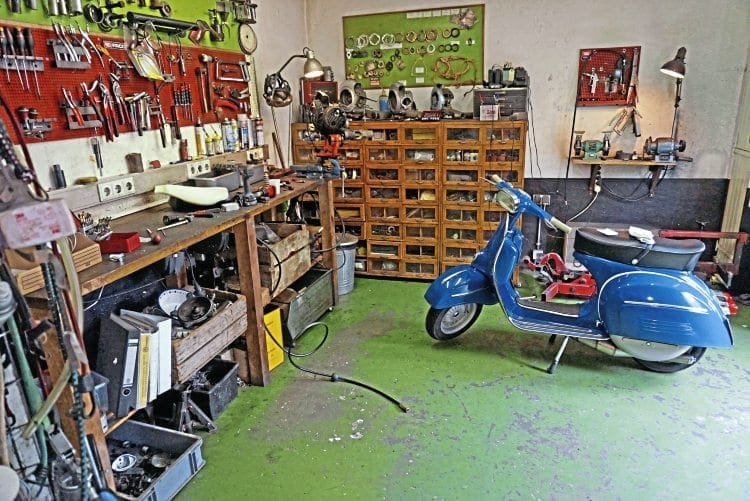 Unfortunately not all the scooters on display are for sale as some form part of Maske's own collection. "It's good to have them on display" Hilde explained. "Sometimes customers like to see what a restoration project will look like when completed but they are also a good source of reference." Maske has a clear passion for original paint machines; some of those on display fall into the category of 'shabby chic' but others are showroom fresh. There can be few places on earth where it's possible to see a GS160, SS180, Rally 180 and Rally 200 displayed together all in factory paint. The Rally 200 is one of Maske's favourites. "Look at the stripes," he laughed and pointed at the decidedly wonky application. "I guess it was towards the end of the shift. Purists won't believe it but that's exactly how it left Pontedera."
Restoration man
Not every scooter can be preserved in original paint and when restoration's called for, MVK are pleased to help. "We restore around 12 machines a year," said Maske. "That's about the number we can cope with and still deliver the quality customers demand." For those intent on building their own object of desire MVK has a large spares holding both of consumables and difficult to find parts. "We also have an exchange programme for the early 'ripple finish' metalwork and rims," explained Hilde. "So long as customers bring in an original item in good condition we can exchange it on the spot." Another service offered by MVK is speedo rebuild with both kph and mph units being refurbished on the premises. Maske will also convert units from kph to mph but as he tends to complete them in batches it's worth contacting the office first to see when the next production run's planned. In common with many restorers one thing that MVK won't touch is Vietnamese imports. Hilde shook her head. "I feel sorry for the buyer but they're too much trouble for us." Maske also has a line in the sand: "I'm happy to tune machines but originality is important. I once fitted a T5 engine into an ACMA frame but there was so much welding and cutting involved. I vowed I'd never do it again. We have a good stock of engine cases and I advise owners of rarer machines to put their original engine to one side and let me build a fresh one (for instance with Bollang and Pinasco parts), then they can always return it to the original specification at a later date."
Thanks to their support of Vespa events large and small, Maskes Vespa Klassiekers is a name that's already known and trusted by European scooterists. For British enthusiasts their showroom is a short ride from the ferry port at Rotterdam and it's a journey worth making. Not only is Maske and Hilde's ever changing collection one of the most imaginatively curated in Europe, most of it's for sale. If that doesn't qualify as unique what does?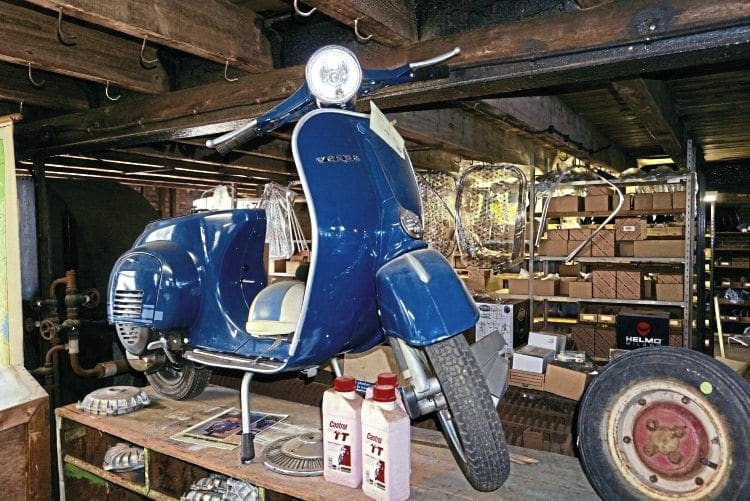 IF YOU CAN'T RIDE 'EM, BUILD ONE
Owing a collection of unrestored Vespas presents its own problem – retaining their originality. Rather than expose one of his beloved wide frames to danger, Maske built his own from parts hanging around the workshop. "The look is more important than originality with this scooter," he explained. Identifying the various components would task even the most ardent Vespisti but at its heart is a 150cc Bollag tuned engine which according to Maske, "leaves my friend's PX200 standing!"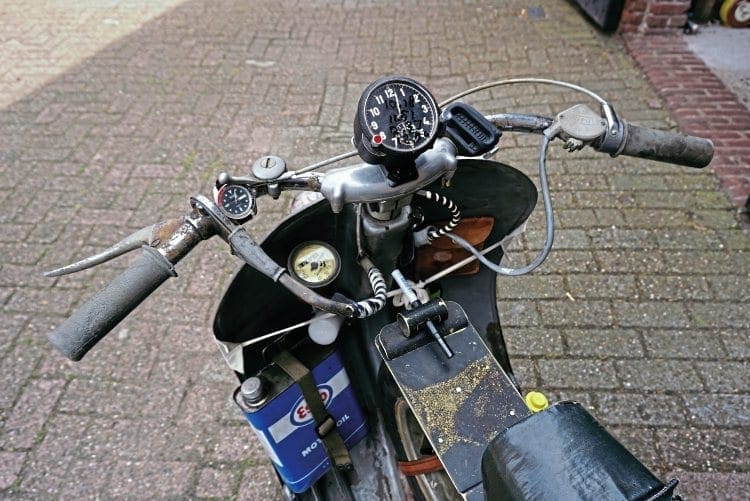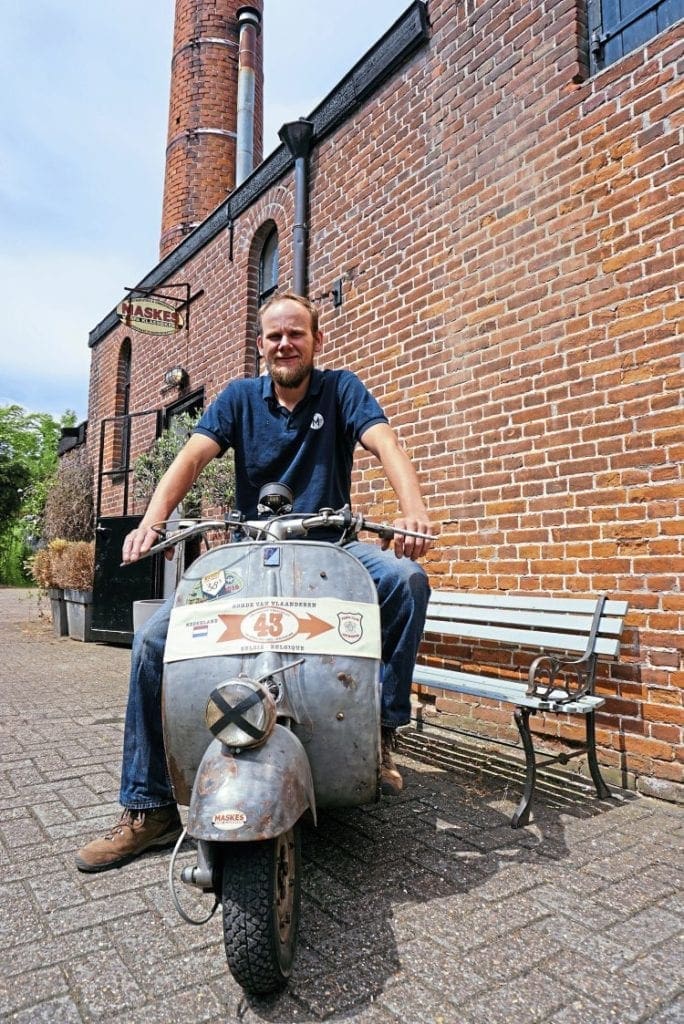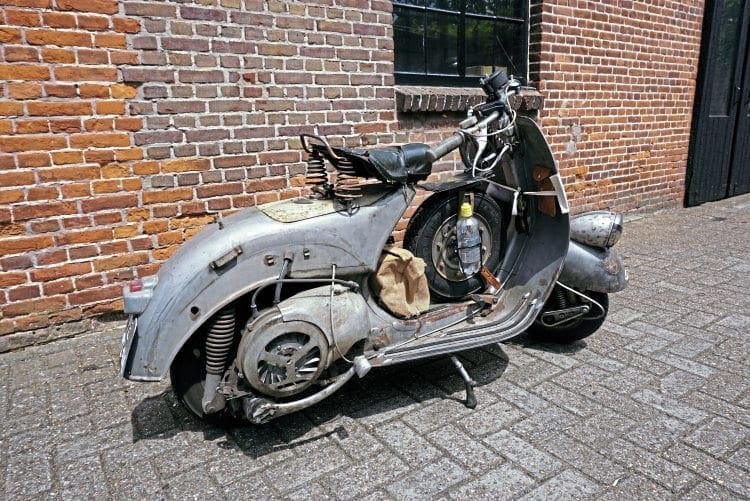 UNLOVED CLASSIC
Few would disagree that Vespa's 90 Super Sprint is a modern classic, yet the model was a flop in the Netherlands. "It's possible to ride a 50cc at 15 and with a full licence it was possible to progress to much larger machines," said Maske, adding that "I think the 90SS with its small engine and unusual spare wheel mounting confused Dutch customers. They could not see the point." There was only one contemporary Dutch registration of the 90SS by a dealer in Amsterdam and this rare survivor forms part of Maske's collection.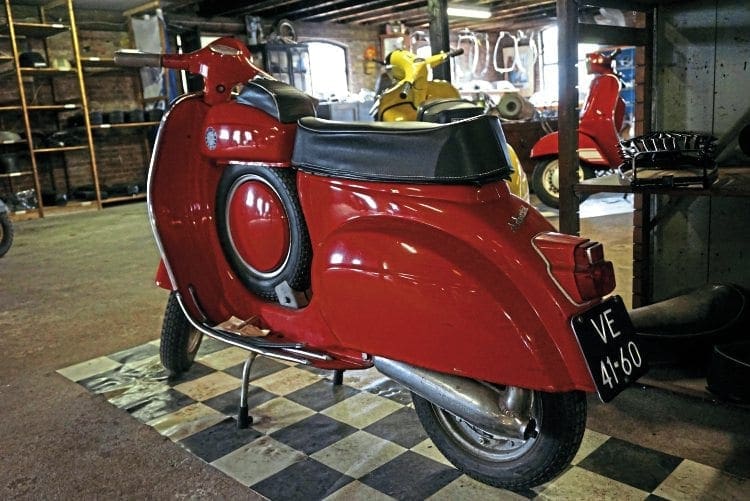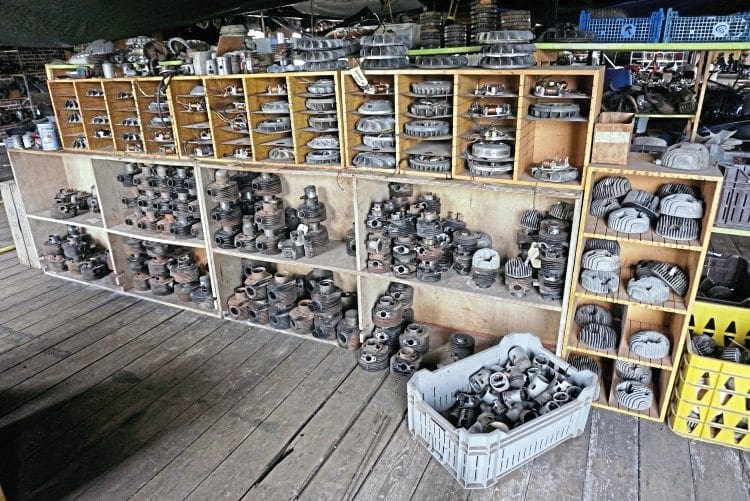 Words & photographs: Stan

Enjoy more Scootering reading in the monthly magazine. Click here to subscribe.