Scooter restorations don't always turn out the way you expected. In our latest trip back in time through the Scootering magazine archive, we take a look at Graham Dent's 1972 Rally 180.
Purchased just over a year ago the original plan was to restore the scooter. Graham says: "It was complete, but barely running, my idea for a project was to strip the paint off, restore it to a standard paint colour, with the engine more or less standard, with maybe a kitted top end." At that point the SS180 would have joined his fleet of classic Vespas, including a 1963 Mk.2 GS160, 1974 Rally 200, 1965 55180, German Spec 1972 GTR125, among many others, plus a 1962 Spanish Series 2 and 1963 TV175 Series 3. It's fair to say he wasn't just bitten by the scooter bug back in 1991, he was incurably infected!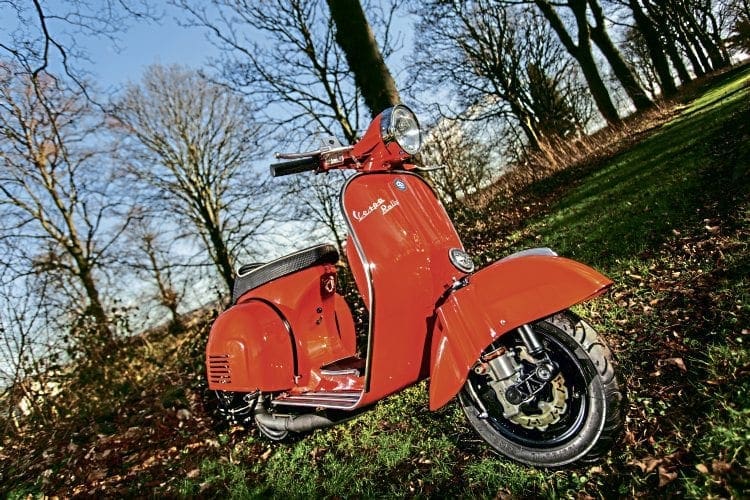 First stage was to strip the scooter down and dispatch the frame and body off to have them blast cleaned clown to bare metal. He says: "Before sending it off for blasting I knew it needed a bit of work to the floor. At some point in the SS180's past there had been a half arsed attempt at a restoration, which I didn't find out about until the blasters called me, saying you had better come and have a look at your scooter.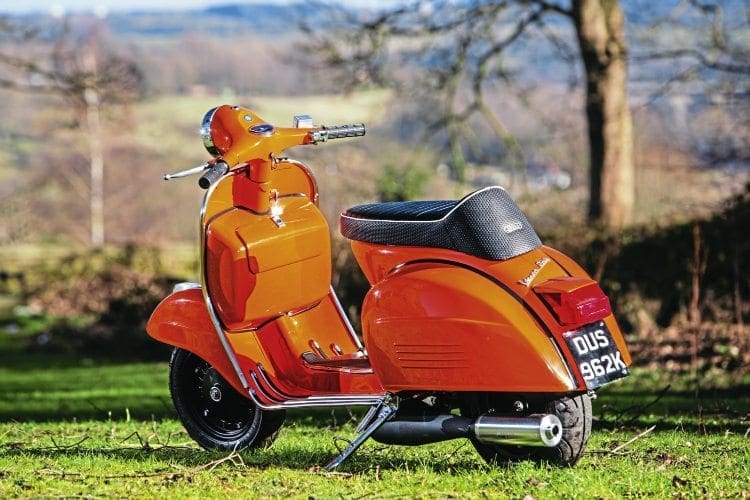 "The floor and the back half of the frame looked like a tea bag, in places what was left of the metal had gone crispy. What I thought was solid metal consisted mainly of filler. A huge question mark as to whether the frame or the scooter were salvageable was hanging over the project. I went to Pete Garvey, who reassured me he'd rescued and restored much worse. After he'd been working on it for a week and a half he invited me to have a look how it was progressing. He'd refurbished and fabricated, absolutely brilliant work, all the lines and curves were back, it was spot on, it looked brand new. Even more so after he'd painted it in original yellow orange, 916 Giallo Arancio."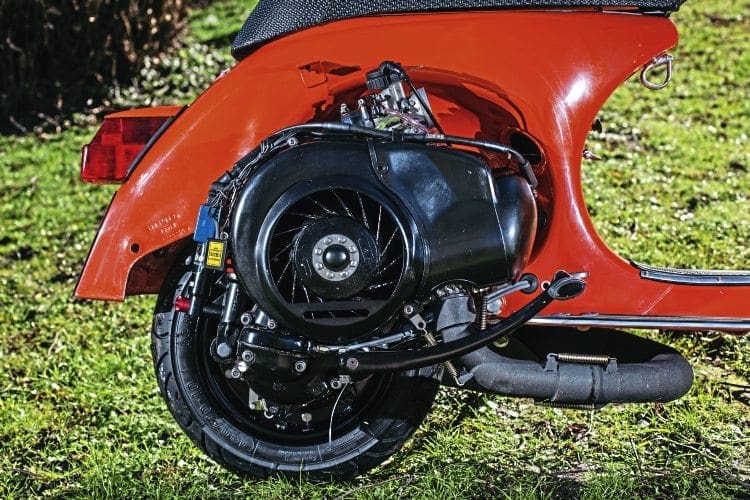 Graham shelved his initial plans to restore the Rally 180, instead looking to mainland Europe for the basis for his project – despite the fact that the scooter had already been painted. "I like the subtle understated look that German lowrider style street sleeper scooters have," he says. "Lots of clever engineering incorporated with simple, plain paintwork that makes you want to discover for yourself what the scooter has had done to it. I was taken by the Scooter & Service (Hamburg, Germany), lowrider front end. Enquired about the cost, which made my eyes water, but having made the decision that was what I wanted, I went for it. It was a question of how to make it all fit on the job learning curve. Changing my mind after the scooter had been painted, without a dry build, wasn't one of my better decisions. Among other niggling problems to deal with was having to trim 18mm off the bottom of the freshly painted horncasting. It all went together in the end, Cosa front rim with wide tyre, shortened Cosa forks with Stage 6 damper and radial hydraulic brake. It looks how I wanted and works how I hoped it would."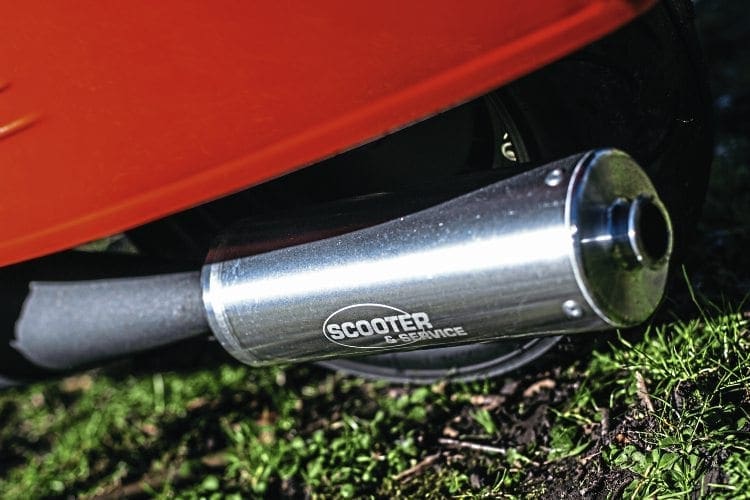 Balancing the overall appearance, although not blatantly obvious, is the Scooter & Service wide rear rim fitted with a beefy 130/70 tyre. Subtly adding to the fat and low style of the Vespa. In his spec sheet responses Graham gives a comprehensive insight into the multitude of non-standard items in the makeup of his brand-new, built from scratch engine. Even non-tech types should be able to work out for themselves that there are some serious performance enhancing bits of kit within the motor.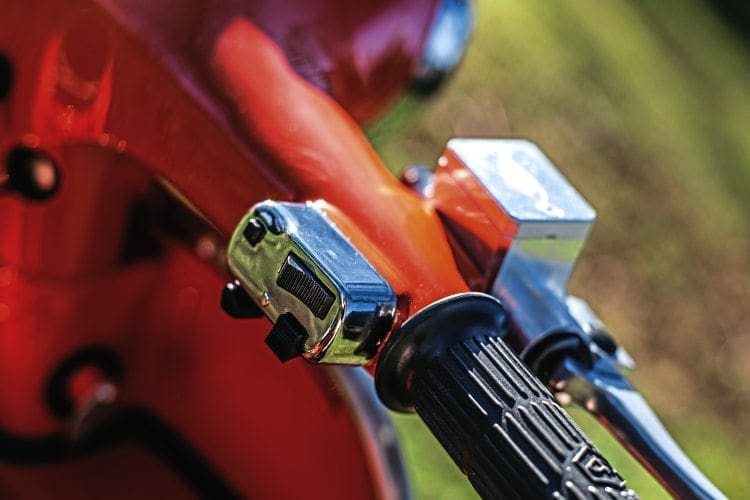 How has the engine performed so far? "It is in the main performing well, the loose gears are standard first, second and third, with a T5 fourth gear cog, which with the DRT Spitfire Christmas tree give a 'shorter' third and fourth gear, the straight cut primary and clutch gears are a lot stronger than any stock Vespa equivalent. My engine has been set up on a dyno, though finishing the project in December has meant I've not been clocking up road miles as much as I would have liked, due to bad weather. So I've yet to really see what the scooter is capable of, or to discover any minor running issues that need resolving.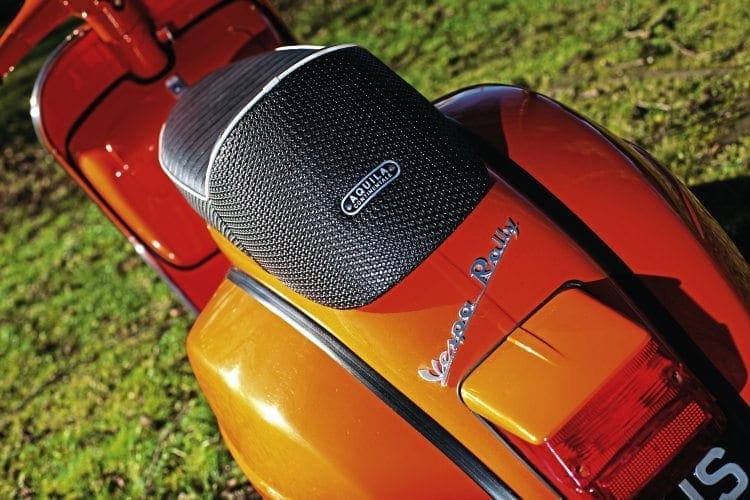 "One has already come to light, again a result of me changing my mind mid-build, after the scooter had been painted. Not my finest moment. Currently the carb isn't sitting quite right; I can feel that there's a bit of fuel starvation occurring. I've got a fast flow fuel tap, so perhaps I may have to fit a vacuum pump.
"I don't think the float bowl is filling completely due to where and how the carb is sitting. At the pre paint, dry build stage I could've made a modification to the frame to help the carb sit better than it does. It's something I may have to consider, even though I don't like the thought of modifying a freshly painted frame."
Teething troubles aside, Graham has created himself one mighty fine steed. To fully appreciate the subtle modifications that have been bestowed on this, unnamed Orange lowrider, based around a Rally 180, it's best viewed alongside a stock scooter or two. With roots that hark back to postwar America, via evolving Teutonic street racer style machines, Vespa lowrider street sleepers are a growing custom scooter sub-genre.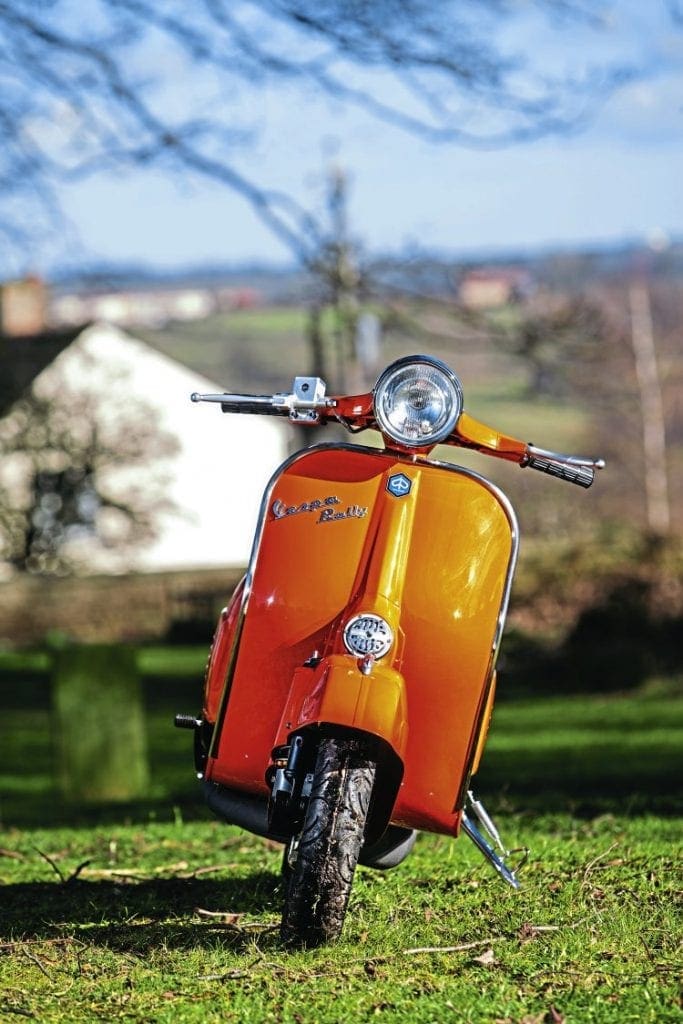 OWNER DETAILS
Name: Graham D
Job: Company director.
Scooter club & town: Not currently affiliated to any scooter clubs.
How and when did you first become interested in scooters: I remember going to Motech in Byker one Saturday with some of my mates who were already into scooters — I think I'd probably have been about 18 or 19 years old (so around 1991-92) and didn't then know much at all about scooters. They had this scruffy red Vespa Rally in the shop (not sure if it was 180 or 200) and I remember being very taken with the lines and curves of the rear end. That was what real) turned my head to scooters — though it was still some time after that that I bought my first one.
First scooter: 1965 Vespa SS180.
Favourite scooter model: Vespa Rally 200.
Favourite style of custom scooter: Street Racer.
First rally or event: Wilton Castle 2001.
Favourite and worst rally/event: Don't really hay a favourite or worst — I enjoy the riding to and from a lot more than the actual do's — so I tend to just day trip more of them these days.
How could the scooter scene get better: I guess if it's to continue to have a future then it needs to somehow engage the youth. The problem is that the escalating values of classic scooters are probably pricing out the younger generation.
Funniest experience with a scooter: Accidentally knocking my freshly painted GS160 frame off the bike lift and onto the garage floor. It bashed in the leg shields and scratched the f**k out of one side of the frame! I had to then take it back to the paint shop with my tail between my legs… oh how they laughed.
Furthest ever ridden on a scooter: Longest journey in a single stint — probably riding from the Kintyre Peninsula back home a couple of years ago. It was something like 330 miles and over seven hours' riding (with fuel stops etc.); too far in a single stint, as I only really have a 200 mile arse. Lol!
What do you like about rallies/events: The ride there and back with like-minded mates! What do you dislike about rallies/events: The music, the food and waking up in a tent with a hangover!
If you were a rally organiser, what one thing would you change: On the whole the organisers do a good job — but I do find most of the nationals very generic these days, and I tend to avoid a lot of them now. I suppose the organisers have got to balance their costs and make a profit.
Favourite Scootering magazine feature: Product tests and reviews — and also the tech features.
Favourite custom/featured scooter of all time: I really liked the '10 Inch Terror' Vespa featured recently — innovative work and subtle detailing.
Who first inspired you in the scooter scene: Bit of a cliche — but probably (like many) watching the film Quadrophenia.
Recommend one item of riding kit: My Arai Rebel Helmet.
Most useless part you've ever bought: Unfortunately even most of the decent stuff generally seems to require a little bit of fettling.
SCOOTER DETAILS
Scooter model: 1972 Vespa Rally 180. Colour 916 'Giallo Arancio' (Orange Yellow).
Date purchased and how much did it cost: February 2015 as a project for £1900.
Inspiration for project: The German custom street sleeper/racers from the likes of Scoot & Service etc.
Time to build: Took about six months from start to finish. Built by myself, with all paint and fabrication work done by Pete Gavey and engine built and tuned by Sean Brady of Scooterotica Garage. Ripon.
Frame modifications: Main frame mods are a complete Scooter & Service Cosa Superlow front end conversion (consisting of a shortened Cosa fork with S&S's own radial mount hydraulic disc brake and Stage 6 shock) — and a Scooter & Service wide rear wheel conversion with 130/70 section tyre.
Engine: 31bhp and 23lb-ft torque PX Malossi MHR 221cc Reed Valve engine — Scratch built using new Malossi PX200 casings, latest MHR 221 kit with S&S lo-comp head, 'Serie Pro' Worb5 60mm reed crank further reworked by Sean Brady, S&S reed block and inlet manifold, Tassinari VForce 4 reeds, Keihin PWK 35mm A/S carb, Scooter & Service PX L/H exhaust, standard Piaggio stator & CDi with lightened 1800g flywheel and MTech programmable adv/ret unit, BGM Superstrong 24t clutch Malossi/ Worb5 'Ultra Tall' 24/63 primary gear kit, DRT Spitfire Road Cluster (12,13,17.20), 36-tooth fourth gear… built and tuned by Sean Brady.
Top and cruising speed: Not yet clocked it for outright top speed, but with the power and gearing its running then I'd say well over 80mph — and it'll cruise at motorway speeds till the fuel runs out (which doesn't take long! Lol).
Is the scooter reliable: Yes, very. It hasn't let me down so dar.
Paintwork and murals: Pete Gavey of Darlington did a fantastic job of all the paint and fabrication work.
Overall cost: More than I'm comfortable admitting to — the missus will be reading this! Hardest part of the project: The new front end. Being an afterthought, it hadn't been tried in the frame prior to the frame being painted. Sure enough it didn't fit and I needed to trim a good 15-18mm from the bottom of the freshly painted horncast to get the front end to seat and clear properly!
Advice for anyone starting a project: Always dry-build first and just take your time. The finished product will be so much better for it.
Anything still to add to the scoot: Yes — I want to fit a vacuum fuel pump to it as the engine can suffer fuel starve and the top end of the power range — but nothing other than that.
Favourite dealer: I buy most of my Vespa parts via German dealers like SIP, Scooter Centre and Scooter & Service.
Thanks: Pete Gavey for rescuing the frame and making that orange paint look so nice, Sean Brady for building/tuning the perfect motor and my wife Helen for having a sense of humour and not getting on my case too much!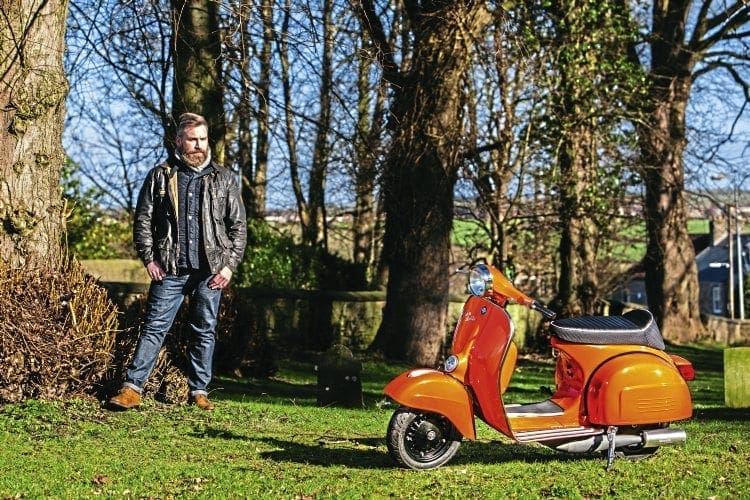 VESPA RALLY 180 1968-1972 — A BRIEF HISTORY
Following in the footsteps of the SS180 (initially the Mk.3 GS before a last minute rethink at Piaggio) was always going to be a tough ask in the latter part of the 60s. Times, as Bob Dylan proclaimed, were a changin'.
Cheap(er) Japanese lightweight two-wheeled machines were beginning to make inroads into the traditional commuter market worldwide. A major factor that would eventually see scooter sales plummet in the early 1970s was cost-cutting in production — another 'innovation' that nearly all vehicle manufacturers were incorporating. The Rally 180 was launched in October 1968, although it wasn't until 1969 that models went on sale in the UK.
In contrast to the SS replacing the GS, where the majority of changes (bar the obvious extra 20cc) were to the bodywork, most of the changes to Piaggio's new flagship scooter, the Rally, were to the engine. Coming into line with most other Vespa motors, the Rally 180 was the first large-frame to have a rotary valve induction.
It was a move to standardisation in engine production away from the piston ported GS and SS set-ups. Although the capacity of the 1968 Rally was 180cc, there were wholesale changes from its predecessor, including to both the bore size and crankshaft stroke, to the internal workings. With cost cutting being a requirement, the SS180 exhaust was an exception, strangely mounted it was unique to the SS180!
Another difference to the SS180 was a return to the front suspension set up, albeit refined, to that initially used on the GS150, utilising an external spring and damper. Offset wheel rims made a reappearance on the Rally 180, with the metal spare wheel cover becoming plastic. Additionally a smaller front mudguard, as had been used on the Vespa Sprint replaced the larger SS item.
Most noticeable was a new headset with a round headlight, which gave considerably better lighting than any of its ancestor models. A new larger and longer dual seat, which was a bit sofa-like in appearance, came as standard. One less obvious alteration to the Rally frame was to the area where the carburettor sat, the SS connection being no longer required on the new engine configuration. The Rally 180 was offered in yellow ochre and orange, with white and red offered on models being exported. Just under 26,500 Rally 180 scooters were made between '68 and '72. It retained a 60s appearance, which looked dated in the early 70s. That said, the metal scroll style badging on the legshields did have an appeal. Quite early in the production run, the SS180 type rear light was replaced with a one piece plastic unit.
In 1972 the then-new Rally 200 electronic became Piaggio's flagship model, with Femsa ignition set up, replacing the 180. Go faster stripes on the mudguard and panels were part of the Rally evolution, giving something of a 70s look. Later examples of the Rally 200 electronic had a different crank taper to suit the 6v Ducati ignition flywheel and stator. Itself an early version of what would be used in a 12v set up on the P200E. Late examples of the Rally 200 were arguably the fastest production scooter made by Piaggio.
The Vespa Rally 180 was a bridge model in retrospect, sitting in the shadow of both the SS180 and the Rally 200 Electronic. Perhaps wrongly overshadowed due to nothing more than the economic situation and nature of the business during its time. Nonetheless, its low production run makes it something of a rarity and has seen the Rally 180 become a sought-after and hard to find classic Vespa.

Enjoy more Scootering reading in the monthly magazine. Click here to subscribe.