An English term invariably used to refer to an occasional occurrence is 'once in blue moon'.
Rarity of a blue moon in technical terms, according to most astrological sources, refers to two full moons in one calendar month. Which actually occurs around every 32 months, once every three years or so. Innocenti's Lui is one of the models in the Lambretta Luna line; Luna, of course, is Italian for the moon. Gerard James has a custom Lui 140 in dark blue livery, which loosely equates to his pride and joy being something of a blue 'moon'. He originally bought his Lui CL when he was 21 or 22 years old during the early 80s. Although he acquired it with good intentions, other priorities were more pressing, which meant Gerard's
Vega spent a while, waiting patiently, on the proverbial back-burner. Some 30 years in fact. Even after the project actually began, due to a variety of contributory factors, it took quite a lot longer than expected or anticipated to complete. With its breath-taking contrast of deep, dark candy blue paintwork and abundance of chrome plating, coupled with some clever one-off items, plus a Chiselspeed 140cc engine, it is finished at last.
I Get Around
Gerard cites a life-shaping night when he was a mere 14-year-old as his gateway to what has become a lifelong passion for scooters. Which was the first time he went to see The Jam perform live. Aligning his young self to the Mod revival, as it spread across the UK, by natural progression Gerard was to get himself a scooter. We all started somewhere; his first Lambretta was a Starstream 125, which, out of the entire output of scooters made at the Innocenti factory is part of the J-range and arguably the least sought after or coveted Lambretta scooter. Although they do have a small but loyal group of devotees, nonetheless in general engineering and design terms, Innocenti's decision to produce their version of a monocoque chassis scooter, inspired by the success of Italian rivals Piaggio with their Vespa models, wasn't one of their finest moments. Gerard's first National rally was Weymouth in the early 80s, by which time he'd gone from a Starstream to a Series 3 Li 125. Within a year or so of doing his first rally, Gerard did a deal that cost him £120, in return for which he took ownership of a rare UK registered Lui 50CL. Luna Lambrettas are Marmite machines, rarely is there any middle ground occupied: they are either appreciated or disliked. However, unlike their elder sister model, the J-range, Luna Lambrettas were designed by Italian engineering maestro Nuccio Bertone, which evokes a near mystical devotion from some Innocenti worshipers.
A significant amount of engine parts, as well as other J-range fixtures and fittings, are compatible items that can be used on certain Luna line scooters. It was obtained as a complete scooter, with a vague idea back then to rebuild it into something a bit different, at some point during its 30-year residency in his garage the original 50cc engine was removed from the frame.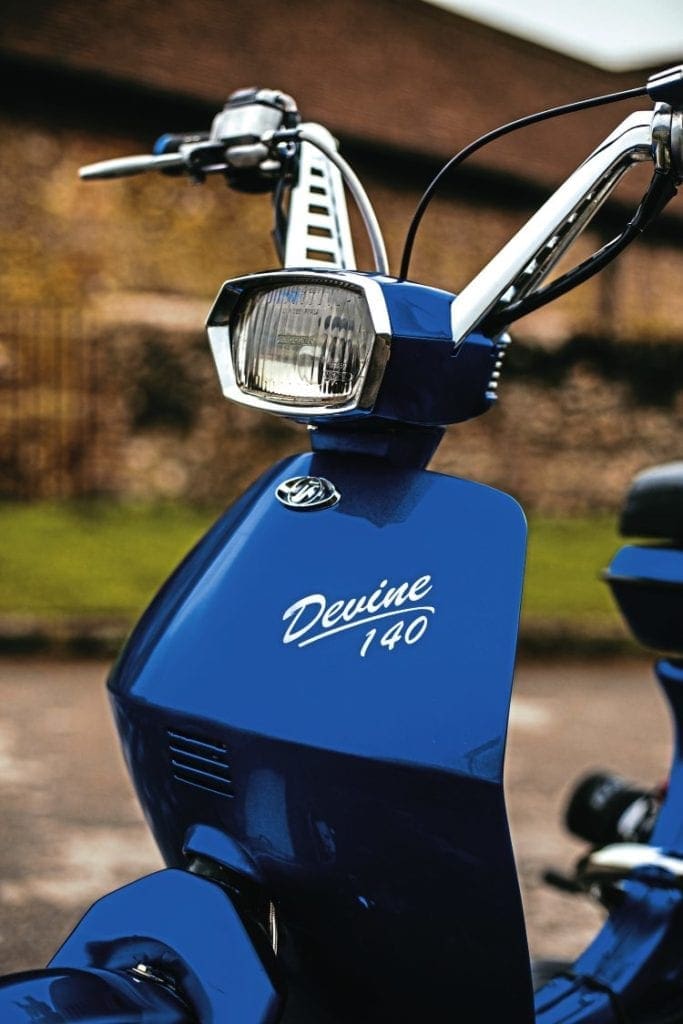 Let's Go Round Again
While never forgotten about entirely, Gerard's plans for his Lui were relegated to the back of his mind for three decades. Why then after some 30 years did he take the decision to do something with the little Lammy Luna? "It was a combination of things really, all kinds of new stuff for scooters coming on the market, other priorities having run their natural courses, as well as having something of a settled personal life. I had ideas on how I wanted it to be, some of the ideas had been around since I first bought it, others more recent. I initially got in touch with Mick (Gauntlett) at Surrey Scooter Services discussed my ideas, got put right on some of them, and pointed in the right direction on a few other ideas too. The plan was to get all the work done through Mick. This involved both the engine modifications and tuning and paintwork being subcontracted out, after Mick had carried out the clever stuff. Originally I wanted and went for having it sprayed in a pale blue colour. Once it was done I didn't really like it as much as I thought I would, then I went for as deep as I possibly could dark candy blue paint job. Which is much more to my liking. The colour combined with the chrome makes it really stand out. Dale at Extreme did a top quality job with the paint."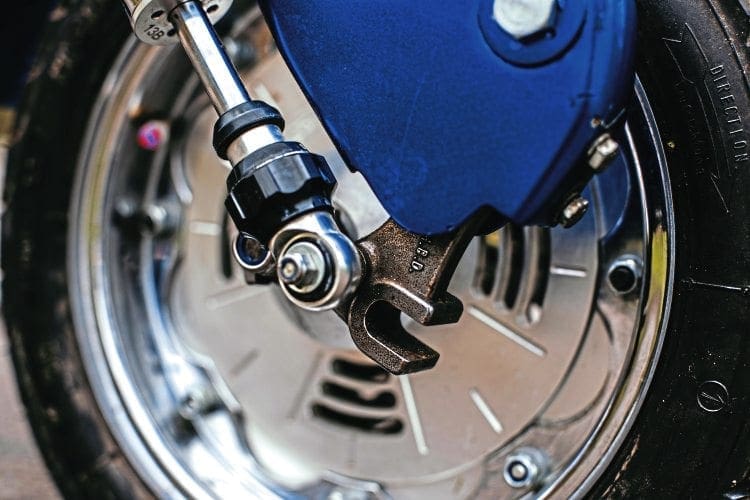 You Spin Me Right Round
As with most scooters that Mick Gauntlett has had some input and involvement with building, Gerard's Luna Lammy has had more than a few modifications bestowed into its makeup. Ones that enhance and improve the running, handling and braking have been carried out. "I'm a big lad; with that in mind it's been reworked to make it sit a bit higher, a bit taller than a standard Luna line scooter. This was achieved by reworking the front forks, of which the top stem are the original Lui item, while the fork legs and yoke came from Series 2 TV Lambretta forks. They have been modified to accommodate a BGM front disc brake set up, along with BGM fork links and dampers.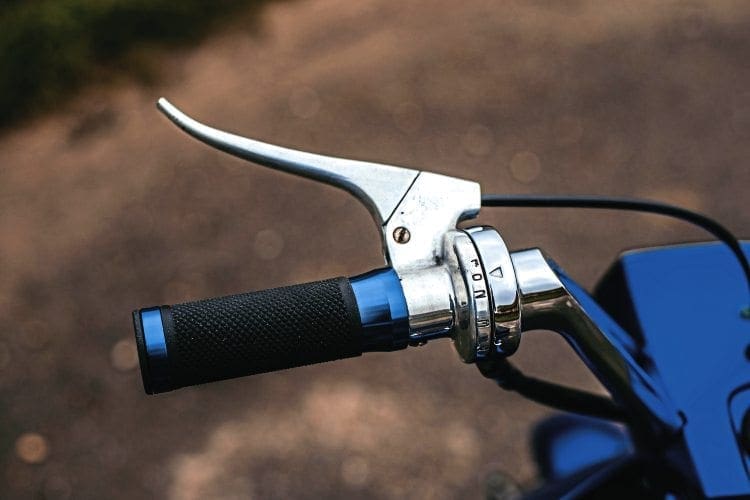 "The disc brake itself is a PM type item, which is operated by a one-off master cylinder unit. With the forks making the front sit higher than standard, the centre stand was extended and strengthened accordingly. Getting the modified forks to do what was required took a bit of doing, and needed a bit of reworking to iron out a few niggles. One of which involved the fatter front tyre swelling up as it got warm and starting to wear a hole in the side wall! This was soon rectified and re-modified to work as it should. There's a BGM rear shock fitted to provide all-round uprated damping."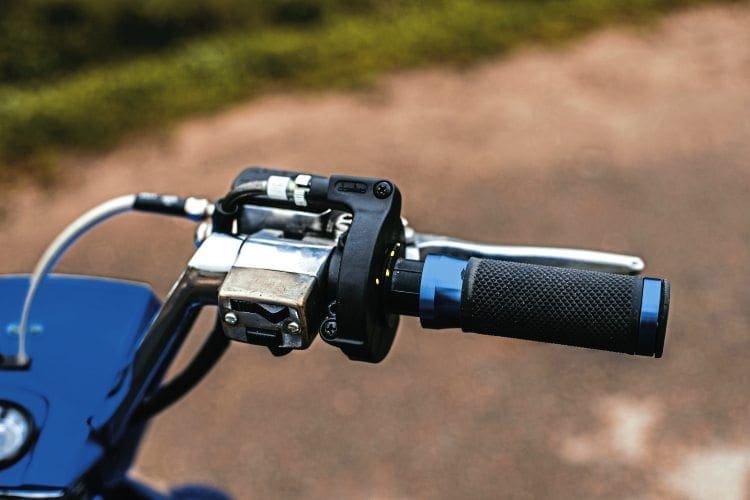 Circles, Go Round and Round
Chiselspeed were commissioned to work their magic on the engine, which is now light years away from the original 50 CL that accompanied the frame when it rolling off the Milan production line. Gerard's mislaid Lui 50 lump was capable at best of delivering 1.5bhp. Contrastingly the Chiselspeed 140cc motor, after being set up on Pro Design's dyno puts out just shy of 11bhp, an impressive difference. "The engine casing is from a Vega, with a gearbox out of a Starstream, which takes me back to my first scooter, a Starstream 125. It has a one-off, hand built to suit the engine Chiselspeed exhaust, with a 22mm Dellorto. Also, there's a lighted Vega flywheel, with a Variotronic ignition system, which I find, for the time being, a little weird. It's a lot different to a standard Lammy set up, I'm sure I'll get used to it the more miles I put on the clock. Quite a few things are taking a bit of getting used to, the Chiselspeed clutch was quite hard to operate to start with, it's starting to settle in and is easier to operate now.
"When I took it for its MOT, which was a journey of about 20 miles, I left the choke on by mistake, ended up running out of fuel, which was a bit embarrassing. There are a couple of changes I've got in mind, a set of matching control levers are at the top of the list of priorities, as is a heat guard for the exhaust. I've lost count of how many times I've got more than a bit hot on my leg while notching up some miles. It's an absolute must once I've finished running in; short distances are one thing, but going distances full throttle without any heat protection is an entirely different prospect. When it came to a name I decided to keep it simple: Devine 140. The first part is after my girlfriend Debbie, who put up with all my muttering and moaning about the scoot throughout the duration of its build.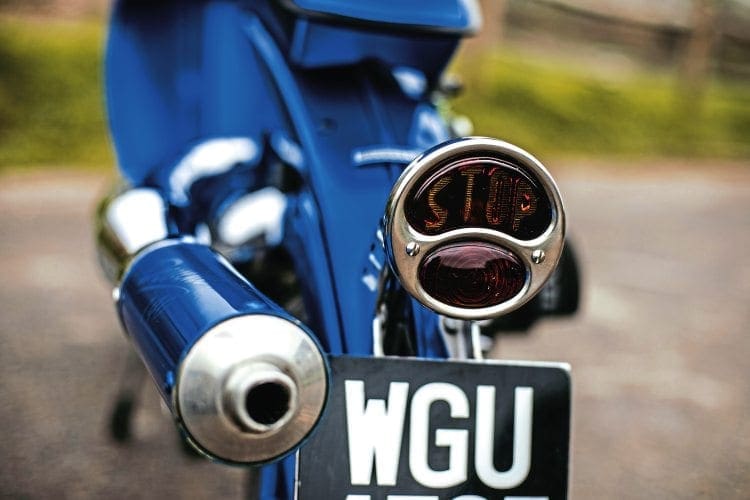 "The second part is pretty much self-explanatory as to its the scoots cubic capacity." In an, er, roundabout way, as Gerard mentioned above, with his neat, eye-catching and trick 140cc Luna line scooter, a small part of its make up nods back to the first scooter he owned. What goes around comes around, and that certainly applies here.
OWNER DETAILS
Name: Gerard James
Job: Tiler.
Scooter club & town: The Last Great Act Of Defiance SC.
How and when did you first become interested in scooters: Aged 14, went to my first Jam concert.
What was your first scooter: Starstream 125 Lambretta.
What is your favourite style of custom scooter: Classic and Mod.
First rally or event: Weymouth , '81/'82 I think.
How did you get there: Li 125.
What's the furthest you've ever ridden on a scooter: Guernsey.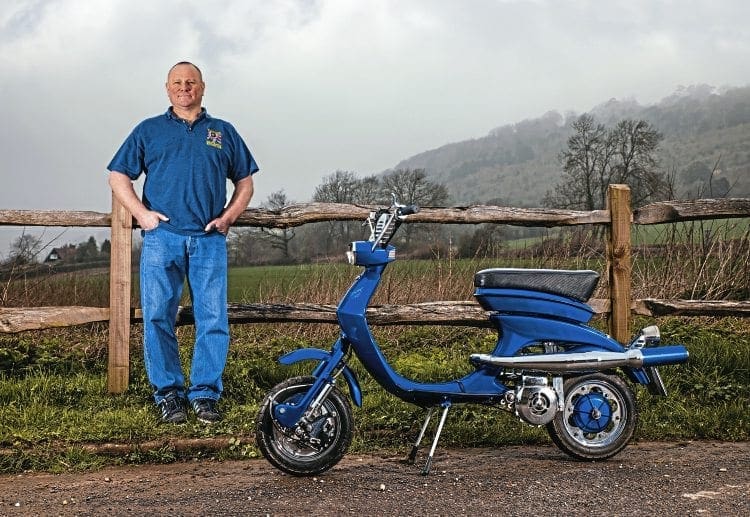 Name of scooter & reason: Devine 140, named after Debbie my girlfriend, and the CC.
Scooter model: Lui 50 CL.
Date purchased & cost: '82 or '83 £120.
Inspiration for project: It had been hanging round my garage for over 30 years, and with the new stuff that's around now for scooters, it was time to do something with it.
Time to build & by who: Surrey Scooter Services for all the trick stuff, Chiselspeed for the engine, Paint by Dale at Extreme.
Engine spec: Case: Vega. Flywheel: Lightened Vega. Exhaust: Handmade one-off by Chiselspeed. Clutch: Chiselspeed. Gearbox: Starstream. Carb: 22mm Dellorto. Porting: Chiselspeed. Dyno: Pro Design Scooter Engineering – 10.98bhp.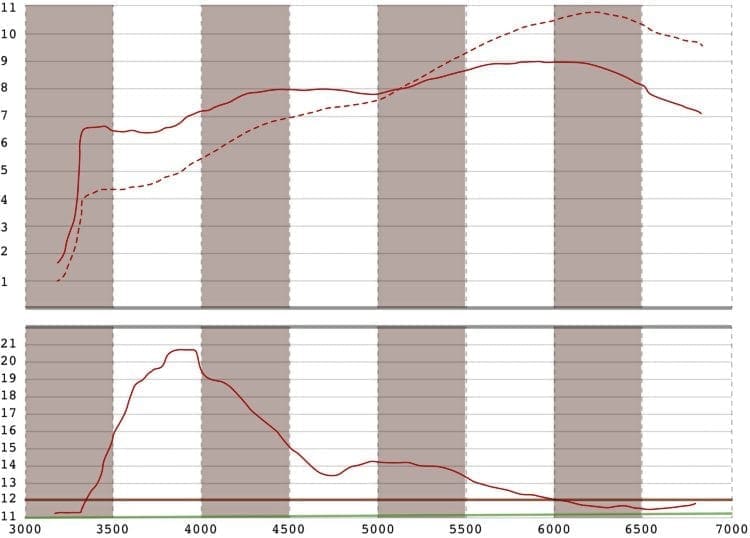 Describe engine performance, power delivery and scooter handling: Still running in, handles really well.
Are there any other unique details we have missed: Forks are a cross between Vega (stem and yoke) and Series 2 (legs) to allow for the BGM disc brake set up. BGM fork links. PM front 'saw' disc. One-off master cylinder. BGM front and rear dampers. Fork modifications make it higher/taller so the stand had to be extended. Variotronic ignition.
Paintwork & murals by: Dale at Extreme.
Overall cost: Around £6000.
Is there anyone you wish to thank: Mick Gauntlett at Surrey Scooter Services, Dale Challis at Extreme, Martin Cook at Chiselspeed, Roger at Pro Design, and… most of all, Debbie Bowen for putting up with me moaning about it while it was being built!
Words: Sarge
Photographs: Gary Chapman

Enjoy more Scootering reading in the monthly magazine. Click here to subscribe.