Words & Photographs: Stan
Once upon a time, in a land far away, there lived an unsuspecting TV175. Little did it know of the adventures to come…
A common criticism by non-believers is that Lambretta riders can take themselves a little bit too seriously. It's certainly not a charge that can be levelled against Ursula Schlatter, but don't be fooled into thinking this is a scooter that was thrown together for a laugh.
Swamp dwelling Shrek first hit the silver screen back in 2001, and since then has spawned everything from character toys to a Broadway musical. One thing which runs through the franchise is a distinctive look, hard to define yet instantly recognisable. It's a look which Ursula's Lambretta captures perfectly.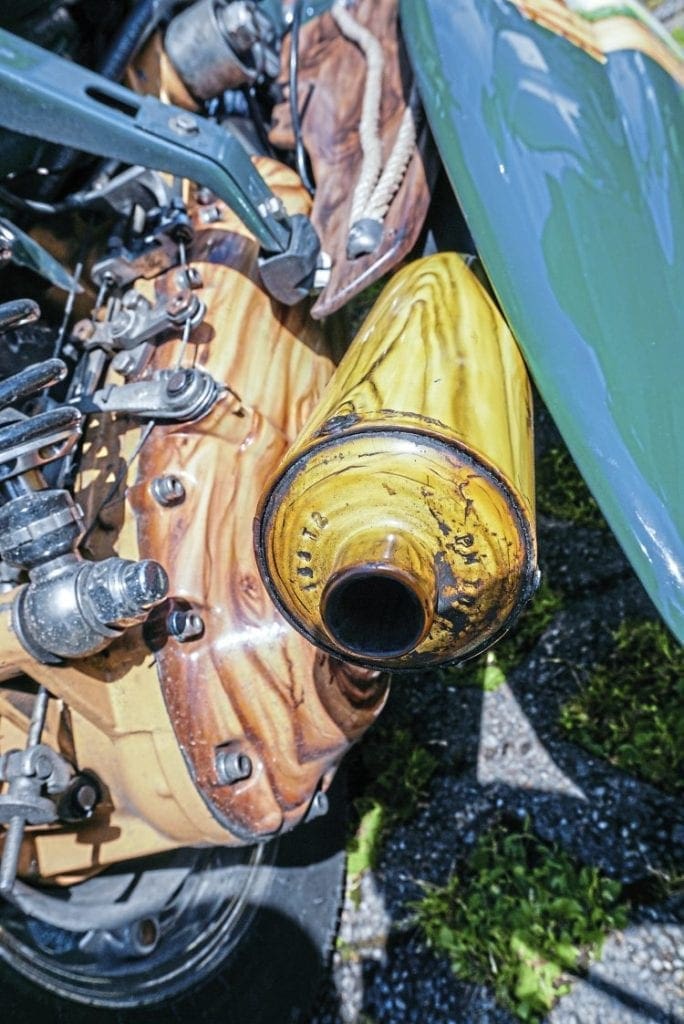 At first glance this is a tidy green Lambretta with a couple of murals but closer examination reveals a myriad of detail and a monstrous amount of work. Making ven more impressive is that all of this is 'home-grown'.
The artist behind the project is Ursula, which is probably just as well because the scooter's been a labour of love. The wood effect looks simple but is incredibly labour intensive. "The rear floor boards alone took me 40 hours," she explained.
However from an artistic viewpoint the most impressive part of the scooter is the ivy which winds its way along the mudguard and horn-casting. Together with the 'wooden' side panel handles, these have been individually modelled before being cast in aluminium.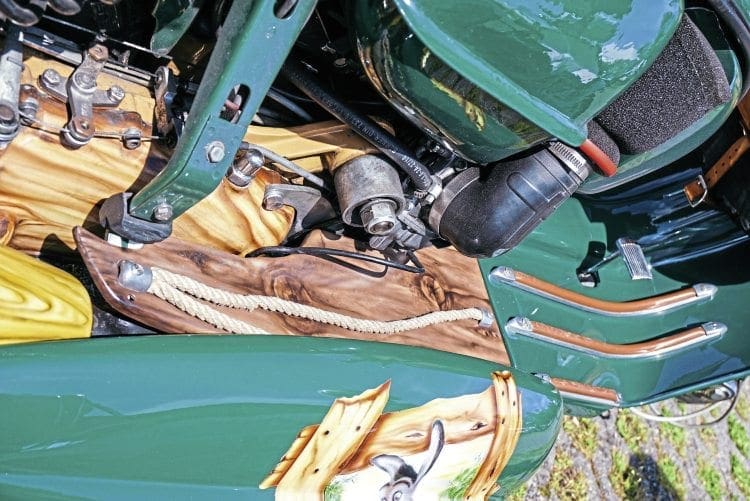 The attention to detail throughout the scooter is astounding and although leather luggage has been used on many customs to create a rustic look, not too many builders extend it to leather grips. Floorboard runners? They've been replaced with brown rubber on the legshields and rope on the rear footboards.
Every part of the scooter reveals another fresh idea, not least of which is the front end. In the world of slimline Lambrettas there's one almost universally loathed part and that's SIL's turning front mudguard.
There can't be too many standard machines that retain it and Shrek may be the only TV in the world to have one fitted, but it works.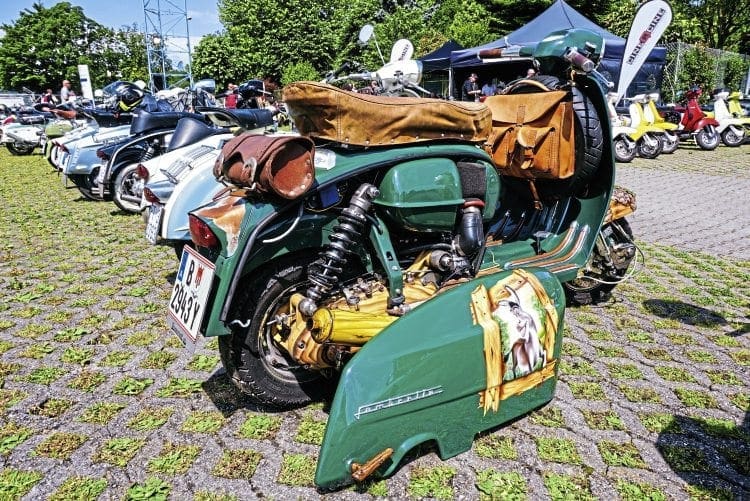 Incredibly Shrek wasn't built as a show scooter as one glance under the panels reveals that this is a well ridden machine. Based in Austria, Ursula's well placed for European adventures and these photographs were taken at the 70th Anniversary Rally in Monza.
In building Shrek, Ursula's shown that customs need not be 'worthy' to be taken seriously — it may be based on a cartoon but it's no Donkey!
WOMAN & MACHINE
Owner: Ursula Schlatter
Town: Höchst, Austria
Scooter: Lambretta TV175
Name: Shrek

Enjoy more Scootering reading in the monthly magazine. Click here to subscribe.