What could be a more fitting tribute to overblown stunt legend Evel Knievel than a scooter customised by an Italian? Our man Christian Giarrizzo zips up his white jump suit and sets off to find out…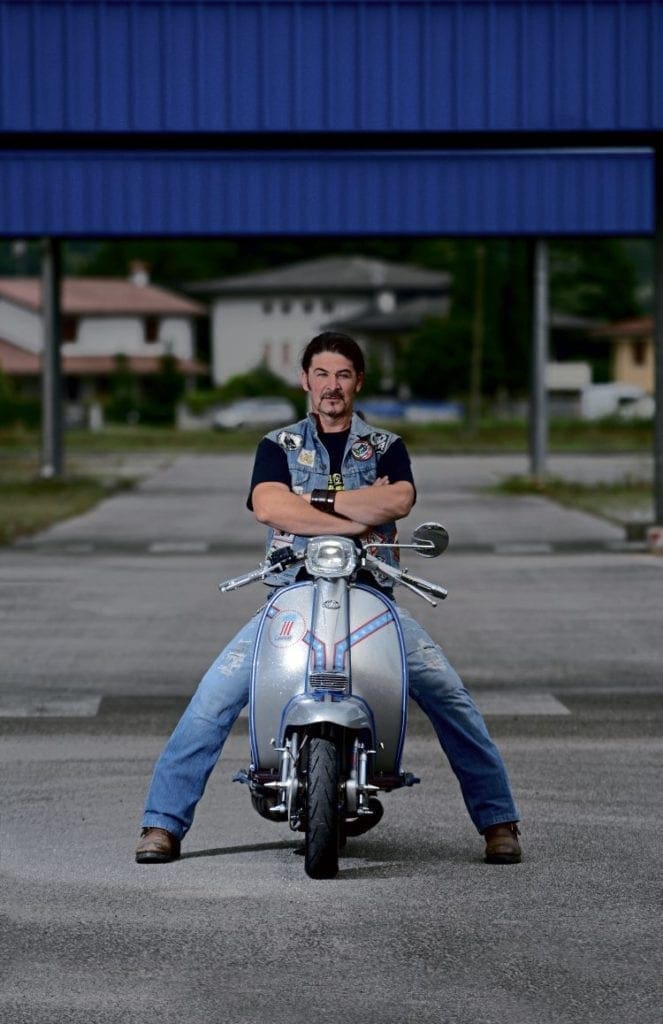 The legend
George Hamilton starred as iconic American motorcycle daredevil extraordinaire Evel Knievel in the 1971 film of his career up to that point and cemented the larger-than-life legend of the man.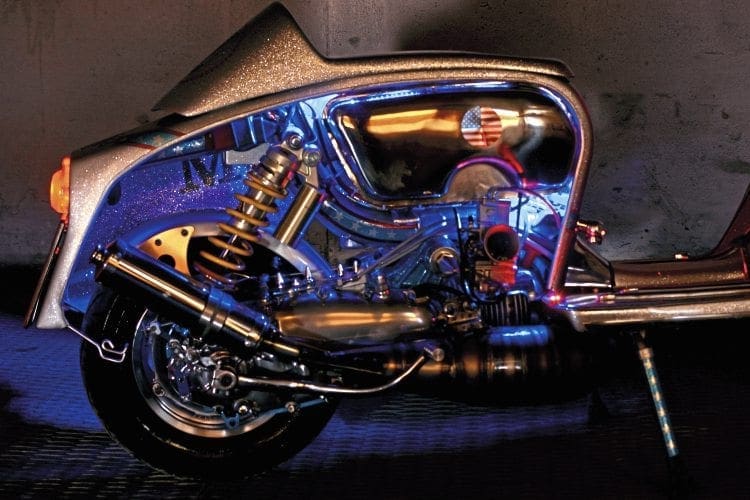 During the opening scene, Hamilton stands beside a red, white and blue Harley-Davidson XR-750 wearing Knievel's trademark star-spangled white jumpsuit and speaks directly to the camera: "Ladies and gentlemen, you have no idea how good it makes me felt to be here today. It is truly an honour to risk my life for you. An honour. Before I jump my motorcycle over these 19 cars – and I want you to know there's not a Volkswagen or Datsun in the row – before I sail cleanly over that last truck, I want to tell you that last night a kid came up to me.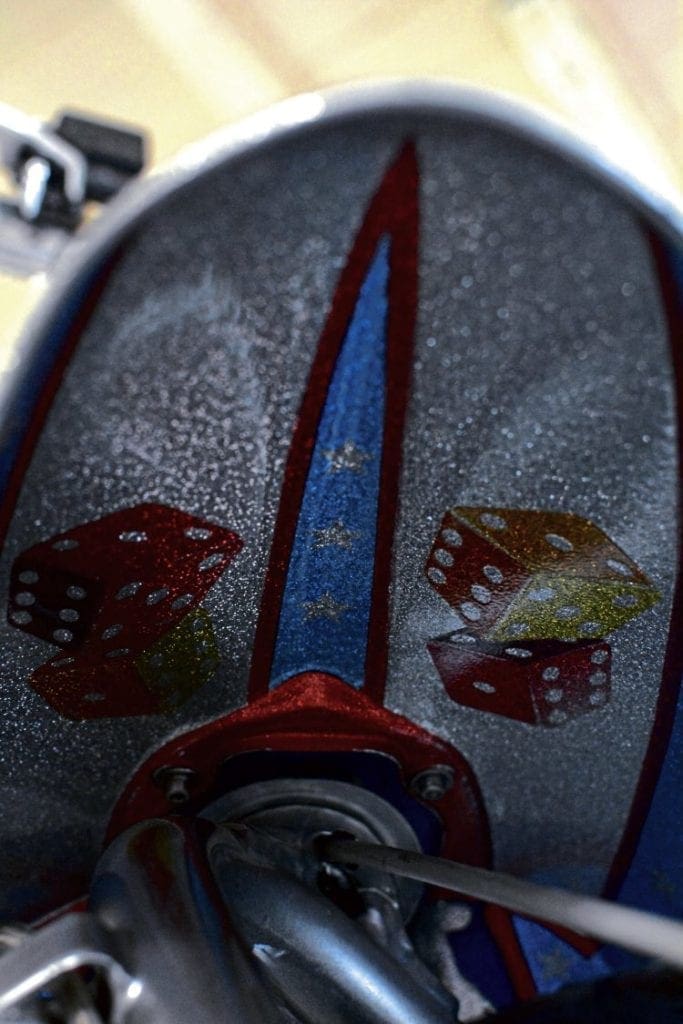 "He said, Mr Knievel, I think you're crazy. That jumo you're going to try is impossible. But I already have my tickets because I want to see you splatter. That's right. That's what he said. And I told him that boy last night that nothing is impossible."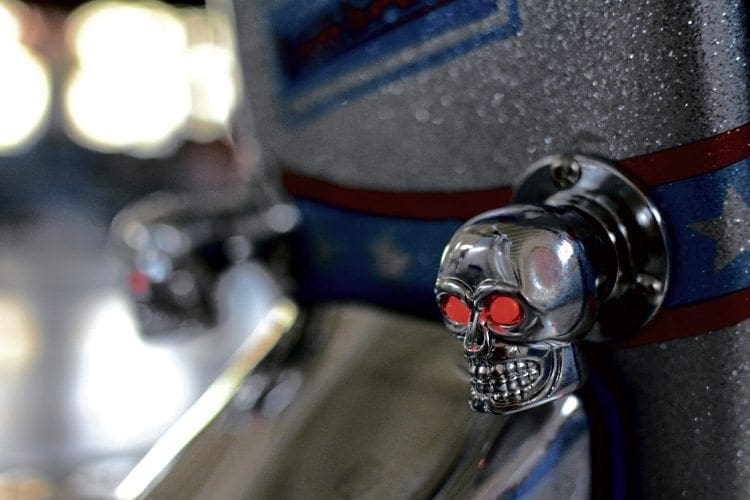 Hamilton then climbs aboard the Harley and rides away. He had read the script to Knievel himself, aged only 33 at the time, before filming began and later in life the stunt rider began using lines from it in everyday conversation. The line between fiction and reality had begun to blur – perhaps the point at which a legend is born.
The meeting
Could a Monza-propelled Lambretta built in Knievel's honour live up to such an iconic image? Luca Panont, the owner of just such a machine, assured me that it could.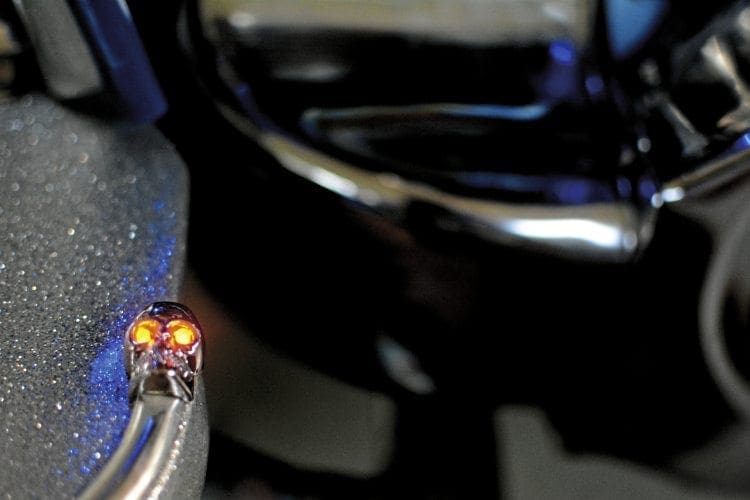 Over a crackly phone line he offered me an invitation to see it in the flesh. "Visit us, I will show you our team called Barbieri de'Rorai (Rorai's barbers), and we will go deep into Knievel's past."
It took me half an hour aboard by scooter Negra to reach Luca's body shop, La Nuova Carrozzeria, housed in an underground structure near the Pordenone railway station.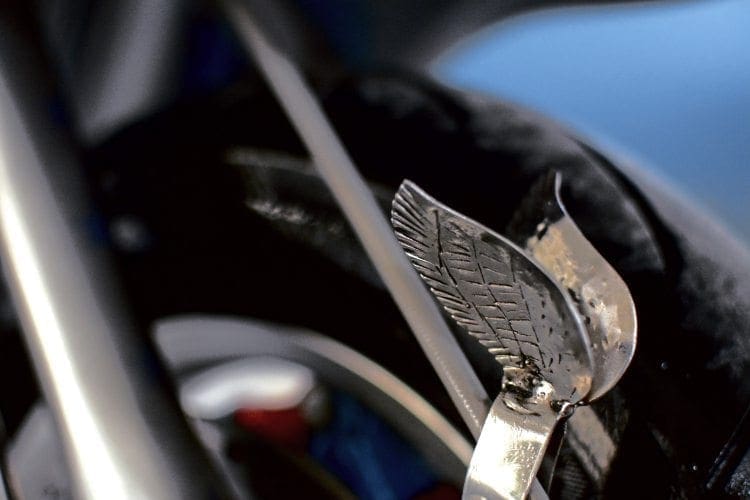 I was strongly reminded of the 70s movie Gone in 60 Seconds as I arrived, though Luca quickly brought me right back into the present – greeting me in his scooterist outfit of jeans, waistcoat, boots and a big smile. I'm not sure whether the picture was enhanced or not by the appearance of a ponytail over his left shoulder.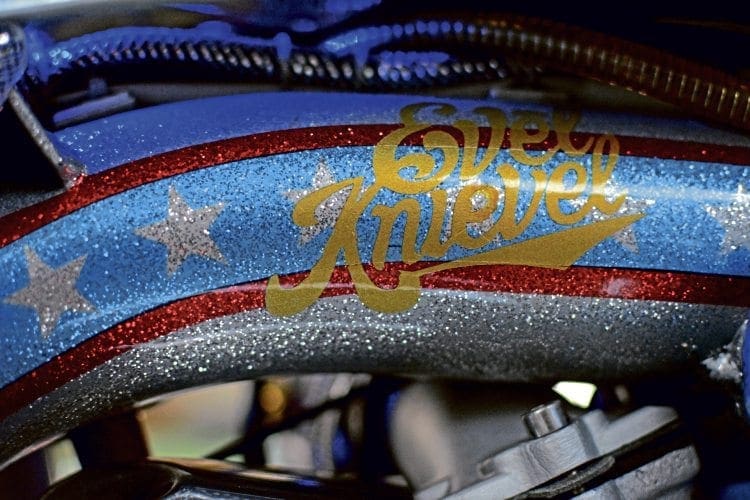 Everything in the shop was exceptionally clean and tidy and as I sat down Luca was already brushing the ice off a couple of fresh frothy beers. The smile stayed in place, never wavering, as he told me: "I am part of a team of eight – there's me, Giulio, Pietro, Alberto, Fabione, Cristian, Emanuele and Gian the detail man. We are called the barbers because we meet up at Guilio's mum's old hairdressers shop. When she retired we took over her place to use as our headquarters. Now it's a scootering hideaway for the whole neighbourhood."
The history
As he was talking, my gaze strayed outside the office toward the centre of the shop. I spied a shape – a reflection in the window. The pleasantries were certainly being observed but the Knievel-Lambretta was already calling to me. Luca wiped a puff of beer foam from his nose and told me how he had come to see the light: "I was struggling with money, my fiancée left me and I was hurting. So I decided to sell all my property to make some ready cash.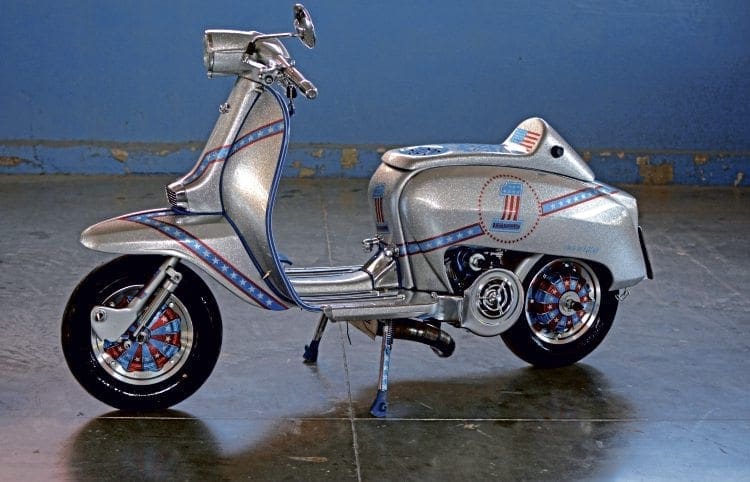 "At that moment, my pal Giulio spotted an old Lambretta I had stashed in my cellar years before and told me: this is going to be your new start; customise it and it will restore your fortunes. Naturally, I didn't pay too much attention to this crazy idea. I had no money for that — I was desperate.
"But he had put the idea into my head and one day, sure enough, despite everything, there was my golden Li150 Series 3, standing in my courtyard, ready for restoration."
He paused and put a finger to his face. I think he was brushing aside a small tear. Memories can be incredibly powerful things — capable of touching even the souls of big boys like Luca, who stands 1.94m tall. I invited him to continue has story as tactfully as I could, one eye still on the scooter I'd come here to see.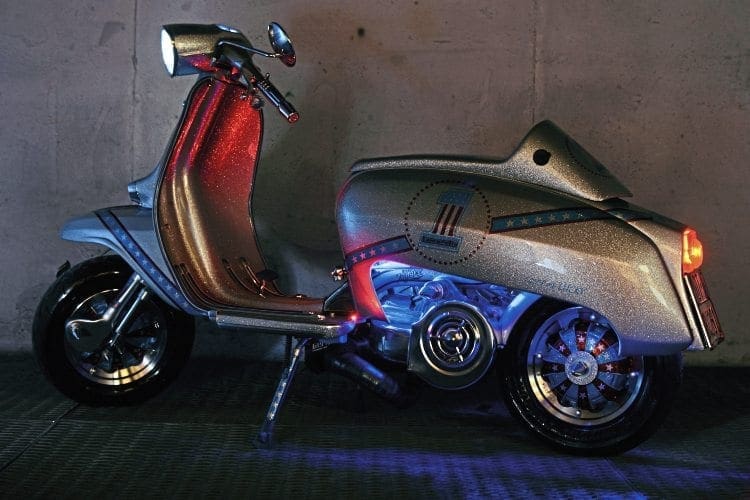 "I restored this first machine like a maniac — to the point where I gained the most prestigious Italian honour for vintage scooters, the Targa Oro (golden plate). I have to admit that if it wasn't for Giulio I would probably have felt desperate and broke for many more months; working on that little machine gave me time to rethink my life and gave me new energy to do something about my circumstances.
"It was precisely in that moment that I felt the need for a new project, something more challenging for me, so I found this chassis and got to work collecting and putting together all the pieces of the puzzle."
The tribute
So how does Evel Knievel, of all people, come into this little story of redemption? "I wanted to create a tribute to the craziest and most courageous man of all. Look, I own a Harley-Davidson and I know how proud and touchy these men can be. As a matter of fact, I'm usually mocked by them.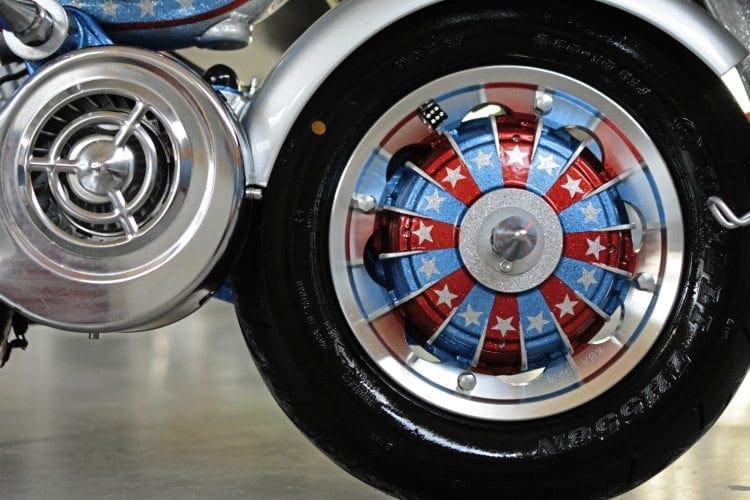 "But they think differently when they're listening to the noise of my Lambretta as they're eating my dust. When we get to the next traffic light they offer me a beer and it becomes an enjoyable encounter, rather than an aggressive or angry one. We may all look like grown-ups but we're all 23-year-olds on the inside."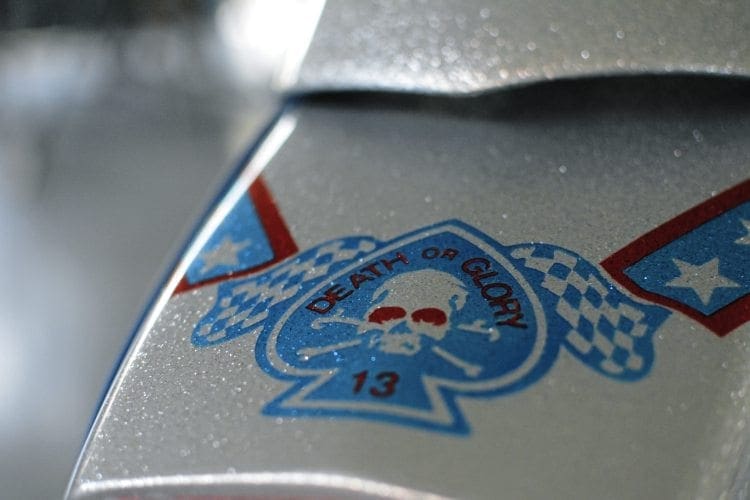 At this point I happened to notice a series of designs on Luca's T-shirt — one of which was the number 23. Why 23? I wondered. "This is my age — always," he replied, smiling behind the big beer.
And so to the Evel-Lambretta. Luca grinned proudly as we admired its paintwork: "My pal Gian helped me design the stripes and Knievel logos — I can't thank him enough."
As far as the technical side of things is concerned, the Evel-Lambretta has quite a few modifications to be proud of. Luca's business partner and friend Claudio Tonel is known as the best metal shaping artisan in these parts and rumour has it that he can modify sheets of metal like Magneto from the X-Men — a rumour I can personally verify as the truth, having seen a Jaguar E-Type he has restored.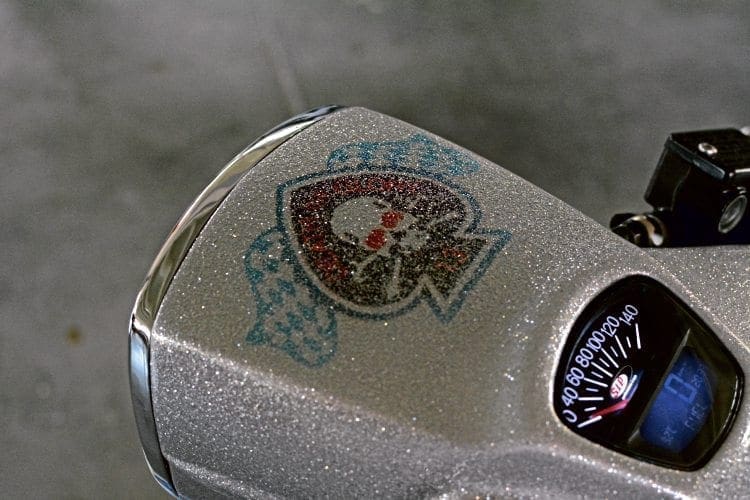 From the tail forward, Claudio shaped a Serveta form but subtly altered to accommodate a Honda 750 four. The petrol tank cap was moved to the front using a Ducati Monster spare part and every single engine support bracket was repositioned to provide room for the fitment of a new GORI seat and a new stop light.
Luca smiled. "Although the big tank was beautiful, one day I saw a couple of earrings belonging to my wife — God bless her — and I used them without telling her."
Don't you worry, I told him with a wink, Scootering readers know how to keep a secret. Evidently every insulation piece for the scooter's electrics has been added using the tools Luca's wife uses to make vintage necklaces too.
Some of my favourite modifications are the handlebar, handmade from a Piaggio part in the 1980s, and the cladding of the central kickstand which comes from the tripod of a German Mauser MG42 machine gun, dating from the Second World War.
The powerplant installed in this piece of art starts with a 225 Monza engine, five-plate clutch and a 'peacemaker' gearbox.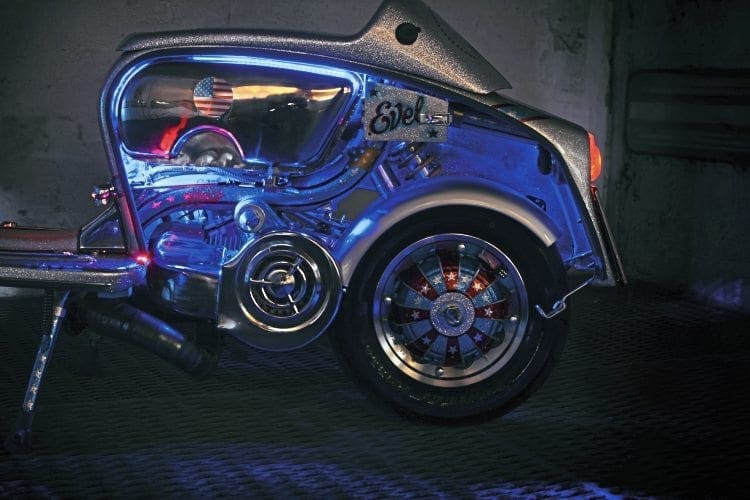 Apparently the most difficult part of the custom job was creating the hubs. These required 12 hours of work each. And using ink can be a nightmare with metal flake — it took three years to develop the technique. After the metal flake base is ready, the painter has to work very precisely with small tapes, preparing all the red parts that will be filled with special ink. After this stage is sprayed and dried, the body is then prepared for the blue detailing. Last comes the clearcoat, which is then layered on.
Luca is keen to keep the scooter on the road even though it seem like it's been designed just for shows and custom rallies.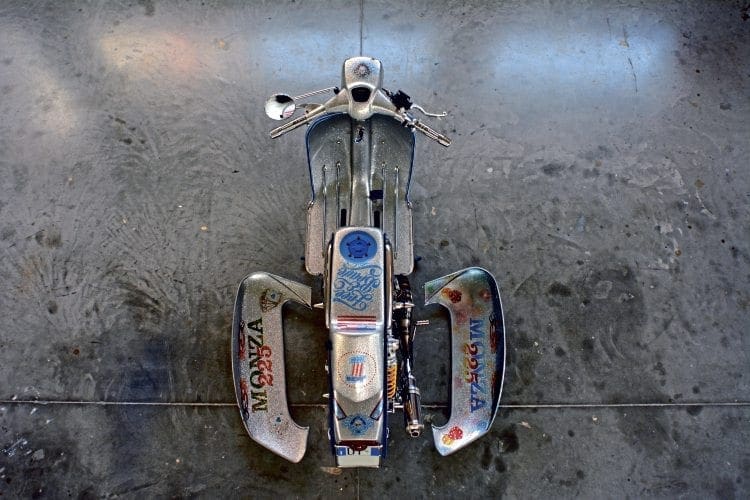 "It still needs a fine tune-up and a proper carburation tune, but I can't detect any problems for now." We had drunk our beers by now and it was time to fire up the engine and go for a ride. I was smiling as Luca warmed up by trying a couple of small jumps on the industrial estate access road outside his premises. Even though this was a little risky, it took me right back to the whole point of this scooter — honouring the legend of a man who risked everything to entertain.
Despite this, I found myself hoping that Luca doesn't go quite so far as to break 443 bones like his scooter's namesake.
Words & Photographs: Christian Giarrizo

Enjoy more Scootering reading in the monthly magazine. Click here to subscribe.