Armandos Special Vespas and Arthur Francis Lambrettas are unquestionably two of the most iconic names when it comes to dealer specials, and owner Mickey created his own versions of these classics…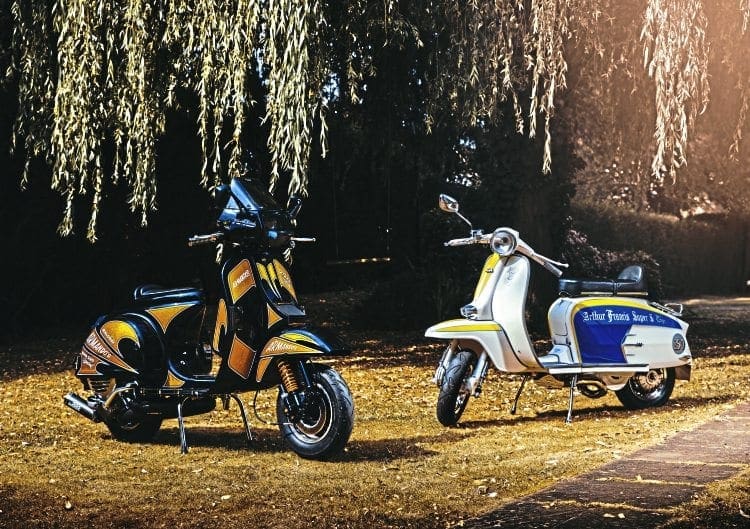 Replicas of any classic scooters tend to invoke vastly differing opinions, which, especially in today's social media driven world, can often become polarised. Keyboard warriors shoot from the lip, dogmatically pontificating their viewpoint to the absolute exclusion of all others, and this can result in fallouts of near nuclear proportions. Opinion, debate and discussion is of course healthy, because if we all had the same views it would be boring, to say the least. But if the owner is happy with the end result, that's what matters… and if the finished scooter appeals to others then it's a bonus. So the questions are… when is a classic not a classic and when is a replica not a replica? Nut and bolt, all original, concours standard restored classic scooters are things of beauty, and likewise… replica machines painstakingly recreated using all the parts that would've been fitted to the original are similarly regarded. Yet to some, if a replica or a dealer special isn't 100% true to the original, as far as they're concerned, it's not right. Conversely, how many 'original' classic scooters are currently fitted with engines, kits and other items, to improve reliability, handling and power output?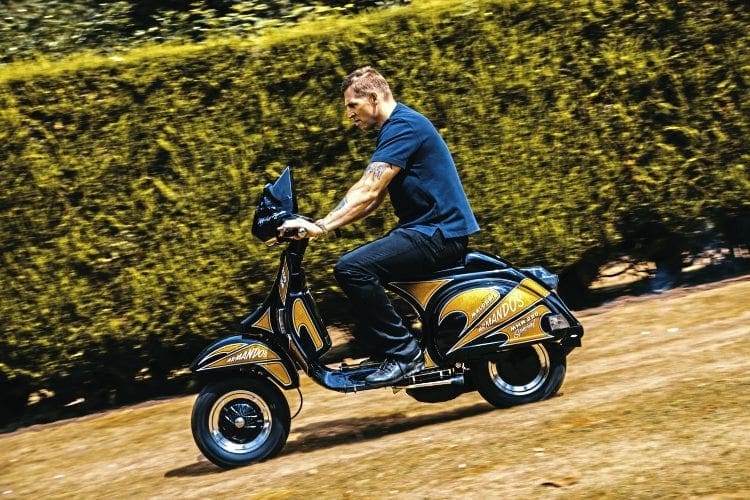 When all is said and done, opinions are just that, in an ideal world if we don't agree isn't it easier to agree to disagree? Life's too short to fall out over things that on the greater scale are no more than trivial. Let's not forget that almost every time a new scooter is sold, or a second-hand scoot changes hands, the owner puts their own stamp on their machine by personalising it, which is the base of customisation. Any custom project is usually only restricted by bank balance and the owner's imagination… some have more of one than the other usually! Needless to say, when Mickey Taylor set out to create his own take on iconic Vespa and Lambretta Dealer Specials, there were few if any limitations.
A Dab of Soul
Mickey Taylor is no stranger to the pages of Scootering; some years back his Leeds United themed custom Lambretta was a feature scooter. The photoshoot for this took place at Leeds United FC's Elland Road stadium. Company director for three separate companies, Mickey has four passions, all of equal importance to him: the Mod scene, scooters, rare northern soul records and Leeds United football club.
"It all started for me in '79 — from then onwards I've always been a Mod. I was doing the CCI and then later the Untouchables rallies. I started DJ-ing on those Mod rallies, playing rare northern soul, on original vinyl, in the late 80s. I sold some of my big records in the 90s; I kept back a few hundred of my then personal favourites. Just as well I did, because in '97 I ended up being Ocean Colour Scene's tour DJ. I even have a cameo appearance in the video for Better Day. Over the past few years I've rebuilt my collection of rare soul records, now I DJ all over at the biggest events and all-nighters. I've joined the resident DJ roster for Key Roberts' Gold Soul promotions, an achievement that is displayed on my Armandos replica."
Soul Superman
Armandos Special Vespas, based on a P-range with a distinctive two colour paint design, fitted with all manner of Pinnasco uprated parts, are rightly regarded as one of the best remembered dealer special scooters from scooter boy era of the 80s. Armandos Specials are still available, by order, today. Iconic they certainly are, though given the stereotypical perception of what constitutes Mod, and for that matter Mod style scooters, what was it about Armandos Specials that made Mickey decide on building a replica? "In 1986, I was on my way to Lowestoft Mod rally on a 125. Over the same weekend there was a National scooter run in Great Yarmouth and two Armandos Specials came past me like I was stood still. From then onwards I've always said that I'd have one, one day. I've had a few discussions with some of my Mod mates, some of who tried telling me than an Armandos isn't a Mod bike, I had similar comments about my Arthur Francis Super S Type replica not being a Mod bike too. To me, part of the whole Mod ethic is about one-upmanship, to be one or more steps ahead of the crowd and to be different to everyone else." An outlook that invites the question: if you wanted an Armados Special why didn't you go to Armandos?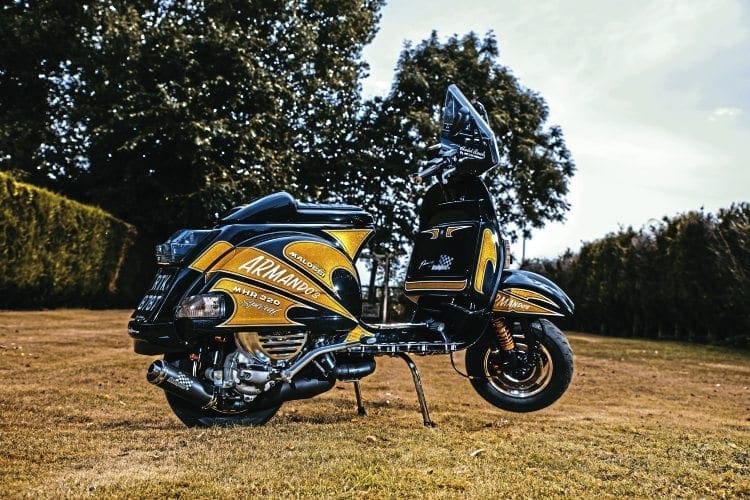 "Keeping to the Mod ethic of one-upmanship, I wanted to put my own spin on an Armandos, built to my specifications, incorporating some of the upgrades and improvements that have arisen since the mid-80s. Original Armandos Specials put out something like 22bhp, which was not enough for me. My Armandos replica gives just under 33bhp. Craig has done a fantastic job in replicating the Armandos style paintwork, including working in the signwriting of the arts unique to my replica.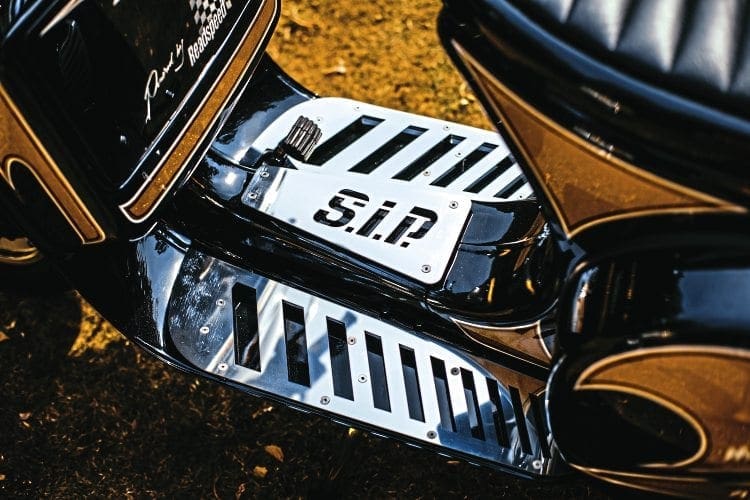 "Readspeed did all the work on the engine — Pinasco casings heavily tuned and matched to suit the equally tuned and ported Malossi top end. While there's lots of uprated items on my Armados replica the item that's made the most difference is the one-off exhaust system. It's bespoke, tailored to suit my engine. It really does deliver the power, the power band kicks in delivering real power, it absolutely flew the other day going along the A46 in the fast lane. It's the best Vespa, in both handling and performance that I've ever ridden. It's not missed a beat and is super reliable. It's an Armandos replica built to suit my requirements."
Sweetest One
In terms of longevity the longest running of all dealer special scooters is the Arthur Francis S-Type Lambretta. Starting off in Watford during the 60s Arthur Francis S-Types evolved over the decades, transforming over time into the still available AF Rayspeed S-Type. Some of the development of S-Type Lambrettas was proven on competition scooters. Brothers John and Norman Reynolds pioneered the on-track development as Team S-Equipe, later Arthur Francis' apprentice Ray Kemp continued proving the ability of the Arthur Francis S-Type on the racetracks. Ray eventually took over the business from Arthur Francis, then relocated to Yorkshire. Four years ago (2014) Arthur Francis S-Type celebrated 50 years, their Golden Jubilee. As with his Armandos replica, Mickey had his own take on what he wanted to create.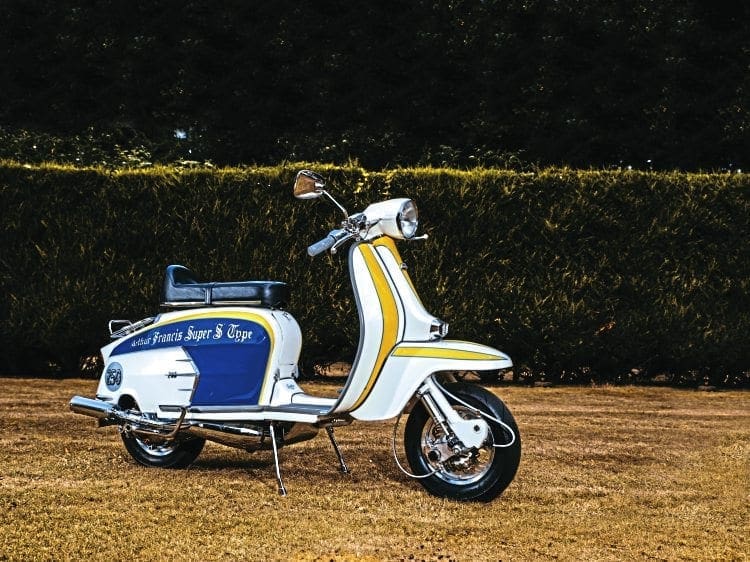 "I liked the look of the early Arthur Francis S-Types, again being a Mod and adhering to the ethics of Mod, I wanted something that looked like a 60s S-Type but was much better than what was available back then. I got a 1965 TV200 with the chrome headset ring, sent all the frame and bodywork to Craig, with a basic instruction to paint it up like an early S-Type. Using Leeds United colours White, yellow and blue. The engine is a 250cc super Monza with a lot of tuning and additional work carried out by Chalky at Replay. On the Readspeed dyno, it registered 35bhp, which is fairly quick."
Caviar And Chitlins
A Vespa and Lambretta that evoke memories of the mid-80s and mid-Sixties respectively. Times when dealer specials were regarded by some as the ultimate scooter. By putting his own slant on two iconic dealer specials, Mickey has a brace of machines more than capable of coping with the demands of 21st century riding. Of course, there'll be detractors whose opinions are not complimentary, not that it bothers Mickey; both were built for him, to meet his requirements. After all, beauty is in the eye of the beholder. Mickey has never let other people's opinions cloud his views, and he certainly won't be starting now.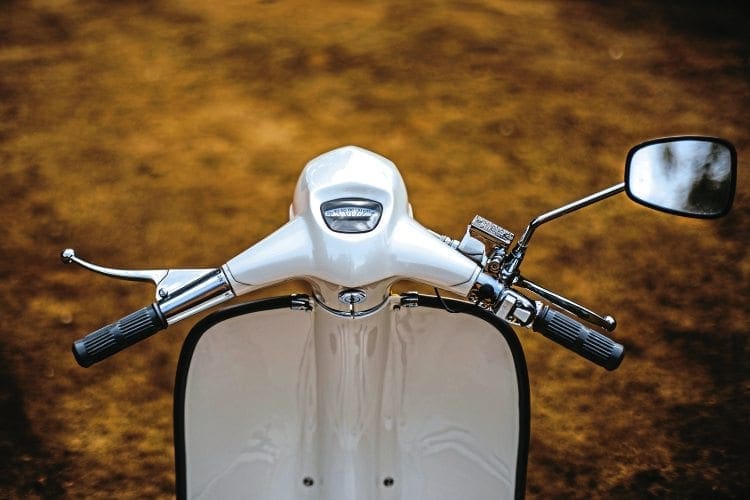 OWNER DETAILS
Name: Mick Taylor
Scooter club & town: From Nuneaton, was in Collybosher SC Birmingham.
How and when did you first become interested in scooters: 1979 as a young Mod I was fascinated by them and it hasn't changed since.
What was your first scooter: Vespa PX125.
First rally or event: Brighton CCI Mod rally 1986.
How did you get there: On my PX 125.
Favourite and worst rally/event: They were all too good for words, no bad ones, CCI and Untouchables were the best days ever.
What do you like about rallies/ events: I don't go so much now because my crowd don't go.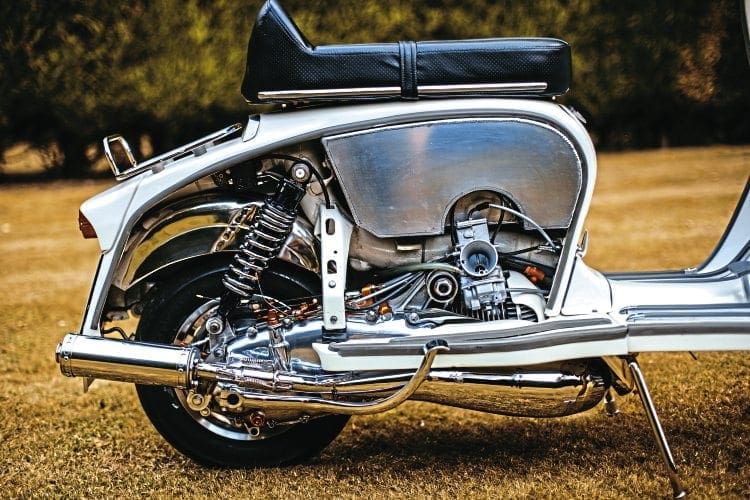 VESPA DETAILS
Name of scooter & reason: Just A Boys Dream – Armandos replica.
Scooter model: P-range Vespa.
Inspiration for project: I always wanted an Armandos when I was younger.
Engine spec: Malossi heavily ported.
Case: Pinasco casings, heavily ported and matched. Flywheel: Vespatronic. Exhaust: One-off hand-made. Clutch: Readspeed spec. Gearbox: Readspeed Spec. Carb: 30mm Dellorto. Dyno: 32bhp by Readspeed.
Describe engine performance, power delivery and scooter handling: Best and most powerful Vespa I've ever ridden.
What was the hardest part of the project: Finding the money (ha ha).
Is there anyone you wish to thank: Craig Scooter Paint Shop, everyone at Readspeed and my wife. Kev Roberts at Gold Soul Promotions for making me a resident DJ at every major soul event in the country.
LAMBRETTA DETAILS
Name of scooter & reason: AF Replica.
Scooter model: TV Lambretta
Inspiration for project: Always wanted an AF S type.
Engine spec: Super Monza 250 additional porting and matching. Flywheel: Casatronic. Exhaust: Franspeed race spec. Clutch: Cassette Clutch. Gearbox: Super Monza. Carb: 35mm Mikuni. Dyno: 35bhp Readspeed.
Other: Japanese con rod, MGM shocks, Casa cylinder head, SIP speedo.
Is there anyone you wish to thank: Craig Scooter Paint shop, Chalky at Replay, my wife for putting up with me and my toys.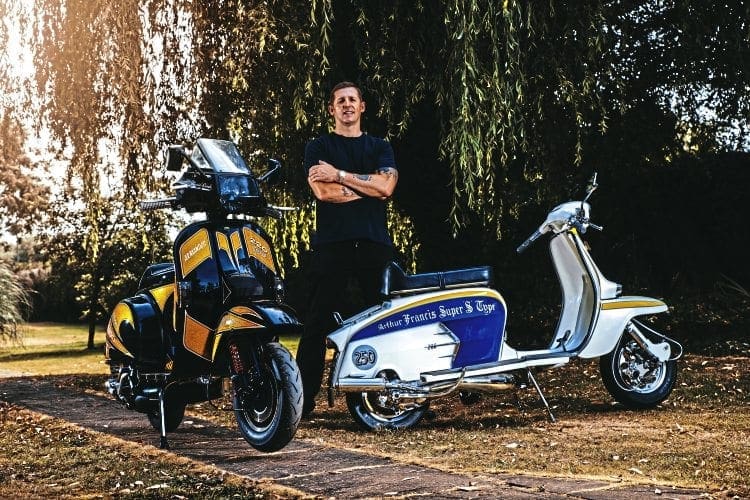 Words: Sarge
Photographs: Gary Chapman

Enjoy more Scootering reading in the monthly magazine. Click here to subscribe.