There are many gems lurking in the vast archives of Scootering – including the tale of Graham D's Vespa 150S…
Graham is one of that ever-increasing bunch who found their way to scootering comparatively late in life. A series of fast bikes preceded the interest, and a succession of bad 'offs', combined with matrimonial and parental responsibilities, made him realise that perhaps it was time to slow down a touch. Looking at the spec of the Vespa 150S he's built, I'd put the emphasis on 'a touch' there, as it's not quite as slow as it might, at first, appear…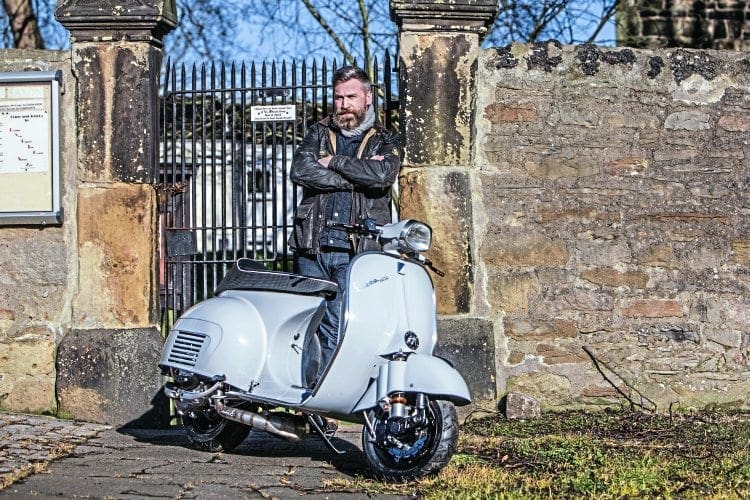 He has his mates to thank for his late conversion to scooters though, unlike him, they knew the wonders of pottering around the countryside many years before him, and a trip to
North East scooter shop Motech a few years earlier had introduced him to the luscious lines of the Vespa Rally, and that was the direction he found himself drawn in when he decided that it was time to slow down.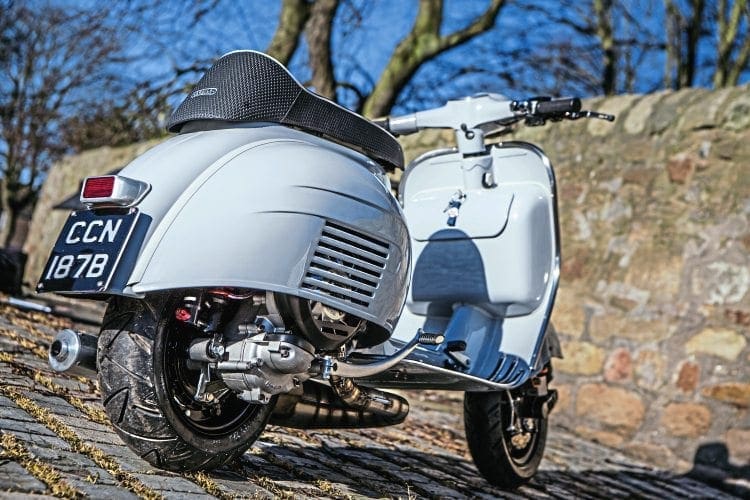 Since that time, he's amassed quite a collection of classic scooters. The one on show here is part of a stable which includes a pair of Rallys, a Mk2 GS160, an SS180 and three other examples of this model, along with a couple of examples of the other major marque.
This one is something special though. It's not one of those scooters where you take a look and see the obvious, or even one where a good look reveals secrets that you'd overlooked the first time. To get an idea of what is really going on here though you'd need a pile of tools, some measuring gear and an understanding of exactly what you're looking at to appreciate the work, knowledge and expense that has gone into building this motor. 'Fire breathing' is an oft used expression. This doesn't breathe fire; that would be a waste of energy. There's none wasted here — it's all used to maximum effect.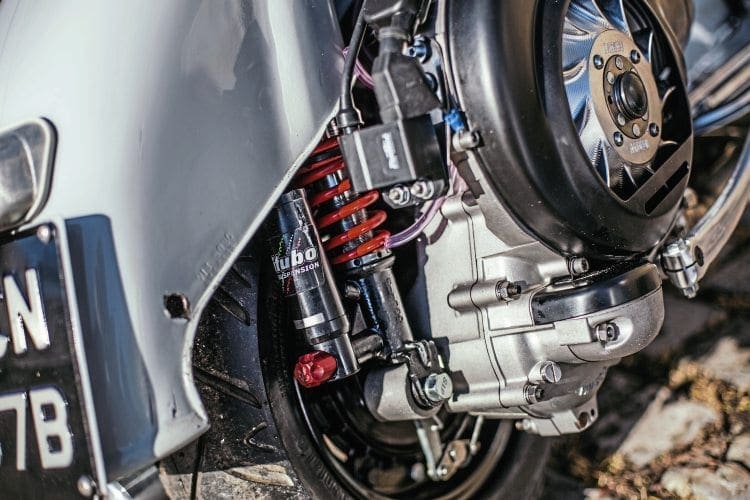 Before looking at the lump which powers it though, let's have a quick look at the outside of the scooter, a superficially tidy, if not entirely standard-looking example of a lowly Vespa 150S.
Finished in Fiat Abarth Campovolo grey, there are no shiny bits to get excited about, no engraving to drool over, Just a muted, understated colour which both suits the age of the scooter, and continues to disguise what lies underneath.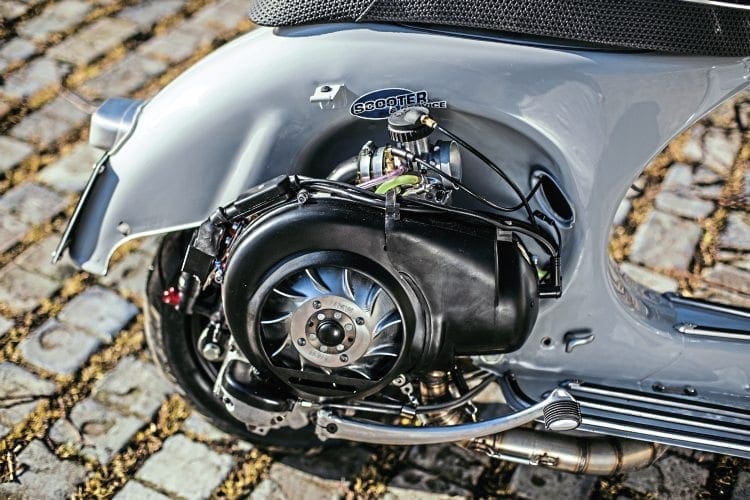 Yes, it has a few suggestions of what is really going on — the Superlow forks from Scooters & Service (S&S) give an aggressive line, the disc and completely unsubtle shock that is partially hidden below the mudguard say that the machine may need to haul itself up short in a hurry, but overall, it speaks of 50s style.
That's the exterior briefly dealt with, now for the important bit.
The motor is pretty much a state of the art piece of Vespa exotica. Except that's the one thing it isn't — there isn't a single Piaggio originated component involved in the motor.
Based around a new set of Pinasco Reed Valve specific cases, the top end is a mighty 172 Quatrini M1X kit, which uses a 60mm reed crank to hoof the capacity up to around 180cc, the S&S reed block uses Tassinari VForce reeds which suck from a Keihin PWK 35mm carb and spit the fumes out of a DE Bullet stainless steel exhaust.
To get that beast of an engine firing in the first place, a Pinasco Flytech ignition kit throws sparks out, and the power is delivered to the road via a DRT close ratio gear set, which in turn is driven by 23/65 primary from the same firm. All this wouldn't be of any use if it couldn't be transferred from the top end, so a BGM Superstrong clutch transfers the power from crank to gearbox.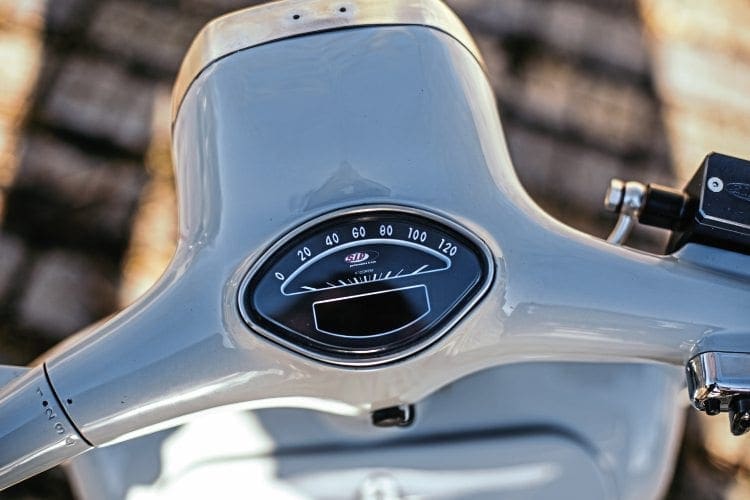 To get the absolute best from this exotic set up, the engine was entrusted to the more than capable hands of Sean Brady at Scooterotica who ported and built the engine to his usual high spec.
So how does it go? Well I suppose… WAAAAA, WAAAAAAAAA, WAAAAAAAAAAAAA, WAAAAAAAA AAAAAAAAAA is one way of putting it, but a more serious answer is that is should pull ovr 80, sitting comfortably at motorway speeds with a bit left on the throttle, but sadly Graham hasn't had chance to run it in anger, it having been freshly built this winter. Come the suitable weather though, and it will be out harassing innocent road users in earnest.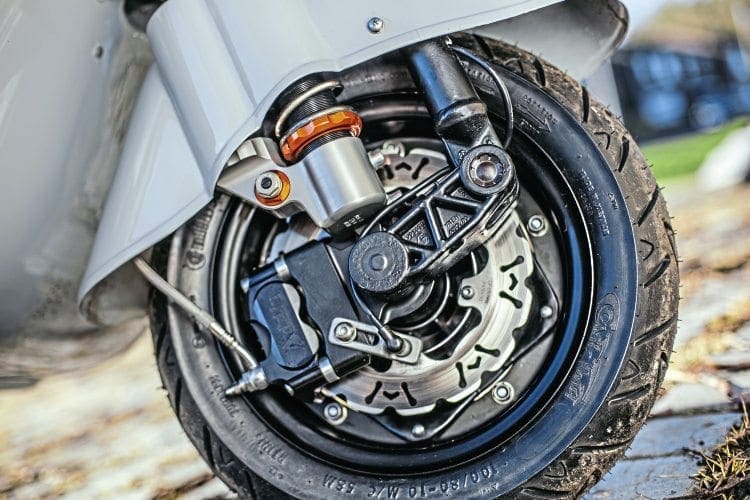 For a scooter that looks like it should be running at maybe 50 on a good day, it's a genuine street sleeper that'll give the competition a rude awakening.
SCOOTER DETAILS
Owner name: Graham D
Job: Company director.
Scooter model: 1964 Motovespa 150s (Mk.2) in Fiat Abarth Campovolo grey.
How much did it cost: Bought April 2013 as a rough but running and riding scooter for about £1100.
Inspiration for project: The German Custom Street Sleeper/Racers from the likes of Scooter & Service etc.
Time to build: About nine months from start to finish. Built by myself, with all paint/fab work done by local lad Shaun Burns. The engine was built and tuned by Sean Brady of Scooterotica Garage.
Frame modifications: Main frame mods are a complete Scooter & Service Cosa Superlow front end conversion (consisting of a shortened Cosa fork with S&S's own radial mount hydraulic disc brake and Stage 6 Shock) and a Scooter & Service wide rear wheel conversion with 130/70 section tyre.
Engine: PX Quattrini M1X Motor–scratch-built using the latest Pinasco 'Reed Specific' PX small block casings, Quattrini 172 Mix kit with Scooter & Service 60mm reed crank (further reworked by Sean Brady), S&S reed block and inlet manifold, Tassinari VForce 4 Reeds, Keihin PWK 35mm carb, Pipe Design DE Bullet 177 exhaust in stainless, Pinasco Flytech ignition kit with 1600g flywheel and MMW billet fan wheel, BGM Superstrong 23t clutch, DRT 23/65 primary up-gear kit, DRT Spitfire Road Cluster (12,13,17.20), full DRT close ratio loose gears (55t 1st/41t 2nd/37t 3rd/36t 4th)… built, tuned and ported by Sean Brady of Scooterotica Garage, Ripon.
Top and cruising speeds: Not yet clocked it for outright top speed, but I'd say well over 80mph — and it'll cruise at motorway speeds till the fuel runs out (which doesn't take long! Lol).
Is the scooter reliable: Yes very.., it's never let me down yet (famous last words).
Paintwork and murals: Shaun Burns of Crook, Co. Durham —top notch 'one stop shop' service including blasting, welding/fabrication and paint.
Overall cost: More than I'm comfortable admitting to — as the missus will read this! Hardest part of the project: I'd never done anything other than standard builds prior to this one — so I'd anticipated lots of issues… but to be fair the whole thing went together pretty much without a hitch.
Advice for anyone starting a project: Dry-build first — and just take your time with everything. The finished product will be better for it.
In hindsight, is there anything you would have done differently: Absolutely nothing!
Your favourite dealer: Depends on what I'm after — but I do buy most of my Vespa parts via the German dealers like SIP, Scooter Centre and Scooter & Service.
Thanks: Sean Burns for the lovely paint… Sean Brady, Scooterotica Garage for building/tuning the motor to the required port timing specs… Mark at Motech, Newcastle for help and advice.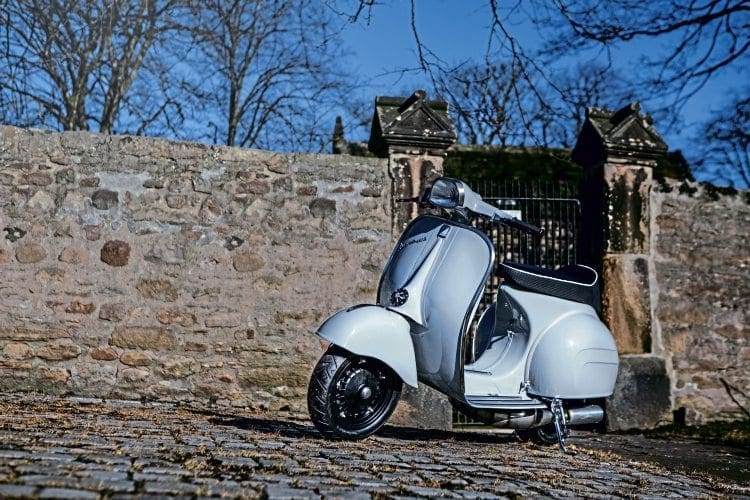 Enjoy more Scootering reading in the monthly magazine. Click here to subscribe.