In my search for nostalgic customs I am meant to remain relatively impartial, however in this case I have to admit… this scooter is one of my all-time favourites.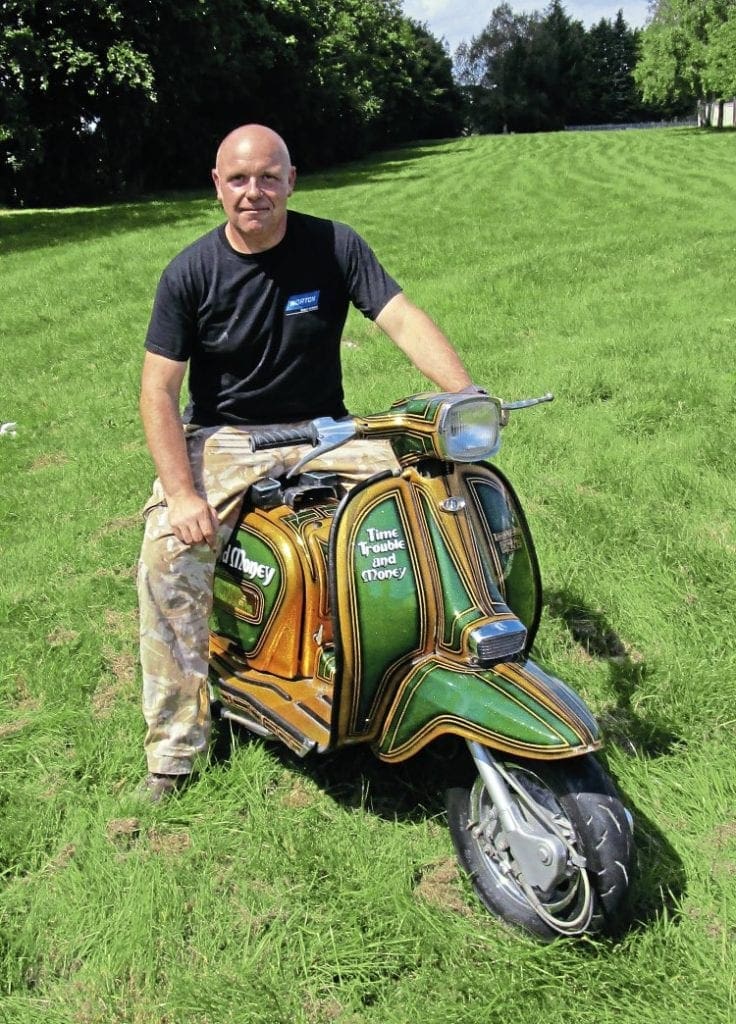 If three words perfectly sum up 80s custom Lambrettas they are 'time', 'trouble' and 'money'. However, for those of us who were lucky enough to be around building 'road art' during that era, that didn't seem to matter. I for one was instantly smitten, and if I'm truthful it was probably my favourite 'scootering' era. Before the arrival of an affordable (and more to the point reliable) electronic ignition system, and a quality barrel set-up, 'rallying' could be an expensive and uncertain hobby!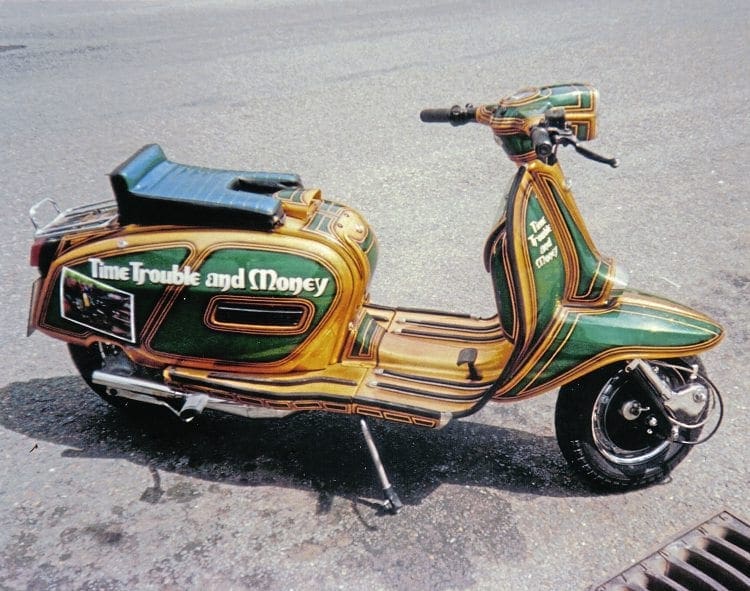 So what makes this scooter appear on my all-time favourite list? Well, the paint especially in this latter gold and emerald metal-flake scheme just works. Yes the murals are fairly simplistic, but for me that just adds to the vintage. Like a good wine, the 'era' paint and set-out block-work just seem to get better with age. Now unlike many of the one owner customs I have featured, TT&M has moved around garages and owners over the years. It has even gone from a twin and had a major colour change. For the past two decades though, it has been residing in deepest Shropshire with owner Dezzy, so let's hear what Dezzy has to say on the machine… Cheers Dave O
Owner: Craig Derrigan – Dezzy
Hometown: Shrewsbury.
Scooter club: Solo at present, previously Shrewsbury Seven Side Lions.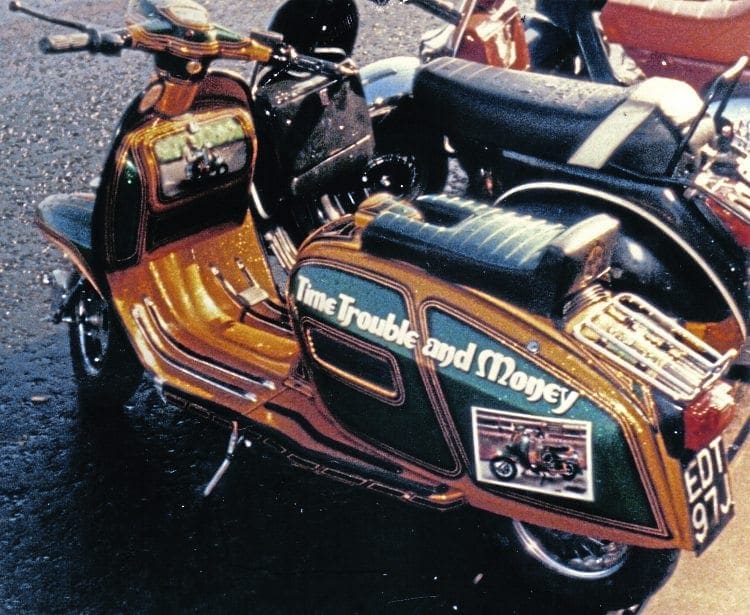 Scooter name: Time, Trouble and Money.
Year originally built: This is the original Mark Brough's TT&M, it first appeared in this paint scheme in early 1984.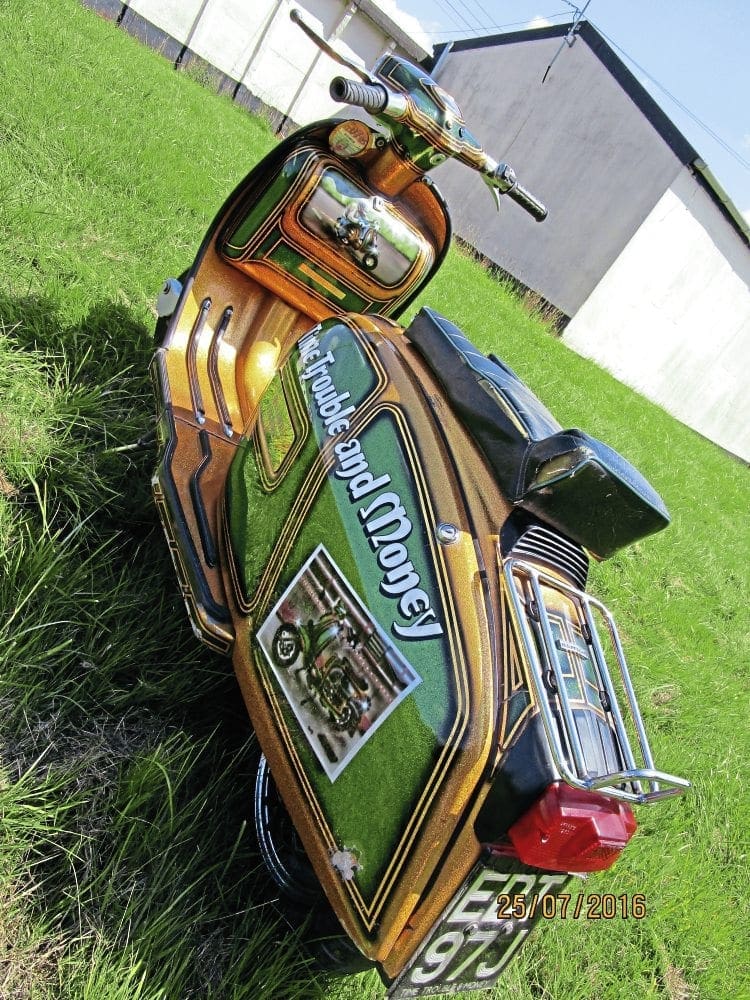 Paint (artist): Maca at DTC, I'm a professional painter and the finish is second to none.
Engine: Now stage 5 225cc AF, electronic ignition, SX200 gearbox, 30mm Dellorto flatslide, Clubman pipe.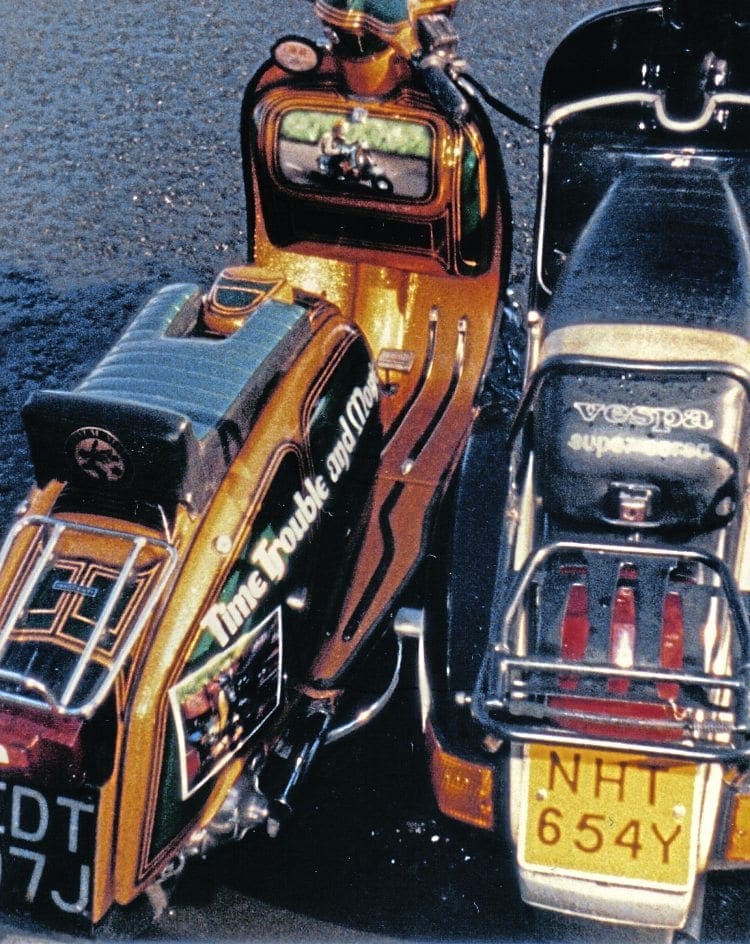 Bright-work: Gold plated side panel flashes by Midas Touch. She did have a chrome front end (forks, disc brake, etc.) but I had an argument with a concrete bollard! I do have a new set ready to go in at some stage though.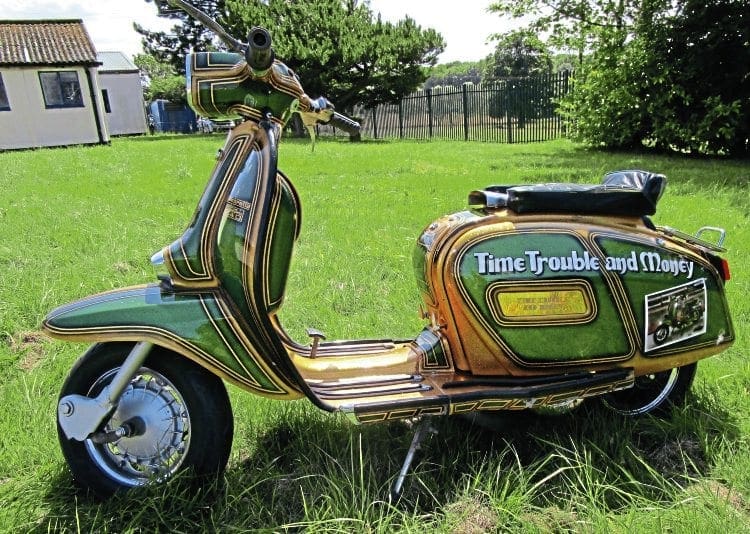 Are you the original owner: No, it's had a few over the years, although I've had her over 22 years now! Tony sold it to me for just £850.
When you got the scooter what condition was it in: I bought her from Tony Lewis (Road Warrior), the man's a perfectionist so it was very tidy.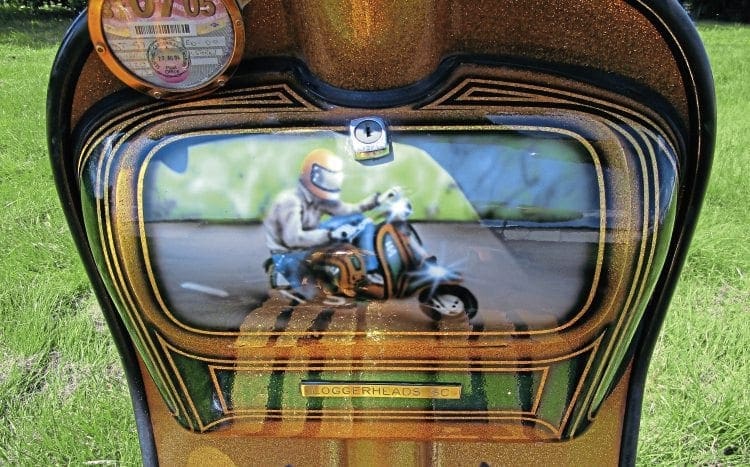 What have you had done to it or plan to do since owning: The paint was a little faded and flat in places so I re-clear coated when I got her. There have been a few engines over the years, including a jap TS1 230 until that went bang recently! I used the scooter as my daily transport for about five years, so there's a few 'use' marks. Once I even lost the panel at 40mph and watched it slide off down the road. It was in a bit of a state, but there is that much lacquer I was able to flat 99% of the damage out and mop it back up.
Do you still do rallies: Sadly no, I have a very busy job and four kids under six!
Funny 'scootering' stories: God, where do I start! Margate '94 comes to mind; me and my mate ended up being interviewed by the police after somebody tried to cut my throat! Long story but it involved the local tattoo shop, clown hats, curly coloured wigs, large joke noses and of course being very drunk! We ended up being called back to crown court to give evidence. Now this married up really well as it coincided with a rally in France. So a plan was hatched to attend the rally and then return for the court appearance on the Monday. Of course we ended up getting mashed again, missing the ferry and having a warrant out for our arrest for not attending.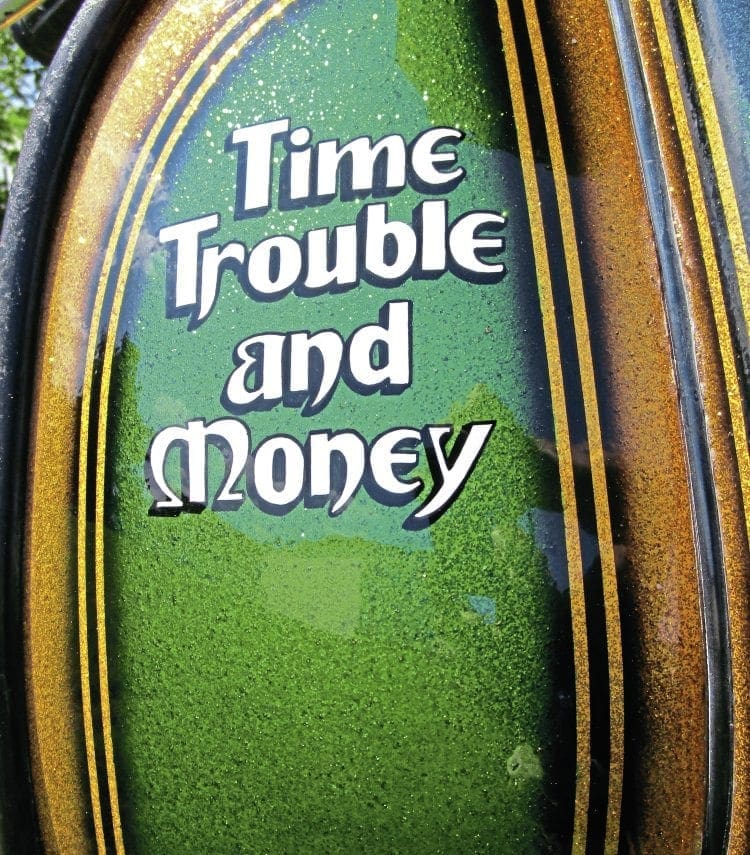 Favourite event ever: Santa Pod, Llandudno and Bridlington T&C.
Favourite custom scooter ever: Colonel Kilgore's VFST, and any well finished SX200.
Favourite dealer: Kegra always offered good advice and parts, Beedspeed for getting you back on the road ASAP.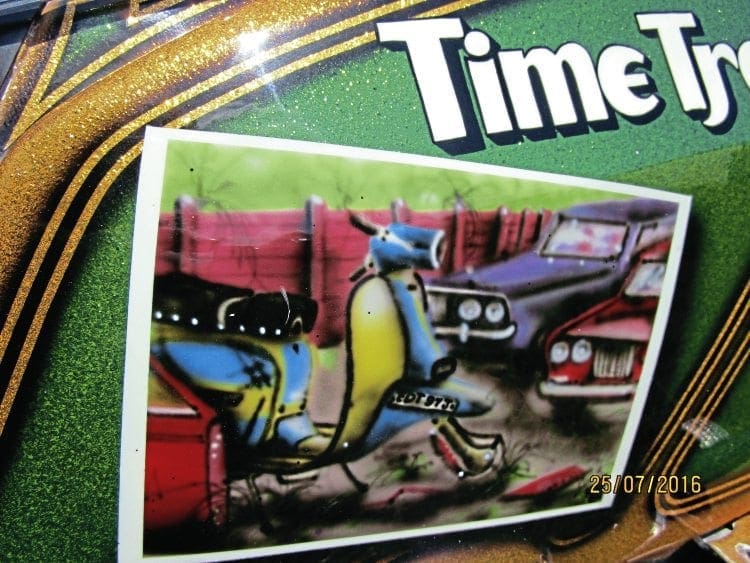 Anything else that might be of interest: First concepted late 70s by Mark Brough, this version was painted in this scheme and had a DJ240 engine in 1984 by Tony Wheeldon. It was first shown at the 1984 Glevum Stax custom show. Other previous owners include Grant Williams and Tony Lewis.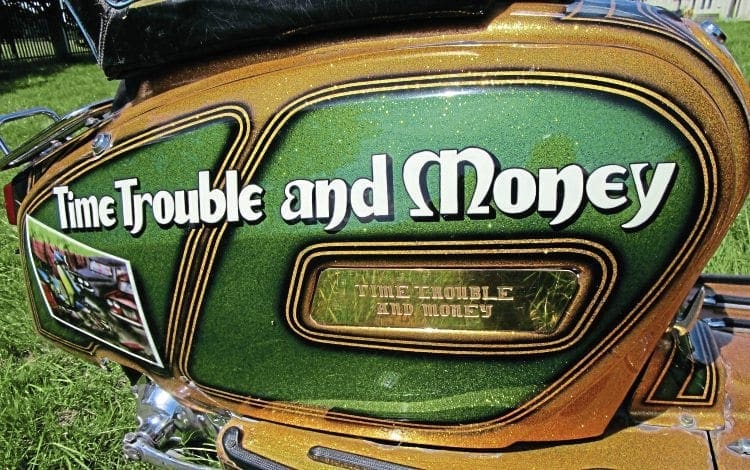 Enjoy more Scootering reading in the monthly magazine. Click here to subscribe.