Certain criteria are required for a scooter to sit in Dave's Nostalgic Custom Corner and this one needed a 'special pass' to get in… you'll see why.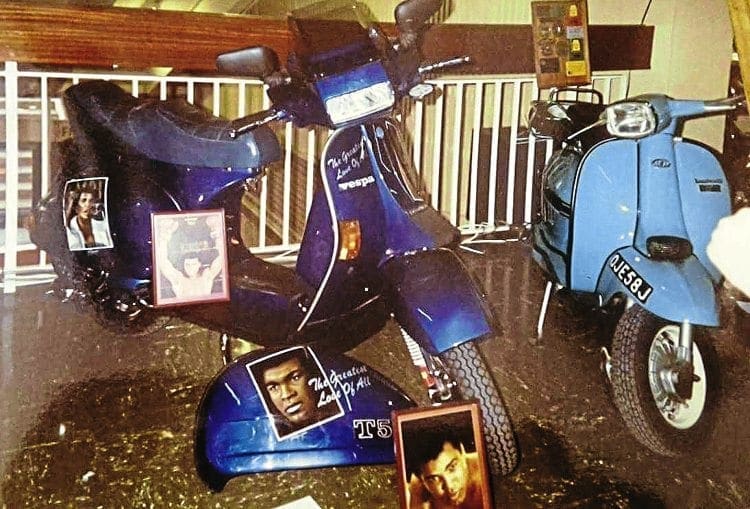 Thinking about the greatest sports people of all time, several goliaths come immediately to mind in certain sports – Nicklaus, Borg, Babe Ruth, Jordan (basketball not boobs!), Phelps, Senna, Rossi, Pele, etc. the list just goes on and on. However, there is only one person who is universally accepted as 'the greatest' – Cassius Marcellus Clay Jr, or as most people know him… Ali. Now this scooter is very unlike most of the scooters I have previously featured, in that this custom (due to severe fatigue) has had to have a new frame and a complete respray since its 80s debut.
Yes, I know what you are thinking, however… it still boasts the original panels, mudguard and headset; but more importantly, it still 'makes the cut' because it has remained with original builder and owner Tim Lovell for over 30 years. Like its owner, this scooter has proved to be a real 'journeyman' of the custom scooter scene, I give you: The Greatest Love of All. Now… let's get readyyyyy to rumble! Ding-Ding.
Dave O
Owner's name: Tim Lovell
Hometown: Wakefield.
Scooter club: Dirty Mills SC.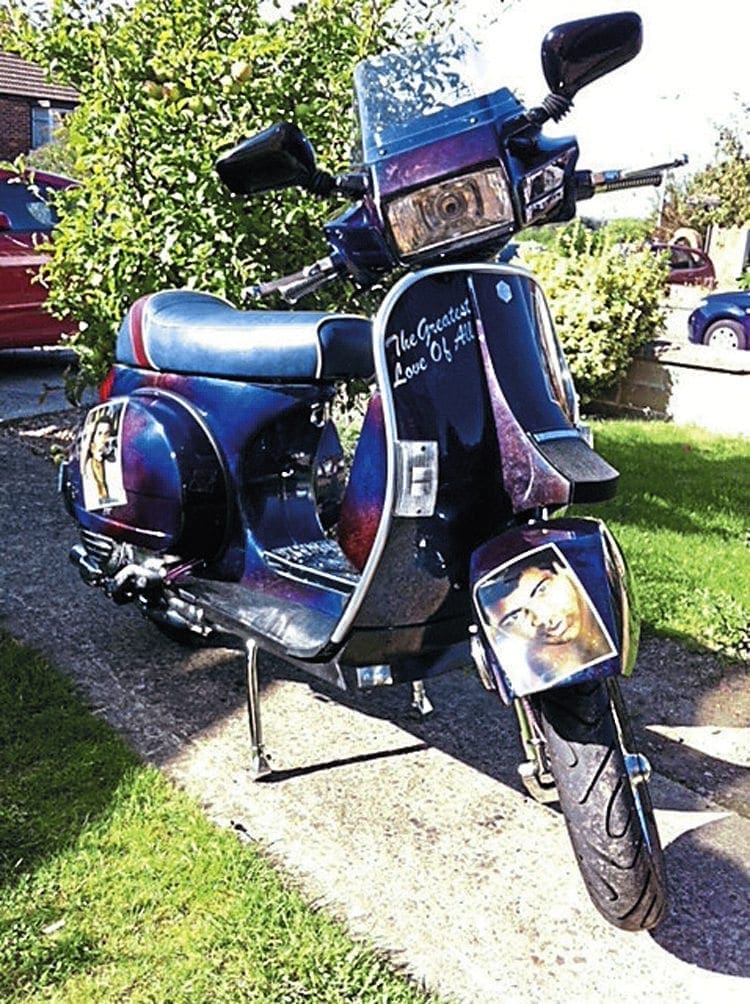 Scooter name: The Greatest Love of All.
Year originally built: 1989.
Paint & murals: John Spurgeon Aerographics.
Engine: Pinasco matched T5 casings, Pinasco kit, long-stroke crank giving 178cc. All tuning work by Chiselspeed Scooters.
Chrome/engraving: Quality Chrome Hull/ACE Engraving Colchester.
Condition/age of base model when you got it: Bought the scooter new in 1987, the frame had to be replaced in 2012.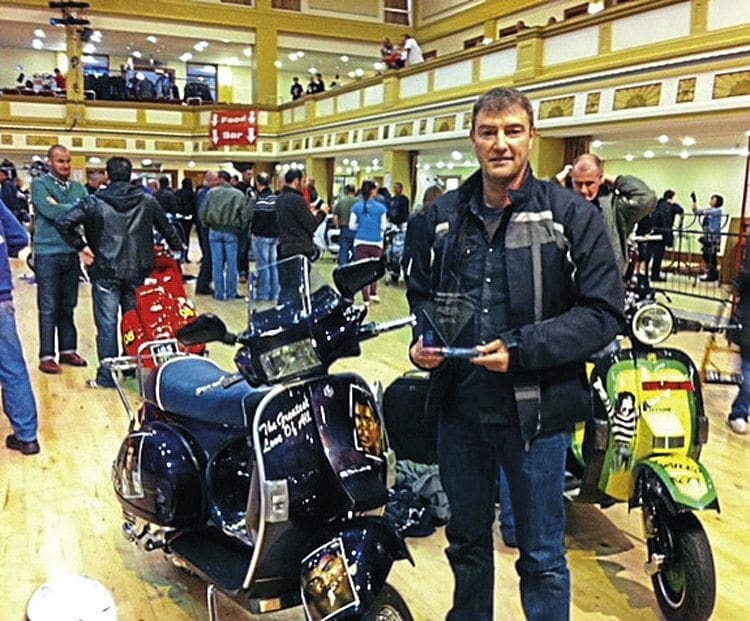 What have you had done to it or plan do since owing: I built the original, and when I replaced the frame it had a full respray, it also had additional murals added in 2013. Engine-wise it has gone from the original Malossi 172 reed-valve, to what you now see listed above.
Do you still do rallies: Yes, definitely. I still try to put in four or five nationals a year, as well as the odd European rally. I also do quite a few 'local' events on top, and in recent years most VCBG meets too.
What other scooters do you own: A Mk1 P2.
Article continues below...
Advert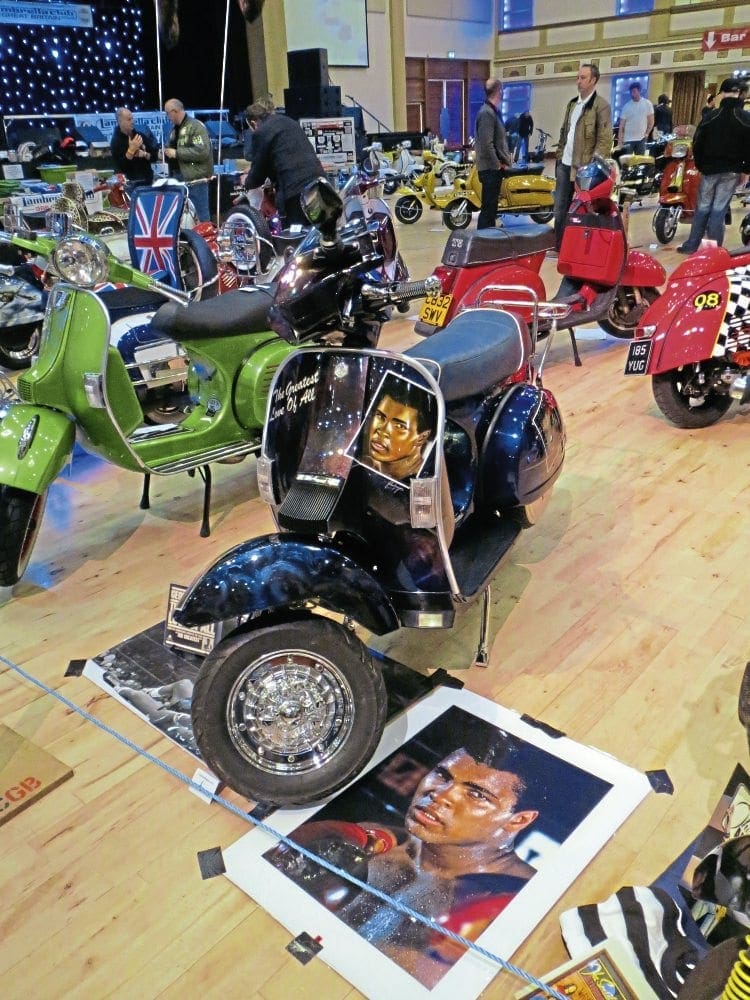 Funny scooter memory: We were riding to Wales in 1984, I was two-up on my P2 and our mate was on his Vespa 100 wearing the obligatory bright yellow waterproofs and open face skid lid. Like most of the 80s it was absolutely chucking it down and the conditions were terrible, but despite his lack of ccs he kept over-taking! His look of sheer determination every time he passed was absolutely priceless!
Favourite event ever: Morecambe '85, we were young, foolish and happy! Had a great time, and no trouble.
Favourite custom scooter ever: Revenge, timeless!
Favourite dealer: Chiselspeed.

Enjoy more Scootering reading in the monthly magazine. Click here to subscribe.

Article continues below...
Advert