Some scooters have been seen so much at rallies and events over the years, some people start to take them for granted and look past them. This scooter might fall into that category for such people, but thankfully for us, Dave O has a keen eye for classics, even ones hiding in plain sight…
Welcome back to DNCC, after a summer recess I've been on the lookout for those 'classics' that we all remember from the 80s and 90s. Over the coming months I hope to bring you more of the ground-breaking customs we loved from that era. This month we come to a true leader in the custom scooter scene, the evergreen 'Sign of the Snake'. Like Italian Stallion and Revenge, SOTS emerged in the early 80s from the fabled Leeds railway arches of Down Town Customs and the magical spray-gun of Brendan Mcnally – better known as DTC and Maca respectively! Still owned by the original owner and builder Mick Howard it has only been minimally 'refreshed' over the years, but can still easily hold its own in any show or on the road – a true testament to both the DTC covering and Mick's perseverance!
Name: Mick Howard.
Hometown & Club: Wakefield, Wakefield Outlaws SC & DTC Owners Club.
Job: Decorator.
First rally: Great Yarmouth 1979 on a Jet 200.
Best memory: Winning 'Furthest Travelled' at the 2015 Scarborough National Rally, not just for that event but for the scooter's 32 year history!
Scooter name: Sign of the Snake.
Model: 1971 Lambretta GP200.
How long owned: Bought as a bare frame in 1981. I had a DTC Rosa Bianca race-rep done straight away, but after an accident that summer it was shelved for 18 months until it was done as the 'Snake' in early 83.
Theme inspiration: Most people think the name/inspiration comes from the 1968 Al Wilson Northern Soul classic, but that is incorrect – in fact the lyrics actually go 'sighed the snake'. When I was planning this build I wanted to go for a fantasy theme (popular at the time), so with the colour and layout I went for this serpentile variation.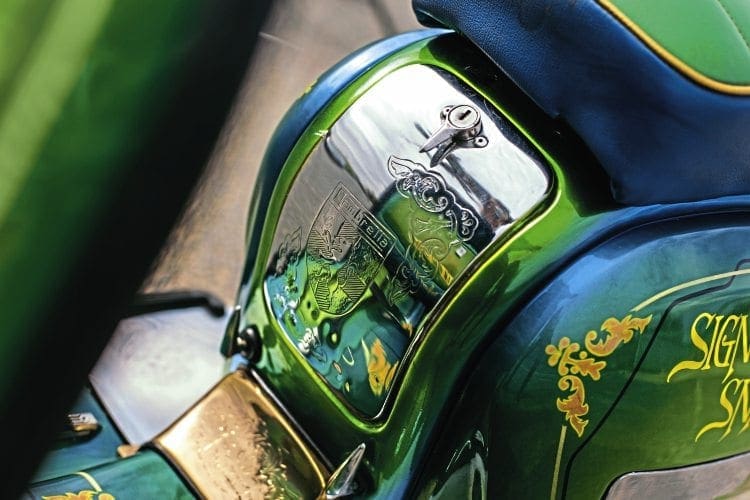 Engine: For the past seven years I have run a Chiselspeed tuned TS1 225, with 60/110mm crank, 30mm Mikuni carburettor, ADS3 exhaust, M-Tech advance/retard ignition and AF six-plate cassette clutch. It has proved very reliable and gives more than enough grunt!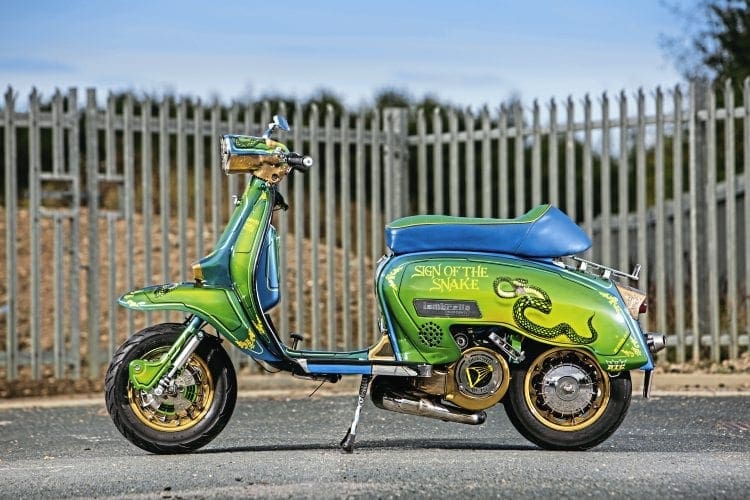 Paint: Maca at DTC. It was refreshed a couple of years ago, but is still predominately the original 1983 paint. It looks best under the lights of a filling station at night; the fluorescents really bring the candies and artwork to life.
Chrome: Some is still the original done by Prestige in Barnsley. Where it needs redoing I use Trey at Midas Touch.
Engraving: Don Blocksidge.
Specialist parts: Vapor speedo, headlight grille/ fan cowl by K2 Customs and horncast badge by me (it's a tyre valve from a £1 shop!).
Favourite dealer: Chiselspeed.
Biggest challenge keeping SOTS in such good condition: Innocenti steel! The frame snapped two years ago, one minute I was riding along happily the next I pulled the brake in and the headset was in my lap!
Anything else you think is relevant: I only passed my car driving test when my eldest daughter was born, so SOTS was my daily transport. Many times I'd hang paint pots and decorating materials on the handlebars and rear rack on the way to jobs. I even had to leave it on site at night when the weather had turned wintery during the day!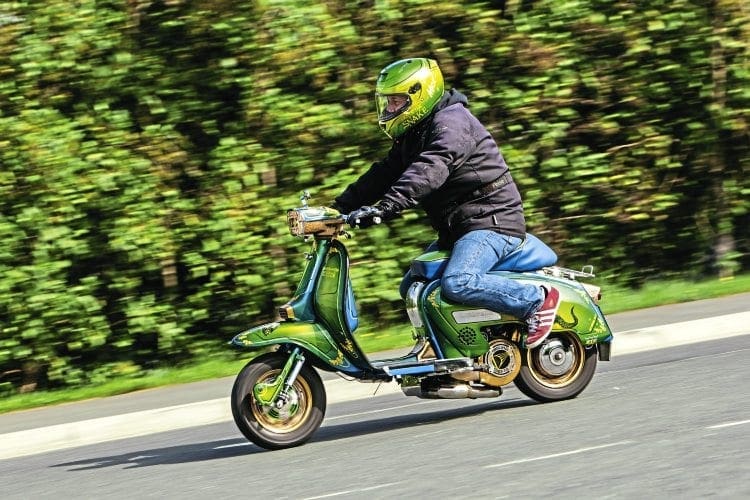 So there you have it a custom that has lasted the test of time and is still an inspiration to riders and builders – thanks Mick!
Dave O.

Enjoy more Scootering reading in the monthly magazine. Click here to subscribe.