Dave's Nostalgic Custom Corner
This month Dave digs another gem out and brings us the story of another 'nearly lost forever' classic, that's now back from the brink…
Blaze of Glory
By the late 80s and early 90s customscooter owners were branching out from the standard fantasy art and similar scooter-art related themes. Now the silver screen was also becoming a major inspiration for custom paintjobs. One such Lambretta that I have recently 'tracked down' is the superb Lambretta custom Blaze of Glory. Based on the 1990 sequel film Young Guns II, it features a red candy base by the then original builder's brother, and Ian King added black fogging and the murals. The film Blaze of Glory, which the paintwork is themed around tells the story of Billy the Kid's endeavours while springing two of his gang from jail. Once free they head south together for the Mexican border.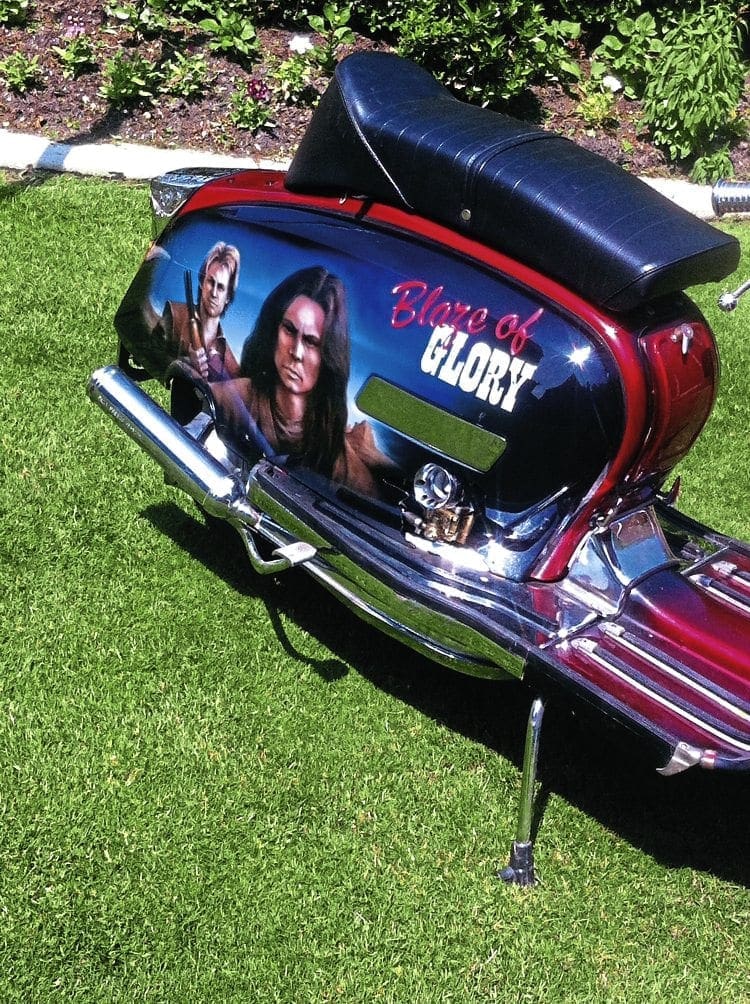 Meanwhile, a wealthy cattle rancher wants the notorious gunfighter dead, and pays Billy's former partner Pat Garrett to take on the job. The cast was a who's who of young film talent at the time – Emilio Estevez, Kiefer Sutherland, Lou Diamond Phillips, Christian Slater and William L Petersen all take lead roles. But enough about the film and back to the scooter…!
Built over the winter of the '91 scooter season, it first hit the custom circuit in '92 and was an instant success, winning punters' choice at that year's LCGB show.
It even made the front cover of Scootering magazine at the start of 1993, back in the days when scantily clad blondes were still okay and 'politically correct' ideas didn't exist – about time we brought that back eh, Ed? (Editor's note: I'm all for scantily clad chicks Dave, not sure it would get past management though!).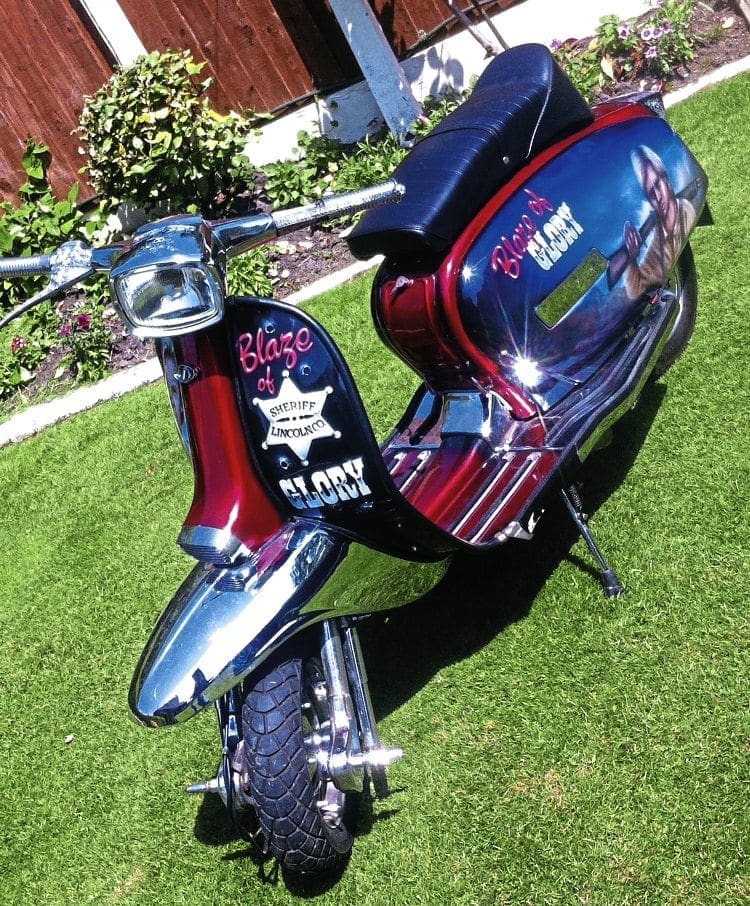 After a few seasons, like many customs of that period, it then disappeared and I assumed it had been written off or scrapped like so many were back then. However completely by chance new owner Dave came across what was left of it in 1997, it was an insurance write-off and he bought it as salvage. Although no more than a pile of parts at that point, he saw it's potential and had the imagination to envisage what a fine scooter it could be once more. All credit to Dave, he put the hard work in and has rebuilt it to what you see today… great to see another piece of scootering history saved, welcome back partner!
Words: Dave O
Owner & scooter profile:
Owner: Dave 'Landmine' Golden.
Hometown: Manchester.
Scooter Club: Salford Knights SC.
Name of Scooter: Blaze of Glory.
Year originally built: 1991/1992
Paint (Artist): Red Candy, murals, etc. by Ian King IGS Customising.
Engine: Original TS1225, still starts second kick every time!
Fabrication: Standard GP200.
Chrome/engraving: Some new, mostly original Rugeley Scooters/engraving by Pete Robinson.
Are you the original owner or when did you become the owner: Originally built by Doug Bannon from Aylesbury in the early 90s. I found it as an insurance write-off in 1997, minus frame and bought it as salvage.
When you got the scooter what condition was it in: Terrible! In pieces, lacking frame, deep scratches on panels, some other parts missing but I saw it had potential.
What have you had done to it or plan to do since owning: Replaced frame and had that sprayed to match. Had other panelwork resprayed; although you can still see some of the damage (think this adds to its charm though!) then obviously totally rebuilt it.
Do you still do rallies: Definitely, best year for me was 2009. Along with my son (who was 10 at the time) we did 40 'scootering' weekends away that season!
Funny stories either about scooter or yourself at rallies (80s-90s): Every rally has some story, mishap, etc. that's what makes them addictive… but nothing I want to admit to or put in print forever! I might send one in about my pals to 'Into the Sunset' though!
Favourite event: Kelso but I also love smaller club rallies.
Favourite custom scooter ever: Couldn't pick a fave, sorry.
Favourite dealer: Pete Merchant Rochdale – top bloke.
Anything else you'd like to add: When I got the scooter, the original chrome revolver engraved horncasting had been stolen from a flat in Salford – would love to reunite it with the rest of 'Blaze' if anyone can help!
This article was taken from the August 2016 edition of Scootering, back issues available here: www.classicmagazines.co.uk/issue/SCO/year/2016

Enjoy more Scootering reading in the monthly magazine. Click here to subscribe.