One minute you intend to buy a full frame scooter, the next you own a chopper. But this was no ordinary purchase, the chain of events it would spark helped to create the now famous 'Oddballs' rally…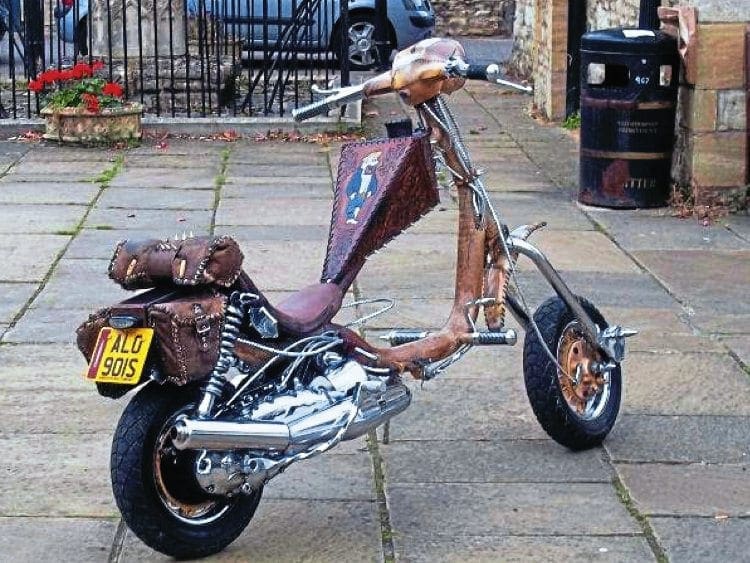 Yabba dabba doo! This month's nostalgic offering is an unusual leather-bound and chopped Lambretta called Bedrock – that used to go under the name 'Rubble Without A Cause'. Now, although the theme is light-hearted, the story behind it is both tragic yet at the same time uplifting… as present owner Vince describes for us below. I knew the original extrovert builder Ron Morgan well, and I'm sure he would be the first to congratulate Vince on his hard work and dedication to bringing this scooter back to top condition. For me this scooter, and the people who have been involved with both the original and the latest build, are what scootering should be about: friendship and loyalty!
Dave O
Owner: Vince 'Oddball' Wooloff
Hometown: Eynsham
Scooter club: Lambretta Chopper Owners Club
Scooter name: Now Bedrock – to make the scooter more personal to me, the new name came about as I was good friends with the psychobilly band 'Frantic Flintstones' and my favourite track by them is called 'Bedrock'!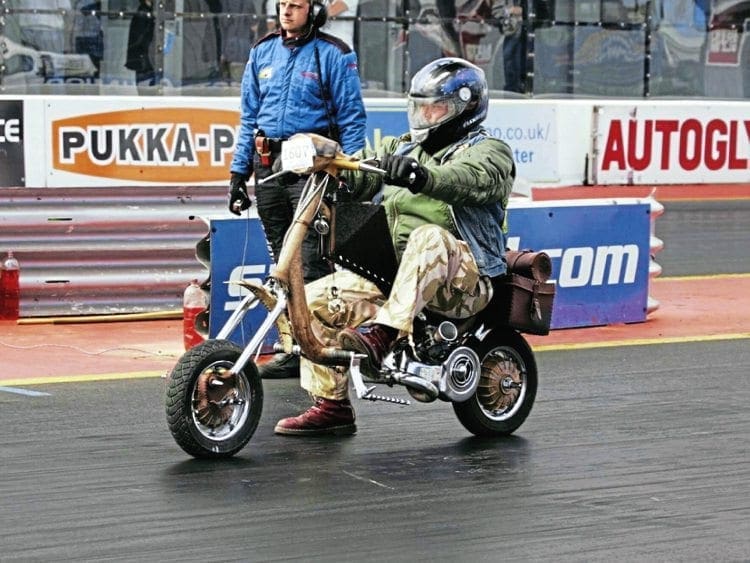 Year built: Built in 1989 by the great Ron Morgan, who sadly is no longer with us.
Paint: Not sure of the original finish, but it was all in a bad way when I purchased it, so repainted by myself.
Chrome: All chrome on it is the original, and believe it was done by an old company in Aylesbury.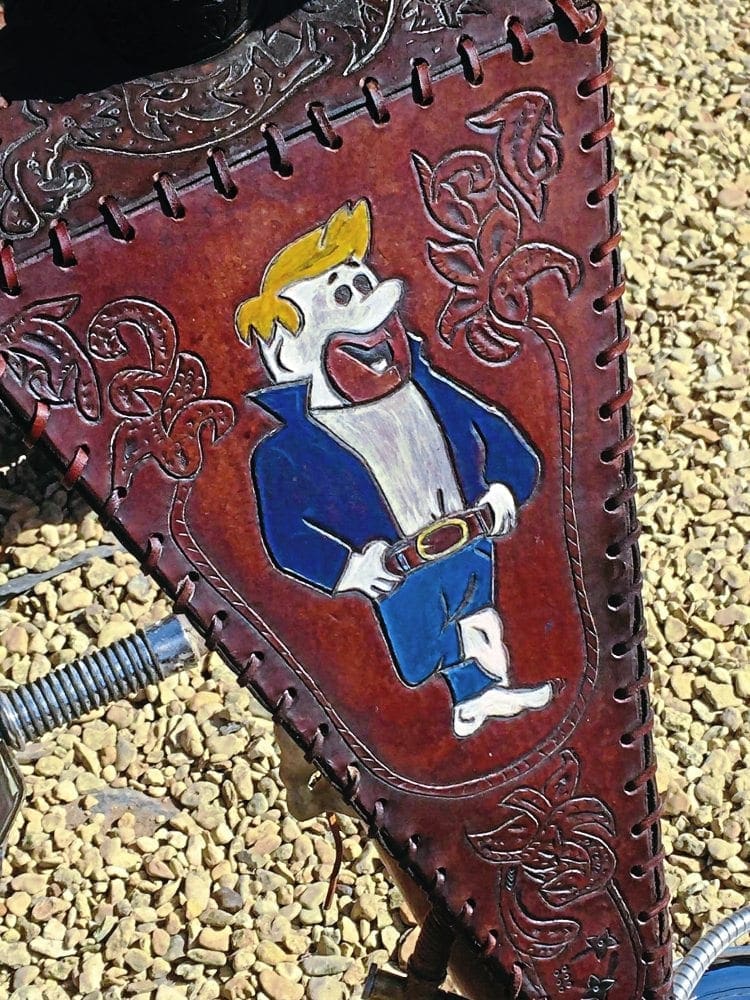 When did you become the owner: I purchased the scooter in 2011 from eBay, at the time I was looking for a full frame scooter, but this caught my eye! I had vague memories of it from the old days and decided it was for me.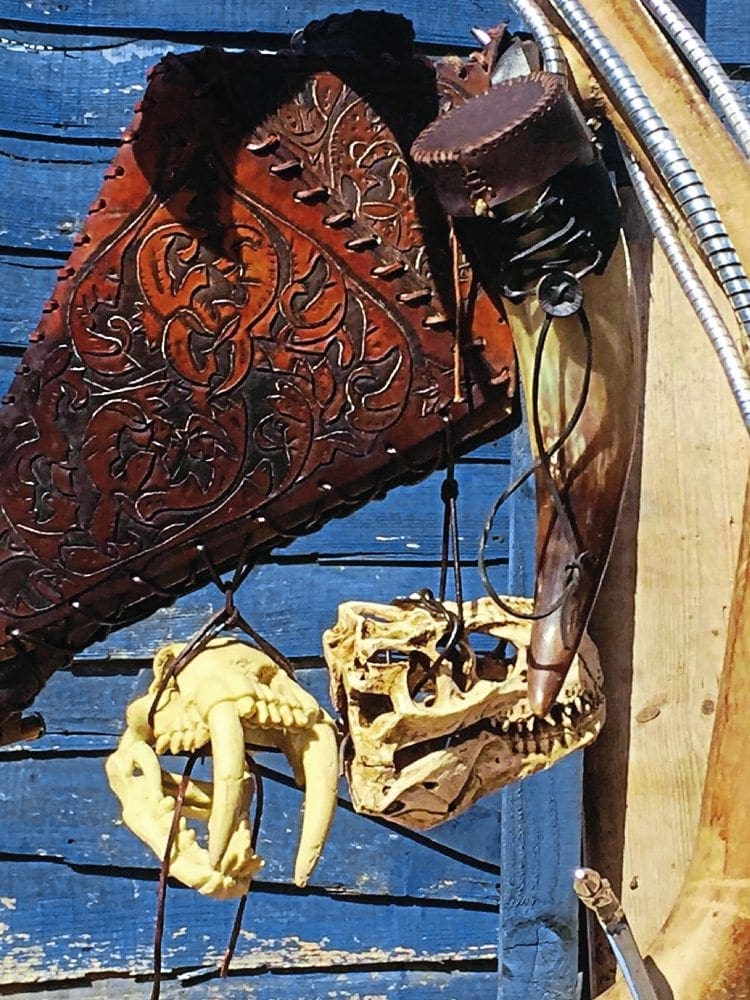 Condition upon purchase: It was in quite a bad state – the paint was chipped and very distressed; the leather had dried out and needed serious rejuvenating, in fact everything was in an unloved state shall we say.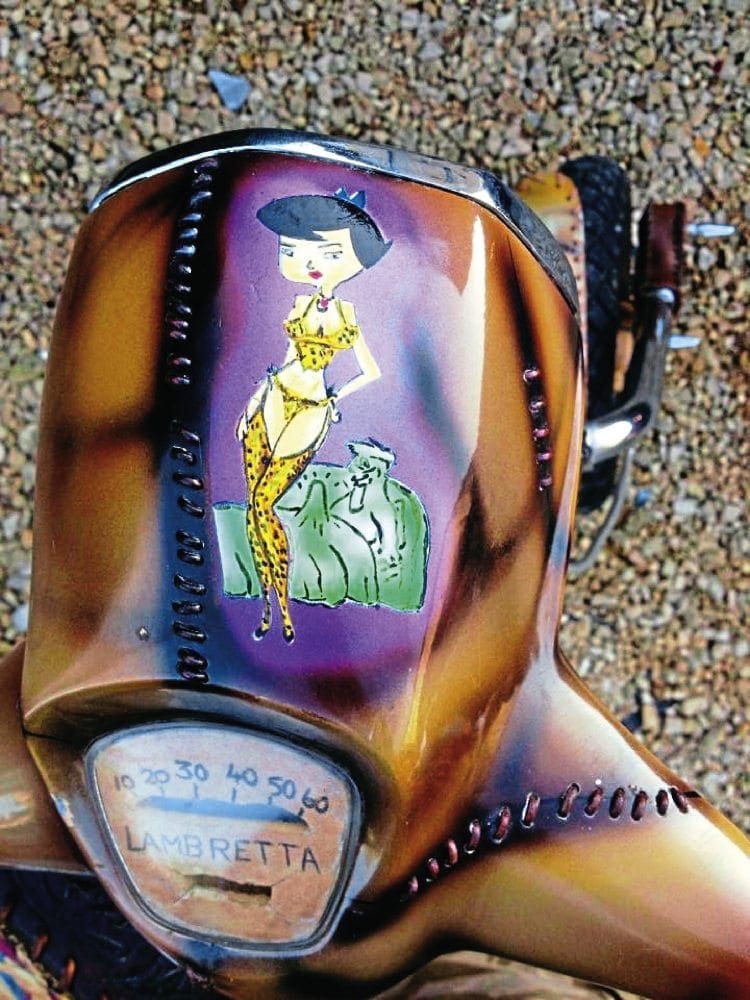 Changes since taking ownership: All paint has been redone by myself, I did away with airbrushed stitch artwork and replaced with actual leather stitching on headset and mudguard, added a leather tool roll and bags on back, again made by myself. Then found original 1989 forks and put them in, have to say they may look over the top, but it actually handles better. The frame is completely wrapped in leather, you'd think this would be fairly maintenance free but it takes quite a lot of looking after.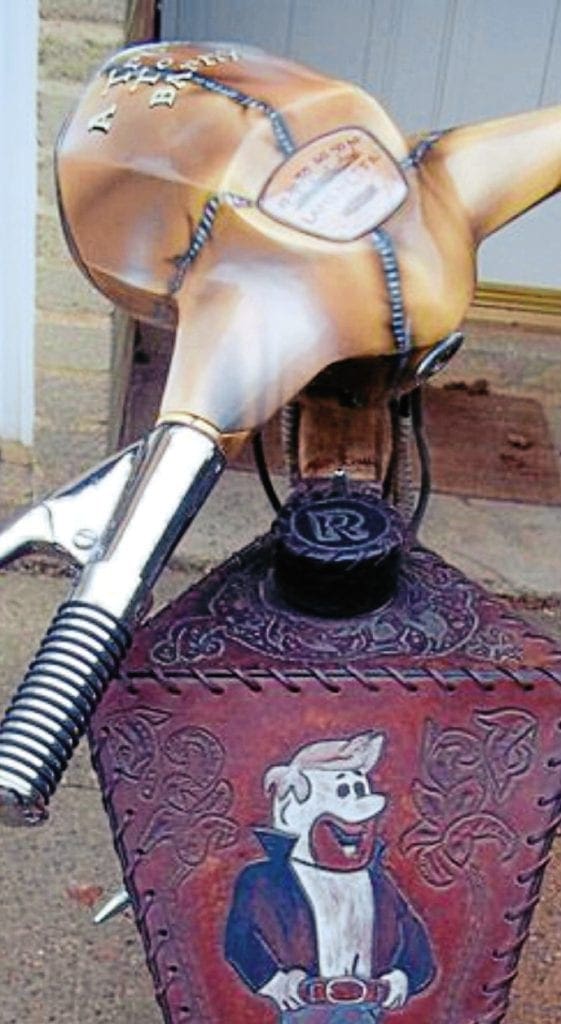 Do you still do rallies: Yes I do, though not as many as I would like to, most of time now is spent organising the Oddballs rally and being husband, father, grandfather.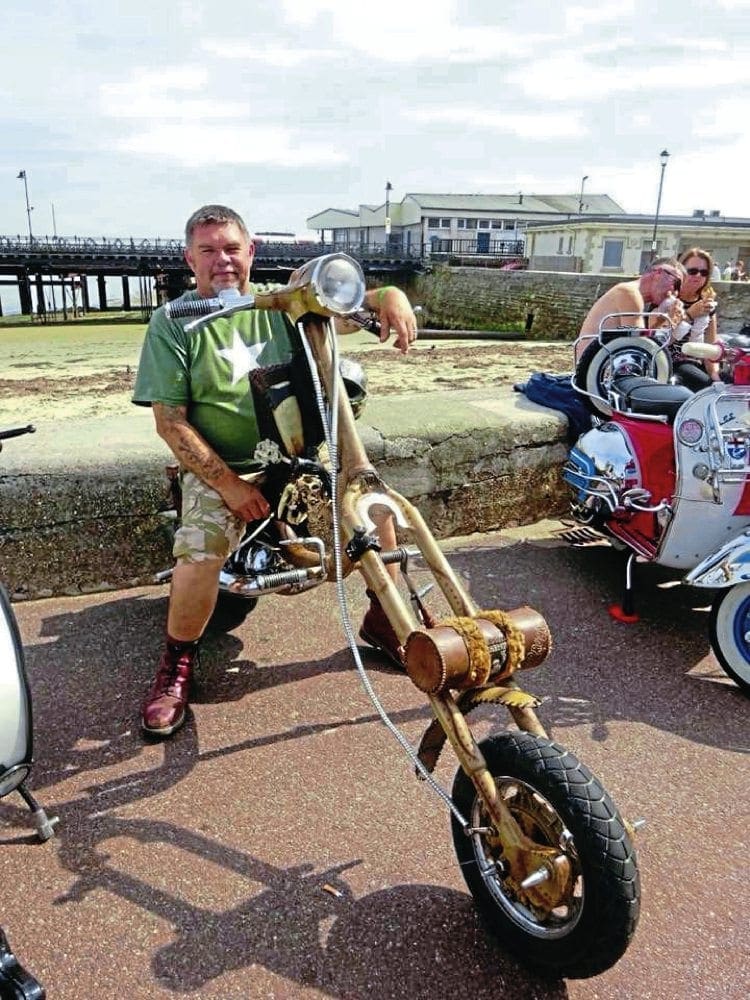 Funny story: Back in '84 I was in Royal Navy, I had some not so politically correct artwork on my PX, long story short, the police and Navy didn't see the funny side of Maggie Thatcher being blown up, and Ronnie Reagan being shot! I ended up doing 28 days detention quarters for being a possible political activist. Laugh about it now, at time I didn't though, especially when they did checks on my family.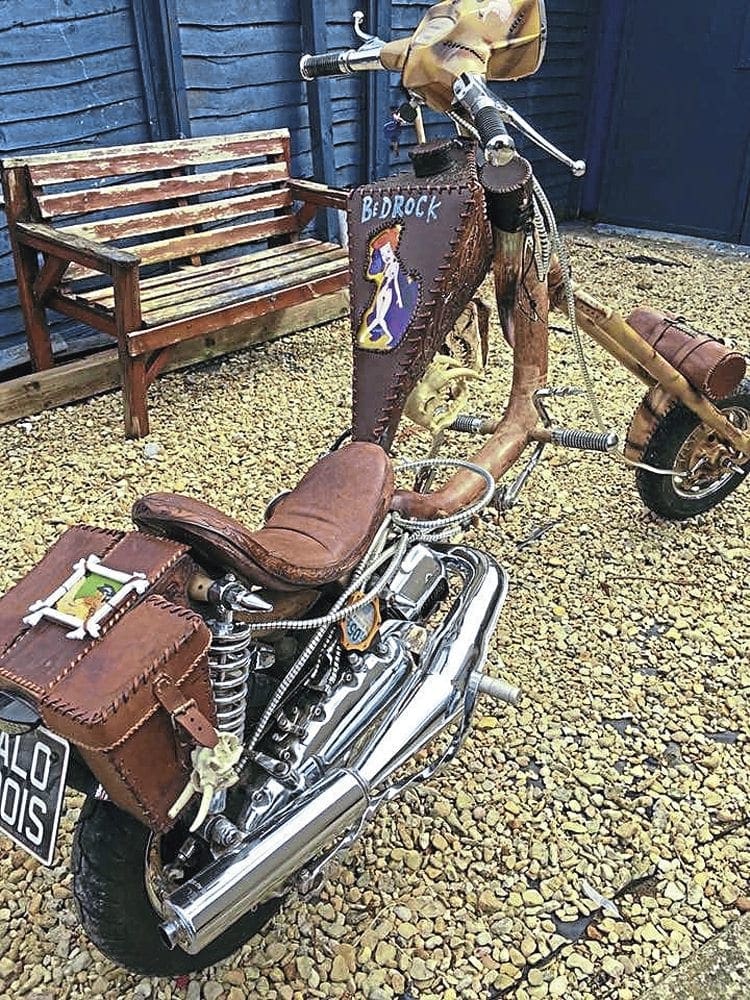 Favourite ever event: Has to be the Oddballs rally of course. I've put a lot of time and effort into that rally, to hear all the positive comments is brilliant, and most of all the amount of money handed over to Teenage Cancer Trust (£27,800) Scotty's Little Soldiers (£1000) and Click Sargeant (£1000) makes me very proud. That to me is testament to the event which has only been going for four years, this year attended by 2000 people. If you haven't been please come along and try it out next year!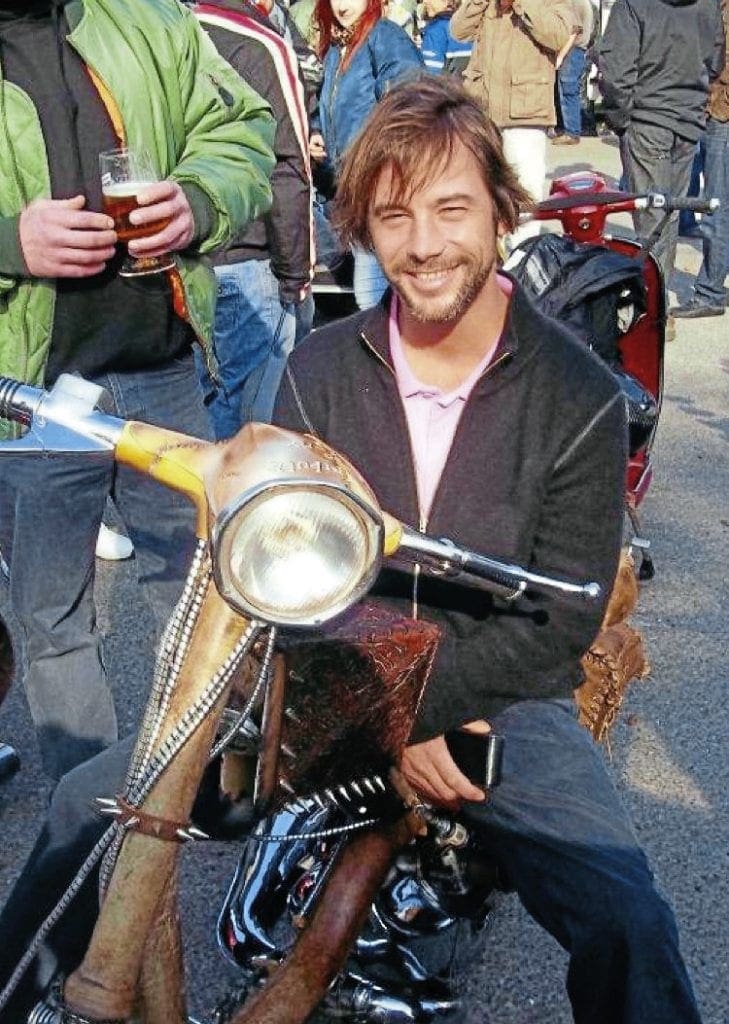 Favourite custom scooter: That's a hard one. More an artist's work than just one scooter, Gatch. His Toxic range of scooters is so diverse.
Favourite dealer: Got to be Scooter Surgery – they are always at the rallies when you most need them. Maud, Patch and Geoff know their stuff.
Anything else to mention: As stated above, back in 2011 when I purchased the chop I was actually after something else… a full frame scooter. However when I saw this I knew I had to get it, though at the time I never knew just what impact it would have on my life. Back in 2014 I organised a custom show in the heart of Oxfordshire, and while setting it in motion the original builder of the chop, Ron Morgan, contacted me. I asked if he would like to be a judge at event, he jumped at it. I also asked another good friend, Steve Gray, if he would judge as well. Both these fine gents were fighting a battle with cancer. The event attracted more than 300 scooters and 500 attendees. This was mind-blowing as I expected 100 at most. Later that year Ron lost his battle, this news was very sad and I immediately set about creating an event in remembrance of this legend, and so the Oddballs rally was born. Each year in the custom show we have a very special trophy called the Ron Morgan Memorial Trophy this is picked by Ron's wife Carol and presented by her to the winner. Carol picks the scooter she believes Ron would pick. So as said this stunning Chopper has changed my life as have all of those who come to Oddballs. The scootering family is a diverse family, but it's a family like no other out there, big hearts, big smiles and no matter our age we still love to enjoy life to the max. I will finish by saying that riding Bedrock is a challenge at best of times, but each time puts the biggest smile possible on my face.

Enjoy more Scootering reading in the monthly magazine. Click here to subscribe.