Ever wondered which dealer does what, where they are and who they are? Scootering magazine takes to the road each month to get the low-down for our readers…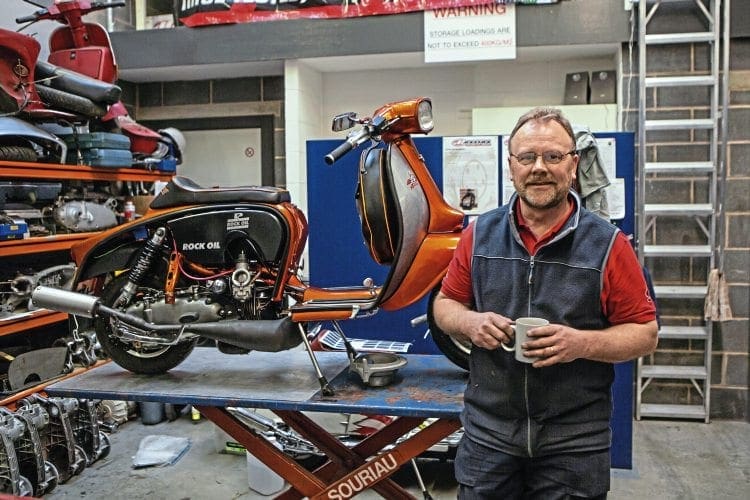 Paul Gillow has been fettling scooters one way or another since his teens. Originally a hydraulic engineer by trade and now running his business from an industrial estate in Barnsley, we thought we'd drop by and see what's going on at his firm OilTek. I got to know Paul a few years back when he took up the trade-supply of the oil I was using back then — Maxima. Prior to that, Paul was a rep for RockOil, so he has been around the scooter trade for quite some time, Besides offering the usual services we expect of any decent scooter garage like engine builds, servicing and restoration jobs etc, OilTek also offers some pretty nifty services and a small line of lovely bespoke products (there seems to be a few at that game now!). So let's have a quick delve first into everyone's favourite bit — the shiny stuff!
The products
Through Paul's previous work, and combining this with his expertise and his connections, he has been able to coordinate the manufacture of some pretty cool items for Lambrettas. One of the most eye-catching, and probably something you'll see at a lot of the trade shows he's attending this year, is the rear disc brake kit. I personally have never been a fan of them on scooters, but when I saw this one I've got to say… I really did like the look of it.
I'll probably be tempted to try one myself at some point; it's on the Christmas list for sure! For the front end of your scooter's braking system, Paul offers an under-floor remote front disc brake master cylinder kit (that was a mouthful), which keeps the handlebar setup looking much neater and original, and also does away with the need to try and cram everything behind the horncast when using the more common hydraulic conversion.
Even when you look at the smaller products, ones which don't sound very exciting at all like a toolbox sized flywheel holder and clutch compressor, or the drive side oil seal plates… it has to be said, the quality is still outstanding. You see a lot of similar items on that well known auction site, but they are mostly just tat by comparison. The OilTek items are the real deal, very nice indeed.
However the two things OilTek is probably most widely known for are the alloy tanks which Paul produces and the engine case conversion service he offers (more on that in a minute). In regard to the tanks, I've fitted quite a few myself, and seen an increasing number out and about on other scooters.
I can't say they are the most aesthetically pleasing long-range tank, so if I was looking at a custom cut-down then this isn't the tank I would use, however in terms of quality, price, fit and functionality I'd say they tick all the boxes. We've all seen the cheaper versions, the ones you buy which either then don't fit or leak petrol from every seam! None of that here, a proper fit and no leaks, which is as it should be.
The services
As mentioned earlier, you can ring Paul anytime and speak about the usual stuff like engine builds, servicing and restoration jobs etc. but one other service which is of tremendous interest to Lambretta owners is the 125/150 to 200 engine conversion service Paul offers.
This is a high quality conversion; the cases are cleaned up first, then prepped on the milling machine for welding, the alloy welding is done, and then they go back on the CNC machine for the conversion to be done. The end result is a clean set of converted large block casings.
I asked Paul about this service as I wanted to know about price comparisons and how this compares for example against the cost of buying a new set of casings. Paul's advice was this: "If you already have an existing set of small block 125/150/175 casings, then having a conversion done by us makes economic sense, no doubt about it. However if you don't already have a set of casing to start with, buying a set of small-block casings for £100+ and then paying for all the courier services/cleaning/repairs/ conversion etc. doesn't have a huge benefit. By the time you are done it's a similar price just to buy a new set of 200 cases." He goes on to say: "The other scenario where it makes sense is if you want a particular casing to match a particular model of scooter, but want the larger capacity engine to go with it. Therefore you might buy a set of GP 125 or TV 175 casings for example and have us convert them to large block for you. That way you get the best of both worlds."
ENGINE CASE CNC CONVERSION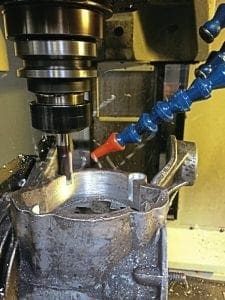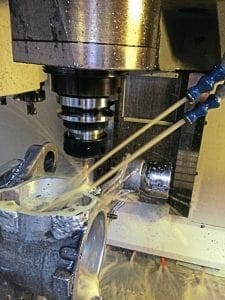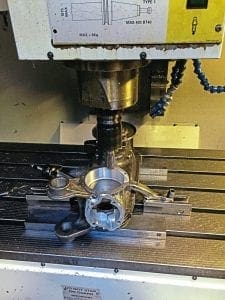 That's good common sense and honest advice. You can also see Paul if you have any all repairs you need doing, whether it be damaged casings or whatever the job may be, chances are Paul can sort it. With cases of historical importance getting harder to find, repairing a damaged old set is often just the ticket. It's a nice little setup at OilTek, not a huge outlet and not a big mail order specialist… but it's just the right amount of services and product to keep your average scooter owner suitably impressed and on the road!
Words: Dan
Photography: Gary Chapman
This article was taken from the May 2016 edition of Scootering, back issues available here: www.classicmagazines.co.uk/issue/SCO/year/2016

Enjoy more Scootering reading in the monthly magazine. Click here to subscribe.