Ever wondered which dealer does what, where they are and who they are? Scootering magazine take to the road each month to get the low-down for our readers…
Atoms were formed when Paul Hopper and Dr Dave Wyeth joined forces in 2009. Paul told us: "I'd known (Dr) Dave for years. He'd not long finished his PhD, when he came in as a full-time business partner. My involvement with scooters goes back to my dad's shop, Auto Wheels in Dartford, where I worked weekends and after school, eventually working with my dad from 1991 till 2002. I can remember one minute past midnight on my 16th birthday taking my first (legal) ride on my first scooter.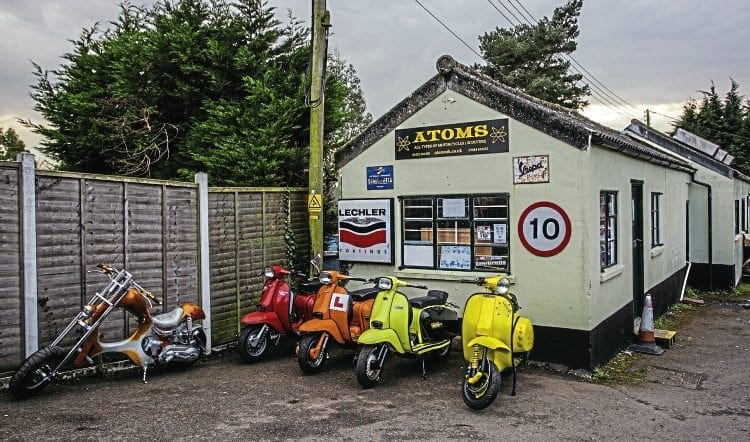 "Being able to combine my hobby with work is something I'm very lucky to be able to do. When my dad retired, I took a break from working on scooters, becoming a postman for a few years, before starting up as Celery Scooter Innovations in 2005. I've been on National and European rallies, and have built a few custom scooters that have been featured in Scootering over the years."
Dr Dave added: "I'm a member of a well-known motorcycle club and I've a passion for scooters that goes back to when I was 14. I've been riding scooters since then. The way we tend to work at Atoms is Paul does the Vespas and I do the Lambrettas, which is perfect. I'm a fully qualified mechanical engineer, Paul is a qualified mechanic.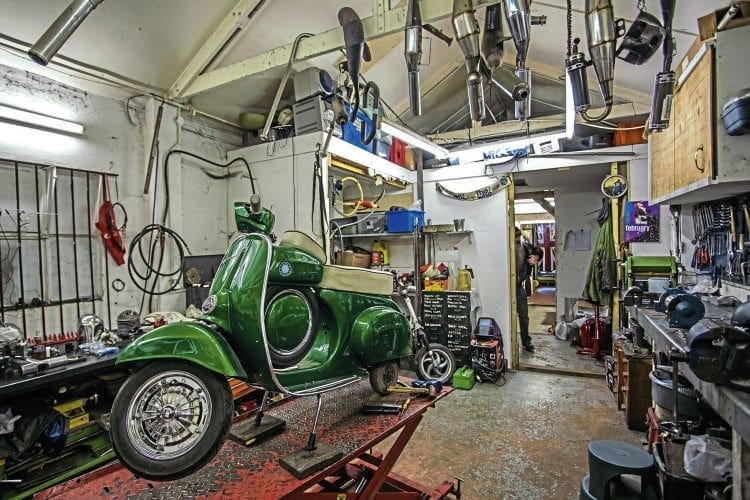 "There's a huge difference between mechanics and engineering; sometimes I drive Paul insane with the way I approach things. The way I see it, scooters are all about engineering! I went on the National rallies in the early days, my first European rally was in 1989. I tried my hand at all manner of scooter sport events, grass track racing, trials, as well as road racing both solo and sidecars, I did quite well, especially at sidecar racing. When road racing, on solos, which I wasn't that good at, I had a collision with Dave Webster at Three Sisters circuit, near Wigan.
"Racing the sidecar outfit, I think I crashed on every corner at Three Sisters! At one meeting I was taken to a hospital in Wigan after a crash. Next Three Sisters race meeting, I was involved in another crash which required me going to hospital, the A&E staff there remembered me from the last time. Three Sisters apart, which was a tight and twisty circuit, I generally did well racing my sidecar outfit. The only other time I crashed when racing the sidecar was at Lydden Hill. Sidecar racing was good fun, from preparing the outfit to racing, I just haven't got the time now, or I'd be very tempted to build another outfit and get back out there. Working at Atoms allows me to keep in touch with the scooter scene and some of the many people I know from over the years."
Products and services
Atoms cater for all types of scooters and motorcycles. They are stocked with a full range of parts catering for anything from a basic maintenance requirement to a full rebuild. The on-site workshop offers welding, fabrication, restoration, engine tuning and customisation. Cliched it may be, but for Atoms no job is too small or too big. Not every service they provide is in-house; for instance if a customer requires one-off parts manufacturing from scratch, they have access to a machine shop. Over time Atoms have built up a great network of more specialised services such as alloy welding, complete paint jobs (Paul's dad keeps his hand in with some customers spraying requirements), murals, powder coating and seat covering.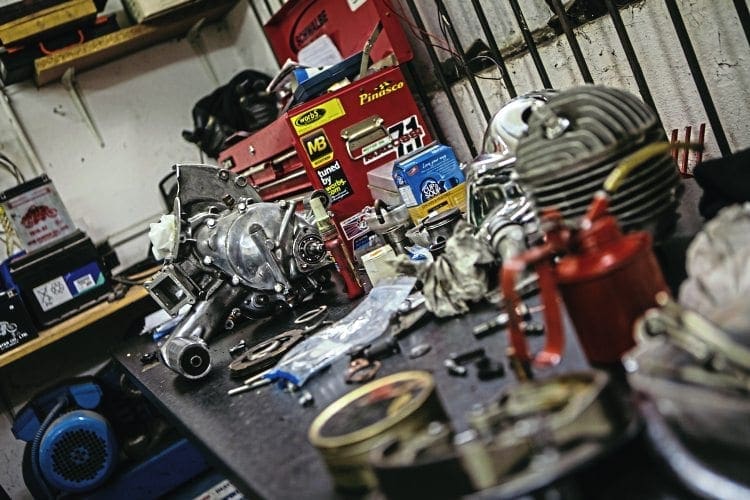 These are sourced through Atoms and come as part of an Atoms package. From preparing for and arranging MoT tests, through insurance repair work, fault finding, part and full engine rebuilds, nut and bolt restorations to full, radical, custom projects to customers' specifications, Atoms can deliver. Atoms also offer a free advice service too, via telephone or email.
Why they do what they do
Both Dr Dave and Paul have a love for scooters that goes back to their respective early teens. Paul has trained as and worked as a qualified mechanic for most of his working life, with a short hiatus in the early noughties. Dr Dave is a fully qualified mechanical engineer, which brings an alternative way of approaching some of the work Atoms are commissioned to carry out. Paul is Atoms' Vespa expert, with Dr Dave taking care of everything Lambretta. Engineering principles coming up against standard mechanic procedures can sometimes result in interesting discussions in the workshop. With a network of specialist service outlets they can outsource to, the Atoms team can concentrate on the list of services they provide themselves. Earning a living by doing something they both enjoy is a welcome bonus.
Since Atoms began they have steadily established themselves over several years. They've built up a reputation for high quality workmanship in every aspect of service they carry out. Glowing accolades via social media as well as mainstream media are ever growing testimony to the shop. Both the amount of stock and the workshop capacity have increased considerably since the inception of Atoms. A conscious decision was taken when Dr Dave joined forces with Paul to change the name of the business to mark a fresh start.
Former glories
While still operating as Celery Scooter Innovations, Paul developed a semi hydraulic outboard front disc conversion for Vespas. He says: "At that time there were hydraulic conversions available for Lambrettas, but not a great deal for a similar for Vespas. There were a few early German systems and that was about it.
"In the South East back then there were a few conversions of fitting PX engines in, for instance, Sportique frames. Ten inch wheels instead of the Sportique eight inch ones were wanted, with the PX engines invariably kitted, people wanted to be able to stop! Using PK forks with a PX front hub Paul developed a front disc arrangement that would prove to be both innovative and popular.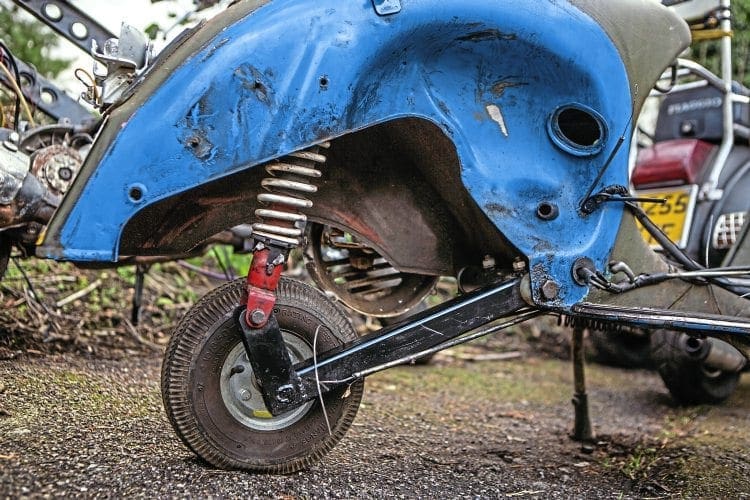 "The word went out and the demand, for what are now known as Atoms disc brake conversions, increased. Vespa hydraulic front brake conversions are now on offer from many different sources, it wasn't the first Vespa hydraulic conversion by any means, but it was one of the first commercially available in UK. It is still a popular conversion today. We've completed a couple of custom Lambrettas in the past few months, which Dr Dave had a tot of input with. Also there's a yellow Vespa Atoms Dealer special, 235cc, that puts out 30bhp, that has lots of "bells and whistles" fitted that was finished a short while ago, that was my favourite custom scooter that I've built to date."
Coming soon
Currently being created is a radical cutdown that's due for completion later this year. Also there are four chops in various stages of build. They will be finished one at a time over the next six to 12 months. There's also a lot to come in the shape of restored classic machines and full custom protects. Dr Dave has a long stroke TS1 engine on the bench that he's 'playing around with', putting engineering theories into practice. Paul affirms "Of late business has been very buoyant. I've worked in the trade for 25 years and it's unbelievable, I've never known it be so busy, and I'd say its busier now than when I first started. Back then there was a sizeable commuter market to cater for which is much smaller these days. I'm soon celebrating my 10th anniversary in what have been Atoms premises since 2009."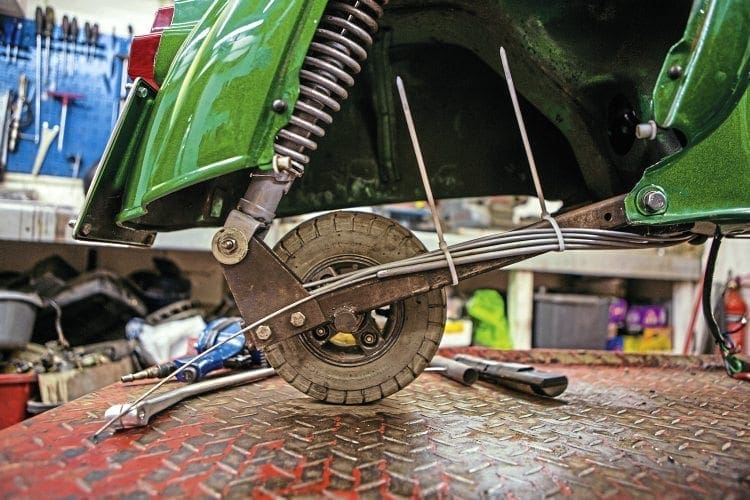 Words: Sarge
Images: Gary Chapman
CONTACT
Atoms 9 Willow Industries, Tyland Lane, Sandling, Maidstone, Kent ME14 3BN. It's advised to call (01622 664488) before visiting the shop as they may be away answering a call-out, attending a breakdown, recovering or delivering, which are other services Atoms provide. On their website www.atomsuk.co.uk are several galleries with a variety of scooters they have produced, created and worked on plus email and Facebook details.
This article was taken from the June 2016 edition of Scootering, back issues available here: www.classicmagazines.co.uk/issue/SCO/year/2016

Enjoy more Scootering reading in the monthly magazine. Click here to subscribe.