When Paul Douglas decided to build a Lambretta street racer it was only natural that his first love would inspire him…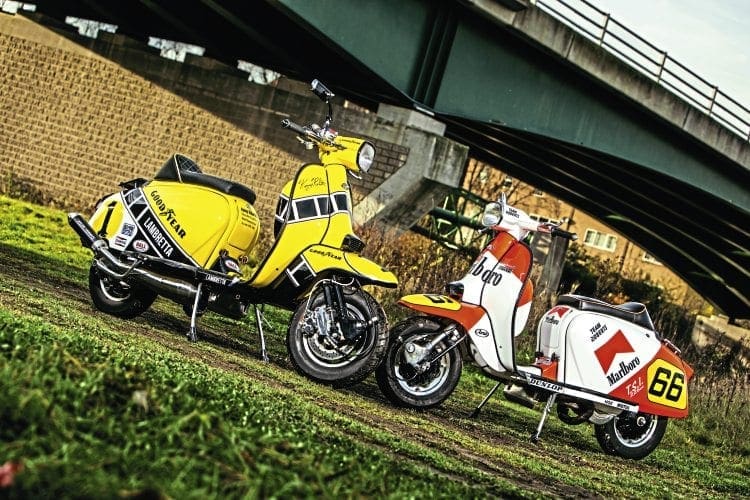 Any readers who are now in their 50s, no matter how 'Mod' their teenage years, will probably raise a smile at the mention of a Fizzy or more accurately a Yamaha FS 1 E sports moped. Even if their own ride was a 50 Special the chances are that at least one friend would be riding alongside on their Fizzy. It was the combined experience of riding and of being free to go anywhere, without relying on parents or public transport, which drew motorcycling into many of our veins. School friendships enabled us to compare and contrast our chosen transport and endlessly debate their merits when we should have been concentrating on more important things, like exams. If my classmate Malcolm is reading this I'll finally concede that my 50 Special was no match for a Fizzy – at least not until I discovered Pinasco!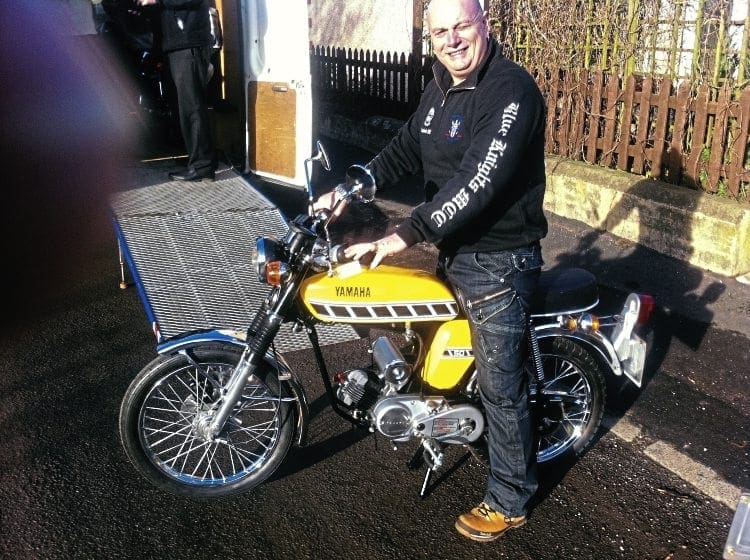 "If it's got two wheels I love it," says Paul, which is good news for his employer because he earns a living a motorcycle showroom manager at Team Roberts Triumph in Doncaster. A scooterist since the early 1980s Paul is equally at home on a superbike as he is on a Lambretta, but it was on a little Yamaha that he first felt the adrenaline rush which only two wheels can supply.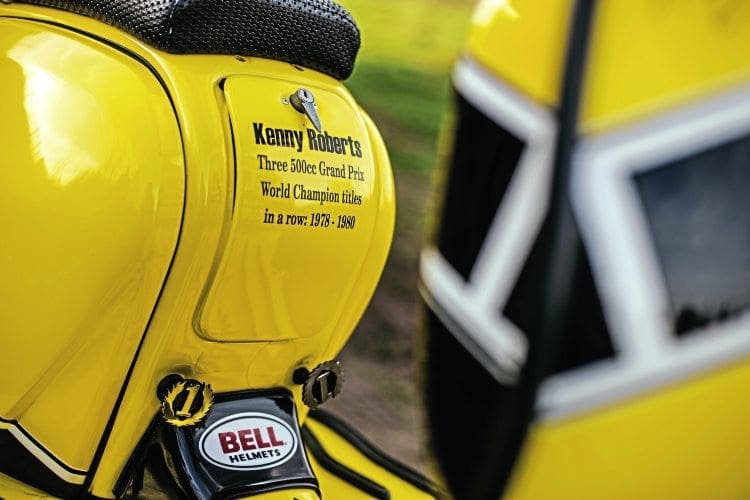 "That little Fizzy changed me," admits Paul. "Pretty much all of my adult life had been shaped by those early riding experiences.
"The Fizzy was more than a moped, as until its release mopeds were things that old ladies rode and because they were so dull 16-year-olds were allowed to ride them. Yamaha recognised the gap and created the sports moped. Early versions didn't have to be restricted, they were legal as long as they were under 50cc and could be pedalled. It was only when law-makers woke up to the fun we were having that the 30mph restriction came in."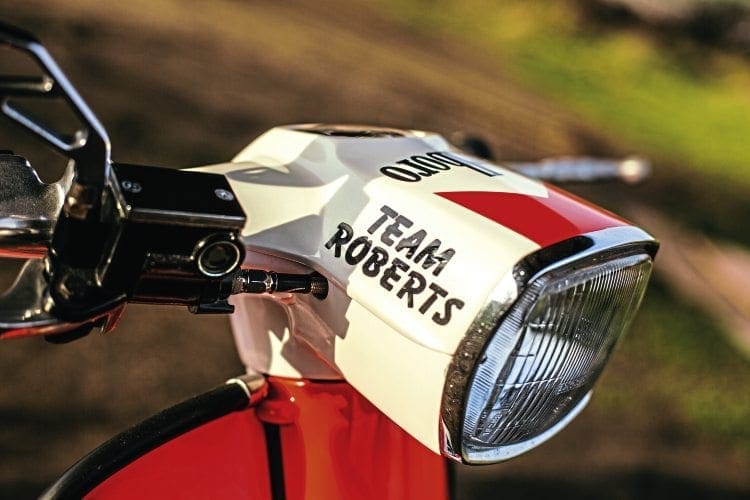 It's well known that prior to 'the film' scooters were all but extinct in the south of England with only a few diehards keeping the torch burning. It was a different story in the north however. "I'd be riding around on the Fizzy and all the time seeing older lads on scooters," said Paul. "I thought they were cool in a way that motorcycles could never be. Personally I see them as different beasts. If I want to ride at 100mph I'll do it on a sports bike but for sheer style it has to be a scooter." Paul rarely does things by halves and when the time came to say goodbye to the Fizzy it was swapped for a full-on lights and mirrors equipped GS.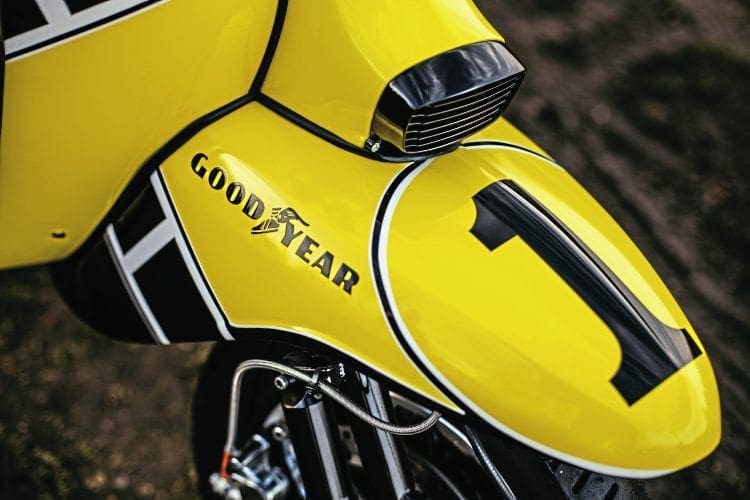 Over the years Paul has owned many very tidy scooters. His most recent creation, 'Peaky Blinders', featured on Scootering's cover earlier this year and 1980s icon 'Piss In My Eye Boogie' was in his care for quite some time. When the time came to build his own Lambretta street-racer it was to the Fizzy that he turned for inspiration.
Bring on Kenny
It wasn't just speed that created the Fizzy legend, it was style. Painted in Yamaha's iconic 'speed block' scheme, the Fizzy was equally at home outside the chippy or mixing with its larger siblings outside a biker's cafe. Although the design was used across most of their range it's most associated with the legendary racer Kenny Roberts.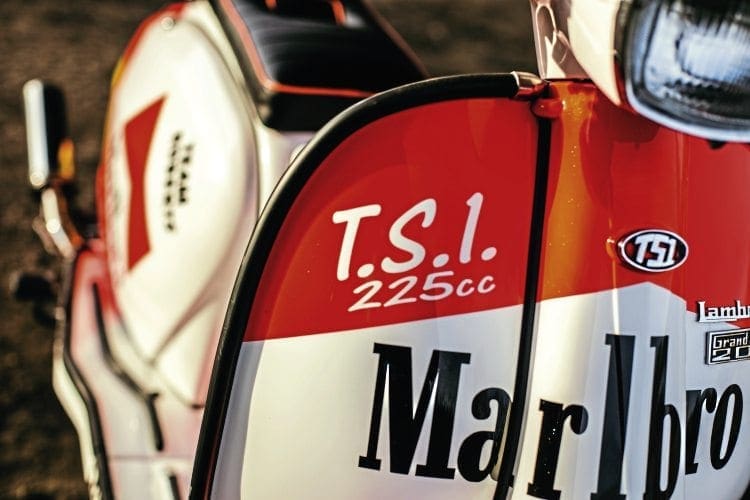 Before going any further it's worth clarifying one point. Paul's employers Team Roberts and Kenny Roberts aren't connected. "Kenny is one of my great sporting heroes," explains Paul and with good reason. The American rider transformed motor racing in more ways than one. Look at any motorcycle racer and you'll see the same stance on cornering, body forward and knee down shifting weight to the front wheel enabling the rear wheel to break contact with the road and slide around the corner. It's the same stance in MotoGP or BSSO and Kenny perfected it,
Having cut his teeth on dirt tracks he was signed by Yamaha USA at the age of 19. Put simply he rode on hard surfaces exactly as he did on the dirt. In a 13-year professional racing career, Roberts won two Grand National Championships, three 500cc world championships including 32 Grand Nationals and 24 Grand Prix road races. If that weren't enough he also won the Daytona 200 three times and the Laguna Seca 200 on six occasions.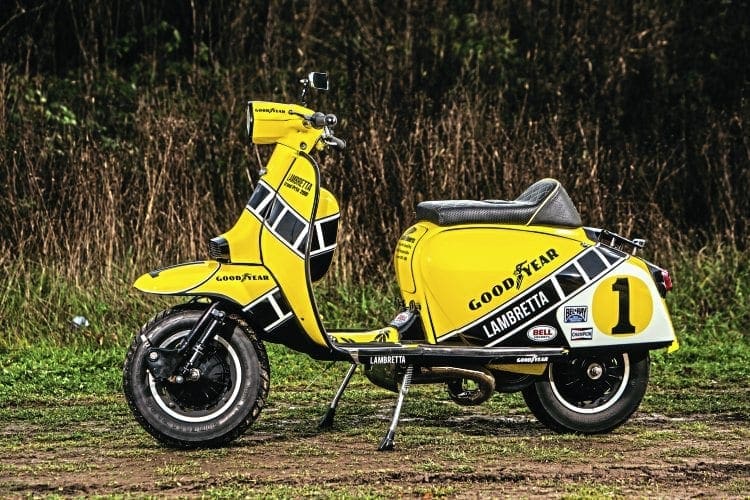 With fame comes influence and Roberts campaigned tirelessly for improved conditions and prize money. It was his declaration of a separate race series in 1979 that finally brought professionalism to the sport and set the scene for Grand Prix motorcycle racing as we know it today.
Grand Prix tribute
There has been more than one attempt to apply motorcycle racing schemes onto scooters over the years — not all of them successful. Paul's successfully transferred the Roberts yellow racer colours onto a Lambretta by taking the spirit of the scheme rather than insisting on a slavish application. Local painter Paul Firth's interpretation is instantly recognisable as a Roberts tribute, but has been executed in a way that suits the Lambretta's distinctive shape.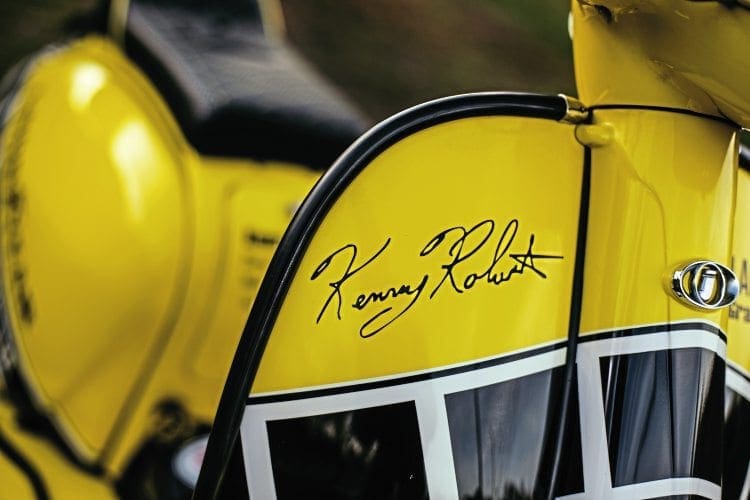 Perhaps due to his day job, Paul's quite happy to delegate tasks which can be better handled by experts and the engine on this machine's no exception. "It's a Honda 205 conversion that club mate Chris Swift sourced for me and so far has been trouble free. The suspension's  been upgraded to BGM units and I've fitted SIP rims. Those, together with the hydraulic disc have made a large difference to the handling. It's still very much a Lambretta but overall it feels much firmer and controlled to ride than a standard machine"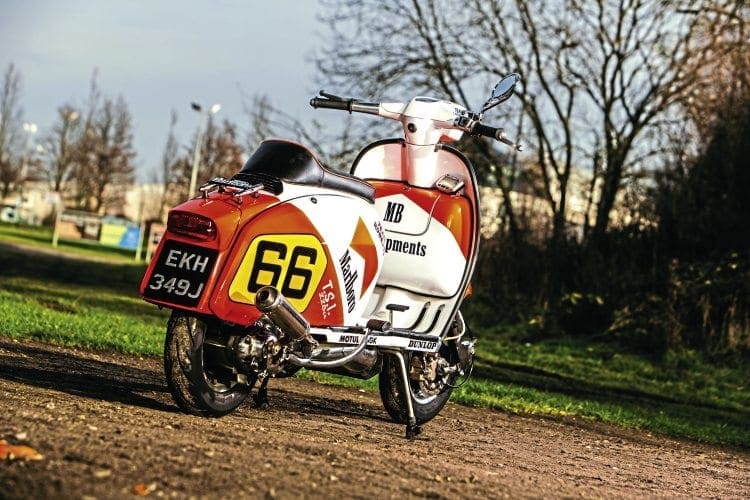 Paul isn't unique among modern scooterists in spreading his riding across genres but he's perhaps one of the most informed. Call in to Team Roberts and the chances are you'll find one of these two gorgeous street racers in the showroom with Paul ready to talk about their merits just as passionately as latest superbike from Triumph. Some things never change.
MAN & MACHINE
Name: Paul Douglas
Job: Sales manager
Scooter club & town: Rotherham Scooter Club
How and when did you first become interested in scooters: Back in 1979, I think like all young 14-year-olds… Quadrophenia! Following all the lads on scooters who were older with our parkas and suede boots, trying to be in with the crowd. Good days.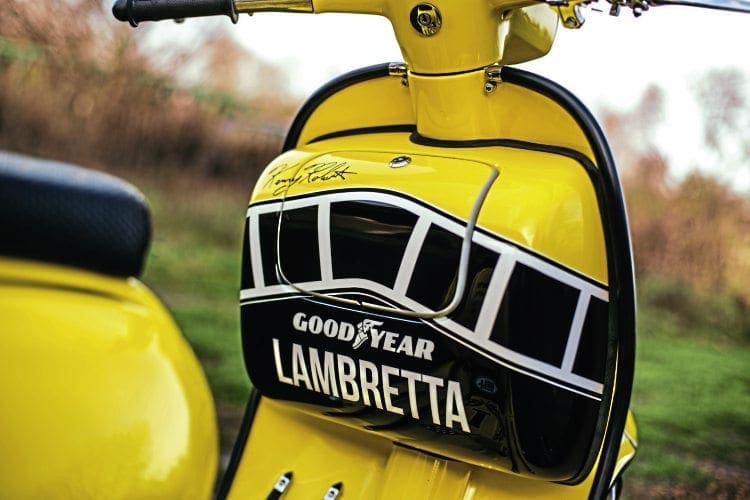 First scooter: GP150.
Favourite scooter model: SX200.
Favourite style of custom scooter: Anything that just says time spent on it.
First rally or event: Bridlington.
Favourite rally: Bridlington.
Funniest experience with a scooter: Going out on the scooter, following my mate Hodgy round a corner and not having time to slow down before a hump back bridge… he got both wheels up in the air, then came back down and hit the deck; scooter was all over the place. Hodgy was laughing his head off, a good night out.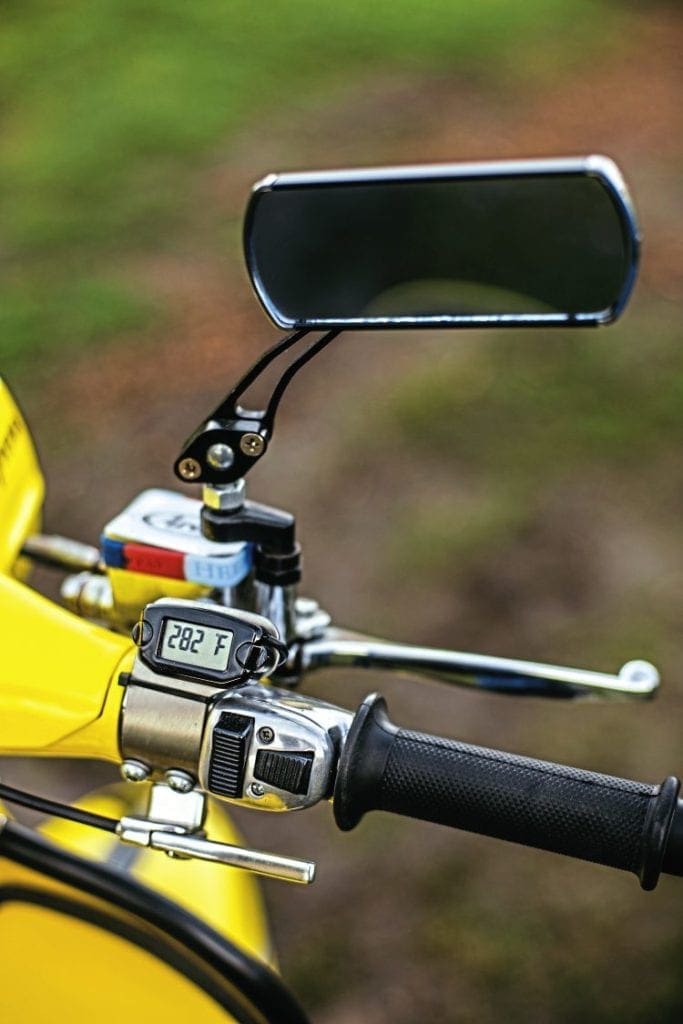 What do you like about rallies/ events: Seeing all customs scooters, night life's good but I get sent home early because I'm not particularly good at drinking!
What do you dislike about rallies/ events: Moaners.
What's your favourite Scootering magazine feature: All of it.
Favourite custom/featured scooter of all time: Top Gun.
If you had to recommend one scooter part or item of riding kit what would it be: Best helmet that you can afford.
What's the most useless part you've ever bought for one of your scooters: Stainless steel runner board protectors.
Name of scooter: Marlboro Racer & Team Roberts.
Scooter model: Both 200.
Inspiration for project: I wanted a street racer.
Team Roberts Spec:
Kit: Honda 205.
Crank: Race.
Exhaust: TT Carbon Can.
Dyne done by: Darrell Taylor.
Suspension: BGM Dampers.
Rims: SIP.
Marlboro Spec:
Kit: TS1.
Crank: Race.
Exhaust: JL.
Engine by: MB.
Dyno done by: Darrell Taylor,
Suspension: Kawasaki Dampers.
Rims: SIP.
Both reliable: Yes, up to now.
Paintwork & murals done by: Paul Firth.
Chrome: Quality Chrome.
What was the hardest part of the project: Getting good fitting bits.
Do you have any advice or tech tips for anyone starting a project: Dry build first.
Is there anyone you wish to thank: Chris Swift, Paul Firth, Darrell Taylor, MB, KBR scooters.
Also Zoe Douglas and Jamie Douglas as it's their inheritance I've just spent!
MARLBORO MAN
Paul's daily ride is a GP that once sported Quadrophenia tribute panel. Following a terminal engine breakdown on the way to Bridlington, it was dispatched to be finished in a fictional Team Roberts scheme to create a talking point at the showroom. While the paintwork was being completed by Paul Firth its engine was dispatched to Mark Broadhurst to work his magic, returning equipped with a TS1 225. A very clean and well executed machine it deserves a place in Scootering simply because it's the type of scooter that no longer stands out in the crowd.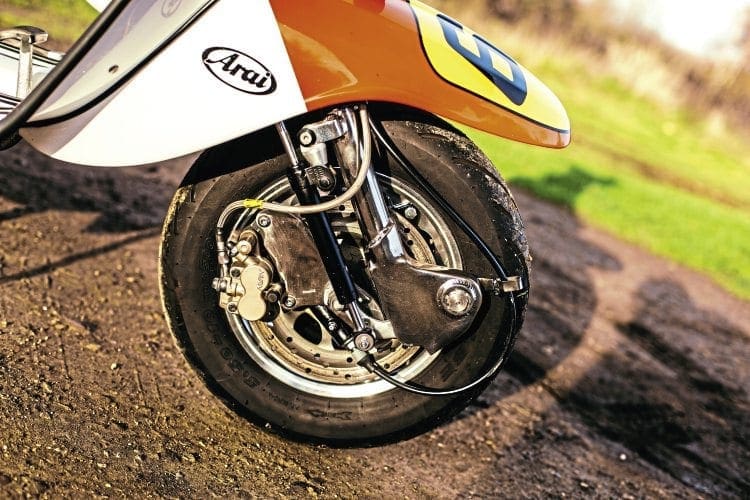 Think about that for a moment – bespoke seat, Nissin hydraulic front brake, state-of-the-art tuning, updated suspension and a beautifully executed street racer paint scheme. Fifteen, perhaps 10 years ago it would have graced our cover and picked up trophies galore. Taken to a rally in the 1980s it would have seemed like something from science fiction.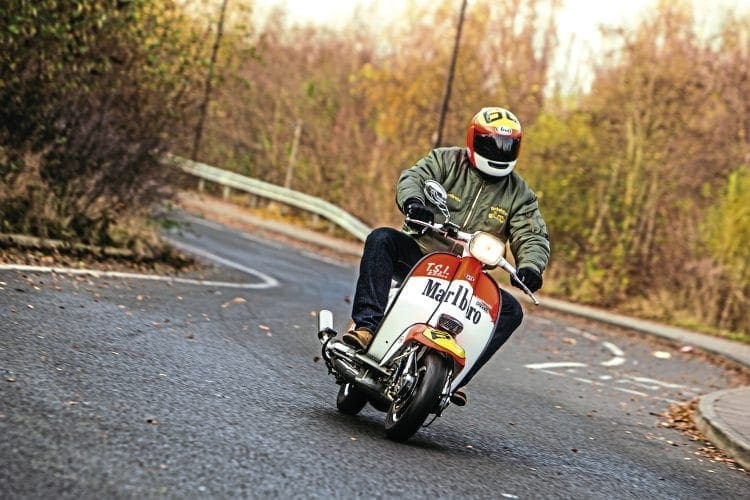 The sad fact is that we've become accustomed to excellence and we take so much for granted. The new season's upon us and there's never been more equipment available to make our scooters more reliable and powerful than ever before. Get out there to rallies large and small, meet friends old and new, but while you're there step back for a moment and take in the machinery around you. We're living in a golden age and just like Paul's daily ride it's worth savouring.
Words: Stan
Photographs: Gary Chapman

Enjoy more Scootering reading in the monthly magazine. Click here to subscribe.