MLC108: Mid Life Crisis. We've all had them, only this one has manifested itself in the shape of a custom scooter, of sorts…
Mark Cordingly (Jonah), full time scooterist and part time King Kurt plastic saxophone player has owned chops, standards and even the fabled YPVS 350 Yambretta.
Mark cut his teeth on a Vespa Primavera he bought back in 1985 for fifty quid, paying the guy off at £2 a week. He freely admits to doing the usual teenage antics while learning how to handle a scoot: driving round the park, crashing.
Driving around the pond, crashing. Driving round the garden, crashing. Parents not being happy, as well as lending it to a friend who got arrested and having to go down to the police station to get his pride and joy back.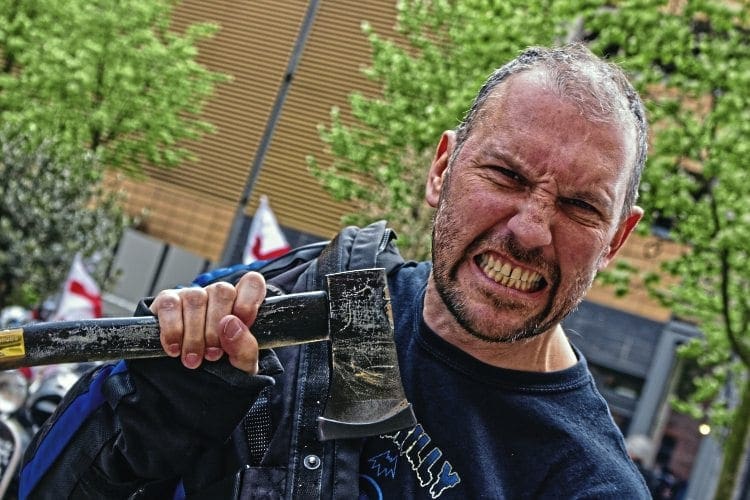 His first National Rally was Great Yarmouth 1986 (and those of a certain age of this parish are more than aware of what happened there during the Desmond Dekker concert), all things that had an impact on this impressionable youth; Mark considered it an 'interesting' lifestyle. Now so many years on, he still does the rallies and now works with VFM.
He is also the very proud owner of a very distinctive scoot, but claims no honour for the build. He's named it an MLC250 Bobber… MLC? Mid Life Crisis, naturally. Also his full initials are Mark L Cordingly, so it's fitting as well as fate (according to him).
In the beginning…
Mark had seen it posted on a for-sale site, possibly Rats and Rusto's, and immediately fell in love with it; he simply had to have it straight away. Having said that, it took a few weeks for the parties to meet up as the former owner/ builder was working away.
It had (apparently) already taken this chap and his mate two years to build, so another couple of weeks wasn't going to spoil much was it? So, first opportunity Mark was down there like a shot. Chris sized him up and, shaking his head, told Mark that he was probably too tall to ride it. Mark didn't care, he insisted he'd do something, cutting off a foot or two of his, anything. He simply had to have the scoot.
Height notwithstanding, Mark took it for a test ride, and was beaming from ear to ear on his return, Mark described his grin to me akin to that of the Riddler in the Batman movies… Sold to the gentleman with the ornate axe and pink plastic saxophone, thank you very much! And in his own words. "It's been fabulous ever since!'
Mark told us: "It's built for cruising, not for speed, you'd be surprised just how comfy it is. I know it looks like something out of the Spanish Inquisition, but it's not. I went to Belgium on it, Kelso, all over the place, any machine, given enough time will be uncomfortable, the worst seat I've had was on a chopper — it was a tractor seat, we'll leave that there, shall we? This one is deceptive the other way round. The handling's great, light and responsive, steady at speed, stops on a button, reliable. What more can you ask for?
"It's a really well thought-out scoot. The guys who put it together ought to be proud of themselves, and it's one of the best scooters I've ever had in 30 odd years of riding — and I'm not joking saying that. The only thing I wanted or needed to add was a tool bag, so I got hold of Paul Hunter from 'Hooligan Leather' who does a lot of handmade leather belts, satchels and the like, he's done some amazing pieces of work.
"I sent him some pictures of the scooter and he came back with a couple of designs and he made it in a really quick time for me, it just blends in with the scooter and I'm massively happy with it, it's one of those details, like the web on the welding that just multiplies the effect tenfold. Like the exhaust, it sounds as it should for the look. The whole scooter has been nicely thought through. If the scoot was too 'finished' it wouldn't be the same animal. It's been designed and built for a purpose.
"It's a Marmite scooter, it gets attention. You drive down the road and people whip out their phones and start taking pictures and videos, asking me questions at the lights. It is different, but I don't think it's too over the top. I just think it's well built, everything lends itself to the look of it, right down to the hand painting by Phil Appleyard. The scorpions, spiders and all the creatures of the night on it back up the theme — crawling. I've had it about a year and it still puts a smile on my face every time I go out on it."
So it came to pass
The scoot was originally built by Chris (Mitty) Walton — after selling his Italjet Dragster, he bought a Yamaha R1, bear with us… all will be revealed. Quite content to be riding that for a while, things all changed during a little visit to Kris Green at Mental Engineering. What started the discontent with his current wheels was a stripped Piaggio X9 250 in the back garden — after a few enquiries about it — Mitty succumbed to the lure and thought, 'Yeah I can make something mad with that,' as you do!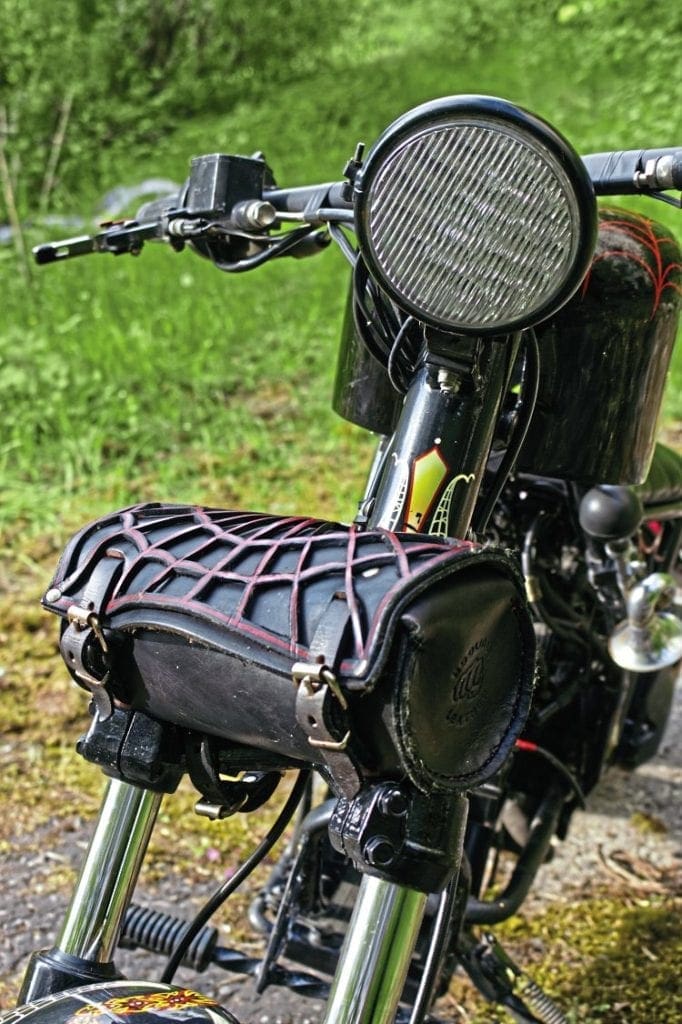 Said scoot was purchased and brought home where he realised the frame was ugly as sin, so the engine was yanked out, as were the front part of frame with fork tube on, front forks and wheels. A 125 cruiser motorcycle frame was 'borrowed' off Roy Taylor and after stripping it to a bare minimum it was widened, the seat area lowered, hardtailed and new fork tube engineered to take standard forks. After that came a Harley Sportster tank along with plenty of welding, grinding and cutting.
By the time the surgery was over, they had the look Mitty was after (nothing had been put down on paper, it had just been created to suit his taste and imagination). Fabrication took a long time, far longer than he'd anticipated due to the fact that it was being done during dinner times at work. Finally it was done and sent to Phil at The Monster Forge. Phil was given a free hand to do what he wished on the full scoot. Originally it had been given the name 'Axe Attack', another Meteors song, but Phil rang Mitty and said that he preferred it to be called 'Crawling' to mix in better with the webs scattered all over the frame — he agreed and let him do his stuff. It was decided to put the radiator underneath the frame and so far — (touch wood, metal, cobwebs, what have you) there haven't been any problems or regrets doing this.
Millgate Furniture made the seat. It's not a sprung seat; this plan had to be sacrificed due to space to hide all the electrics and brake system. The big problem Roy and Mitty had was terrible issues in getting it to run on the ECU. To be frank, they were ready to cut it up several times and more than once they flirted with the idea of putting a different motor in it, it felt like it had become a road to rack and ruin, but persistence paid off and they sorted it. As soon as those gremlins were ironed out, it was on the road a few weeks later and winning shows.
Whether you like it or it makes your skin crawl, it turns heads wherever it goes. Mark's the first to admit that it's not to everyone's taste, but it wasn't built it to please all and sundry, just those with an eye for the strange. Mark and Mitty would like to thank Carl, Greg, Roy, Kris, as well as the numerous companies who did all the other stuff — and of course Mark intends to look after it — and (as he was so delicately instructed) to "f**k the haters". A sentiment with which I wholeheartedly concur.
SCOOTER SPEC
Scooter model: Piaggio X9 250 (liquid cooled, small compact engine).
Frame: Hardtail.
Tank: Harley.
Exhaust: The exhaust is an 'all in one' an it's loud (funny loud, the type that scares children and makes dogs piss).

Brakes: Disc brakes (which are always a bonus) and it's fabulous.
Anything else: Not much else to say…
Words & Photographs: Rik

Enjoy more Scootering reading in the monthly magazine. Click here to subscribe.