Military-themed scooters are not a new phenomenon to the custom scooter scene. However Mark Grace's scooter, Conflict, delivers a blend of military campaigns and theatres with courage and is a tribute to all the brave men and women of the armed forces.
Mark is a family man and he was very close to his grandfather who served in the Second World War. During his childhood years Mark spent a lot of time with his grandfather, who told him some of his experiences of the war which he and his pals encountered, also Mark has several close friends who are current serving military personnel. "The idea behind the concept of Conflict was to honour and pay recognition to everyone. One of the proudest, and most emotional days of my life was seeing my grandfather in his Remembrance Day suit with his medals proudly court-mounted on his chest and the tears he shed at the Cenotaph in memory of the fallen. I'll never know what these people experienced but I have an idea, so I wanted to articulate the respect I have for our servicemen and women and deliver it through a custom scooter."
Heartfelt pride
The Lambretta GP 200, which was developed into Conflict was bought by Mark in July 2012 as a Street Racer from Chiselspeed. It had solid underpinning foundations and provided a good platform for Mark to work from to achieve the outcomes he was looking for. Mark had considered several other themes for the scooter, but as he thought more about it the military theme stayed the most relevant because it remained closest to his heart. "Remembrance Day will never die and I have a full respect to the fallen, past, present and future, and the scooter tells their story."
The concept
In order to create the custom scooter Mark was looking for he decided to approach a team of top specialists to complete the work. He said: "Regarding the artwork; Gatch has completed several scooters for me in the past and I knew he'd be up to the job. Gatch is a diverse artist and he's no stranger to military themed work. I knew he'd have a passion for the theme and he'd be able to add his own element of creativity to develop the theme to the level, which I wanted to take it to.
"The whole concept of the theme of Conflict was to deliver the main military campaigns, which our servicemen and women have been involved in from the First World War to present date. It was a large task and we needed to do it without over complicating it. We also had to face the fact; if the concept of Conflict was going to be realistic the presence of Hitler and the Nazi regime had to appear on the scooter. It was a tough decision and one which I didn't take lightly; anyone who doesn't get it is just putting their head in the sand. The reality of warfare is that it's an ugly situation and I wasn't prepared to gloss over it."
Organising
I spoke to Gatch and asked him how he'd developed the project. "Mark is a keen military historian and as such he didn't want to focus on one particular military campaign. We sat down and discussed how we could deliver an all-encompassing theme but keep it relevant to all conflicts. The name of the scooter is an overarching term, which delivers the message Mark was looking for. The scooter's not just a trip down memory lane and it's not just a period piece. It delivers a new take/interpretation on the idea of conflict and in which direction it's going in."
The drone on the nearside sidepanel interprets the future of warfare and sits directly above a tribute to the fallen of the First World War with the graphic, 'We will remember them'. The modern theme continues with an Apache helicopter and murals of soldiers engaged in conflicts in the Middle East and Northern Ireland. On the offside sidepanel a Spitfire features as the main mural and a burning Nazi flag, with the newspaper headline broadcasting that Hitler is dead and that Berlin has fallen to the Allies. The horncasting shows a mural of the military's highest award for bravery under fire, the Victoria Cross and the offside legshield delivers an emotive mural of an aging military veteran who casts a shadow of a highly trained operational serviceman from his earlier years. The mural is supported by the graphic, 'Once a soldier always a soldier' and the nearside legshield delivers a mural of Winston Churchill humbled and giving a proud expression in acknowledgement of the sacrifices the servicemen and women have made.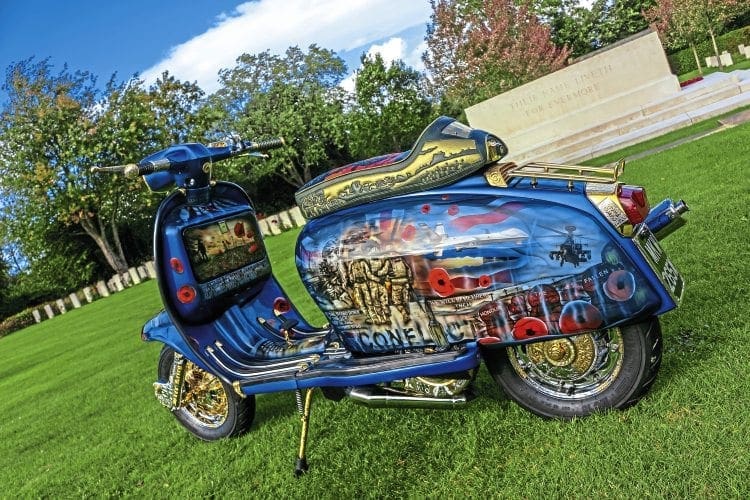 Collaborative intent
With the choice of artwork complete Mark approached Jools at Street Beat to add the finishing touches and complete the engineering work. "Jools is no stranger to the scootering scene, and he's been involved in a string of custom scooter and street racer builds over the years. I contacted Jools, who only does work through word-of-mouth through a mutual friend and he agreed to complete the work I was after.
"There were some splits in some of the usual areas of the bodywork such as the side panels above the rear footboards and the front mudguard, which needed to be addressed. The repairs I had to do would require some welding, so they had to be approached as carefully as possible because after I'd completed the work some of the paintwork would require re-touching," Jools explained. However, this wasn't where the work for Jools would stop. "When Mark approached me with the project, along with the bodywork repairs and engine work, he explained that he also just wanted the gearbox side-casing chroming. But when that came back and Mark saw it there was no doubt about it; he'd got the bug and it went from there!"
Higher level
With Conflict now moving towards becoming a no-expense-spared custom scooter, Jools supported Mark and helped him develop his ideas. Mark had now decided that he wanted to take the scooter to a higher level by adding bespoke engraving and top quality chrome work. As a result, and with Mark's agreement, Jools called in Adi Clark and Karl from Quality Chrome to complete the work.
The results speak for themselves; when you look at the engraving on this scooter it is clear that when Adi Clark took on this project; the research, work and time he invested in the detail of Conflict is second to none. The attention to accuracy throughout his work, which appears all over the scooter, is outstanding.
The final outcome of the work carried out by Mark and the team of specialists he brought in to work on Conflict is a custom scooter which delivers a deep and meaningful mark of respect to all our brave servicemen and women; past, present and future.
OWNER DETAILS
Name: Mark Grace
Job: Plasterer.
How and when did you first become interested in scooters: In 1979 watching Quadrophenia I had a great interest in scooters as a young boy. Then my dad took me to buy one. Thank you dad – never looked back.
What was your first scooter: Vespa 50 Special (1981).
What is your favourite scooter model: Lambretta GP & SX.
What is your favourite style of custom scooter: Full bodied Vespa or Lambretta.
First rally or event: Morecambe in the early 80s.
How did you get there: On my Vespa 50 Special, which had crash-bars and accessories. I was carrying my luggage and its top speed was around 25mph!
Any stories: The ride to Morecambe on my 50 Special took nearly five hours and when I arrived there I had very sore backside!
Favourite and worst rally/event: Favourite: Bridlington. Don't really have a 'worst' rally they're all great, unless it's raining!
Funniest experience with a scooter: Breaking down in York and my mate with another scooter towing me back to Leeds.
What's the furthest you've ever ridden on a scooter: Leeds to Wales on a smallframe Vespa 100cc.
What do you like about rallies/events: Good atmosphere, love looking at other scooters, meeting people and picking up good tips.
What do you dislike about rallies/events: Poor weather and 'know-it-alls!'
What's your favourite Scootering magazine feature: Technical tips and 'Show Us Your Scoots'.
Your favourite custom/featured scooter of all time: Tony Miller's 'Beyond Redemption'.
If you had to recommend one scooter part or item of riding kit what would it be: Waterproofs and a phone (in-case you breakdown!)
What's the most useless part you've ever bought for one of your scooters: A cloth seat cover. When it rained it got soaked through: not good!
SCOOTER DETAILS
Name of scooter & reason: Conflict. It's for the servicemen who lost their lives for our country, past and present to protect our children's future.
Scooter model: Lambretta GP.
Date purchased & cost: July 2012 as 'street racer' from Chiselspeed.
Inspiration for project and theme: The stories that my grandad told me as a young lad. They really hit home to me so I thought the least I could do is remember the fallen.
Time to build and by who: Five years in total. The main element (strip-down to scratch and re-build) by Jools at Street Beat, Harrogate: Top Man! Thank you.
Engine spec: Mugello 225, Crank: 58mm race crank, Carb: TMX 30mil, Exhaust: ADS Chiselspeed, Clutch: five-plate, Gearbox: GP 200, Porting & Dyno by: Chiselspeed.
Describe engine performance, power delivery and scooter handling: Very good in all aspects.
Top speed & cruising speed: Top: 70mph (ish). Cruising: 55mph.
Is the scooter reliable: Very – it's a pleasure to ride.
Paintwork & murals done by: Jools Street Beat – Harrogate, Gatch – Halifax.
Is there any engraving done by: Adi Clark – top man!
Is there any chrome: Quality Chrome, Hull.
What was the hardest part of the project: Waiting for things to be done, but well worth it in the end.
Do you have any advice or tech tips for anyone starting a project: Be patient and do it your way.
Is there anything still to add to the scoot: I'm saying no for the time being, but you never know what could happen in the future!
In hindsight, is there anything you would have done differently: No, not at all. It's just a waiting game, but like I say it's all well worth it in the end.
Is there anyone you wish to thank: My dad for buying me my first scooter, it got me hooked, and my grandad for the stories and the inspiration to complete the scooter. Jools at Street Beat, Adi Clark for the engraving, Karl at Quality Chrome, Tony Miller – a big thank you, Gatch for the airbrushing and artwork.
YOMP
The mural on the top of the scooter's front mudguard is the classic image of a Royal Marine heading into Stanley during the Falklands War in June 1982, which is commonly referred to as the "Yomper".
'Yomp' is a Royal Marines slang term describing a long distance loaded march carrying full kit. One suggestion of the origin of the word is that it is an acronym of, 'Your Own Marching Pace'.
STONE OF REMEMBRANCE
Towards the end of the First World War, because people did not travel abroad as they do today and the repatriation of bodies was not feasible, families were unable to have a funeral or tend a loved one's grave, so the Imperial War Graves Commission was set up to act as a kind of proxy for the families and its representatives would visit and maintain the graves of the war dead in the country where they had fallen and wreaths and flowers would be placed on the graves.
There are more than 1000 casualties from the First and Second World Wars buried at Harrogate Cemetery, where this photo session took place, which is located just off the A661 south-east of Harrogate. The majority of the war burials which took place here were during the 1939-45 war. Almost all were airmen and two-thirds of them were from the Canadian Forces.
The concept of the Stone of Remembrance was developed by Kipling to commemorate "those of all faiths and none" and consequently the stone deliberately avoids any shapes or symbols associated with any particular religion.
Words: Stu Smith
Photographs: Dan Clare (thanks to Stonefall Cemetery)

Enjoy more Scootering reading in the monthly magazine. Click here to subscribe.