Lucy's love for her scooter and her desire to create a 'thing of beauty' has been the driving force behind a long journey…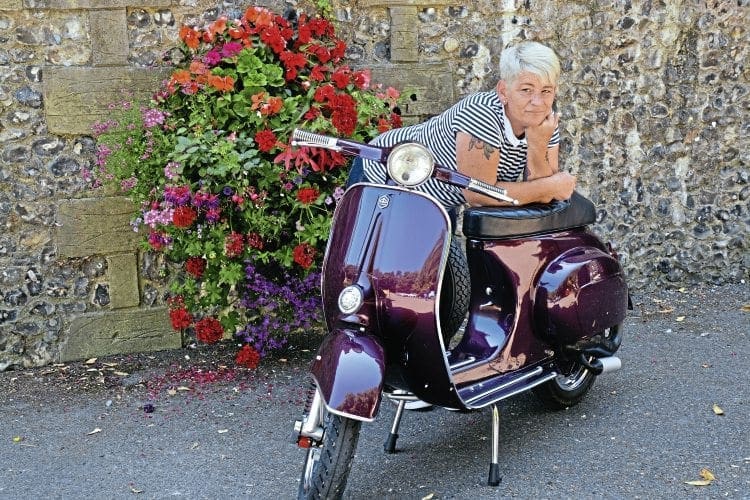 Motown was always played in Lucy's house, as her mum in her younger days was a classy Modette who made her own clothes. In her teenage years, Lucy's mum used to help run The Shoreline in Bognor Regis with Mike Read where up and coming stars like David Bowie and The Who performed before they hit the 'big time'. "Of course we never believed mum until one day Mike Read turned up at our local beach, and of course I had to ask if he knew my mum," Lucy explained. "He asked me who my mum was and when I told him he said; 'Yes, that's why I'm here, I'm looking for her' and at that point we all raced on our bikes to my house trying to beat him in his flashy car. It also turned out that Mike was writing a book all about the beat scene, which my mum was to be included in!"
One or the other
Lucy grew up on the Allengate estate in Rustington, West Sussex, and the 'cool culture' of the time was all about owning one of two types of bikes — a 'fizzy' (FS1E) or a scooter. But the choice for Lucy was easy, as two of her brother's friends had scooters; one had a 50 Special and the other had a PK 50. Lucy decided that in her opinion the PK was a bit 'boxy' but she loved the sleekness of the 50 Special and knew that one day she would own one. When Lucy was 12 she used to go to the East Preston Youth Club and 'The Storm Troopers' scooter boys from Littlehampton would come over. "I used to just hang around and wished I could be in a club like that, then more boys used to come from all over and the youth club became the place to be." Lucy explained. "A lad called Lloyd Atrill came one Thursday night and put this music on, which I'd never heard before and I just sat and watched him dance.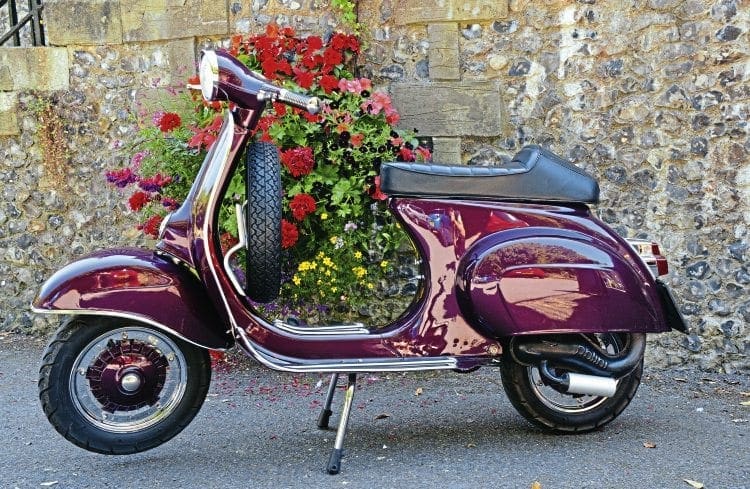 "I loved how his feet moved and he just seemed lost in this music, which I then found out was called Northern Soul. I wanted to be able to dance like that so I used to practice in my bedroom, but even to this day I cannot spin, well I can but I don't look very elegant," Lucy chuckled. Then came The Talisman SC which was made up by the boys in Lucy's group but they'd decided that no girls were allowed in their club. Not too happy with their decision, Lucy explained that the girlfriends of the lads in The Talisman SC got together and decided to make up their own scooter club; The Leopard Ladies. Lucy grinned: "We outdid the boys — we all had our own patches and own flight jackets!"
Getting on the road
In 1985 Lucy purchased her first scooter, a Vespa 50 Special with a 135 kit. The scooter was white with the name 'Sweet Sherry' hand painted in red on the sidepanel. The scooter got Lucy on the road, but she began to like the idea of moving onto an SS90. "I don't think I could have actually ridden one though because I don't think my arms are long enough as the tank and spare wheel would get in the way!" Lucy laughed. Lucy's always had an eye for a good paint job; and likes, as she describes it 'a bit of sparkle' but full-on murals aren't her thing. Lucy's current scooter is a Vespa 90, which she purchased in 2011. "The scooter started life looking exactly like the plain blue one on the front of the Haynes Manual! But I wasn't having any of that. I wanted it to stand out from the crowd!"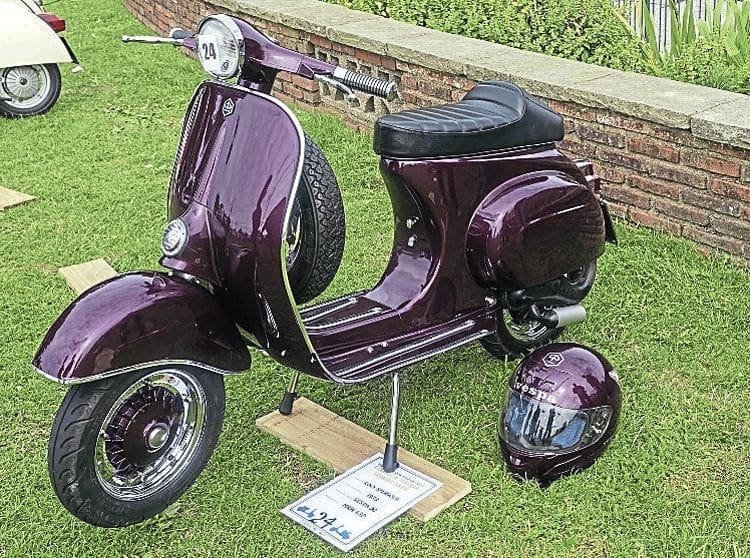 Since those modest 'Haynes Manual' beginnings the scooter's seen some colour and name changes. When it was candy red it was called 'Ruby' but the paint lifted, so it was blasted and de-seamed. It was then repainted in pearl white and was renamed 'Pearl'. However, Lucy wasn't totally satisfied with the pearl white colour, "After a while I decided that it was boring and it didn't do her (the scooter) justice." Lucy explained. Not entirely happy with the scooter's current colour scheme Lucy was constantly on the lookout for an inspiration, which would give her the idea for a new colour. "One day I was sitting in traffic behind a purple Citroen C3. I started to think about it and I thought the purple would 'pop' with a few touches of chrome. When I got home I searched for the colour code on the internet but I couldn't find it and Citroen were no help either, which made me want the colour even more!"
Help was on hand
In her quest to track down the colour Lucy visited The Spray Shop in Lancing. Staff there went through colour charts by the dozen, until she found a shade as close to the C3 colour as possible. With the colour chosen the scooter was resprayed along with Lucy's helmet. "The final colour finish is slightly darker than the C3 and has a glitter flip, but if I'm honest when I see the C3 now I think it's quite pink rather than purple. I love the colour I chose and the scooter no longer needs a name, it speaks for itself!" Lucy said.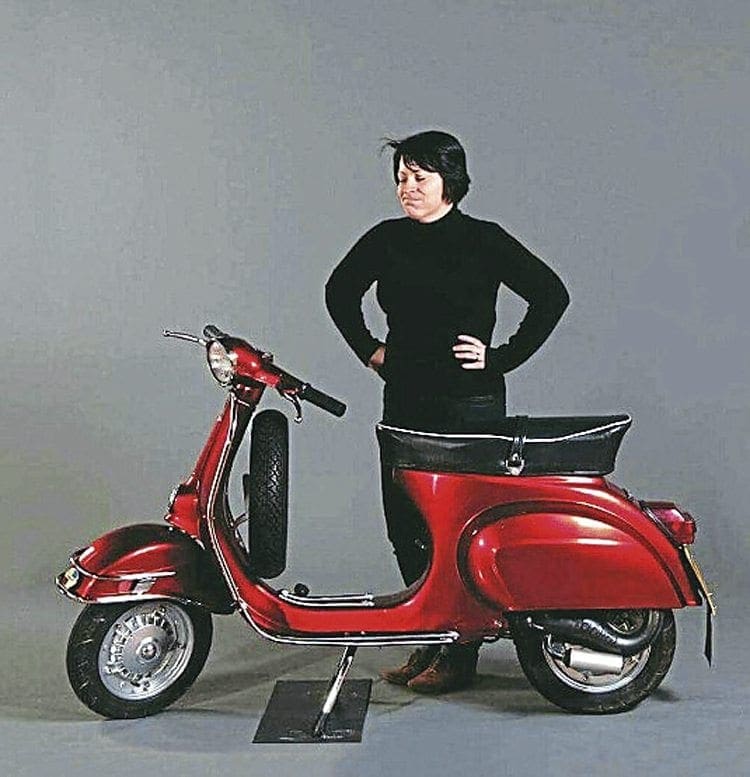 The scooter's paintwork is stunning and is complemented by the tasteful additions of chrome, 'Show' wheel-rims, 'Star' spare-wheel holder, and sidepanel door. Performance wise, Lucy's happy; the scooter runs nicely at 55mph and it's reliable. As for any future changes? Lucy joked: "My husband says, pick a colour and stick to it! But I can't make any promises!"
LADY & MACHINE
Name: Lucy Shergold
How and when did you first become interested in scooters: My mum in her younger days was a classy Modette who made her own clothes. In her teenage years she used to help run The Shoreline in Bognor Regis with Mike Read.
What was your first scooter: Vespa 50 Special with a 135 kit.
What is your favourite scooter model: SS90. I don't think I could actually ride one as I don't think my arms are long enough — the tank and spare wheel would get in the way.
First rally or event: IOW 1986. Two-up on the back of my boyfriend at the time. Excited and nervous because my dad believed I was staying in a B&B (sorry dad). The vibe was amazing and I had never seen so many people in one place.
Funniest experience with a scooter: Waking up in Weston-super-Mare with The Sun newspaper stuck to my burn and being able to read it word for word!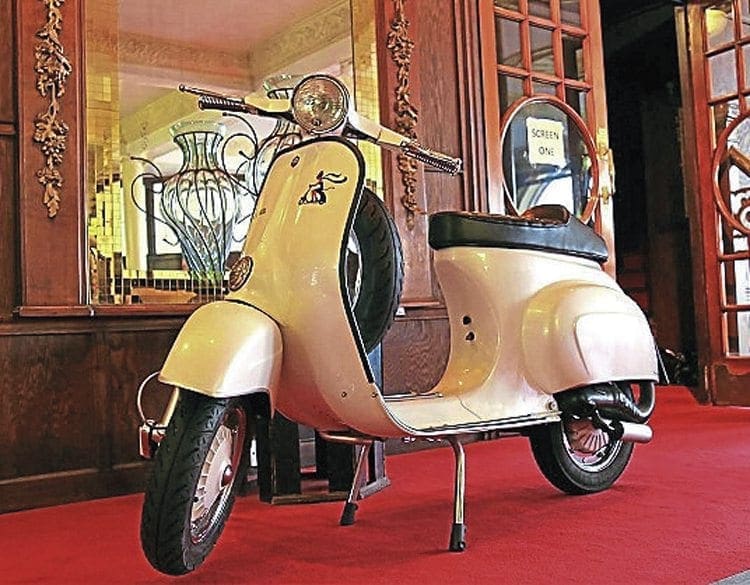 Has the scooter won any show trophies: Best Smallframe BWM Santa Pod in 2012. Best Smallframe at the Scooter Skirmish in Hastings in 2014. Best restored in Vintage Scooter Show by the Lions Charity 2016. Best Vespa In GCC Scooter custom Show 2018.
Name of scooter & reason: 'Ruby' when she was candy red and 'Pearl' when she was pearl white!
Scooter model: V90
Any specialised parts or frame mods: De-seamed frame on the rear end and under the fuel/choke.
Paintwork by: The Spray Shop. Lancing. What was the hardest part of the project: Breaking it to my husband that I am bored so changing colours again and cables, cables, cables…. ARHHHH!
Is there anyone you wish to thank: My family for putting up with me and my obsession in colour changes. Laurence Causbon Vincent and Steve Bowden for helping me put the scooter back together every time I change my mind, you would think they would be used to me by now! The Spray Shop for their fantastic paint work and after care.
Words: Stu Smith
Photographs: Courtesy of Sarah Reeve Photography

Enjoy more Scootering reading in the monthly magazine. Click here to subscribe.