We have now reached the final part of our Clubman Dyno test series.  With just a Ron Moss prototype and a standard factory pipe left to test… it should all be straightforward, right?
BEST LAID PLANS AND ALL THAT…
We had hoped to have a Gori sport and the latest BGM V4 to test, but they didn't transpire in time for press deadline. Despite this shortfall, we knew that initial tests by others in the industry suggested the BGM V4 might be a little quieter than previous incarnations, and as a result has lost just a small amount of power. The Gori line-up has the tiered product range of sport to racing to new GP50, which suggests it may be the case (performance wise) that the sport sits below the other two that have followed that trend. But as and when these pipes show up, we may follow up this report and include them. So that just leaves us with the standard Italian GP exhaust kindly supplied to us from Craig Standeven (LCGB committee member) and a development prototype pipe delivered directly by Ron Moss.
TESTING
As before, each dyno run meets a strict testing regime, to attain accuracy of results worthy of comparison. Unless noted otherwise, the dyno graphs displayed for each pipe tested are in red, compared to a standard SX200 in blue and a JL3 expansion pipe in green (as our upper and lower BHP benchmark) providing us with some useful indicators that most riders can relate to. The JL3 and all test pipes are being tested on a GT 186 kit, with 60mm crank (193cc) and 28mm carb.
STANDARD INNOCENTI GP EXHAUST
The positive benefits of a standard factory exhaust system and how nice a ride it provides are often commented on, and Craig (the pipe's owner) is also a firm believer and living proof of its roadgoing characteristics. He has used this pipe on his SIL200 motor for thousands of miles and is very fond of its power delivery although he has yet to try an alternative pipe to find out if, indeed, he is living in the dark ages, or if this pipe really has 'something extra' hidden up its sleeve. Craig runs the engine/pipe on a TV200 gearbox, meaning it is a 'tall geared' box that most high-powered/revving motors struggle to pull effectively, but states it's a very willing performer on his set-up. So what's it all about? Well it's got a small bore header pipe for a start, that previous tests have shown good for bottom-end power, but loses out 'up top'. So expect it to be strong from the off. The pipe fitted up nicely to our test motor, as you would expect an original to do. First observations on the dyno test showed it to be more willing from the first touch of the throttle, with great bottom-end, and although this tailed off, it continued to rev out to quite a high rpm range. The result was an initially disappointing peak of 12.5hp and was considerably down on power against all other pipes tested. But… take a closer look at the graph, it reveals something quite amazing. Up to around 5000rpm it has outperformed EVERY other pipe on test so far in this four-part series. So, coupled with the correct gearbox and final drive set-up, one that can get the most from that 5000rpm (and over-rev), then it can make for good speed and progress. Cheeky.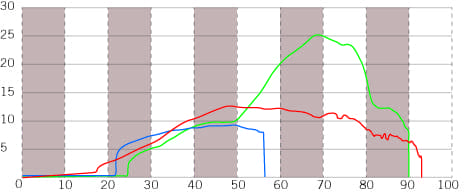 RON MOSS EXHAUST: 2017 PROTOTYPE
This British made 'cottage industry' pipe from successful 70s' scooter racer Ron Moss has received a revamp in an attempt to catch up with recent advances from BGM, Gori and others. These are not up for sale yet, but expect to see a retail price of about £275 when released. The previous pipes were made in small batches since around 2011, but Ron recalls developing prototypes more than 46 years ago, from as early as 1971, for racing on the Isle of Man, so Ron has a few years' Clubman development under his belt. He states the new version will also have a 'loose chaincase bracket' and will offer some adjustment upon fitting.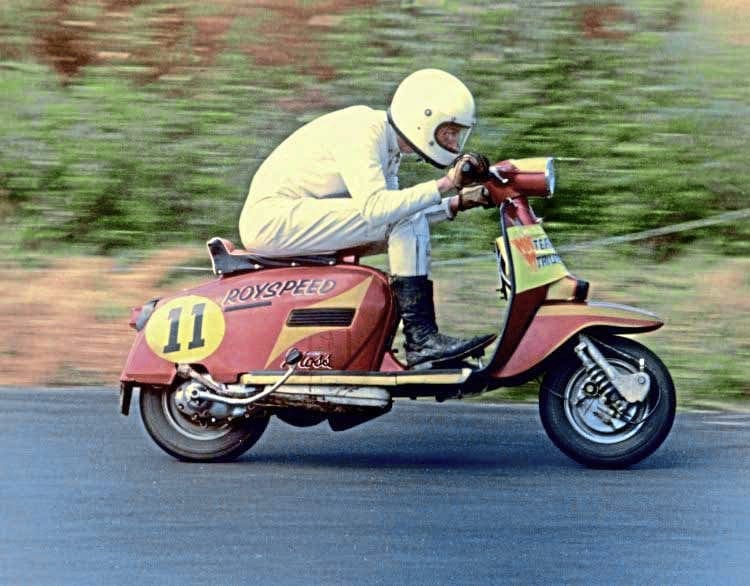 So what of this one? Well, his old pipes ran high-rpm with good peak power, and thus worked well on gearing set-ups of 5.1 and above, with the extra top speed being gained from that over-rev. That's an alternative approach to the more 'standard Innocenti' example above, and with most customers not getting any younger, the effort to work the gearbox and rev high is not as desirable now. So this new pipe moves to a longer tuned length, to regain some torque and low-down power but not crop off too much over-rev, to still allow 'standard gearing scooters' to go faster through rpm extension. The fit was good, noise was a bit higher than most but not as loud as the VW that sets an upper noise figure, but Ron has a few mods to test in that area to improve it further but wishes to stay away from the slip-on silencer style which Gori use, as he wishes to appeal to the 'must have original look' customers.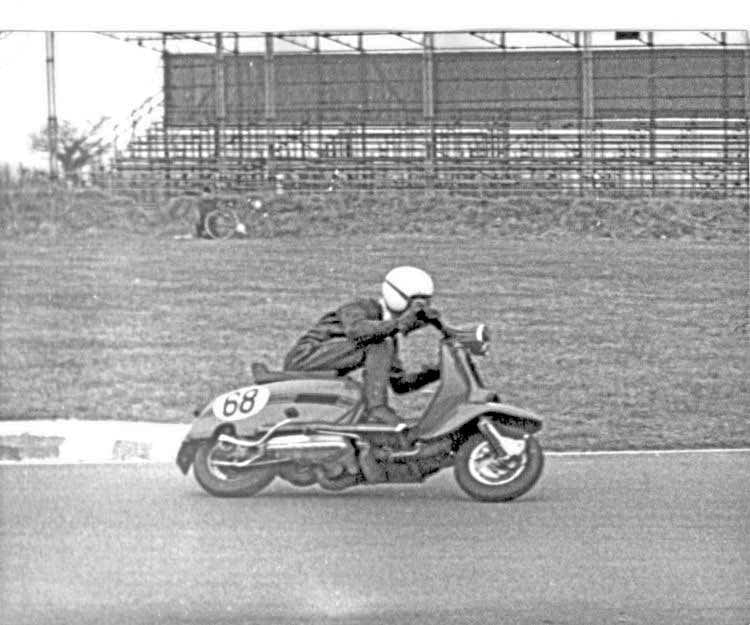 CHART TOPPERS
| | | | | | | | |
| --- | --- | --- | --- | --- | --- | --- | --- |
| RPM | 4K | 5K | 6K | 7K | 8K | 9K | Max HP |
| GORI GP 50 | 8 | 10 | 18.5 | 22.2 | 23.5 | 13.2 | 24.43 |
| RON MOSS PROTO | 8.9 | 12.6 | 17.2 | 20.2 | 22.1 | 17.5 | 22.34 |
| BGM V3 | 9 | 13.2 | 16.8 | 20.7 | 16.7 | 9 | 20.8 |
| STRATOS/MITO | 9.5 | 12 | 17 | 17.6 | 13.2 | 3 | 19.79 |
I've added the old Ron Moss pipe from last month's test, and dropped his new one in with the Super Clubman results, to see how it stacks up against them. This chart displays the results for the power output of each pipe at every 1000rpm step, from 4000-9000rpm. The 3000rpm results are left off the chart, as the roll-on nature of the test means that the motor has not settled till around 3500rpm.
POINTS MEAN PRIZES
RANGE

RPM

ENTIRE

4K TO 9K

LOW-RPM

4K TO 6K

HIGH-RPM

7K TO 9K

1 GORI GP50
17 POINTS
6 POINTS
11 POINTS
2 RON MOSS
17 POINTS
8 POINTS
9 POINTS
3 BGM
15 POINTS
8 POINTS
7 POINTS
4 STRATOS/MITO
11 POINTS
8 POINTS
3 POINTS
Of the four exhausts compared here, I've awarded four points for the best performer at each RPM range, down to three, two and one for the lowest. So highest points wins. The first column shows results over the entire rpm range 4000-9000rpm. I then added another column to show the best results at 4000, 5000 and 6000 as an indicator of low-rpm performance, and another at 7000, 8000 and 9000 as an indicator of high-rpm performance.
CHOICES, CHOICES
With so many exhausts to choose from how do you make a decision? I think you have to apply some filters to remove options which are not applicable to you, so here are a few possible criteria to consider.
Budget consideration
This is probably the most popular consideration
UP TO £100
AF STD CLUBMAN £80
AF SLOPE SIDE £88
AF VW £98
AF 48 BIG BORE £90
SCOOTOPIA CLUBMAN £95
UP TO £200
TINO ANCILLOTTI £170
UP TO £300
BGM £220
GORI RACING £280
MITO REVERSE £285
NEW RON MOSS £275
(target price – when available)
UP TO £350
GORI GP50 £350
Performance considerations
The standard pipe provides an important lesson, as the conditions that riding in a 'short-shift' manner dictates are very important. So think about every 20, 30, 40, and 50mph zone that you're forced to ride in. The times where that 'instant response' and ease of riding in stop-start traffic becomes a pleasure, but where it doesn't leave space within the traffic to build sufficient rpm to get into a power area that the higher-rpm performers come into their own. For sure, wind up a higher rpm/hp pipe where space allows and you will liberate the much larger bhp potential that the other pipes produce… but what percentage of the riding that you're doing comprises of low-rpm use vs high-rpm use? The reality is, that whatever the high-rpm power has to offer, you will be forced to ride through the lower rpm first to access it! There are situations where you will appreciate more power, motorway mile-munching and overtaking trucks for example, that the standard exhaust would strain to achieve or do as swiftly, but might just manage it. This is where the higher rpm/hp pipes will come into their own. But if the journey takes you through a hilly region or mountain pass, these Clubman set-ups are well known to leave expansion-equipped machines with ease. The considerations here are to know your requirements, your likes/dislikes, and type of intended use for the scooter. Consider what gearbox you have and final drive sprockets, chain etc., as well as your intended £-spend, because if you have to add a different gearbox, chain, sprockets and chain guides etc., these may play a role in the decision-making process.
Fit
Despite the pipes tested all being done on original type fitment cylinder, just the GORI and BGM have TS1 style fitment options, so without having to get the hacksaw and welder out, these become your only choices if you run those kits. Although I presume that with Ron's low volume, handmade exhaust, I'm sure you could request a TS1 type stub fitment. The BGM has a good advantage here, in that it comes ready supplied with both exhaust stubs in the kit as standard. Then there is quality of fit, if you have a non-standard configuration with packers below the cylinder or a kit like the Rapido or Mugello then the slight variation can throw the fit out, and force you to get the tools out to modify the pipe to attain a decent fit, especially more so on fixed bracket versions. There's also nothing worse than pipe under tension, this can lead to cracking.
Style
When is a Clubman not a Clubman? Some are sensitive to retaining the original look and style, as Innocenti intended. So the likes of the AF VW, Gori with the add-on mini silencer, and the Mito reverse will be struck off the list.
Noise
Do your homework, visit friends or attend a rally/ride to hear for yourself similar systems to the ones you're interested in, think of your location and neighbours' attitude to noise when town or village riding or if noisy pipes cause your ears to ring on long journeys. At first, the lust for a powerful pipe, or one well-priced, can be very powerful… almost to the point that people are willing to try and ignore all known negative factors. But in the long term, it's you (and those you ride with or who live nearby) who have to live with high-db exhausts. Earplugs will probably become obligatory on longer rides with louder pipes, if you can find anyone willing to ride with you.
Final word
So with all the above considerations we can't pick a pipe for you; it's better to lay down the information and allow you to make the informed choice, as each rider will have his own set of criteria. I have my favourites of course, my Nol being the standard exhaust! Not one aftermarket pipe matched the power up to 5000rpm, and that will suit the needs of a very large percentage of town riders, although it's not available any more. So the nearest to it and very close performance-wise under 5000rpm (plus lots more after), are the pipes which retain standard looks and offer 'bang for buck' with a low price (under £100), good availability, low enough noise to live with… namely the AF Slope Side or Scootopia Clubman.
If my budget stretched to £220 then the BGM ticks all the same boxes with very good performance that will ease longer journeys and stretch its legs on dual carriageway or motorway, has adjustable brackets and TS1 stub thrown in. With the new V4 promising better build quality than previous systems (previous versions were known to have build quality issues).
If peak power is your sole concern, well… the upper priced Gori GP50 has met the expansion power benchmark, so those who want the all-out peak hp which is usually reserved for expansions, but must have a Clubman style, may consider this option. At £350 though it's stretching the budget to the max.
The last on test, the new Ron Moss development pipe, looks a very viable choice for the future; upon completion (and with extra noise reduction) it may well match the new Gori GP50 in the 'points mean prizes' calcs, due to beating it in the lower-rpm range (although a tad lower at peak power) with both scoring 17, but does so without the add-on silencer, thus retaining standard looks and coming in at, what I feel, is a ceiling price for a Clubman product.
Words & Images: Darrell Taylor

Enjoy more Scootering reading in the monthly magazine. Click here to subscribe.