In Greek mythology, Cerberus is called the `Hound of Hades'. It's a three-headed dog that guards the gates of the underworld to prevent the dead from leaving. In addition to his extra heads, Cerberus has a serpent for a tail, and snakes protruding from parts of his body…
Point in mind
With that little lesson in Greek mythology over it's time for us to explore Dave Stewart's fantastic custom Lambretta chopper. It's fair to say that since Cerberus appeared on the scene it's been attracting a lot of attention, interest and debate; all good news and something, we should be grateful to Dave and Shaun Barley of Shaun Barley Customs for.
Developing the dream
Seeing plenty of scooters of all different varieties riding round Louth where Dave lived caused him to develop a love for scooters from a young age; and it was this exposure to variety which helped him form the basis for his ideas of what his future dream scooter would be like. "I always knew I'd want to own my very own scooter when I was older," Dave explained. "At the time I did have my own favourite, which was John Wilson's Vega, 'Tales of the Unexpected'." John Wilson's Vega played a significant part in the inspiration behind Cerberus, which would appear on Dave's horizon in years to come. "I'd seen this and it gave me the motivation to believe that if I worked hard I could eventually own something like that; but only if I really worked at it," Dave said.
A wider view
The first rally Dave ever went on was to Skegness in the 1980s, when he was only 10 years old! He went to the rally with an old mate and his mate's mum and his dad. This trip provided him with an unparalleled insight into the world of scootering; what it was really like and not just as how people described it. "My first scooter was a PX125 in blue; I travelled all over on it and managed to make many memories. I then fell in love with T5s and Lambrettas," Dave explained.
Fast forward a few years and let's come onto the newest part of Dave's scootering life; his fantastic looking candy blue chopper, Cerberus. "I've had a dream all my life to eventually own my very own chopper scooter and for it to look exactly how I wanted it to. Everyone asks how much it costs; but let's be honest, how much do dreams cost?"
Dave commissioned Shaun Barley of Shaun Barley Customs to carry out the work. Shaun is no stranger to custom fabrications; he has an inspirational approach to his work and takes great pleasure in pushing the boundaries of engineering and rising to the challenges they offer.
Planning
Apart from seeing scooters in Louth and Dave Wilson's custom Lambretta Vega, another inspiration for Cerberus was Dave Sims' chopper, 'Tangerine Dream'. With this in mind, Dave sat down with Shaun and they drew up a plan of where they wanted to go with the development of Cerberus. "It had to be a plan, which would introduce a 'next level' of looks in terms of chopper builds; that was one of the fundamental elements I wanted to achieve with Shaun and I knew he was up to the job," Dave explained.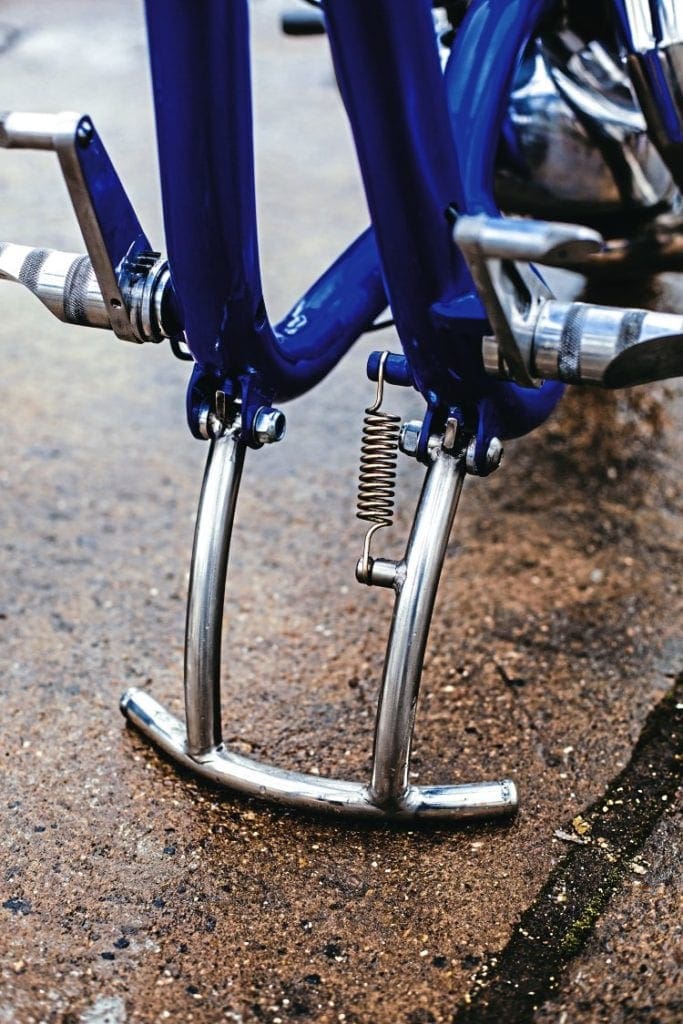 Having considered Dave's brief, Shaun set about the work. "The lines had to be smooth and smoother than anything else anyone had seen before," Dave said. "The basic principle of producing a great looking chopper is keeping the lines flowing without cables and wires hanging out all over the place; and make it interesting!"
Looks
On the road Cerberus has a distinctive 'Easy Rider' look, which introduces an interesting and fresh look in terms of chopper scooter appearances. Taking a look at some of the engineering detail, the smooth looking one-off alloy twin handlebars sit effortlessly into the one-off alloy yoke. The forks are made from over fitting CDS tubing leading down to the alloy inverted springs and rockers. Moving back up the forks and along the lines of the frame its gentle curves give an almost 'Alien' science fiction look, which inspires intrigue.
The paintwork is candy blue, which again was completed by Shaun Barley. The colour of the scooter is stunning and sets it apart from the rest of the pack. The look is minimalistic and draws you to look deeper; once your attention is captured you're treated to the experience of examining the engineering.
A masterpiece
The 'spine' of the frame arches and cradles the one-off alloy fuel tank. In the meantime, the two under-sections of the frame work their way downwards to incorporate the one-off billet alloy foot controls and stand. As this is happening the upper spine element of the frame gently curves upwards to support the custom single seat and holds the 'Jockey-Shift' gearstick. The upper and lower sections of the frame then meet up in perfect synchronisation to hold the TS1 engine. Beauty can be about symmetry and this is what Shaun has created; a thing of beauty and it's the appearance of simplicity too, which has been intelligently developed to hide the underlying complexity of Cerberus' build to work in perfect harmony with each other.
Since Cerberus made its first appearance on the custom show scene at Whitby, it's been picking up awards left, right and centre. Also, as a result of its ground-breaking appearance and thought-provoking looks, it's attracted a lot of interest, which is exactly what Dave and Shaun wanted to achieve with its design. The diversity which Cerberus delivers is something special.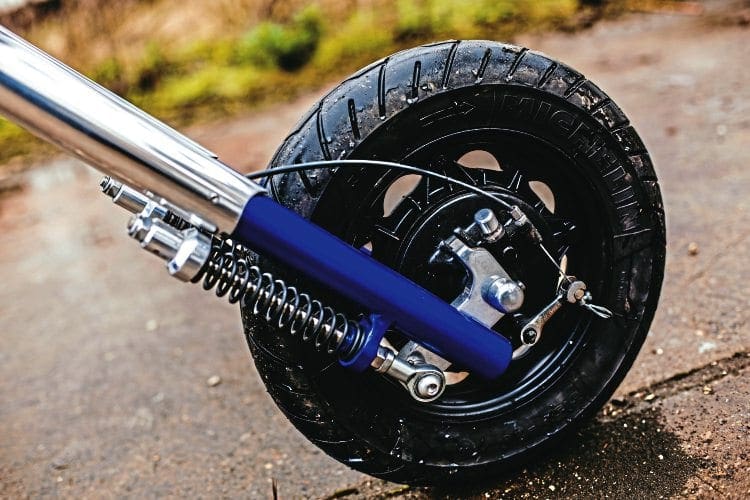 Thinking outside the boxes is a talent, it should be condoned and indeed welcomed, as it will only help to support and encourage even more radical and 'off the grid' innovative thinking from the rest of the scene going forward.
Opening doors
Cerberus' appearances on the custom show circuit to date are only the beginning, and Dave intends to continue to not only enter Cerberus into custom shows given up exclusively to scooters but also to show Cerberus in custom shows outside the scootering scene.
"I'm hoping that showing Cerberus in custom shows outside the scootering scene will open gateways to others who, may never have previously thought to take a look at the scene, and encourage them to come and see what it's all about." Dave explained. "Surely; to any positive, open-minded and forward-thinking individual this can show others the depth of what the scootering scene has to offer, and the incredibly diverse nature of our fraternity?"
Appreciation
Julie, Dave's partner and his daughter, Rhian, are by Dave's side at most of the shows and rallies that he attends. They form an endearing part of Dave's team and are probably one of the most influential elements to Dave's positive and inspirational mind-set. "They're my team and they've been with me all the way through this project," he explained.
"I'm sure there will be many more memories and adventures to come; and I hope everyone enjoys Cerberus as much as I do. The hardest part of it was waiting for it to be completed but I wouldn't have changed anything about it. It's exactly what my dreams have always looked like in my head, it was definitely worth it. We've done what we wanted to do with our build; now it's time for others to do what they want with their builds, and show us something different."
MAN & MACHINE
Name: Rob Stewart or 'Dave'
Scooter club: Doghouse SC, Louth.
How and when did you first become interested in scooters: Louth has always been a place you'd see a scooter.
What was your first scooter: PX125. Brand spanking new!
What is your favourite scooter model: Lambretta GP & Vega.
What is your favourite style of custom scooter: I'm a bit like Bertie Bassett. I like all sorts!
First rally or event: 'Skeg Vegas', 1980.
How did you get there: In my friend's parents' car. We were 10 years old.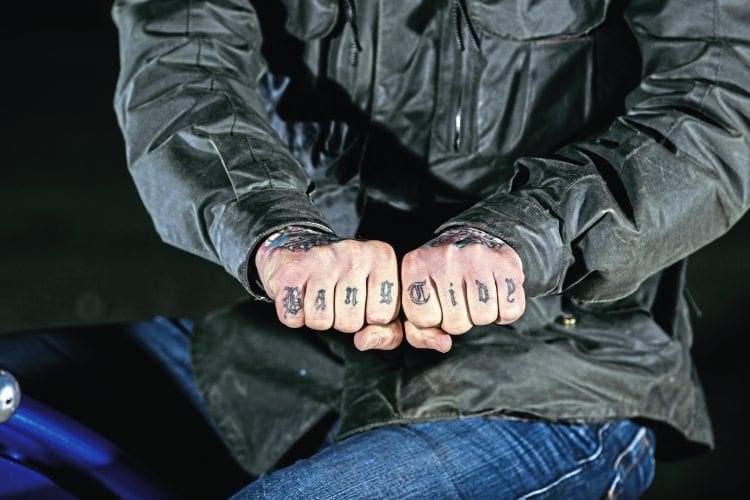 Any stories: Morecambe. We lost Robbie Fox. Gary and I turned back 10 miles looking for him. In the process Gary ran out of petrol, only for us to find Robbie coming towards us in a van. It turned out he'd ran out of petrol, got a lift and never told us!
Favourite and worst rally/event: All rallies are what you make them, I've never had a bad one.
Funniest experience with a scooter: Kelso. Riding behind Les and a bird came out of the bushes straight into his helmet. Feathers everywhere!
What do you like about rallies: Having a weekend away with mates. Simple!
Favourite custom scooter of all time: John Wilson's Vega, 'Tales of the Unexpected'.
Name of scooter & reason: Cerberus
Inspiration for project and theme: Dave Sims' chopper, 'Tangerine Dream'. I loved the frame and it was a different style of chopper.
Time to build & by who: Fourteen months by Shaun Barley.
Any specialised parts or frame mods? What and by whom: Too many to mention. All hand-built by Shaun Barley with an RB220 engine slapped in.
Has the scooter won any show trophies: Best Engineered – Whitby National Rally 2018, Best in Show – Whitby National Rally 2018, Best in Show – Good Things 80s – Doncaster 2018, Best Oddity – Bangers and Mash 2018.
Is there anyone you wish to thank: Shaun Barley for all his fantastic work, Dave Sims for the inspiration, 'Me Julie' for her continuous and undivided support throughout, Casey Steward (my son). All the Doghouse RC for their help in getting me to the other side… in particular Nick Thwaits and Lee Thornton.
DOGHOUSE SC (LOUTH)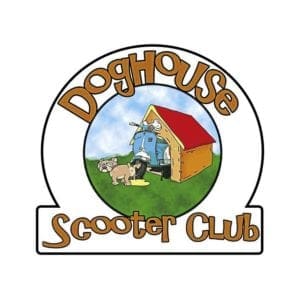 The club is described as being made up of 'dirty dogs' and tad ass bitches'… Their motto is: 'One pack, one kennel' and obedience lessons are from 'pack members' only. A full member of Doghouse SC is of Doghouse RC status and is a full member of the Kennel. Doghouse SC's Facebook page is for non-full members and is simply for all the other cats and rats to sniff around on…
Words: Stu Smith
Photographs: Gary Chapman

Enjoy more Scootering reading in the monthly magazine. Click here to subscribe.