Building a decent Lambretta or Vespa Street racer benefits from precise planning. It will ensure you get everything exactly right and produce the perfect example. Stu shows you how…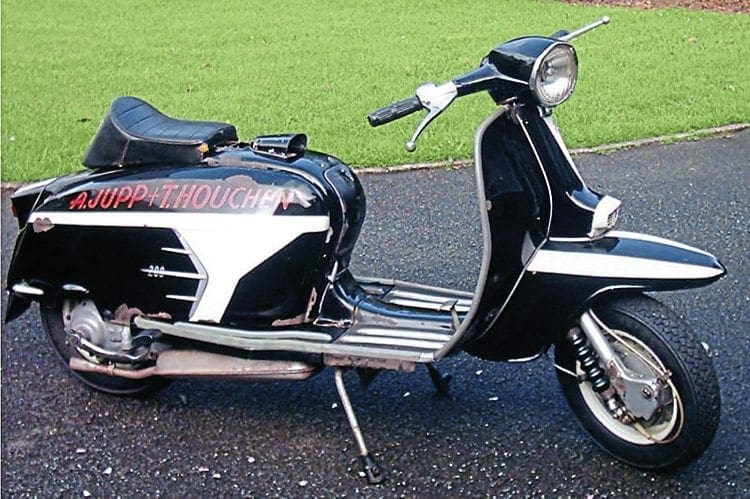 When it comes to creating the street racer of your dreams it's not as easy as it first looks, but what is? You may have a vision in your head of how you want it to look but without careful with your planning, it's easy to get it wrong. Doing a standard restoration is a lot less complicated as you already know what the end product should look like before you start. With a street racer, every aspect needs to be looked at in fine detail as you're creating a unique machine. The engine, paintwork, brakes and many other things need careful consideration — not forgetting the fabrication required to make it all fit perfectly. There's no point sending the bodywork for painting only to realise you haven't cut the hole in the side panel for the carburettor to breathe through, for instance. Preparation and planning are a must and getting it right will make all the difference to the final result.
Back story
Both the Lambretta and Vespa have been subject to customisation since the 50s. The street racer look or certainly tuning them didn't evolve until the later part of the 60s and it was rather crude when compared to today's standards. Even so, it was the catalyst for creating a form of scooter modification that's as popular today as it's ever been. During each decade since, tuning methods have developed at a fast pace in the need to build more powerful engines which is an integral part of the street racer concept. This was followed by the advancement in brakes and suspension to cope with the greater demand put upon them. Much of the development of the street racer has run alongside that of racing scooters.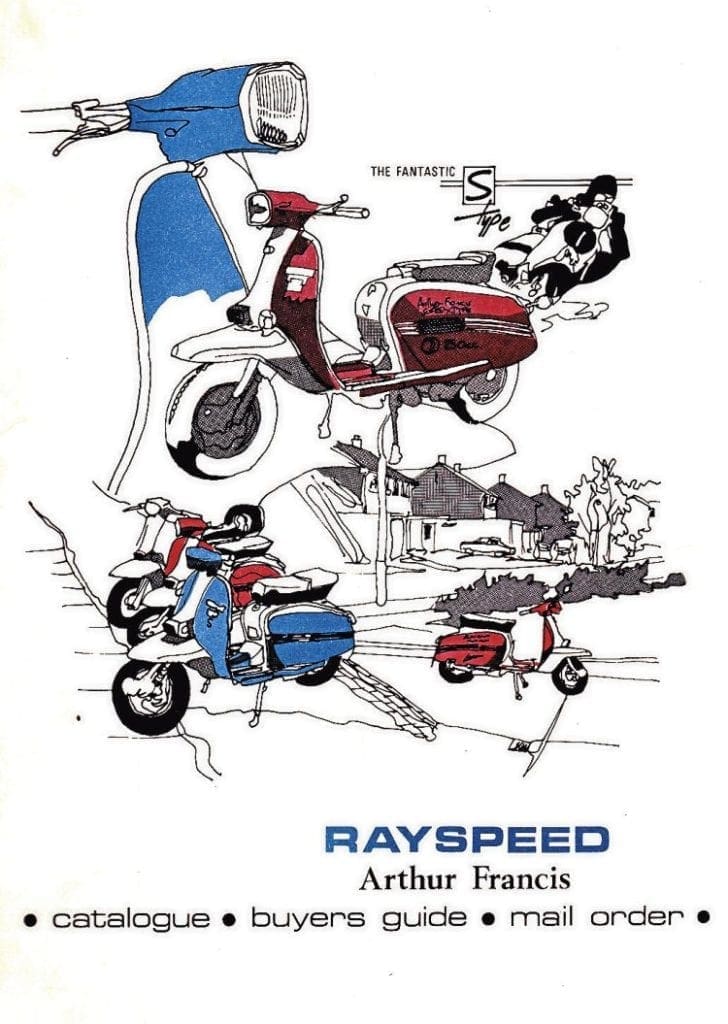 Quite often ideas on the track are taken and fitted onto road going machines. Paint schemes are also subject to the same treatment, often seeing ideas from those who raced copied or interpreted one way or another. Even today a healthy retro scene exists with its own separate following. Not only seeing street racers with old tuning technology but also retro paint schemes. There's also the dealer special with the likes of the S type or Supertune from the 60s or the Dyrospeed from the 80s for the Lambretta.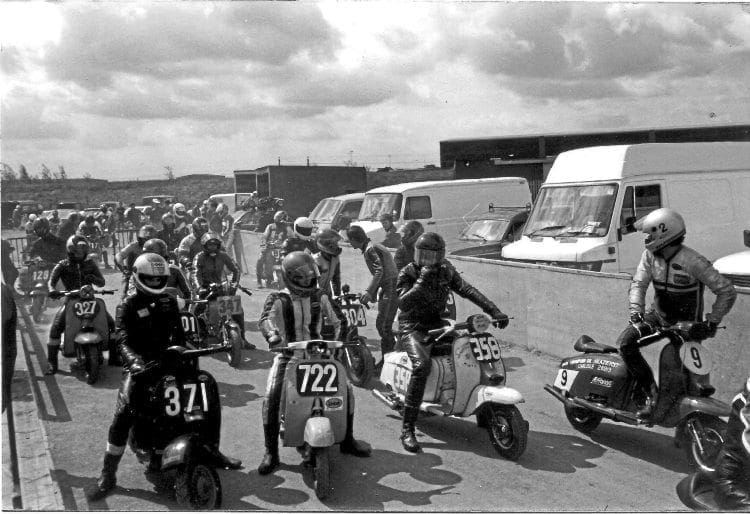 Similarly for the Vespa, the Armandos special being just one of many examples which are often copied. The S type itself now has legendary status and is continually refined year on year, quite often used as a great source of inspiration. The street racer has played an important role within the scooter scene for decades and will always do so. With technology for both makes set to continue well into the future, it will always fuel those trying to create the perfect example.
What defines a street racer?
The real question is what qualifies a scooter to be classed as a street racer? Is it just a case of fitting a big exhaust and a race number on the side panel? To some, it is. But the general rule of thumb requires a complete transformation from a standard scooter with almost everything being modified in some way. It's important to stick to the street racer ethos. The street racer is a major part of the custom scene and any crossover into 'full customisation' can often mean you don't get the desired look. As an example, engraving and chrome are not really part of a street racer. Also, the paint scheme should be devoid of murals like you would see on a full custom scooter. What creates a certain amount of confusion is the engine, as a highly tuned one is seen in both disciplines.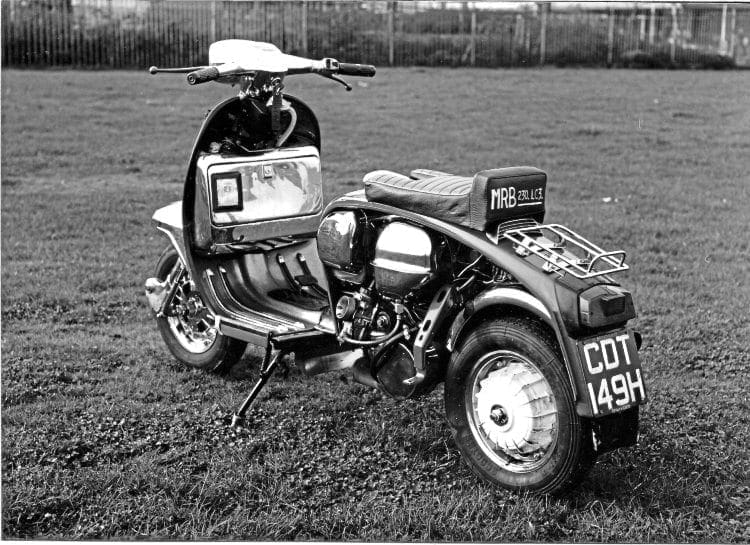 Nobody is saying you can't do what you like, after all the entire scooter scene is so diverse because of the great machines owners create. But sticking within the ethos of what a street racing machine is will help. It will prevent you from going in the wrong direction and not achieving your goal. Take influence and inspiration from wherever you like but don't let your idea get lost in translation.
Where do you begin?
Before starting, consider exactly what scooter model it is you want to base your theme around. There is no doubt when it comes to Lambretta that a modern street racer should be based around the GP. Even though it was designed in the late 60s its stunning lines look modern even today. But, if you're looking for a more retro S-type style, then the SX is the better choice. It may be you want to go for the street sleeper look, which is better suited to the Series 1 or 2… you get the idea.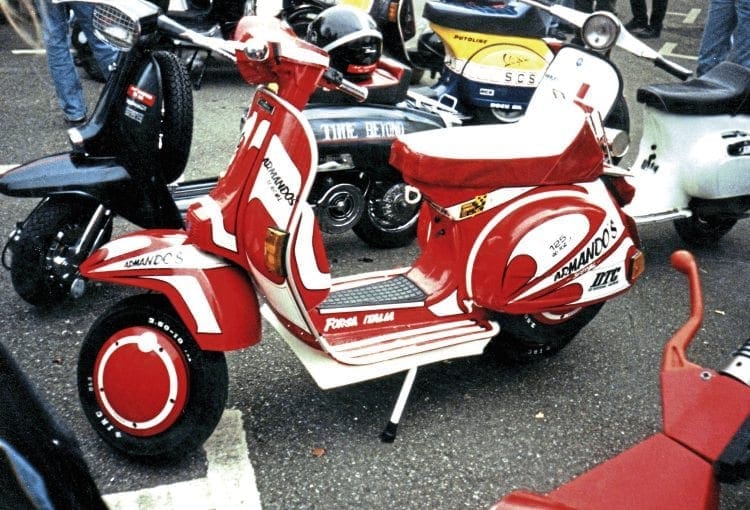 The Vespa is a similar scenario. The T5 was another classic design that, like the P range, hasn't dated and both are ideal when it comes to getting the modern look. An exception to the rule is the small frame Vespa which really came to the forefront in the 80s on the race track. Ever since that time, the engine has constantly been developed and not only is the modern street racer look easy achievable but it has a performance to suit too. Just like the Lambretta the older models like the Rally, SS180 or even the GS can give the desired retro look. Using this format as a guideline is an ideal basis of where to start from.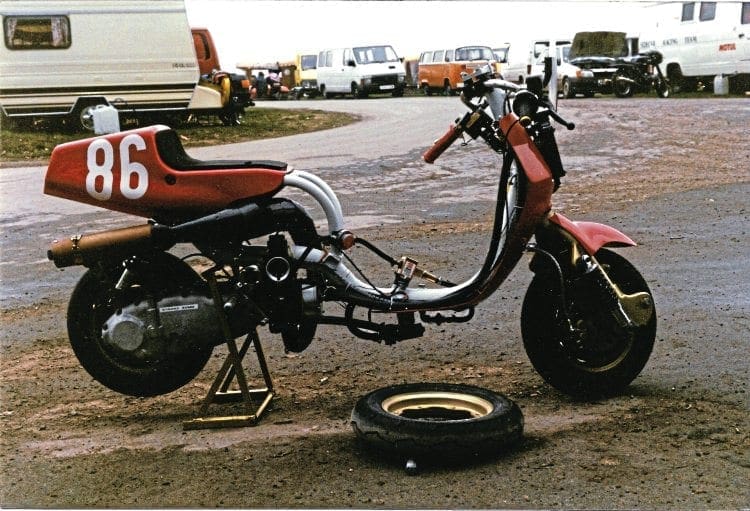 The next challenge is the paint scheme and what to base the idea around. The ideal source for this is racing and it doesn't matter which persuasion. Whether it's F1, MotoGP or whatever… there's an infinite supply of ideas out there. Remember, teams spend a lot of time and money on designs… study their cues. Using colours that go well together can make a big difference. You can search back over decades by looking at many of the classic designs from race-winning machines to gain inspiration. Though scooter bodywork lines are different from those of a car, that doesn't mean they can't be interpreted on to a scooter. Often, a classic race design we all recognise looks just as good on a scooter as it did on the original vehicle. There are plenty more ways of designing your paint scheme, none more so than those of your own. There are certain methods that will help you achieve the perfect look and things to try (or avoid) where possible.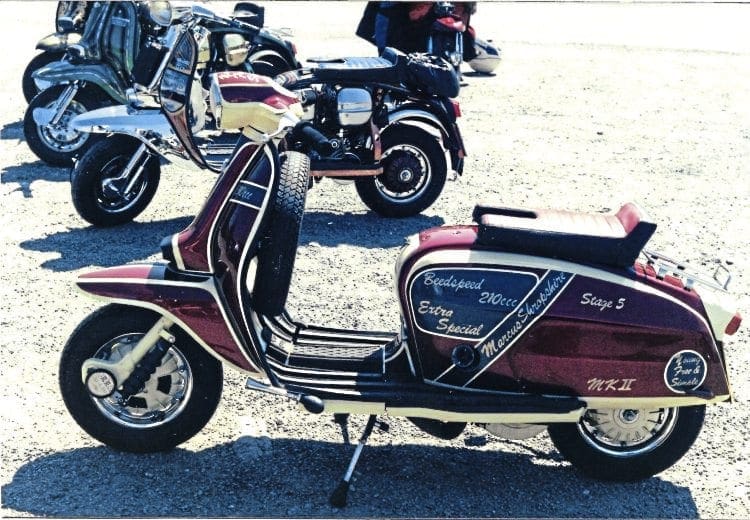 The concept of the street racer is built around the engine and the scope for this is immense. Deciding which route to go down can be confusing and frustrating sometimes and it seems the options continually grow bigger. The sums of money that can be spent on this are huge and probably the biggest part of your project's budget. Carefully plan what type of kit you want to use and how far you want to upgrade the rest of it. Be careful of changing the engine layout halfway through the build as this can lead to problems such as new fabrication requirements. Quite often this will mean a piece of the bodywork will need to be changed and so need repainting again.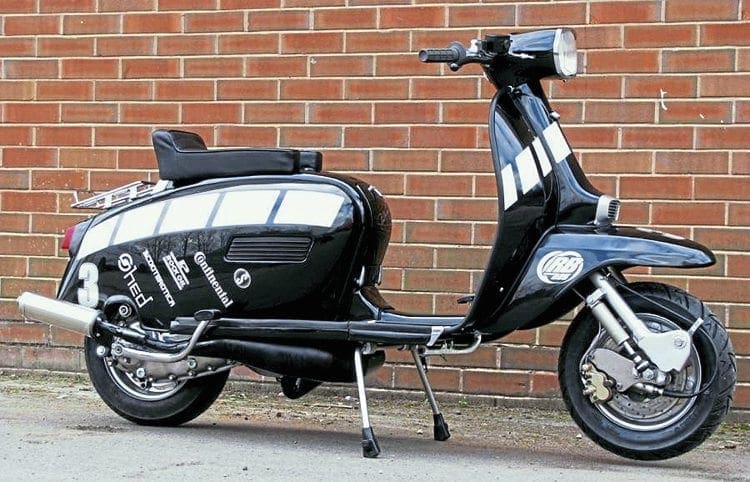 Also, we need to look at the braking system, which will obviously need upgrading, and suspension to cope with the extra braking power you now have. The fuel tank will need changing, as a tuned engine is far thirstier than a standard one. The instruments, such as a rev counter or temperature gauge need considering. The list can be endless, and by the time you have finished your project new products may have come to market!
Mistakes and changes
If you do make a mistake along the way then try not to let it bother you too much. Any modified scooter will be subject to change along the way as what you are creating is unique. As already mentioned if you do a factory restoration you know what the end product is supposed to look like. But when building a street racer… you don't. You may have a rough vision of what you want it to look like but getting there may mean many alterations along the way. Though you don't want anything to be too costly, if something needs to be altered and redone still do it. Likewise, if you have fabricated something and it's not quite right start again. The worst thing you can do is stick with something and try to accommodate it on the scooter just to save a few pounds. Quite often that will mean having to alter something else and ending up in a confusing mess.
When you see people build custom scooters, even when they are finished they always say I may add this or that at a later point in time. One way of looking at a street racer is it's a continual project, one which is never-ending. Take an F1 car as a perfect example. It rolls out of the factory at the beginning of the season but goes through constant changes before they get it exactly right. The same can be said for the street racer and more often than not owners build more than one scooter before they are fully happy they have achieved their goal. A lot of that is down to the budget you have and if it only covers one scooter then that's fine but don't expect it to be perfect first time around. There is the other option to fund a future project by selling the first one you build to finance the next one. Whatever the circumstances, continue with your project or projects until you are happy it's right. Building a unique scooter will give you a great sense of achievement as there is no other like it.
Imagination is king
Never let your imagination of what you want to create be stifled, because you think it shouldn't be allowed. There is no set of defining rules of what either a Lambretta or Vespa Street racer should actually look like. It may be you want to make it up out of parts from both makes. It has been done in the past and should never be ruled out. If you want to use something from a motorcycle such as a seat or fairing then do so. Just be a slightly bit cautious as a part being fitted to a scooter that is alien to it can stand out like a sore thumb if it's done wrong. Look up the options of what you are trying to fit. There are hundreds of different designs out there for the same piece. Don't pick the first one because it was the inspiration for your idea, look at all the options and use the one that suits best.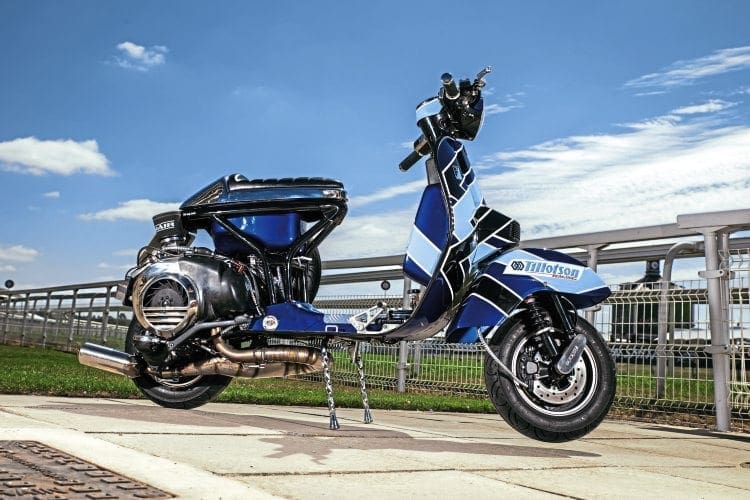 When it comes to 'overdoing' things, that's fine… but be careful not to complicate everything too much. Some owners want their street racer to be exactly that and do the job intended. On the other hand, some want to fill the scooter with trick bits that look the part but don't necessarily enhance performance. It might make the scooter look good and showcase your engineering skills but is it really needed? The more complicated something is, the greater the chance of it going wrong.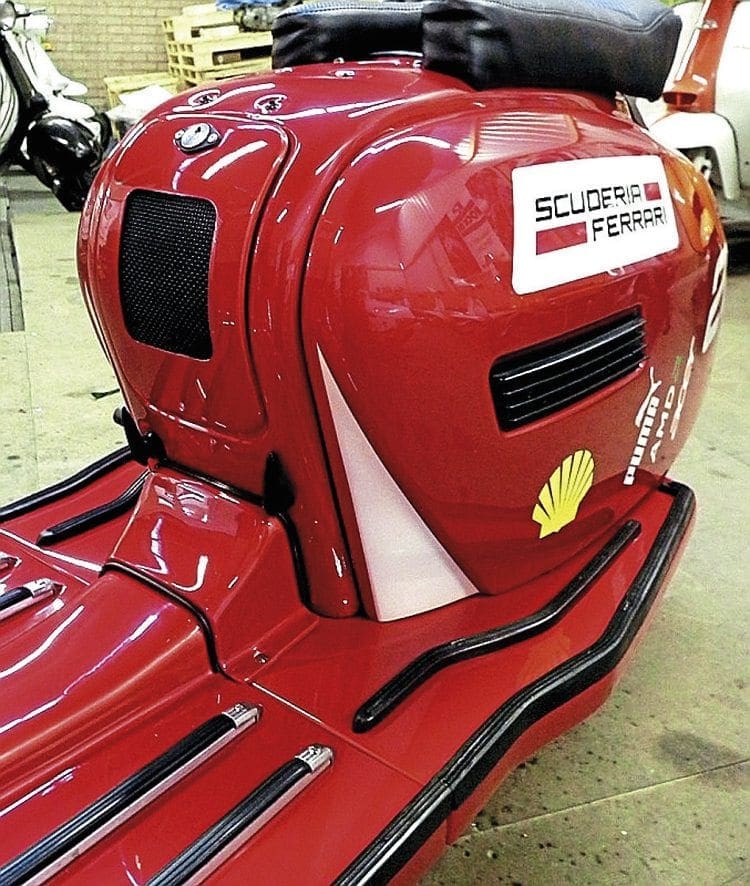 That said, there have been some great creations over the years that use some extreme engineering to great effect. The only thing you need to create a good street racer is imagination and thought. Fitting a part or fabricating something that initially may not seem possible but by using your vision then is can be very rewarding. Most important of all is take great pride in what you are doing and enjoy creating your idea of the perfect street racer.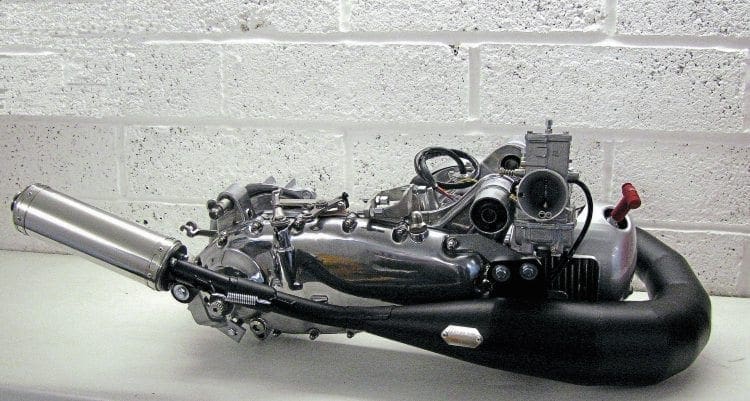 Next month part two — Preparation, designing, and fabrication.
Words: Stu Owen
Images: Thanks to Stu Owen, Kev Walsh, Dave Omerod, Martin Murray and Gary Chapman

Enjoy more Scootering reading in the monthly magazine. Click here to subscribe.