York Scooter Club's return to Breighton was a no brainer for the organisers. After last year's success and having found a gem of a venue, there was huge demand for a second event to go ahead and they didn't disappoint!
THE CONTENDERS:
Dyno time
With a natural desire for the second event to better the first, all areas of this event were pushed to the max, in order to improve or extend the entertainment further, including a dyne 'run what ya brung' event which operated over two days. Starting at noon on Friday and continuing all day Saturday, every available minute was required to cram a total of 46 scooters in for dyno runs to assess bhp, torque and power spread of a wide variety of machines. We eagerly persuaded as many as possible to get involved and were not disappointed with the response. A vast array of scooters were tested and showed the event to be Lambretta dominated with just one Vespa, one auto, four hybrid bike-engine scooters, one Targa-Twin and one hybrid-geared Lambretta/auto conversion among the 46 we tested. A couple of demo scooters were also invited along, as well as a sprint Lambretta, in order to give those bike engines a bit of competition, there was also a newly built development motor which had just been completed. This unit threw up some very pleasing figures.
How much power!?
The results table has been grouped into figures showing similar capacity motors/ models together, and provides the following information for components on each machine: cubic capacity (engine size e.g. 225cc, 252cc etc.), kit type (e.g.Monza, TS1, Malossi etc) and exhaust type (e.g. Franspeed Race, Clubman etc.). Also included is, the most important bit, power (bhp) and torque (lb-ft).
Level playing field
Forty-six scooters were dyno'd in total and each had three runs to fully warm the motor and clear the jetting, thus allowing the machines to produce their maximum power readings. Each scooter was run from low rpm (on average 3000rpm but lower on some that could do so) and stretched to its maximum rpm, so as to give a full and broad reading of the overall power delivery of each machine. The majority of machines also had tyre pressures checked and set to 30psi, as this affects friction and so gives an even playing field to all tested. The open air environment did provide some barometric changes which no doubt altered readings just slightly over the two days, but these changes are minimal in the bigger scheme of things. Given that this was an open air event, and one instigated for fun rather than serious competition, the test parameters were as good as could be hoped for. Despite the 'fun' intentions though, competitive spirits always surface, as do great opportunities to collect and analyse data. This event was no exception.
Sharing
Data collection and analysis is a painstaking and time consuming process, but ultimately it is this data which helps customers to choose the right kit/components for themselves, and helps dealers offer the right information to their customers. It also allows tuners like myself and others to further our knowledge and make fact-based, data-driven decisions, in order to improve further. Sharing this hard earned data is not something a lot of tuners do, but each to their own. I hope you enjoy the read, and glean something useful for your own knowledge.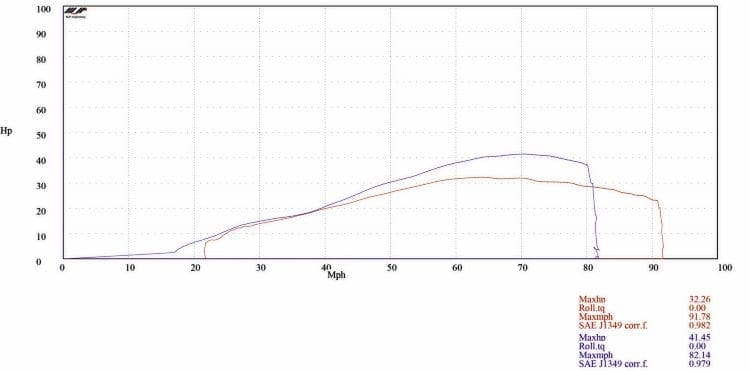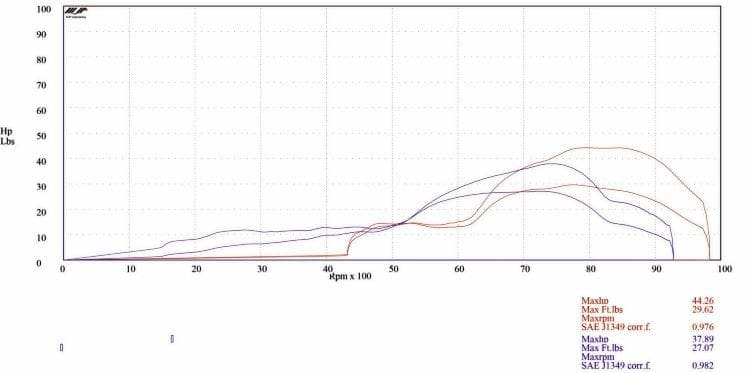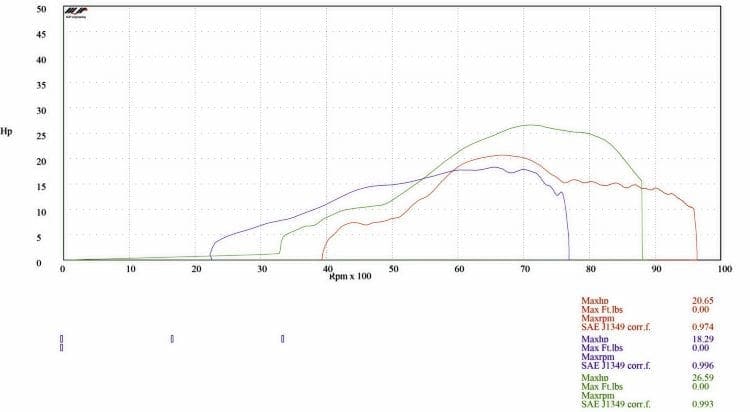 Photographs: Darrell Taylor
RESULTS TABLE
Machine/Name
CC & model
Exhaust
Bhp
Lb-ft
VESPA
ROB SKIPSEY
125 EARLY VESPA
STD PIPE
3.86
2.7
LAMBRETTA
ANDREW KAY
203 SX STD
BGM CLUBMAN
10.56
12.7
CHRIS BOOTH
200 SIL STD
AF CLUBMAN
12.57
12.3
RICH HENDERSON
186 GT186
BGM CLUBMAN
13.2
12.9
PHIL MORLEY
200 MUGELLO
BGM CLUBMAN
13.82
12.6
JOHN BELL
186 GT186
BGM CLUBMAN
15.2
13.9
SIMON WALKER
193 INDIAN 185 (TUNED)
BGM CLUBMAN
15.3
15.1
PHIL 'SLACKER'
195 MB/BGM 195
BGM CLUBMAN
15.35
12.5
GRAHAM DUFFIELD
245 TS1 (RUNNING FAULT)
JL
16.5
14.2
TOM ADAMSON
200 STD WITH ST4 TUNE
PM25
17.05
13.3
SYD HOPPER
238 AVANTI
RM CLUBMAN
17.21
13.16
JOHN RUSSELL
186 GT186
TSR EVO
17.29
14
PATRICK HOULIHAN
225 MUGELLO
BGM CLUBMAN
18.29
6.2
DAVE MAUDSON
244 RAPIDO
ADS 3
18.82
17.3
KEITH RICHARDSON
237 RB22
NK RALLY
19.48
17
ANTHONY LATCHAM
225 MUGELLO
FRAN RACE
20.65
16.6
ANDY WALLER
225 RB (RUNNING FAULT)
FRAN S TOUR
20.75
13.2
TIM SURTEES
225 TS1
JL3
21.19
18.8
DAVE STOCKS
225 MONZA
FRAN S TOUR
22.41
18.4
JASON CLARKSON
230 TS1
NK RACE
22.99
18.8
TANNY
230 TS1 MB TUNE
FRAN RACE
23.1
20.2
TIM BUTLER
230 RB22
NK RACE
23.5
20
DAN FAWCETT
238 TS1
NK RACE
24.08
20.9
JOHN GRIMES
225 TS1
ADS
24.89
20.9
JONATHAN SHEARD
205 RC CHISEL TUNE
ADS
24.94
21.2
DAN GUEST
225 TS1 TAFF TUNE
TAFFSPEED
24.9
21.6
TOM DICKINSON
230/RB22
NK RALLY
25.9
20.6
DAVE SUTTON
230 TS1
FRAN RACE
26.5
20.9
MARK JAMES
225 RB22/HI COMP
FRAN RACE
26.4
20.7
KEN CHADWICK
230 MUGELLO TUNE
TT MOD TSR EVO
26.6
20
ROB SUNDERLAND
238 TS1 T TUNE
NK RALLY
27.1
20
MARK THOMPSON
238 TS1 T TUNE
JL3
27.3
20.4
TREV BATTY
230 TS1 T TUNE
NK RALLY
27.6
23.4
MICK BEECROFT 195
RUNNER CYLINDER
HOME MADE TZ
27.7
18.5
DAVE ROBINSON
244 RB25
NK
28.8
20.6
JULIAN WOOD HOUSE
264 RB25 FOXHAT
MOD TSR EVO
29.3
23.6
MARK BAINBORO
230 CASA SS225
FRAN RACE
29.4
20.1
ROGER WILKINSON
230 TS 1 T TUNE
TT MOD TSR EVO
30.1
21.7
ROB SHAW (DEMO)
238 TT MONZA
FRAN SUPER TOUR
37.9
27.1
ERIC COPE (DEMO)
246 TT SUPERMONZA
PD HORNET
44.2
32.5
TARGA TWIN
MARTIN ROBINSON
250 TARGA TWIN
PORTTI/ROBBOSPEED
27.33
21.1
ENGINE TRANSPLANTS
 
 
STICKY
400 SUZUKI DRZ400E
4-STROKE
32.3
25.7
PETER GAVEY
450 GAS GAS 450
4-STROKE
41.4
26.1
JASE POTTER
250 YAMAHA YZ250LC
FMF
49.6
32.1
STEVE HOLT
350 YAMAHA RD350LC
MICRON SMALL CAN
50.9
28
AUTO
MICHAEL HAWLEY
172 GILERA RUNNER
MALOSSI
PM59
24.7
EDITOR'S SUMMARY
There have been some interesting trends in the results we've generated.
The clubman-equipped motors were all well below 20bhp, the highest of the nine on test was a 225 Lambretta running a Mugello cylinder and making 18.29bhp. Despite the limitation in power, the clubman often demonstrates a good 'user-friendly' power delivery and favourable riding characteristics. This particular result was on a super clubman being a few BHP up on previous clubmans.
The TS1/RB/Monza type 225 kits in various setups but standard forms sit at around 20 to 23bhp as they arrive off the shelf, and power results vary with carb/pipe combos. Modified/long stroke/tuned 225 kits sat between 23bhp and 30bhp. These are common results on tuned 225cc reed-valve kits, and are typically fast-road setups. The final figure and rpm power-range depends on pipe used and type of tune (porting job).
The tuned RB20 shows it can sit right there with the 225 and bigger motors in both power and torque as is the case these days with many of the available smaller kits especially when teamed up with a longer stroke crank to bolster the torque. These kits offer good value for the cheaper 'small block' casing option, and 30bhp is perfectly achievable with a 62mm crank, 34mm card, Race pipe and a small amount of porting.
RB25 kits, when well-built, give reliable 'off the shelf' performance typically around 26.28bhp when fitted with the right crank/ carb/pipe combo. Mid 30s bhp figures are achievable, and still with stonking torque. 40bhp figures are becoming more commonplace on race machines when these kits are fully tuned and fitted with top-spec race components.
The new Casa 225 kit, when built well and set up with a 60mm stroke crank and Fran race exhaust did well at 29bhp. That's probably the highest off the shelf 225 power figure at the moment. The bike engine machine category was split between 2 x two-strokes and 2 x four-strokes, and shows that nearly double the cc is required from a four-stroke to match the two-strokes peak performance figures, but just as is seen in the motocross world, the power width and spread from the bigger four-stroke motors is clearly superior.
The demo bike belonging to Eric shows how close that tuned Lambretta is to the power of a YZ250 motocross engine, and surprisingly showing the highest torque of all machines dyno'd.
Rob's 'Demo Monza' bridges the gap between the highly strung Sprint motor and typical tuned motors but is early days yet in testing. Being a new engine it requires some miles under its belt before that can be established fully. All the dyno graphs and photos will be available On the Scootering and York SC web/Facebook pages, and if the event runs again, put it on your bucket list!

Enjoy more Scootering reading in the monthly magazine. Click here to subscribe.