Heavily modified frames utilising scooter engines and other parts have always had a polarising effect and this beautiful chopper is no different. But if any chopper could win over the most steadfast of 'original' scooterists, it's this one. Bones Returns…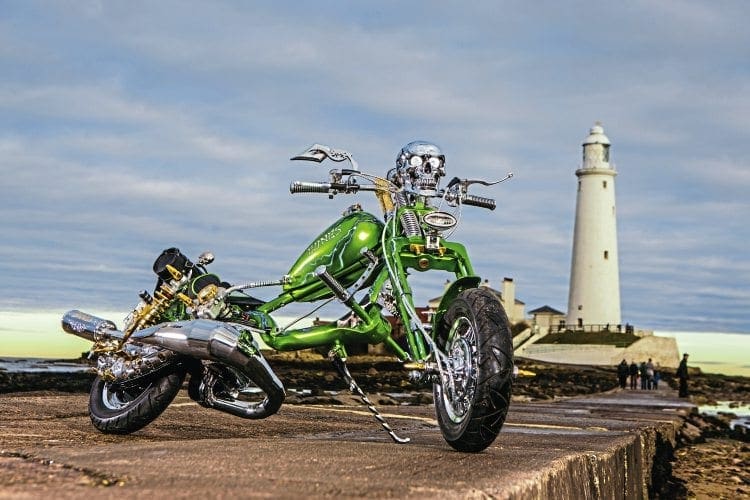 Scooter-powered choppers always provoke a reaction – they probably have equal numbers of lovers and haters within the scene. Debates on pros and cons have been, and will continue to be, heatedly discussed. No need to continue the debate here though, as most individual opinions regarding radical machines are set fast in concrete. But for me personally, I can say I love them; particularly the thought which goes into a good one. One thing which has always struck me about scooter chops, especially Lambretta-based examples, is that in silhouette they exude something of a skeletal appearance. A bare and simple beauty uncovered.
Blast from the past
Spookily, Northumberland-based scooterist and engineer Tony Bowey has twice owned this particular machine. Back in the 80s when it was first chopped and christened Bones, and now, having re-acquired, refurbished and rebuilt his old steed. Today it's simply named Bones Returns, and the name fits like a glove. After it was found by a friend of Tony's, albeit only as a frame and forks, Tony was given the heads up. He got first dibs, bought it for the second time and set about building THE custom chopper that he would've had 30 years previously, if he'd had the cash to lavish on it back then. Having the ability, confidence and engineering knowhow made the physical makeover of Bones Returns a relatively straightforward task.
The fabrication work went pretty much as planned. That said, Tony did find having to wait for parts to arrive with him a bit frustrating. He told us: "Fabricating, building and putting it all together, including hand making a bespoke loom all went exactly as I wanted, waiting for parts was a killer. I was impatient waiting for them to arrive."
Pocket-rocket from the crypt
When scooter choppers are built to be ridden (not hidden) it's always a temptation to splash out on a powerful engine (same with any scooter I suppose). Tony initially fancied an AF fully race-tuned motor for Bones Returns but sensibly the chaps at AF Rayspeed managed to talk him out of that idea. Instead he chose to go with a tour setup RB250 unit (see spec sheet). Tony told us: "I'm glad I was talked out of having a fully race-tuned engine. It would have been too much for a chop. Even with the touring spec RB250, which I've yet to open fully, it is still too pokey for a chopper if I'm honest… though it is a fun engine! Plenty of power there, right through all the gears."
It's always handy, irrespective of the style of scooter you're riding, to have a bit of extra power on tap if and when needed. Though chopper scooters are more about appearance and visual impact than they are about brute force acceleration and top speed. As for one-off and special items fitted to Bones Returns with practicality in mind, there are a few featuring as part of the machine. For example, the Harley springer forks grafted onto the front end have made the handling fairly decent, for a chopper; a definite improvement over the handling from extended Lambretta forks. A skull headlamp was sourced from Elite Custom in America, and slightly tweaked to fit by Tony.
From the ashes
In the phoenix-like resurrection of Bones Returns, Tony had to farm out three elements integral to the finished machine that he wanted. For the artwork, paint and airbrush work went to Wizard and East Coast Airbrush respectively. "When I went for a chat about the murals I had a few loose ideas but nothing too definite. I asked for a reaper mural on the tank and gave them a free hand for everything else. I'm well pleased with what Key at East Coast Airbrush did." Plating of various fixtures, fittings and integral parts, in both chrome and gold, was shared between Midas Touch and Quality Chrome. All the intricate and illustrative engraving was entrusted to the man whom Tony, and many others, refers to as 'The Master' — Don Blocksidge. Additional gold plating to front and rear wheel hubs, as well as one or two other parts, is planned for the very near future. "I like the visual contrast of engraved gold plating offset by chrome, I think it both sits and looks right."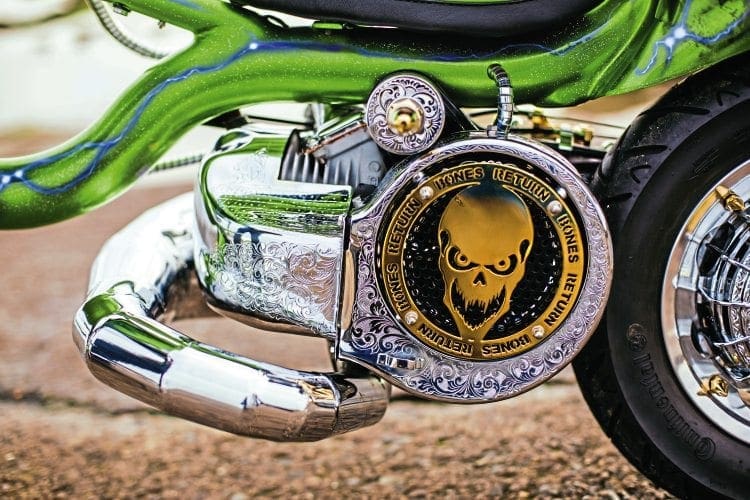 The end game
Testimony to Tony's engineering and build skills, Bones Returns sailed through its MoT after completion. "Everything went together as it should when I was doing the final build, no problems at all. Everything was 100% right first time. When I took it for the MoT, apart from the tester having a 'what's that' moment, there were absolutely no problems." One of Tony's requirements for building Bones Returns was that he wanted a show winning scooter chopper. Granted, winning silverware at any shows can be hit and miss, with show judges' own personal tastes subjectively corning into play.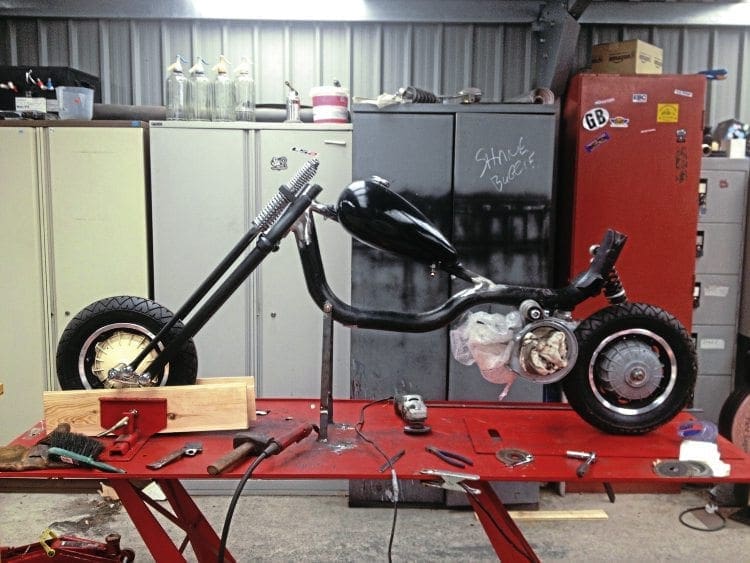 First time out showing Bones Returns is on Tony's calendar for Scarborough: "That will be the first time I'm going to put Bones Returns in a show. It will be interesting to see how it goes down there. I'm more looking forward to Kelso, which is bit closer to me so a less painful ride. I'm not as young and daft as I was back in the 80s."
Not that I'd ever try to second guess show judges' decisions, but I've a feeling that at some point soon Bones Returns will see Tony's ambition to build a show winner realised.
MAN & MACHINE
Name: Tony Bowey
Job: Offshore mechanical engineer
Scooter club: Lambretta Chopper Owners Club
First interest in scooters: My grandfather used to have a TV175 when I was a boy and I've loved scooters ever since.
First scooter: Lambretta Starstream 125.
Favourite scooter model: GP200.
Favourite custom style: AF Rayspeed DTC Type.
First rally or event: Scarborough 1983.
How did you get there: On my Starstream 125.
Any stories: Set off home from Morecambe on my Li-225 with my mate and my engine locked up. Turns out I had put the wrong oil in the gearbox and I had to push it for 20 mils before we could get a tow rope. Those were the days!
Favourite rally: DISC 1985 – it rained all weekend but it didn't bother us. We just danced in the mud to Bad Manners, great times.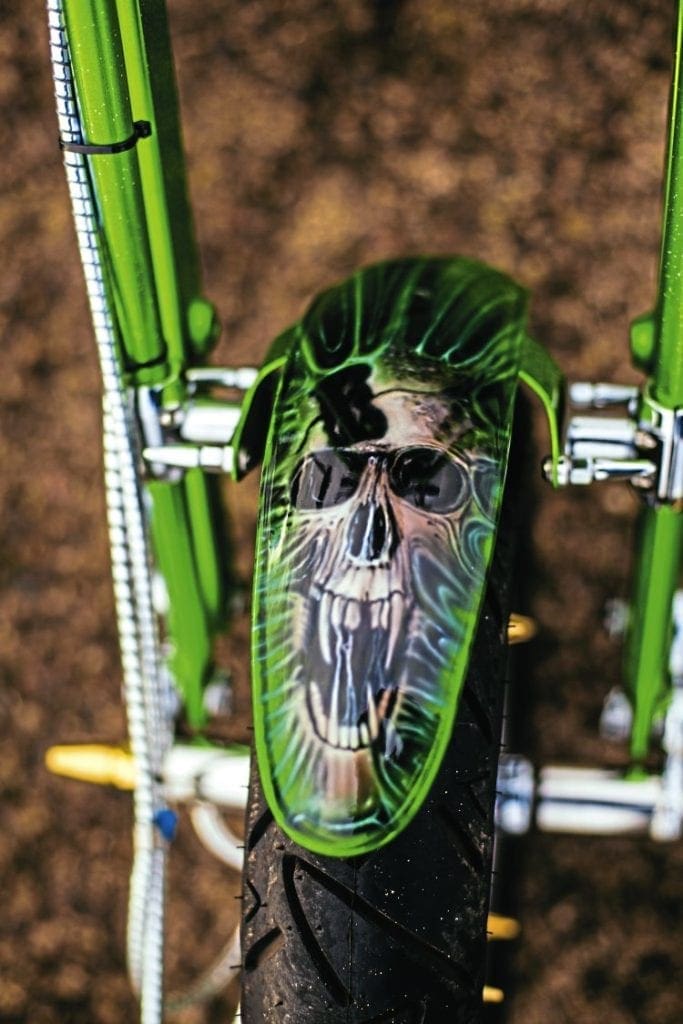 Funniest experience with a scooter: My mate Chris Hall borrowed my old cut down and washed it. He told me to be careful but I didn't listen. When I tried to shut off the throttle, the carb jammed open – typical Amal 34mm – and with all the water in the brakes I couldn't stop! I hit a wooden fence and came off, ripping my private parts. I was rushed to hospital where my privates were stitched back.
Furthest ridden on a scooter: Isle of Wight on Bones. Took me over 12 hours and I waled like John Wayne after the ride. Young and daft, lol.
Favourite Scootering feature: Custom reports on scooters and I love seeing old scooters being restored back to their former glory.
Favourite custom scooter of all time: My all-time favourite choipper scooter has to be Illusion.
Name of scooter & reason: Original name Bones and new name Bones Returns from when I built it back in 1985 and restored in 2015-16.
Scooter model: Li-125.
Date purchased & cost: 1985 then sold it and bought frame back in 2014.
Time to build & by who: Fabricated and built by myself in my mate's workshop.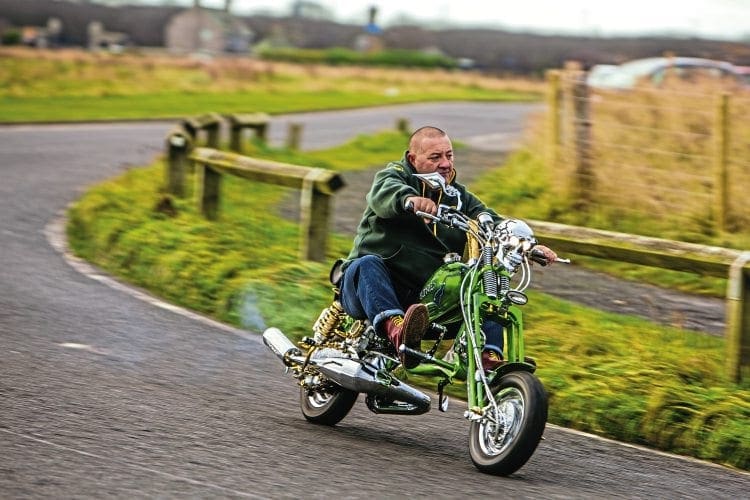 Frame mods: Cut off Lambretta fork tube and welded on Harley-Davidson springer front end.
Specialised parts: Headlight by Elite Customs USA. Rear light by Kris at Mental Engineering.
Engine spec: RB-250. Crank: PM Tuning race crank. Carb: 34mm Dellorto. Exhaust: NK chromed race. Clutch: AF Rayspeed race clutch. Gearbox: GP200- 20 front sprockets, 47 rear.
Top speed & cruising speed: Too scared to open her up. She goes too fast for a chopper, lol.
Paintwork & murals: East Coast Airbrush and frame painted by Wizard paint shop.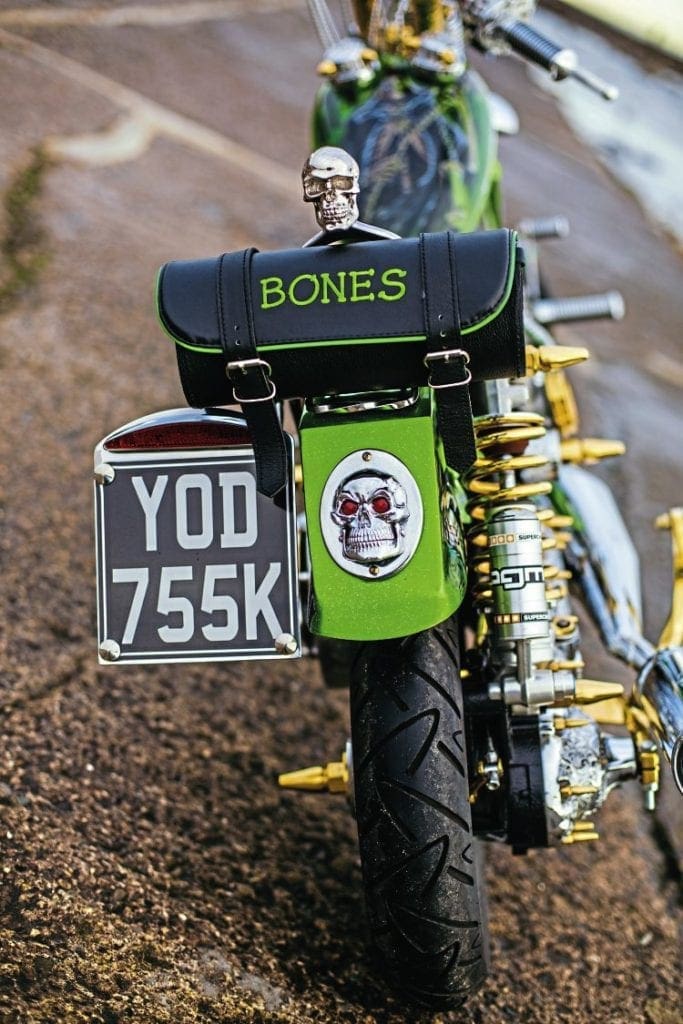 Engraving by: The Master – Don Blocksidge.
Chrome: Quality Chrome and Midas Touch.
Overall cost: £8000.
Anything still to add: More gold plating.
Thanks to: AF Rayspeed for talking me out of race tuning the engine and a big thank you to the Wizard paint shop and Kev at East Coast Airbrush and of course, master engraver Don Blocksidge and Quality Chrome.
LIFE BEFORE BONES…
Tony has owned and ridden everything from standard scooters and street racers, through to cut-downs and chops… and he's enjoyed them all. Indeed he built a DTC style street racer at the same time he was transforming Bones into Bones Returns. Tony takes up the story: "I got interested in scooters from quite young. My grandfather had a Lambretta TV175, though I wasn't aware of it back then. That would've been where my interest in scooters began.
"My first scooter was a Starstream in 1983 and in 1984 I had a go at building my first chopper scooter from what had once been an Li125. I was young and didn't have much money, but I did have a lot of enthusiasm. I extended the forks and did all the engineering work myself, it handled the way most Lambretta chops do with extended forks, a bit rough! It sat too low as well.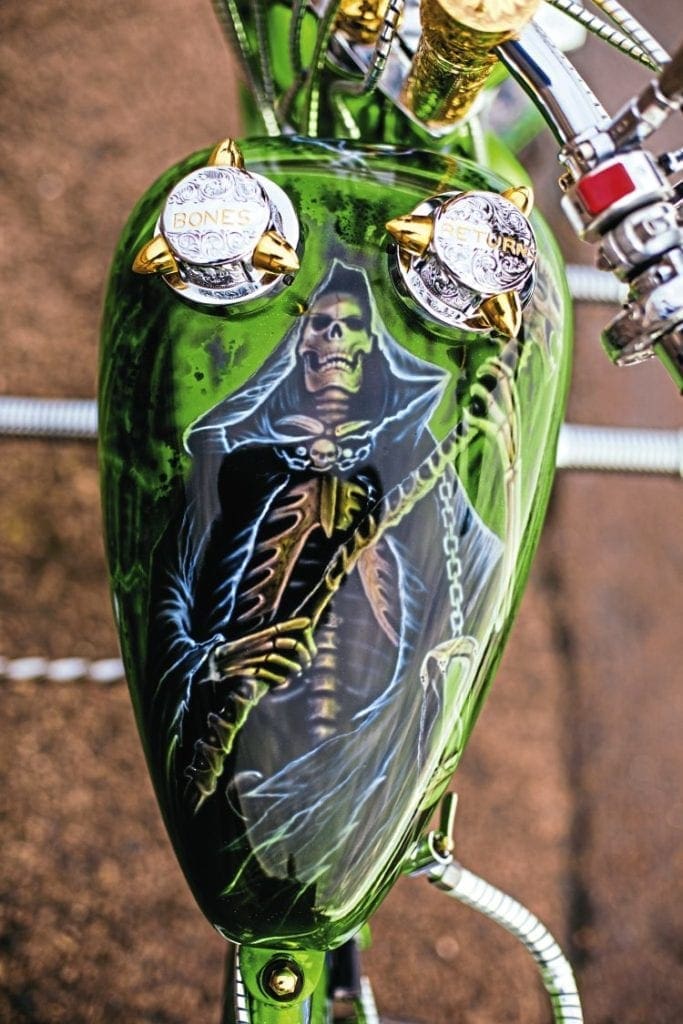 "I was young, daft and without a care in the world back then. My furthest ride ever on a scooter was to Isle of Wight in 1985. It took 12 hours, after which I did a passable John Wayne walk for the weekend. I drifted off the scene for a while, and worked abroad for a few years. When I came back a mate of mine told me where the frame of Bones was. I bought it back in 2015, then set about building the scooter chopper I'd always wanted but couldn't afford in the 80s, a show winner!
"Bones Returns was inspired by my all-time favourite custom chop Illusion, I fabricated and built it all myself in a mate's workshop. Cutting off the fork tube and welding on a set of Harley springers proved to be probably the best thing I've done to it.
"With the springers it handles properly, it was quite scary to ride with extended Lammy forks, it took about a year to build the chop, a big chunk of which was waiting for parts to arrive, or for work I'd farmed out (paint, engraving, plating etc.) to be done.
"When I built Bones in the 80s I wasn't too bothered about it sitting low and being uncomfortable to ride over distance. I think a seat with more padding is a must, maybe even before the gold-plated and engraved hubs are done. I'm looking forward to riding and showing Bones Returns this year."
Words: Sarge
Photography: Gary Chapman

Enjoy more Scootering reading in the monthly magazine. Click here to subscribe.