When it comes to Vespas, there are two types of classic geared scooters, right? Actually no. The earlier models from 1946 until the mid-50s look a lot different to their evolutionary descendants.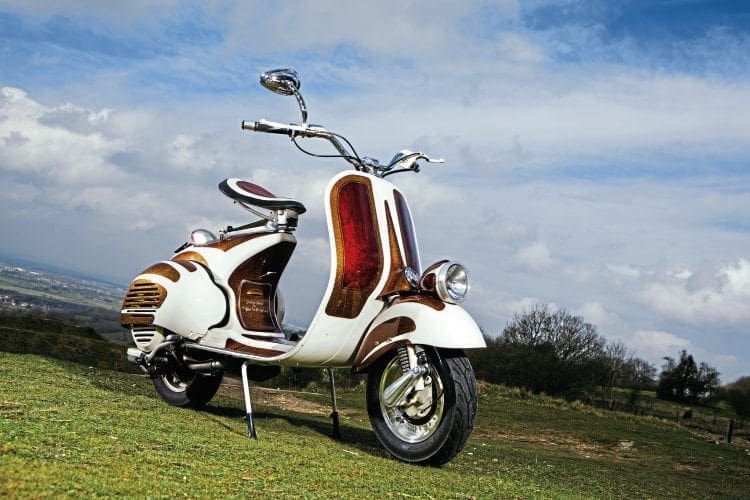 Many Vespa Models from 1946 until the latter end of the 50s have a silhouette which, especially when viewed from behind is, well, rather wide. Corradino D'Ascanio, a design engineer, had been head-hunted from Innocenti. He was also responsible for designing the world's first production helicopter, for Augusta. Piaggio was at the prototype stage of creating a new two-wheeled machine: prototype MP5, Motor Piaggio number five, nicknamed Paperino, which translates as Duckling or Donald Duck – somewhat suggestive of a wide rear. However, it was decided that this wasn't good enough.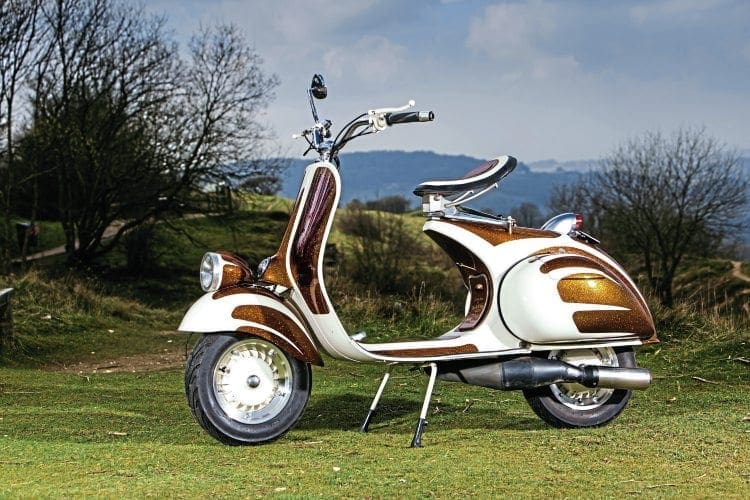 D'Ascanio redesigned the prototype, retaining elements of the MP5. The result was the MP6. On seeing the MP6 for the first time, it's claimed Enrico Piaggio exclaimed: "Semba una Vespa!" or 'It resembles a wasp!' and a legend was born. Eight-inch wheels, tubular handlebars with no headlight mounting and the low curves of the rear frame combined with the bulbous shaped side panels – all adding to an appearance that does, in fact, resemble a wasp. Piaggio produced scooters, starting with the first Vespa 98 (V98), for some nine years. These were based on the MP6 prototype. Various models developed, evolved and advanced from 98cc through 125cc variants, eventually to a 150cc engine (VL1T) in 1955. A run of early Piaggio machines with and eventually without a mudguard mounted headlight, that with that pregnant looking rear end are referred to by some as wide-boys or wide frames.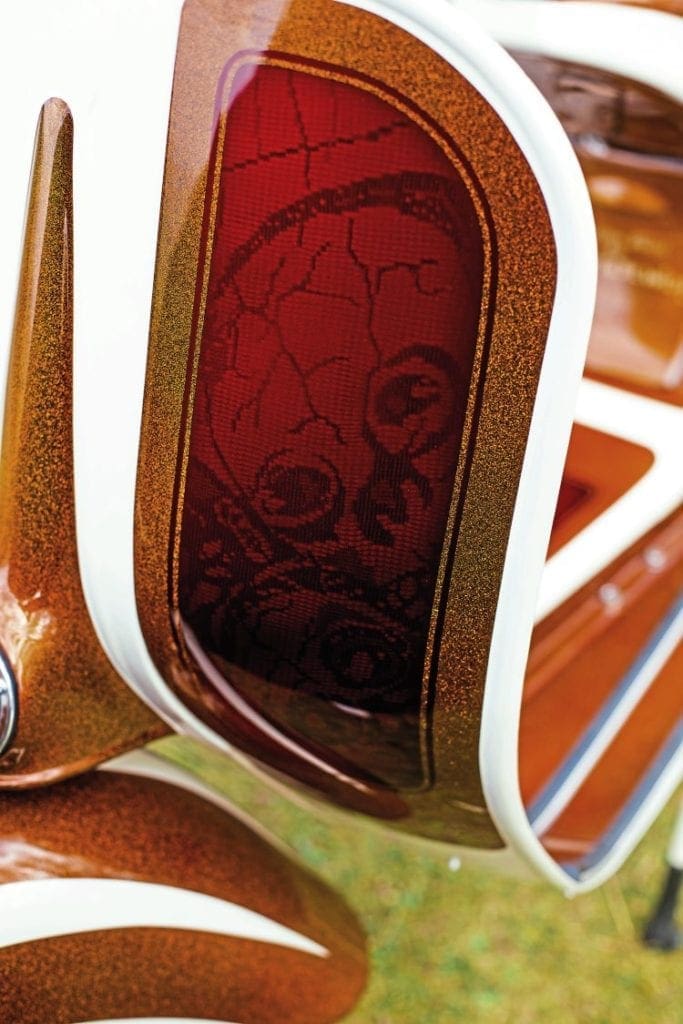 Cheltenham based scooter custom builder, owner and rider Neil Castle had it in the back of his mind while juggling other projects, to create a 50s Vespa inspired by hot rod cars. Working on several projects simultaneously, with a few outline ideas constantly bubbling under means that Neil puts in serious hours trawling the internet for parts and machines. Which was how he stumbled across a 150cc engine Faro Basso wide frame.
"I was searching on the net, as I often do. It was Gumtree I think, it was through someone who imports old VWs, split-screens and that sort of thing. He goes all over the world to source them, then fills a container to ship them back to the UK. Invariably there's a bit of space inside the container, so he throws a few old scooters and bikes in – sourced on his travels. He had a 150 Vespa Faro Basso, which I got off him for a snip. To register it in the UK meant getting an age related plate. After going through the due process, based on the frame and engine numbers it was given a 1957 plate. I'd been planning on building a 50s hot rod style Vespa, so this was ideal for the project."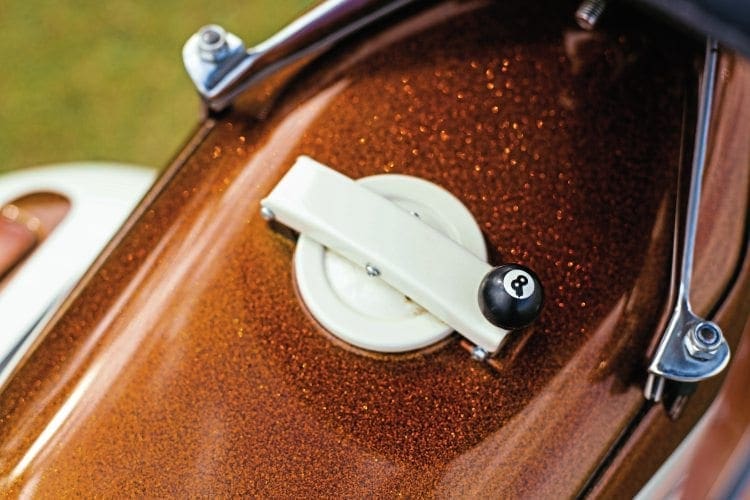 Several of Neil's custom Vespa creations have been feature scooters in recent issues of Scootering. This, his '57 Faro Basso hot rod is of an equally high standard to his other machines. It took a year, on and off to complete, transforming it from a basic, standard late Faro Basso into a hot rod inspired head turner. As with all his custom machines, Neil carries out the bulk of the work himself, farming out certain elements to tried and trusted collaborators. Cheltenham based Reborn to Be Wild, provided the superb paint job. This tips its hat unintentionally, legshields especially, to the Armando's Pinasco specials of the 80s — although it's far from being a clone of that particular design. First time out, Woolacombe 2016, it picked up a trophy for best paint. He says: "I'm really pleased with the paintwork and murals, my idea was to spray through a net, a technique utilised by some hot rod cars, with spiders and skulls subtly mural led, Re-Born To Be Wild absolutely nailed it. It's always nice to pick up a trophy at a rally show, that is if I can drag myself up in time to get my scooter down to the show area after a night of heavy partying. It's a rarity that I can actually manage to make it, though I did at Woolacombe, which was the first proper time I'd ridden my Ferro Basso hot rod anywhere. It won best paint, though my Vespa was the only one entered!"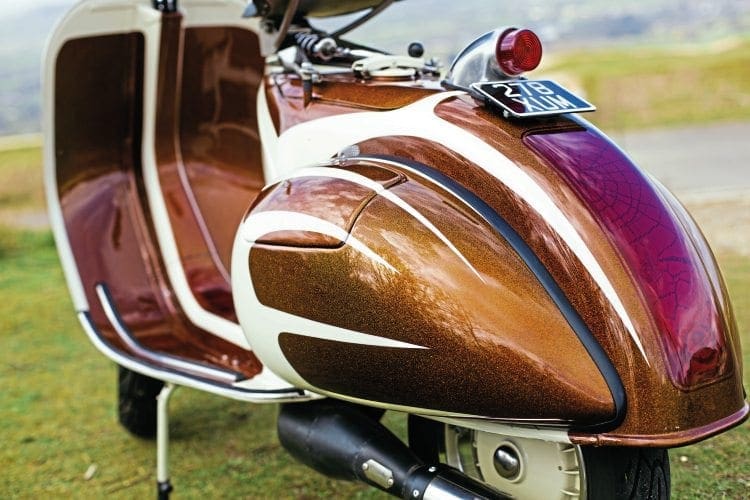 Leathery Elephant has provided bespoke seats for several of Neil's customs, so naturally he commissioned their talents for his Faro Basso. As for the engine, a standard 1950s 150cc Vespa puts out a relatively modest bhp and top speed. Being based on a hot rod car a bog standard engine would never do, it'd be like a lamb in wolf's clothing. Reedspeed have had a hand in adding extra horsepower to the power units of some of Neil's other builds, as they did with this particular one. They provided a tuned 177 Pinasco top end kit, beefing up other integral engine components to suit as well as setting it all up on a dyno. Of course, being a 1950s Faro Basso there's no speedometer; nonetheless, with the help of GPS, Neil now gets a respectable 70mph cruising speed, with a bit more in reserve, which is much more in keeping with its hot rod appearance. Granted it's a fully functional custom Vespa however, during the build were there any particularly tricky to achieve encounters?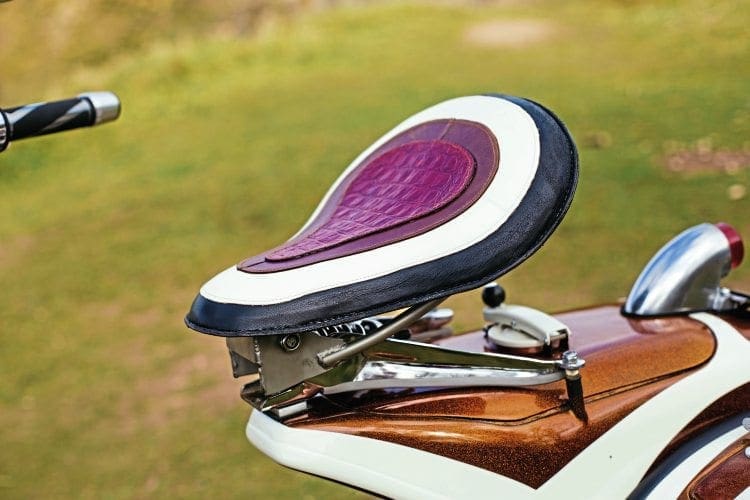 "Wiring is a bit of an Achilles heel with me. I tried to bastardise the original wiring loom but in the end, after a lot of pissing about trying to get it right I ripped it out and had a new one made, which I should've done in the first place. It would've saved me a bit of time and a lot of frustrating grief. Another awkward part of the build was getting the uprated engine and repositioned carb, with a reed valve, to fit under the frame and panel. A fellow member of Blue Diamonds, Weazel was very helpful in the required alterations to shoehorn the engine in." Are there any changes in the pipeline now that his scooter has clocked up a bit of mileage? "The front brake is pretty much useless, but I don't want to mess with the mudguard. I'm looking into fitting a front disc brake set up, modifying the fork stem and leg to accommodate it, without compromising the mudguard. I've had some good advice from Richie who rides with Hogs Wild SC. A decent front brake will be in keeping with the hot rod theme too."
MAN & MACHINE
Name: Neil Castle
Scooter club: Cheltenham, Blue & Diamonds.
How and when did you first become interested in scooters: Always, dad had a GS (Vespa).
What was your first scooter: Primavera smallframe.
What is your favourite scooter model: Any Vespa before P-range. Probably Vespa GS.
What is your favourite style of custom scooter: Whatever I am working on or building at the time.
First rally or event: Isle of Wight, 1982.
How did you get there: Primavera!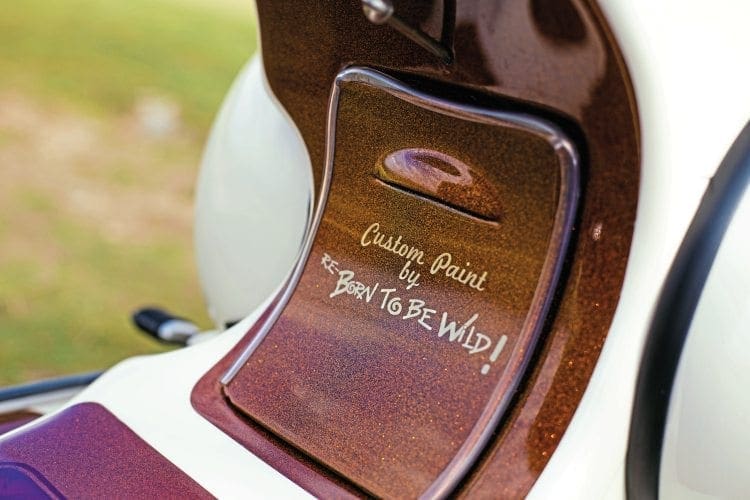 Favourite and worst rally/event: Always enjoy Woolacombe. No worse rally, stayed on some shitty campsites over the years though!
What's the furthest you've ever ridden on a scooter: Northern rallies, 200 miles plus.
What do you like about rallies/events: Piss up with the lads (social side)!
What do you dislike about rallies/events: Twats in cars.
Your favourite custom/featured scooter of all time: Liked Pride & Poverty Lammy in 80s. Also liked Lammy with coffin sidecar, I think it was called the Undertaker (don't know if it featured). Not a lot beats a standard GS though, as in issue 356.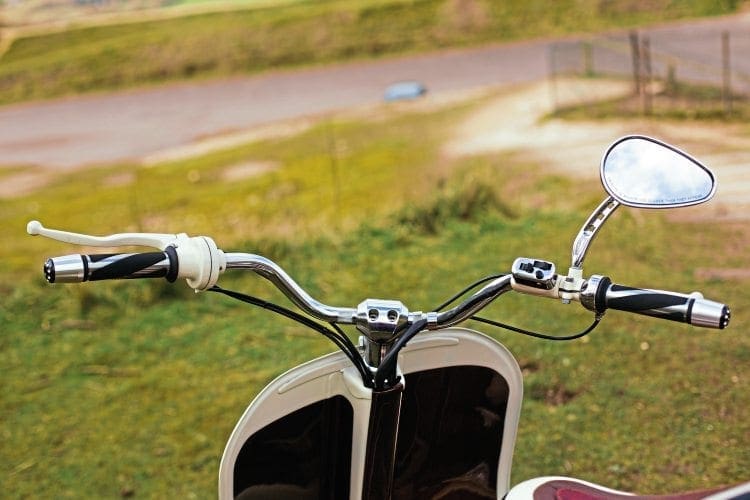 Name of scooter & reason: No name!
Scooter model: 1957 Vepsa.
Date purchased & cost: August 2008, £1300.
Inspiration for project: Hot rod cars (roof painted through netting).
Time to build & by who: Me, a year on and off!
Any frame modifications: Bit of clever frame alteration to fit engine/carb. Weazel (Paul Hardwick, Cheltenham Blue Diamonds).
Are there any specialised parts: Bars off a BSA, seat made by Gerry at Leathery Elephant, Cheltenham and Chopper back light.
Engine spec – kit: Pinasco 177. Crank: Mazzochelli PX. Carb: Diddy one! 21mm Dellorto with Malossi reed block. Exhaust: JL (JHS). Clutch: Reinforced cosa. Gearbox: Standard. Porting work by: Readspeed (Jerry). Dyno done by: Readspeed (Jerry).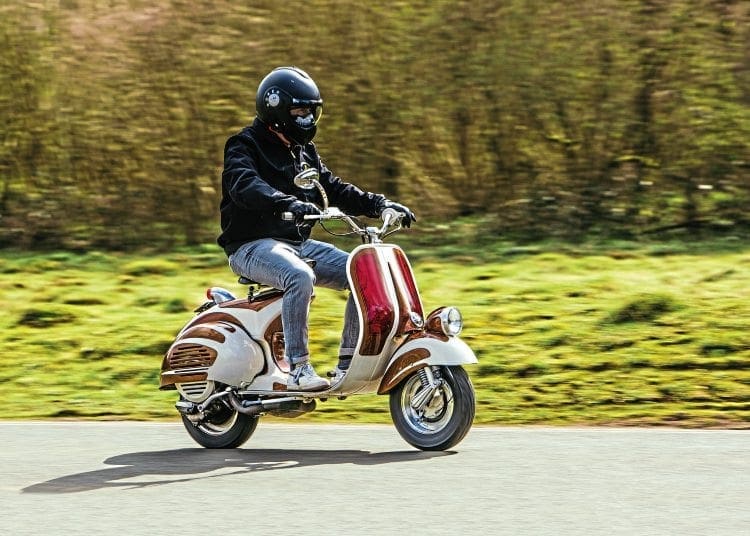 Top & cruising speed: No speedo (1957)! Happy at 65-70mph though, will go faster when needed.
Paintwork & murals done by: Re-Born to be Wild, Cheltenham. Murals – Sam Cave, paint – John Tooze.
What was the hardest part of the project: Probably making engine/carb fit under the panel and in the frame (the bit Weazel did!).
Do you have any advice or tech tips for anyone starting a project: Don't bastardise an old wiring loom, rip it out and start again!
Is there anyone you wish to thank: All those mentioned above and my wife who unwittingly spends a shit load of money on bikes!
Words: Sarge
Photographs: Gary Chapman

Enjoy more Scootering reading in the monthly magazine. Click here to subscribe.