After 20 years in the dark, the coffin door creaked open, and a team of specialists were brought in to breathe new life into… Bones!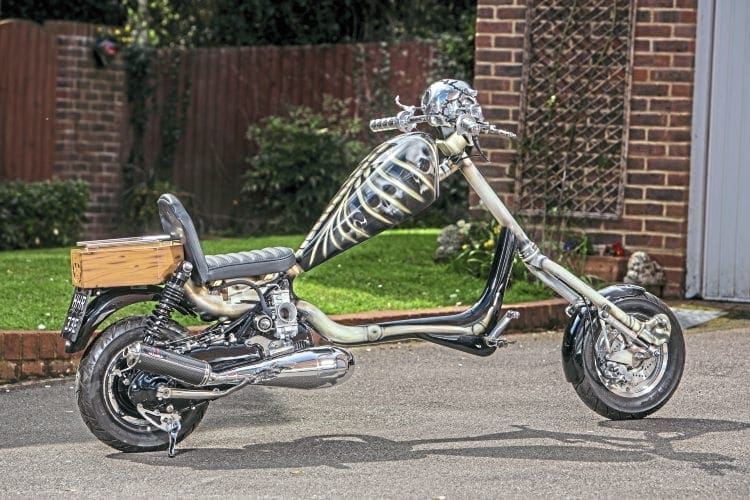 The 'slightly modified' scooter you see here has been owned by Trevor Roffley for the past 34 years. He bought it as a bog standard 1967 LI 150 in 1982 for just £35 — we all remember those days!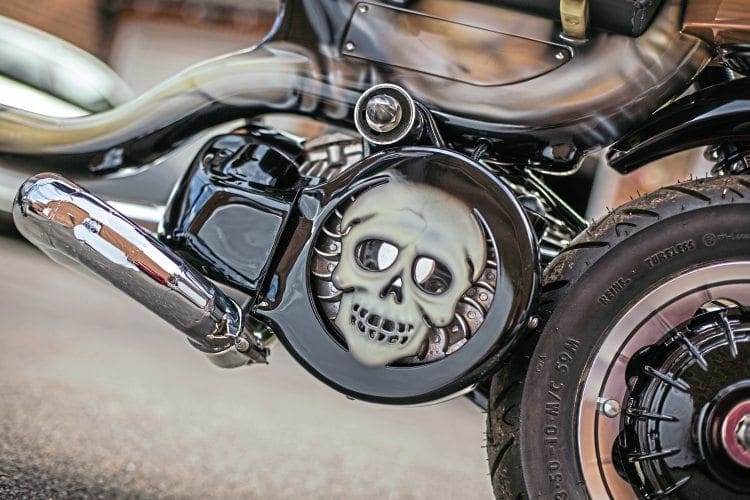 After using it for a couple of seasons it was cut and chopped to follow the latest trend in the mid-80s. Now Trevor will be the first to admit it wasn't done with any great skill; just a bare frame, long forks and a few rattle tins of matt black but it served the purpose. He used it like this for a while but then it was tucked away in the corner of his garage to 'hibernate' for a few years, well near on 20 actually!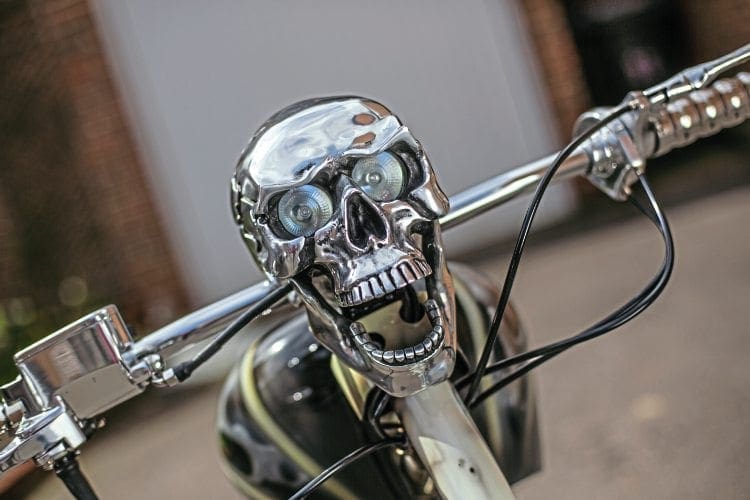 Back to its bare bones…
In 2011 Trevor decided the time was right to give it a full revamp, and now with the funds and the professional contacts required, he planned something special. First the frame was despatched to custom fabricator Wayne Clarke at his workshop Custom Garage in West London. Wayne, a member of the St George Elite SC, has a long history with scooter and Hot Rod projects. Some of you might remember a couple of his previous builds — the beautiful 'How Times Change' chop and the extravagant Honda Melody fitted with a TS1 engine from a few years back.
Trevor along with Wayne and a member of his own scooter club — Virgin Soldiers SC — Dale Ramsbottom set about a plan to build a new chop with numerous trick parts but keep it functional. As you can see Wayne went right back to base metal to give a good welding platform, and at each stage Trevor was brought in to make sure the conversions fitted his own 'frame'. To give a comfortable riding position they decided on the following formula — 6.5in stretch on the frame, 3in rake to the headstock, and standard LI forks extended by 6in. This gave the long and low look they were after but meant while riding your legs weren't up under your chin! This was just the start of the fabrication though. To go with the skeletal idea a 'coffin' back box was made to house all the electrics and has a skull face carved into it to reveal the rear light. The handlebars come in the form of straight bars fitted inside a one-off cast skull headset, it even has a 'neck' to cover the top fork retaining nuts — which I must say is outstanding and very eye-catching!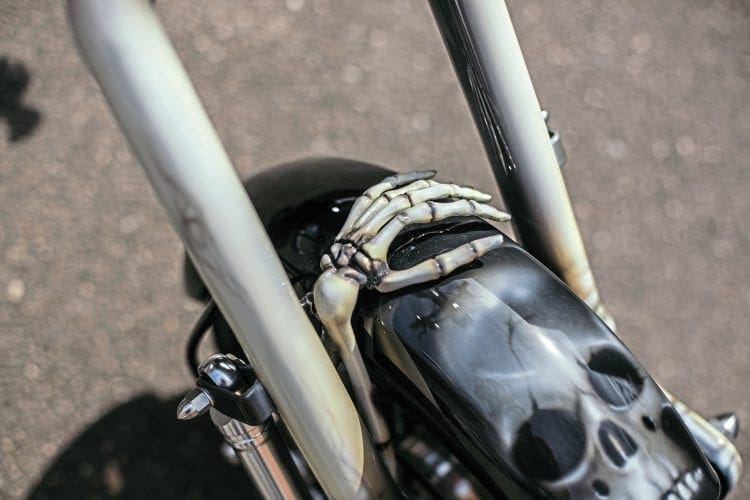 They also made sure that everything was finished off beautifully — no unsightly cables, wires or pipes. If you look closely you may notice or more correctly not notice a hidden fuel pipe and control cables running inside the frame via tubes. There is also a block under the seat not only giving a good seat base but also housing the internal fuel tap. The rear brake mechanism is also situated in a block welded to the frame, and is another neat way of hiding all the 'workings'. There are numerous other trick themed touches — the minimal casing side stand, the boned levers, the kick-start, the fan cover and the front mudguard bracket all done to a very high standard.
Coffin speed…
After the fabrication it was time for engine and paint to be looked at. Earlier I mentioned Trevor's club-mate Dale who just happens to run Ramspeed Scooters. As well as being responsible for stripping and rebuilding 'Bones', Dale also put together a nice reliable but I'm sure quick engine for it. A 200cc block, standard TS1 225 top end, Harry Barlow crank, AF 6 plate cassette clutch, GP gearing, Tino Sacchi layshaft, BGM electronic stator all set up with PM 'Fat Mamba' and 35mm Mikuni. Paint-wise two people were responsible for the very striking look, Darren Smith and Lawrence Manning. Darren did all the prep work and base coat, Lawrence did all of the airbrushing and detailing. The wood effect on the coffin and the bones running along the frame are especially clever. Lawrence is quite multitalented, painting everything from Formula One cars to prosthetic limbs — handy!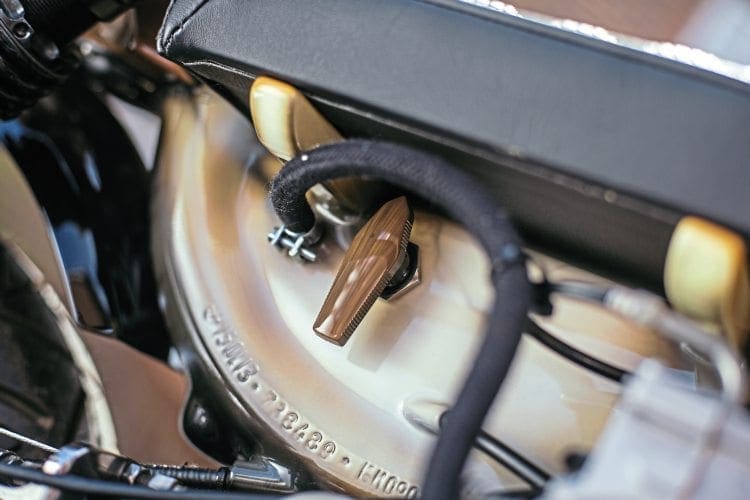 Many of the metal parts were then also polished and chrome plated. This was taken care of by Andy Burt, JC polishing and YB plating. Anyhow after almost five years and a considerable monetary outlay (maybe up to £15,000) Trevor's machine was finished. I must say it is one of the best built and finished chops I have seen and I am sure it will get a lot of attention at custom shows and rallies.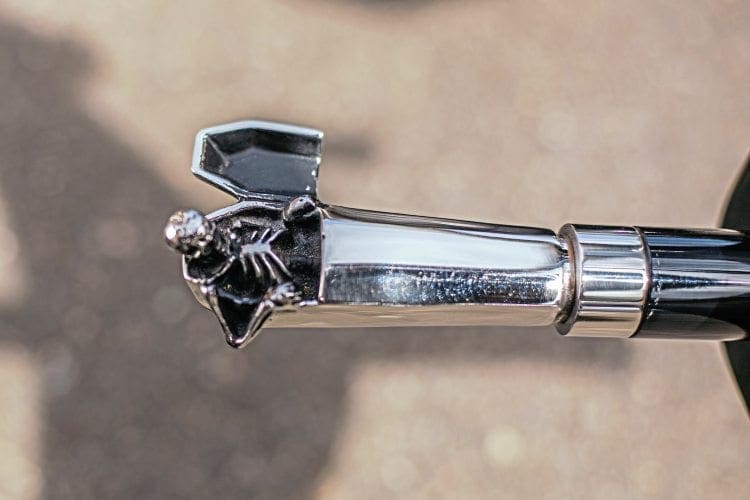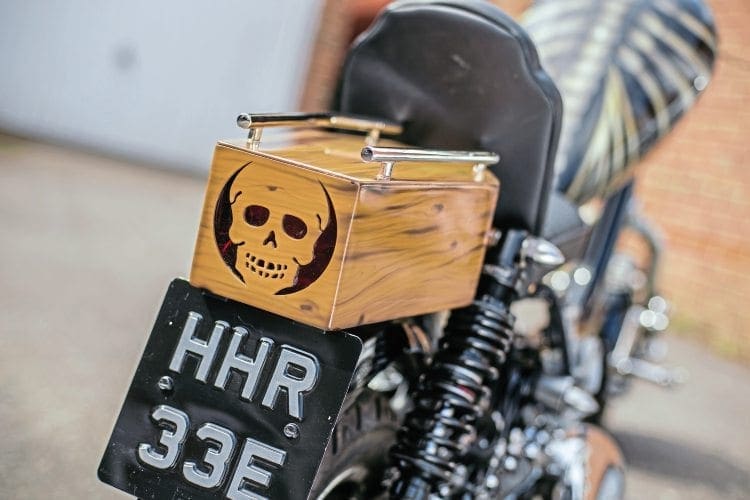 SCOOTER DETAILS
Name: Trevor Roffley
Town: Pulborough, West Sussex.
Clubs: Virgin Soldiers SC & LCGB — looking to
join the LCOC as well soon!
Job: Site manager.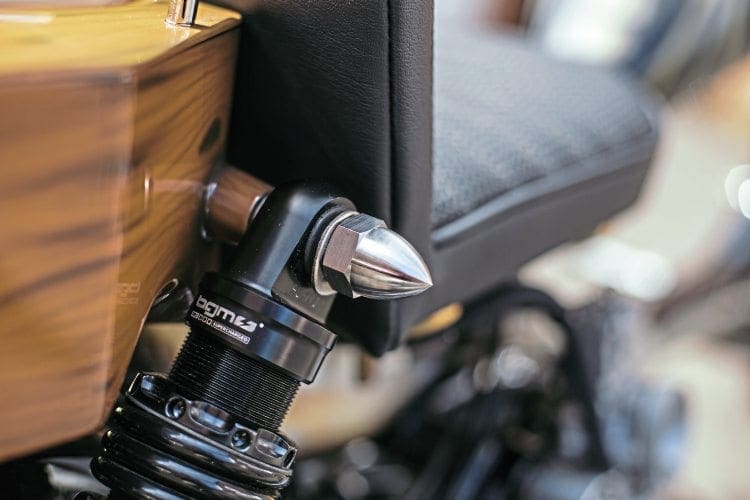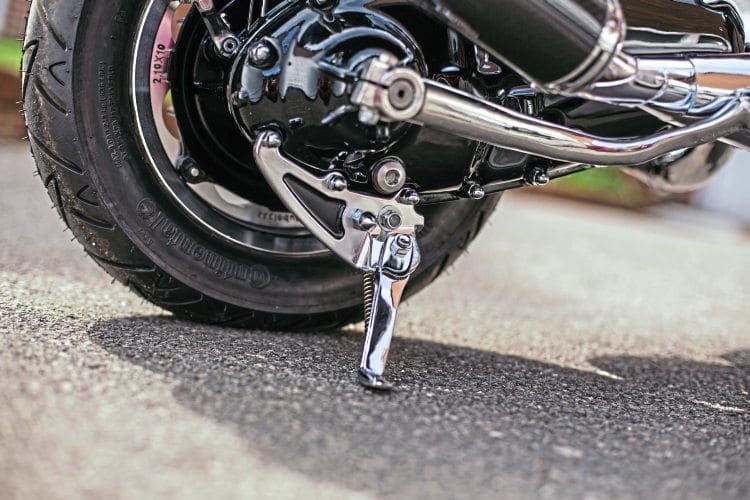 Name: Bones
Model: '67 Lambretta 53 160cc.
Fabrication: Wayne Clark Custom Garage. Engine: Ramspeed TSI.
Paint: Kaos Art.
Plating and Polishing: Andy, JC & YB.
Overall Cost: £10,000 to £15,000.
Hardest part of project: Funding it and waiting for it to be completed.
Any advice: Go with your dreams, don't rush it or cut corners!
Special thanks: Firstly my girlfriend Tracey, and my mum and dad for all the help and support during the build. Next all the professionals I used Wayne, Dale, Darren, Lawrence and the metal finishers.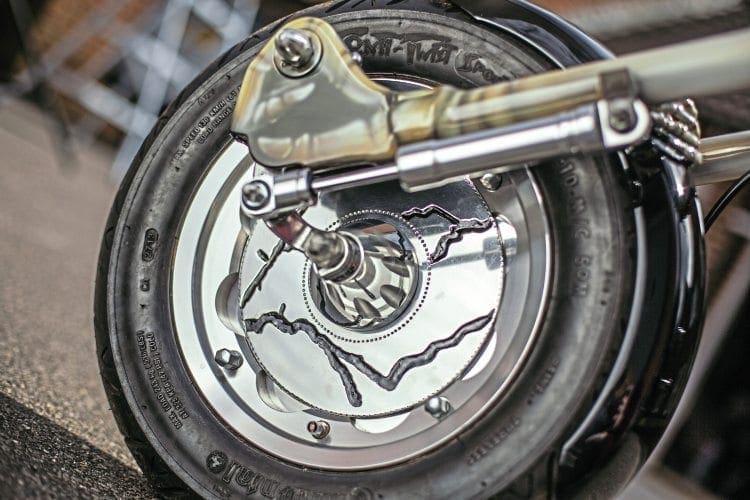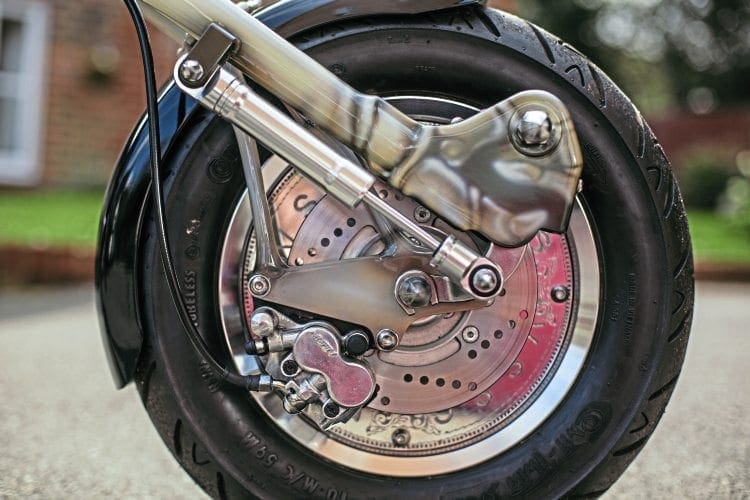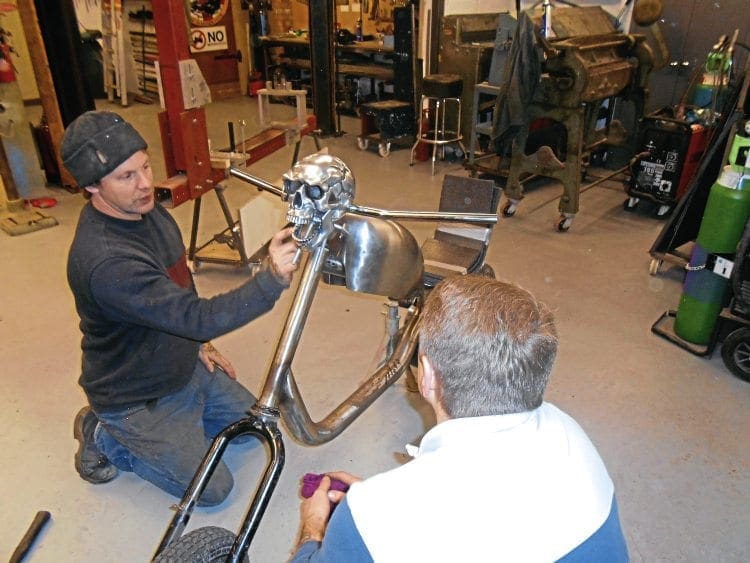 Dave O.
This article was taken from the June 2016 edition of Scootering, back issues available here: www.classicmagazines.co.uk/issue/SCO/year/2016

Enjoy more Scootering reading in the monthly magazine. Click here to subscribe.