Malossi 231cc Atoms splits the Vespa!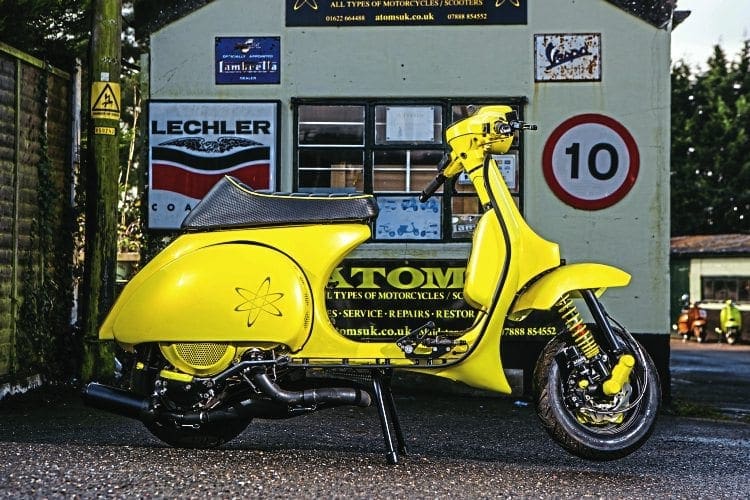 In the scootering world people sometimes embark on outlandish projects and ideas to which the readership of Scootering pose the question… why did they do it? The answer often comes back… because I can! This tricked up Malossi 231cc, fully loaded with extra goodies, is a prime example of that philosophy. For many years the German scooter scene has been the pinnacle of street racer style Vespas, however every now and again us Brits have a dabble and produce something that's on the same level as the work of our European cousins. The scooter you see here is one such machine. Owner Andy Gaff from Tunbridge Wells in Kent bought a bog standard PX200E for £1800 at the start of 2012. He always liked the street racer look and after several fruitful dealings with his local specialists Atoms Scooters he decided they were the people to complete the transformation he required and produce a top quality street racer.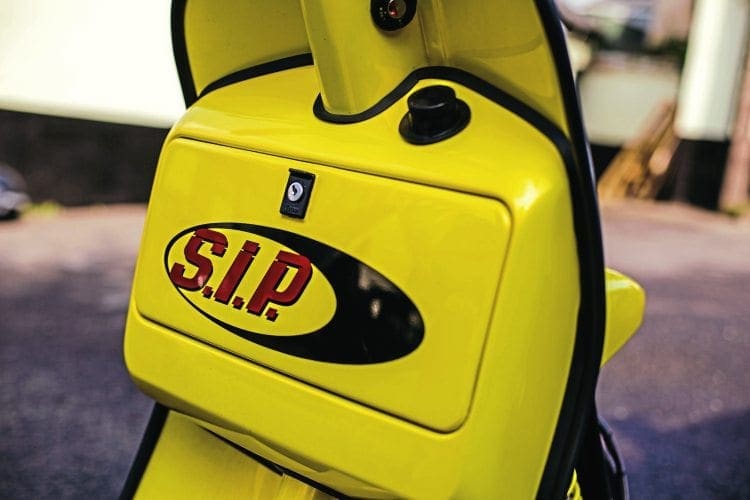 If I said you had a beautiful body would you hold it against me?
After completely stripping the scooter to a bare shell the 'surgery' started. The brief was to make the scooter as clean-looking as possible, so all the pressing seams were smoothed out and the rear end cleaned up by removing the bumper. Next the panels were widened, the indicators were removed and graduated meshed holes were put in for both cooling and aesthetics.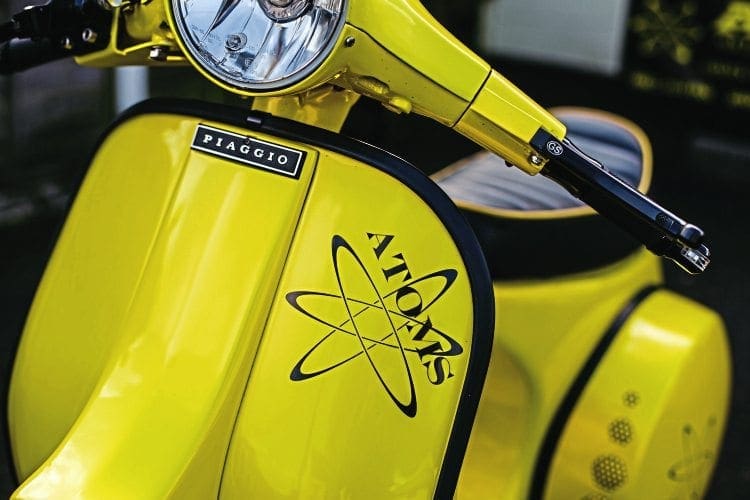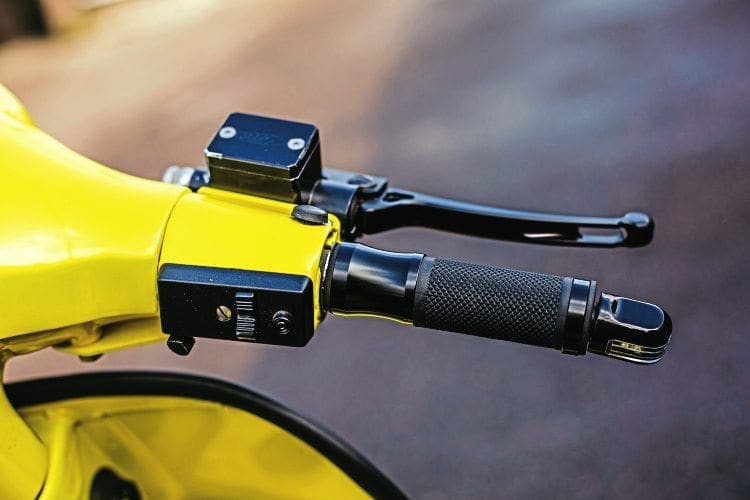 The rear light was also 'Frenched' into the bodywork and a belly-pan contoured onto the underneath of the frame. The front was minimalized with smoothed in horncasting, dieted front mudguard and rear indicator removal. To give that `racey' look it also received dropped handlebars complete with bar end indicators. Once the Atoms team and Andy were happy with the look it was given a very bright yellow paintjob with black shop logos — simple but effective!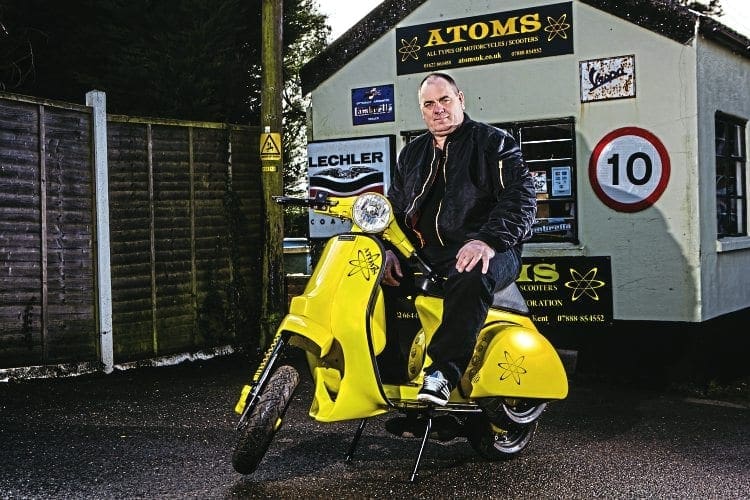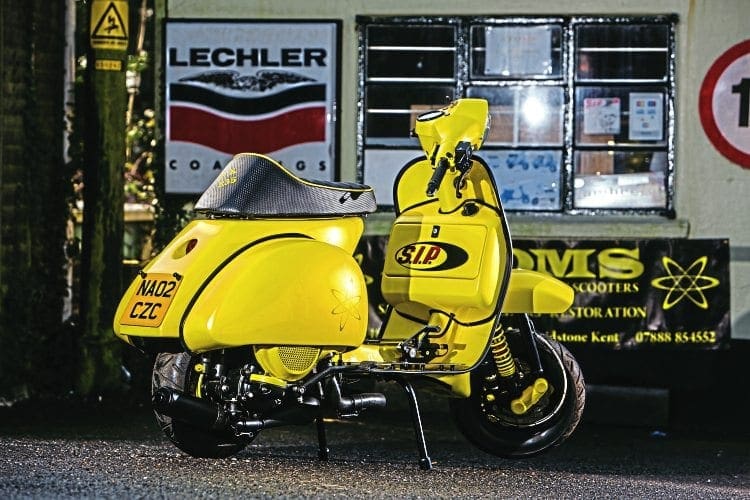 All show and no go?
Well not in this case. After stripping the casings it was given the full works. A 210 Malossi kit was matched and ported by Paul Hopper and connected to a 62.5mm stroke gas flowed crank — this results in a true 231cc capacity. The gearing is kept standard with 24-63 primary, the clutch a super strong CNC'd unit from BGM. To get the fuel in it has a 30mm Dellorto carburettor on top of a MMW reedblock, the resulting gases exiting via a right hand JL pipe. It has also been set-up correctly on the famous JB Tuning dyno, and although it is still to show its full potential on the road dyno figures are 30.5bhp with 20Ib-ft torque at 90mph -impressive to say the least!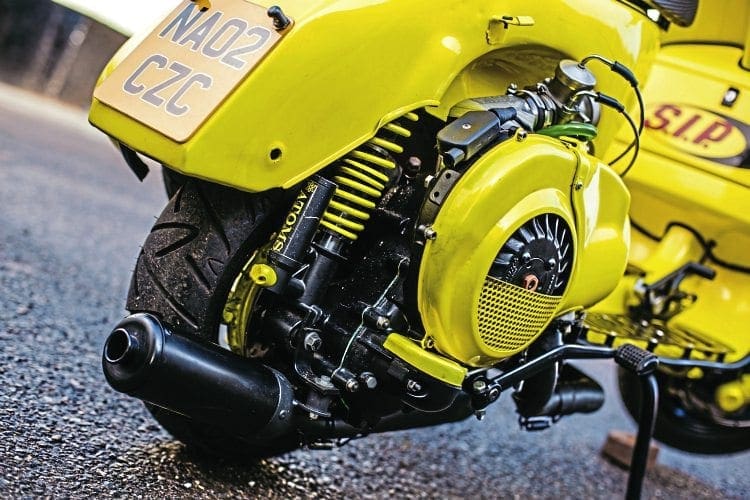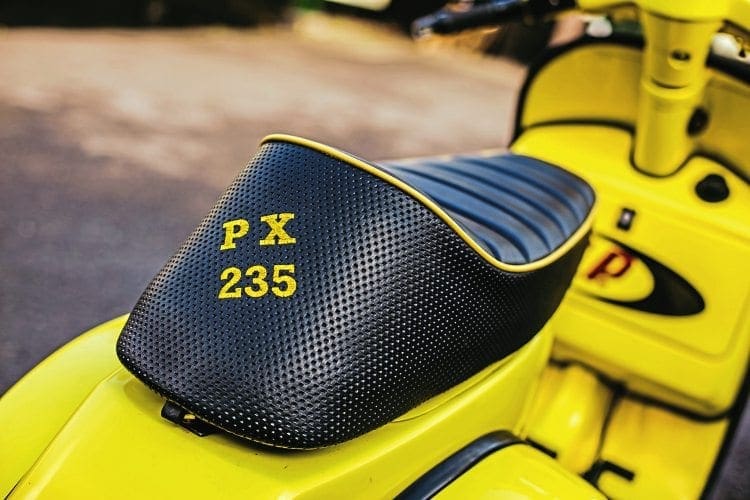 Extra, extra read all about it!
With such a powerful motor they decided it was also very important to give both a smooth ride and adequate stopping ability. This meant the addition of hydraulic disc brakes to both the front and rear. The rear brake lever is especially trick. It also had a widened rear wheel fitted with tubeless rims as well as top quality Bitubo shockers with remote reservoirs. Other nice touches are the 140mph speedo and laser cut floor plates both like many of the products from German super shop SIP. A racing seat was reupholstered to match the paint scheme as were various pieces powder-coated like fan cowl, forks, rims, etc. All of this was done in-house at Atoms. Now this hasn't been a quick build, in fact it has taken several years to complete. However, like mature cheese and strong cider good preparation, thought and quality ingredients pay dividends in the end! The Atoms SIP racer is a proper vintage and can rightly take its place with the best of European street racers.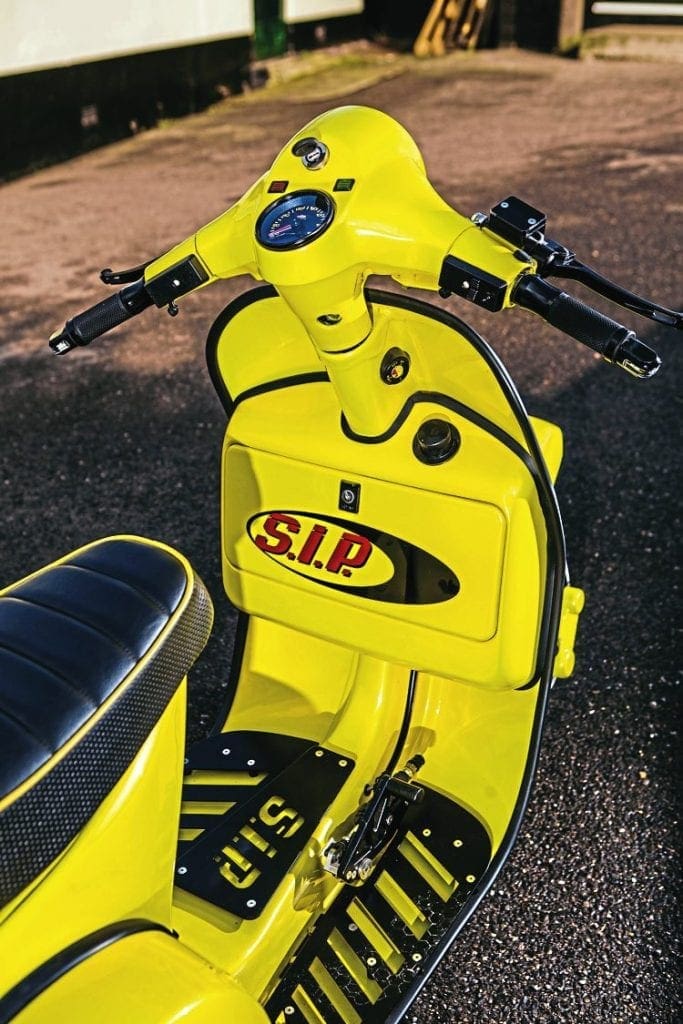 SCOOTER DETAILS
Owner: Andy Gaff
Job: Builder.
Scooter club and home town: Hard Up SC. Tonbridge Wells.
First scooter: Vespa 90.
Favourite scooter: SX200 Lambretta.
First rally: IOW 1982.
Favourite custom: Illusion.
Favourite event: Big 7, local and well organised.
Worst event: 80s Margate, trying to camp on a railway siding.
Recommended piece of kit: SIP tubeless rims.
Most useless part bought: Cheap kick-starts, been through 4!!!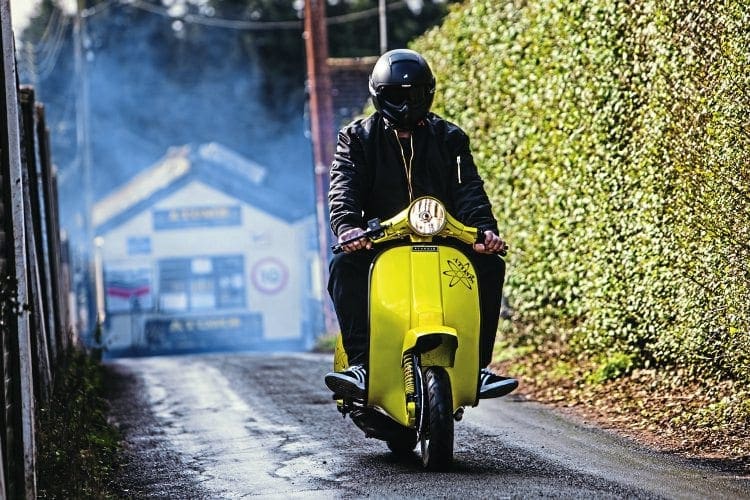 Name: Atoms SIP Racer
Inspiration: Didn't want to go on a diet and wanted to have a street racer that didn't look butchered. Also wanted to show the scootering world what Atoms are capable of.
Engine: Atoms-prepared 231 Malossi with all the goodies! Paint, powdercoating, modifications, parts — all through Atoms.
Time to build: Can't rush a good thing!
Is the scooter reliable: TBC.
Top Speed: TBC, a good 90mph on the dyno though.
Cost: Top Secret! Let's just say no corners were cut.
Anything to add/change: Maybe a handmade exhaust.
Thanks: All the boys at Atoms, especially Paul for all the hard work and sleepless nights! Clean and cool.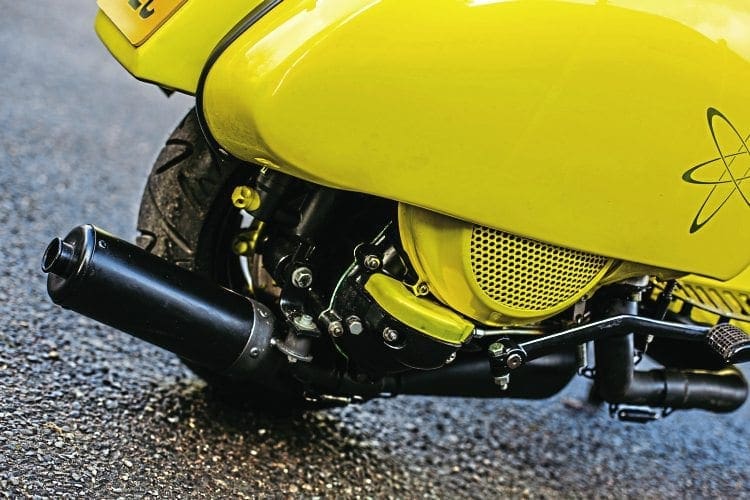 Words: Dave O
Images: Gary Chapman
This article was taken from the June 2016 edition of Scootering, back issues available here: www.classicmagazines.co.uk/issue/SCO/year/2016

Enjoy more Scootering reading in the monthly magazine. Click here to subscribe.