"COMRADESHIP – IMAGINED BY MANY, EXPERIENCED BY FEW"
The AFSC has been through several incarnations, most recently becoming part of the support network for Armed Forces Veterans. If asked to name the three largest Scooter Clubs in the UK most scooterists could easily name two — LCGB and VCB, but the third?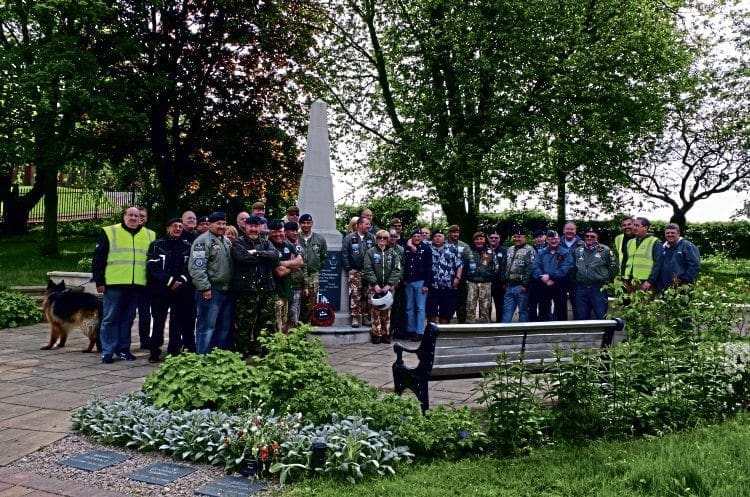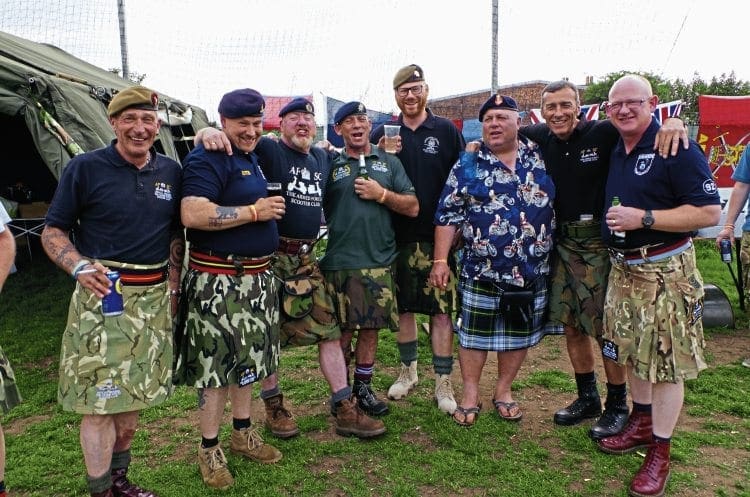 With a membership approaching 900 the Armed Forces Scooter Club has a massive presence on the UK scooter scene but is hardly known outside its membership. Simon Cuerden, founder member and current membership secretary, spoke to Scootering about the club's past, present and future.
Cheesy Hammy Eggy and Pokey Pink Things
"The club was originally formed in 1981 as The British Forces Scooter Club," explained Simon. "There was nothing formal about the club at that time. Just a few mates linked by scooters and the armed forces who would meet informally at rallies and send the odd 'Bluey' (single sheet letter) to each other while deployed on operations."
During the 1980s the security situation deteriorated and service personnel became a target for various terrorist groups. At that time it wasn't advisable to advertise that you were in the armed forces, so the British Forces Scooter Club had to become more discreet and was renamed after a popular (and artery hardening) Royal Navy snack known commonly as a 'Cheesy Hammy Eggy'.
Membership was open to both serving and retired members together with civilian support staff. The 'Mad Bishop', the Rev Mike Brotherton RN, who was based at HMS Nelson in Portsmouth, coordinated the newsletters with all mail being sent in the civilian post due to the ongoing security concerns. As this was the pre-internet era, maintaining communication was challenging but membership was healthy as was the general interest in scootering. Eventually the Cheesy Hammy Eggy SC followed the same fate as most UK clubs of that era. Members found themselves with mortgages to pay, families to raise and careers to pursue. Inevitably numbers declined and the Cheesy Hammy Eggy SC eventually folded.
The club's next incarnation was in the early 1990s as 'The Pokey Pink Thing SC' which was founded by Brett Rhodes, a soldier based in the UK. The name came from a pink fluffy rabbit which was carried by Brett's wife on all the runs and was referred to as a Pokey Pink Thing. At that time it was normal for scooter clubs to use novelty names and as it still wasn't advisable to publicise any connections with the armed forces, the name fitted the times perfectly. Despite the best of intentions this club was fairly short lived and faded away leaving lots of armed forces scooterists a little frustrated.
Armed Forces Scooter Club
It was in 1996 that Simon became involved: "I was posted to Banja Luka in Bosnia for six months and during this tour I put a spoof advert in Scootering magazine announcing a fictitious 'Banja Luka Scooter Club'. I knew that there was a need for an armed forces scooter club but was very surprised when people actually wrote asking if the club was being re-formed. I thought long and hard about becoming involved in running a club. At that point scootering was in something of a crisis — far right politics were common, as was in-fighting between clubs and there were widespread allegations of misappropriating funds.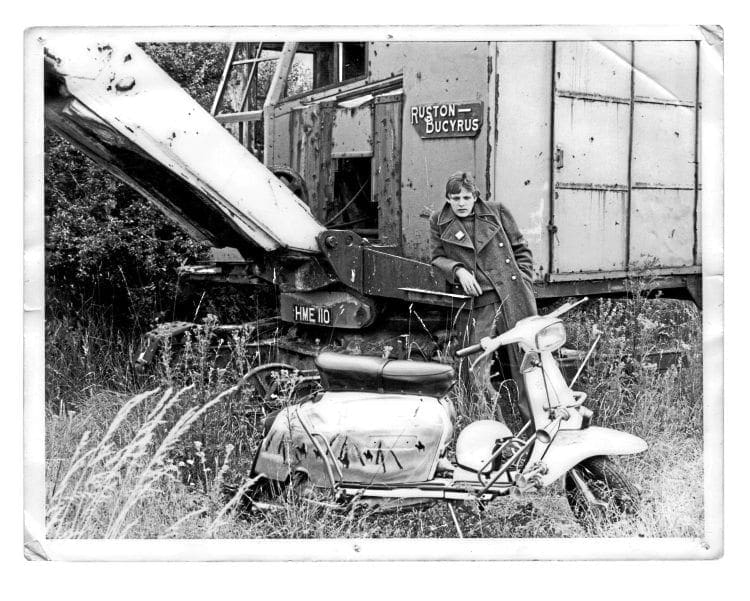 "Before committing to running the club I contacted the biggest names I could think of in scootering. I'm still very grateful for the advice I received from Kev Walsh, Ray Kemp and the late Margaret Farquharson. Thanks to their input The Armed Forces Scooter Club was formed in November 1996."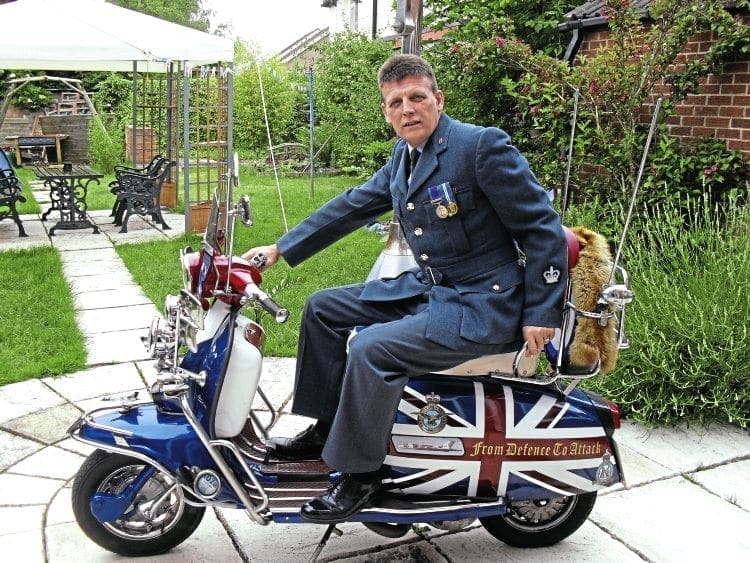 New role for the new millennium.
Simon remains heavily involved with the club and explains its current ethos: We remain apolitical, with no subscriptions and try to avoid staging too many of our own events as we aren't promoters. Instead we have an annual 'thrash' and choose a UK scooter rally, which is usually based centrally and close to the start of the season, so we have at least have one date when AFSC members can gather together."
When asked about the club's current role Simon becomes uncharacteristically serious and takes on a much less relaxed tone.
"It would be irresponsible and inaccurate to suggest that all former members of the armed forces are damaged in some way by their service. For the overwhelming majority of them it's a time they recall with great pride. However it's also common knowledge that the past two decades have seen the armed forces engaged in extended combat operations and these have taken their toll both mentally and physically. There are a lot of fantastic people out there doing amazing work to help veterans but resources are stretched beyond capacity. The AFSC has, by default, become a small part of that support network and is very important in the lives of many of its members. It may surprise those who haven't served that members of the armed forces don't socialise much outside their own unit.
"The AFSC seems to have broken down those barriers with all three services mixing together. There's obviously a large amount of banter and scootering seems to have gathered together quite a few people who, for whatever reason, don't want to engage with the more usual unit associations. Several members of the club have moved on to have successful post service careers and have been able to give assistance to others whose transition has been less smooth."
As we round off our conversation Simon asks if he can add something else: "I'd like to thank the scooterists who let us get on with our own thing at rallies. It's not that we're anti-social but sometimes we need our own space and people seem to instinctively understand and respect that. To us they are true heroes."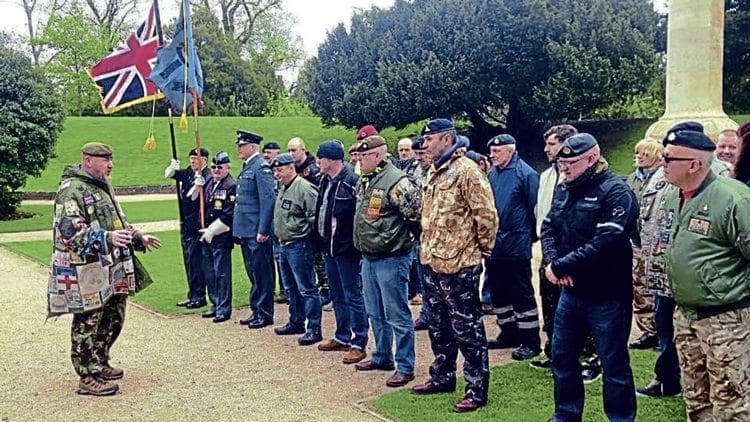 From being a 1980s novelty to its current healthy membership, the AFSC continues to grow and evolve, maintaining its relevance in a rapidly changing climate. It's likely to remain a key part of British scootering for many years to come.
MEMBERSHIP
The Armed Forces Scooter Club is a traditional scooter club for members of the armed forces who share a love for all things scootering. It's an international club and has among its members are both serving and former armed forces personnel from many different nations. While most of the club ride traditional Lambretta and Vespa geared scooters, all makes, either auto or geared are welcome.
Membership is open to all serving or former members of the armed services, the only criteria is that they must have been an 'operationally deployable resource' — effectively this excludes cadets and cadet force instructors without prior military service. Following the collapse of `The Blues and Twos SC', associate membership is also available to serving or former members of the emergency services.
It should be noted that the club has a very low tolerance for anyone with a 'Walter Mitty' complex and is able to weed out such individuals easily with the predictable 'naming and shaming' following rapidly.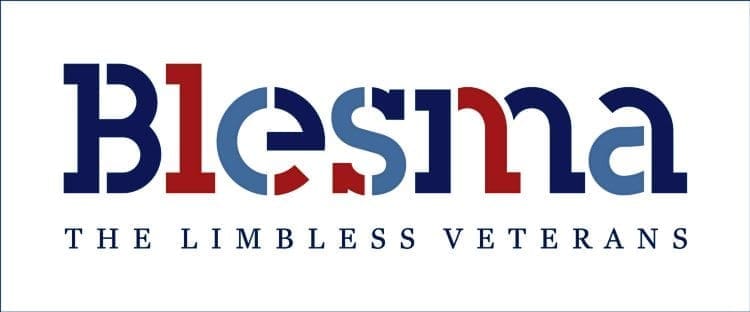 Scooterists have a good reputation for supporting charities and when setting up the club Simon was advised to consider how it would deal with the inevitable approaches for support. "Despite its size the club is run on a shoestring. In order to avoid repeated discussion about who we'd support it made sense to pick a charity and stick with it. Having looked around we found a smaller charity that does excellent work with veterans of many conflicts but receives little publicity."
The British Limbless Ex-Service Men's Association (BLESMA)
The First World War led to the birth of nearly 18,000 charities, BLESMA is one of around 10 that still exist today. Forty thousand servicemen lost limbs or eyes during the First World War — and lived to return to a "land fit for heroes". They were swiftly disillusioned. Amputation techniques were in their infancy, artificial limbs primitive and, due to mass unemployment, 90% of the nation's war limbless could not find work.
During this period the limbless gathered together in groups determined that if society would not help them, they would help themselves. So the Limbless Ex-Service Men's Association was born and grew, finally achieving national status in 1932 as the British Limbless Ex-Service Men's Association — BLESMA.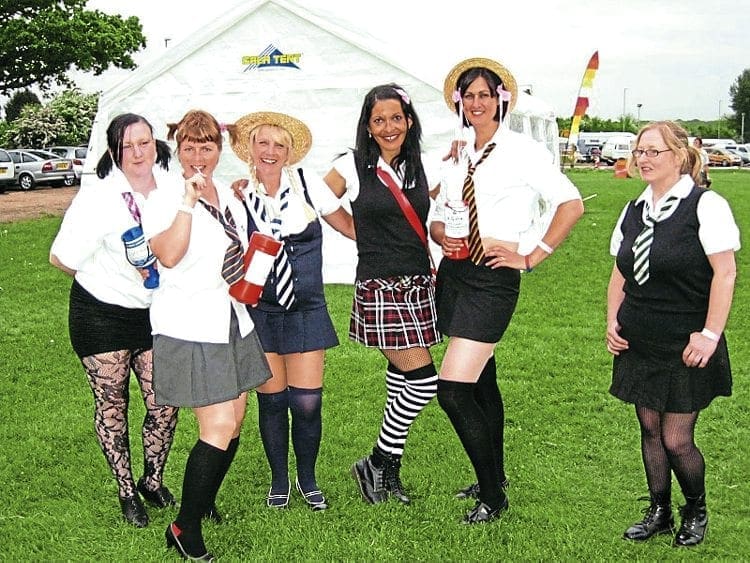 Since its creation BLESMA has lobbied successive governments to achieve improvements in pensions, in standards of artificial limbs, the provision of suitable motor transport and employment opportunities. Residential homes have been opened, wide ranging health and well-heing services initiated, sporting activities undertaken and innovative research commissioned, all helped by the fund-raising activities of volunteers.
Since 1932, BLESMA has been the only national armed forces charity that supports limbless veterans for the duration of their lives. Although modern medicine is capable of treating the physical injury, it is a complicated process to treat the emotional trauma and related lifelong health problems. Catering for veterans of all conflicts, from The Second World War to Afghanistan, the demands for its services sadly show no sign of diminishing.
Anyone wishing to join the AFSC in supporting BLESMA may do so by visiting www.blesma.org.
THE MAD BISH
Former Naval Chaplain the Rev Mike Brotherton, 'The Mad Bish', pictured with his scooters. Mike spent 27 years in the Royal Navy from 1984-2011 and was awarded an MBE for his pastoral work to all ranks within the Navy.
Words: Stan

Enjoy more Scootering reading in the monthly magazine. Click here to subscribe.