A dealer's loft full of scarce and NOS parts is the stuff of legend, but in Sheffield it's a reality. Scootering was invited to take an exclusive look behind the scenes at Armando's.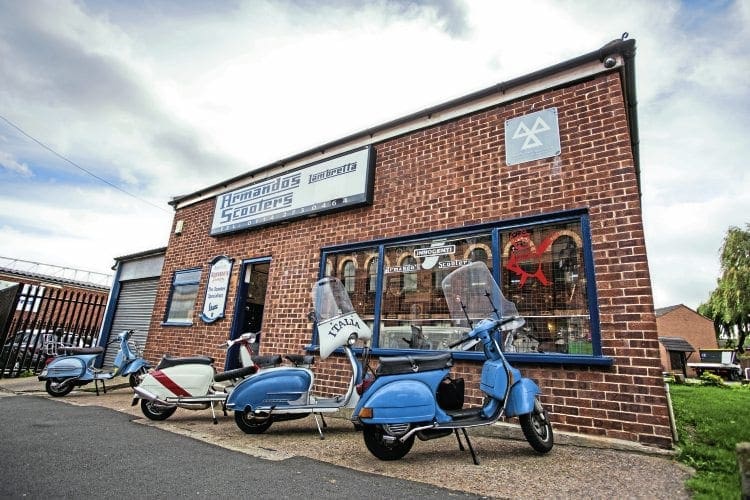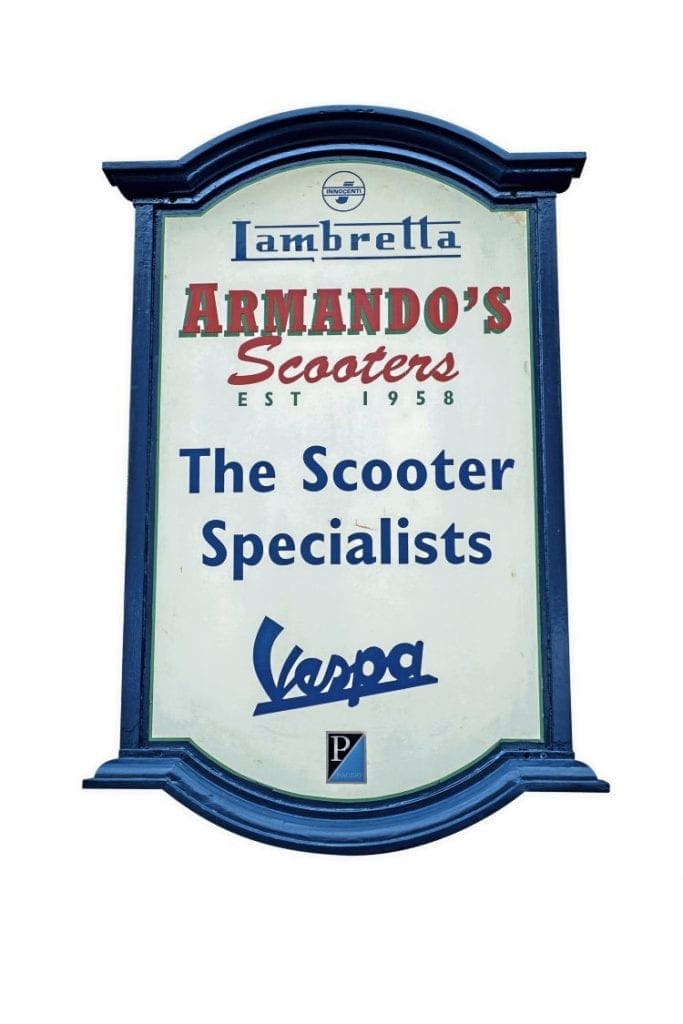 Thanks to their range of Vespa specials Armando's are well known to British scooterists but there's so much more to this famous name than Pinasco-fuelled fun. Situated in the shadow of Sheffield United's Braman Lane ground, Armando's are now in their 58th year of business and can trace their heritage directly back to the Innocenti factory in Milan. They are a true family concern, the shop now being run by brothers Giulio and Guido who took over the business from their father Armando in the late 1980s. Today their premises are both a treasure trove of spare parts and a home to state of the art tuning equipment.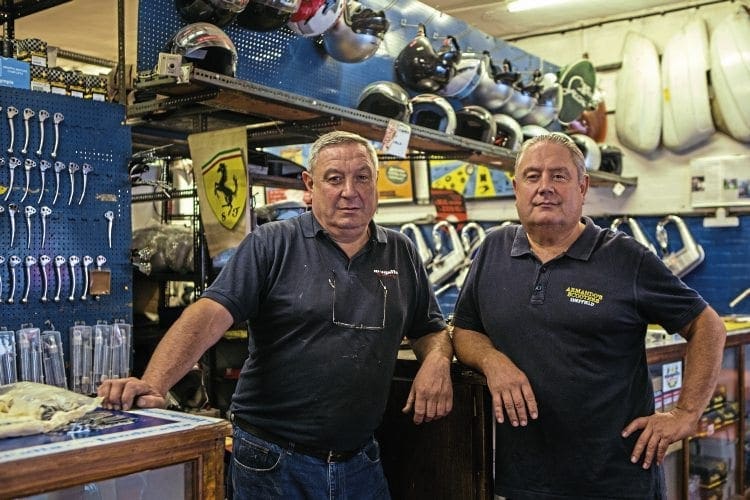 The obvious things when entering the shop are the racks of spare parts and NOS items which seem to be suspended from every available space. "We've a lot of scarce items here" says Giulio "Not all of them are for sale though!"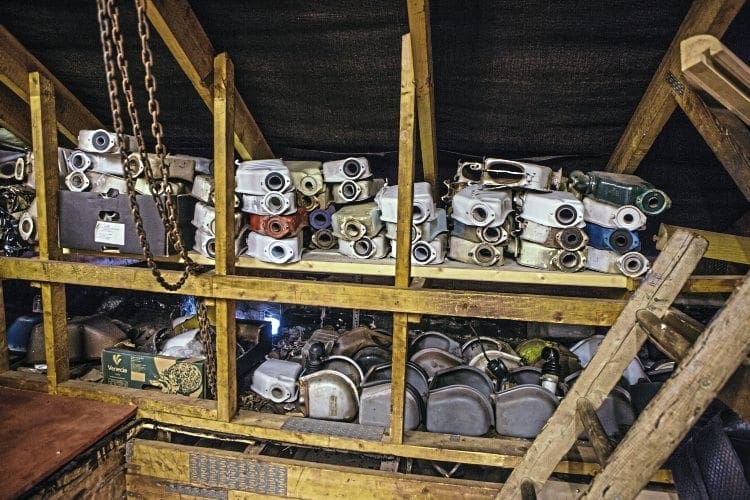 A major part of Armando's business is their painstaking restorations which are almost all based on machines they source from Italy. "We know that people like to see scarce parts — the series 1/2 mudguard hanging in the corner still has its original parts label. It creates a lot of interest and we've been offered big money for that but there's a TV175 awaiting restoration. It needs a mudguard and if we let that one go we'll never get another as the factory has closed and no more genuine Innocenti parts are being made. It's not a question of just selling things on, we've a responsibility to make sure they are used properly. People come wanting NOS parts but when we talk to them it's obvious that there are better, and often cheaper, options. On the other hand we have customers with some very interesting ongoing projects and sometimes we know what parts are required before they do, so we put them to one side, waiting for them to ask the question!"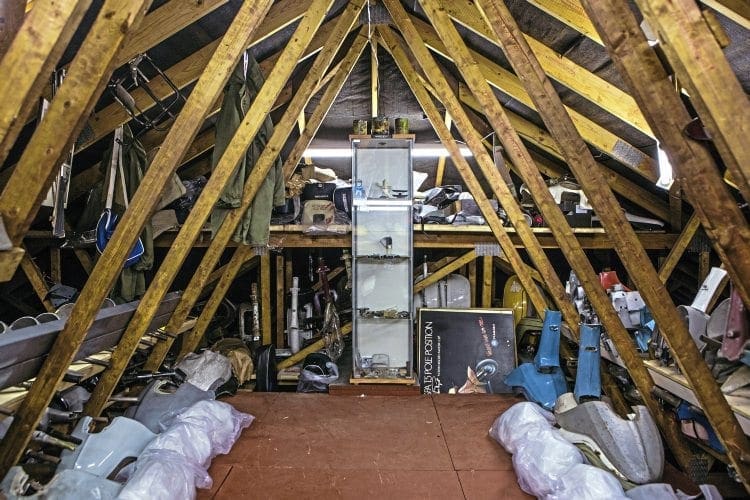 Although born and raised in Sheffield, it's easy to see the brothers' Italian heritage as there's an infectious atmosphere about them both. Whether its discussing days gone by, tracing parts down in Italy or the latest product from Tino Sacchi, both men have a wealth of stories and expertise to share. Crucially both are active scooterists and it would be extremely unusual if at least one of the brothers hasn't ridden to work, whatever the weather.
Whether it's for tuning, restorations, parts or just to see a real, authentic, established scooter shop, Armando's is well worth a visit and we'll be coming back to their treasure trove of parts in future editions.
Words: Stan
Photographs: Gary Chapman
ARMANDO PASTORELLI 1929-2011
When 22-year-old Armando Pastorelli returned from national service to his native Puglia in Southern Italy, there was no work and few prospects. Like many of his countrymen, he headed to the industrial north where fate secured him a training course at the Innocenti factory in Milan.
Emerging as a mechanic, qualified to work on the still relatively new Lambretta range of scooters, Armando was sent to England in 1952. This was the first year Lambretta scooters were officially imported to the UK and the scale of investment by Lambretta at this point in history was huge as they were engaged in cutthroat competition with their rivals at Piaggio and their Vespa scooters.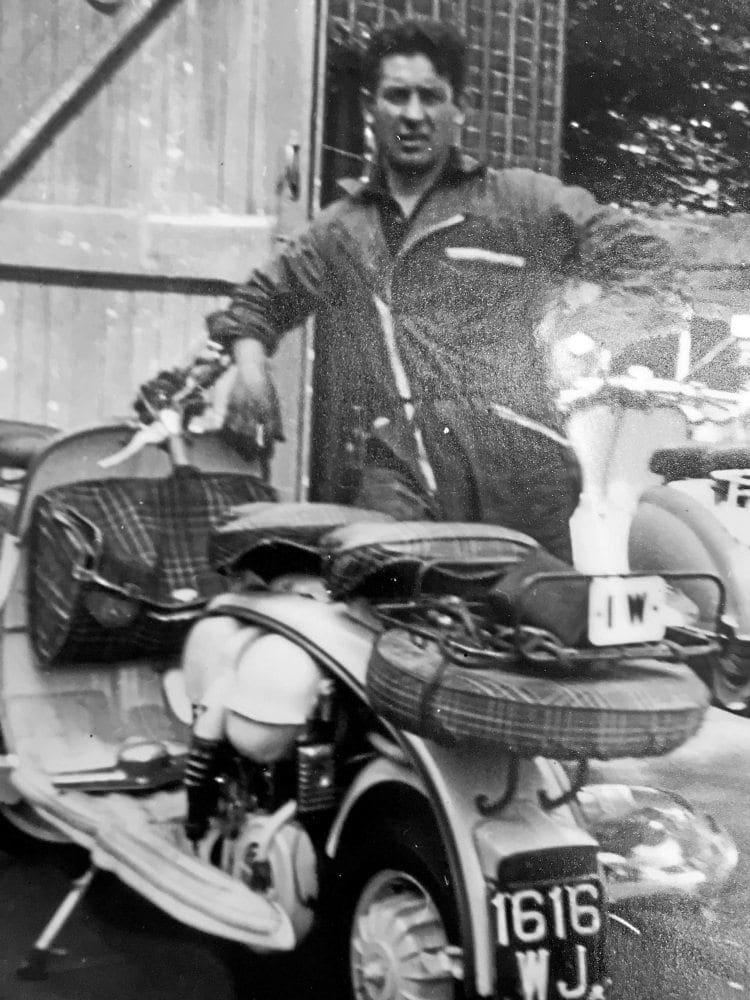 Any advantage had to be pressed home and Armando was one in a small number of mechanics sent overseas where dealers would proudly proclaim the presence of factory trained specialists in their workshops. Armando eventually found himself in Sheffield working for Dan Bradbury Motorcycles. By 1958 Armando was married to Brenda, a local girl, and their first son had been born. Scooters were at the height of their popularity and Armando decided to strike out on his own — Armando's Scooters was born. With a tremendous ethic for hard work Armando's grew rapidly and for many years also held the Douglas franchise for Vespa in Sheffield. Compulsory purchase of the original premises saw a move to Randall Street in the early 70s. Quadrophenia gave the UK scooter industry a boost in the late 1970s and with only one son old enough to help with this increase in business, Armando's health began to suffer. By 1988 his sons Giulio and Guido were effectively running the shop and Armando returned to Italy, where he bought an SX150.
Armando maintained an interest in the business, often returning to the UK for the shop's open days. Armando was a lifelong scooterist and even in old age could be seen out shopping on his Vega.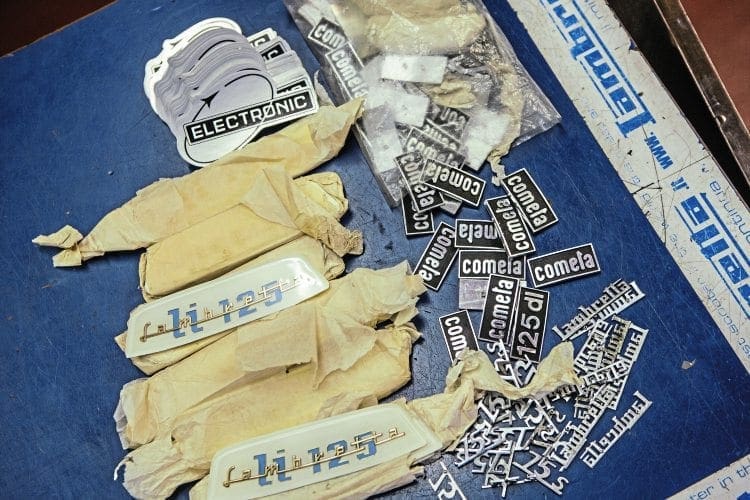 Although Armando Pastorelli passed away suddenly just before Christmas 2011, his legacy continues to this day.
MACA AND ARMANDO'S
Speaking exclusively to Scootering, Maca explained how he developed the Armando's scheme: "Dave Burnett and I had just set up business as Down Town Custom. We'd spent a lot of time and money getting the premises clean and ready for business but the only job on the books was a single one-armed bandit. Dave wondered if we'd done the right thing but I was convinced that I could drum up some trade and went on the road.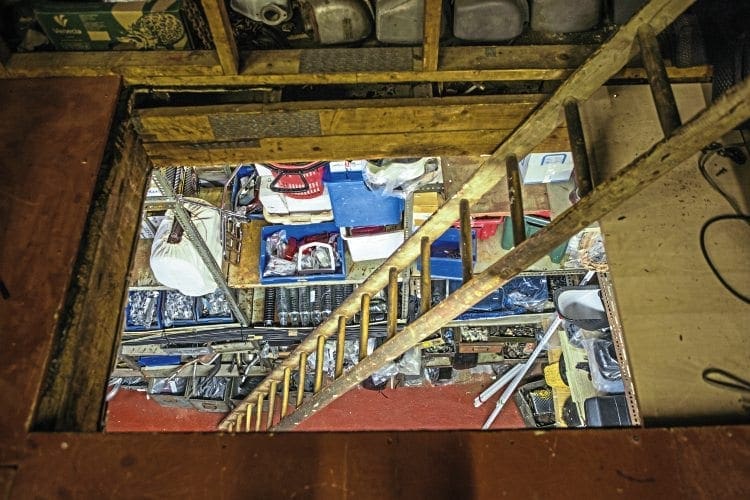 "My sales pitch was for shops to give me scooters in the worst selling colours, I'd spray detail over the base colour and promised they'd sell them in a week. I came back with four bikes each from Reghams in York, AF RaySpeed, Dyron's and Armando's. Although the Regham Dominator has passed from most people's memories, that resulted in some classic dealer specials, including Armando's. Devising the scheme was a case of following the panel lines. On a P Range both mudguard and side panel have three areas — a 'semicircle' at the top, a wide band in the middle and a smaller band at the base. The early work for Armandos followed that principle but I soon realised that a wedge shape made the scooter looked like it was going fast even standing still. That's how the classic Armando's scheme evolved."
THE ARMANDO'S VESPA SPECIALS
Most scooterists, particularly those around in the 1980s, first heard of Armando's as a result of their distinctive range of specials. Giulio explained to Scootering how they originated: "We'd dealt with Pinasco since 1981 and their kits were both popular and reliable. At an early stage we decided to stick with one brand of tuning equipment. By doing that we became very familiar with the product and how to get the best out of it. It also means that we can afford to keep a range of spares in stock. Becoming a specialist is very much in the customer's interest.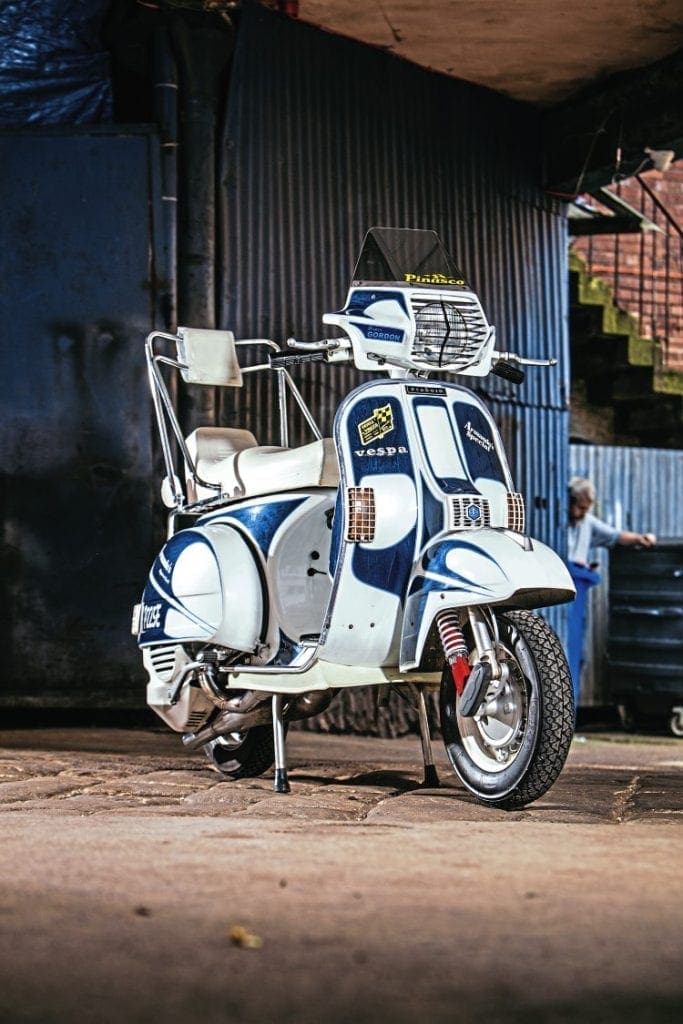 "We were doing very well with Pinasco but there was a big gap in their range as they had nothing for the 200cc engine. All that changed in 1983 when we visited the Milan Motor Show to find that they'd launched the barrel and crank kit we'd been waiting for. We bought it on the spot and when we got home pulled a brand new P200E out of the showroom. As we were fitting it a lad from Guildford rang to ask if we'd got a 200cc kit. We explained that we were just fitting one and he bought it unseen there and then!"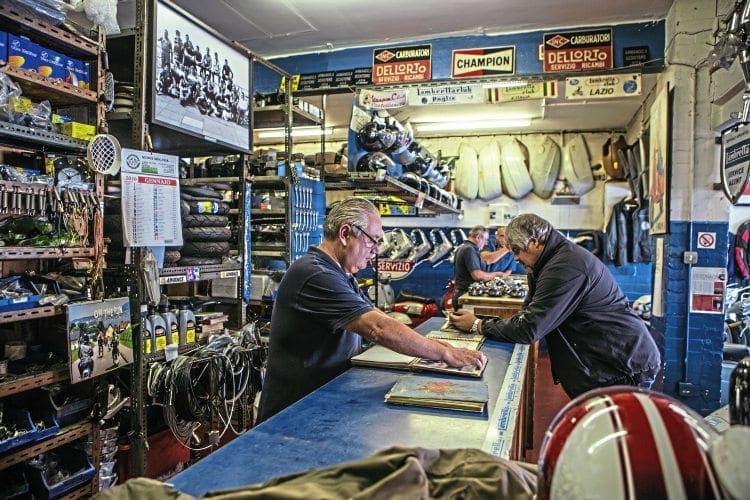 The specials are famed as much for their paintwork as performance but it's not widely known how the paint scheme was developed. "There have been a number of variations over the years" said Giuilio "However they're all based on an original design by Maca at Down Town Custom. He was the obvious choice when we produced the first specials and although we've used several painters over the years it's a great testament to Maca that his concept looks as fresh today as it did back then."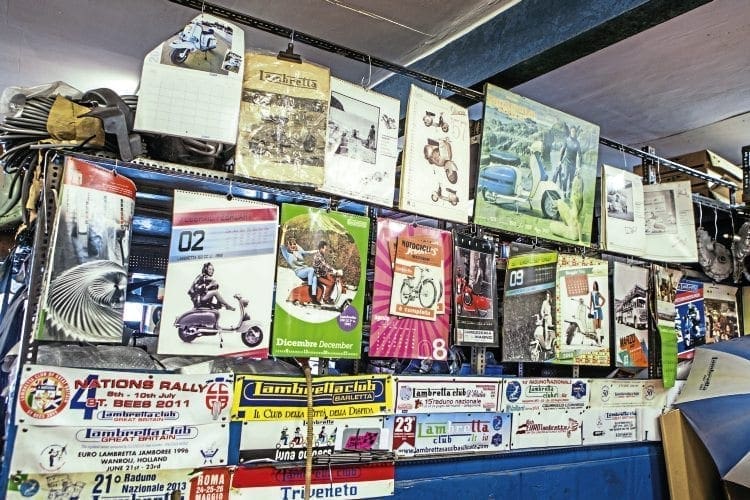 Armando's are still producing specials to order with the specification varying with customer requirements. With some of the very last remaining factory produced PX200 engines in stock Giulio says that they can mate these to a new PX125 and create a brand new machine or alternatively a refurbished one provided by the customer. "Over the years we've produced around 200 specials and I doubt that two are the same, although they are all based on Pinasco equipment," he says. "The 80s accessories are becoming harder to find but if you're serious come and talk to us, we may be able to help."
ARMANDO'S LAMBRETTA SPECIALS
Having created the iconic Vespa Specials over 30 years ago the equivalent Lambretta has been a long time coming but Guido explains that 2016 sees its arrival: "We have a very good relationship with Tino Sacchi and the Lambretta specials are all based on his performance kits. The first 270cc Super Monza kits are just being fitted in our workshops but, just as with the Vespas, we can build a Lambretta according to the customer's own specification.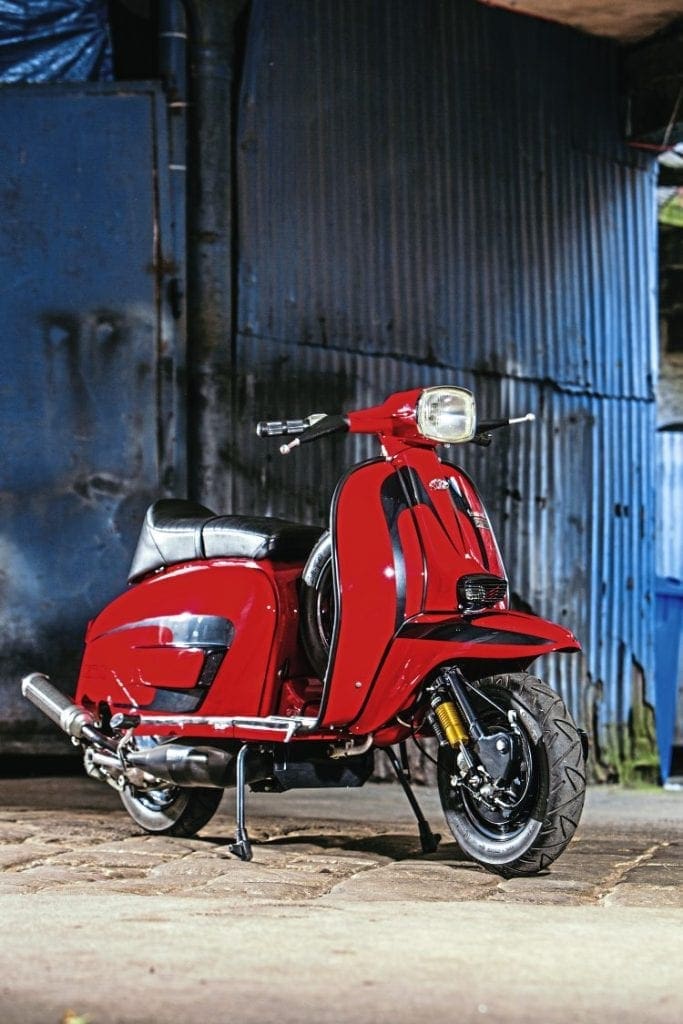 The only things we insist on are Targa suspension and 90mph rated tyres. Anything else just isn't safe."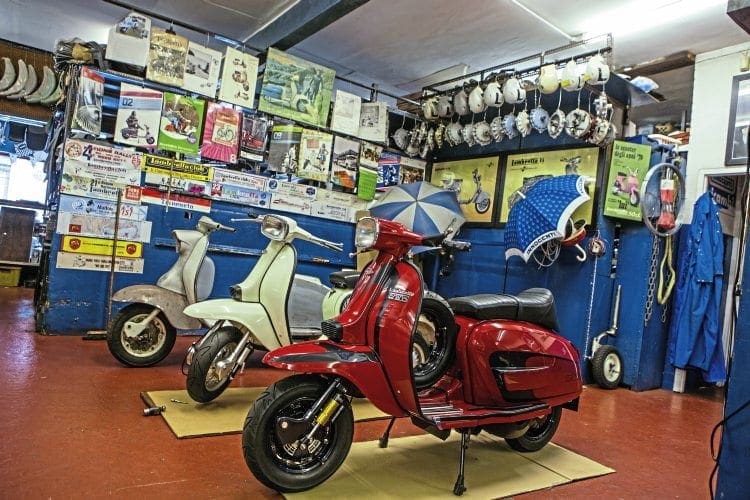 At the time of Scootering's visit the prototype paint scheme was being displayed on a red GP. Unmistakably Armando's, Maca's original design has transferred well onto the Lambretta. Armando's currently have a limited stock of used GPs so are able to offer a complete machine. Although that's obviously going to change as time passes, Guido is confident about the Lambretta special's future. "We've more than enough spares and of course experience to transform Italian or Indian machines supplied by the owner. The availability and quality of performance equipment is greater than at any time in Lambretta's history. We're all very excited about working with customers to build this new generation of specials."
INSIDER ADVICE
As Italian machines become more scarce and ever more expensive, what advice would the brothers give for anyone still seeking their dream scooter? "Start off by thinking about the numbers produced and the likely survival rate. That determines how quickly they need to act and how much they must be prepared to spend," says Giulio. "For example the GT200 is so desirable because it was produced in limited quantities for the British market, a climate almost guaranteed to rot away anything that's not looked after. At the other end of the scale is the Series 2 LI125 which was produced in large numbers and sold extensively in Italy where rust isn't so much of a problem."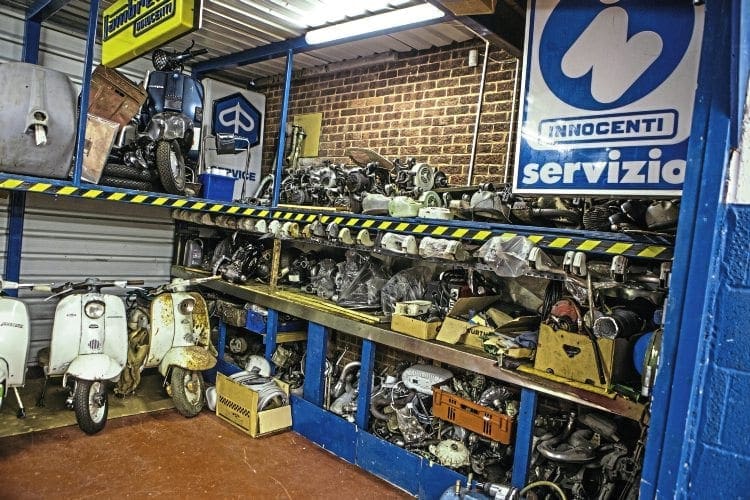 "If someone wants an SX200 they shouldn't hang around for long as supplies are drying up. GPs, particularly 200s, are also getting harder to find although Series 3 TV175s and SX150s are okay for now. The most common machines we're offered are Series 2 Lls, but who knows what we may find on the next trip — that's part of the excitement!"
SPARES HUNTING IN ITALY
Split between their Sheffield shop and a storage facility in northern Italy, Armando's must have one of the largest catalogues of NOS Lambretta spares in the country, perhaps in Europe. Giulio explains that this is the result of both luck and good business. "In the early 80s Lambretta was, in the view of most Italians, dead. Guido and I went to the Milan motorcycle show and started asking around, trying to find anyone with Lambretta spares. Eventually we were sent to an old guy who clearly thought we were a nuisance — two young Englishmen asking about scrap parts. We persuaded him to take us to his warehouse but his driving was so bad I thought we'd never make it. Once inside it was a treasure trove, every box we opened was filled with NOS parts. We started to put things on one side and when we'd got what we thought we could afford together asked how much he wanted. He just asked how big our van was, we told him and he worked out a price based on its capacity! He didn't care what we took. We filled every spot of the van, map pockets, glove box even under the seats. That was the start of many years tracking down and buying spares."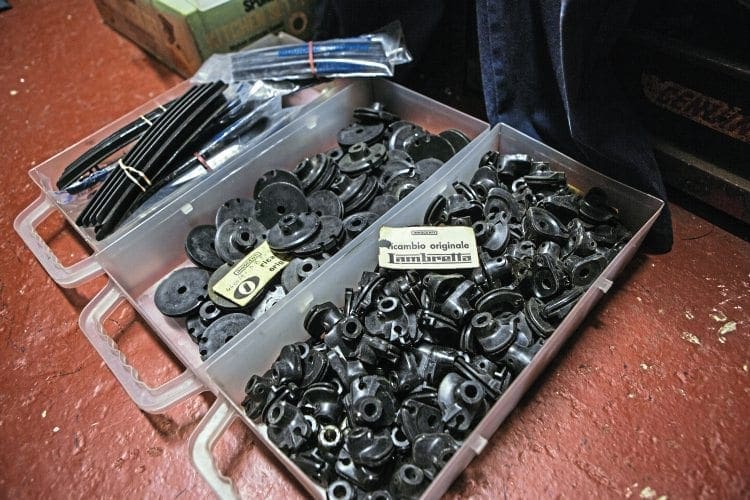 Guido expanded on this theme: "Since then things have got much harder as 20, even 15 years ago, it was possible for someone to take a fortnight off work, drive a van to Italy and fill it without difficulty. Now, there's real detective work involved. We have contacts throughout Italy and they follow up leads getting further and further off the beaten track. Even when someone does decide to sell, things take time in Italy. There's a lot of coffee to be drunk, olives to be eaten and stories to be told before someone finally agrees a price. It's a very civilised way of doing business.
"The days of cherry picking are also over, we may have to buy a shop of scrap spares to get a decent scooter but that's the reputation we have. A good proportion of what we hold in stock over in Italy I'd currently class as scrap, but that's exactly what people thought they were selling us in the early 80s. Things are getting rarer so we'll hold onto them for a little longer yet."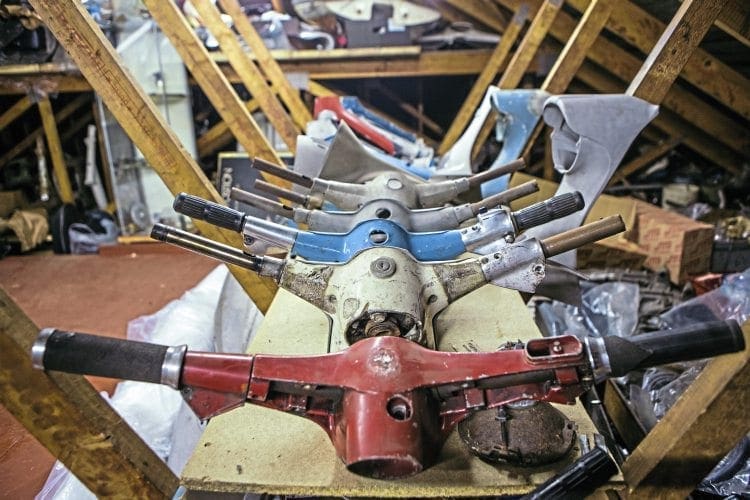 QUADROPHENIA
Love it or hate it there's no doubt that Quadrophenia provided a much needed injection of new custom to scooter shops across the UK. Giulio recalls that Armando's benefited from the film in more than just increased trade. "By the late 1970s scootering had more or less died out in the south but was still strong in the north. The producers needed large numbers of scooters for filming so approached the northern clubs.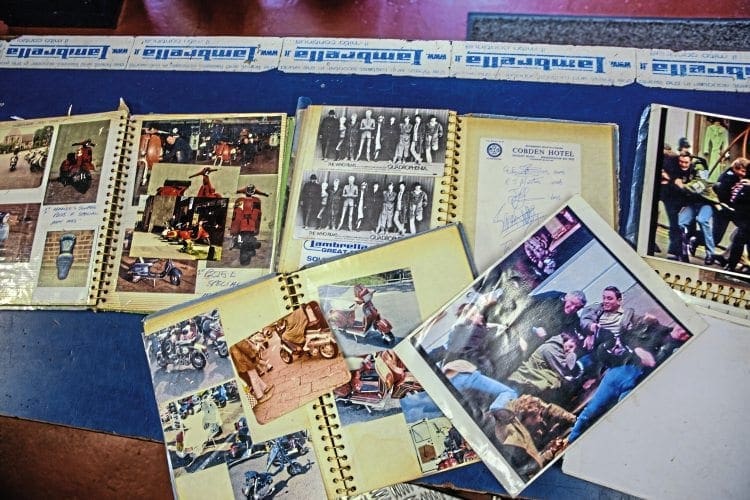 "They paid £25 a day for a scooter with rider and £15 for a pillion plus accommodation. Guido wasn't old enough to ride so he went down with me. All the clubs met at our shop and we rode down together. I hadn't realised there was so much hanging about involved in filming. We soon worked out that it was possible to sign on and then sneak off but still make it back in time for the shots. The wardrobe department smartened us up and there was a glamour attached to being involved in the filming. I'll just say that we had a great time and leave it at that!"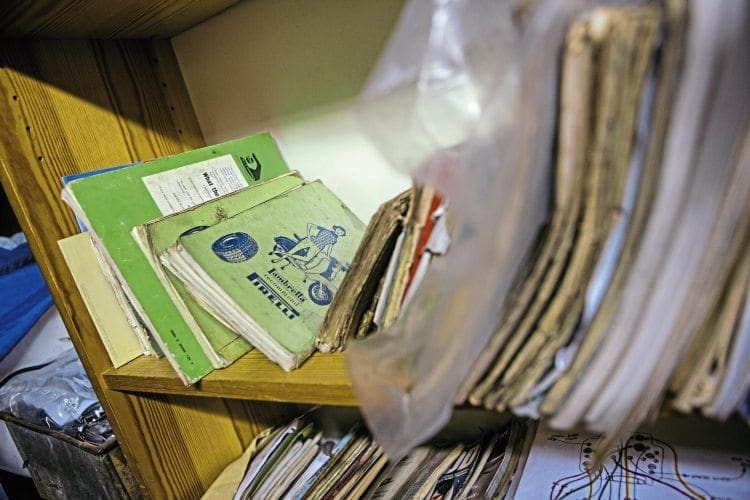 The selection of Ouadrophenia memorabilia held at the shop ranges from an ultra-rare, mint, film poster produced for the Italian market, one of only three known to exist, to stills of the brothers taken during filming. Both can be seen clearly in several scenes including the famous clash with the police. "It was strange, play fighting for the cameras. The directors kept telling us and the coppers to stop laughing, but if you look closely they weren't that successful."

Enjoy more Scootering reading in the monthly magazine. Click here to subscribe.