It's been a couple of years since Selby's Simon Pickering showed his debut custom scooter, Carbon Footprint, in the pages of this magazine. Since then, the Vespa has picked up a few prizes and has served him well. But, as is often the case, one custom scooter isn't enough, and it wasn't long before the seeds of a second machine started to poke their nascent tendrils through the fertile soil of the custom building part of his mind.

Beautiful Thing
Simon knew that this time it had to be a Lambretta, and what the colour scheme was to be. The name and detail was to come later; the original idea was just that of a tidy road scooter with a simple but striking two colour paint job. It wasn't until a title for the scooter dropped into his mind one day that the machine moved into full on custom mode. He'd already decided on the striking indigo and gold colour scheme, and had originally intended to paint it himself, as with his first scooter, but an addition to the family put paid to this idea and so the base paint was farmed out to Kenny Bradford to apply. It was about this time that the idea to go full on in the custom stakes started to slide in, with the title of a track by one of his favourite bands, The Stone Roses, Fools Gold niggling away at his subconscious. As you can tell from the photos, this was pushed gently to one side in favour of the slightly less subtle sobriquet which adorns it now.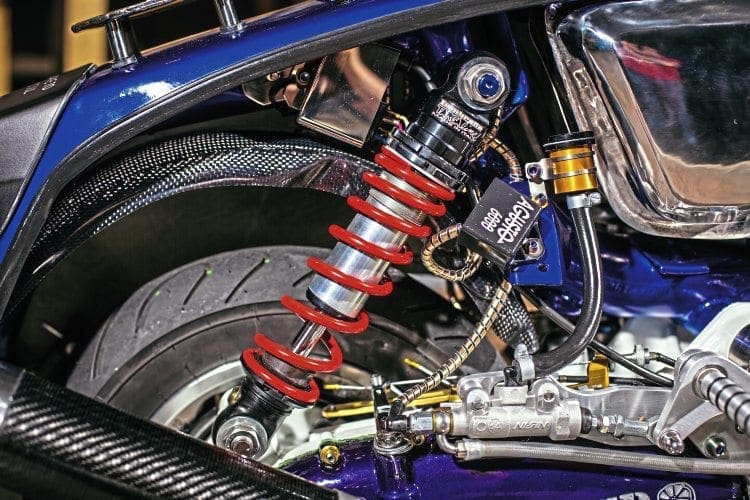 Love Spreads
After asking around for suggestions as to who he should entrust with the murals, and getting a few quotes, Col Fitzgerald of Garage Artwerks was commissioned. To say that Simon was chuffed with the results is an understatement. I could barely get him to stop singing the praises of one of the country's most talented artists when we spoke, an opinion I have to admit to sharing. The photo realistic images are amazing, and at a surprisingly low price when compared to some other, perhaps less pin sharp, artists.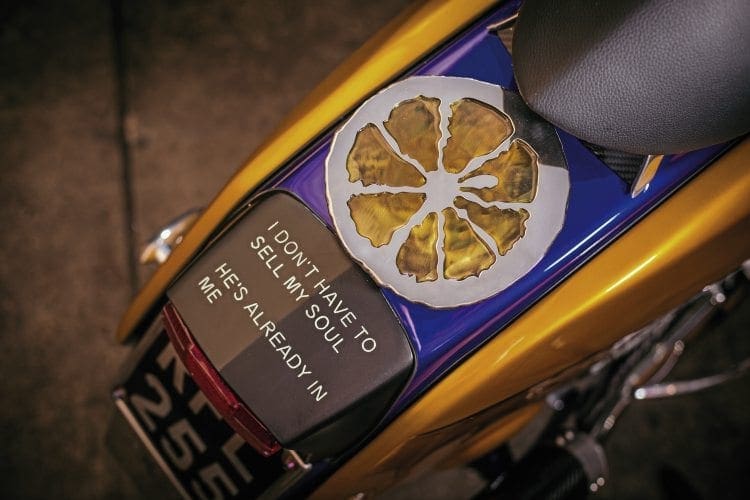 I Am The Resurrection
The more observant of you will have noticed that the scooter is running Special bodywork instead of the standard Li3 tinware. There are a couple of reasons for this. To Simon's eye, the Special panels are a better design than the standard ones and, more importantly, they're fibreglass, meaning that they fit better than steel ones do and are quite a bit lighter. If you're going to start throwing money at the engine, there's no point in having any excess weight to drag you back, is there? That said, the lump itself isn't hugely tuned, being built for riding rather than racing. The Imola kit has been pretty much just bolted straight on to the casings, although the addition of a MEC long stroke crank helps push the capacity out to where it's knocking on the door of 200cc, meaning that there is a considerable amount of grunt being fed through the five plate Readspeed cassette type clutch. Air, fuel and oil mixtures are sucked in via an old school Dellorto PHBH 30mm carb with its one-off bellmouth, and then allowed to exit by means of a TSR Evo, to which has been added a Gianelli tail can. At the time of writing, the scooter has had periods sat in the naughty corner due to a strange issue with the gear cables repeatedly popping out of the selector wheel in the easily overlooked slightly dropped bars, meaning that it'd not had chance to be tested to the fullest of thrashings, but a comfortable 70+mph on the SIP Speedo is expected. I'm just not sure that 'comfortable' is a word I'd use to describe any journey on that seat though!

I Wanna Be Adored
Being something of a tribute to the band, it would have been remiss to neglect the Stone Roses' famous 'lemon slice' logo, and so it crops up on the flywheel cover and, somewhat unusually, in place of a back-rack with both pieces being made by Keith Newman. I have to say that as an unusual touch, this works nicely to these eyes, it's good to see a bit of an alternative to the usual 'Okay, how can I make this carrier fit the theme?' thinking. I'm just not sure where he's going to carry his oil and spare fuel though… Other one off bits include the rear sets from another of those names which crop up with unsurprising regularity, Ade Newnham, and again Simon is impressed by the design and quality of them, describing them as being surprisingly gradual, but scary as hell if you stamp on it, as the countryside seems to shoot back past you as you stop almost instantly.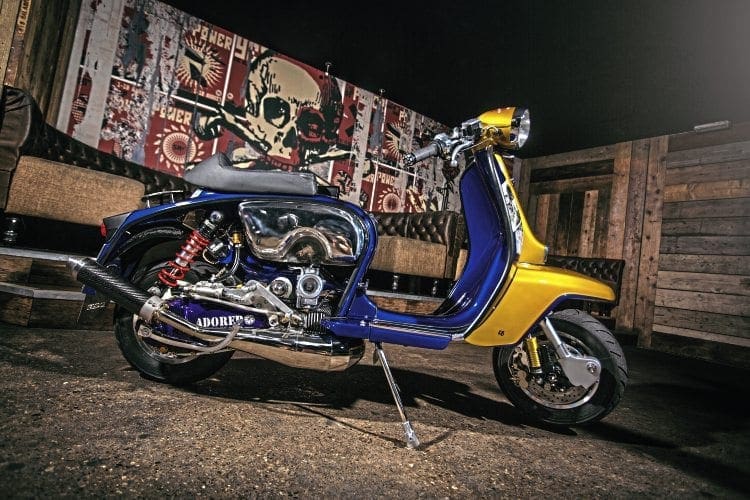 There are a few other unusual bits throughout the machine which are worth noting — Simon's obsession with carbon fibre continues on to the flywheel and head cowls and, to add to the weight saving, titanium bolts have been used throughout the build where possible. Another uncommon touch is the engraving. I can't remember ever seeing powder coating engraved before, but that's what's been done on the chain case side, rear light and air scoop, and it's a striking and eye-catching effect. It's one of those details where you wonder why it hasn't occurred to anyone to do before.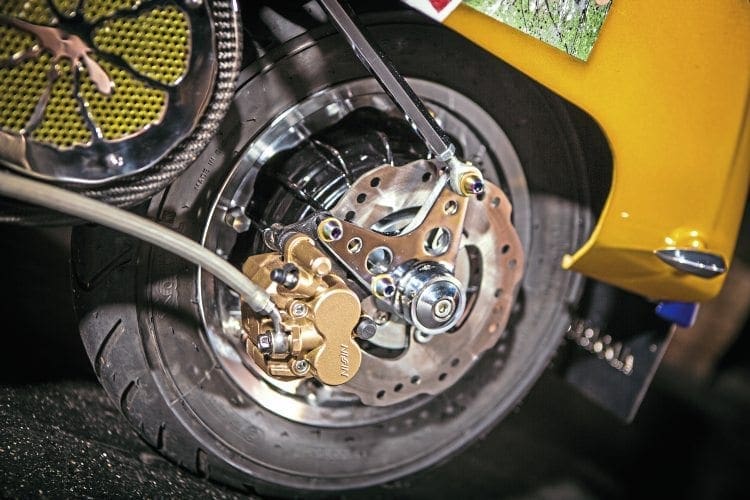 Fools Gold
Unlike Carbon Footprint, Simon doesn't see this as a finished project. He was muttering something about gold plate, and perhaps a couple more details to go with it, but as far as I can see, there isn't much more that needs doing.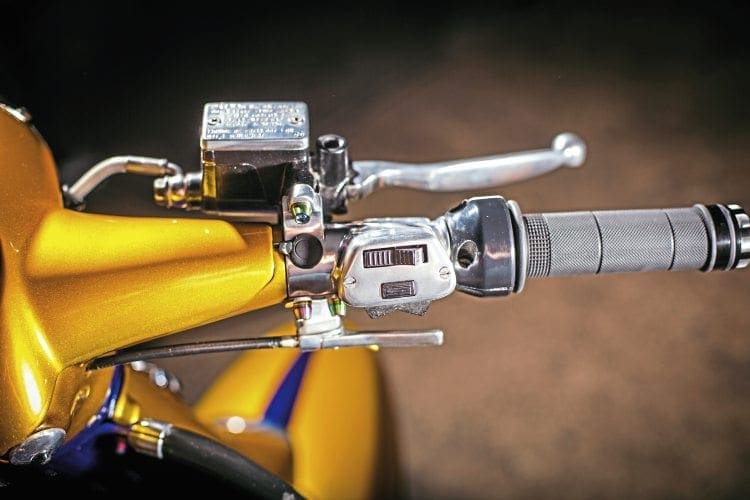 Perhaps knowing when to stop actually is The Hardest Thing In The World.
OWNER DETAILS
Owner's name: Simon Pickering
Job: Operations team leader at a power station.
Scooter club & town: Selby Independents and LCGB.
How and when did you first become interested in scooters: I was passing a rally at the Olympia in Selby about 10 years ago and got pulled in by custom scooters. I was into building custom cars back then so I could relate to it.
First scooter: A battered PX125 that I had to sell on a few months later to go towards my house deposit.
Favourite scooter model: Vespa T5
Favourite style of custom scooter: I prefer something that little bit different. Something that covers all bases but isn't OTT.
First rally or event: Bridlington, again, probably 10 years or so ago, sadly I'd just had to sell the PX, so went in the car. It's not the same as riding up, is it?
Favourite and worst rally/event: Brid is my favourite, although I went to a little one in Hull last year that was strange. It even had an Ann Summers stall…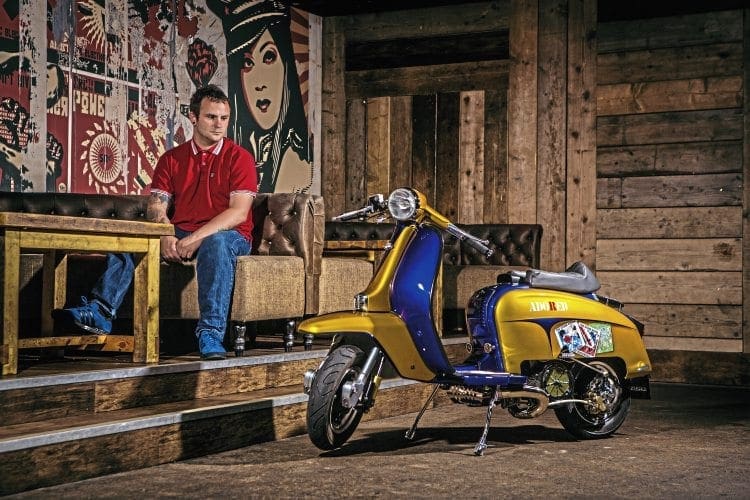 Funniest experience with a scooter: The first wheelie on my T5 in the middle of about 20 scooters raised a few eyebrows. Totally unintentional, my hand slipped off the clutch and the wheel went way higher than I was comfortable with.
What's the furthest you've ever ridden on a scooter: I've done about 150-200 miles in a day, but I want to start doing some more distances in future.
What do you like about rallies/events: Catching up with people.
What do you dislike about rallies/events: Crap food at inflated prices.
Favourite Scootering magazine feature: The tech bits are always good
Favourite custom/featured scooter of all time: Still got to be Spanish Bombs — it's a lovely machine.
If you had to recommend one scooter part or item of riding kit what would it be: SIP rims and speedos. Saved me a few times.
Most useless part you've ever bought for one of your scooters: A cheap remade headlight unit. Total dross that was never going to fit.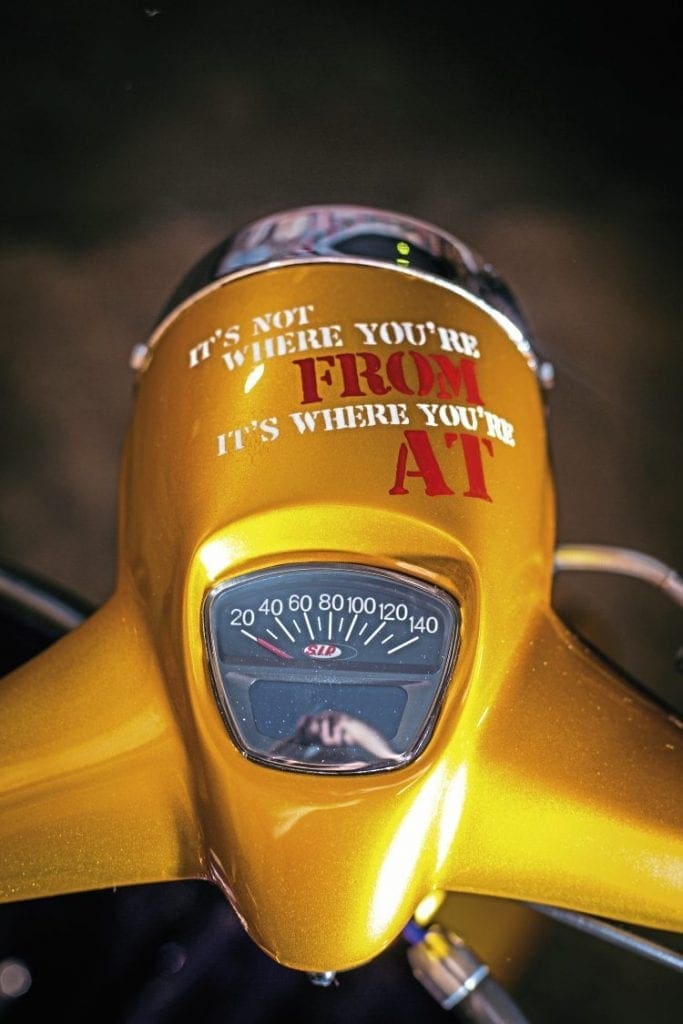 SCOOTER DETAILS
Name of scooter: Adored — based on my favourite band the Stone Roses.
Scooter model: 1963 Lambretta Li125 series 3.
Date purchased and cost: May 2015 for £1300. Bought as a skelly off Chris Matthews. Inspiration for project: I intended for it to be a sensible runner with a modern twist.
Time to build and by who: 11 months (my newborn son slowed it down!). Built by me at home.
Any frame modifications: Decided to go for fibreglass SX panel work. Lighter, won't rust and surprisingly fitted better than the original tin stuff.
Are there are any specialised parts: The rearsets are pretty special — an Adrian Newnham work of art. The custom lemon slices were made by Keith Newman.
Engine kit: Imola. Crank: Long stroke black mec crank. Carb: Dellorto PHBH30. Exhaust: TSR Eve with Gianelli can. Clutch: Reedspeed 5 plate. Gearbox: Italian 11150.
Are there any other unique details we have missed: Where possible all bolts have been swapped for titanium ones.
Top & cruising speed: To be confirmed, but hoping to be able to sit at a good 70 all day.
Is the scooter reliable: Fresh build — time will tell, but I've had a couple of niggly issues and teething problems. Nothing major though.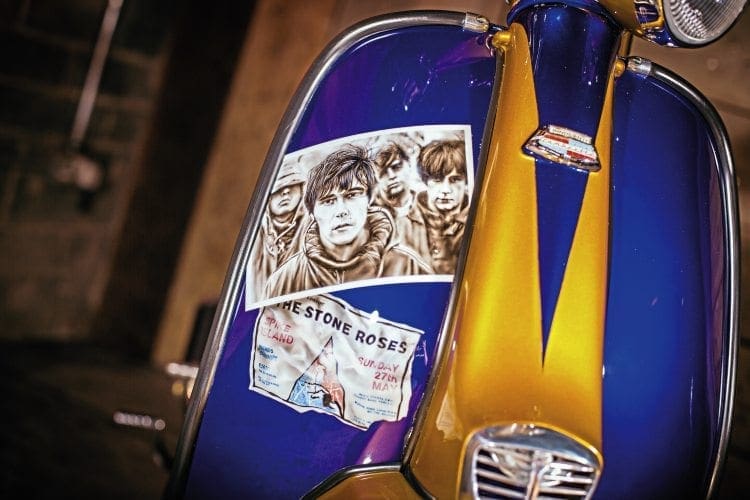 Paintwork & murals/who did them/any stories: I had planned on painting it myself, but the birth of my son, Milo, but paid to that idea. Originally it was just going to be the base colours which were brilliantly applied by Kenny Bradford but then decided to go the whole hog' and got Colin Fitzgerald on the job for the air brushing. I love the John Squire art work and I think Colin's captured it perfectly.
Is there any engraving: A little bit on the chain case, air scoop and rear light done by Jason Lock.
Is there any powder coating? If yes who did it: All powder coating done by LSN in Castleford.
Overall cost: Probably about £6000 all in, including buying it.
What was the hardest part of the project: Being a DIY lover, and having painted my T5 so successfully, letting the work go out due to not having as much spare time these days, but it was worth it in the end.
Do you have any advice or tech tips for anyone starting a project: Take your time, don't rush, and if you can't afford decent components straight away, it's always worth saving for them.
Is there anything still to add to the scoot: Toying with some gold plating.
In hindsight, is there anything you would have done differently: Ship the paint work out straight away rather than wasting a load of time in my garage.
Your favourite dealer: I've always liked SIP.
Is there anyone you wish to thank: Cohn Fitzgerald for the artwork, Jason Lock for the engraving, Kenny Bradford for the basecoat, Alex Isherwood for getting the paint looking spanking, Adrian Newnham, Keith Newman, Trever Emerton for the countless advice, Rob Sidebottom for telling me to "just get on with it' and everyone else that's given advice.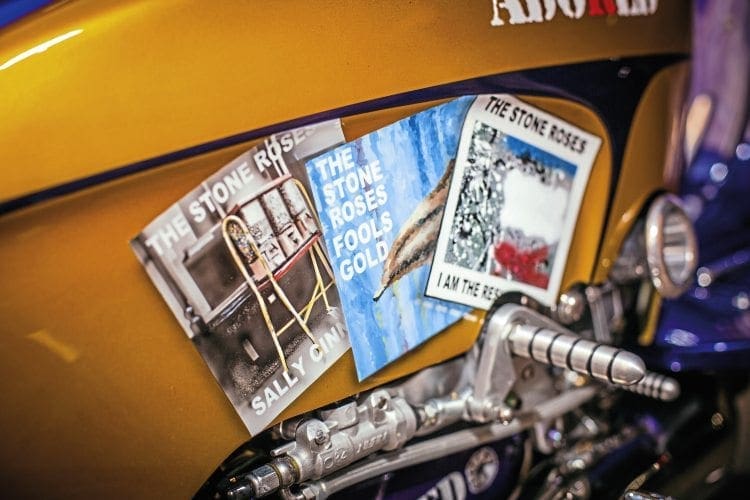 Words: Nik (who has spent too much time listening to the 'Roses this last week!) Photography: Gary Chapman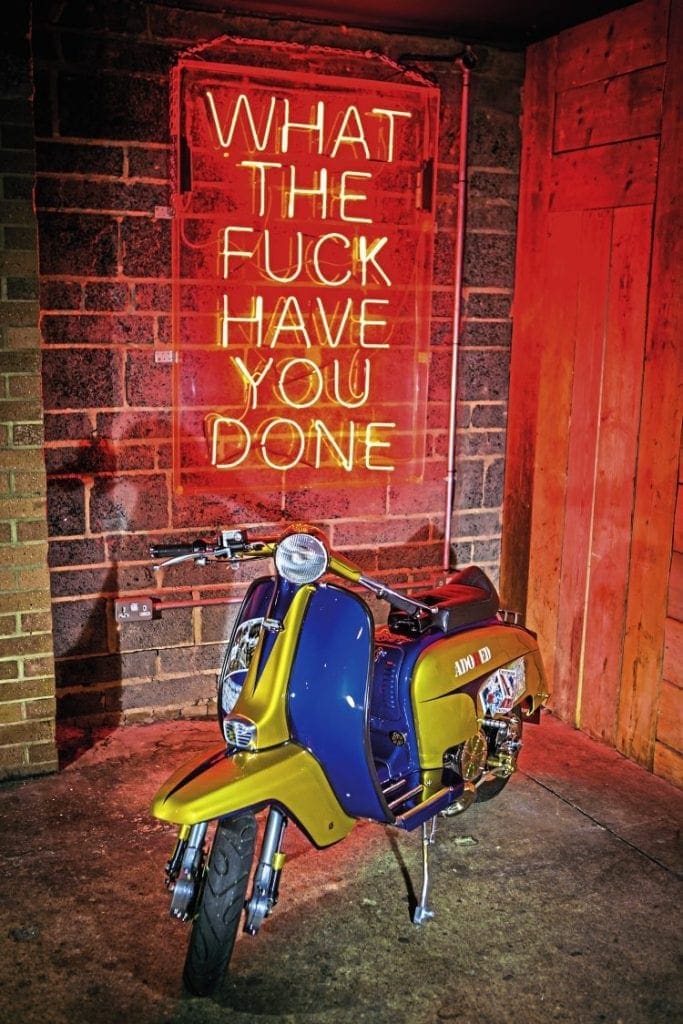 This article was taken from the October 2016 edition of Scootering, back issues available here: www.classicmagazines.co.uk/issue/SCO/year/2016

Enjoy more Scootering reading in the monthly magazine. Click here to subscribe.