The Battle of Britain is one of history's defining events and it was a logical choice for David Hallaway's custom LML…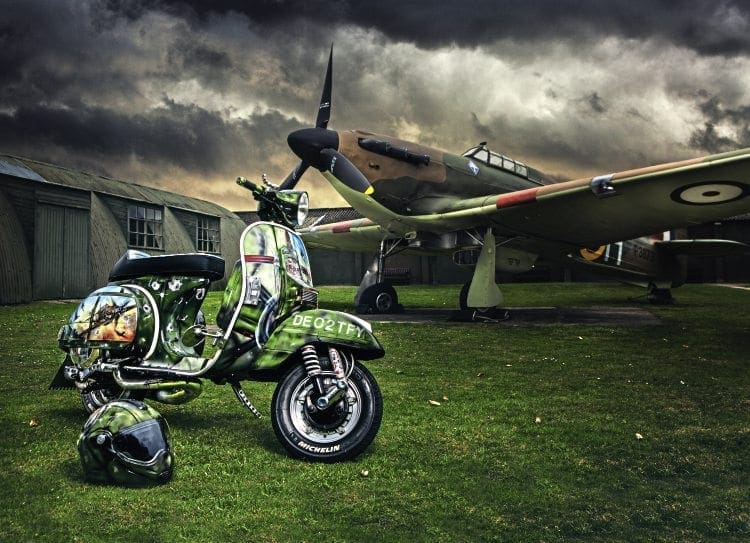 Taking flight
"Like many kids I grew up making Airfix models and reading The Victor," said David. "As I grew up this turned into a genuine admiration for 'The Few' who had fought in the Battle of Britain. When I decided to produce a full blown custom scooter it was the only theme that interested me."
When David started to look for an artist to turn his ideas into reality two things became obvious very quickly. "Finding a new angle on the RAF theme was difficult, I didn't want to duplicate what had been done previously," explained David, "also the prices I was quoted were eye-watering, I knew I'd have to pay but I also wanted to ride the scooter when it was finished."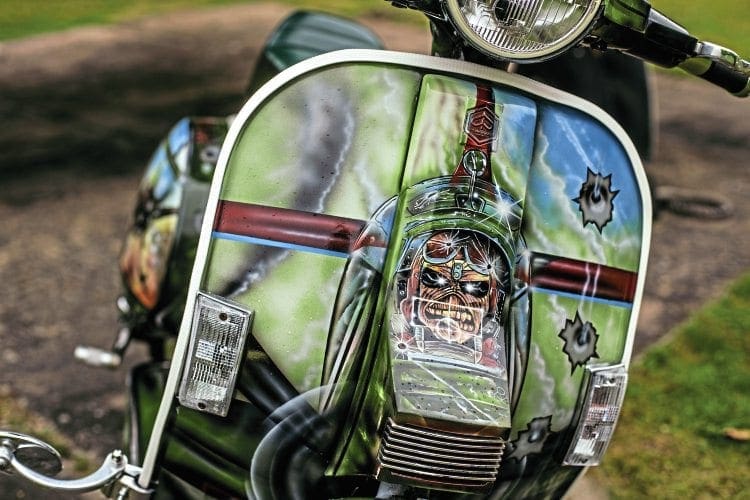 At this point David was pointed in the direction of Gatch, the prolific and distinctive Halifax based artist. "When David said he wanted a Battle of Britain theme I almost hung up on him," said Gatch. "It's been done so many times but when he outlined his idea I thought we could make it work."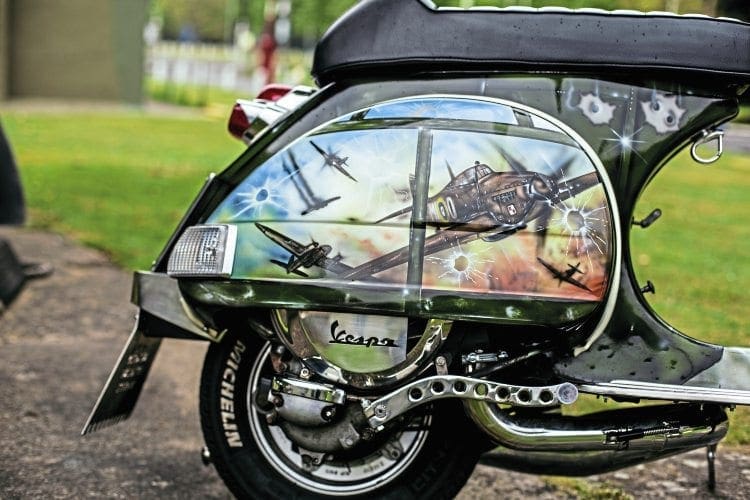 Like many in the world of scootering, David is a man of broad musical tastes. One of his favourite albums is Iron Maiden's 1984 opus Powerslave and particularly the track Aces High. With lyrics written from the perspective of an RAF pilot fighting in the Battle of Britain, it's grown to be one of the band's best known songs. Often used to open their live concerts it's usually prefaced by quotes from Churchill's 'Fight them on the beaches' speech and the sound of aircraft. "I explained to Gatch that I wanted to replicate the track on the scooter, showing the conflict from a pilot's perspective."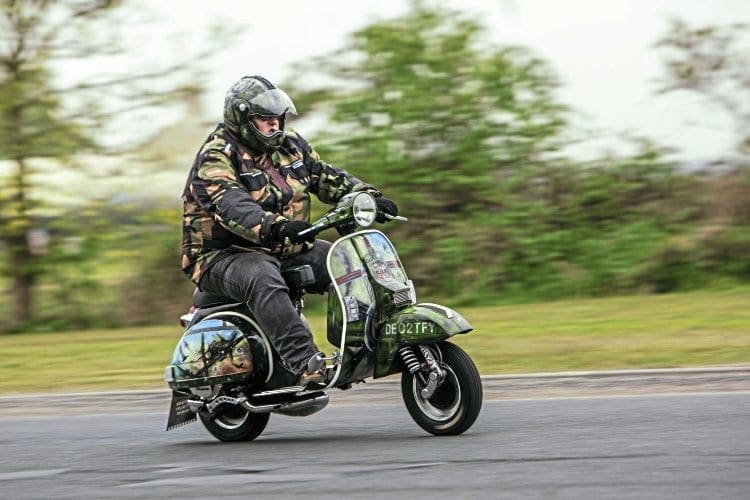 What at first seem to be a series of individual frames are actually representations of a cockpit canopy's frame. The effect combines elements of 1970s comics, Commando books and the original artwork from Aces High's cover sleeve. The leg shields were Gatch's idea," said David, and the original artwork looks like it could have been created by Gatch so it fitted his style perfectly."
Mystery machine
One of our standard questions is 'What was the hardest part of the build?' For Aces High it could have been deciding what the base machine was. This is David's first scooter and it's had a few incarnations, including being fully 'modded' with lights and mirrors. When asked what type of machine it is David shakes his head "I bought it as an LML150, but it was one of the first imports. All the casings are stamped 'Piaggio' and on the V5 it's a Vespa so you decide!"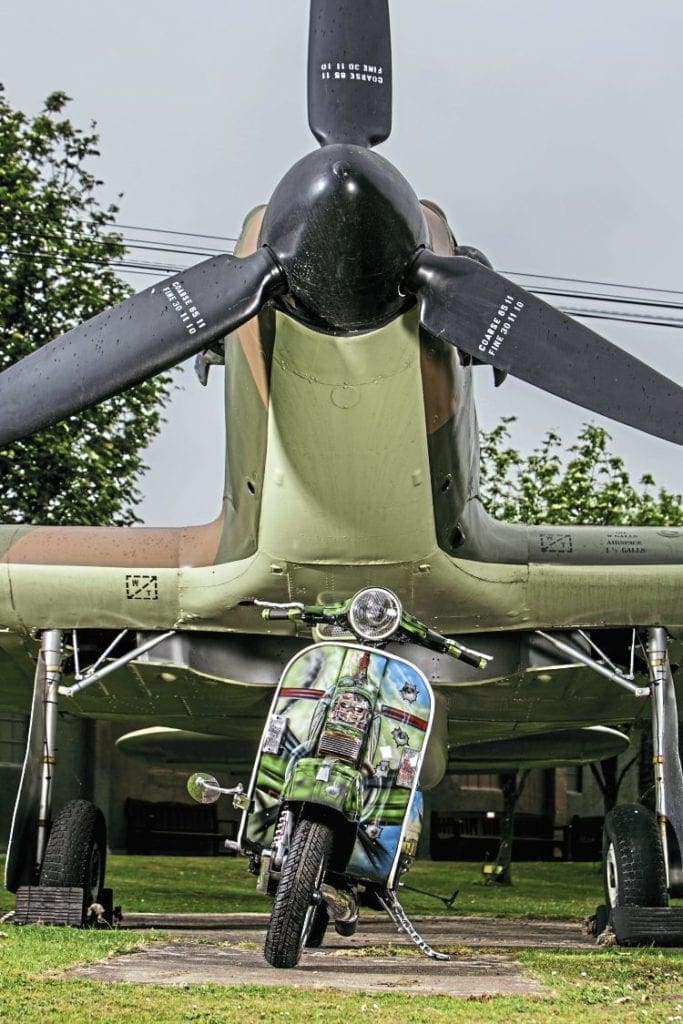 Having conducted the rebuild David's club-mate Tony Lewis is convinced that it's an LML. "The wiring was a nightmare so it's definitely LML," he explained. "Why they felt the need to change the proven PX loom so radically is a mystery. There's so much wiring behind the horn-casting that it's almost impossible to fit it all in." Mechanically the engine's been completely overhauled with a Malossi 166 top end and a PM Tuning exhaust. "We haven't GPS'd it yet but it's very quick with loads of torque and, so far has been utterly reliable. I'm very pleased with it."
Cheque please
Custom scooters have been part of scootering ever since someone first strapped on a pennant. Unfortunately in the eyes of many the financial investment that's now required to create a trophy winner places them beyond reach. Aces High was awarded Best Vespa on its first outing at the YSA pre-season ride out but the entire build cost little more than the refurbishment I've got planned for my P2. David proves that with a little imagination and sensible budgeting it's possible to create a distinctive machine that's enjoyable to ride. To butcher Churchill's famous words "Rarely in scootering has so much value been delivered for so little."
MAN & MACHINE
Owner: David Hallaways
Club: Pontefract Scooter Club, VCB.
Job: Publican.
First interest in scooters: I've always had the itch, loved the clothes and music but finally bought this scooter around three years ago. I'd had motorcycles before that.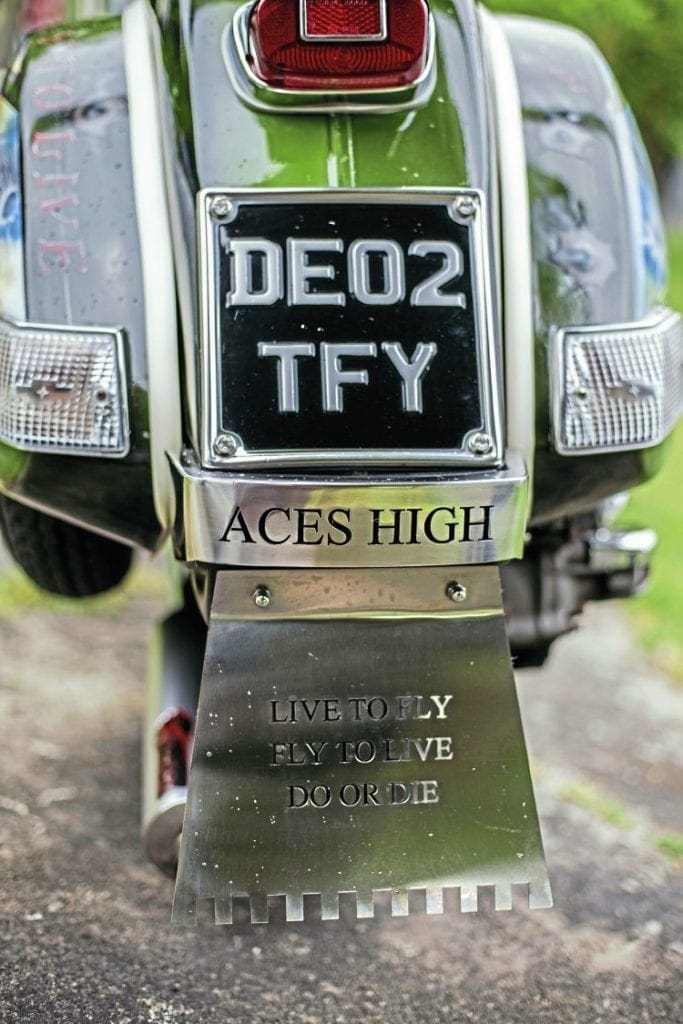 Funny experience: Around 30 of us went to Scarborough and one of the lads said he knew a shortcut to Peasholm Park. We snuck through some bollards and ended up riding through an open air café, actually in between tables. The management were going to chew us up but the customers started clapping and taking photos.
Favourite dealer: Chiselspeed.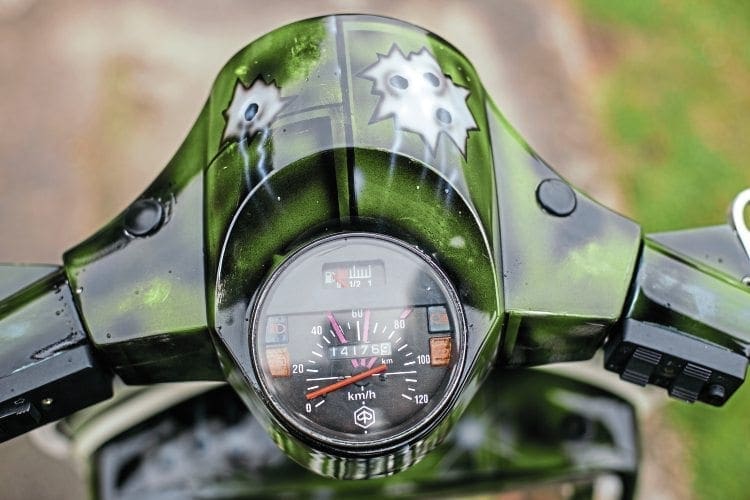 Scooter name: Aces High
Type: LML 150.
Inspiration: A lifelong admiration for Second World War RAF pilots and love of Iron Maiden.
Paint: Gatch.
Engine: Malossi 166, PM Pipe, SIP rims, YSS shocks.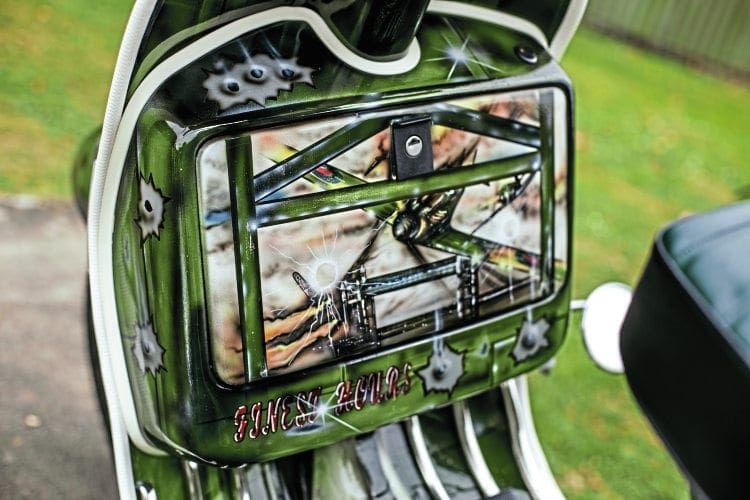 Specialised parts: Rear mud flap and side stand by Mel's Weld, VBB rear light.
Build by: Tony Lewis at Bones to be Wild Tuning.
Hardest part of build: Getting the floor runners to fit, I don't know what they were made for but it wasn't a PX!
Is it reliable: So far it's been exceptionally reliable.
GATCH, SUCH A SHY BOY
Yorkshiremen aren't known for holding back an opinion but Gatch's opening remarks even took me by surprise: "There are a lot of people out there that don't like my work and I'm fine with that," he began. "There are some great artists out there at the moment but photo-realism's got to such a point that it's hard to tell who's painted it without looking for a signature. You can dislike one of my works from across a car park!"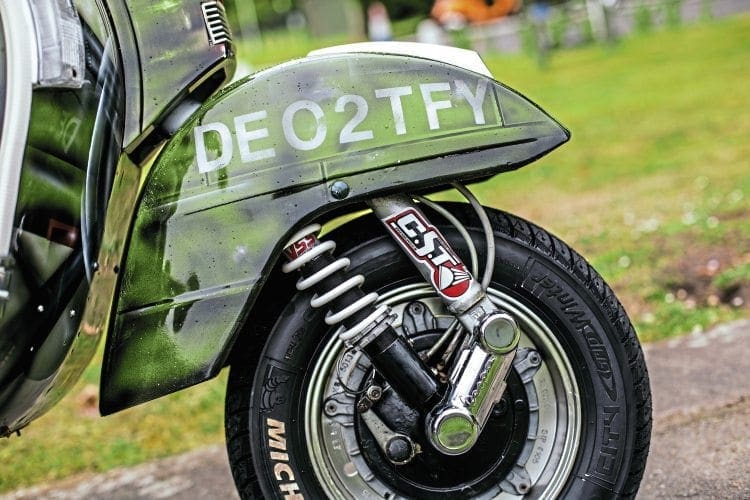 Gatch Rivet, which is possibly not his real name, has a style rooted in street art. He's self-trained, a scooterist and huge fun to talk with. "Each to their own, but personally I think that if someone's got £15k tied up in a scooter that looks like a pikey's caravan and they're afraid to ride it, they've missed the point entirely." He continued: "My typical customer is a rally going scooterist who wants something distinctive. If they ask about chroming and engraving I tell them to get down the powder coaters and use the money they've saved on having a good time with the scooter!"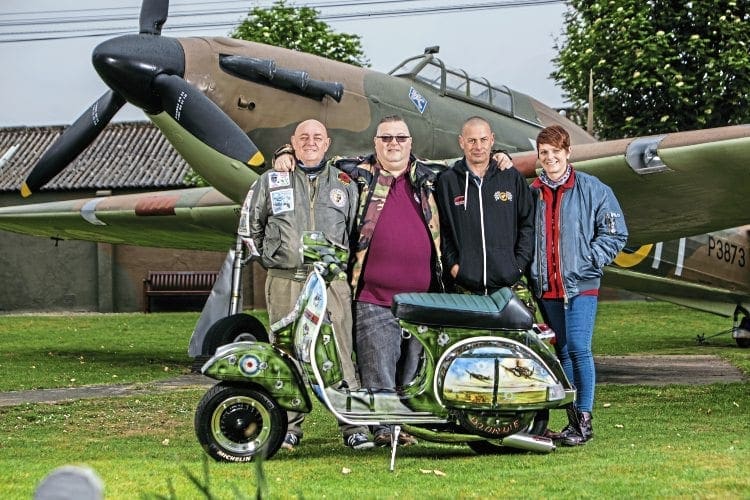 Gatch's turnaround times are fast and his prices are very affordable. "No one should be afraid to ride a scooter because of paint," said Gatch. "I use solid colours and a very hard German lacquer. The effect isn't as deep or lustrous as other lacquers but it's easily repaired. If one of my works is dropped I can usually fill any scratches and go straight over the top. Try doing that with candy paint!"
There's a real need for affordable, repairable, distinctive and rideable machines. I get the feeling that Gatch is pleased when one of his machines wins a trophy but he's happiest when he sees them being ridden.
YORKSHIRE AIR MUSEUM
Scootering would like to thank the Yorkshire Air Museum (YAM) and particularly Ian Richardson its communications manager for giving us free rein during the photo shoot. One of the UK's premier aviation heritage sites, YAM is situated around 15 minutes from the A64 and although it's a great ride out destination in its own right, it also makes a perfect rest stop for those attending the East Coast Nationals.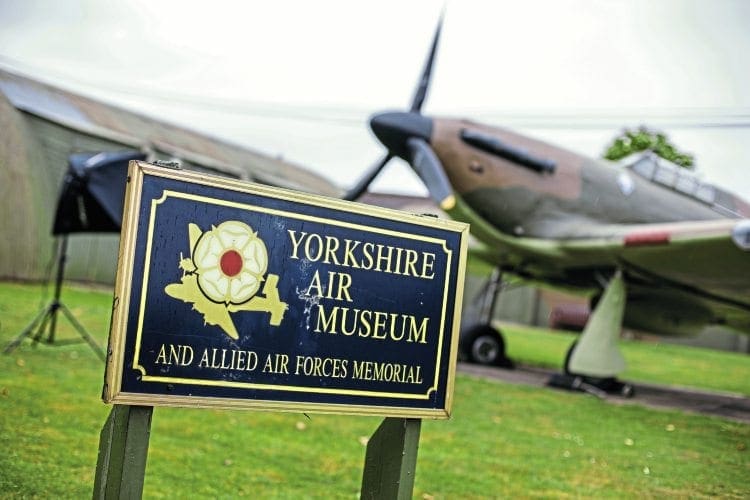 Visit www.yorkshireairmuseum.org
Words: Stan
Photographs: Gary Chapman

Enjoy more Scootering reading in the monthly magazine. Click here to subscribe.